It's back-to-school time again!! And we're now ready for the last meal plan of the summer, the August Instant Pot Meal Plan. Where did the summer go?
Well it's that time of the year where our days get hectic again. Whether it's school shopping or drop-offs for extracurricular activities. This part of the year finds our days getting shorter and shorter. With that in mind, I've created this August meal plan to offer lots of quick and simple Instant Pot recipes. Here's what you can expect: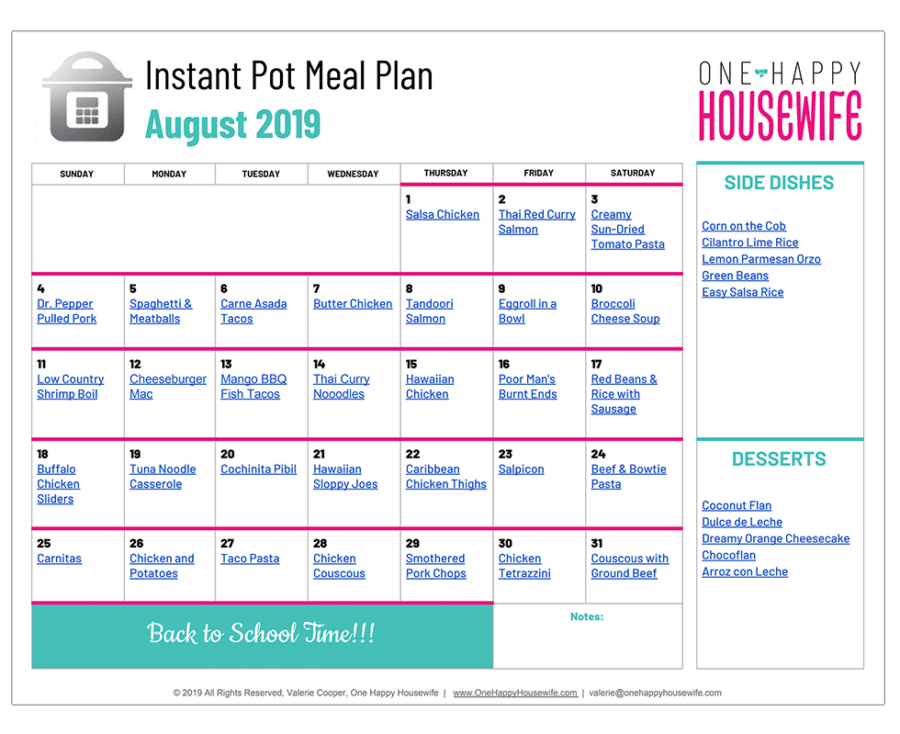 Instant Pot One-Pot Meals
I love making meals in the Instant Pot because it's quick and I only dirty one pot which makes cleanup so easy. Pasta recipes and rice recipes are usually my go-tos for extra busy nights. They're hearty, so they fill up little hungry bellies. They're tasty, so everyone loves them. And they're so easy, which makes them ideal for busy nights. You'll find lots of fantastic one-pot dishes in this meal plan. Some of our favorites are the Beef and Bowtie Pasta, and the Couscous with Ground Beef.
Instant Pot Ground Beef and Chicken Recipes
In this August meal plan, you'll find plenty of simple ground beef recipes and easy chicken recipes. And many of them are made with pasta or rice, like my Cheeseburger Mac, and Chicken Couscous. So, you know they'll be filling and tasty!
Instant Pot Seafood Recipes
Summer is a great time for seafood! And you'll find some excellent options for seafood in this meal plan. If you love shrimp, then the Low Country Shrimp Boil is perfect. The Fish Tacos are outstanding! And the Thai Red Curry Salmon is phenomenal!
International Recipes for the Instant Pot
Do you have an adventurous palate? Well, I've included wonderfully delicious options from around the globe. You'll find dishes from India, Mexico, and Asia. Yum! So whether you're in the mood for Carne Asada or Tandoori, I've got you covered.
Instant Pot Desserts
You'll find some outstanding Instant Pot desserts in this meal plan. The Arroz con Leche is one of the most popular on the blog. And the Chocoflan is a must-try. I grew up having Chocoflan for special occasions in Honduras. So many birthdays were celebrated with this delicious dessert instead of a traditional cake.
Here's to a great rest of your summer!
Make sure you also check out my latest Instant Pot Meal Plan.
August 2019 Instant Pot Meal Plan
Below the list of recipes, you will find a link to the downloadable calendar and links to all my monthly Instant Pot meal plans.
Download the August 2019 Meal Plan Calendar.
For more Instant Pot Meal Plan ideas for the month of August, check out my archive of August Instant Pot Meal Plans.
Past Instant Pot Meal Plans
Each month I publish a new, updated Instant Pot Meal Plan. So don't miss out on seeing what wonderful dishes I've included in my latest one.
LOOKING FOR A PAST MEAL PLAN?
You can also access all of my previously published Instant Pot Meal Plans through the links below. I handpick the recipes that appear each month, so you will find that each month is unique with its own set of recipes geared specifically toward that month. Plus, on each meal plan page, you can download the printable calendar for that month.