Happy April! Spring is finally here and we're starting to enjoy some beautiful weather. This month's meal plan includes our last Friday meatless meal for Lent in case you observe it, and of course, a special recipe for Easter Sunday. I've included lots of easy and delicious recipes for the rest of the month that I know you and your family will enjoy! Here's what you can expect: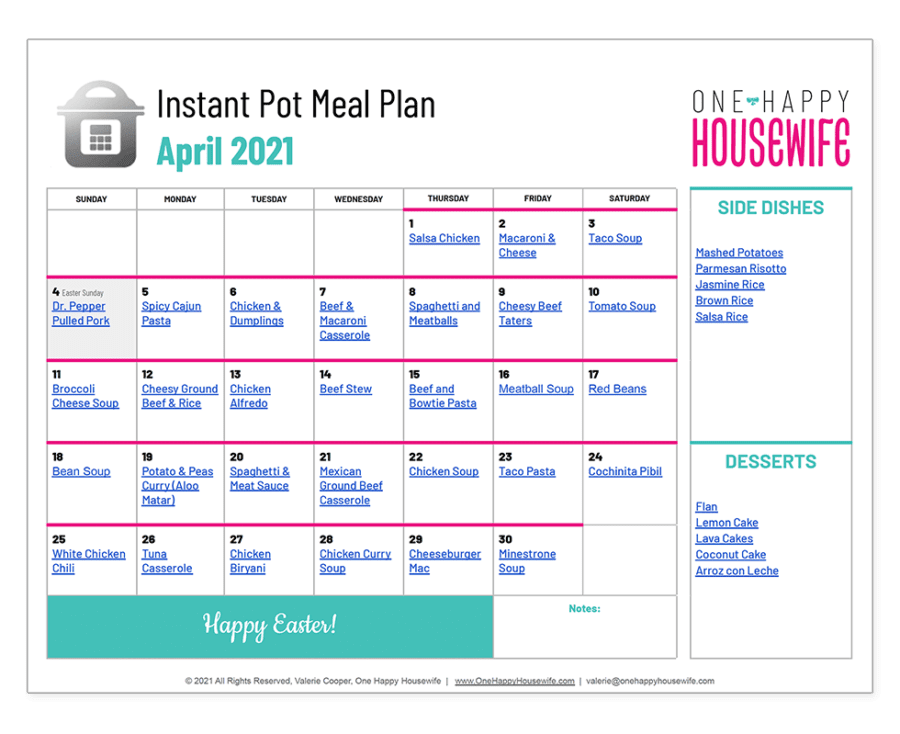 Instant Pot Pasta Recipes
My April Meal Plan includes tons of Instant Pot pasta recipes. I love pasta recipes because they are always quick and easy to make, and they satisfy my family's hunger. And, as a bonus: since we're using the Instant Pot pressure cooker to make these pasta recipes, we'll only dirty one pot making cleanup a breeze.
Easy Instant Pot Recipes
If you're looking for the easiest Instant Pot recipes, then you're in the right place. I've included lots of quick and simple recipes in this April Meal Plan. These recipes are great to make during those busy weekdays because they don't require a lot of time or prep work.
Instant Pot Side Dishes
Don't forget to make a delicious side dish to serve with your meal. You'll find loads of easy to make, super tasty side dishes that will pair perfectly with just about any meal that you'll make this month.
Instant Pot Desserts
Follow-up dinner with a delightfully sweet treat. You'll find some of my most popular Instant Pot desserts in this month's meal plan. You will find the perfect dessert to satisfy your family's sweet tooth.
There are even more desserts that are fabulous, so check them out.
Enjoy the meal plan and have a wonderful April!
Make sure you also check out my latest Instant Pot Meal Plan.
April 2021 Instant Pot Meal Plan
Below the list of recipes, you will find a link to the downloadable calendar and links to all my monthly Instant Pot meal plans.
Download the April 2021 Meal Plan Calendar.
For more Instant Pot Meal Plan ideas for the month of April, check out my archive of April Instant Pot Meal Plans.
Past Instant Pot Meal Plans
Each month I publish a new, updated Instant Pot Meal Plan. So don't miss out on seeing what wonderful dishes I've included in my latest one.
LOOKING FOR A PAST MEAL PLAN?
You can also access all of my previously published Instant Pot Meal Plans through the links below. I handpick the recipes that appear each month, so you will find that each month is unique with its own set of recipes geared specifically toward that month. Plus, on each meal plan page, you can download the printable calendar for that month.