Fall is here, fall is here! And so is the October Instant Pot Meal Plan! This month's meal plan is loaded with recipes that scream fall! From soups and pasta filled with Autumn's bounty, to side dishes and desserts that invoke the taste of the season. Here's what you can expect: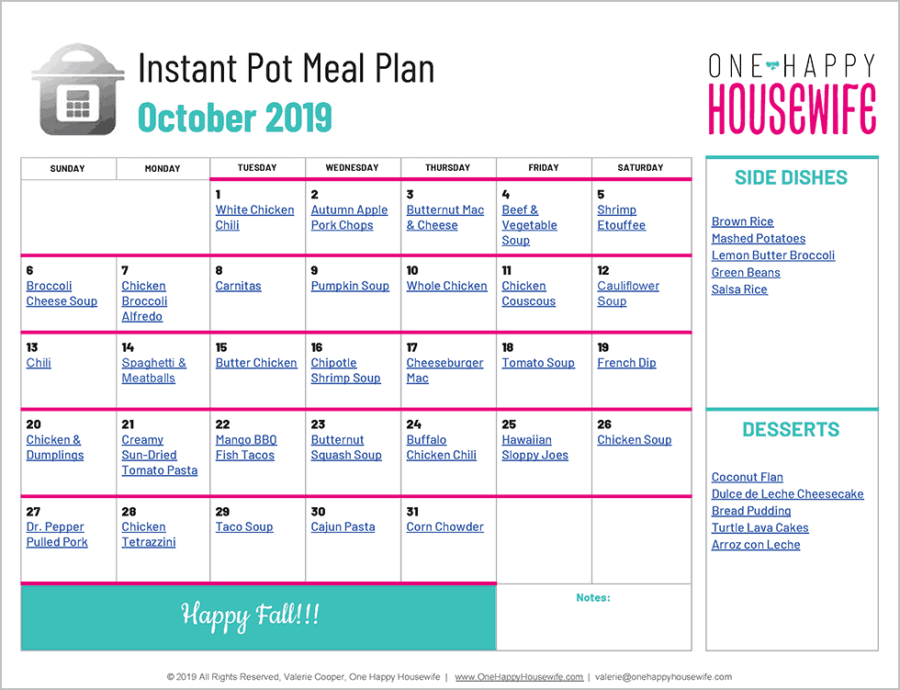 Instant Pot Fall Recipes
Fall is filled with pumpkins and spice, and so are some recipes featured in this meal plan. The Pumpkin Soup, and Butternut Mac & Cheese embody the soul of fall flavors. A sprinkle of cinnamon and a dash of nutmeg is all it takes to impart the tastes and smells of fall cooking. You'll find even more wonderful soups and pastas in this meal plan.
Instant Pot Soups
Lots of easy and delicious soups like our all-time favorite Tomato Soup and a new White Chicken Chili that is sure to become a favorite! You'll also find Broccoli Cheddar Soup, Chili, Chicken & Dumplings, Butternut Squash Soup, Chicken Soup, and Taco Soup. These soups are so delicious and each would pair perfectly with either my Homemade Garlic Bread or Skillet Cornbread.
Instant Pot Pasta
I also included lots of comforting, creamy pasta recipes like my Chicken Tetrazzini and my newest pasta, a delicious Chicken Broccoli Alfredo. You'll also find Spaghetti & Meatballs, Cheeseburger Mac, Sun-Dried Tomato Pasta, and Spicy Cajun Pasta. If you're looking for a great side to any pasta dish, then my Oven Roasted Broccoli is a must.
Instant Pot Sides
There are definitely some fall favorites in this meal plan and the side dishes are no exception. You'll find easy Instant Pot side dishes like Mashed Potatoes, Green Beans, and Lemon Butter Broccoli. Fall is certainly in the air.
Instant Pot Dessert Recipes
Always my favorite part of the meal… dessert! The Instant Pot dessert recipes in this meal plan are to die for! Bread Pudding, Lava Cakes, Flan, and Cheesecake. Oh my! Excuse me while I make my way to the kitchen.
The comforting options in this meal plan are many and I'm sure you and your family will enjoy them all! Happy Fall y'all!
Make sure you also check out my latest Instant Pot Meal Plan.
October 2019 Instant Pot Meal Plan
Below the list of recipes, you will find a link to the downloadable calendar and links to all my monthly Instant Pot meal plans.
Download the October 2019 Meal Plan Calendar.
For more Instant Pot Meal Plan ideas for the month of October, check out my archive of October Instant Pot Meal Plans.
Past Instant Pot Meal Plans
Each month I publish a new, updated Instant Pot Meal Plan. So don't miss out on seeing what wonderful dishes I've included in my latest one.
LOOKING FOR A PAST MEAL PLAN?
You can also access all of my previously published Instant Pot Meal Plans through the links below. I handpick the recipes that appear each month, so you will find that each month is unique with its own set of recipes geared specifically toward that month. Plus, on each meal plan page, you can download the printable calendar for that month.