Fall is finally here, and with it comes the comforting aroma of homemade soup and hearty pasta dishes. The fall season often means cozy nights spent in front of a fire or under blankets – what's better than a delicious warm meal before those chilly nights of fall start to settle in?
I've put together this meal plan just for you! It features all sorts of comforting dishes to fill your belly before bedtime. You'll find comfort food classics prepared specially to make you feel cozy inside. Here's what you can expect: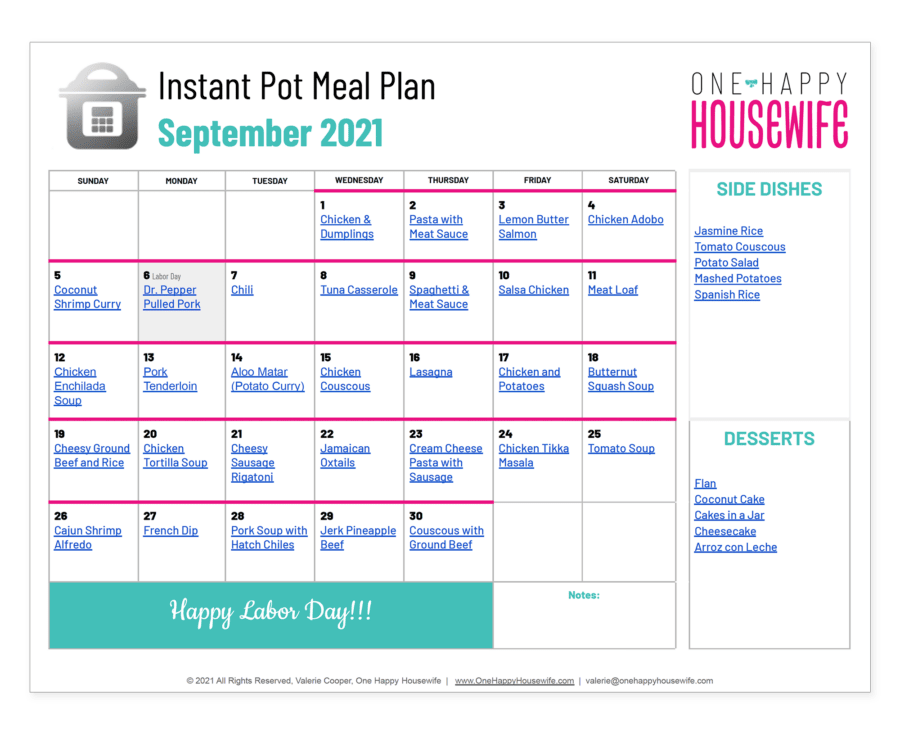 Easy To Make Instant Pot Recipes
Fall means comforting meals, and while we're not quite into fall weather just yet (it's still warm around here), I'm preparing for the change in seasons by including some Instant Pot Fall Recipes with this meal plan. These recipes are also perfect if you want something hearty on chilly days or rainy afternoons – they'll keep your mood joyful no matter what!
My favorite dish from these delicious recipes is definitely Chicken & Dumplings… You'll also find recipes for other soups or pasta dishes that are sure to not only soothe but satisfy on the coming colder evenings when nothing else will do except an endless bowl of comfort food.
Chicken and Dumplings
I start the month off with a dish that's sure to warm your home and your heart: Chicken and Dumplings. Loaded with sweet veggies, tender bite-sized pieces of savory chicken, and delicious dumplings… this recipe is not only super easy to make in your pressure cooker but it's also deliciously comforting!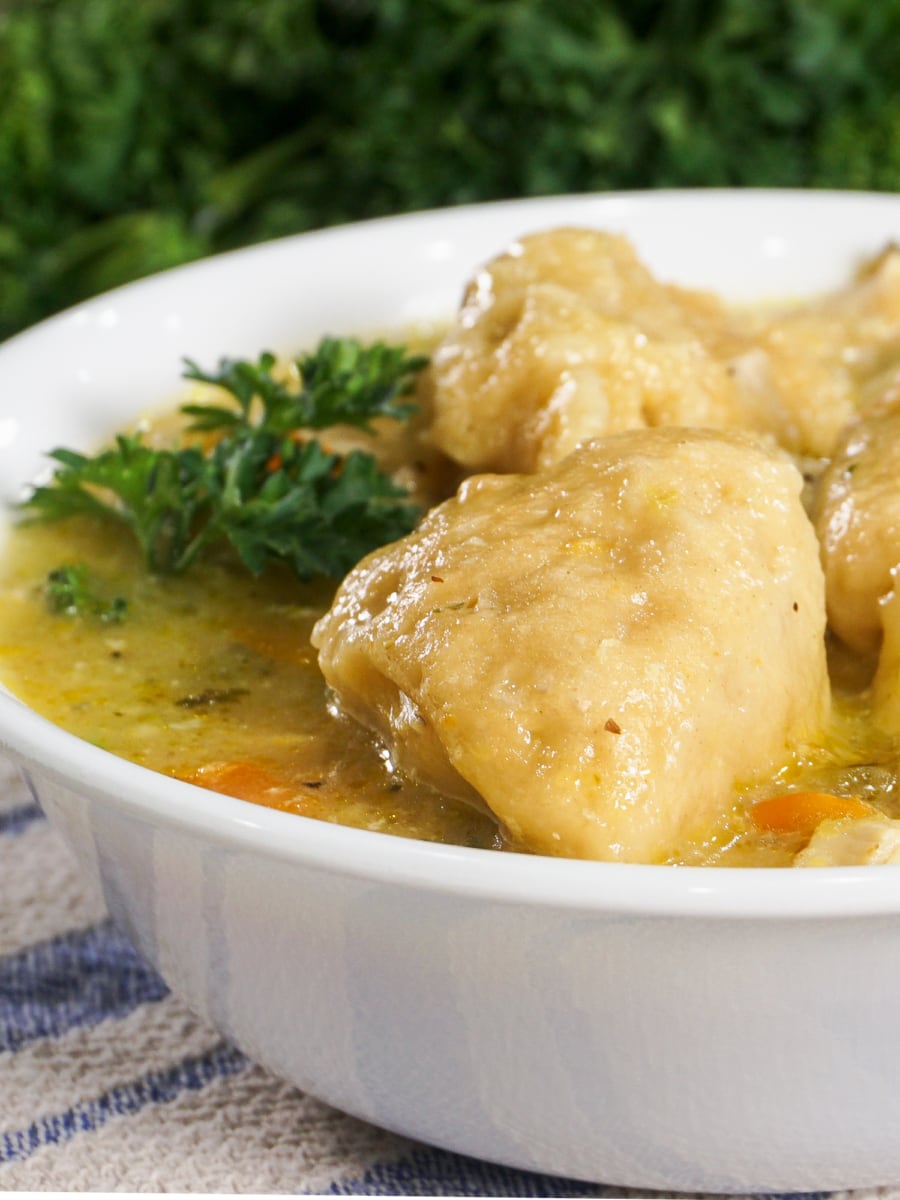 Instant Pot Soups
I've loaded up this meal plan with lots of delicious Instant Pot soups. This month, we'll be enjoying warm bowls of tomato soup, chicken enchilada soup, and chili – to name a few. Everyone needs a little comfort food in their lives – especially during the fall season – and there is nothing more comforting than a warm bowl of soup.
Tomato Soup
I love a good Tomato Soup and this one is the perfect recipe to warm you up on a chilly fall day. It's made in the Instant Pot, so you can have it on your table in less than 30 minutes! The rich and creamy flavor is combined with honey and basil. It's the perfect recipe for those cooler fall months.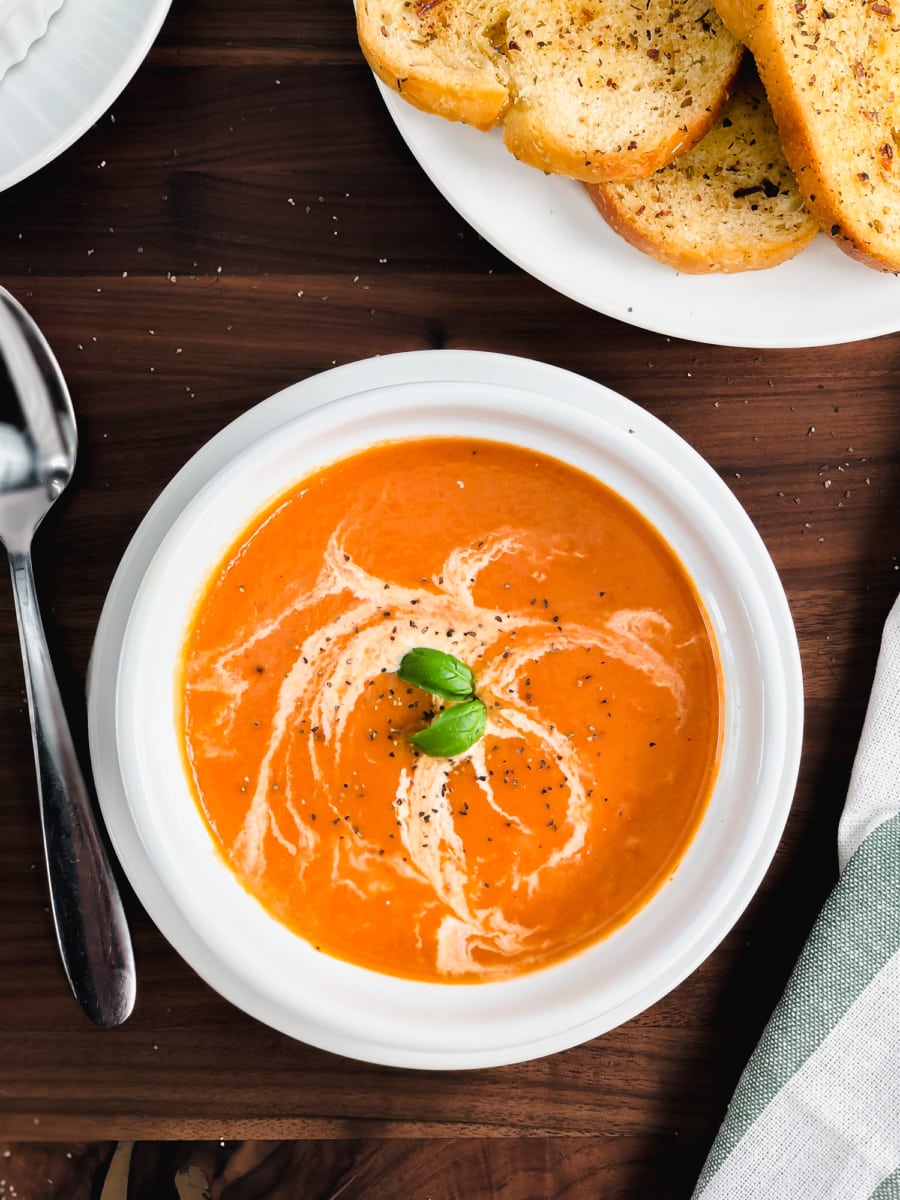 Chicken Enchilada Soup
Looking for a recipe with the Tex-Mex flavor that you love so much? I've got just the thing. This Chicken Enchilada Soup is simple to make and delivers all the flavor of your favorite Tex-Mex dish in one bowl! Top with crispy tortilla strips or other enchilada toppings for an unbeatable meal at home.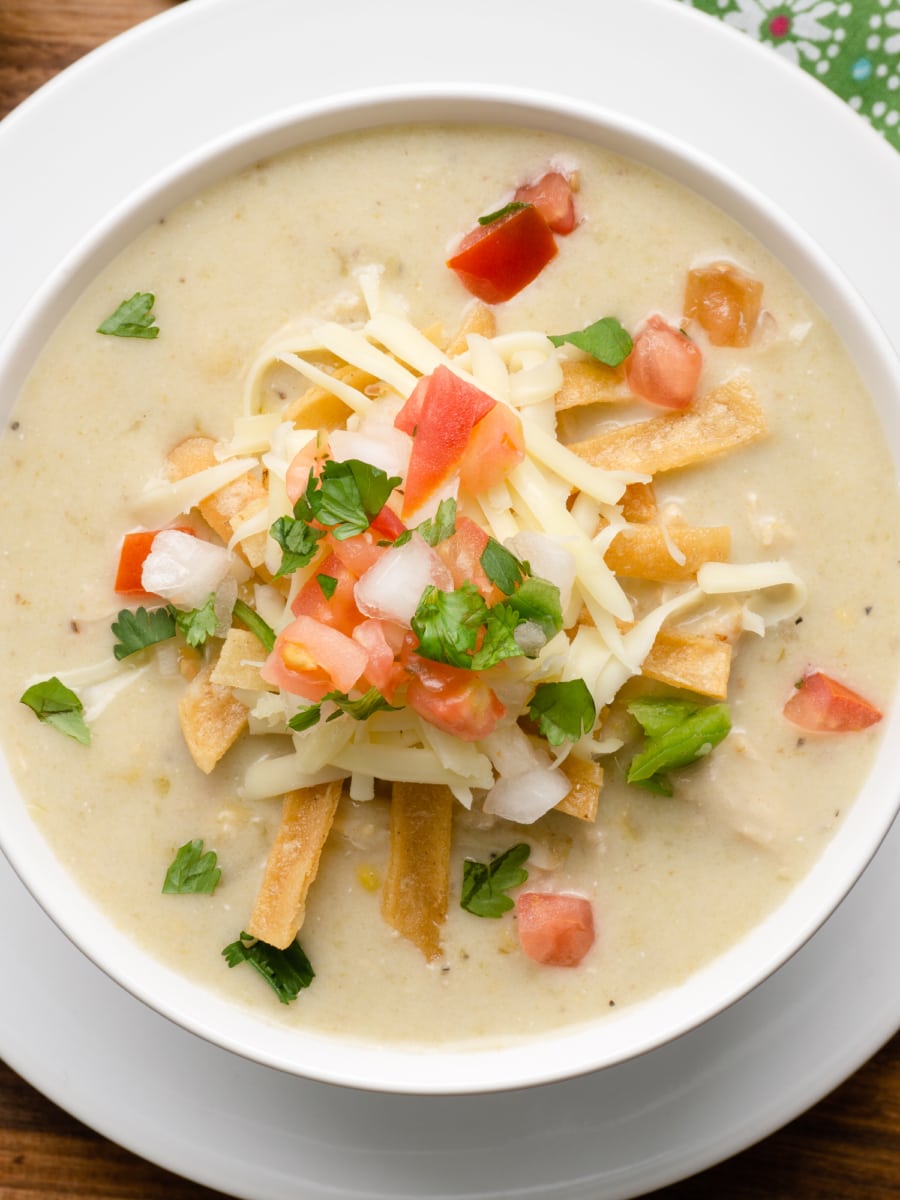 Chili
When the weather is cold and rainy, there isn't anything better than cozy comfort food like this Instant Pot Chili recipe. It always hits the spot! A big bowl of this comforting dish grabs you like a big warm hug from a polar bear. This recipe has been my go-to fall dish for the past several years. It has everything you'd expect from a hearty chili including ground beef, red beans, fire-roasted tomatoes, and a wonderful assortment of spices.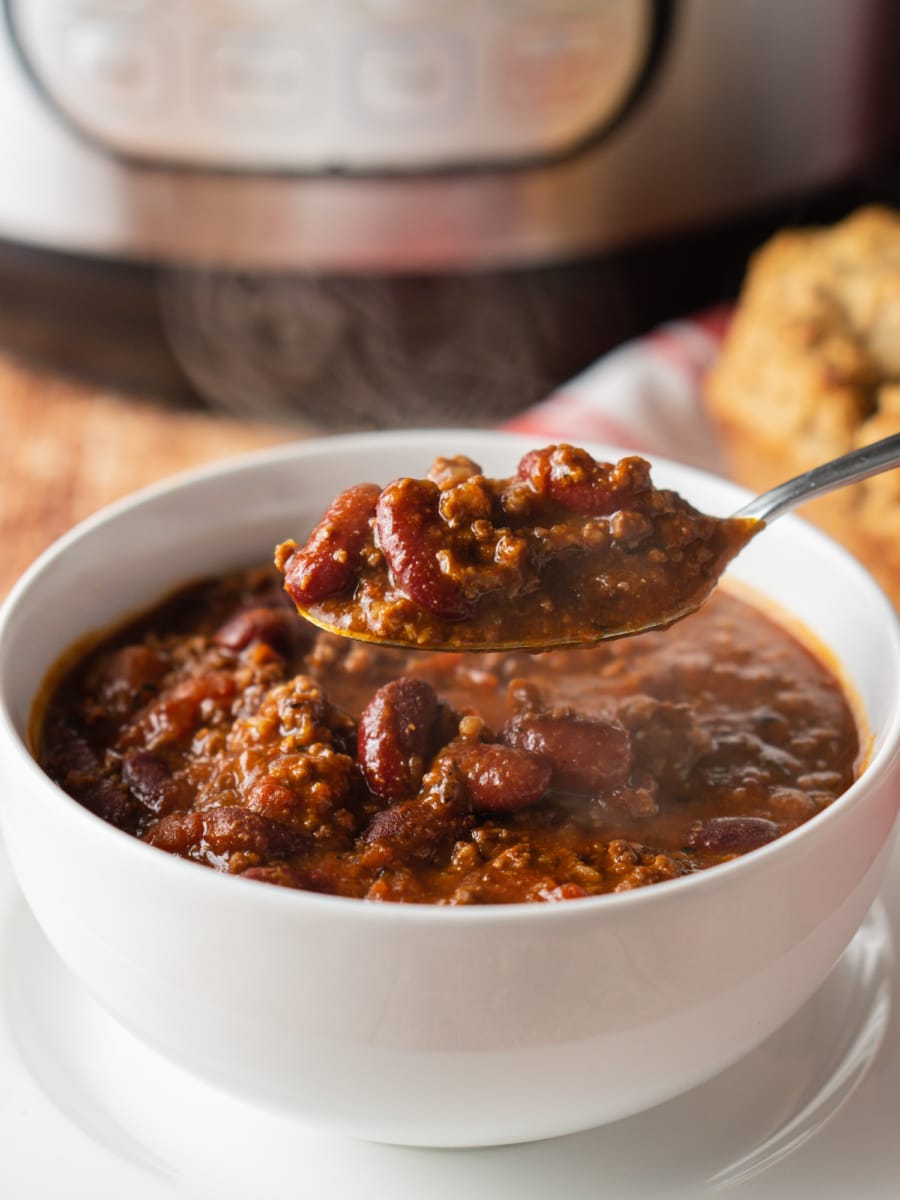 Instant Pot Pasta
You're looking for a quick and easy dinner? Check out these delicious pasta recipes! You'll find everything from Spaghetti to Cheesy Sausage Rigatoni. Each dish is simple to make but packed with flavor that even kids will love! And if you want the perfect side dish for your pasta, don't miss my Oven Roasted Broccoli! It's sure to satisfy 🙂
Spaghetti and Meat Sauce
This is a dish that the entire family will love! For me, it's comfort food at its best. My Instant Pot Spaghetti and Meat Sauce can be prepared quickly using just one pot which means fewer dishes to wash later on. This traditional Italian dish is a perfect way to enjoy a comforting meal, at home, on any given weeknight.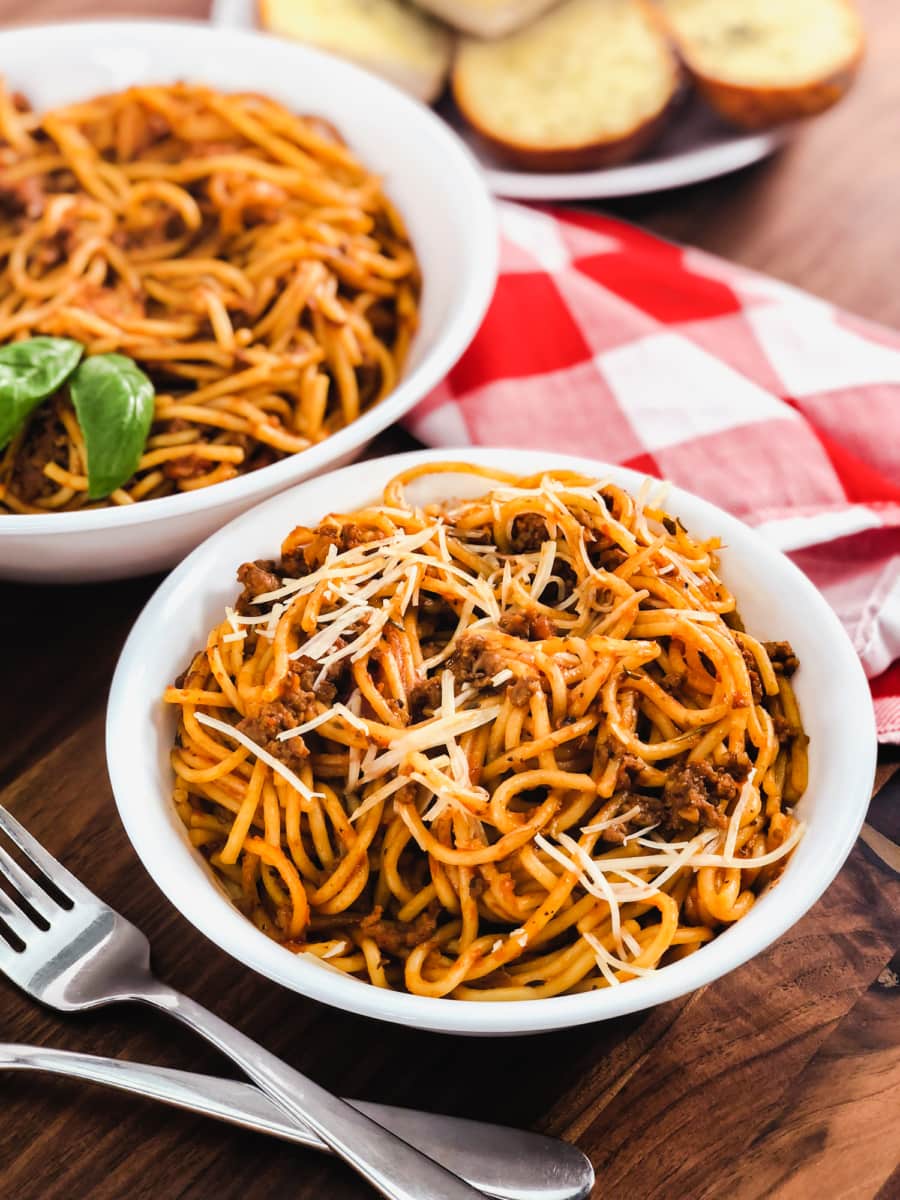 Lasagna
If you're looking for a quick and easy meal that will satisfy your family's hungry stomachs with something warm and gooey, then look no further than a slice of Instant Pot Lasagna. This lasagna is loaded with flavorful meat and layers upon layers of creamy cheese. It's a satisfying meal that you can make in no time at all.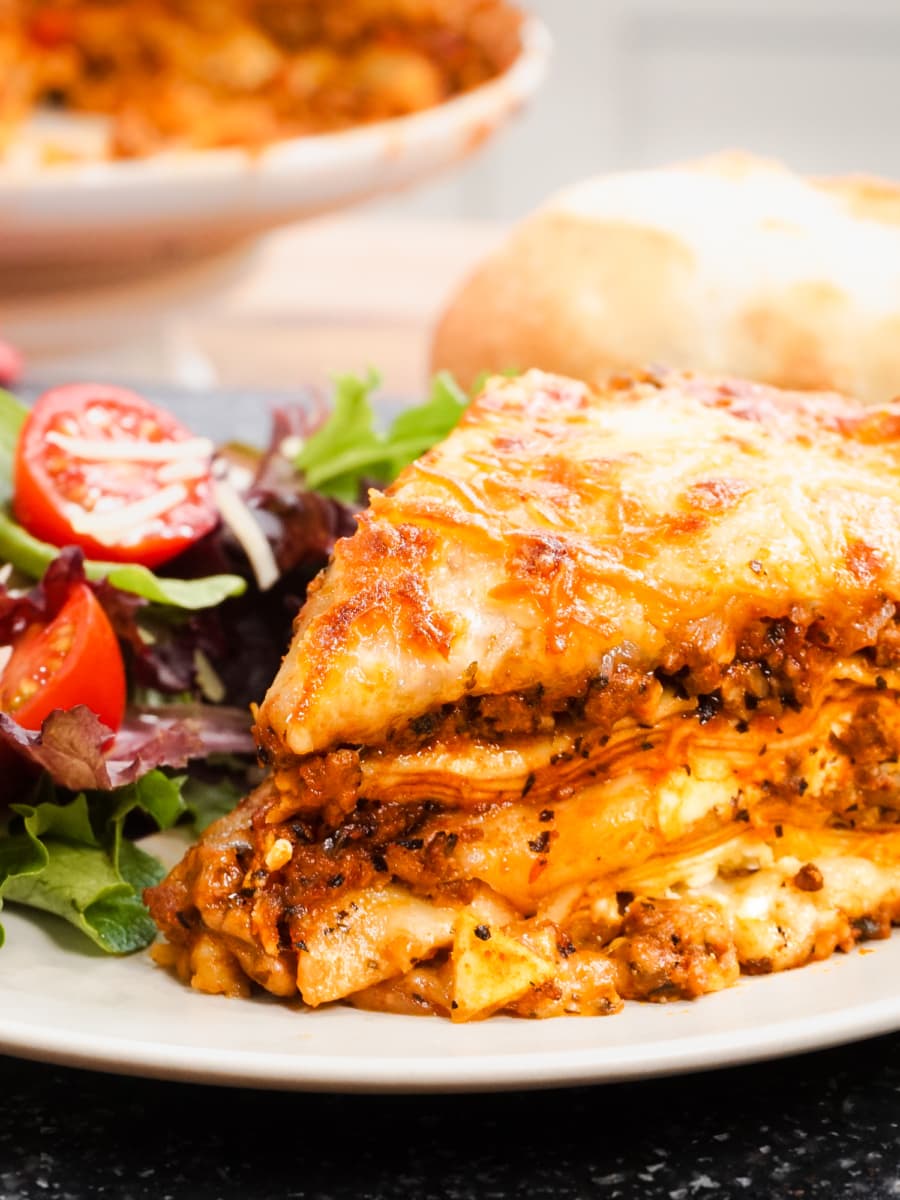 Cheesy Sausage Rigatoni
This Instant Pot Cheesy Sausage Rigatoni is a deliciously hearty pasta dish that's not only extra cheesy but also a perfect dinner for busy weeknights. The savory flavors will make your taste buds happy, while the easy preparation means you can have it on the table in no time! Thanks to this quick and simple pasta dish, there are no excuses not to have dinner together as a family tonight.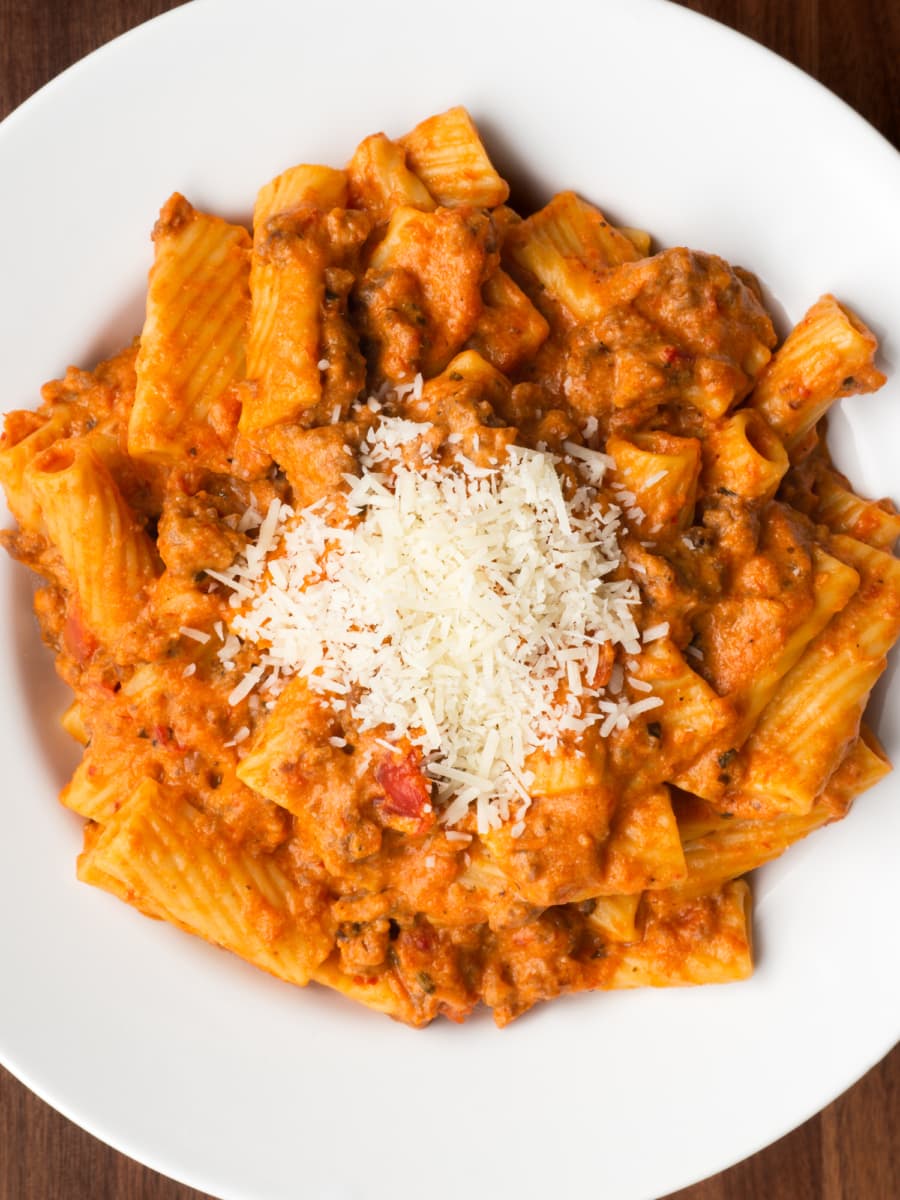 Instant Pot Sides
In this month's meal plan, you'll find some wonderful recipes and outstanding Instant Pot side dishes to go with them. I've included my Mashed Potatoes, Spanish Rice, and Potato Salad to name just a few! I hope that you enjoy planning your meals for the week ahead.
Mashed Potatoes
These no-fuss Instant Pot Mashed Potatoes are simple to make and come out so smooth, creamy, and fluffy… you'll never want traditional mashed potatoes again. And the nice thing about this recipe is you can leave the skins on if you're looking for a more hearty rustic texture! Either way, they taste amazing, especially if there's butter involved 😉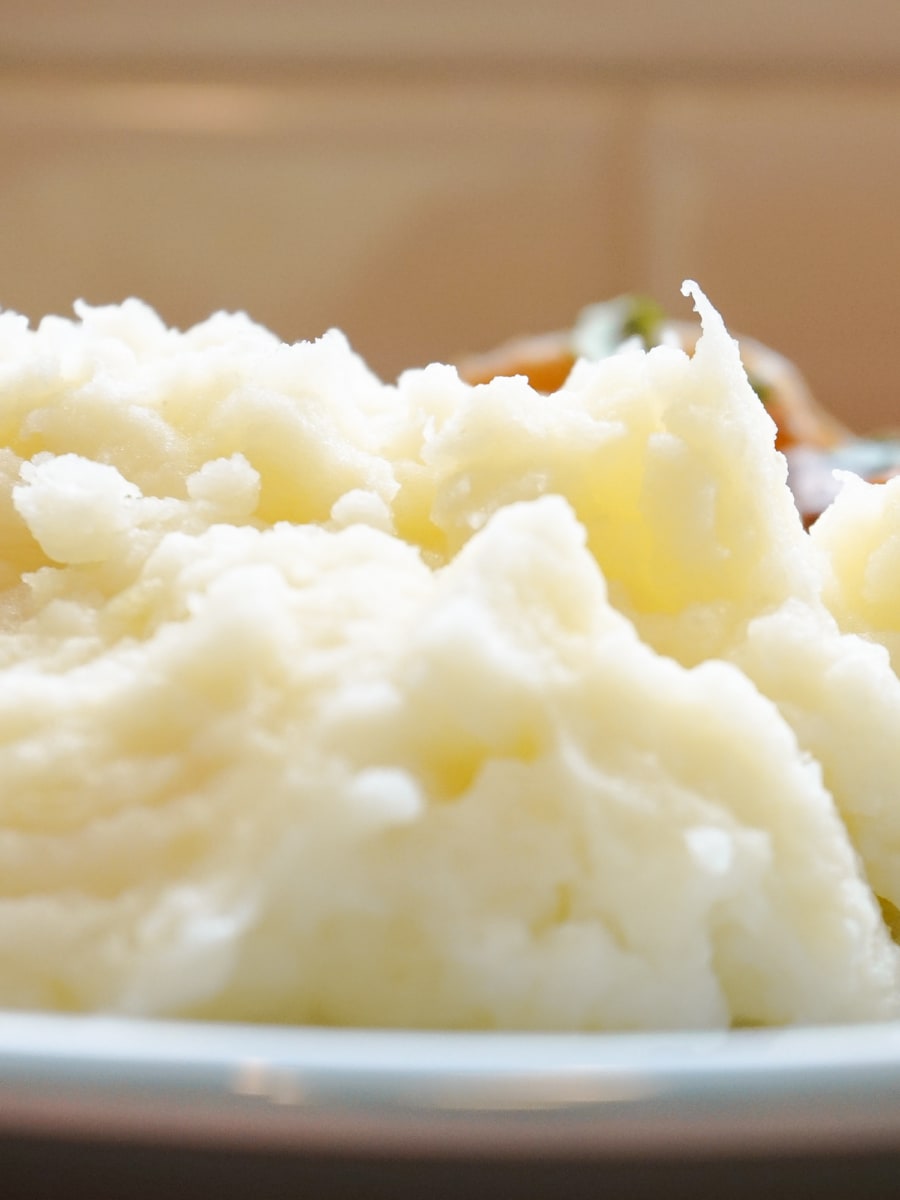 Spanish Rice
Get the authentic flavor of your favorite restaurant-style Spanish Rice with this Instant Pot recipe. It's quick, easy, and full of the flavor you'd expect from your favorite Tex-Mex restaurant! You'll love this simple dish as an accompaniment to any Tex-Mex inspired meal!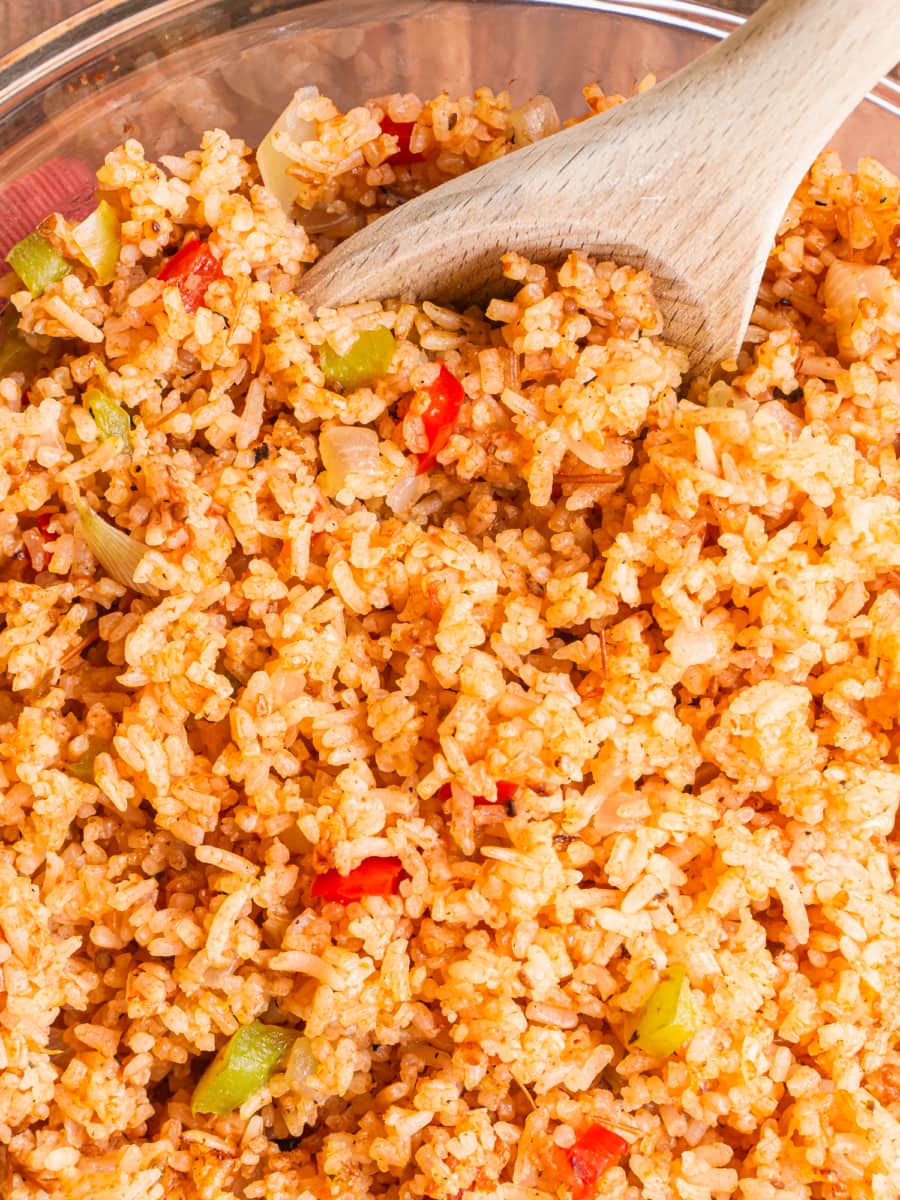 Instant Pot Dessert Recipes
Dessert is always the best part of any meal, and this month I have an amazing assortment for you. Flan, Coconut Cake, and Arroz con Leche are just some that you'll find in this month's meal plan. These Instant Pot Dessert recipes are amazing and sure to satisfy every sweet tooth imaginable.
Flan
This Instant Pot Flan is so creamy and smooth that you won't be able to stop eating it. And the caramel that smothers this decadent dessert just takes it over the top! This delicious treat should definitely make its way into your dessert repertoire – it is sure to be an instant hit in your home.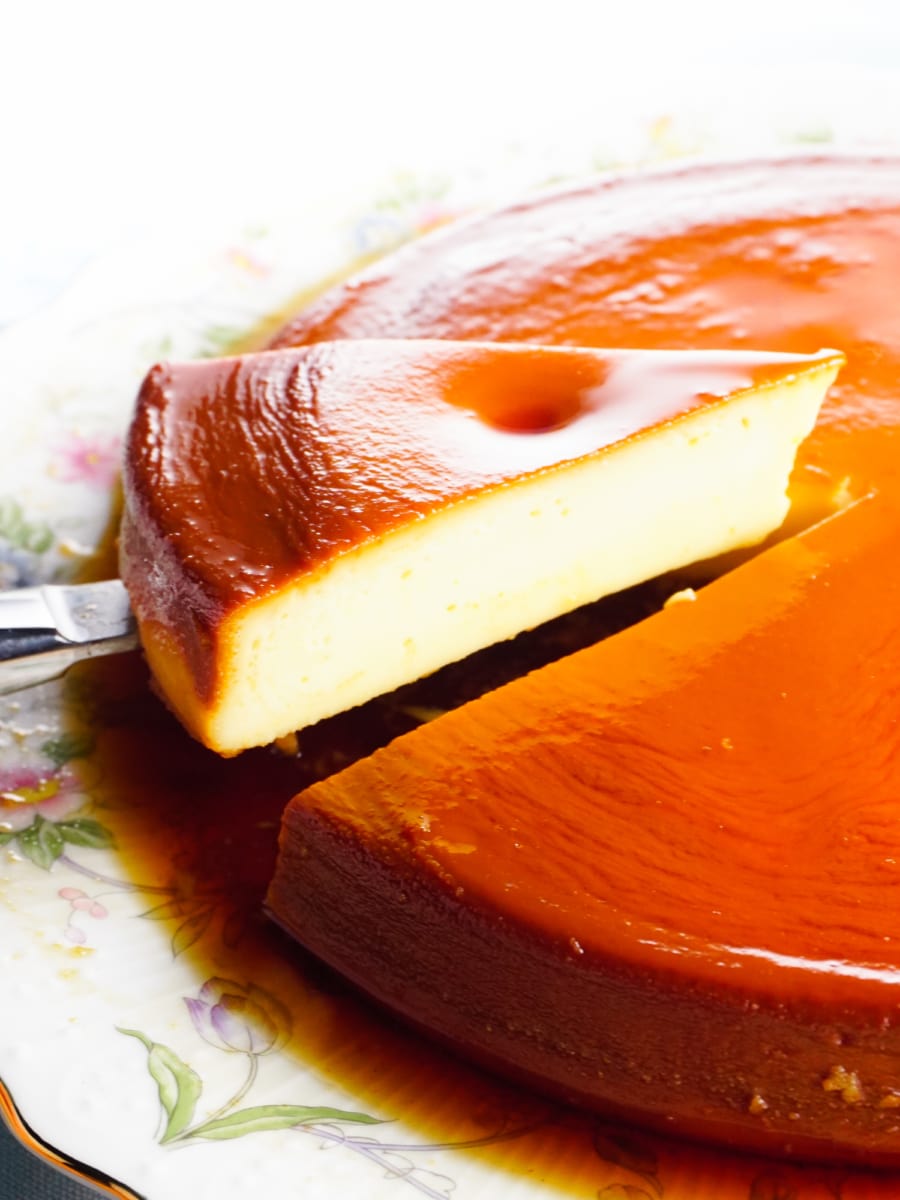 Arroz con Leche
This Instant Pot Arroz con Leche, or rice pudding is so creamy sweet. Just add a dash of cinnamon and you'll have yourself one warm and comforting treat! This wonderful dessert only requires a few simple ingredients and is the perfect sweet ending to any meal.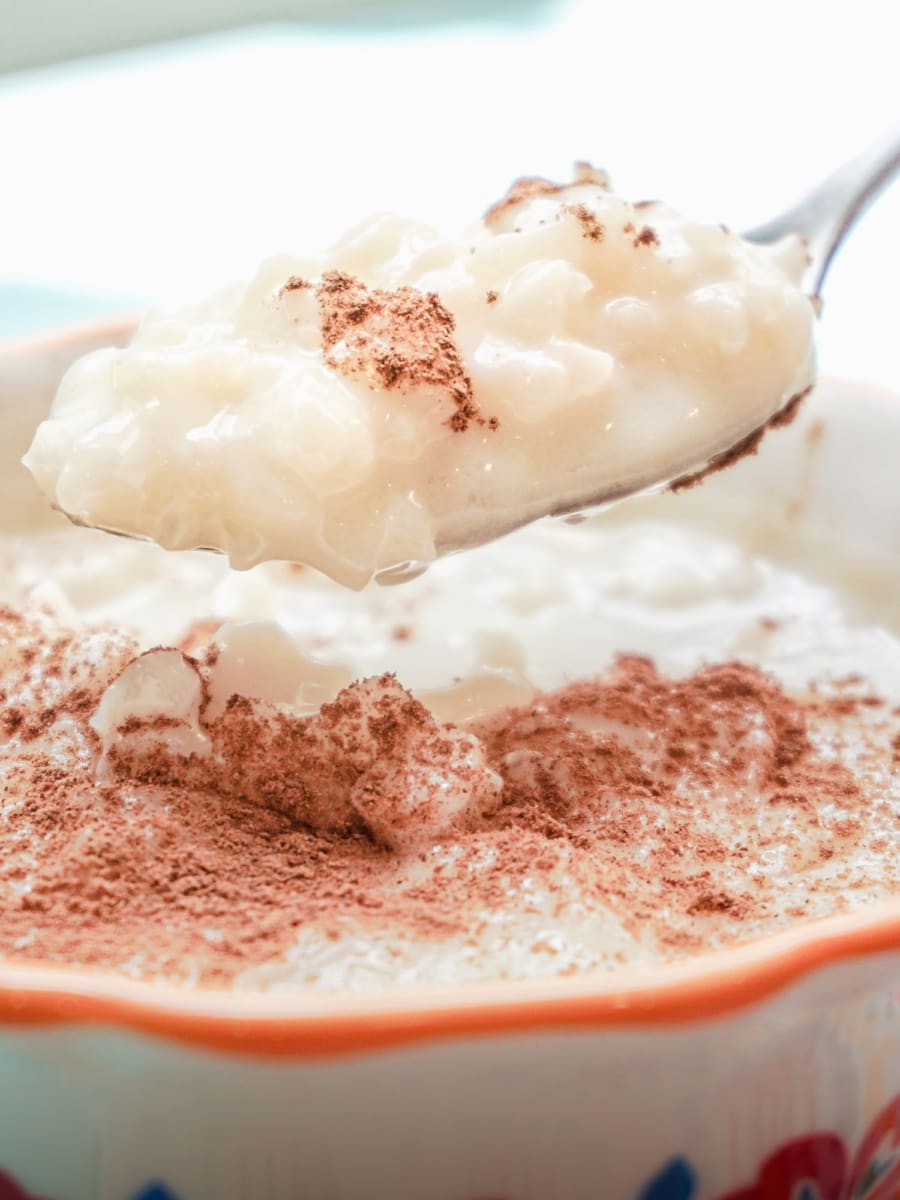 Fall is one of my favorite seasons. There are so many comforting options in this meal plan and I know your family will love them all! Happy Fall!
Make sure you also check out my latest Instant Pot Meal Plan.
September 2021 Instant Pot Meal Plan
Below the list of recipes, you will find a link to the downloadable calendar and links to all my monthly Instant Pot meal plans.
Download the September 2021 Meal Plan Calendar.
For more Instant Pot Meal Plan ideas for the month of September, check out my archive of September Instant Pot Meal Plans.
Past Instant Pot Meal Plans
Each month I publish a new, updated Instant Pot Meal Plan. So don't miss out on seeing what wonderful dishes I've included in my latest one.
LOOKING FOR A PAST MEAL PLAN?
You can also access all of my previously published Instant Pot Meal Plans through the links below. I handpick the recipes that appear each month, so you will find that each month is unique with its own set of recipes geared specifically toward that month. Plus, on each meal plan page, you can download the printable calendar for that month.