Hello May! The weather is feeling amazing, and summer is around the corner. I've put together some easy and delicious recipes for this month's Instant Pot Meal Plan. I know you and your family will enjoy them. You'll still find some comforting foods on certain days, but for the most part soup season is over. Enjoy May's recipes and have fun cooking! Here's what you can expect: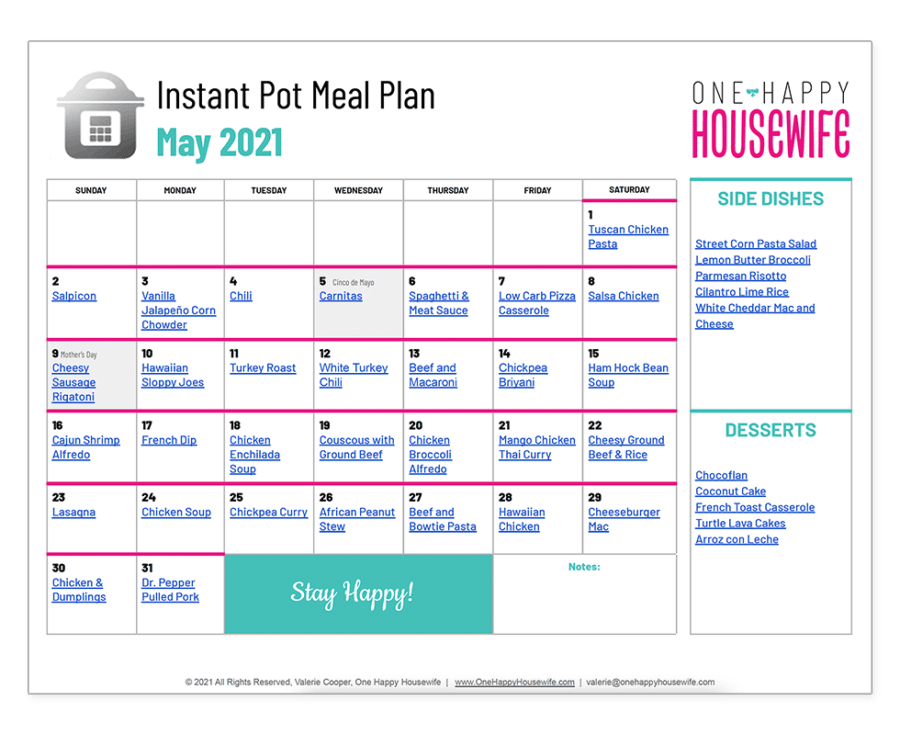 Easy Instant Pot Recipes
I've included so many quick and easy recipes in my May Instant Pot Meal Plan. Some of the easy recipes you'll find in the meal plan this month are my Hawaiian Sloppy Joes, Salsa Chicken, and Cheeseburger Mac. These are perfect recipes for this busy time of going to end-of-school-year activities.
Instant Pot Pasta Recipes
I've included a host of simple pasta recipes as well. This month, you'll find recipes like my Tuscan Chicken Pasta, Spaghetti & Meat Sauce, Cheese Sausage and Rigatoni, and Lasagna. So, you're certain to satisfy your craving for a filling pasta dish.
Enjoy this last month of school!
Make sure you also check out my latest Instant Pot Meal Plan.
May 2021 Instant Pot Meal Plan
Below the list of recipes, you will find a link to the downloadable calendar and links to all my monthly Instant Pot meal plans.
Download the May 2021 Meal Plan Calendar.
For more Instant Pot Meal Plan ideas for the month of May, check out my archive of May Instant Pot Meal Plans.
Past Instant Pot Meal Plans
Each month I publish a new, updated Instant Pot Meal Plan. So don't miss out on seeing what wonderful dishes I've included in my latest one.
LOOKING FOR A PAST MEAL PLAN?
You can also access all of my previously published Instant Pot Meal Plans through the links below. I handpick the recipes that appear each month, so you will find that each month is unique with its own set of recipes geared specifically toward that month. Plus, on each meal plan page, you can download the printable calendar for that month.