I'm so ready for fall! This September Instant Pot Meal Plan has a hint of fall in it in hopes that this brutally hot weather will start making its way out!
I've included lots of easy recipes in this September Meal Plan, as usual, to help you on those busy weeknights. Now that the kids are a few weeks into school, the homework and extracurriculars are really kicking into high gear, so I've included lots of quick and easy recipes. Here's what you can expect: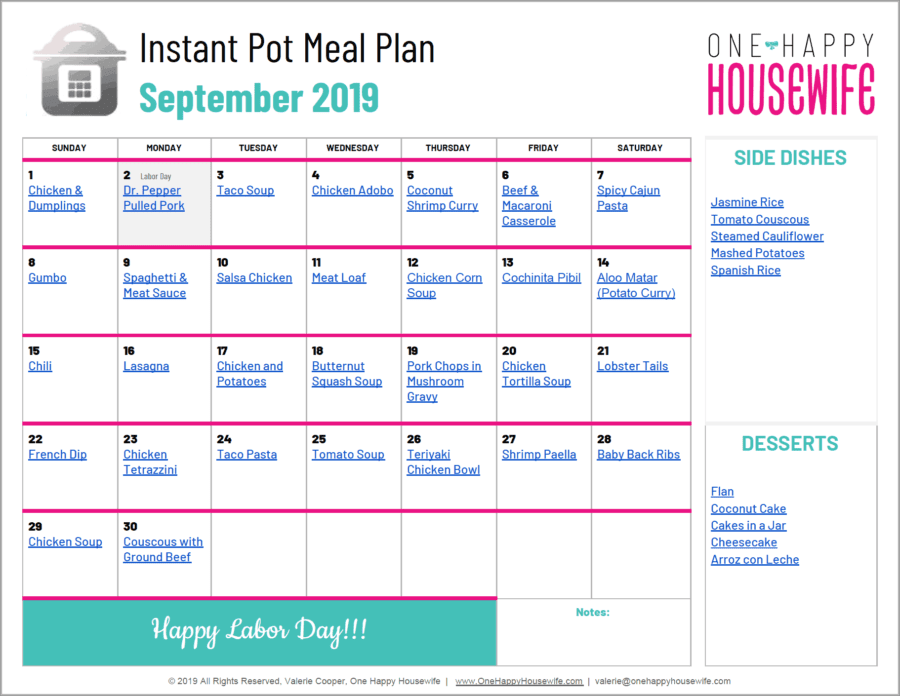 Comforting Instant Pot Pasta Dishes
You'll find lots of comforting pasta dishes in this meal plan including my super popular Chicken Tetrazzini, much loved Cajun Pasta, a wonderful Lasagna, and my family's favorite Beef & Macaroni Casserole. A great pasta dish is always a family favorite.
Warm & Tasty Instant Pot Soups
Several warm and comforting soups for the pressure cooker also make an appearance this month. You'll find hearty bowls of Chili, Taco Soup, and Chicken Soup. There is nothing more regenerating to the soul than a warm bowl of soup.
Instant Pot Recipes for Labor Day
I also included my Dr. Pepper Pulled Pork on Labor Day in case you're celebrating that day! I also have a delicious new Potato Salad recipe that is perfect as a side for pulled pork sandwiches. So definitely check that one out.
Delicious Instant Pot Side Dishes
You can't have a main dish without a delicious side. I've included some delicious Instant Pot side dishes like Spanish Rice and Tomato Couscous, both of which you must try if you haven't yet. You'll also find staples like White Rice, Cauliflower, and Mashed Potatoes.
Sweet Instant Pot Desserts
Don't forget to check out the dessert section where you'll find my very popular pressure cooker desserts including my much-loved Flan recipe, Arroz con Leche, and Coconut Cake.
Here's to a splendid September!
Make sure you also check out my latest Instant Pot Meal Plan.
September 2019 Instant Pot Meal Plan
Below the list of recipes, you will find a link to the downloadable calendar and links to all my monthly Instant Pot meal plans.
Main Dishes
Enjoy these wonderful Instant Pot dishes for the month of September.
Download the September 2019 Meal Plan Calendar.
For more Instant Pot Meal Plan ideas for the month of September, check out my archive of September Instant Pot Meal Plans.
Past Instant Pot Meal Plans
Each month I publish a new, updated Instant Pot Meal Plan. So don't miss out on seeing what wonderful dishes I've included in my latest one.
LOOKING FOR A PAST MEAL PLAN?
You can also access all of my previously published Instant Pot Meal Plans through the links below. I handpick the recipes that appear each month, so you will find that each month is unique with its own set of recipes geared specifically toward that month. Plus, on each meal plan page, you can download the printable calendar for that month.