These are some interesting times we're living in, aren't they? But isn't it reassuring to know that we can always find comfort in the dependability of our trusty Instant Pot? This magical appliance continues to be our secret weapon in the kitchen, promising quick, easy, and effortless meals regardless of how busy our day may be.
This month's Instant Pot Meal Plan has been designed to take full advantage of these benefits, transforming your available ingredients into sumptuous meals with minimal fuss. Through the Instant Pot, we unlock a treasure trove of flavor, making mealtime the highlight of the day.
So, here's to making delicious, home-cooked meals more accessible and enjoyable. Welcome to the May 2023 Instant Pot Meal Plan – let's embrace the joy of effortless cooking!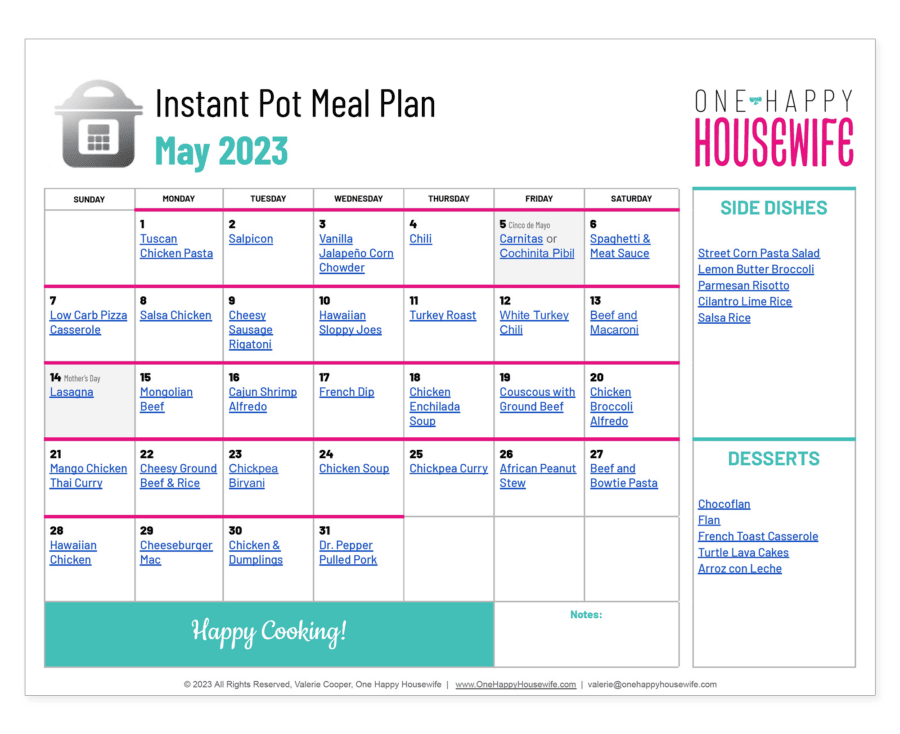 Simple and Savory Instant Pot Pasta Recipes
This May Meal Plan promises a delightful journey through the comforting world of pasta dishes, all thanks to the magic of the Instant Pot. Each recipe is designed to deliver maximum flavor with minimum effort, perfect for your bustling schedule.
My Cream Cheese Pasta with Sausage is a definite crowd-pleaser. It combines the creamy decadence of cream cheese with the robust flavors of sausage, resulting in a spectacular dish. It's simple to prepare and an absolute must-try.
Also featured in this month's plan is a classic Tuna Casserole, a one-pot wonder that combines pasta, tuna, and a creamy sauce into a comforting meal that's sure to please everyone at the dinner table.
And let's not forget the Chicken Tetrazzini, a delightful mix of pasta, chicken, and a creamy, cheesy sauce. This dish will have everyone coming back for seconds and maybe even thirds!
Join me on this PASTArrific culinary adventure with the May 2023 Instant Pot Meal Plan. Let's start cooking up a pasta storm!
CREAM CHEESE PASTA WITH SAUSAGE
This Instant Pot Cream Cheese Pasta with Sausage is a super easy dump-and-start meal and will surely be a weeknight favorite. It's creamy, flavorful, filling, and crazy easy to make. It has all the makings of the perfect weeknight family meal.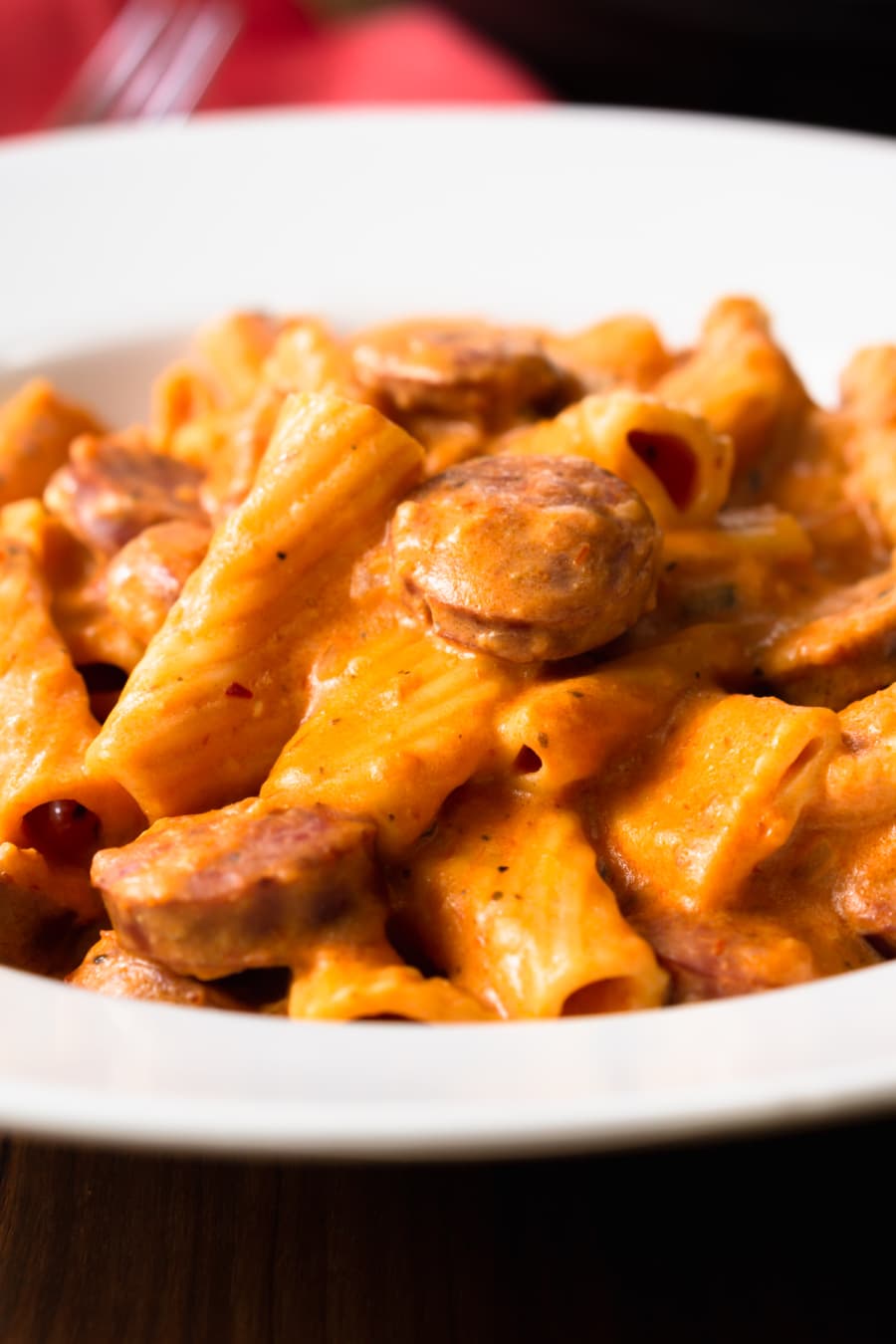 Tuna Casserole
Embrace the heartwarming nostalgia of a classic dish with this Instant Pot Tuna Casserole. Combining pasta, creamy sauce, and flavorful tuna, this recipe is the epitome of comfort food. As an easy dump-and-go meal, it takes the hassle out of mealtime without sacrificing any of the flavors. This dish is filling, satisfying, and perfect for those nights when you need a delicious meal without a lot of fuss. Whether for a family dinner or a casual get-together, this Tuna Casserole is sure to impress.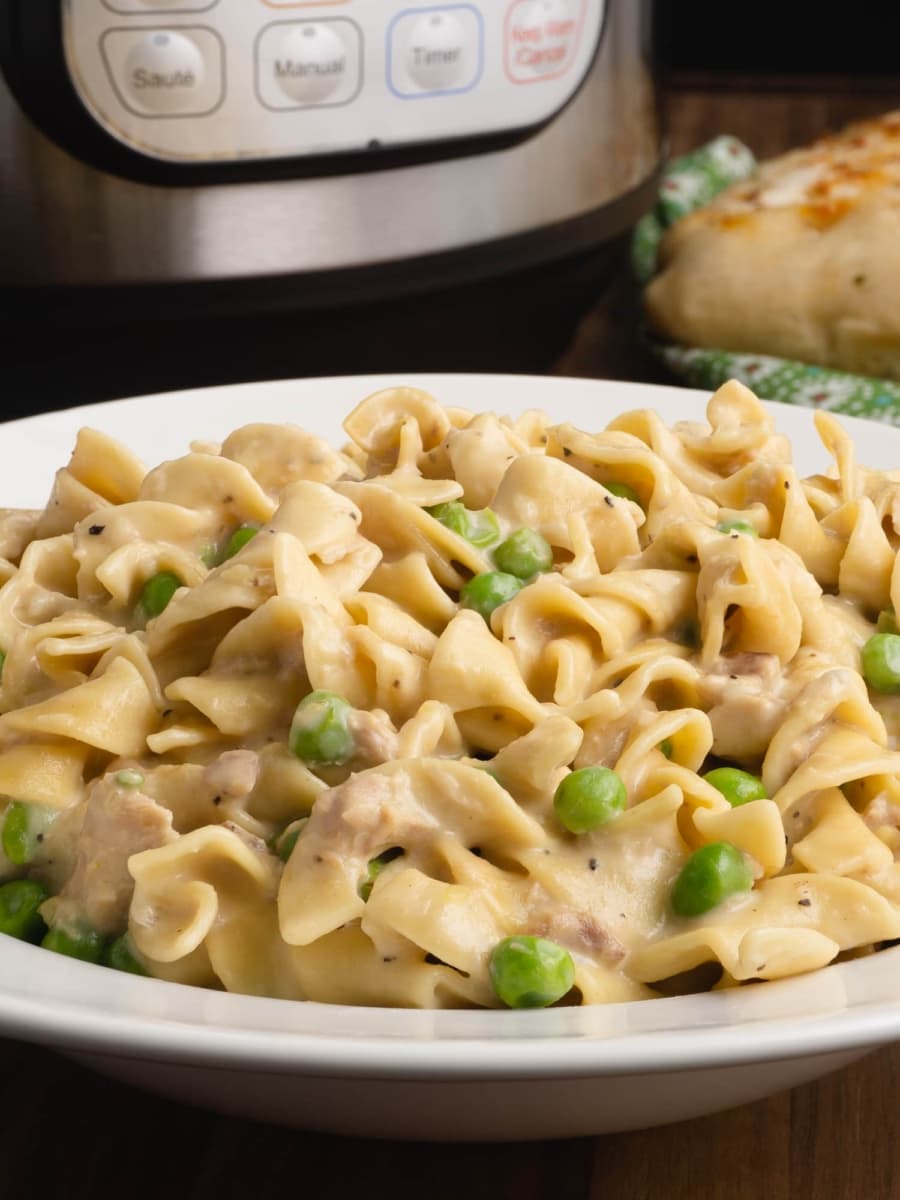 Chicken Tetrazzini
Indulge in a burst of creamy goodness with this Instant Pot Chicken Tetrazzini. Loaded with tender chicken and hearty pasta and bathed in a decadently creamy sauce, it's a dish that will leave everyone asking for more. Despite its gourmet taste, this recipe is as easy as they come, perfect for a stress-free weeknight dinner or a fancy weekend feast. Rich, filling, and satisfying, this Chicken Tetrazzini is a meal in itself and stands as a star attraction on any dining table.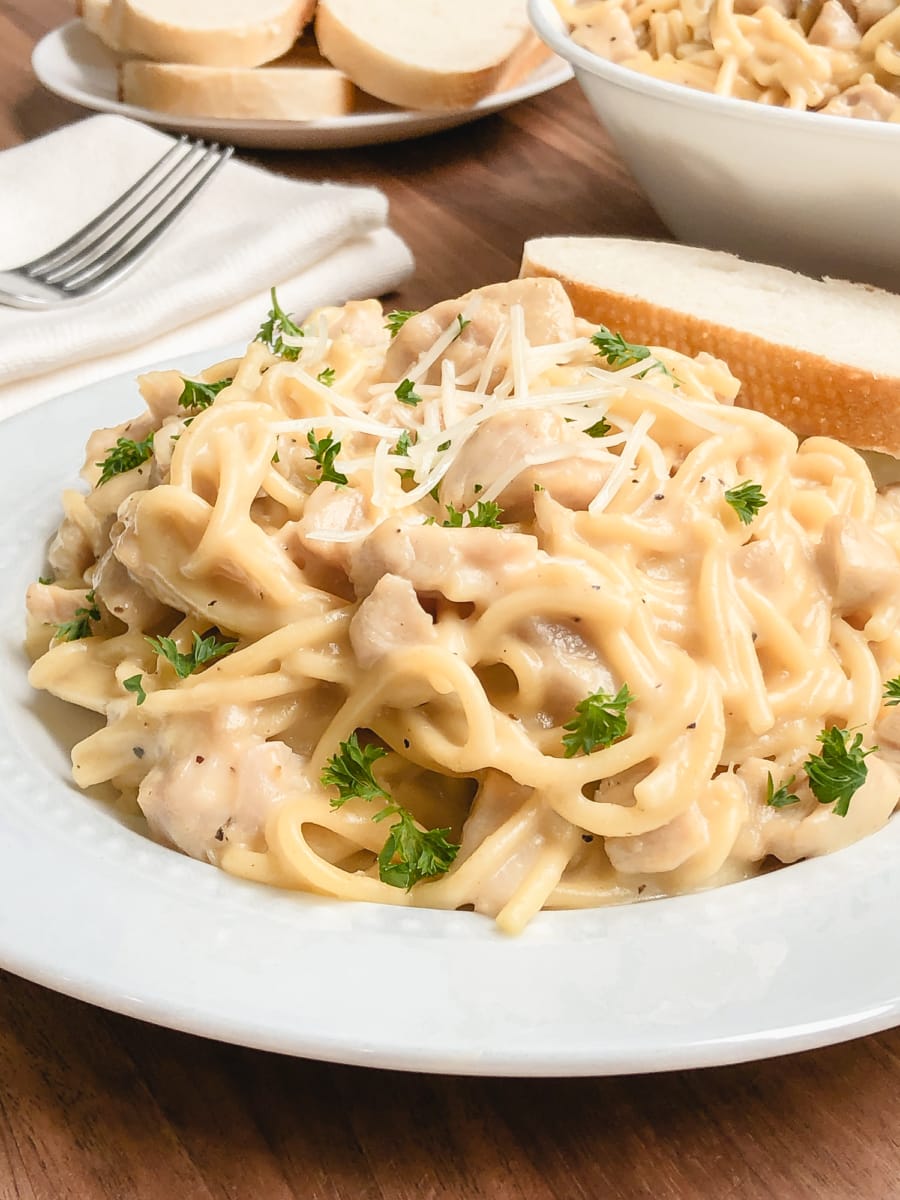 Effortless Instant Pot One-Pot Meals
As we dive into this May Meal Plan, one of the key highlights is the simplicity and convenience of one-pot meals. There's nothing quite like tossing all your ingredients into the Instant Pot and watching them transform into a complete and hearty meal.
Standout dishes include my Cajun Dirty Rice, Salsa Chicken, and Hawaiian Sloppy Joes, which are not only teeming with bold flavors but also surprisingly easy to prepare. The Cajun Dirty Rice is a tantalizing mix of rice, meat, and spices, while the Salsa Chicken combines the tangy punch of salsa with tender chicken for a satisfying meal.
If you're craving something sweet and tangy, the Hawaiian Sloppy Joes, with their unique blend of sweet peppers and pineapple, are a guaranteed hit. These one-pot wonders are your best allies during busy weeknights or when you're managing end-of-school-year chaos.
So, brace yourself for a culinary journey of comfort and convenience with these One-Pot Instant Pot meals in the May 2023 Meal Plan. Let's get cooking!
CAJUN DIRTY RICE
Chock full of the flavors of New Orleans, this Instant Pot Dirty Rice is a delicious Cajun dish that the entire family will love. This easy recipe is made with rice, a mixture of ground sausage and ground beef, chopped veggies, and Cajun spices. This recipe is quick, simple, and extremely flavorful.
SALSA CHICKEN
The Instant Pot Salsa Chicken is a dump-and-start meal that cooks quickly and is perfect for making tacos, wraps, sandwiches, or even salads. All you have to do is add some chicken breasts, a jar of salsa, and a few spices to the pot and cook for 10 minutes. It couldn't be any simpler. I love this recipe for busy nights.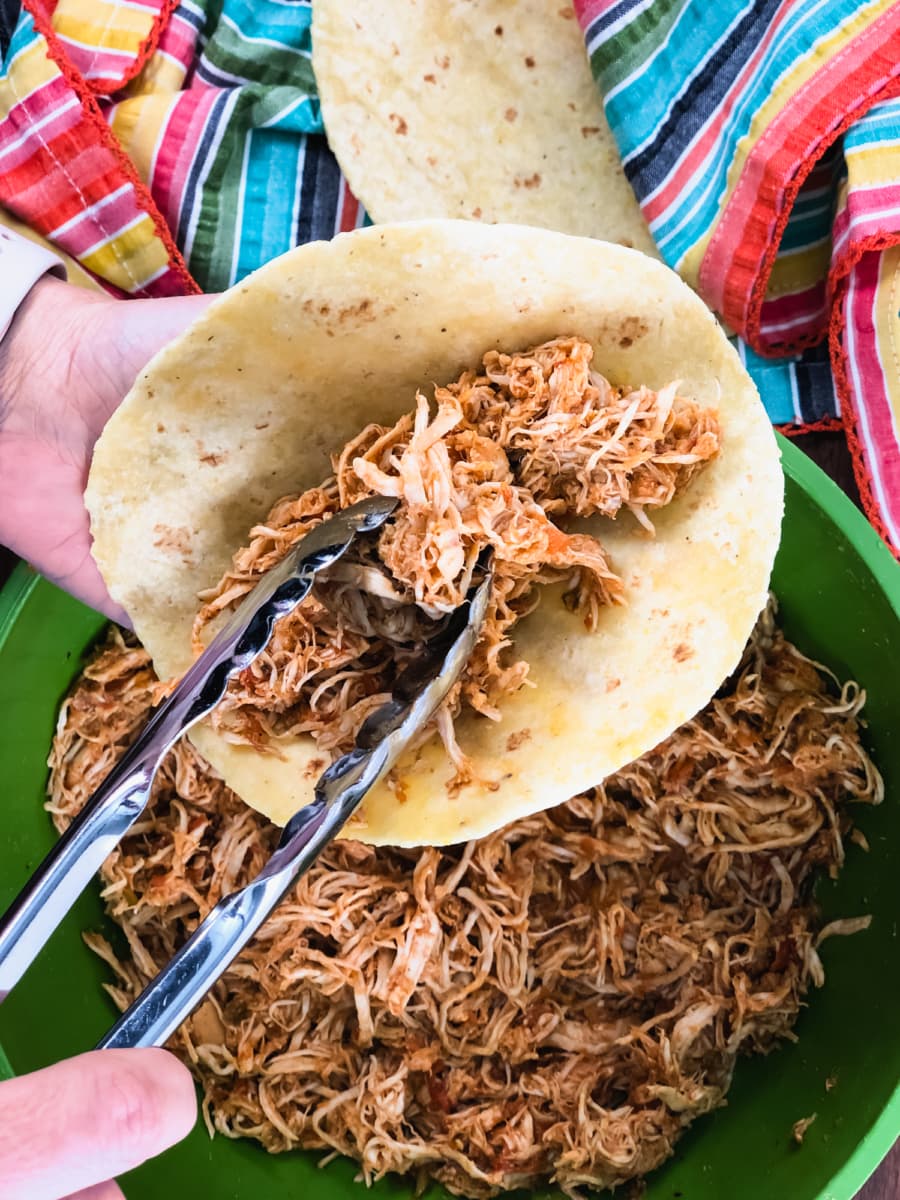 HAWAIIAN SLOPPY JOES
These Instant Pot Hawaiian Sloppy Joes are a kid favorite. Since the ground beef is made with mild sweet peppers and pineapple, it has a distinctly Hawaiian sweetness to it. Scoop some of the ground beef on some sweet Hawaiian hamburger buns and watch those hungry kiddos devour them.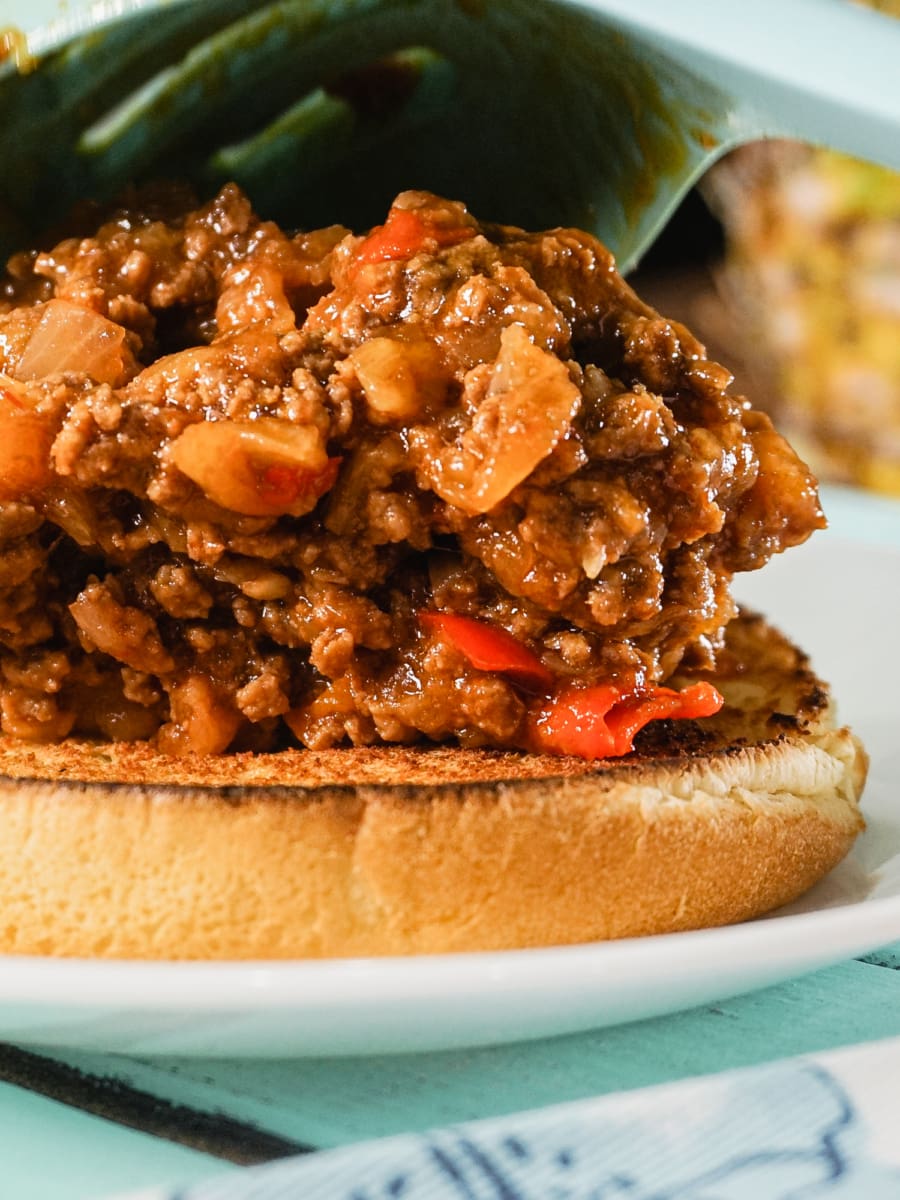 Delightful Instant Pot Side Dishes
Introducing a line-up of delectable side dishes in this May Meal Plan that will perfectly complement any main course you're whipping up in your Instant Pot. We're showcasing a trio of standout sides: Loaded Mashed Cauliflower, Spanish Rice, and Brown Rice. Each dish brings unique flavors and textures to the table, making every meal a little more special.
The side dishes in the May 2023 Instant Pot Meal Plan are set to make your meals even more memorable. Ready to jazz up your sides? Let's get cooking!
LOADED MASHED CAULIFLOWER
Say hello to the ultimate low-carb indulgence – Instant Pot Loaded Mashed Cauliflower. This dish packs all the comfort and flavor of traditional loaded mashed potatoes but with a lighter, healthier twist. Seasoned beautifully and blended with cheese, chives, and a hint of garlic, it's so creamy and flavorful that you'll forget it's cauliflower. It's an excellent side for those nights when you're craving something comforting yet healthy.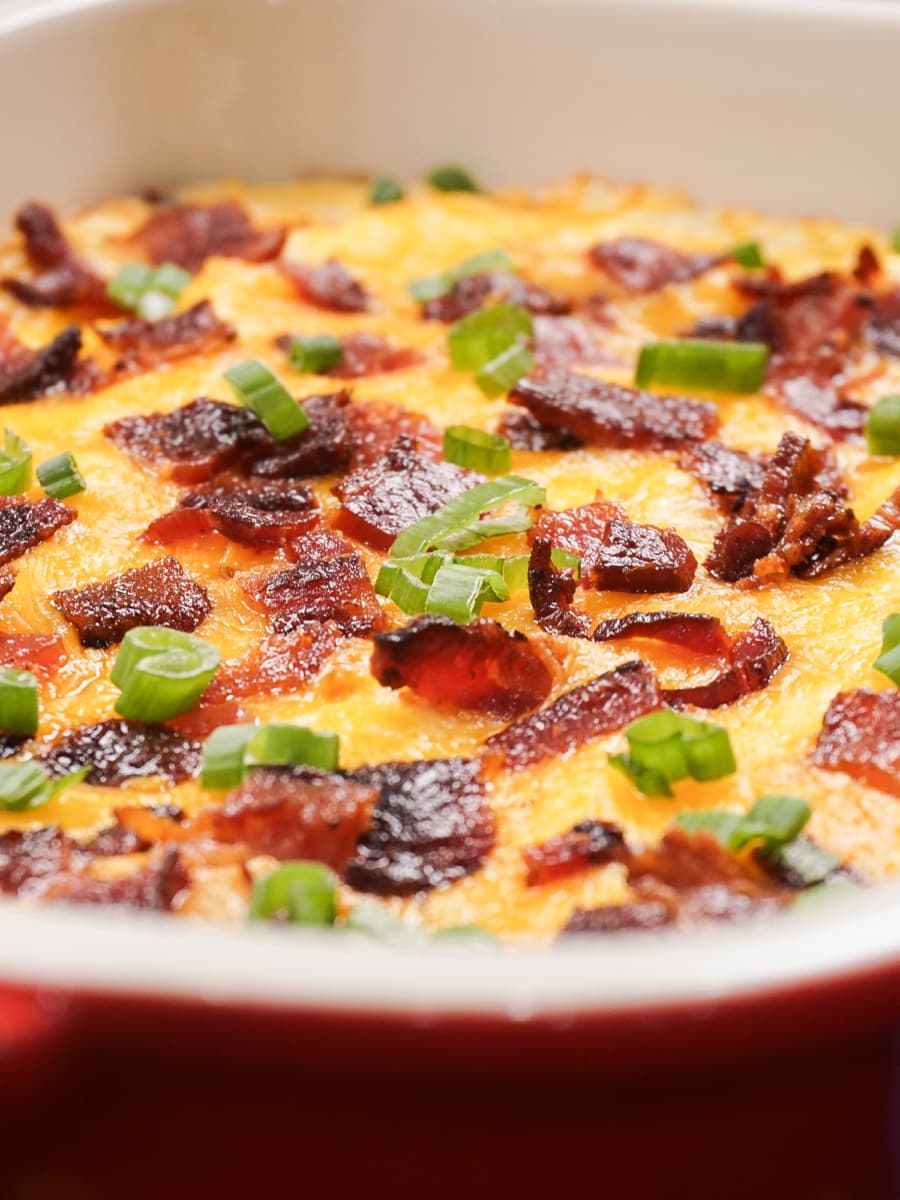 SPANISH RICE
Add a pop of color and flavor to your meal with Instant Pot Spanish Rice. This dish marries long-grain rice with a medley of vegetables and a blend of Spanish spices to deliver a side that is as vibrant in flavor as it is in appearance. Quick and easy to make, it's the perfect accompaniment to any main dish and a surefire way to transport your tastebuds to the sunny climes of Spain.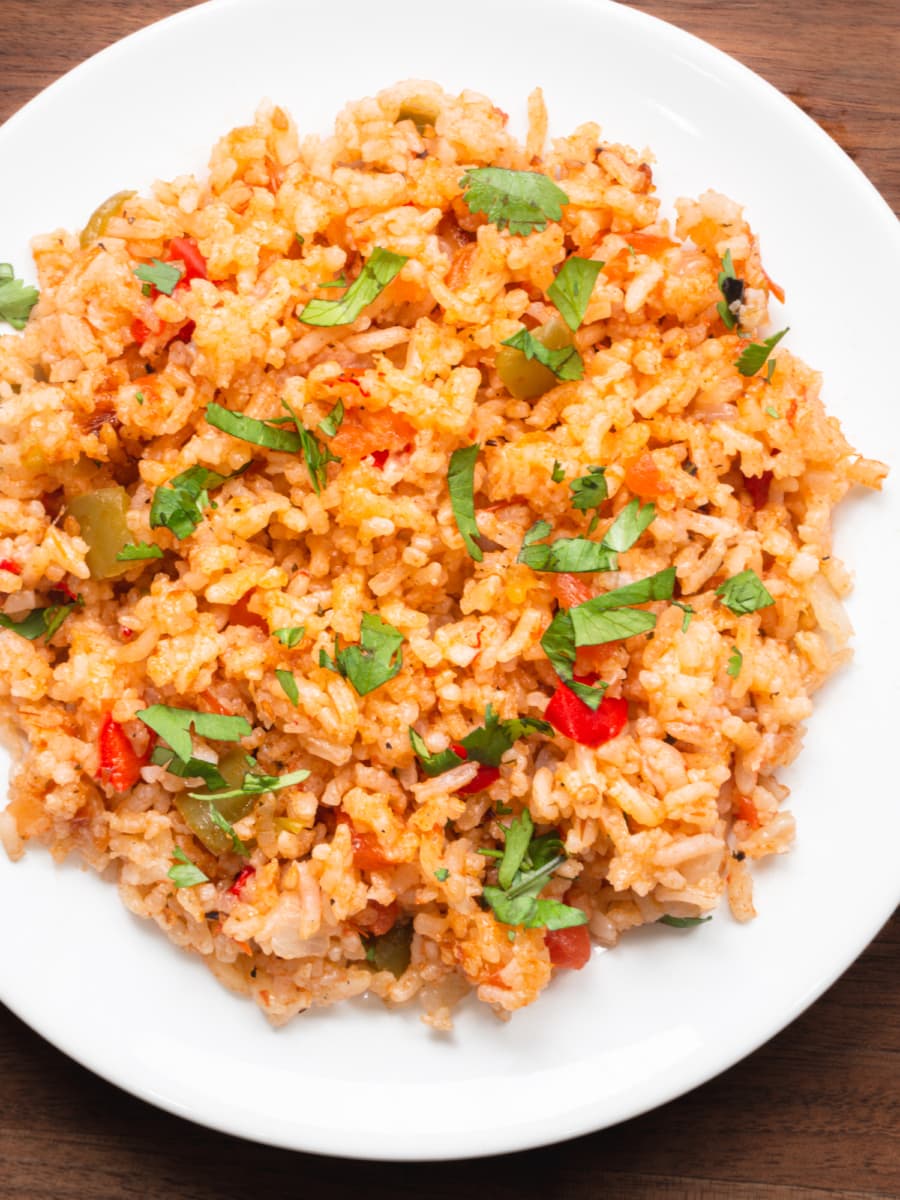 BROWN RICE
A side dish staple gets an Instant Pot upgrade with this Brown Rice recipe. Enjoy perfectly cooked grains every time, thanks to the precision of the Instant Pot. This dish serves as a wholesome, fiber-rich backdrop to a variety of main courses. Whether it's soaking up a sauce or accompanying a protein, this Brown Rice is sure to enhance any meal with its nutty flavor and chewy texture.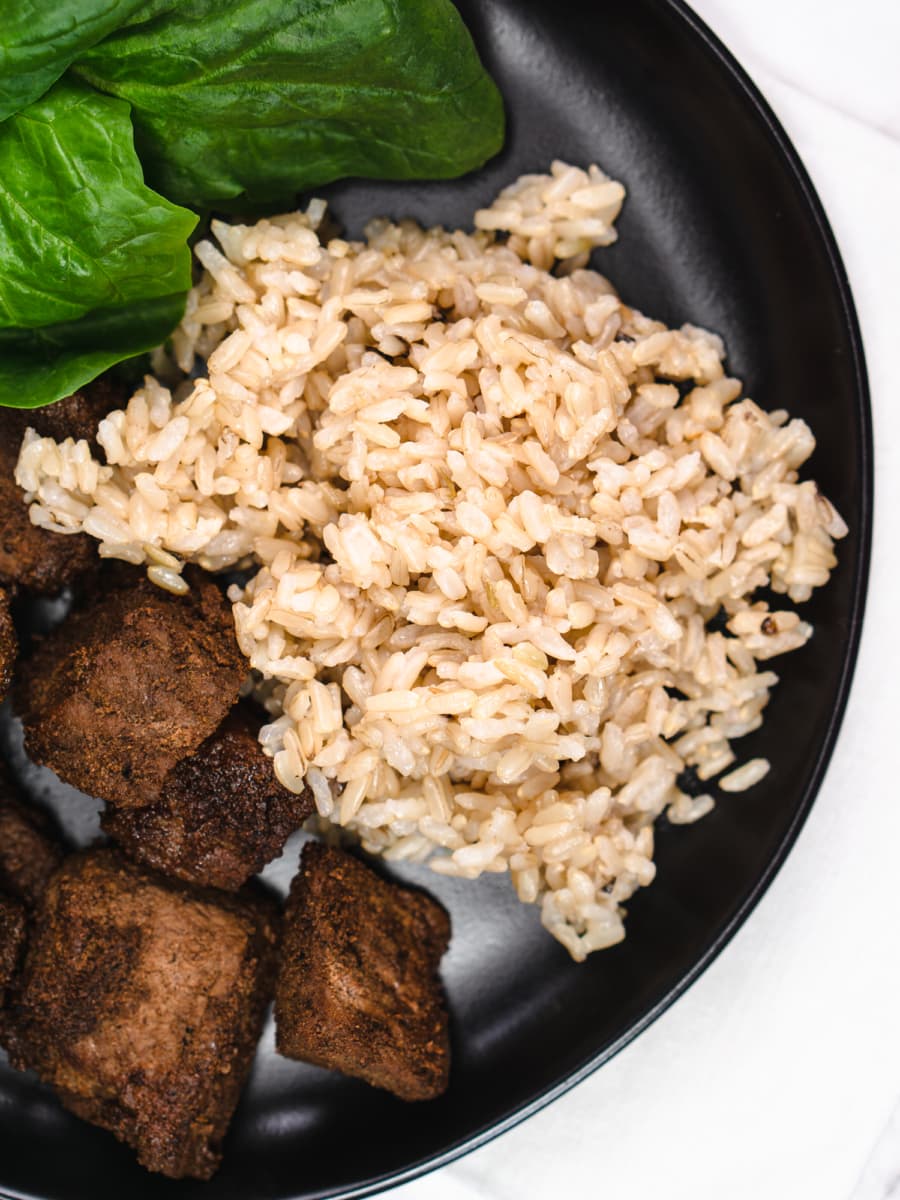 Sweet Endings with Instant Pot Desserts
No meal is truly complete without a touch of sweetness, and my May 2023 Instant Pot Meal Plan has got you covered. I'm featuring a trio of divine desserts: Flan, Dulce de Leche, and Arroz con Leche. Each of these treats is a testament to the versatility of the Instant Pot, transforming simple ingredients into delightful desserts that will satisfy any sweet tooth.
So, get ready to end your meals on a sweet note with these delightful Instant Pot desserts in my May 2023 Meal Plan. Let's bring some sweetness into our lives!
FLAN
My Instant Pot Flan is a classic dessert that will transport you to the streets of Central America. This creamy, caramel-laden delicacy is easy to make in your Instant Pot, achieving that perfect custard texture every time. With a gorgeous amber caramel sauce that's just the right blend of sweet and slightly bitter, this flan is the kind of dessert that ends your meal on a high note.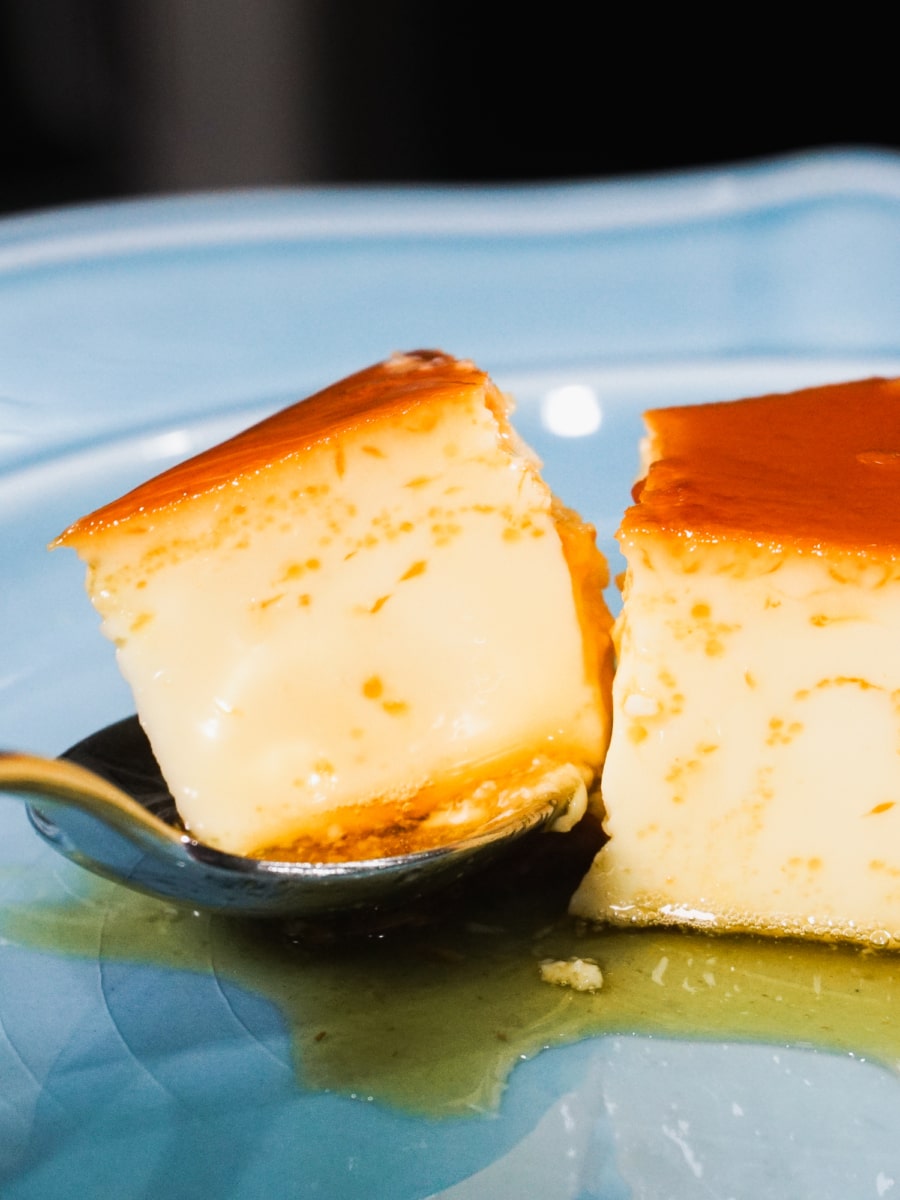 DULCE DE LECHE
Indulge your senses with Instant Pot Dulce de Leche, a thick, rich caramel sauce that's a staple in many Latin American desserts. Whether you're spooning it over ice cream, spreading it on toast, or simply enjoying it straight from the spoon, this decadent treat is sure to impress. Using the Instant Pot makes the process of creating this luxurious sweet treat effortless and foolproof, guaranteeing the perfect Dulce de Leche every time.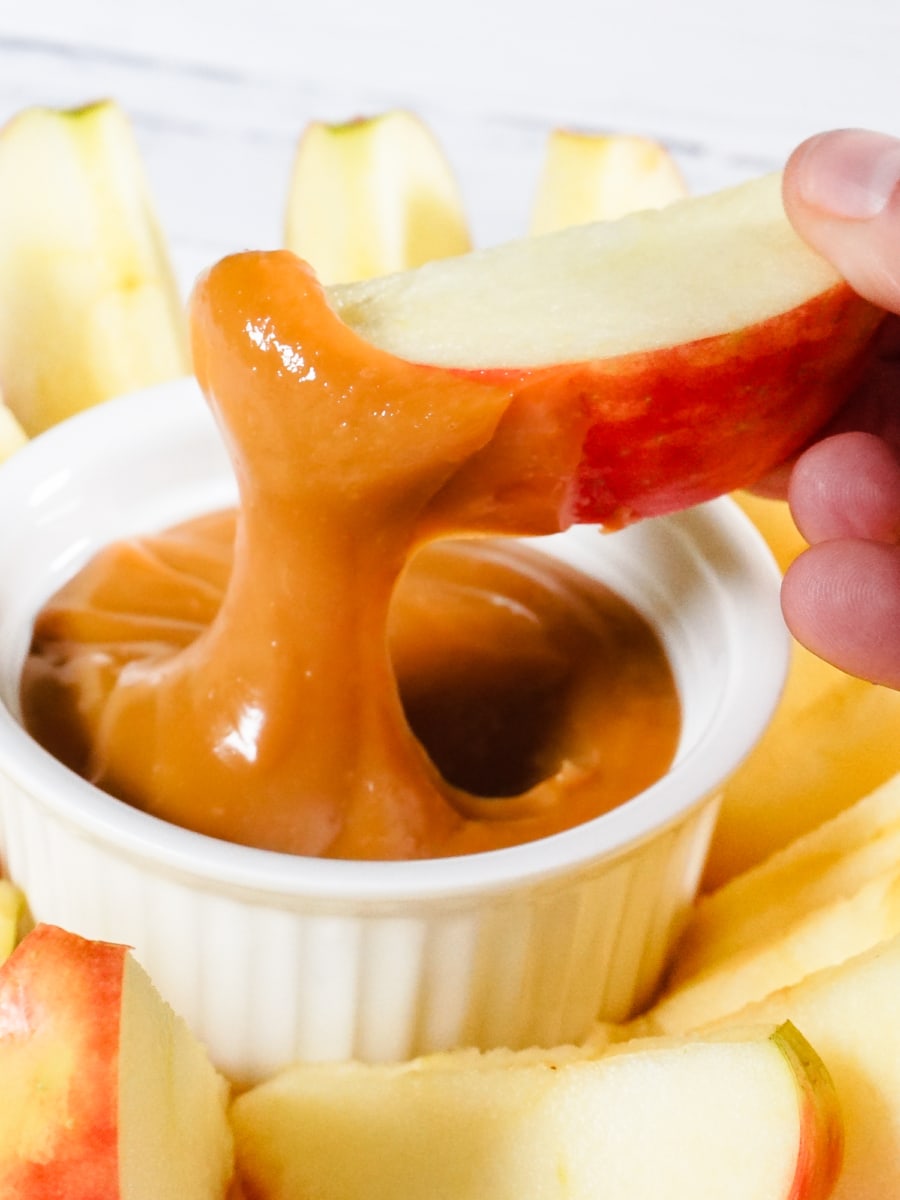 ARROZ CON LECHE
Experience the comforting sweetness of Arroz con Leche made easy in the Instant Pot. This creamy rice pudding, simmered with milk, sugar, and a hint of cinnamon, is a beloved dessert across cultures for a reason. The Instant Pot ensures the rice is perfectly cooked and the flavors meld together beautifully. This warm, comforting dessert is perfect for those chilly nights or simply when you want to treat yourself to something special.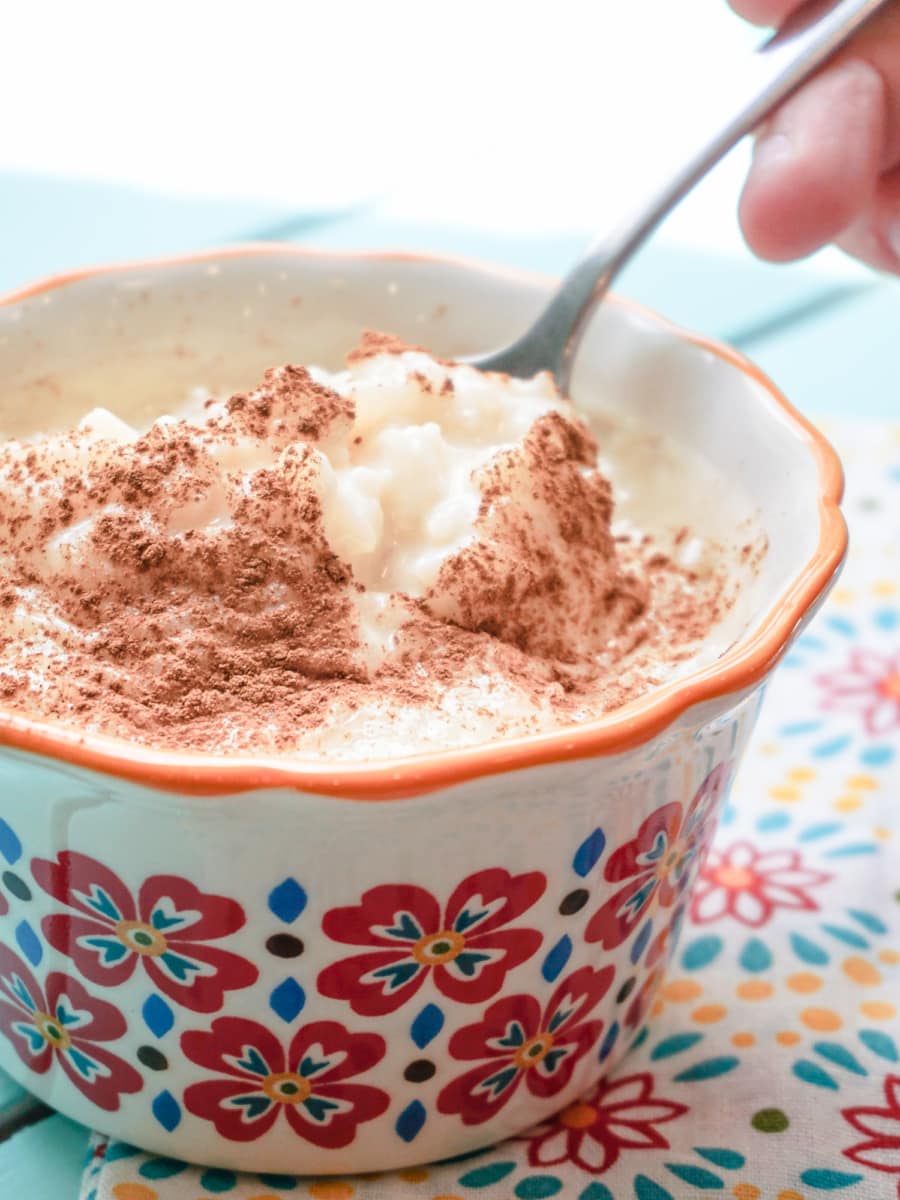 Enjoy this last month of school!
Make sure you also check out my latest Instant Pot Meal Plan.
May 2023 Instant Pot Meal Plan
Below the list of recipes, you will find a link to the downloadable calendar and links to all my monthly Instant Pot meal plans.
Download the May 2023 Meal Plan Calendar.
For more Instant Pot Meal Plan ideas for the month of May, check out my archive of May Instant Pot Meal Plans.
Past Instant Pot Meal Plans
Each month I publish a new, updated Instant Pot Meal Plan. So don't miss out on seeing what wonderful dishes I've included in my latest one.
LOOKING FOR A PAST MEAL PLAN?
You can also access all of my previously published Instant Pot Meal Plans through the links below. I handpick the recipes that appear each month, so you will find that each month is unique with its own set of recipes geared specifically toward that month. Plus, on each meal plan page, you can download the printable calendar for that month.