Busy parents, rejoice! The Instant Pot meal plan for November is here to help you get through the month with quick and easy recipes that are sure to satisfy everyone in the family. Whether you're looking for a meal with minimal cleanup or just want something that can be made in 30 minutes or less, this meal plan has got you covered.
With recipes ranging from comforting soups, hearty stews, and one-pot dinners to savory sides and decadent desserts, there's something for everyone. Plus, each meal is tailored to fit your Instant Pot, making meal prep easier than ever before.
So let's take a look at some of the recipes included in this meal plan and find one that will be perfect for you!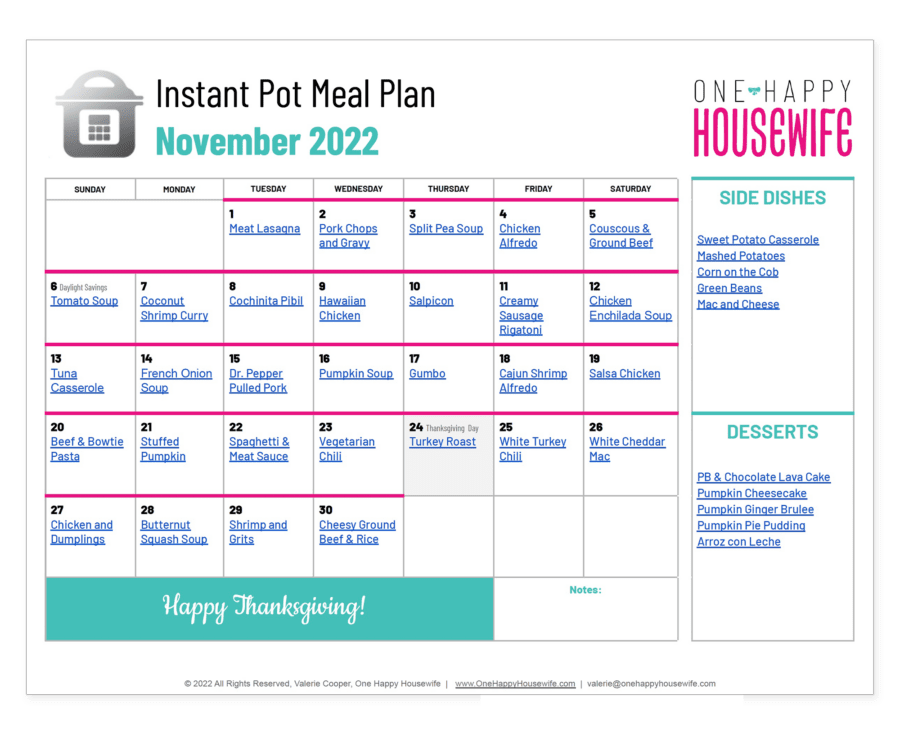 Happy Thanksgiving & Happy cooking! 🙂
Make sure you also check out my latest Instant Pot Meal Plan.
November 2022 Instant Pot Meal Plan
Below the list of recipes, you will find a link to the downloadable calendar and links to all my monthly Instant Pot meal plans.
Download the November 2022 Meal Plan Calendar.
For more Instant Pot Meal Plan ideas for the month of November, check out my archive of November Instant Pot Meal Plans.
Past Instant Pot Meal Plans
Each month I publish a new, updated Instant Pot Meal Plan. So don't miss out on seeing what wonderful dishes I've included in my latest one.
Looking for a past meal plan?
You can also access all of my previously published Instant Pot Meal Plans through the links below. I handpick the recipes that appear each month, so you will find that each month is unique with its own set of recipes geared specifically toward that month. Plus, on each meal plan page, you can download the printable calendar for that month.