In this February 2019 Instant Pot Meal Plan, you'll find lots of delicious meals, side dishes, and desserts for this chilly month. This month you'll enjoy a comforting bowl of Tomato Soup, a hearty Spaghetti and Meat Sauce, a delicious Taco Pasta (a family favorite), and so much more. The temperatures have been brutal and these meals are sure to help keep you warm. Here's what you can expect: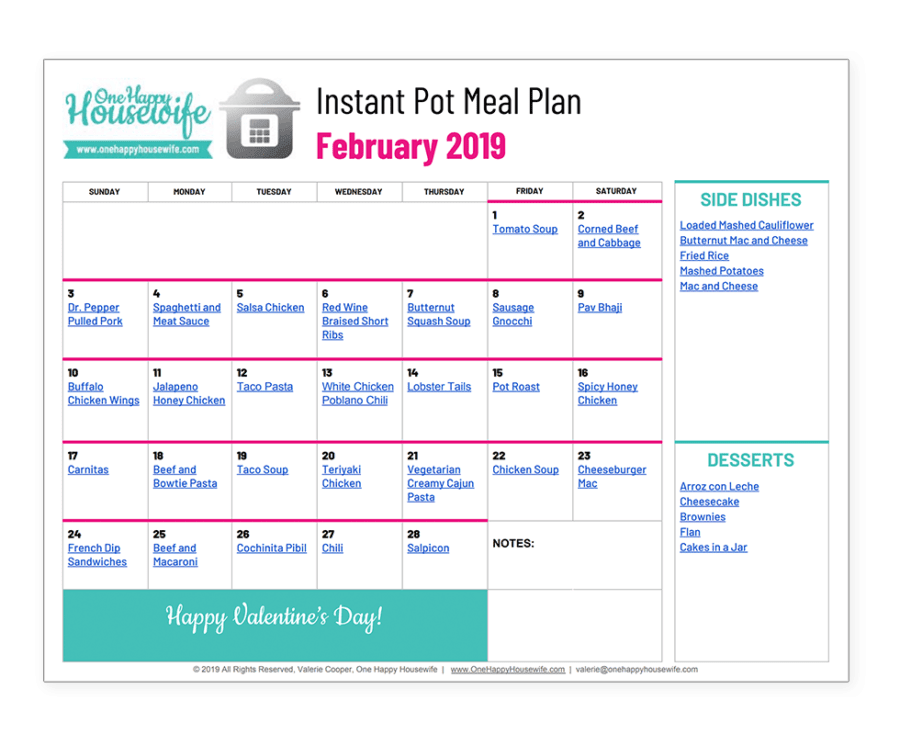 Instant Pot Soup Recipes
February can bring harsh cold weather. So, you'll need some meals that will help you fight the freeze. There is nothing better than a piping hot bowl of soup to warm you from head to toe and inside out. I have some wonderful Instant Pot Soups for you this month. You'll find my Tomato Soup, Taco Soup, and Chicken Soup on this February Meal Plan, to name a few.
Tomato Soup
I have a weakness for tomato soup. It has to be my absolute favorite soup. I've made my Instant Pot Tomato Soup recipe to be easy and to satisfy that craving for the amazing comforting flavor of tomato soup. I infused this soup with basil and a touch of honey, which makes this recipe extra special. Tomato soup always requires some bread to dip in it so, I always make some crusty bread to serve with it.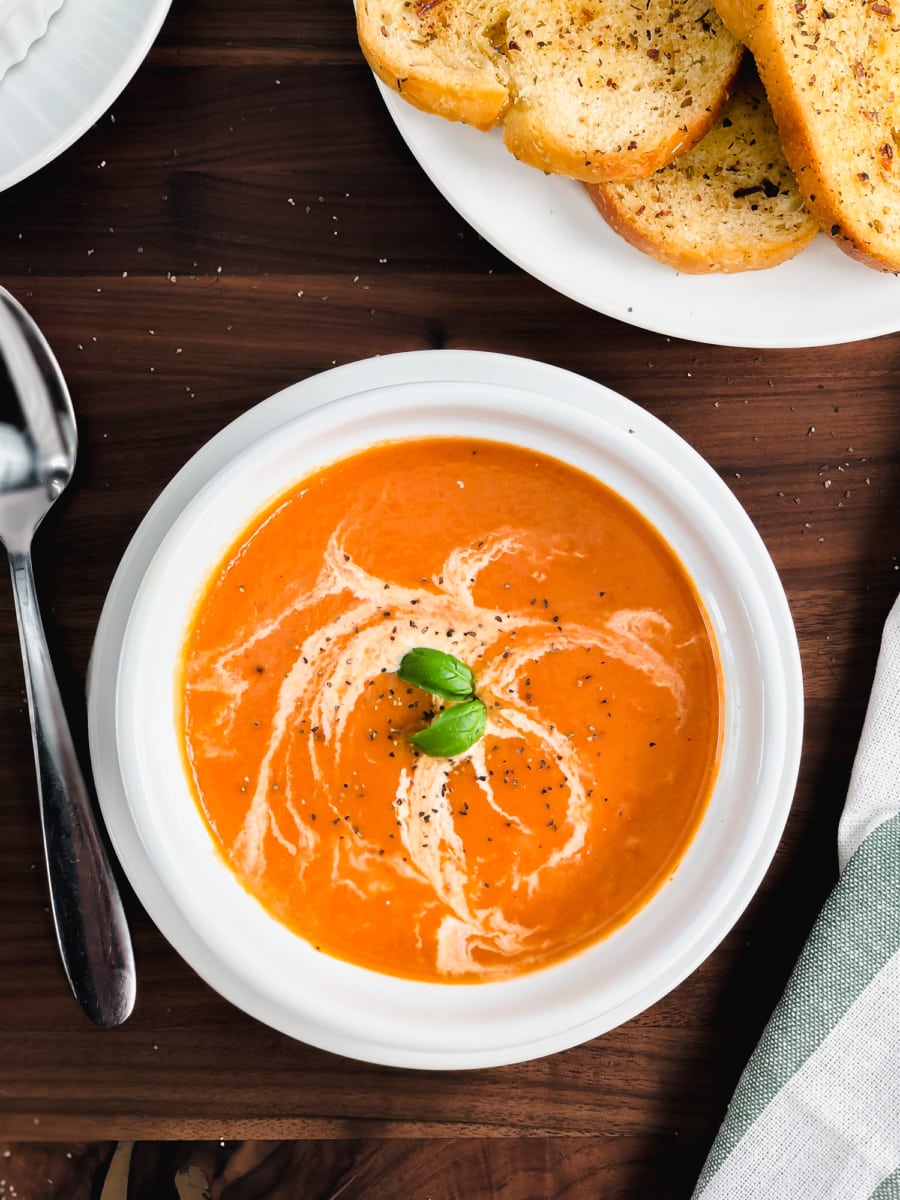 Taco Soup
This Instant Pot Taco Soup recipe is filled with loads of festive flavor. I use a special blend of spices to give this soup its big taco taste. You'll love that I made this soup super hearty by loading it with ground beef, three types of beans, fire-roasted tomatoes, corn, and green chilis. We always add our favorite taco toppings to each bowl of this soup.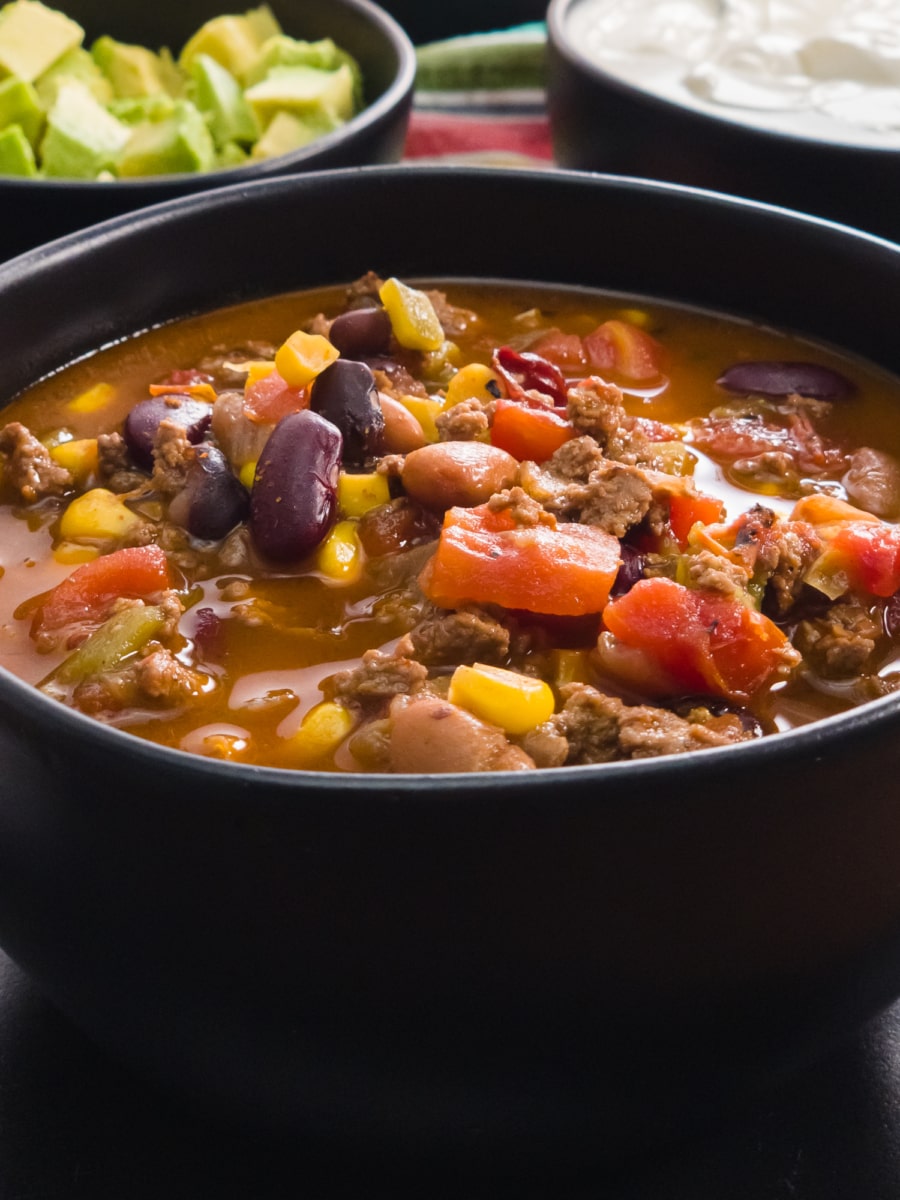 Chicken Soup
My Instant Pot Chicken Soup will not only warm you up, but it will help you fight those nasty bugs that we all pick up during the winter months. I make this chicken soup recipe using a whole chicken, wholesome vegetables, and wonderful herbs and spices. This soup is big on flavor and comfort.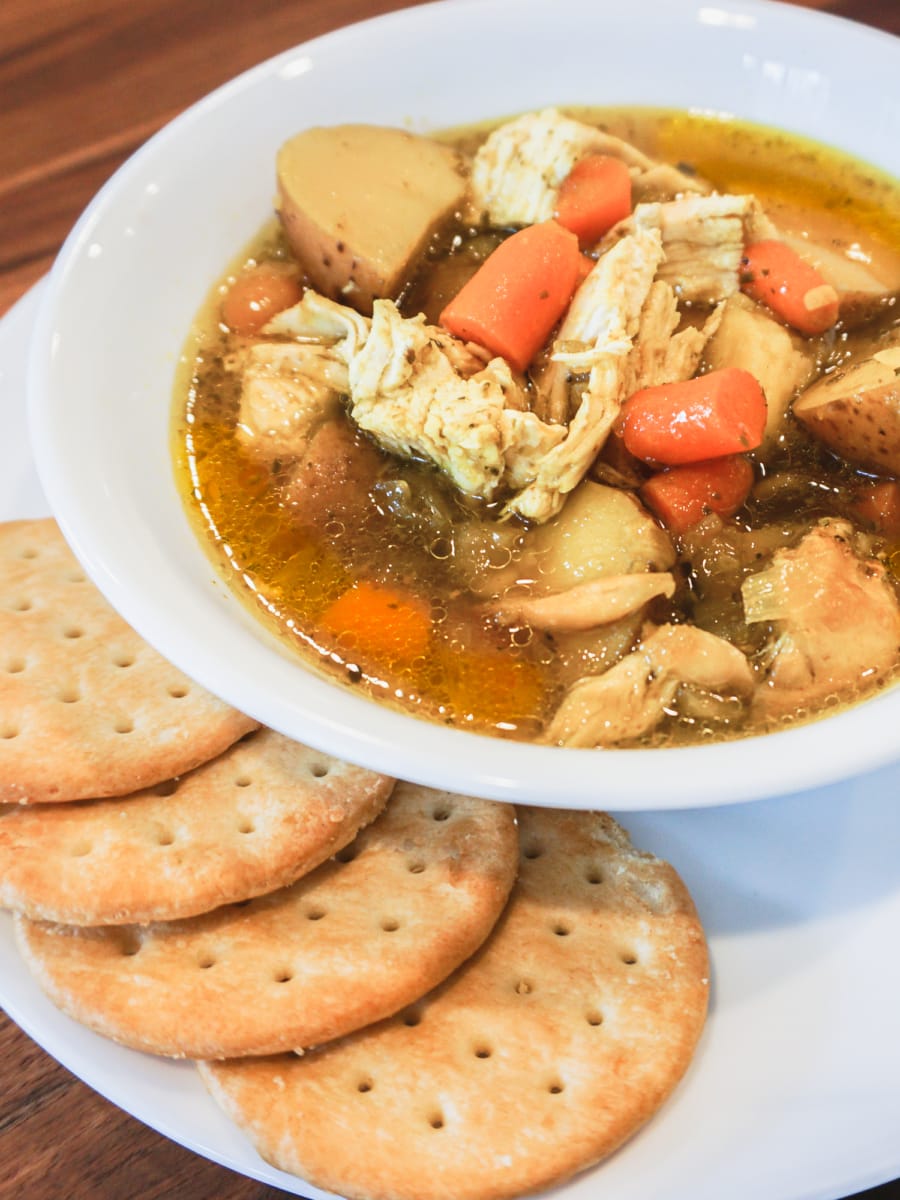 Instant Pot Pasta Recipes
Need more comfort? I have loads of comforting Instant Pot Pasta Recipes in my February Meal Plan. All of the pasta recipes in my meal plans are easy to make, tastes delicious, and will be loved by the entire family. The Spaghetti and Meat Sauce, Taco Pasta, and Cheeseburger Mac are especially comforting during these brutally bitter days of February.
Spaghetti and Meat Sauce
For a traditional Italian comfort dish, my Instant Pot Spaghetti and Meat Sauce is perfect. You can never go wrong with this recipe. The entire family loves it, it's filling, and it's fast to make. Serve it with a side of my homemade garlic bread, and you're golden! A perfect pasta dish for any day of the week.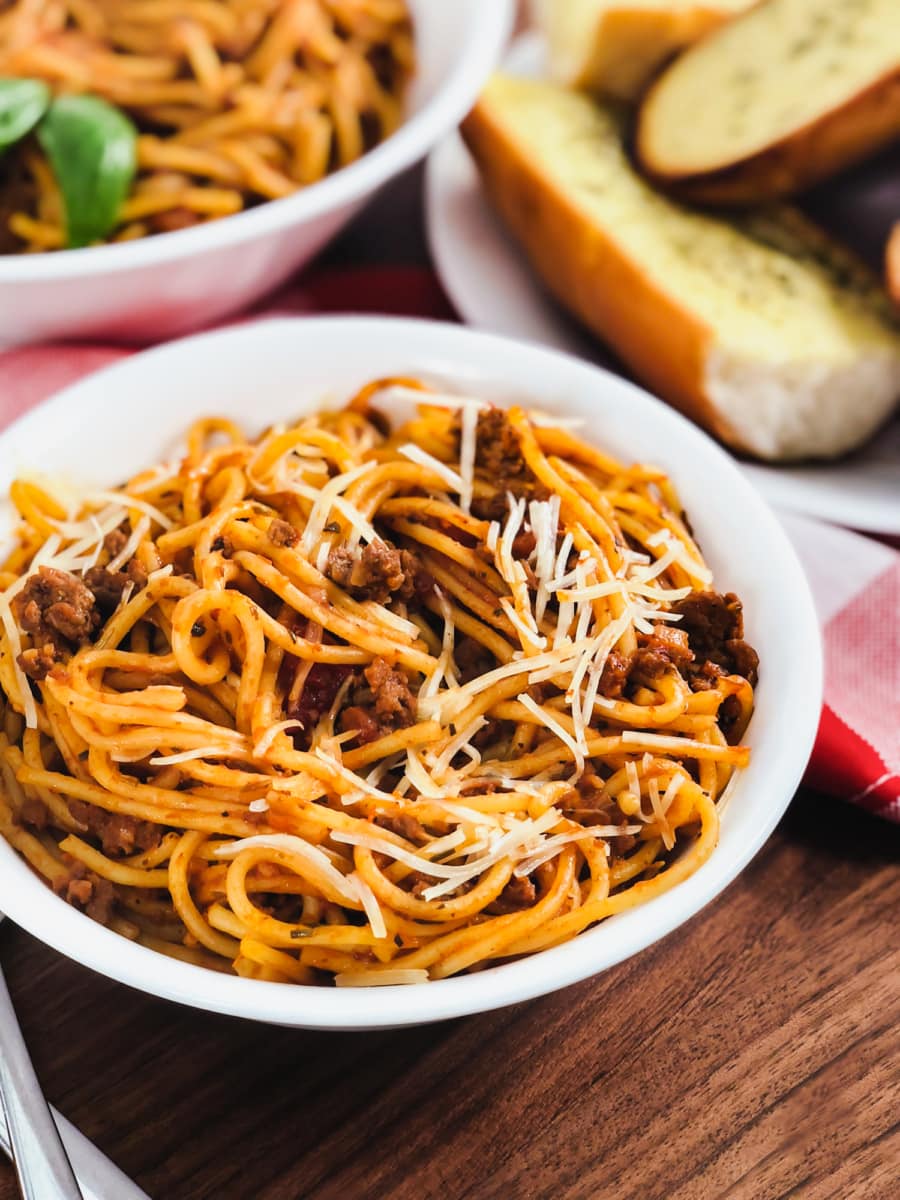 Taco Pasta
Add some festive Mexican flair to pasta night with my Instant Pot Taco Pasta recipe. I use taco seasonings to give the ground beef and pasta its unmistakable taco flavor. We like to top each plate of pasta with all our favorite toppings including sour cream, shredded cheese, and cilantro.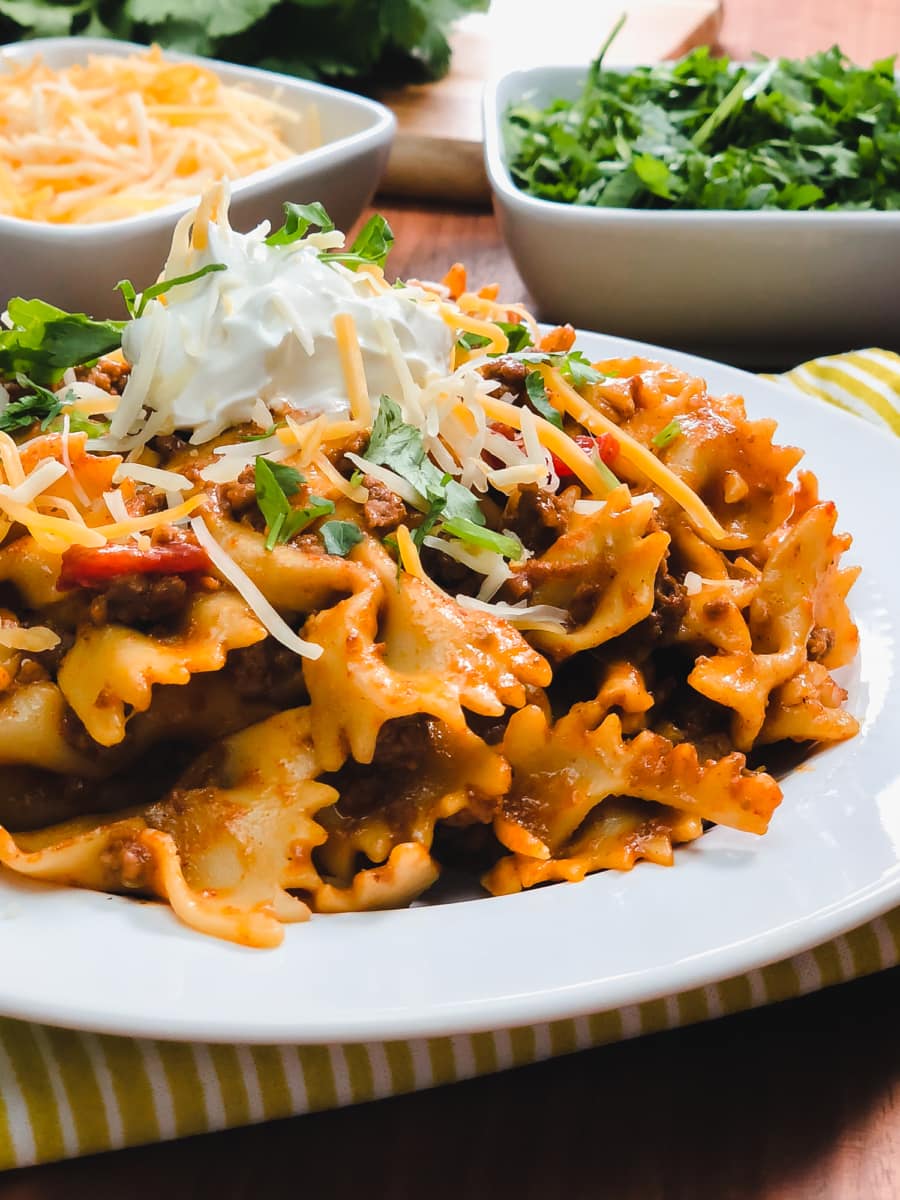 Cheeseburger Pasta
Looking for a kid favorite? My Instant Pot Cheeseburger Pasta is a must! It delivers all the flavor of a cheeseburger in a pasta dish. I season the ground beef to perfection and load this pasta dish up with copious amounts of cheddar cheese. We like to top ours with bacon crumbles for an unbeatable kid-friendly pasta dish.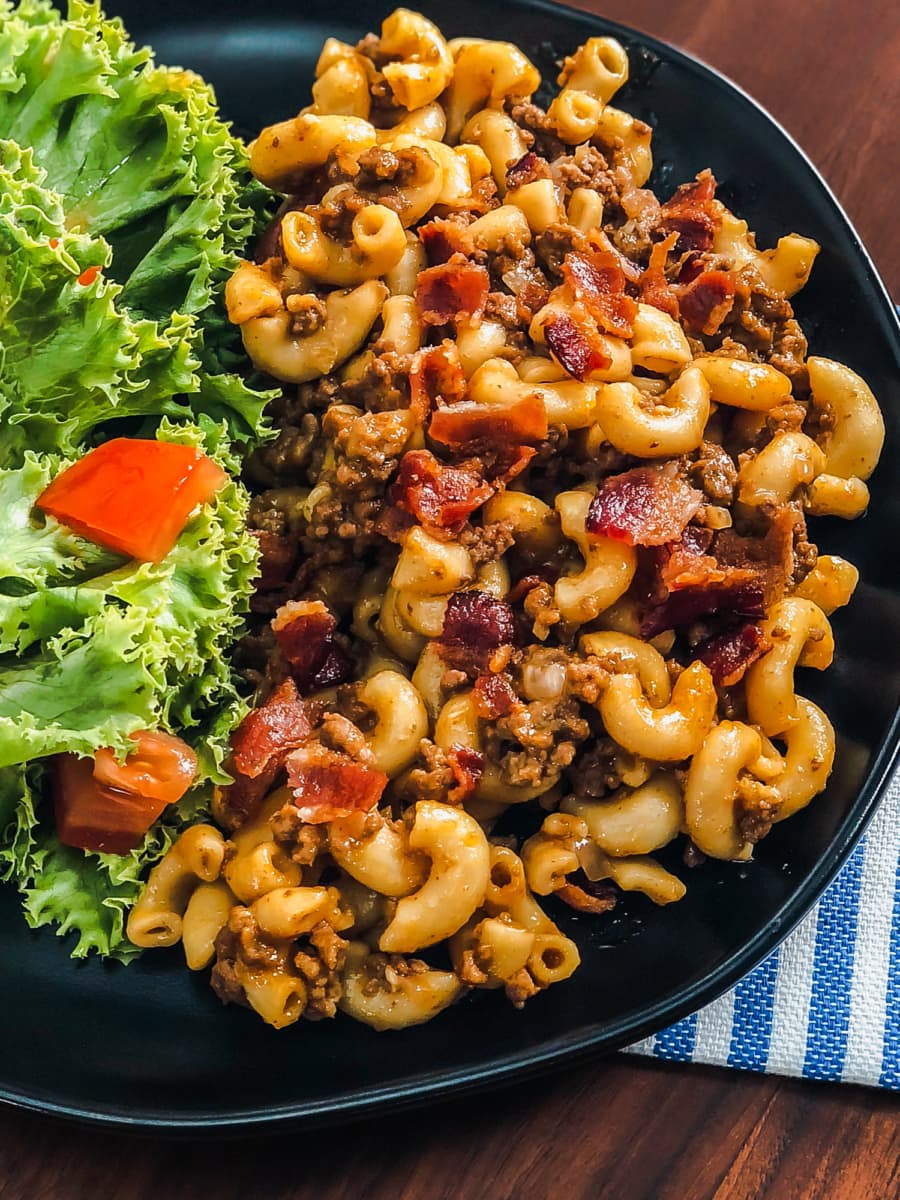 Instant Pot Side Dishes
I have some outstanding Instant Pot Side Dishes for you this month. You'll find some super comforting options for this cold weather. My Mac and Cheese and my Mashed Potatoes are always favorites that go well with so many main dishes.
I also have some super special sides for you in this February Meal Plan. My Loaded Mashed Cauliflower is to die for. And the Butternut Mac and Cheese is so creamy and delicious.
Loaded Mashed Cauliflower
If you're ready to take cauliflower to a whole other level, then you have to try this recipe. My Instant Pot Loaded Mashed Cauliflower is as comforting and delicious as cauliflower can get. The cauliflower is so smooth and so creamy. And it's topped with melted cheddar cheese and bacon. Wow! This cauliflower recipe is phenomenal.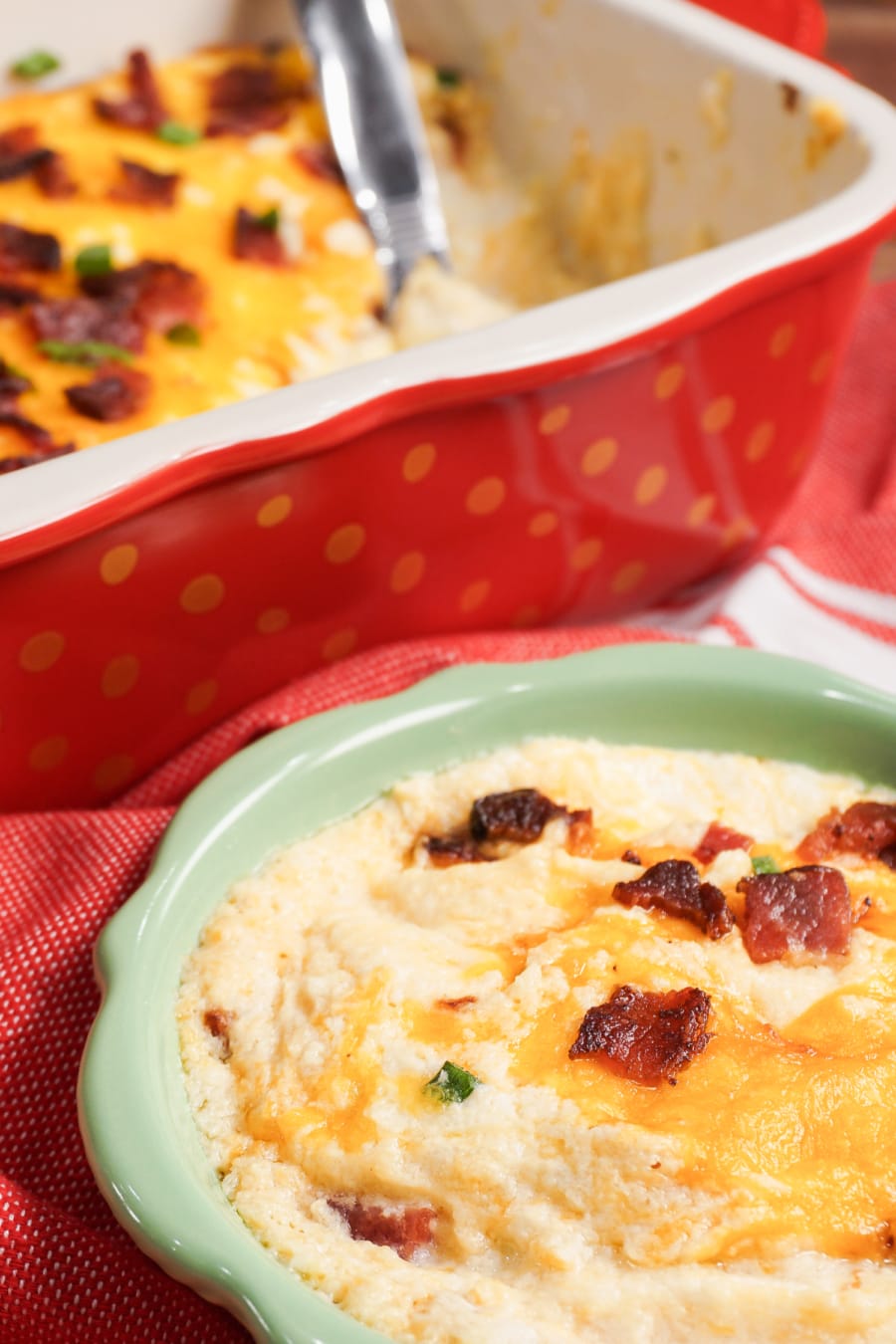 Butternut Mac and Cheese
This is such a delicious spin on traditional Mac & Cheese. My Instant Pot Butternut Mac and Cheese is a perfect way to warm up on a chilly day. The butternut squash, cinnamon, and nutmeg will make this a favorite comforting side dish to serve with soups, meats, and much more.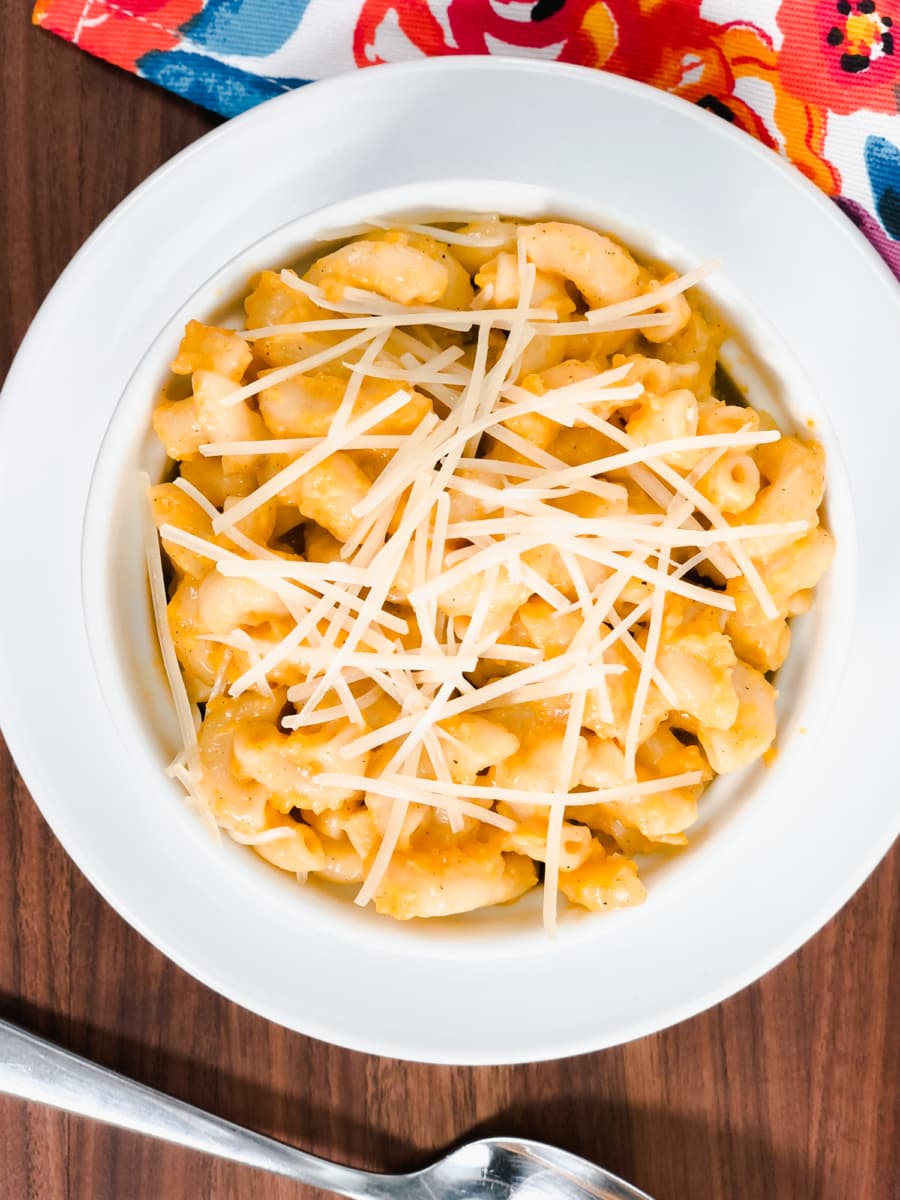 Instant Pot Dessert
This month's desserts are amazing! You must try the Cheesecake and the Brownies recipes. Making these two classic desserts in the Instant Pot is quick and simple. Another super simple recipe that's a perfect fit for the pressure cooker are the Cakes in a Jar. So warm and delicious. My February Meal Plan is loaded with delicious desserts!
I've also included two of my reader's favorite desserts this month. So, don't miss my Arroz con Leche and Flan recipes. They are both outstanding!
Arroz con Leche
This warm and comforting dessert is perfect for cold winter days. My Instant Pot Arroz con Leche will warm you from the inside. After making this simple Hispanic dessert, serve it warm and top with a few dashes of cinnamon. It's so delightful.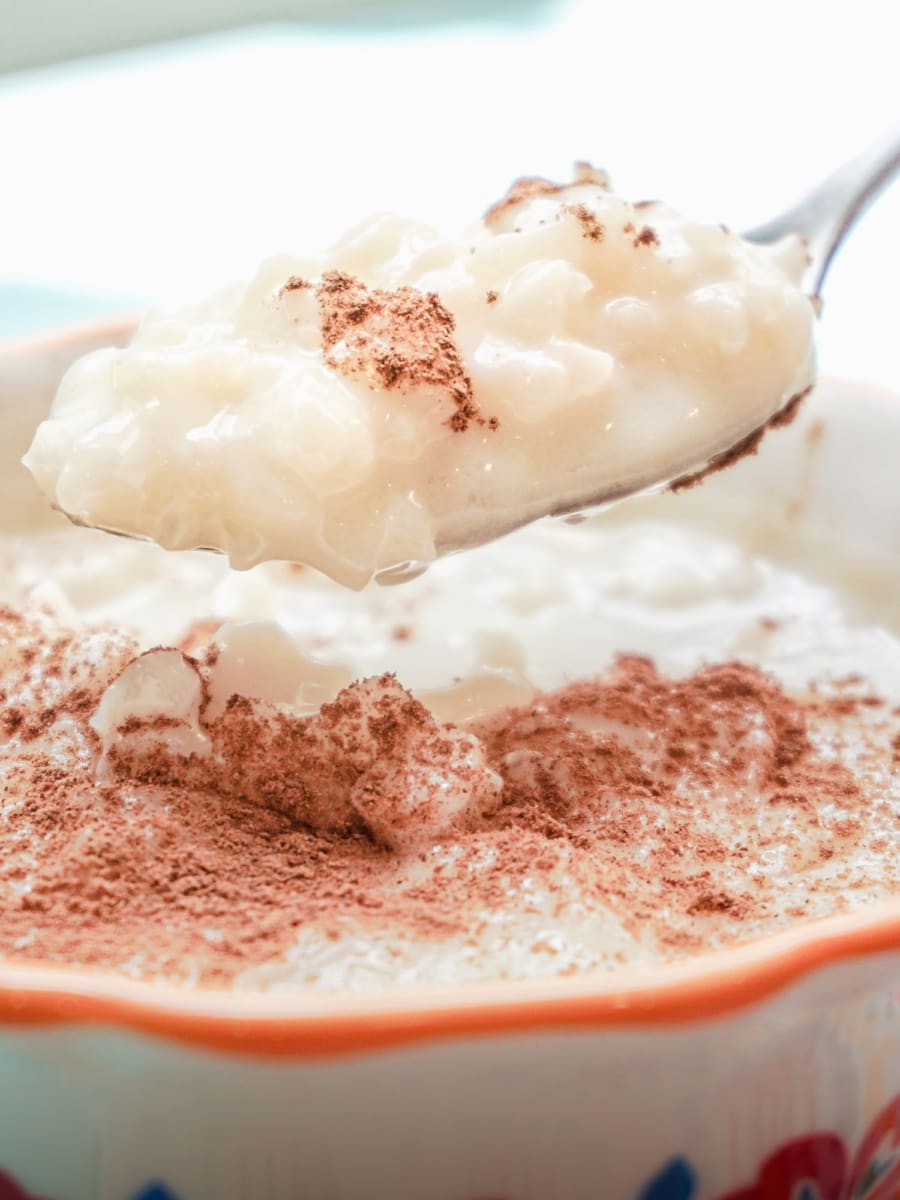 Flan
Looking for something rich, creamy, and sweet? Try my Instant Pot Flan. This isn't your typical flan. This flan is so thick, so luscious, and so creamy! With a consistency of a soft cheesecake, you'll fall in love with this Honduran version of flan. And the caramel sauce on top is on point! If you're looking for a perfect dessert to follow any meal, then this recipe is it!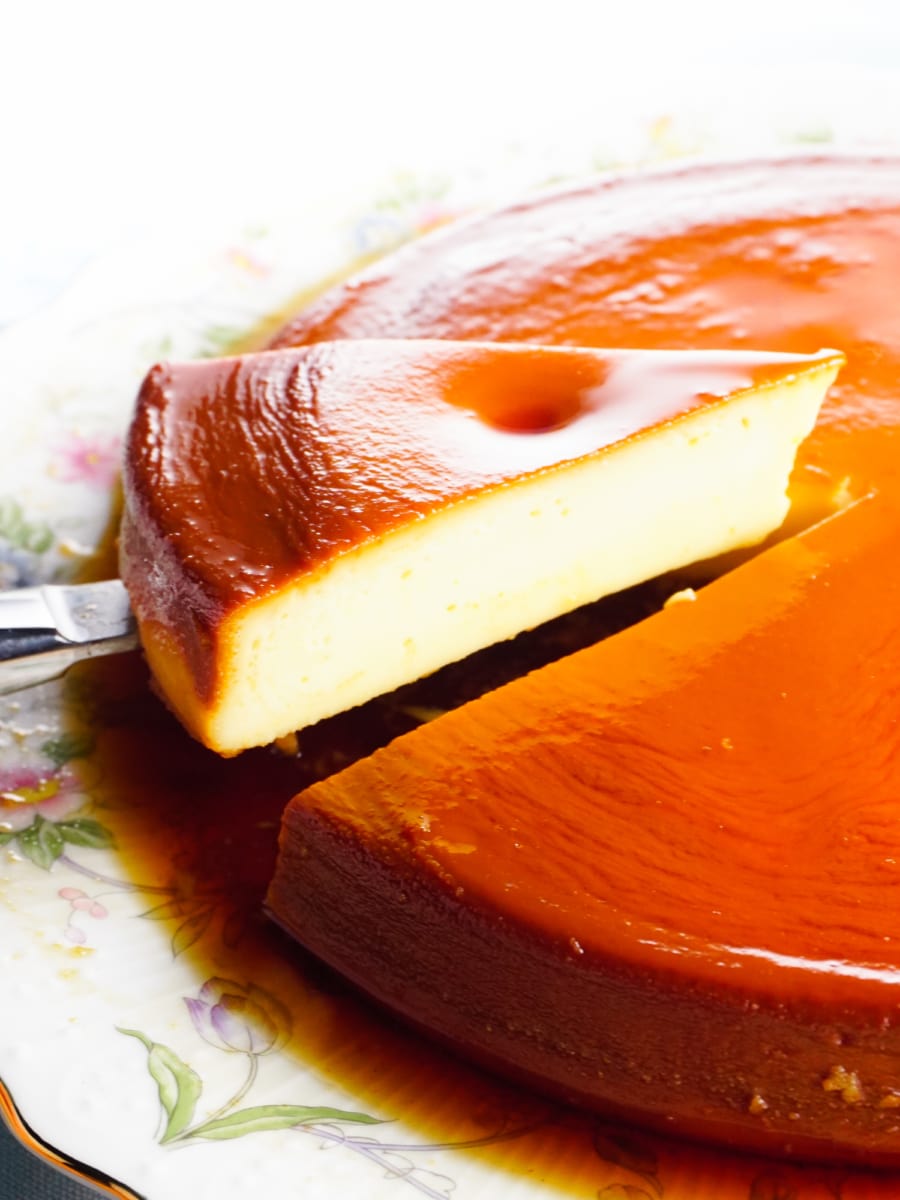 Enjoy Valentine's Day and have a wonderful month of February!
Make sure you also check out my latest Instant Pot Meal Plan.
February 2019 Instant Pot Meal Plan
Below the list of recipes, you will find a link to the downloadable calendar and links to all my monthly Instant Pot meal plans.
Main Dishes
These are the dishes for February.
Download the February 2019 Meal Plan Calendar.
For more Instant Pot Meal Plan ideas for the month of February, check out my archive of February Instant Pot Meal Plans.
Past Instant Pot Meal Plans
Each month I publish a new, updated Instant Pot Meal Plan. So don't miss out on seeing what wonderful dishes I've included in my latest one.
LOOKING FOR A PAST MEAL PLAN?
You can also access all of my previously published Instant Pot Meal Plans through the links below. I handpick the recipes that appear each month, so you will find that each month is unique with its own set of recipes geared specifically toward that month. Plus, on each meal plan page, you can download the printable calendar for that month.