The October Meal Plan is packed full of delicious fall recipes! Now that it's cooler outside, it's time to cook up some comforting soups and warm, hearty meals! I hope you and your family enjoy all the fall-inspired recipes in this month's meal plan! Here's what you can expect: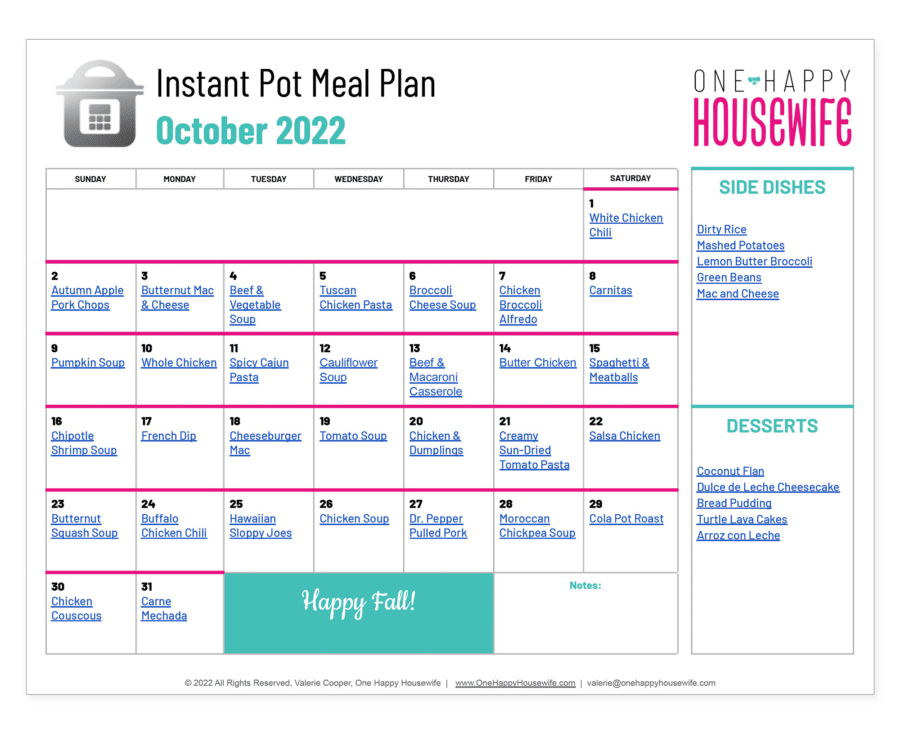 Make sure you also check out my latest Instant Pot Meal Plan.
October 2022 Instant Pot Meal Plan
Below the list of recipes, you will find a link to the downloadable calendar and links to all my monthly Instant Pot meal plans.
Download the October 2022 Meal Plan Calendar.
For more Instant Pot Meal Plan ideas for the month of October, check out my archive of October Instant Pot Meal Plans.
Past Instant Pot Meal Plans
Each month I publish a new, updated Instant Pot Meal Plan. So don't miss out on seeing what wonderful dishes I've included in my latest one.
Looking for a past meal plan?
You can also access all of my previously published Instant Pot Meal Plans through the links below. I handpick the recipes that appear each month, so you will find that each month is unique with its own set of recipes geared specifically toward that month. Plus, on each meal plan page, you can download the printable calendar for that month.