It's August and that means surviving the scorching summer days and the kids heading back to school! With that in mind, this August 2021 Instant Pot Meal Plan should make these hot summer days a little easier.
I've stacked this month's meal plan with quick and easy recipes that will make this year's back-to-school craziness a bit more tolerable. I also kept the heat in mind when making the meal plan. Here's what you can expect: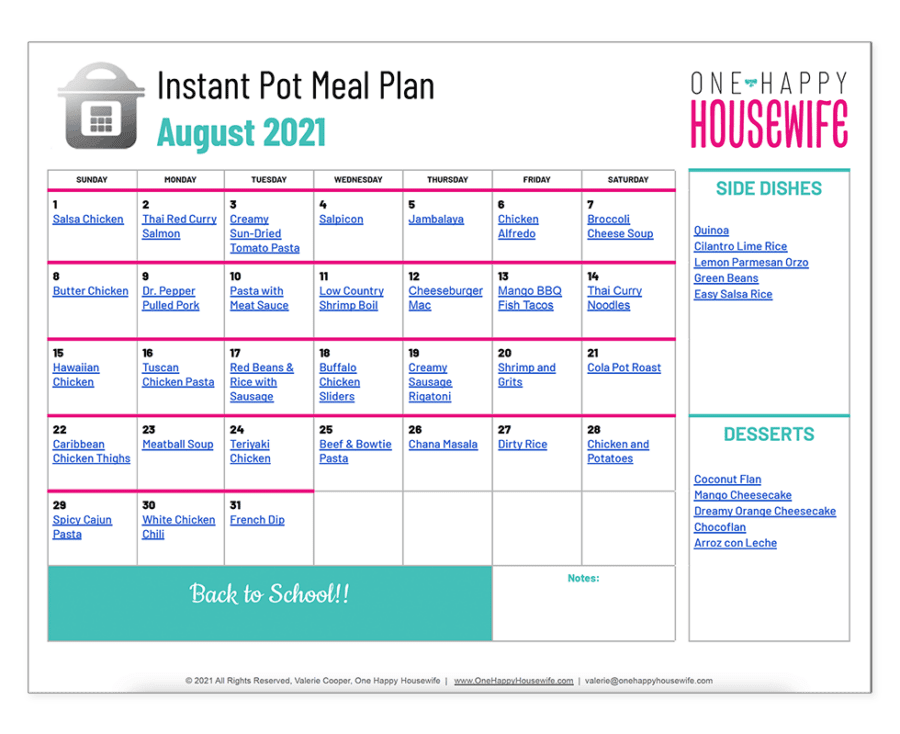 Easy Instant Pot Recipes
Looking for easy Instant Pot recipes? You'll find them in this month's meal plan. My Salsa Chicken recipe is perfect for these first weeks of school. If you want to prepare chicken for tacos or sandwiches, this is the fastest and easiest way to do it.
Need something filling for those hungry kiddos? Well, I've included plenty of effortless Instant Pot Pasta recipes. My Cheeseburger Mac is guaranteed to be a huge hit with your family. The kids absolutely love it!
Instant Pot Sandwiches
Sandwiches are always a great option for these busy days when the kids are starting back to school. So, I've included my Dr. Pepper Pulled Pork and French Dip Sandwiches in this month's meal plan.
Instant Pot Side Dishes
I'm also giving you lots of delicious Instant Pot Side Dishes to serve with your main dish. Whether it's my exceptionally easy Salsa Rice or my tasty Lemon Parmesan Orzo, you're sure to find the perfect side for your main dish.
Instant Pot Desserts
Are you ready for something sweet?! I have some amazing Instant Pot Dessert Recipes for you this month. My Coconut Flan is a must-try. The whole family will rave about how wonderful each slice of this decadent dessert is. Also, the Arroz con Leche is super easy to make and oh-so-comforting.
Well, I wish you a wonderful back-to-school season.
Make sure you also check out my latest Instant Pot Meal Plan.
August 2021 Instant Pot Meal Plan
Below the list of recipes, you will find a link to the downloadable calendar and links to all my monthly Instant Pot meal plans.
Download the August 2021 Meal Plan Calendar.
For more Instant Pot Meal Plan ideas for the month of August, check out my archive of August Instant Pot Meal Plans.
Past Instant Pot Meal Plans
Each month I publish a new, updated Instant Pot Meal Plan. So don't miss out on seeing what wonderful dishes I've included in my latest one.
LOOKING FOR A PAST MEAL PLAN?
You can also access all of my previously published Instant Pot Meal Plans through the links below. I handpick the recipes that appear each month, so you will find that each month is unique with its own set of recipes geared specifically toward that month. Plus, on each meal plan page, you can download the printable calendar for that month.