Are you ready to be done with the brutal heat of summer? Me too! But, unfortunately, I'm afraid that we're not out of the woods yet. To usher in some cooler fall weather, I like to sprinkle in a few fall recipes into my September Instant Pot Meal Plans so we can start getting into the fall mindset.
I also like to load these meal plans up with easier recipes since school is in full swing and the weekdays seem much shorter now. More school activities mean less time, so I've included recipes that are quick and easy to make in your Instant Pot.
The weekends are a great time to include some larger meals. That way, you can use the leftovers for lunches during the week. Here's what you can expect: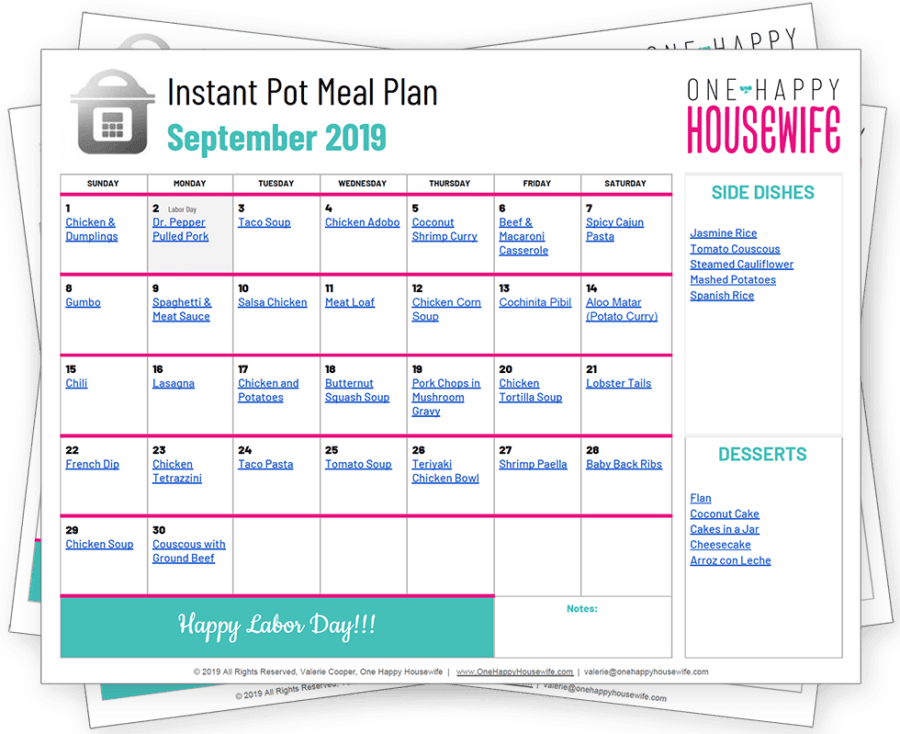 Quick & Easy Instant Pot Recipes
I like to include lots of easy pasta recipes for those busy weeknight meals. These recipes are always quick, easy, and tasty. Some of my family's favorites are Spicy Cajun Pasta, Lasagna, and Taco Pasta.
You'll also find some deliciously simple ground beef recipes to help make those school nights less hectic. Some favorites are my Beef & Macaroni Casserole, Hawaiian Sloppy Joes, and Couscous with Ground Beef.
Big Batch Instant Pot Meals
I mentioned that I like to reserve weekends to make big batch meals in the Instant Pot. Some favorite recipes for making in large batches are the Dr. Pepper Pulled Pork, Salsa Chicken, and French Dip. You can make so many meals from these recipes. From sandwiches and tacos to burritos and nachos, the options are many. I love that these recipes are super versatile and can last for days.
Simple Instant Pot Soups
I mentioned that I like to prepare for fall by sprinkling in some fall recipes. There's no better way to get in the mood for fall than to curl up with a warm bowl of soup. That's why I like to include some great soup recipes in my September meal plan. You'll find warm and soothing soups like Chicken and Dumplings, Taco Soup, and Chili.
Instant Pot Side Dishes
I always include some tasty Instant Pot side dishes in my meal plans. In my September meal plans, you'll find sides like Steamed Cauliflower and Mashed Potatoes. The side dishes I include in the meal plan complement any main dish you'll have.
Instant Pot Desserts
Good news! Your sweet tooth won't be left out because the dessert section of the meal plan features some amazing Instant Pot desserts including my very popular Arroz con Leche and Flan recipes.
Have a great September!
Make sure you also check out my latest Instant Pot Meal Plan.
Instant Pot Recipes for September
Here are some recipes you'll find on my September meal plans:
September Instant Pot Meal Plans
I've got some outstanding meal plans for September on my website. Check them out here: