Looking for a Meal Plan with ideas for quick and simple recipes in March? Look no further! This March Instant Pot Meal Plan offers access to a full month of easy Instant Pot recipes. The meal plan will allow busy parents like you to eliminate the need to think about what to make for dinner, reduce time in the kitchen, and allow you to have more free time in the evenings to relax and enjoy your family.
Are you as excited as I am that Spring is just around the corner?! The weather should start getting warmer! I know we're all ready for that. With this new month comes an exciting new meal plan full of delicious recipes hand-picked for March.
You'll notice that I've included meatless options on Fridays for those who observe Lent, as well as a special meal for celebrating St Patrick's Day. I have also included something extra special for St Patrick's Day, recipes for Shamrock Shakes. With recipes like these, you'll be sure to love cooking this March!
Here's what you can expect in this month's meal plan: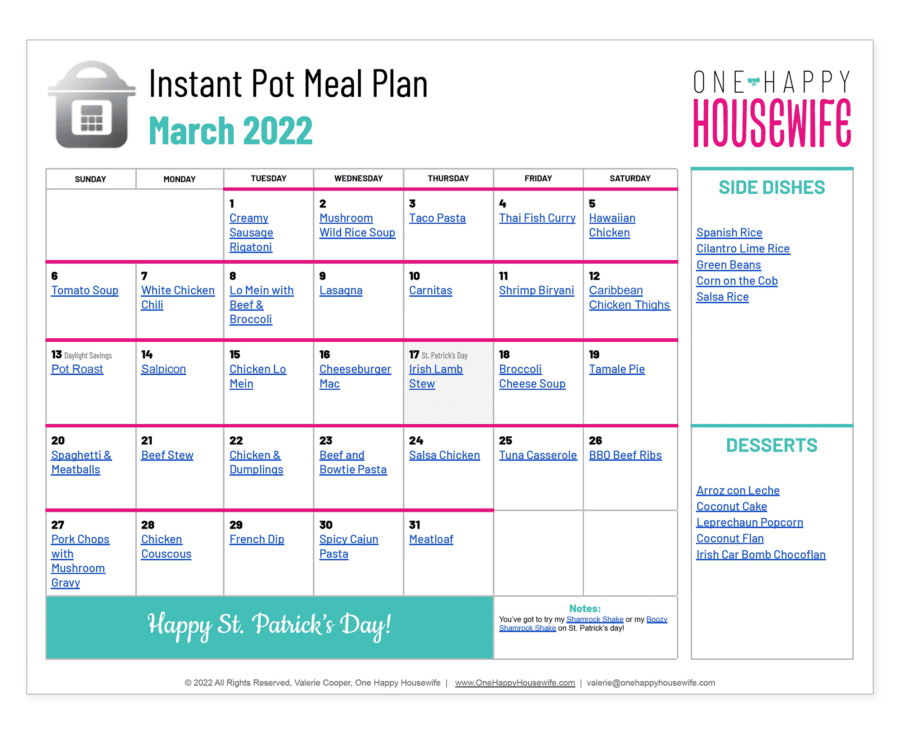 Instant Pot Recipes For Lent
This Instant Pot Meal Plan Calendar offers access to easy Instant Pot Recipes for Lent. All the recipes picked for each Friday are meatless, including Tuna Casserole and Broccoli Cheese Soup. These recipes are sure to make deciding what's for dinner during Lent a breeze. So if you're looking for easy and delicious recipes to follow this Lent, this calendar has you covered.
tuna casserole
This easy recipe for Tuna Casserole is made in the Instant Pot. The ingredients are simple and the taste is fantastic! That makes this the perfect recipe for a busy family on the go.
All you need are easily available ingredients like egg noodles, a can of tuna, chopped onion and celery, peas, cheese, and a few simple spices. The casserole only takes 10 minutes to prep and 10 minutes to cook in the Instant Pot, making it a quick and easy meal option. So if you're looking for an easy weeknight meal that your whole family will love, give this Tuna Casserole a try!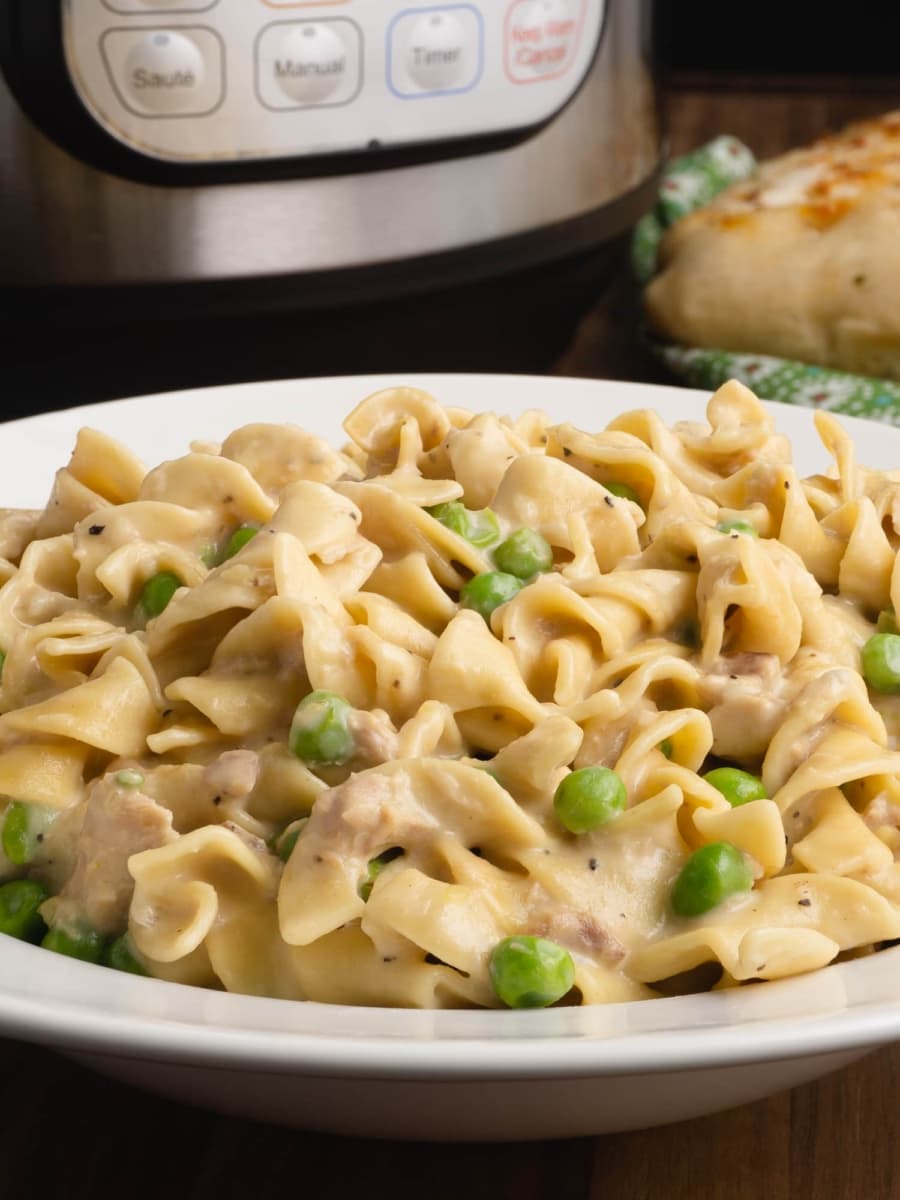 broccoli Cheese soup
This easy recipe for Instant Pot Broccoli Cheese Soup is perfect for busy families. The soup can be made quickly and easily in the Instant Pot, and it's a great way to get your kids to eat their vegetables. The broccoli and cheese give the soup a creamy, comforting texture that's perfect for any night.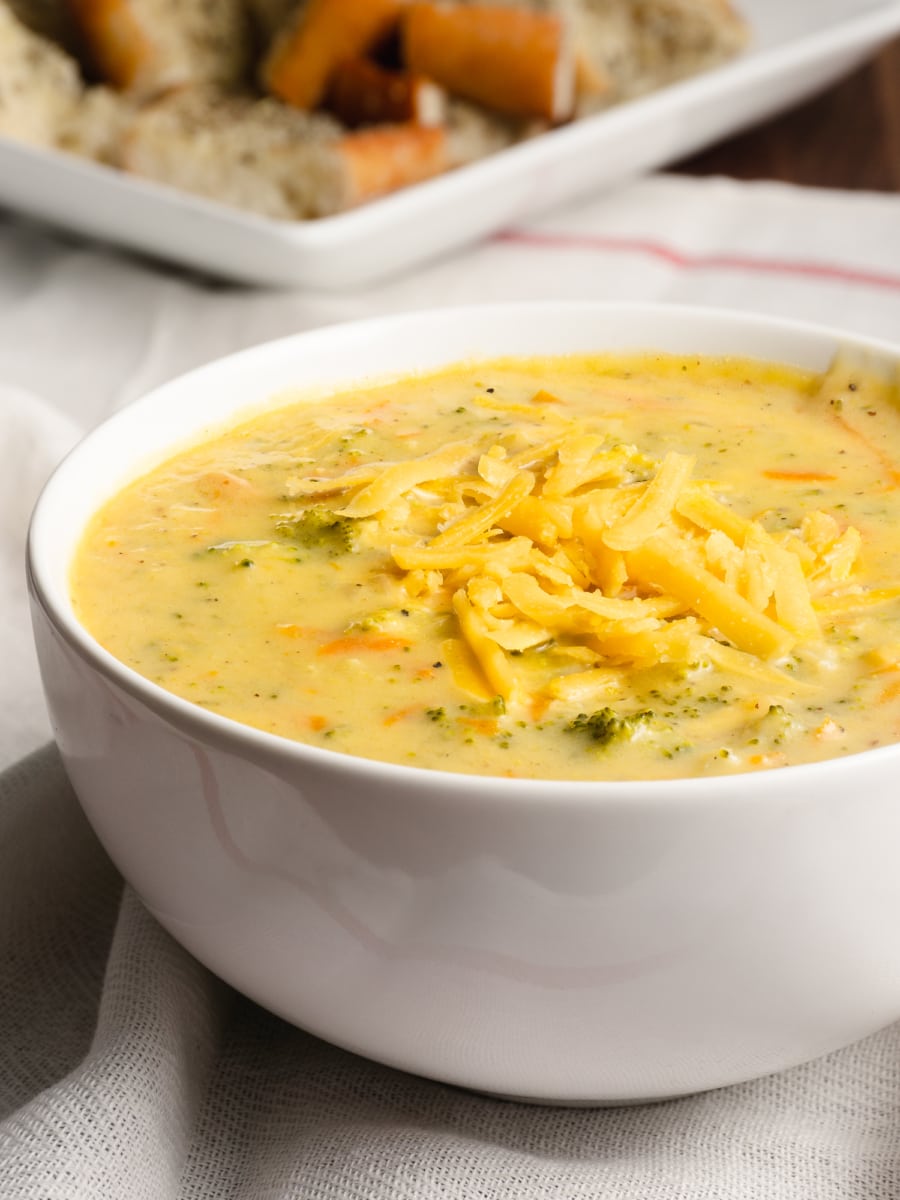 Instant Pot Side Dish Recipes
Side dishes are a great way to add variety to your dinner table, and the Instant Pot makes them quick and easy to prepare. Whether you're looking for a simple side of Steamed Corn on the Cob, a flavorful salad like Lemon Butter Broccoli, or a delicious Spanish Rice, the Instant Pot has you covered.
The March Instant Pot Meal Plan offers a variety of side dishes and you're sure to find one that's perfect for your meal. So why not add some variety to your meal plan and try out a new side dish tonight?
Corn On The Cob
No more waiting for your corn to cook in the oven or on the grill! With the Instant Pot, you can enjoy sweet and juicy corn right off the cob with a fraction of the work. This Instant Pot Corn on the Cob recipe is easy to prepare, healthy, and delicious. Best of all, it's ready in just 5 minutes!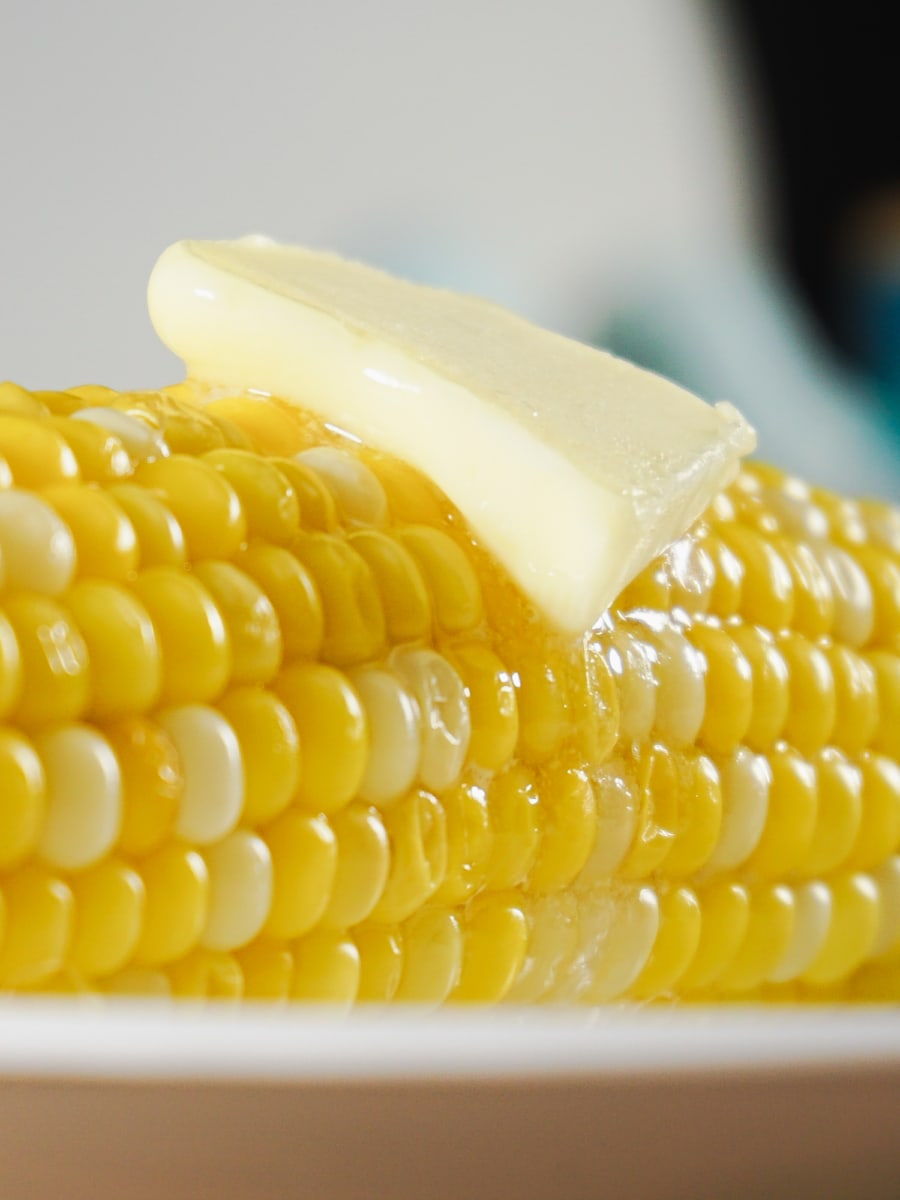 Spanish Rice
This Instant Pot Spanish Rice is a quick and easy side dish recipe that will be a hit with the entire family. This recipe only takes about 20 minutes to make, and it is perfect for a busy weeknight meal. This Spanish Rice is made with simple ingredients, loaded with flavor, and is sure to please even the pickiest of eaters.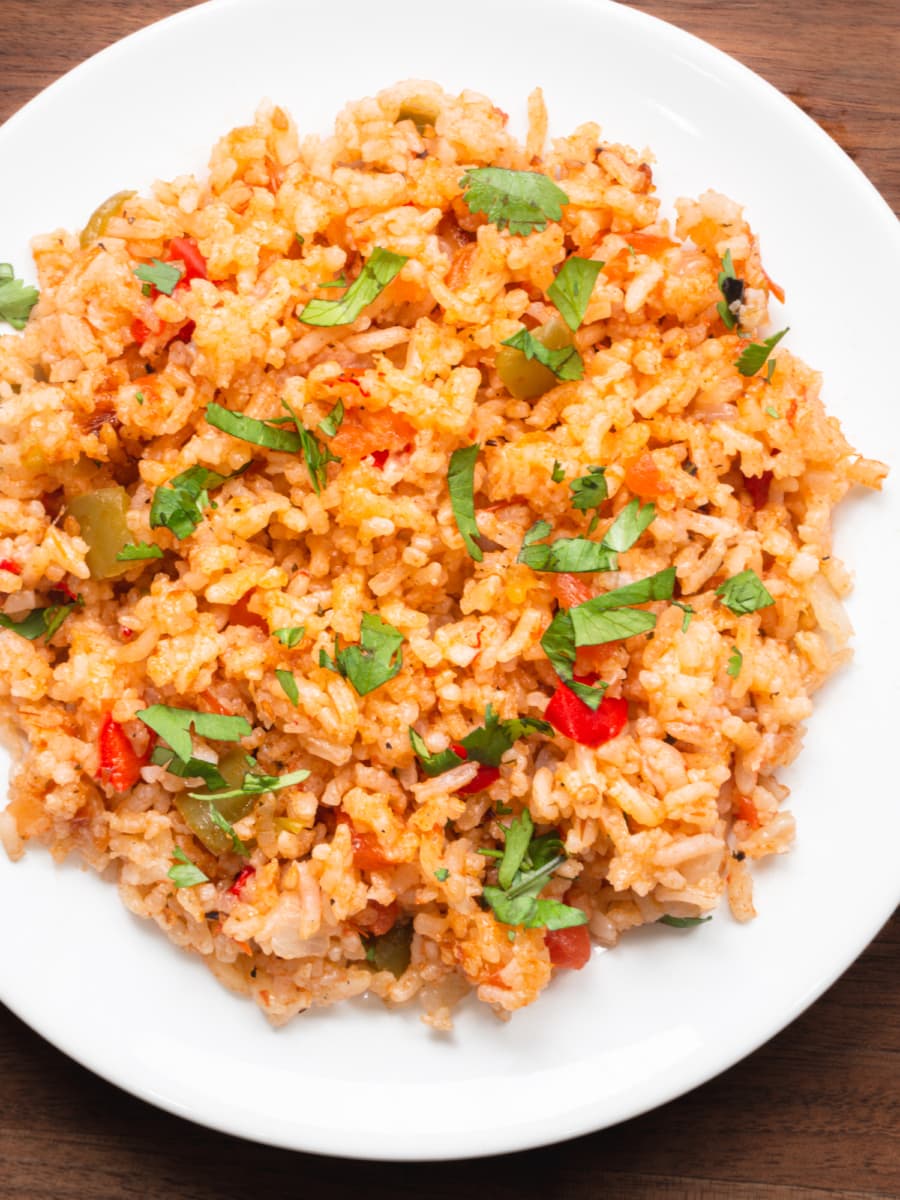 Lemon Butter Broccoli
This Instant Pot Lemon Butter Broccoli recipe is a great choice for any meal. It's fast, easy, and perfect for families. The sweet tender-crisp bites of broccoli are flavored with tangy lemon and rich butter to provide the ultimate side dish for your entree! With only 5 ingredients, this Instant Pot recipe will be on your table in no time!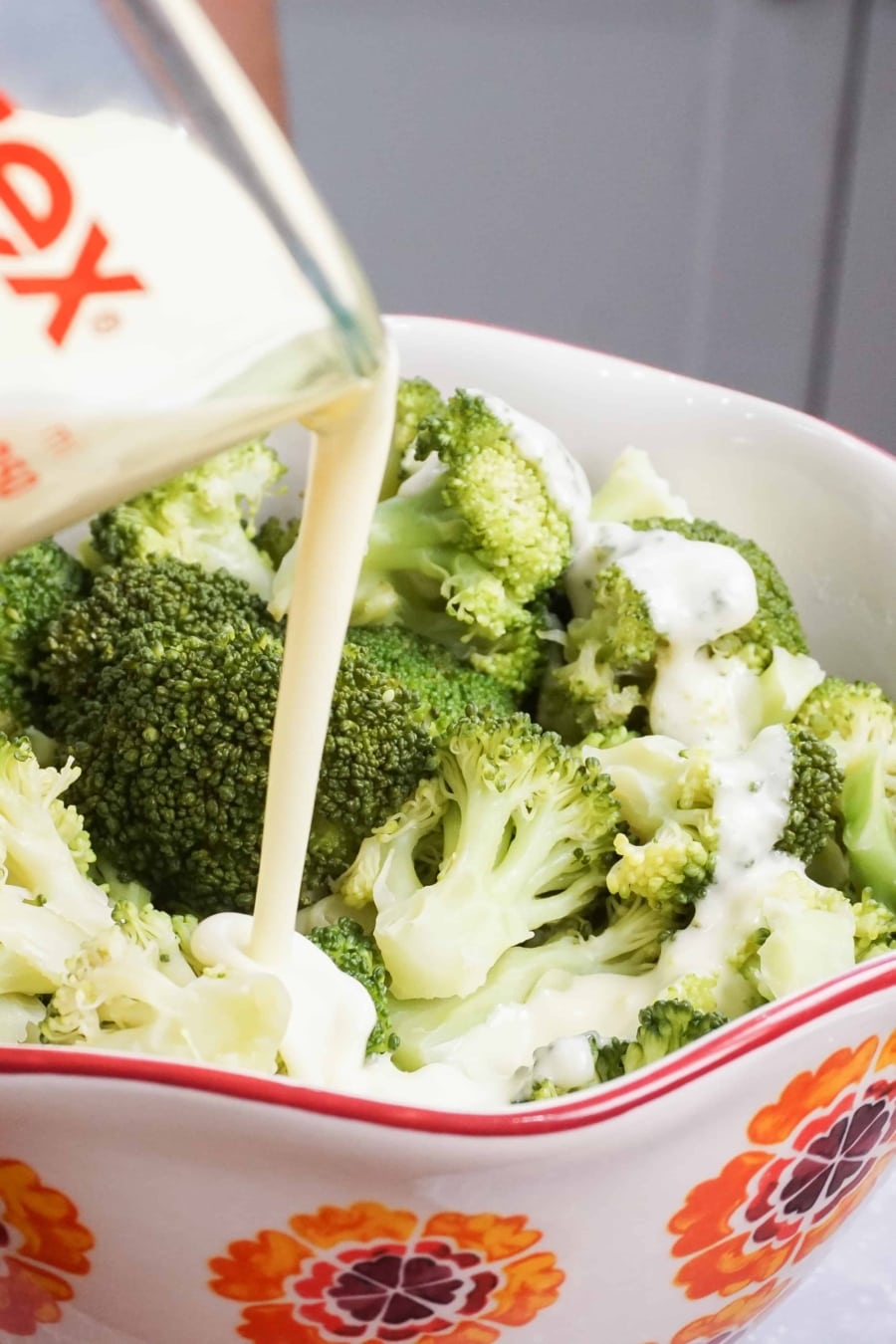 There are many other side dishes to choose from, so check them out.
Instant Pot Dessert Recipes
Instant Pot Desserts are a great way to end a meal. They are simple to make and can be cooked in a fraction of the time that it would take to bake them in the oven. Some of our favorites include chocolate Lava Cake, Arroz con Lech, and Flan. With the Instant Pot, you can have a delicious dessert without having to spend hours in the kitchen.
Arroz con Leche
Arroz con Leche is a traditional Latin American dessert made with rice, milk, and sugar. This delicious Instant Pot dessert can be made in minutes with just a few simple ingredients. Rice, sweetened condensed milk, vanilla extract, and cinnamon are cooked together in the Instant Pot until creamy and delicious. Serve this sweet dish warm or cold with a sprinkle of cinnamon on top. You'll enjoy this easy and tasty Instant Pot dessert!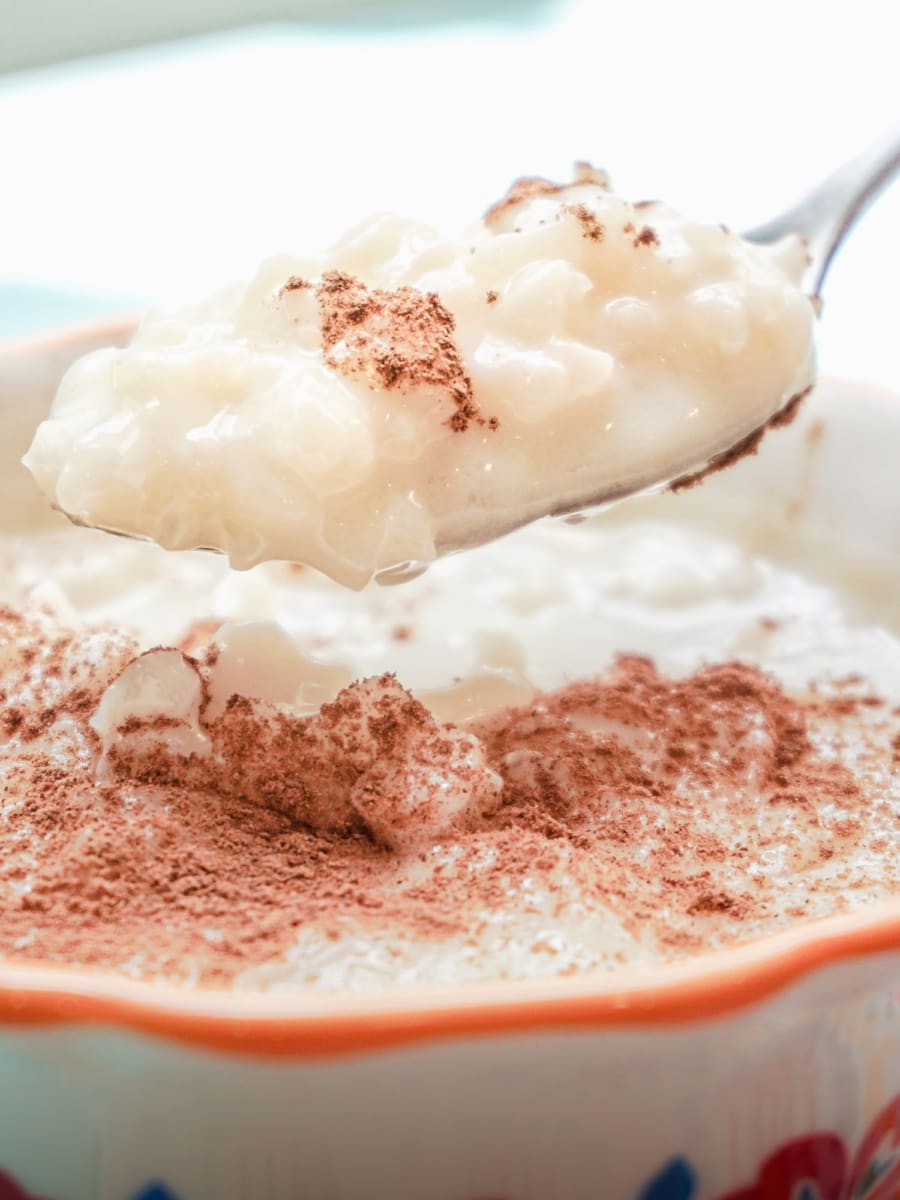 Irish Chocoflan
Inspired by the famous Irish cocktail, this Instant Pot Irish Chocoflan is made up of a chocolatey rich Guinness cake topped with a creamy Bailey's infused flan and drowned in a Jameson Whiskey salted caramel. This delicious and decadent dessert is sure to impress your friends and family.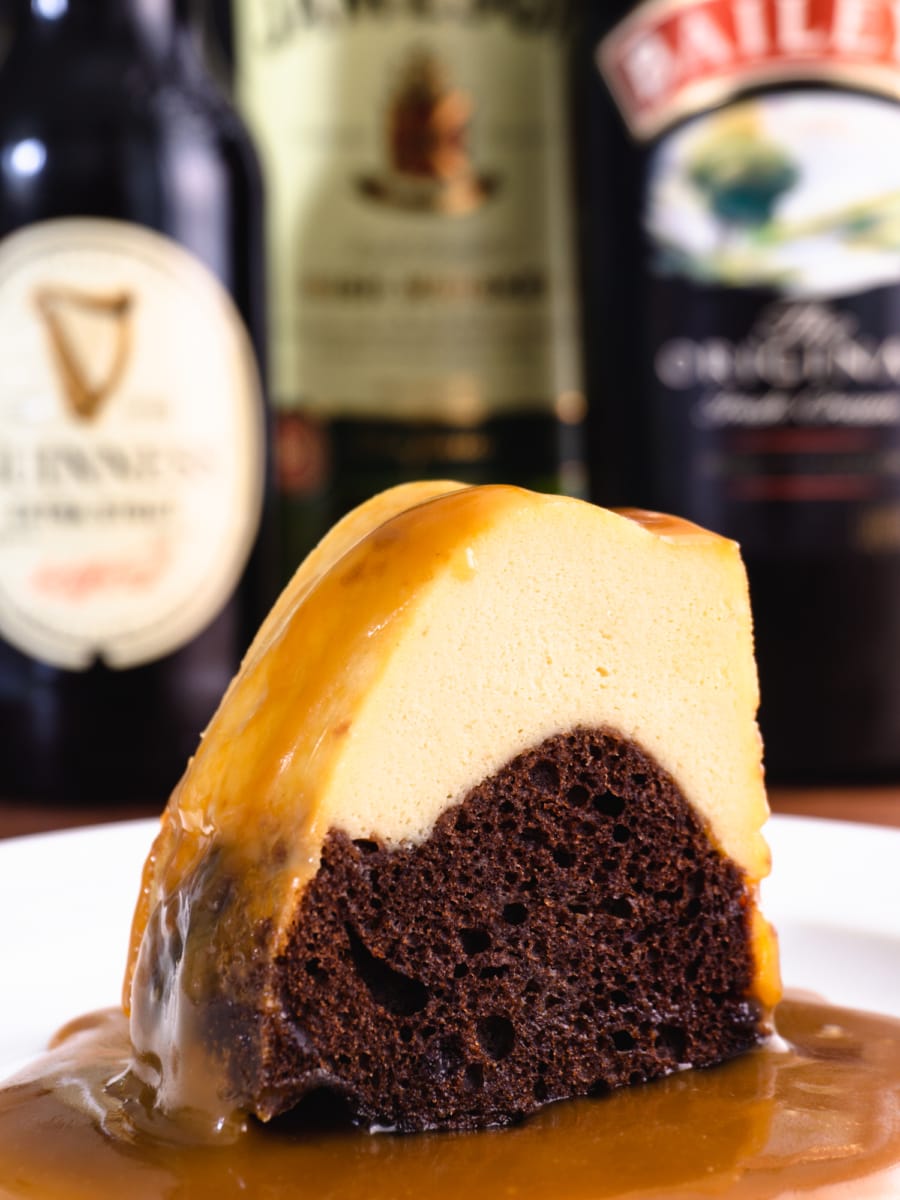 Oh, and like I mentioned above, don't forget to try the special St. Patrick's Day treat I included. Plus, there are many other desserts to choose from this month. So, enjoy!
Have an awesome March and enjoy your St. Patrick's Day!
Make sure you also check out my latest Instant Pot Meal Plan.
March 2022 Instant Pot Meal Plan
Below the list of recipes, you will find a link to the downloadable calendar and links to all my monthly Instant Pot meal plans.
Download the March 2022 Meal Plan Calendar.
For more Instant Pot Meal Plan ideas for the month of March, check out my archive of March Instant Pot Meal Plans.
Past Instant Pot Meal Plans
Each month I publish a new, updated Instant Pot Meal Plan. So don't miss out on seeing what wonderful dishes I've included in my latest one.
LOOKING FOR A PAST MEAL PLAN?
You can also access all of my previously published Instant Pot Meal Plans through the links below. I handpick the recipes that appear each month, so you will find that each month is unique with its own set of recipes geared specifically toward that month. Plus, on each meal plan page, you can download the printable calendar for that month.