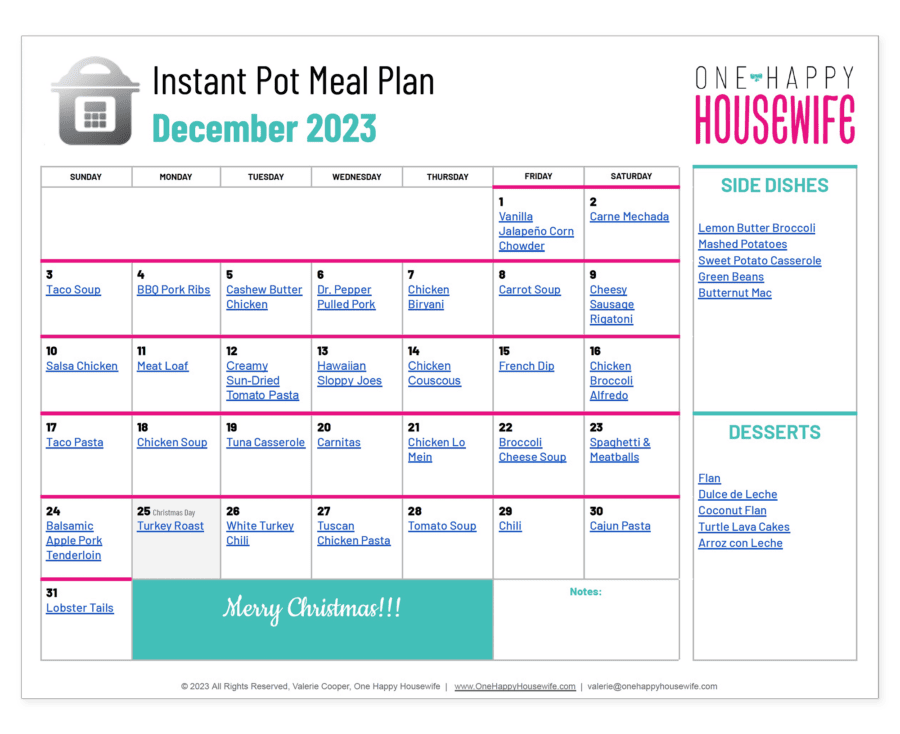 Welcome to my printable Instant Pot Meal Plan Calendar. Each month, you'll find a new downloadable calendar below. So, make sure to save this meal plan calendar page to Pinterest so you can check back regularly. Happy cooking!
WHAT'S INSIDE THIS PRINTABLE INSTANT POT MEAL PLAN CALENDAR
This is a PDF file containing the meal plan calendar for this month. It is updated each month, so check back regularly for the latest version.
Each day of each month provides a delicious meal that can be easily made in your Instant Pot. Each meal is clickable and will take you directly to the recipe.
DOWNLOAD THIS FREE INSTANT POT MEAL PLAN CALENDAR
If you are already a subscriber, simply click the button below to download this printable. When you open the printable, it will request the password that was sent to you in your welcome email. If you forgot the password or cannot find it, click here to have it resent. If you are not yet a subscriber, you must first subscribe before being able to access this printable.
DOWNLOAD THE MEAL PLAN CALENDAR
DON'T HAVE YOUR PASSWORD YET?
Sign up below to get access to this printable.
Are you already a subscriber but forgot the password? Click here to have it sent to you again.