We are right in the thick of summer vacation and I'm enjoying the not so early mornings! I have finished the July Instant Pot Meal Plan, and it is full of recipes you'll want to try! I've included many of my own recipes and some from some great food bloggers. Here's what you can expect: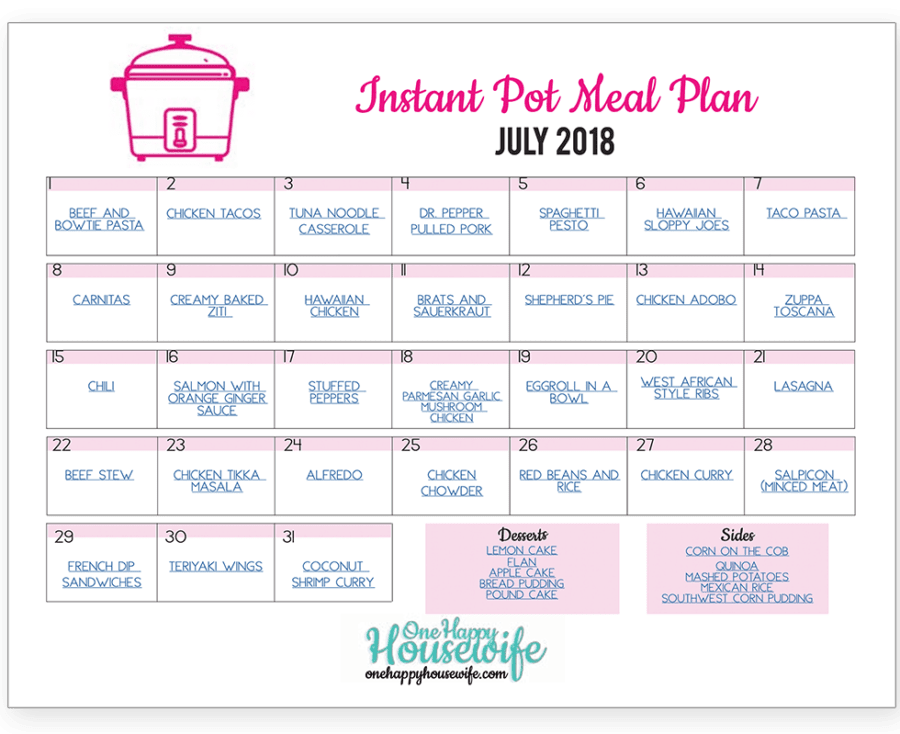 Instant Pot Pasta Recipes
I've included lots of easy pasta dishes for busy weeknights. Some of my favorites are my Easy Beef & Bowtie Pasta and my easy and delicious Lasagna. Both are loaded with flavor and so comforting and filling. Also, you won't want to miss the popular Spaghetti in Pesto Sauce, Zuppa Toscana and Creamy Baked Ziti. Yummy!
International Dishes
This month I added several international dishes you'll love. There's Asian, Italian, Indian, Hispanic, and even Irish recipes. You'll be enjoying plates of Chicken Tikka Masala, African Style Ribs, Shepherd's Pie, and Chicken Curry to name a few. Try them out and let me know what you think.
More Simple Main Dishes
I hope you try, and love, my Hawaiian Sloppy Joes and Hawaiian Chicken. Both the perfect combination of sweet and savory. And both perfect for summer. I guarantee your family will love them! The Sloppy Joes are easy peasy! The chicken takes a little more prep, but the flavor is spectacular and so worth the extra effort.
Instant Pot Sides
This month's sides shouldn't be missed! These Instant Pot sides are all easy and delicious and pair perfectly with so many of the main dishes. You'll have a choice between Southwest Corn Pudding, Mexican Rice, Quinoa, and more.
Instant Pot Desserts
As for the desserts, they are perfect for summer. The citrusy sweet flavors of the delicious Lemon Mini Bundt Cake are perfectly refreshing for summer. And a warm plate of Bread Pudding with a scoop of ice cream is fabulous. Oh, and don't forget to try my famous Flan! Everyone raves about it.
Enjoy the rest of the summer and I hope the meal plan gives you one less thing to worry about!
Make sure you also check out my latest Instant Pot Meal Plan.
July 2018 Instant Pot Meal Plan
Below the list of recipes, you will find a link to the downloadable calendar and links to all my monthly Instant Pot meal plans.
Download the July 2018 Meal Plan Calendar.
For more Instant Pot Meal Plan ideas for the month of July, check out my archive of July Instant Pot Meal Plans.
Past Instant Pot Meal Plans
Each month I publish a new, updated Instant Pot Meal Plan. So don't miss out on seeing what wonderful dishes I've included in my latest one.
LOOKING FOR A PAST MEAL PLAN?
You can also access all of my previously published Instant Pot Meal Plans through the links below. I handpick the recipes that appear each month, so you will find that each month is unique with its own set of recipes geared specifically toward that month. Plus, on each meal plan page, you can download the printable calendar for that month.