It's the middle of summer and it's starting to get hot out there! Well, to take some of the heat off, I'm bringing you my collection of July Instant Pot Meal Plans. These plans are a great resource to help you plan your meals for this month.
In the meal plans, you'll find plenty of delicious summer meals, side dishes, and desserts. There are also some great recipes for the 4th of July. Here's what you can expect: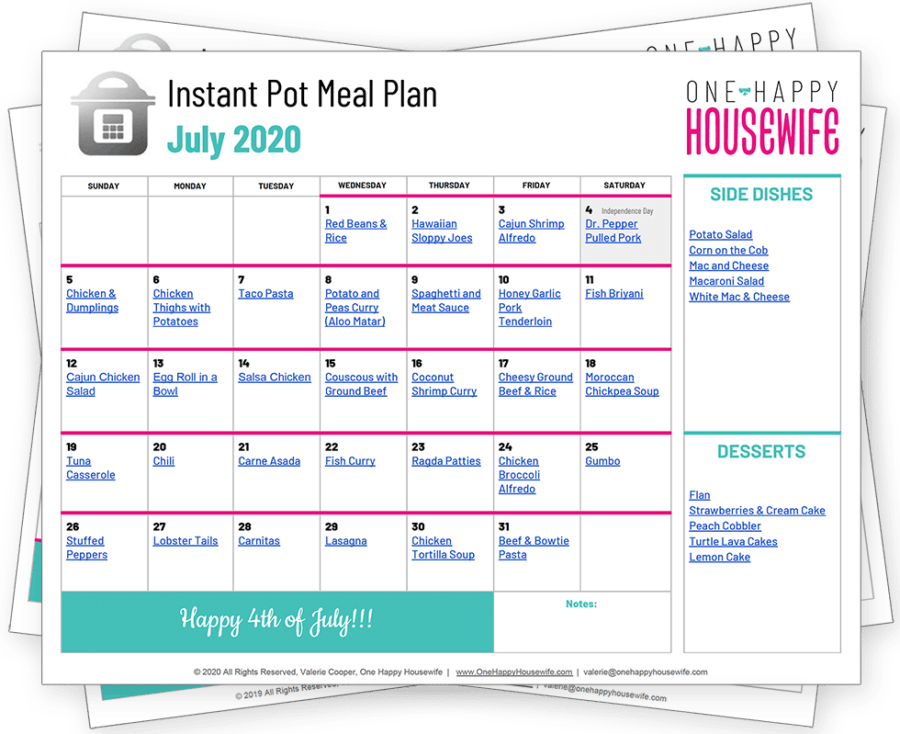 4th of July Recipes
If you're looking for delicious 4th of July recipes, then I've got you covered. In these meal plans, you'll find my popular Dr. Pepper Pulled Pork and French Dip recipes. Both are perfect for your 4th of July celebration. You'll also find some fantastic side dish ideas like my Instant Pot Potato Salad which pairs perfectly with both the Pulled Pork and Frech Dip sandwiches!
Instant Pot Summer Recipes
If you're looking for great recipes for the summer months, then these meal plans are an excellent resource. From seafood dishes like Lobster Tails and Cajun Shrimp Alfredo to chicken recipes like Hawaiian Chicken and Salsa Chicken and beef recipes like Salpicón and Carne Asada Tacos. As you can see, there is a diverse collection of outstanding recipes in these meal plans.
Easy Instant Pot Main Dishes
These meal plans include lots of easy pasta dishes, easy chicken dishes, and easy ground beef dishes. You can count on these meal plans having something for every taste.
Some of my favorite pasta dishes in these plans are my Easy Beef & Bowtie Pasta, easy and delicious Lasagna, my rich and creamy Chicken Tetrazzini, and my super simple Beef & Macaroni Casserole. You'll also find recipes for my Spaghetti and Meat Sauce, Spicy Cajun Pasta, Chicken Broccoli Alfredo, and Tuna Casserole.
There is no shortage of chicken dishes in these meal plans. You'll find recipes for a comforting Chicken and Dumplings, a super tasty Salsa Chicken, an amazing Chicken Couscous, a quick and simple Chicken Tacos, and a sweet and savory Hawaiian Chicken.
And for the beef lovers, there are lots of options as well. You'll find my kid favorite Hawaiian Sloppy Joes, a festive Taco Pasta, and my very comforting Couscous with Ground Beef. And the deliciousness doesn't stop there. The Cheesy Ground Beef and Rice and Chili with Beans are must try recipes.
Instant Pot Side Dishes
To complement your main dishes, you'll find lots of wonderful side dishes in these plans. There are great summer recipes like Potato Salad, Macaroni and Cheese, Macaroni Salad, and a refreshing Lemon Butter Broccoli. Many of these side dish recipes are refreshingly delicious and perfect for these warm months.
Instant Pot Desserts
Looking for some great dessert recipes for this warm weather? Well, I've got you covered. My super popular Flan makes the list. You'll also find delicious sweet treats like Strawberries & Cream Cake, Turtle Lava Cakes, and Peach Cobbler. All you need is a scoop of ice cream to go along with a warm serving of either of these desserts for a perfect summer treat.
Have a safe and adventurous July!
Make sure you also check out my latest Instant Pot Meal Plan.
Instant Pot Recipes for July
Here are some recipes you'll find on my July meal plans:
July Instant Pot Meal Plans
I've got some outstanding meal plans for July on my website. Check them out here: