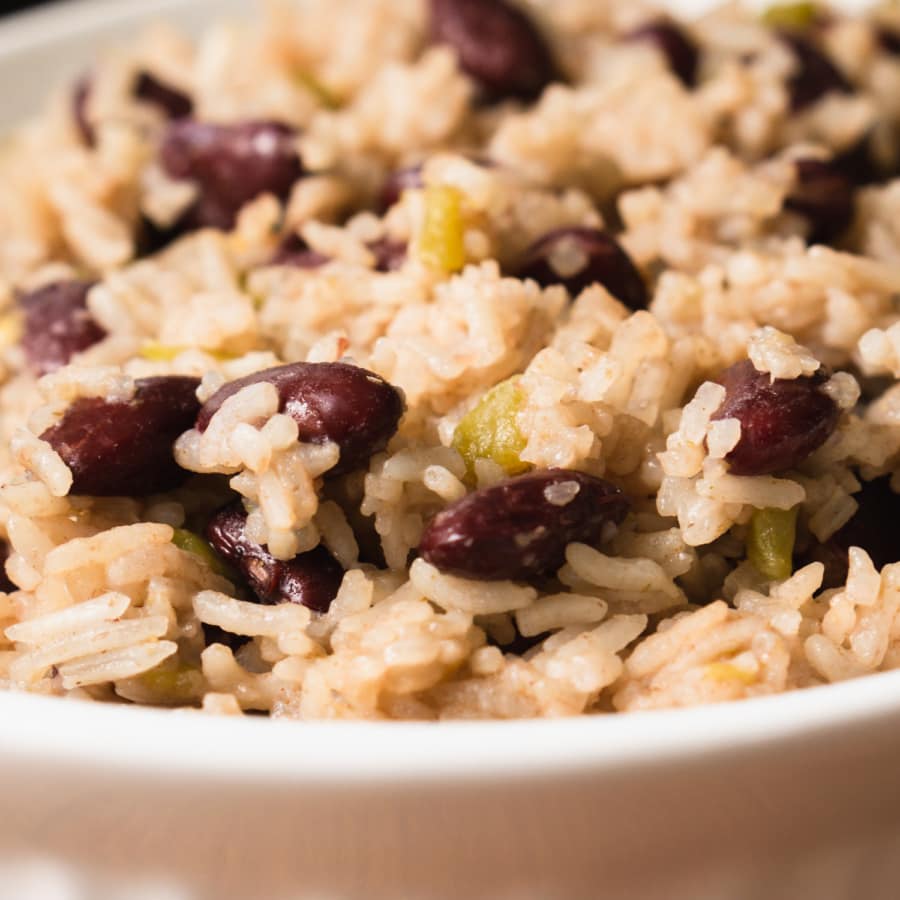 SAVE THIS RECIPE
I've been wanting to make an easy recipe for Instant Pot Red Beans and Rice for a while. Red Beans and Rice, or Casamiento as we call it in Honduras, is something I grew up on and all my kids love it! I have a traditional recipe for Honduran Red Beans and Rice, but I wanted to make an easier, 'dump and start' version made fully in the pressure cooker.
This post contains affiliate links. For more information, see my disclosure.
This recipe for Instant Pot Red Beans and Rice using canned beans is so easy and requires zero prep. You know I love easy! It takes very little time to put together and makes a delicious side dish or can be enjoyed as a stand-alone meal.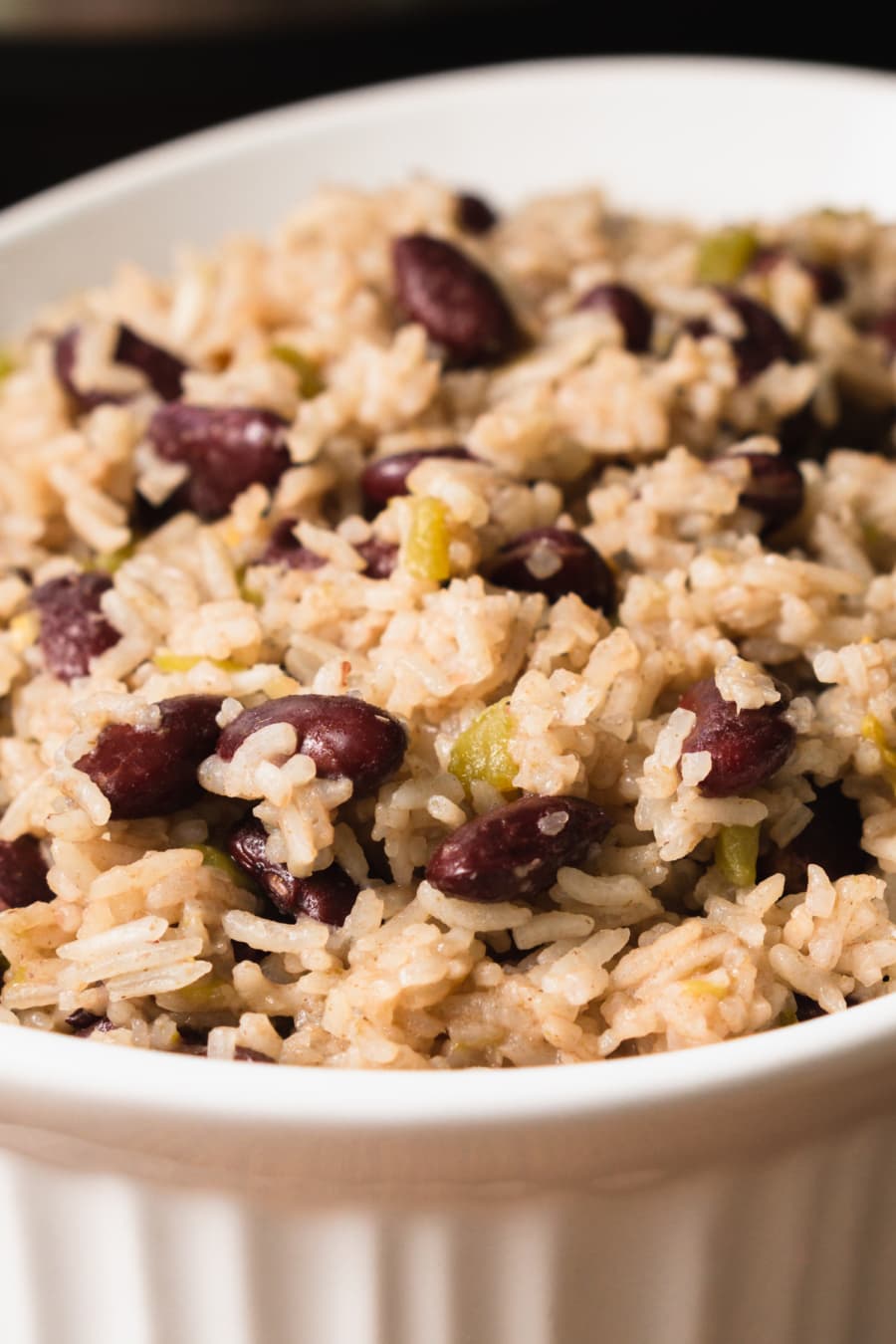 What Ingredients Do I Need for Instant Pot Red Beans and Rice?
This Red Beans and Rice recipe requires very few simple ingredients. I bet you have most of them, if not all of them, in your pantry right now. Below you will find the full list of everything you need.
Long-grain white rice: You'll need 2 cups of white rice. I use Jasmine rice but any long-grain white rice will do. You will need to rinse the rice.
Canned Beans: In this recipe, I used dark red kidney beans. You'll need 2 cans of beans with the bean broth. Do not drain them. The broth will give the rice and beans a nice color and great flavor.
Green Chiles: You will need two 4 oz. cans of diced green chiles. I usually buy the mild ones. You can also use diced jalapeños if you're feeling adventurous!
Unsalted Chicken Broth: I almost always use unsalted chicken broth so I can control the amount of salt in my foods. I use this chicken broth most but will use others when it's not available.
Spices: Since this is a 'dump and start' recipe, you'll need some dried minced onion for it. The other spices you'll need for these red beans and rice are salt, garlic powder, and cumin.
That's all you'll need! All pretty basic ingredients that you likely have on hand already.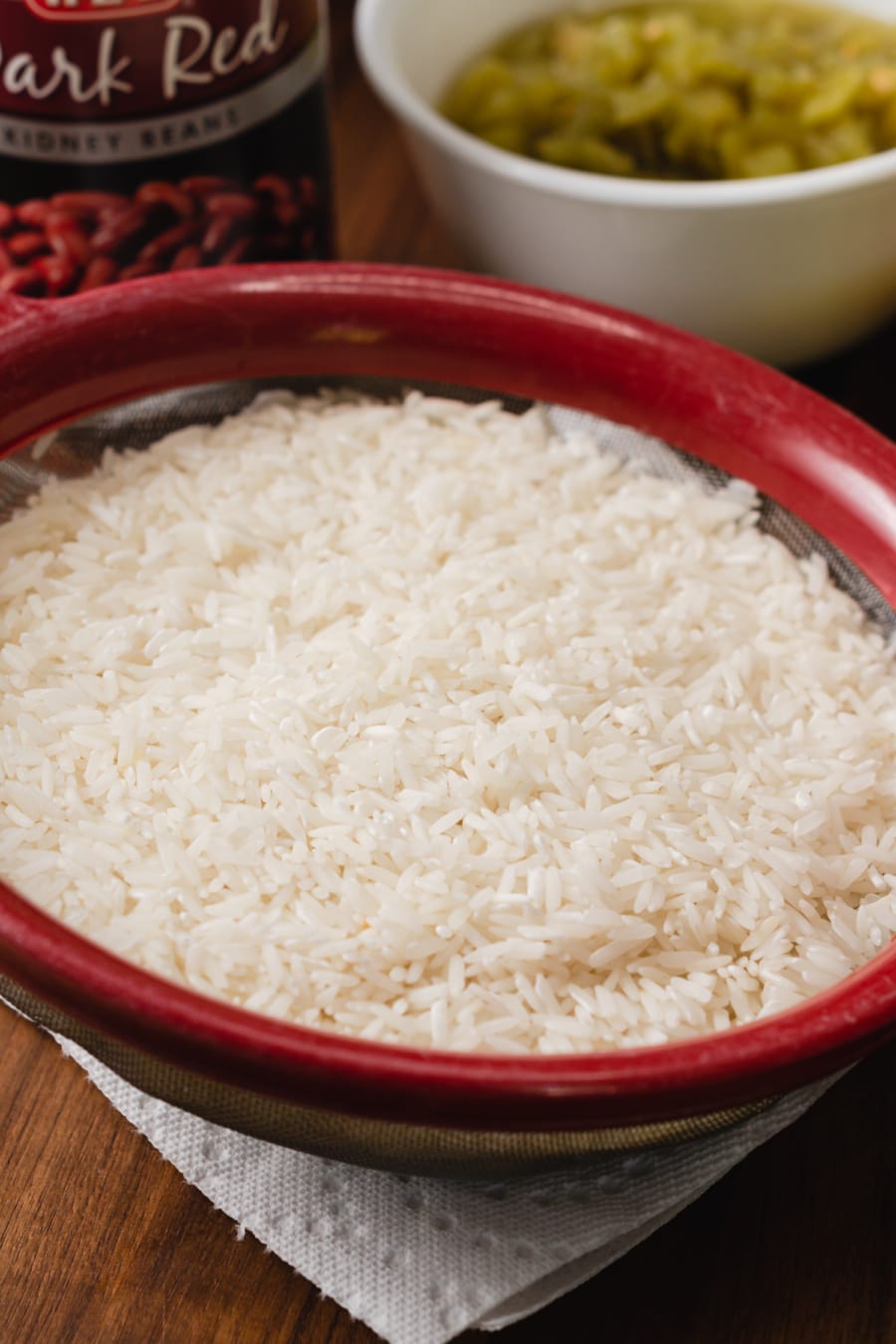 Substitutions for This Red Beans and Rice Recipe
I always get many questions about substituting items in recipes. Below are the questions that you're probably going to ask me so I've gone ahead and answered them for you. If you have any other questions, feel free to leave them in the comments.
Can I Use a Different Kind of Beans??
Yes, you can, but for this recipe, I recommend sticking with canned beans. I would say your best substitutions for the dark red kidney beans would be pinto beans, black beans, or regular kidney beans.
Can I Use Brown Rice?
Technically you can use brown rice but the problem is brown rice takes a lot longer to cook than long-grain white rice. I'm afraid if you use brown rice, the canned beans will fall apart because of the long cooking time. One option would be to cook the rice along with the remaining ingredients, leaving the beans out of the pot. Once the rice has completed it's cook time, you can then open the pot and mix the beans in at that time. Allow the beans to warm for 5 minutes or so before serving.
Can I Use Vegetable Broth?
You can certainly substitute the unsalted chicken broth for vegetable broth. I use chicken broth because I'm not a vegetarian and I really love the flavor it gives my foods. If you're a vegetarian or simply have vegetable broth on hand, you can definitely use it instead.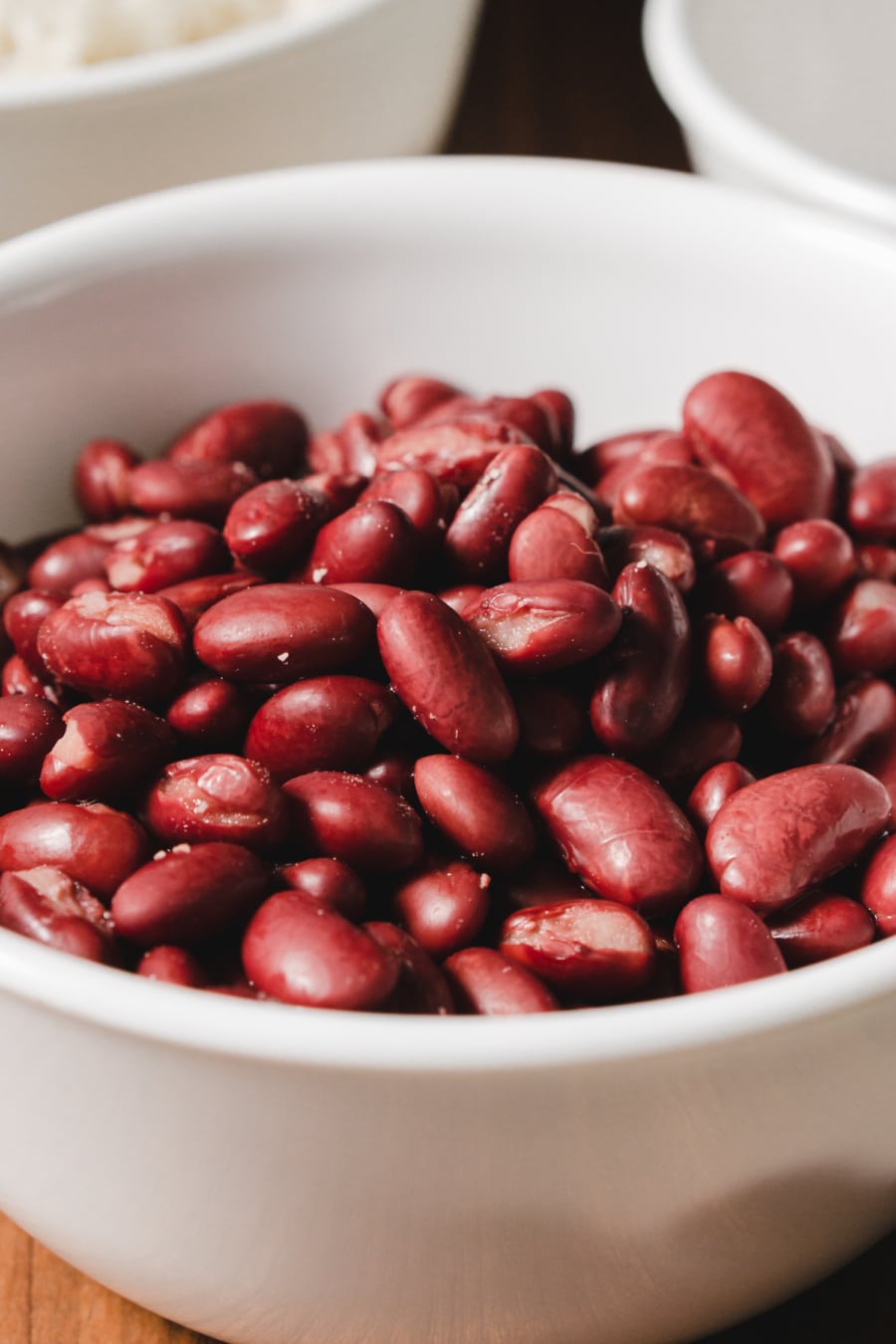 Are Red Beans and Kidney Beans the Same?
No, they're not. Both are red, but they are two different types of beans. Red beans are smaller, rounder, have a deeper darker red color, and are shinier when compared to kidney beans. Kidney beans are larger and have a distinctive kidney shape.
In Honduras, red beans and rice is traditionally made with small red beans, not kidney beans. However, small red beans can sometimes be difficult to find at the grocery store. Dark red kidney beans work just as well and are what I used to make this recipe.
Essential Items
Here are some essential prep tools, utensils, and appliances I used to make this recipe.
Featured Items
Here is a list of the products featured in this post or products similar to those featured in this post:
23 Must-Have Electric Pressure Cooker Accessories
Make sure to check out my Ultimate List of Electric Pressure Cooker Accessories! I've included everything you could ever need to help make your pressure cooking quicker, easier, and even more convenient.
How to Cook Red Beans and Rice in the Instant Pot
Here is a step by step of how to make this easy Instant Pot recipe for Red Beans and Rice. If you don't need a step by step, you can scroll down to the printable recipe card below. This recipe requires virtually no prep so let's get right to it!
Step 1: Rinse the Rice
First, rinse the rice with a fine mesh strainer under cool water until the water runs clear.
Step 2: Add All the Ingredients to the Pot
Place the rice inside the Instant Pot, ensuring you have your stainless steel liner inside the pot. Next, add the beans with their broth, diced green chiles, and spices to the pot.
Next, pour the chicken broth in the pot and give everything a good stir.
Step 3: Cook the Red Beans and Rice
Close your pot and set it to 'Sealing'. Press the 'Manual' or 'Pressure Cook' button and cook on 'High Pressure' for 3 minutes.
When the 3-minute cooking time is up, you will allow for a 10-minute Natural Pressure Release. At this point, you can release the remaining pressure and when the pin drops, you can open the pot.
Serve and Enjoy a Side of Red Beans and Rice!
I love this recipe because it's so quick, easy, and delicious. Just dump all the ingredients in the Instant Pot and then let the pressure cooker do all the work. Can't get better than that!
In my home, we top our Casamiento or Red Beans and Rice with some delicious Honduran crema! A dollop of the crema and a few drops of Tabasco sauce takes this wonderful side dish over the top.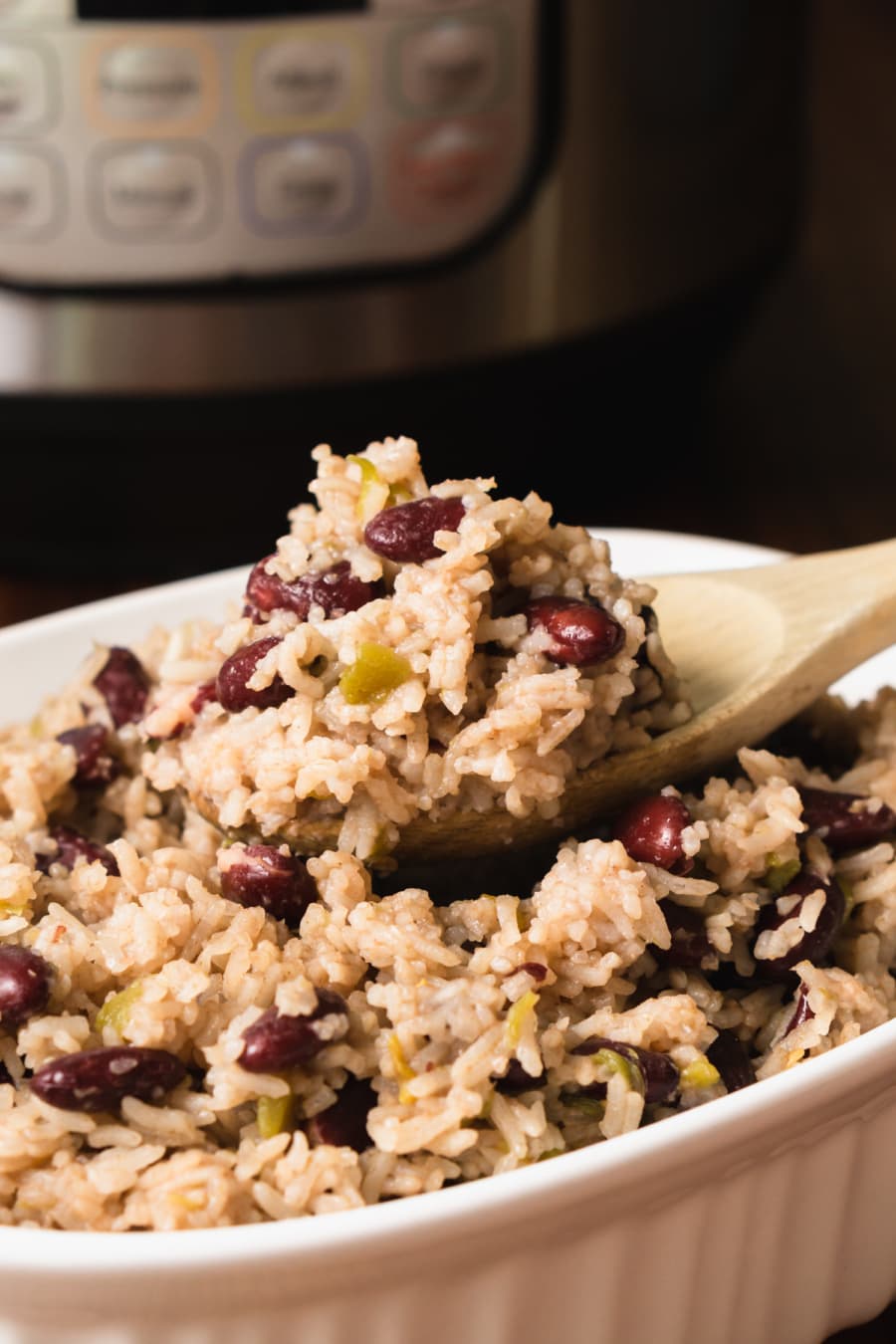 Did you make this Instant Pot Red Beans and Rice? I know you will absolutely love this easy red beans and rice recipe as much as we do! Please, let me know in the comments when you try it.
More Instant Pot Side Dish recipes that you may enjoy:
Looking for even more recipes using rice to make in the Instant Pot? If you want to try making Risotto in the pressure cooker, check out my Instant Pot Parmesan Risotto recipe. And for a Cajun-inspired side dish try my Instant Pot Dirty Rice. It's amazing!
For a full list of all the pressure cooker rice recipes on this blog, make sure to check out my Instant Pot Rice Recipes post.
Instant Pot Red Beans and Rice
RED KIDNEY BEANS, LONG-GRAIN WHITE RICE, AND DICED GREEN CHILES
This red beans and rice recipe is the perfect dump and start side dish to make in your electric pressure cooker on those busy weeknights when you need something fast and delicious.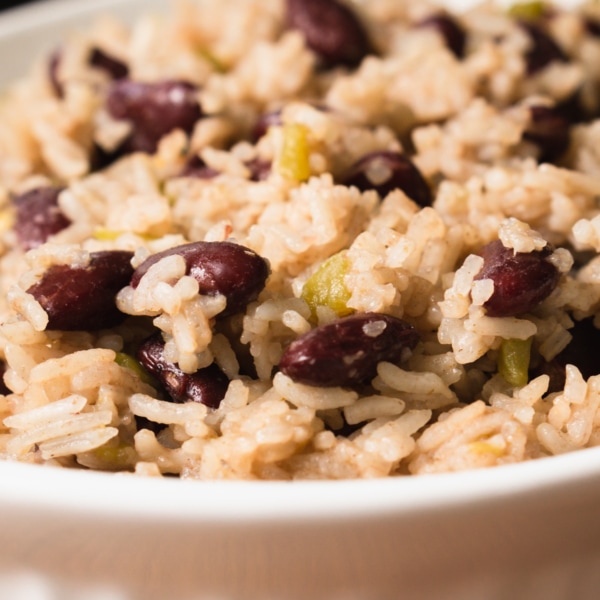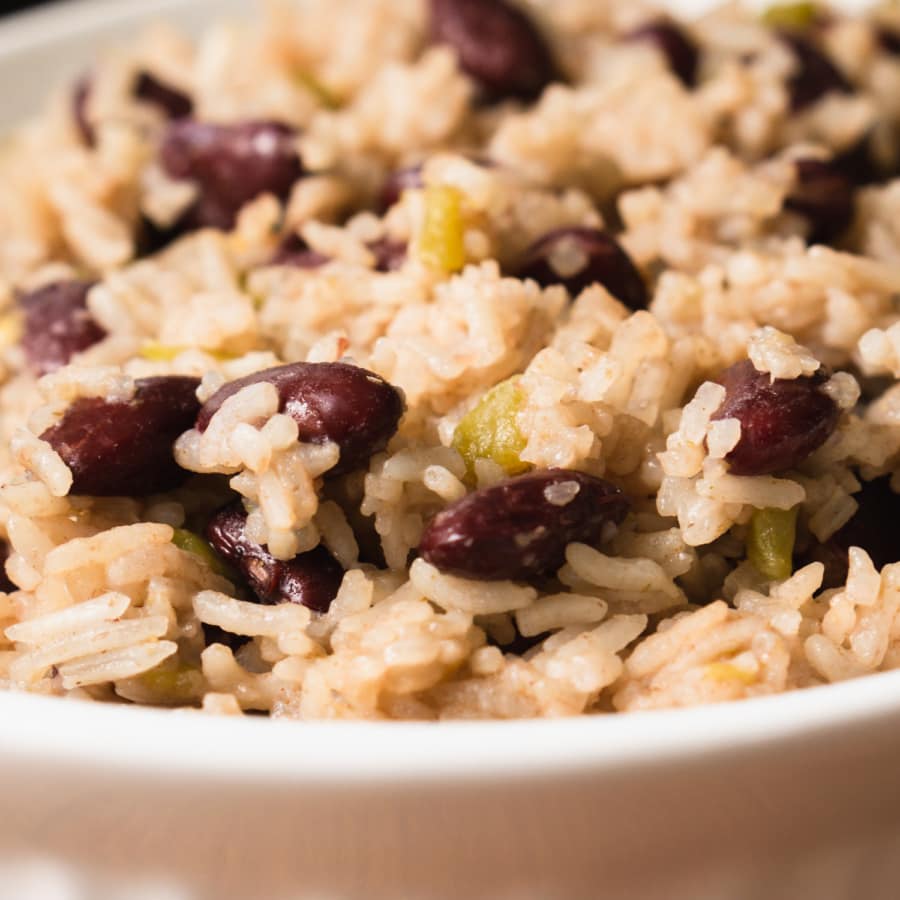 Instructions
Rinse Rice: Rinse the rice under cool water until the water runs clear.

Add All Ingredients to Pot: Add the rice, beans, green chiles, and spices to the pot. Pour in the chicken stock and mix everything together.

3-Minute Cook Time: Close the Instant Pot and set the pressure release valve to 'Sealing' and then set the pot to cook on 'Manual' / 'Pressure Cook', 'High Pressure' for 3 minutes.

10-Minute NPR: Once the cooking time has completed, allow for a 10 minute NPR (natural pressure release). Release any remaining pressure after the ten minute NPR has completed.

Fluff & Serve: Open the pot, fluff with a large spoon or fork, serve and enjoy!
Nutrition Facts
Calories: 397kcal | Carbohydrates: 81g | Protein: 15g | Fat: 2g | Saturated Fat: 1g | Sodium: 1011mg | Potassium: 853mg | Fiber: 11g | Sugar: 7g | Vitamin A: 173IU | Vitamin C: 16mg | Calcium: 122mg | Iron: 5mg