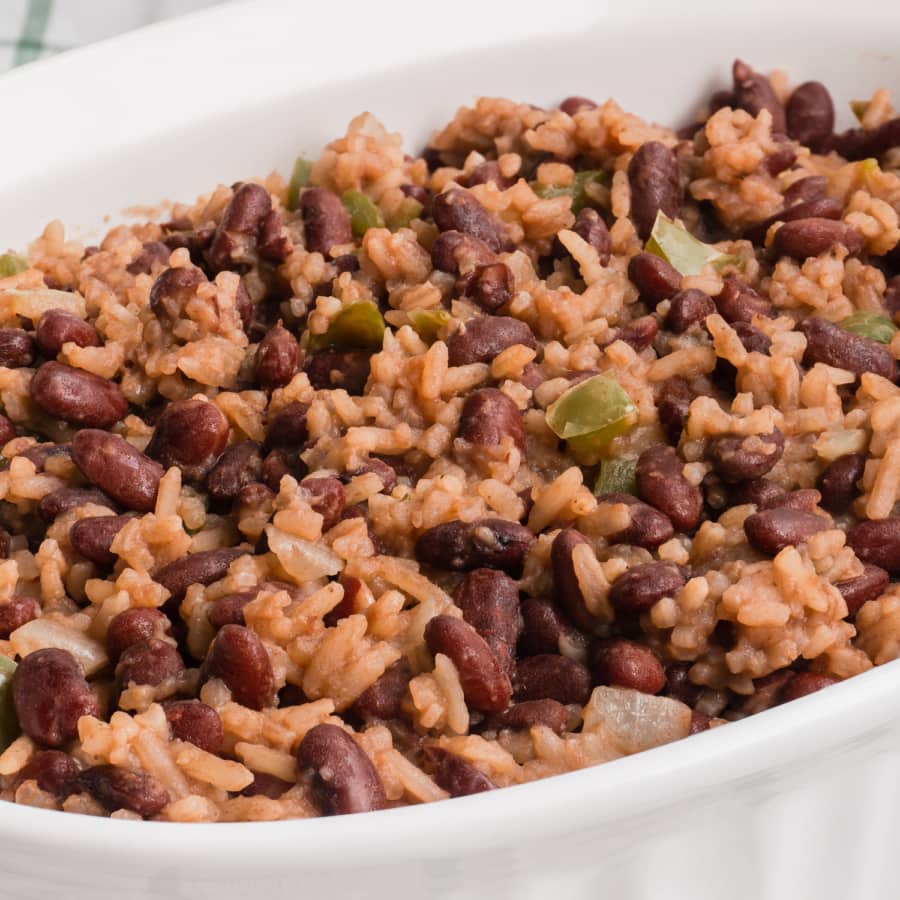 SAVE THIS RECIPE
Honduran Red Beans and Rice, or Casamiento as we call it in Honduras, was something that we had often when I was growing up. I remember it was my mom's favorite thing to eat, it still is to this day. Such a simple dish but it brings back so many memories!
This post contains affiliate links. For more information, see my disclosure.
What is Casamiento?
The word casamiento means marriage. In this case, the beans and the rice get "married" together. It's a funny name, and I have no idea where it came from, but that's what Red Beans and Rice are called in Honduras.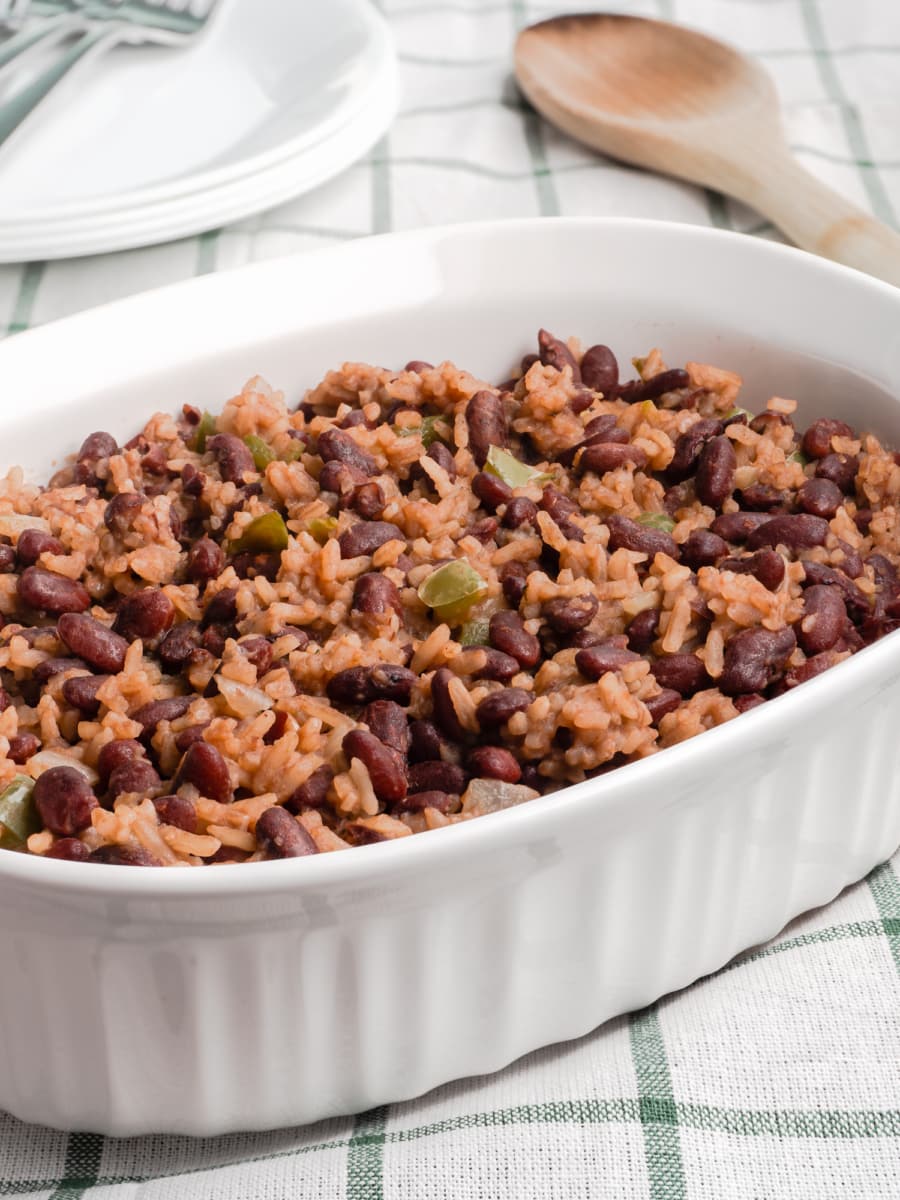 Many places around the world have red beans and rice as a dish, but everywhere you go, the flavor will be slightly different. I like to think Casamiento is different than other rice and beans you may have tried. It's so delicious!
What Do I Need to Make Red Beans and Rice?
In Honduras, we use a different kind of red bean. Our red bean is smaller, darker and has a silkier texture. They are called Frijol de Seda, or Silk Bean. You can find these red beans in the Hispanic section of your supermarket. They are labeled either Central American or Salvadorean Beans.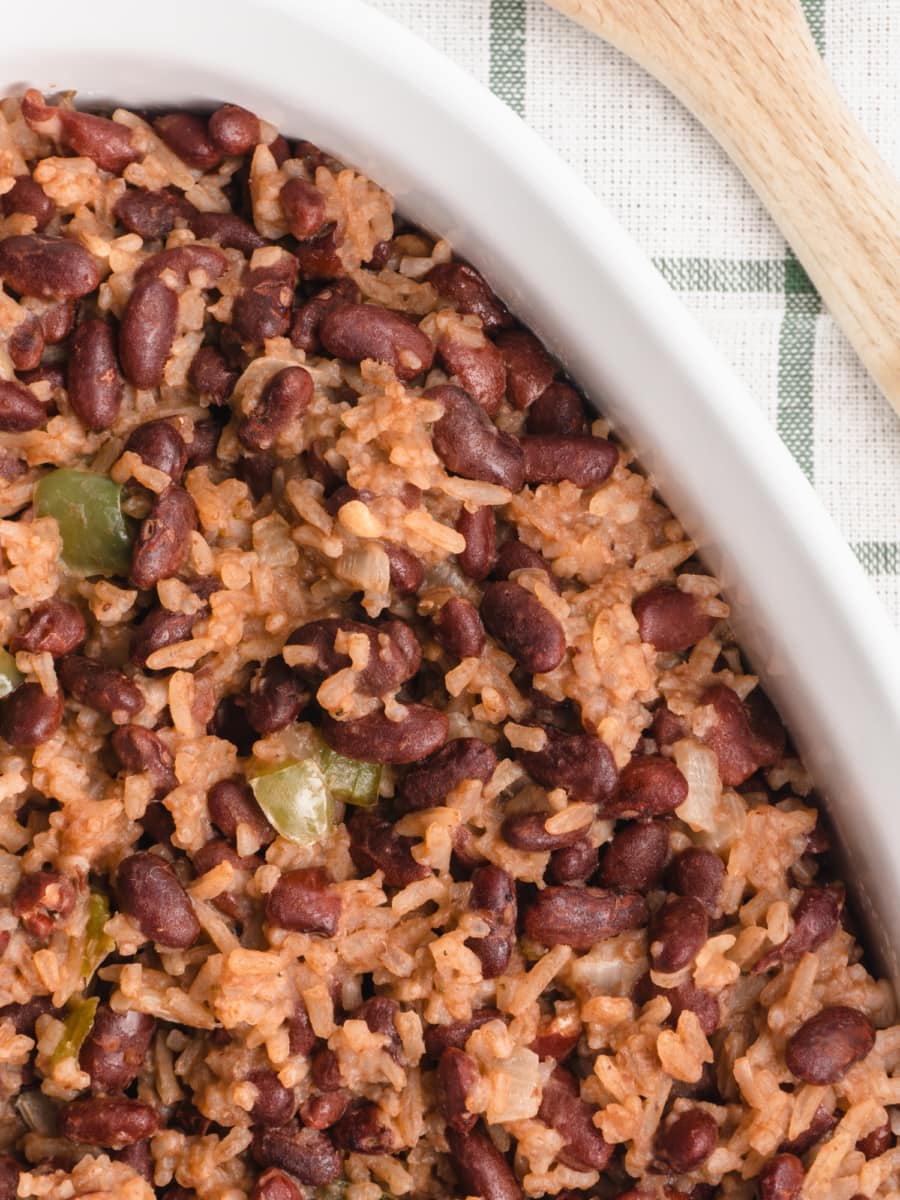 You will need a few common veggies, and you'll need some white rice. Any long grain rice will do. We like to use Jasmine Rice at home. Sometimes we cook it on the stove and sometimes in our pressure cooker. Instant Pot Jasmine Rice will work perfectly for this recipe.
Essential Items
Here are some essential prep tools, utensils, and appliances I used to make this recipe.
Featured Items
Here is a list of the products featured in this post or products similar to those featured in this post:
How to Make Honduran Red Beans and Rice
In order to make Honduran Red Beans and Rice or Casamiento, you will need to start with a fresh pot of Honduran Red Beans. I make mine in the Instant Pot and it couldn't be easier! You'll also need some freshly made white rice, like my Instant Pot Jasmine Rice.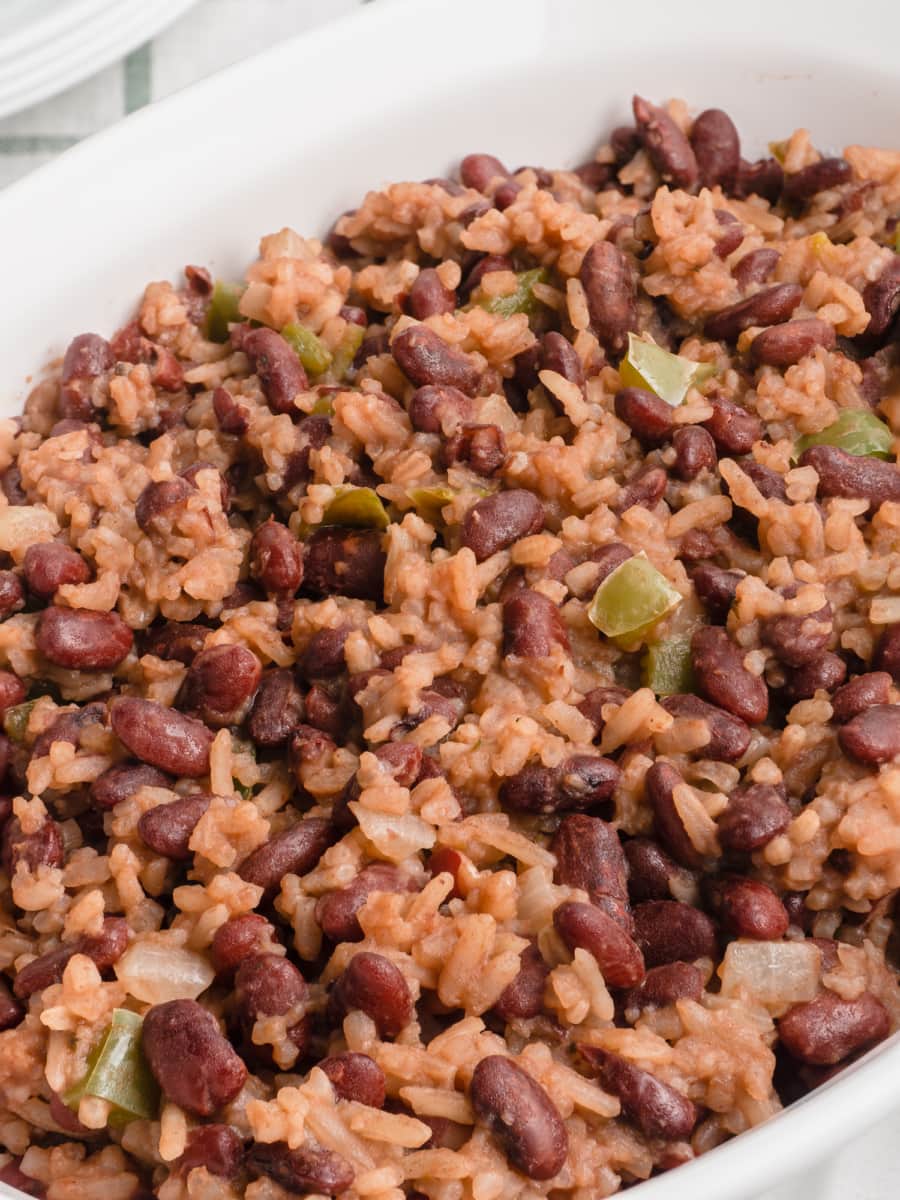 Once you have the cooked red beans and the white rice you can get started with making Casamiento. In a large skillet, you'll need to heat up the oil and cook the onion and green pepper. Toss the veggies once in a while until the onions are golden around the edges. This should take about 4 to 5 minutes.
Now, you can slowly add the broth and salt and mix it with the veggies. Add the rice and stir it in. Next, add the beans and gently stir them into the rice and broth mixture. You want to be gentle so that you don't end up smushing the beans.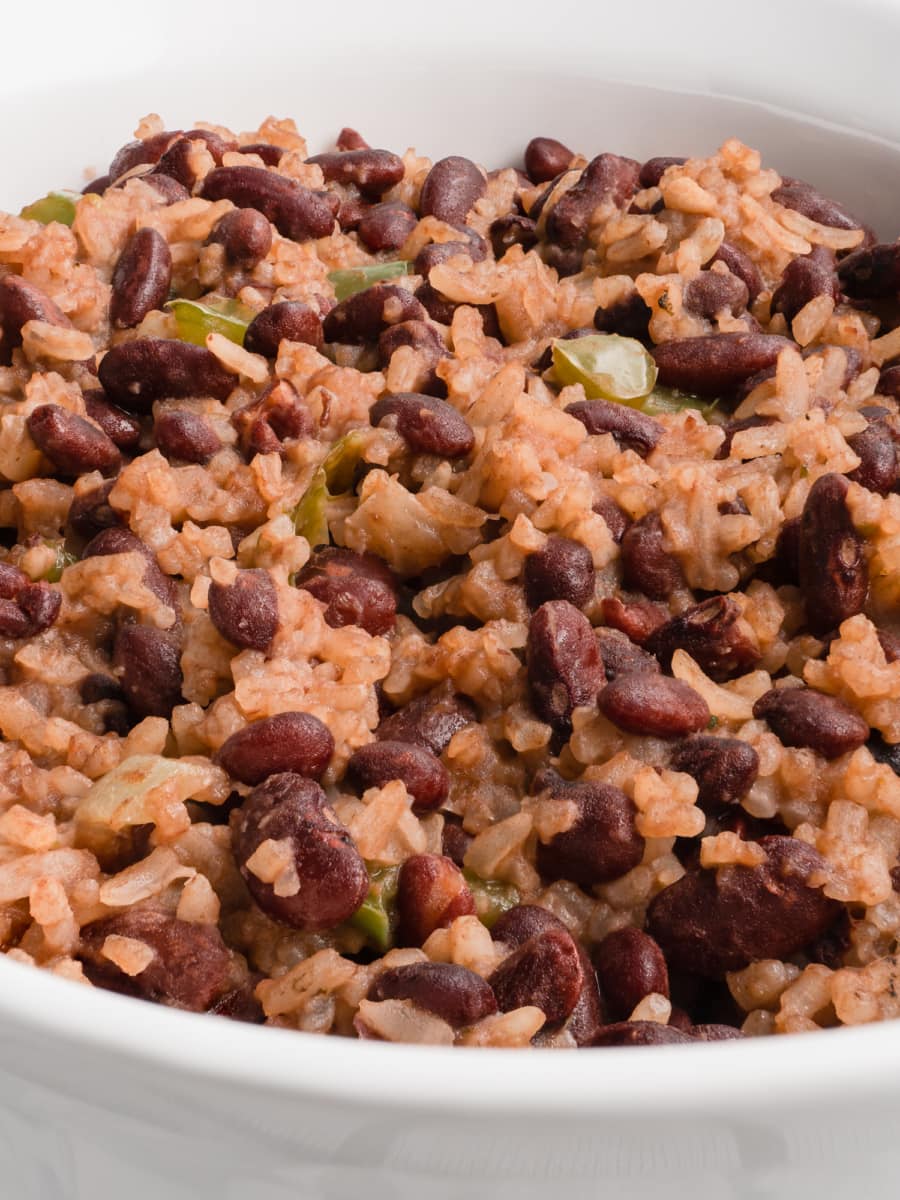 Bring the mixture to a rolling boil and then turn down the heat. Cook the rice and beans uncovered and undisturbed for about 10 to 12 minutes or until the broth has been fully absorbed.
I hope you enjoy this Honduran recipe as much as we do. Let me know when you try Casamiento, or Honduran Rice and Beans. I'd love to hear about it in the comments!
Casamiento
RED BEANS, WHITE RICE, GREEN PEPPERS, AND ONIONS SIMMERED IN BEAN BROTH
This Honduran version of red beans and rice, known in Honduras as Casamiento, is simple to make, budget-friendly, and loaded with flavor. It makes a perfect side dish for any Hispanic-inspired meal.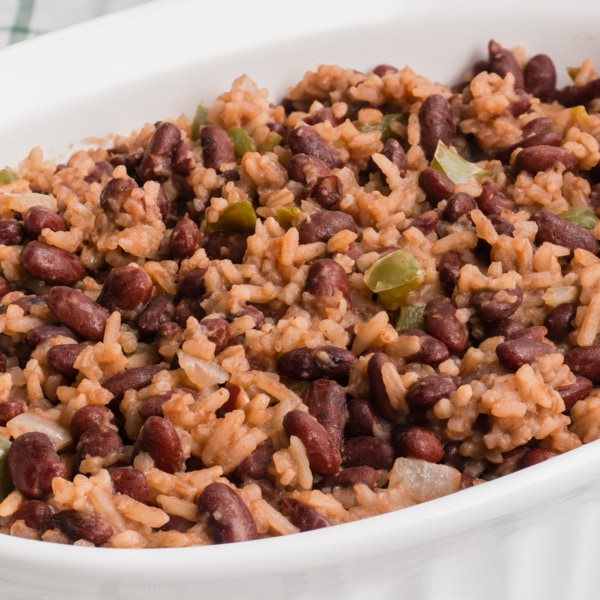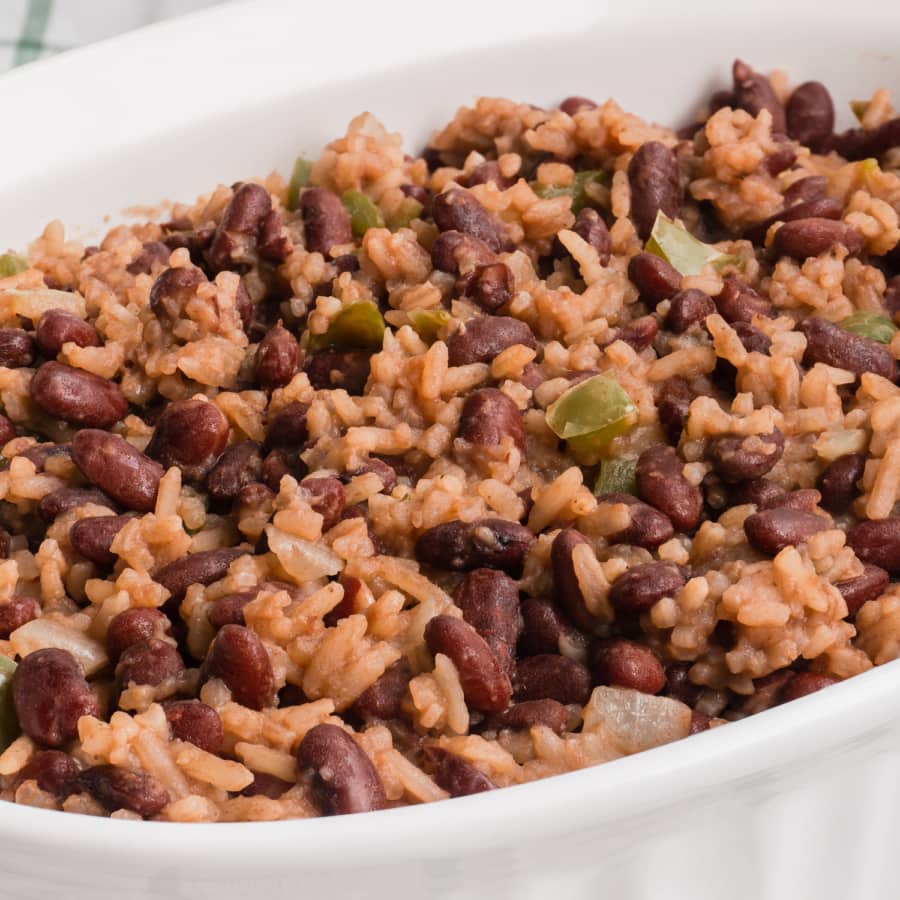 Instructions
Sauté Vegetables: In a large skillet over medium-high heat, heat the oil and cook the onion and green pepper, tossing occasionally, until the onion is lightly golden around the edges. About 4 to 5 minutes.

Add Rice and Beans: Slowly add the broth and salt to the skillet and mix into the onion and pepper. Add the cooked rice to the skillet and stir into the bean broth. Next, add the cooked red beans to the skillet and gently stir into the rice and bean broth until all the ingredient are fully mixed.

Simmer Rice and Beans: Bring to a boil, then reduce the heat to medium-low and simmer uncovered and undisturbed for 10 to 12 minutes or until the broth has been reduced and fully absorbed.

Gently toss the beans and rice then transfer to a serving bowl and enjoy!
Nutrition Facts
Calories: 362kcal | Carbohydrates: 71g | Protein: 12g | Fat: 3g | Saturated Fat: 2g | Sodium: 104mg | Potassium: 455mg | Fiber: 8g | Sugar: 1g | Vitamin A: 31IU | Vitamin C: 8mg | Calcium: 44mg | Iron: 3mg