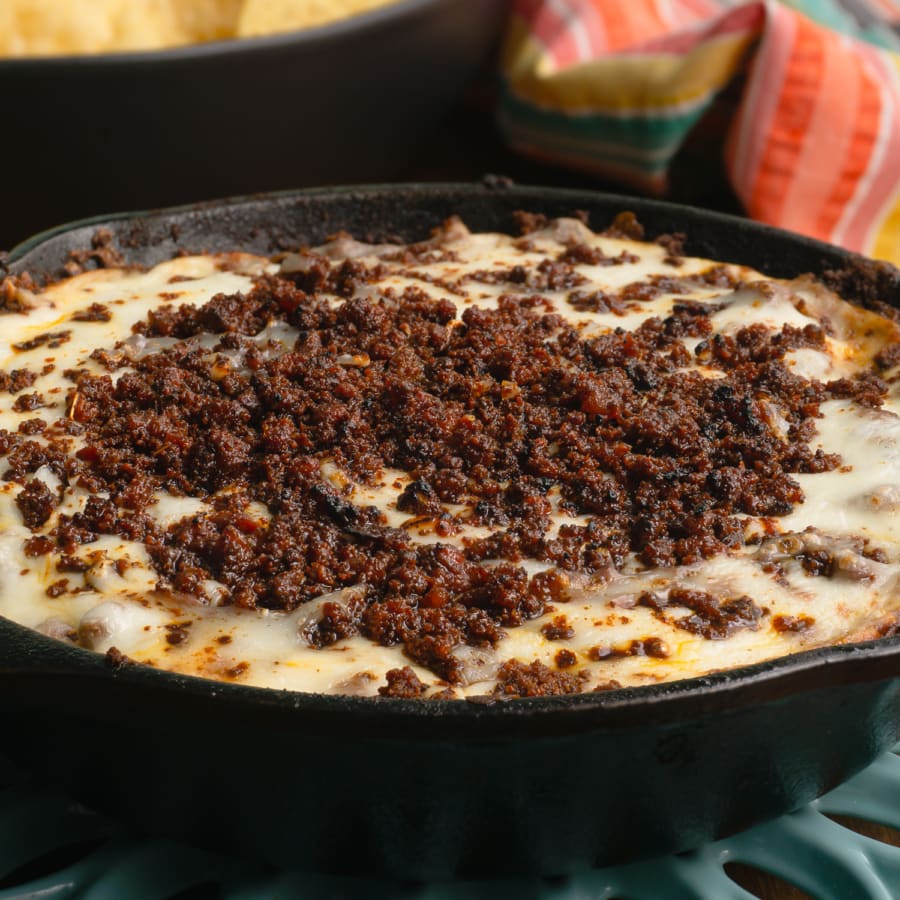 SAVE THIS RECIPE
I'm thrilled to share with you one of the yummiest appetizers from my home country, Anafre Hondureño. This delicious chorizo, bean, and cheese dip is traditionally served in restaurants with freshly fried crispy corn tortilla triangles. You'll love how easy it is to enjoy it at home.
This post contains affiliate links. For more information, see my disclosure.
What is Anafre?
An anafre is a small clay pot used to heat up food. It has a clay plate at the bottom that is filled with hot coal. This keeps whatever is in the dish hot and bubbly. Think of it as the Honduran version of a fondue bowl.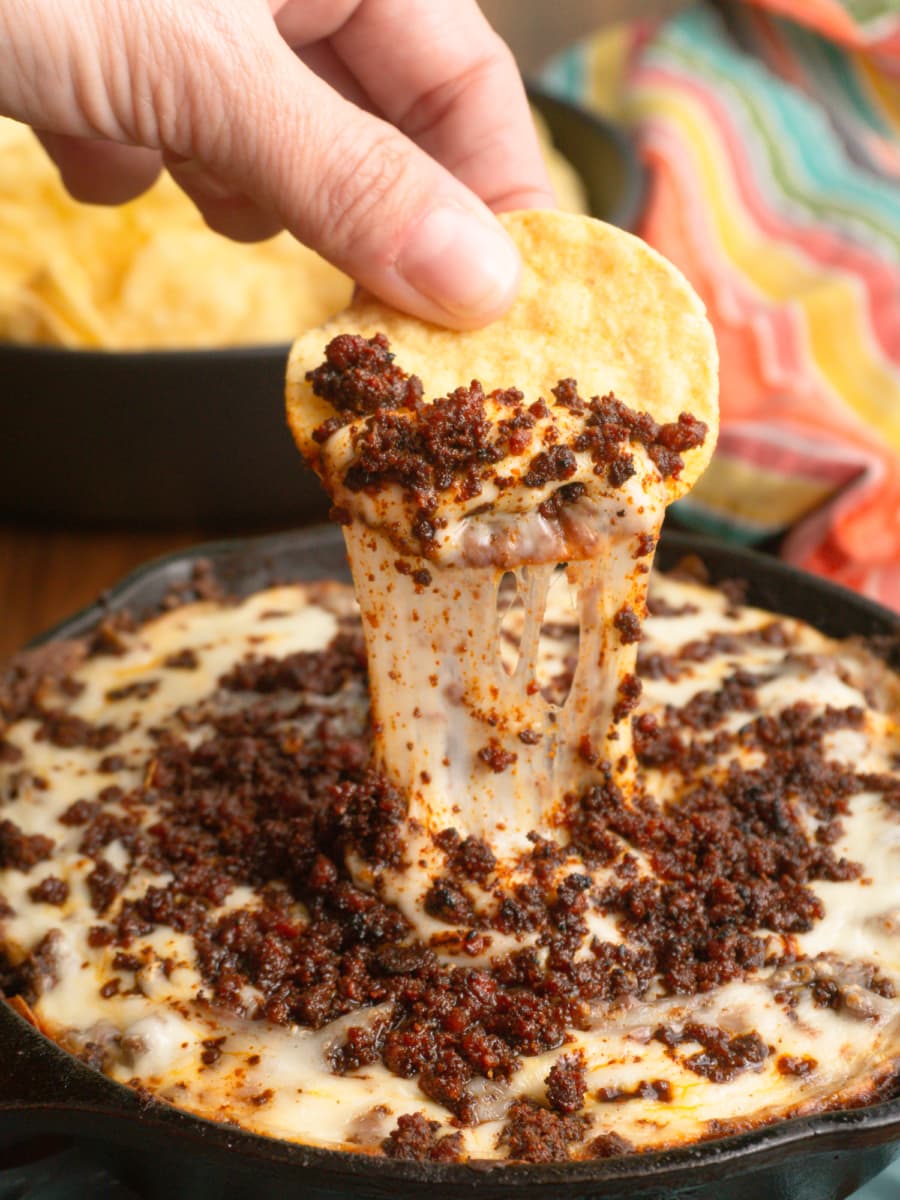 In Honduras, when people refer to Anafre, they are referring to the anafre pot filled with hot refried red beans and topped with melted quesillo (Honduran cheese) and sometimes chorizo or pork sausage. This delicious and flavorful mixture is scooped up directly from the hot anafre with fried corn tortilla triangles. It is to die for!!
Best Ingredients for Honduran Anafre
For a traditional Honduran Anafre, you'll want to get as close to the ingredients that are used down there as possible. If you can make your own refried beans, that would be ideal. I have an easy recipe for Authentic Honduran Refried Beans that you'll love! If you don't have time to make your own, you can pick up refried beans at your local supermarket. However, I recommend that you use refried beans made with red silk beans "Rojos de Seda" since those are the type of beans we use in Honduras. Both Goya and Ducal brands offer refried beans made with red beans.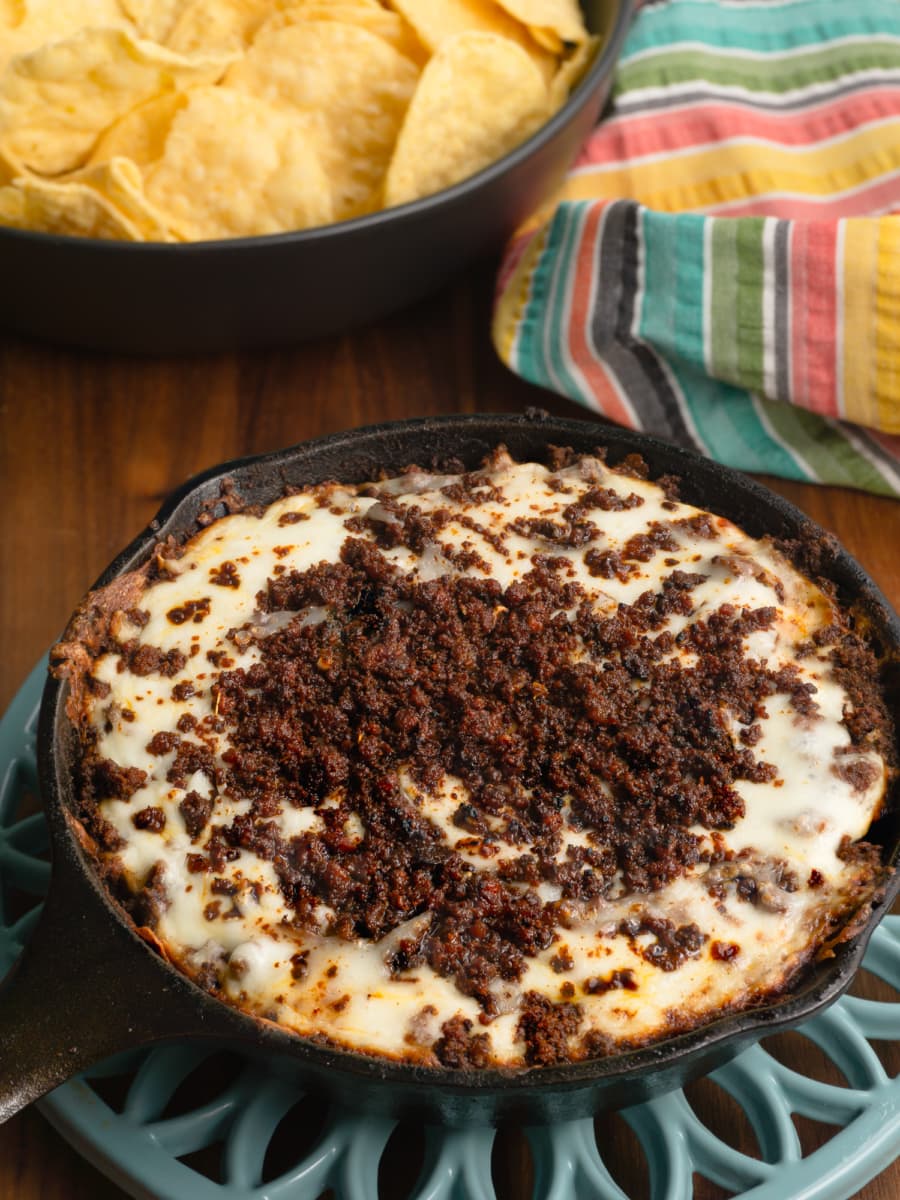 I haven't found a perfect "quesillo" equivalent here. Quesillo is like mozzarella but softer. It melts beautifully. For this recipe, we did various tests and we got the best results with Oaxaca Cheese. You can find this cheese in most supermarkets. If you are unable to find it, then the next best option would be Mozzarella.
As for the chorizo, we also tried several and found El Mexicano Pork Chorizo to taste the best. It had just the perfect amount of saltiness and spiciness to it.
Essential Items
Here are some essential prep tools, utensils, and appliances I used to make this recipe.
Featured Items
Here is a list of the products featured in this post or products similar to those featured in this post:
How to Make A Honduran Anafre
An anafre clay pot is hard to find unless you get it in Honduras or other Latin American countries. I found a few on Amazon but they were rather expensive. My solution was to use a miniature iron skillet. The one I used has a 3 ½ inch diameter. It worked perfectly!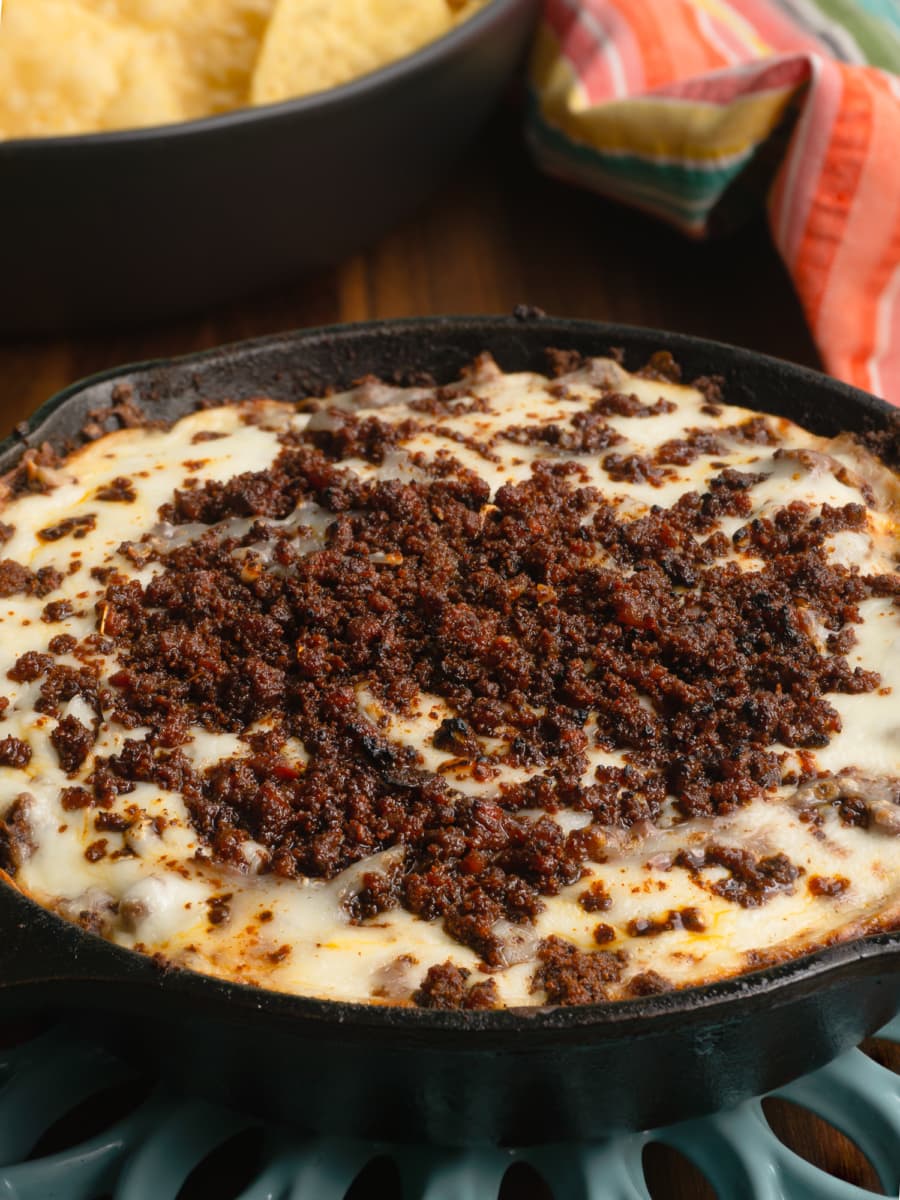 You will first need to cook the chorizo in the mini skillet. Once it's completely cooked, set half of it aside. At this point, you will add a little butter to the chorizo in the pot. Let it melt as you mix it with the chorizo. You should already have some delicious Honduran Refried Beans made. Scoop some beans into the same skillet you cooked the chorizo in, and mix them with the chorizo and butter in the skillet.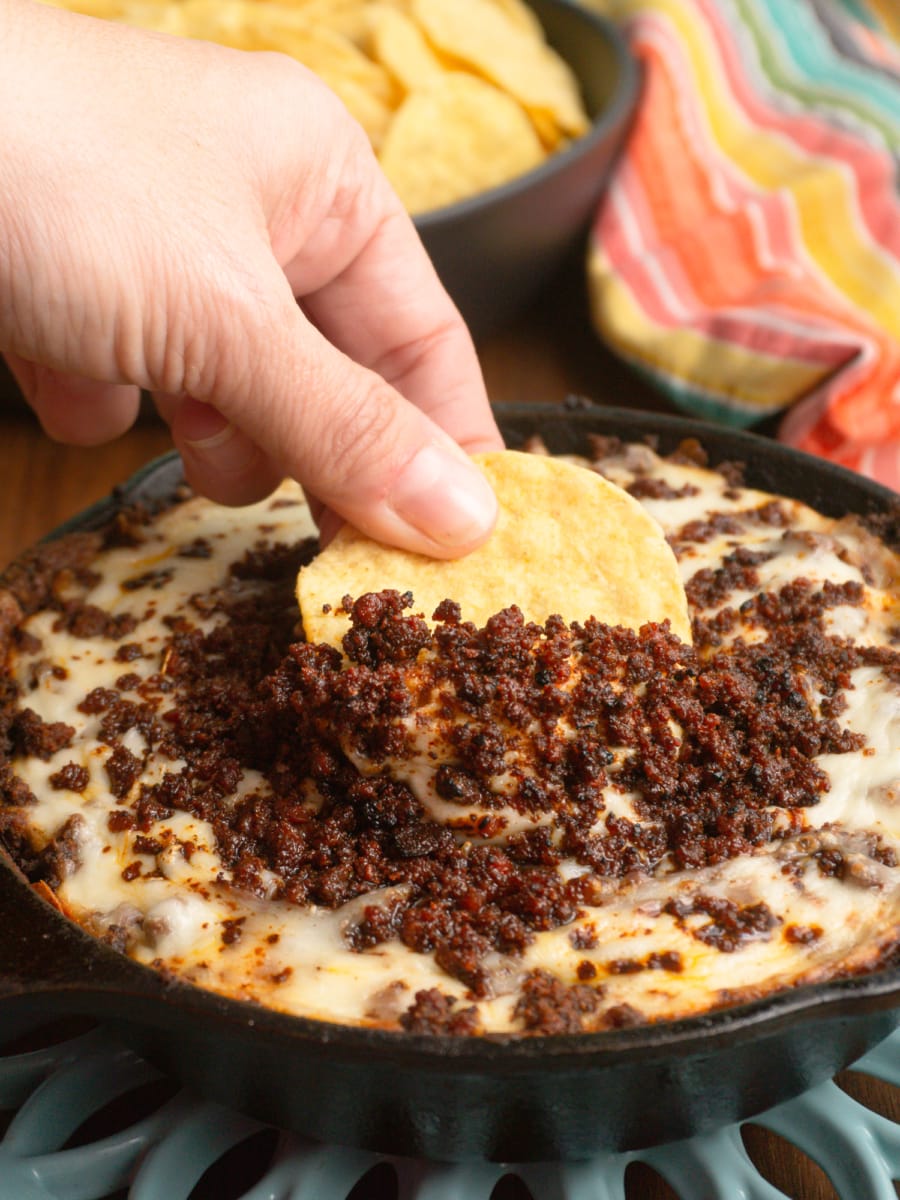 Move the beans around in the skillet allowing them to warm up. Once they are warm, you can add the freshly shredded Oaxaca cheese and the rest of the chorizo. Lower the heat and let the dip sit until the cheese is fully melted. We usually dig in as the pot sits on the stove, but you can also remove it and set it on a trivet. Enjoy it with corn tortilla chips or, if you feel adventurous, cut some corn tortillas into triangles and fry them.
I know you'll love this Aanfre Hondureño! Let me know in the comments when you try it! I'm always happy to share a little taste of Honduras with you!
Chorizo, Bean, and Cheese Dip (Anafre Hondureño)
A SKILLET OF REFRIED RED BEANS, MELTED CHEESE, AND CHORIZO
A traditional anafre Hondureño is a warm dip made with refried red beans, melted cheese, and chorizo. This dip makes a perfect appetizer or party dip.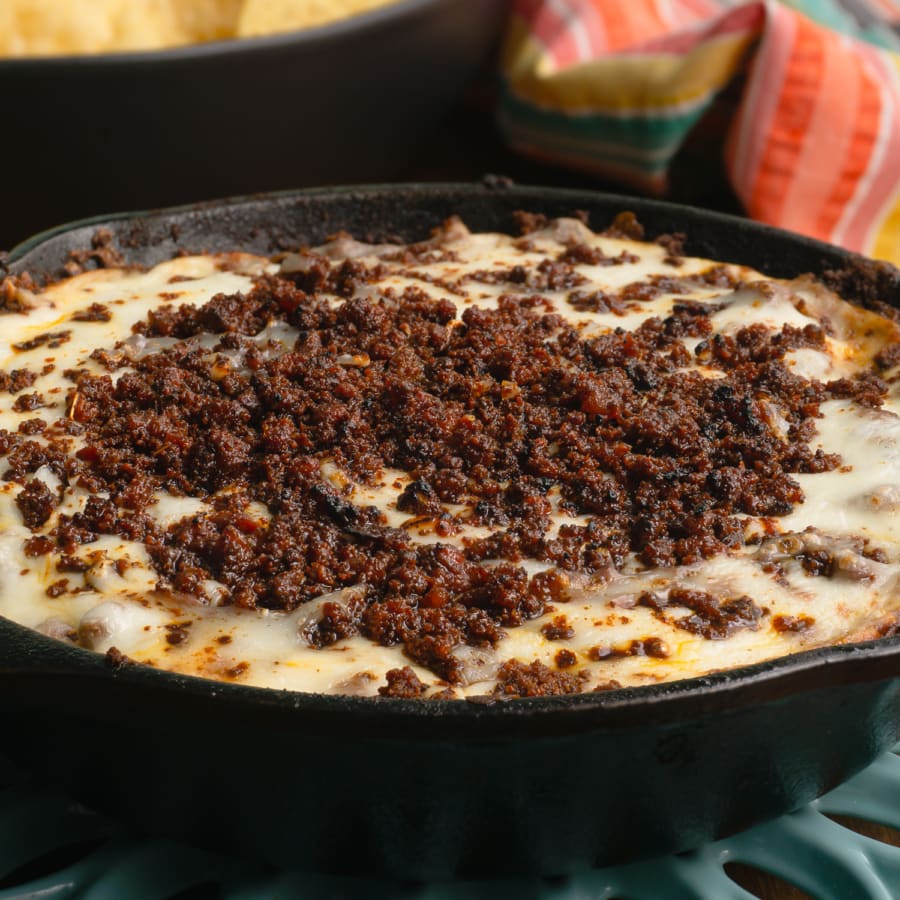 Ingredients
½ cup chorizo about 4 to 5 oz
2 tbsps butter (unsalted)
1 ¼ cup refried red beans
¾ cup Oaxaca cheese freshly shredded, may substitute with Mozzarella
Instructions
Warm a small iron skillet over medium heat. Add the chorizo and cook until crumbly. About 8 to 10 minutes.

Once it's cooked through and crumbly, remove half of the chorizo and set aside.

Add the butter to the skillet with the remaining chorizo and allow it to melt. Then add the refried beans and mix them into the butter and chorizo. Periodically stir the beans allowing them to warm through. About 2 minutes.

Spread the shredded cheese over the top of the beans and sprinkle the chorizo you had set aside over the cheese. Reduce the heat to low and cook until the cheese melts completely. About 10 minutes.

Serve with tortilla chips.
Nutrition Facts
Calories: 228kcal | Carbohydrates: 6g | Protein: 12g | Fat: 17g | Saturated Fat: 12g | Cholesterol: 30mg | Sodium: 695mg | Fiber: 2g | Sugar: 1g | Vitamin A: 183IU | Calcium: 34mg | Iron: 1mg