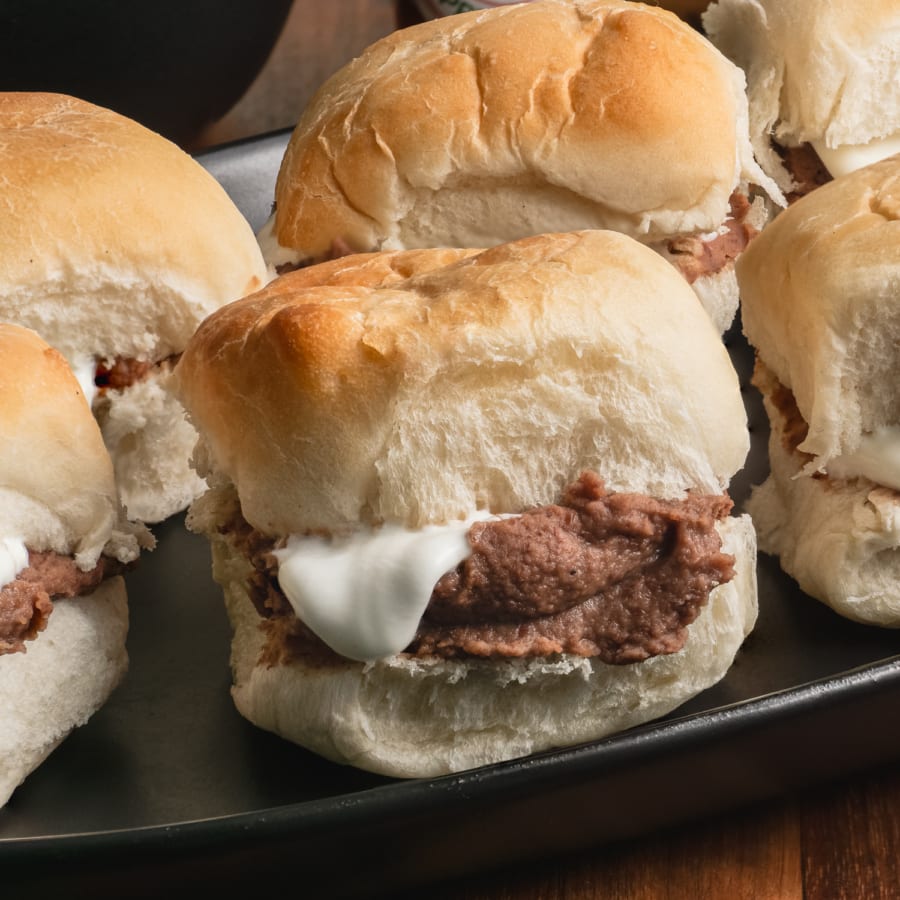 SAVE THIS RECIPE
I'm excited to share with you my version of Pan con Frijoles, a very popular Honduran street food that I enjoyed regularly while still living in Honduras. This recipe is easy and so addicting. These rolls with refried beans and cream are little bits of heaven!
This post contains affiliate links. For more information, see my disclosure.
What is Pan con Frijoles?
Pan con Frijoles translates to Bread with Beans. It sounds simple but they are so addicting! It's a small roll filled with slightly spicy refried beans and cream. They have been sold in the capital of Honduras for years and have become an incredibly popular street food. There is one particular place that is famous for its Pan con Frijoles.
When I was still living in Honduras, my brother would go "down to town" to run errands for the business and would come back mid-morning with several brown paper bags containing the famous Pan con Frijoles. The Pan con Frijoles made by Doña Juanita was amazing! Each paper bag contained 10 rolls. One bag was just for me and I'd eat all 10 in one sitting! That's how good they are.
Where Can I Get Pan Con Frijoles in Honduras?
If you are visiting Honduras and will be in the capital of Tegucigalpa, you can ask anyone to direct you to the Panes con Frijoles in La Bolsa and they will know what you're talking about!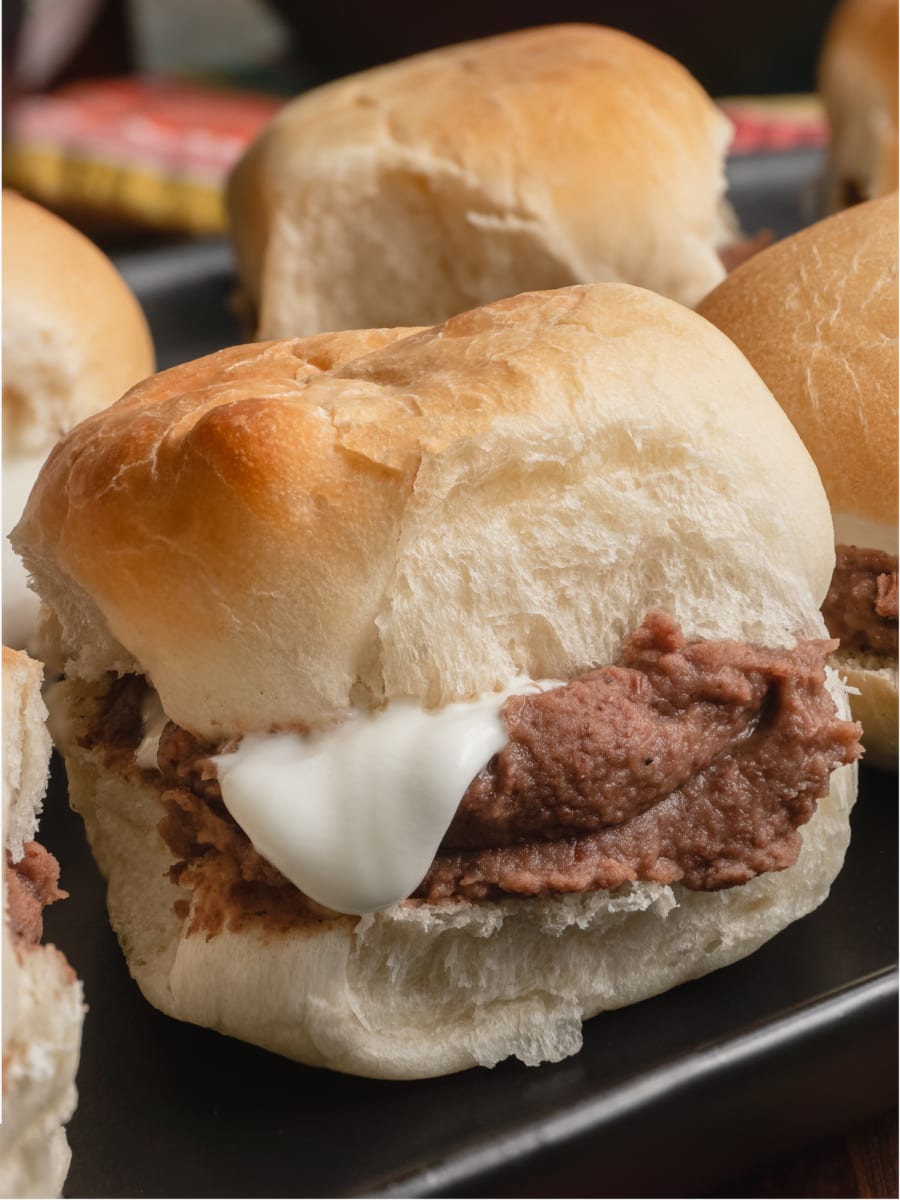 The establishment is called Panecillos Juanita and they open bright and early every morning. They close at noon, so keep that in mind. You can eat there or take your panes to-go in the classic brown paper bag. Either way, if you're in Tegucigalpa, make sure you give these a try!
How Do I Make Pan Con Frijoles at Home?
The key to making Pan con Frijoles at home is finding the right ingredients. I've got you covered on the beans and cream, but you'll have to find the right bread to make these perfect. You'll have to follow my recipe for Authentic Honduran Refried Beans. You will also need to make a batch of my version of Mantequilla Rala or Honduran Crema. Both recipes are very easy.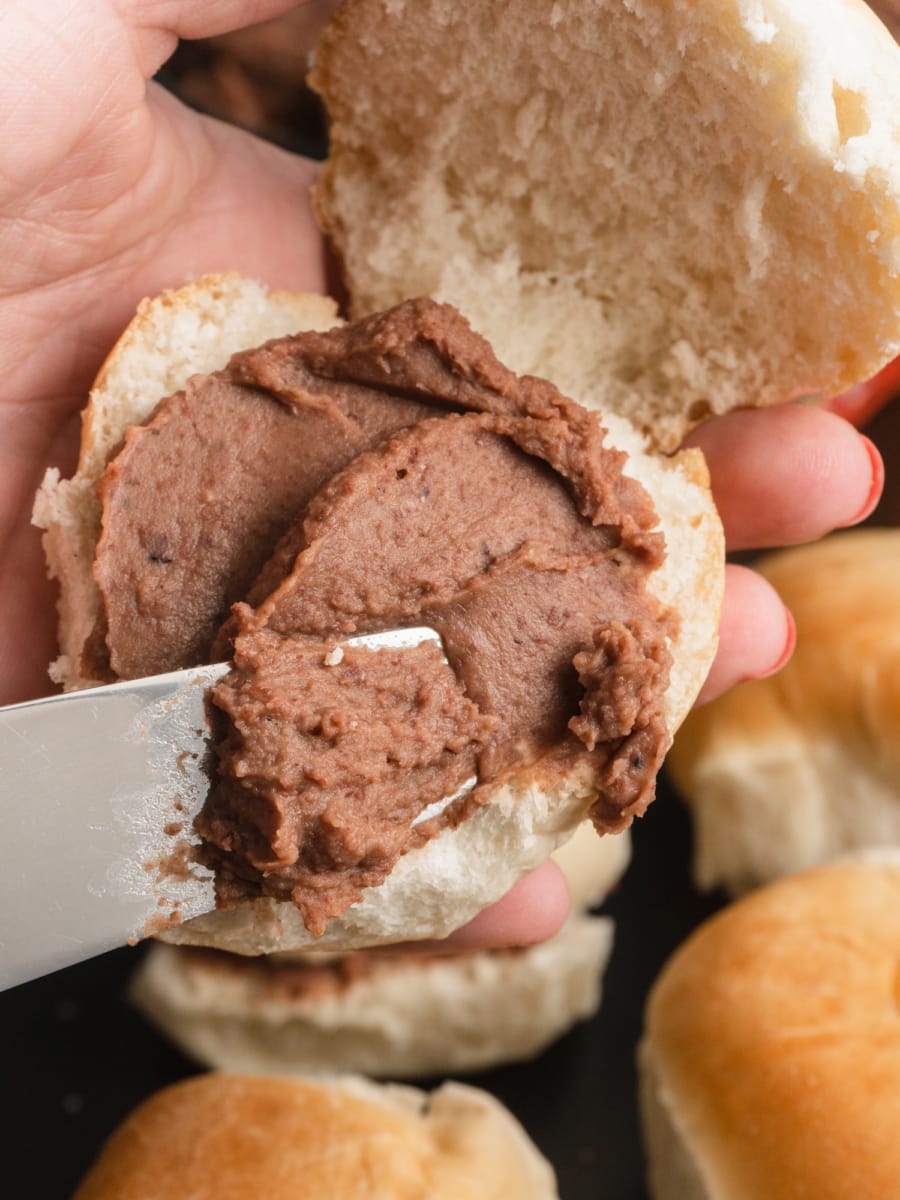 As for the bread, you'll want to find small rolls, about the size of slider buns. The perfect bread for this recipe will be a "bolillo" type bread that is slightly crusty on the outside and soft on the inside. All the supermarkets in my area have their version of this type of bread, so it shouldn't be too hard to find. You'll also need some hot sauce. I use Tabasco.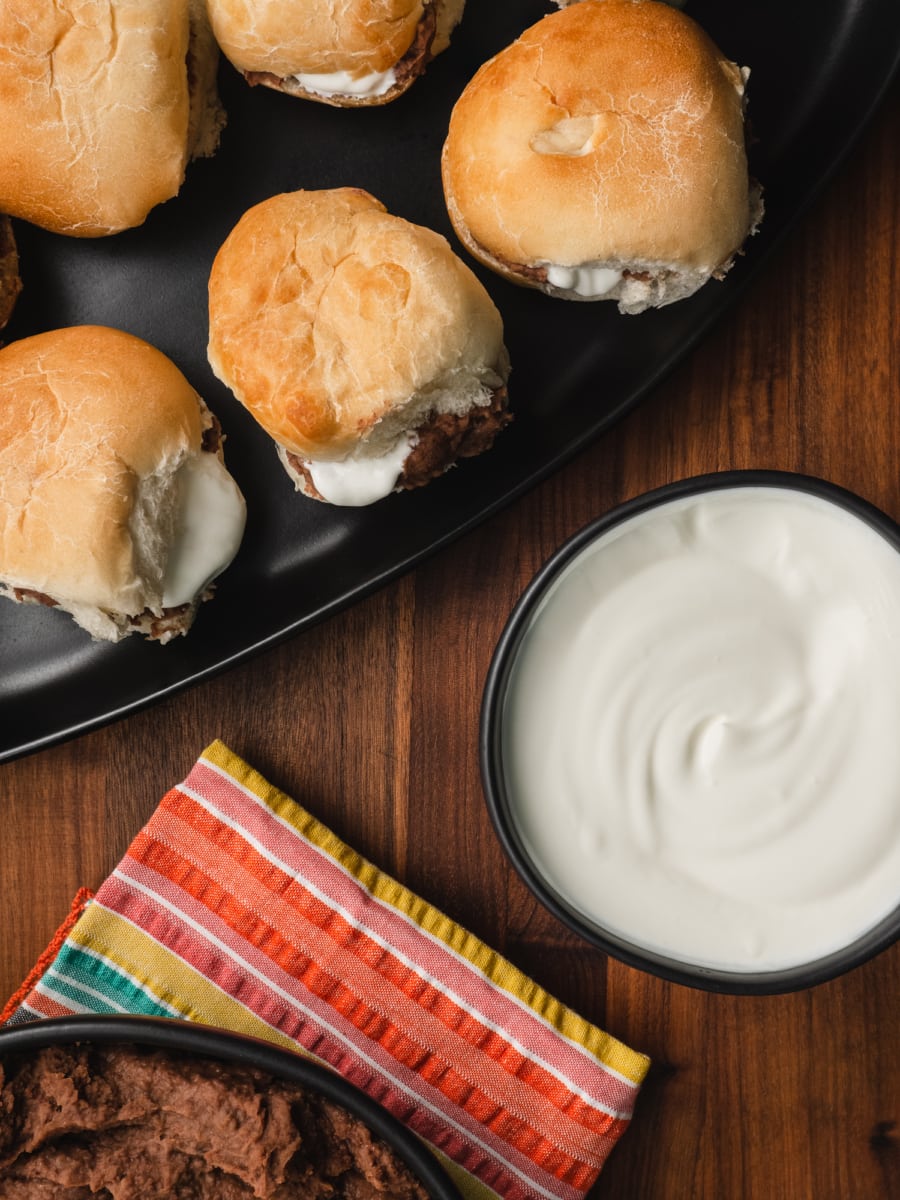 Preparing Pan con Frijoles is easy. You'll want to add some hot sauce to your refried beans and mix them by hand. Simply spread the spicy, warm, refried beans on the bread and put a good amount of Mantequilla or Crema in each roll. Make sure to put enough on each one so that when you close the bread some of the cream oozes out.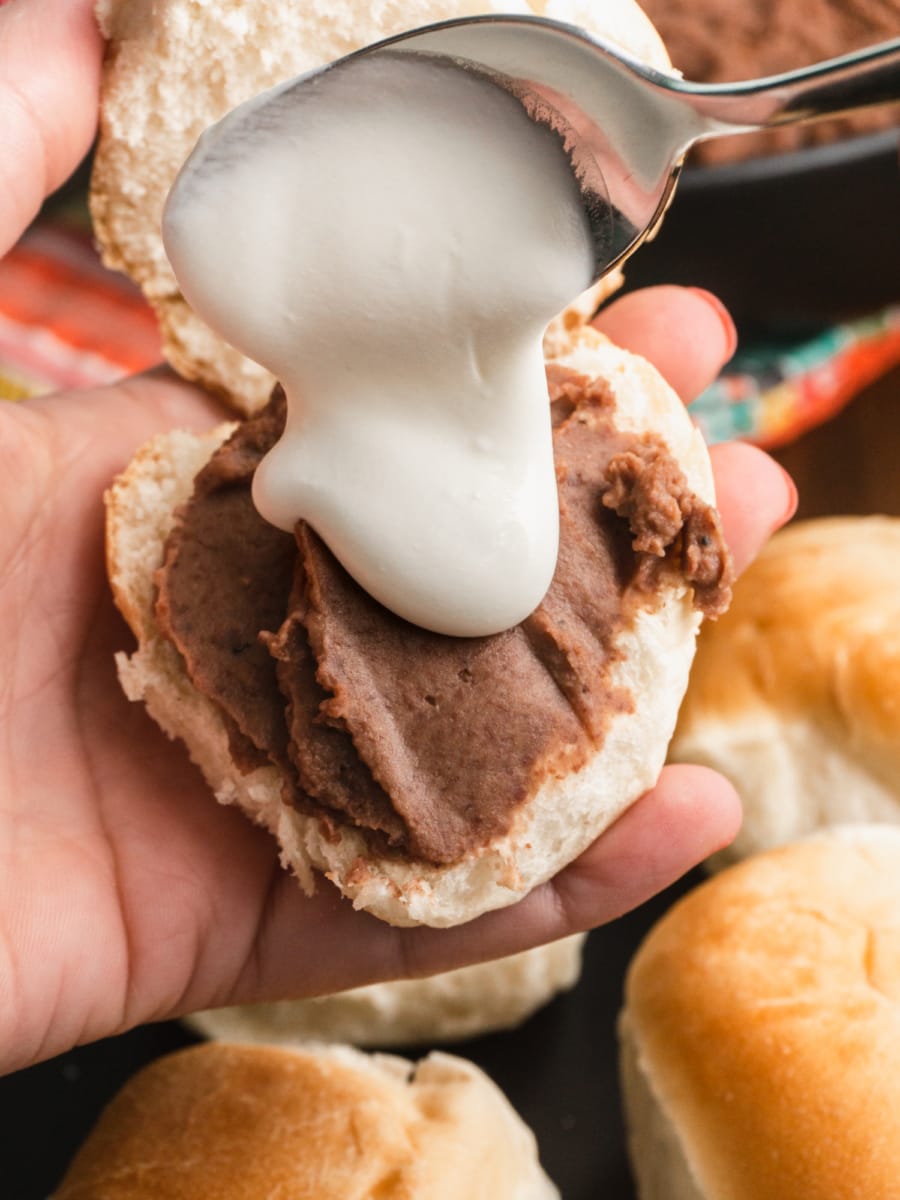 Add a few more drops of Tabasco for good measure.
You can warm the finished bread on a skillet on the stove or in the oven. That's it! You can now enjoy the popular Honduran Street food at home. This is perfect for those of us that have no way of getting to the real thing back in Honduras.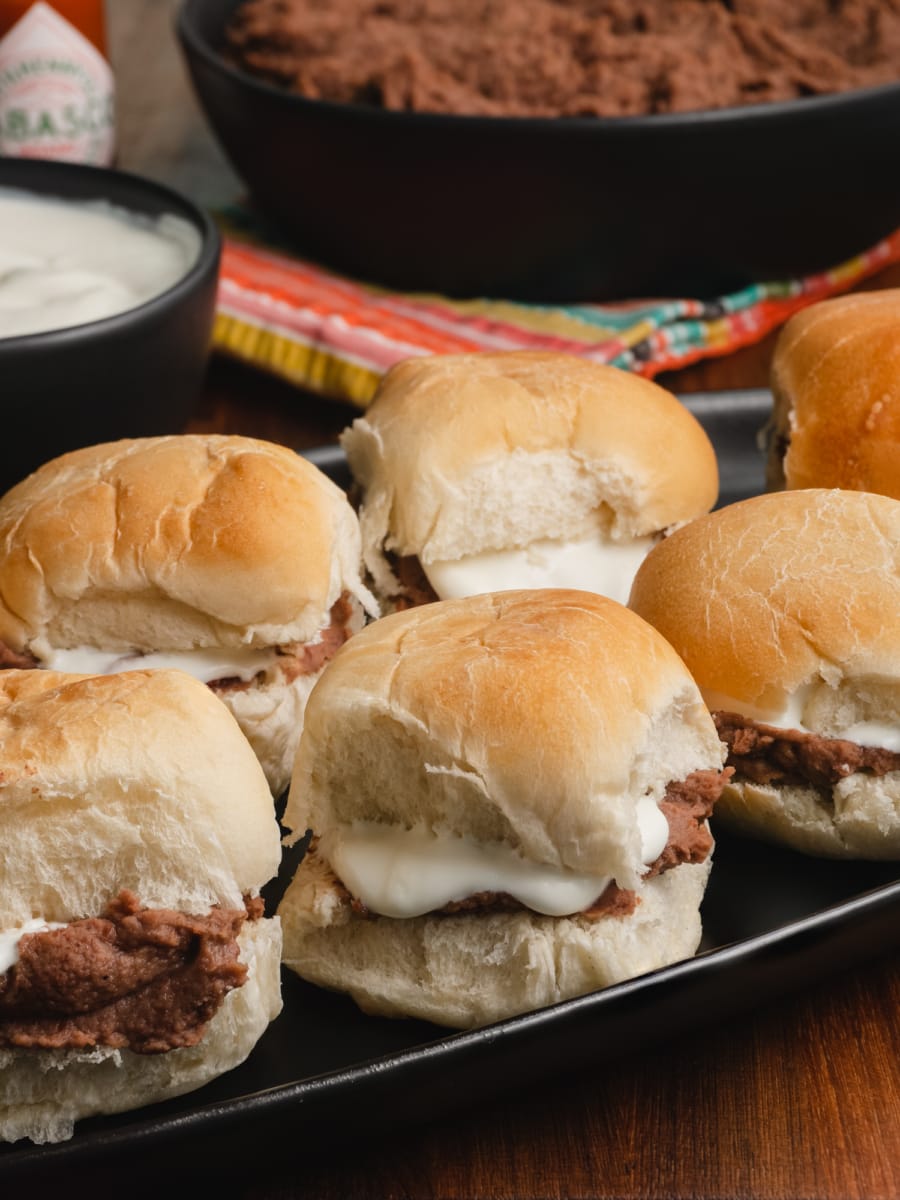 I know you will love this homemade version of the Honduran street food, Pan con Frijoles. Let me know when you try these delicious little treats.
Pan con Frijoles
A WARM AND TOASTED CRUSTY ROLL FILLED WITH REFRIED BEANS AND HONDURAN CREMA
This popular Honduran food is made by lightly toasting a crusty bun or roll and filling it with warm refried beans and Honduran crema. So quick and simple, this recipe can be enjoyed for breakfast, as a snack, or for a light meal.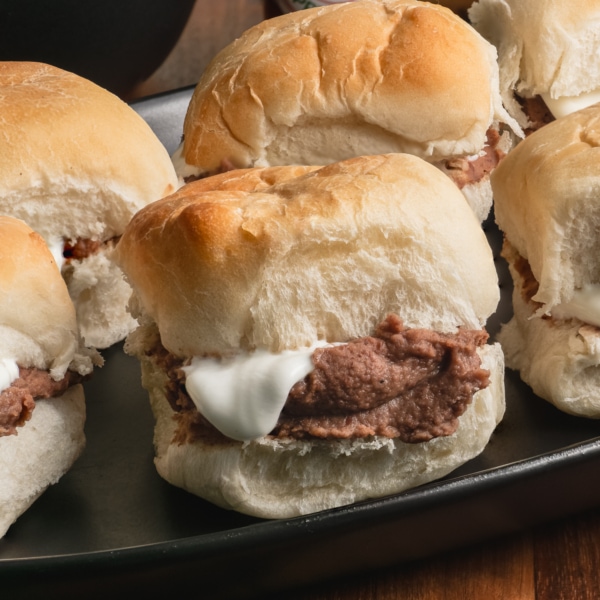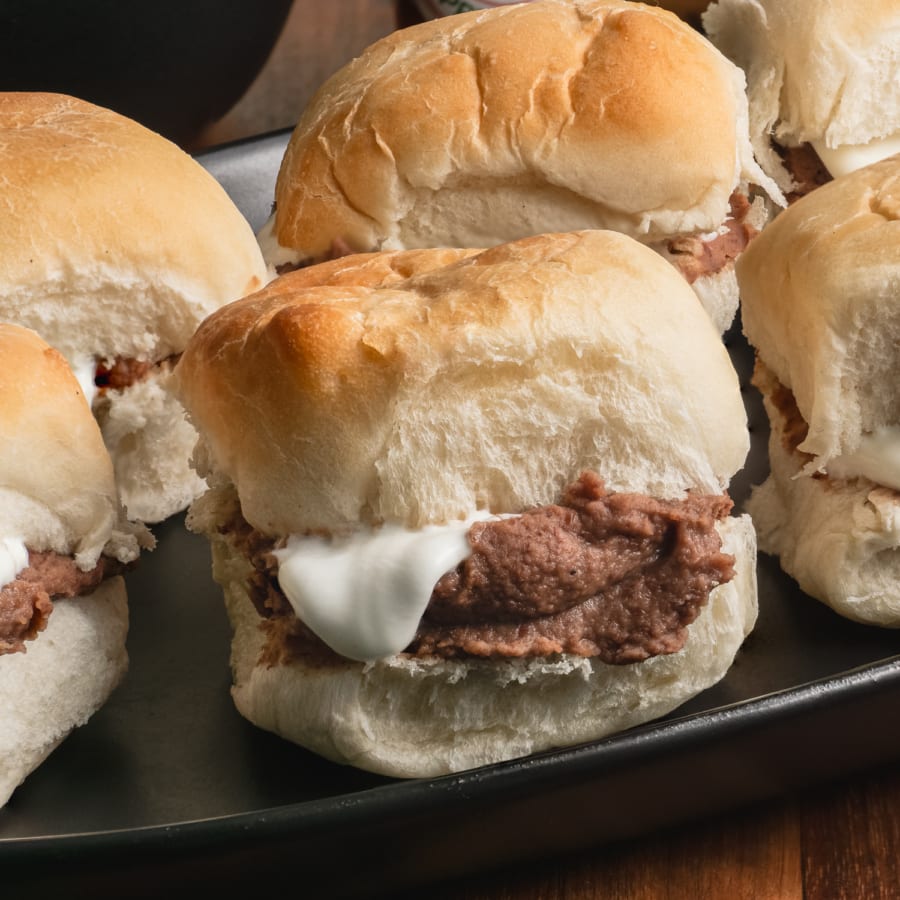 Ingredients
12

small

crusty rolls

warmed, bolillo or slider buns work well, bakery-fresh is best

refried red beans

warmed

Honduran crema

may substitute Mexican crema or sour cream

Tabasco sauce

to taste
Instructions
Mix the refried beans with some drops of Tabasco sauce. Add a little at a time and taste until the spiciness is to your liking.

Open each roll and spread a spoonful of the refried beans on the inside. Top the beans with a dollop of crema and a few more drops of the Tabasco sauce. Close the rolls.

Place the rolls on a baking sheet and gently toast in a 350° F oven for 5 minutes or until the rolls are warmed through and lightly crispy on the outside.
Nutrition Facts
Serving:
2
buns
|
Calories:
183
kcal
|
Carbohydrates:
33
g
|
Protein:
5
g
|
Fat:
3
g
|
Cholesterol:
1
mg
|
Sodium:
39
mg
|
Fiber:
3
g
|
Sugar:
5
g
|
Vitamin A:
11
IU
|
Calcium:
53
mg
|
Iron:
2
mg