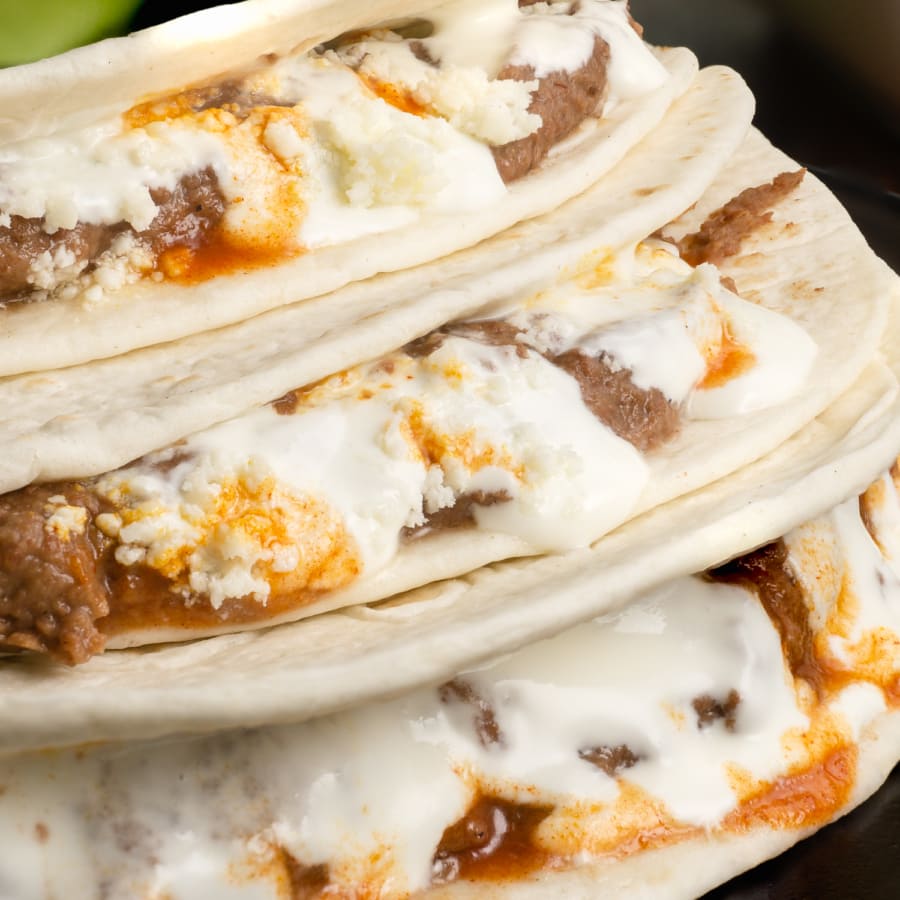 SAVE THIS RECIPE
The epitome of Honduran food may just be Baleadas. This iconic Honduran food is the one thing you can't miss if you ever visit my home country. Yes, there are so many wonderful dishes from Honduras, but everyone will tell you if you're there, you have to enjoy some Honduran Baleadas!
This post contains affiliate links. For more information, see my disclosure.
What is a Honduran Baleada?
A Honduran Baleada consists of a thick and fluffy flour tortilla, stuffed with refried red beans, Honduran cream (mantequilla rala), and crumbled cheese. This is the simplest version of the dish and in Honduras is referred to as Baleada Sencilla. At local Honduran restaurants, you can also order Baleadas Especiales, which contain everything named above, plus scrambled eggs.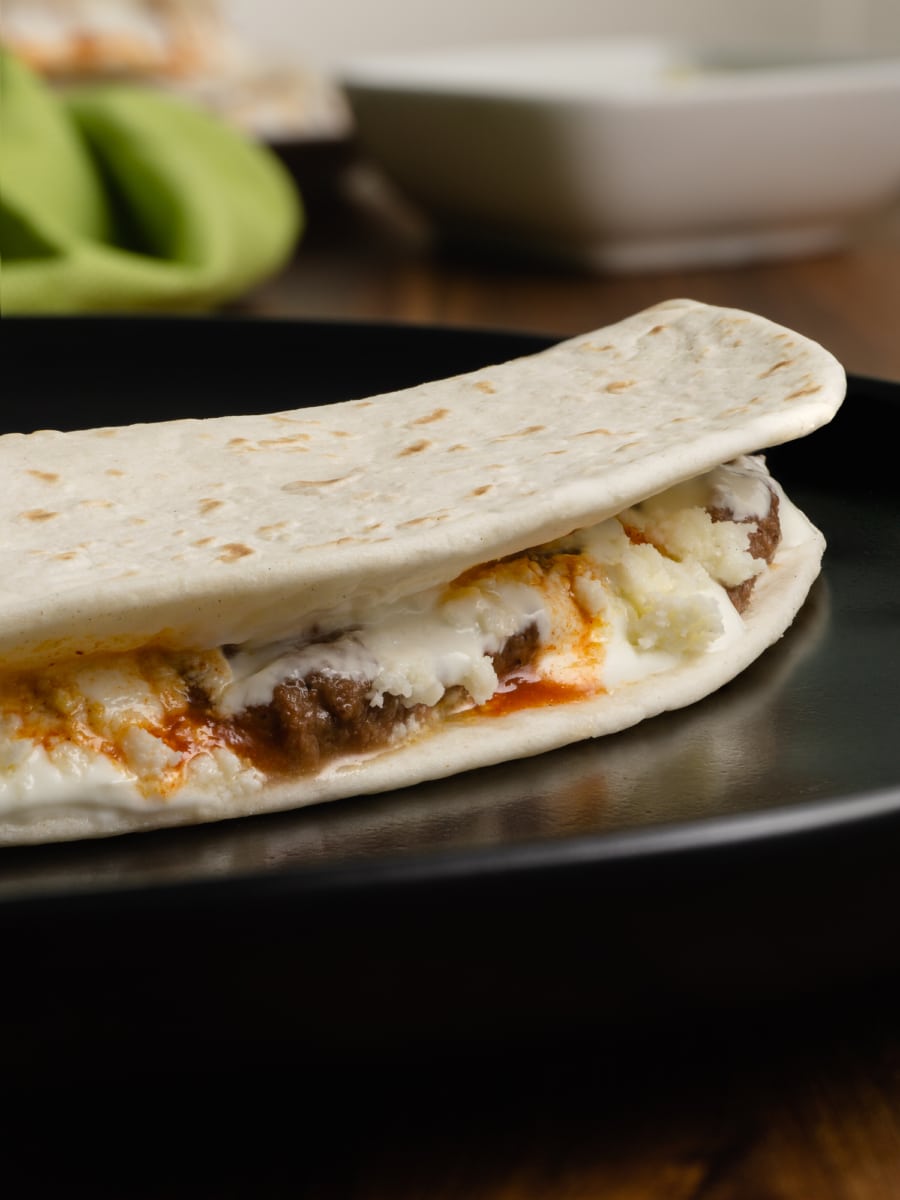 Finally, you can also enjoy a Baleada Super Especial, which contains everything above, plus chicken, beef, or sausage. Any way you order it, it's a treat! In this post, I will tell you how to make a Baleada Sencilla, the simplest kind. It's the one my family eats most often and it's so easy to make.
Baleada History
There are several myths and urban legends that have surfaced about how the Baleada came to be. I'll share the most popular one with you and the one that I feel makes the most sense. Most seem to agree that Baleadas originated in the north coast of Honduras.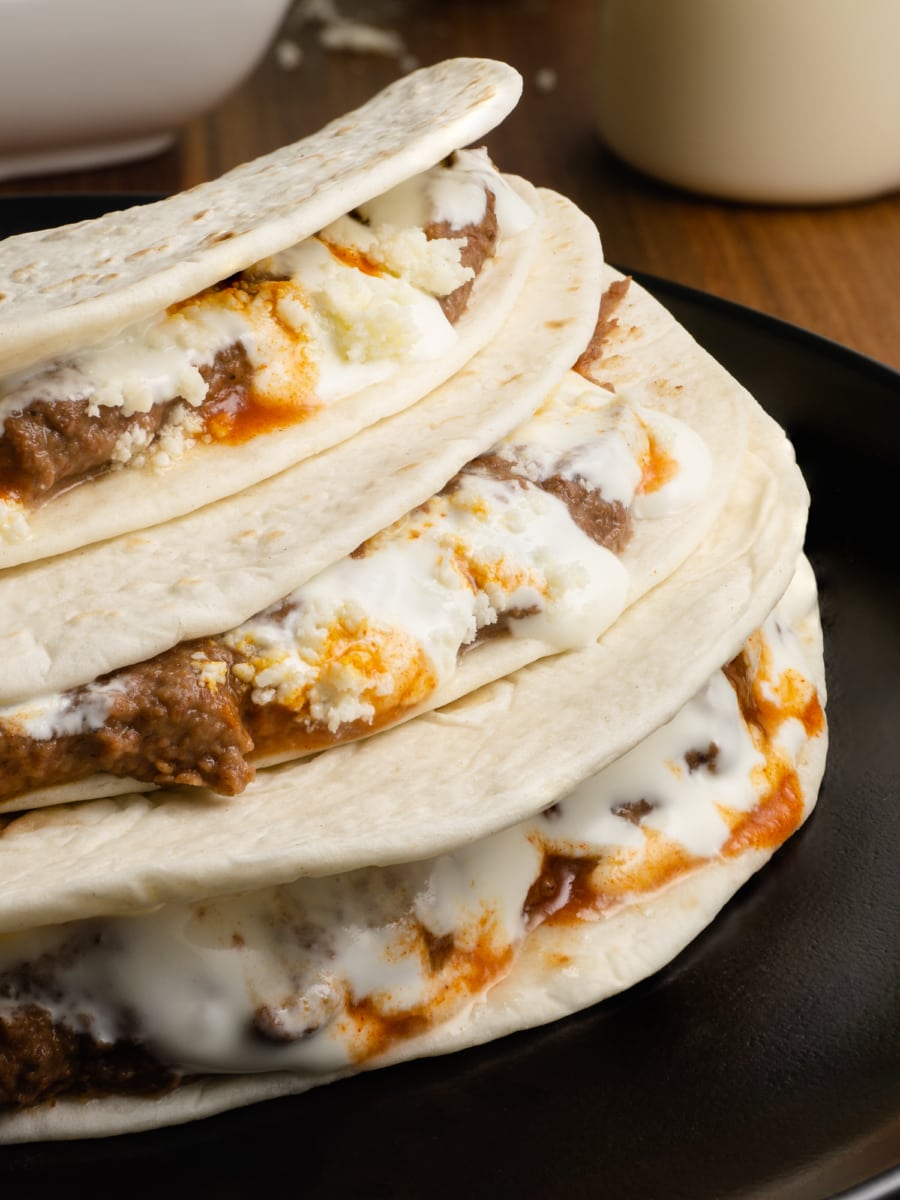 Legend says there was a lady that was a popular street vendor who sold these tortillas with beans and cheese. One day, she was gunned down and shot full of bullets (in Spanish "balas"). From that point on, all her customers would return to her stand to buy tortillas and would say "Vamos a comer adonde la baleada" (we're going to eat where the lady was shot), eventually just calling the street food "baleadas".
How to Make Baleadas
Making baleadas at home is easy and fast. My Honduran baleada recipe will give you a taste of my home country that I know you will enjoy. For this recipe, you will need to start by cooking your red beans. It's best to use Central American Red Beans (sometimes labeled Salvadorean) for the most authentic taste.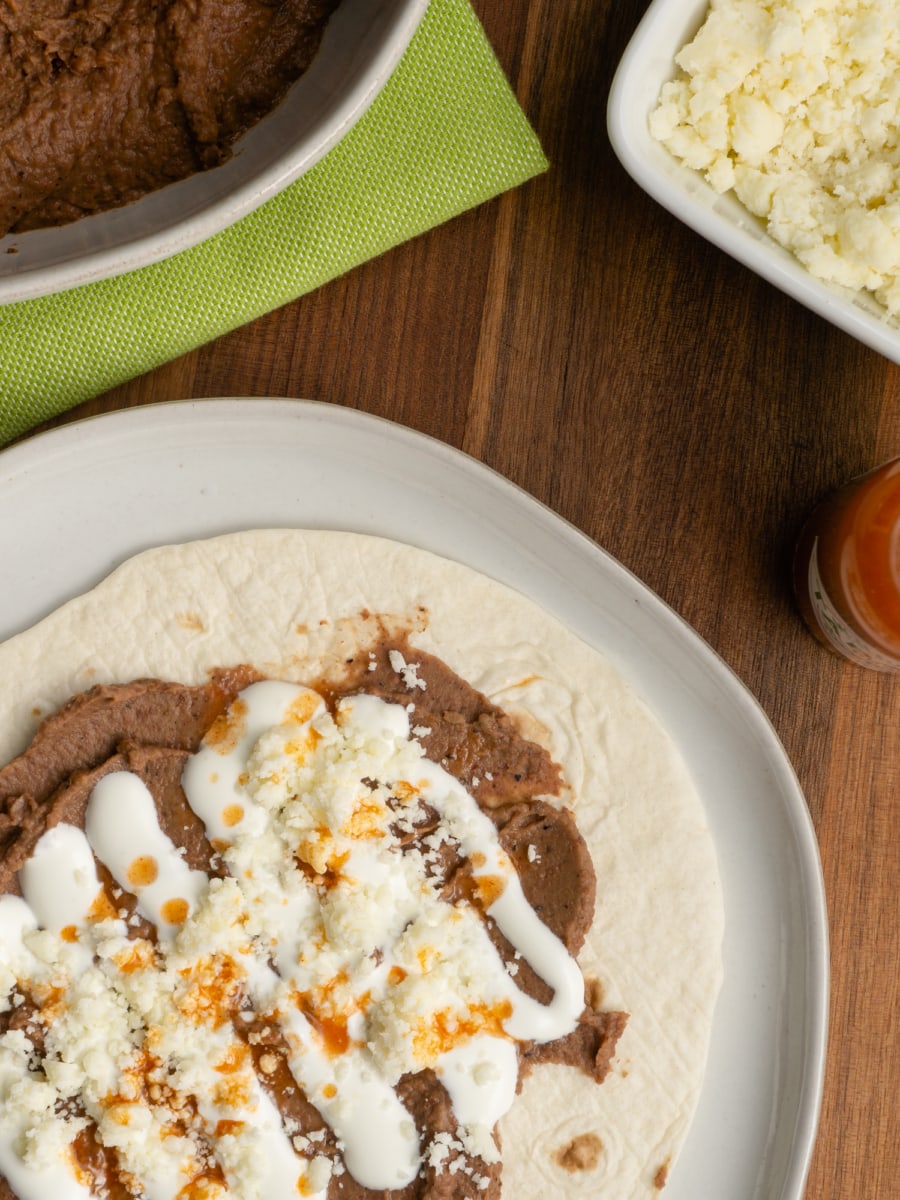 The easiest way to cook your beans is by following my Instant Pot Red Beans recipe. It's authentically Honduran and the red beans will be a base for many of my other Honduran recipes. If you don't own an Instant Pot (why?), then you can cook the beans on the stove in the same way, but it will take longer.
Once you've cooked your red beans then you will need to make Honduran Refried Beans. My recipe for those beans is incredibly flavorful and so easy. If you really want to eat an authentic baleada, I recommend you start with these two recipes I mentioned. You will get the best flavor possible.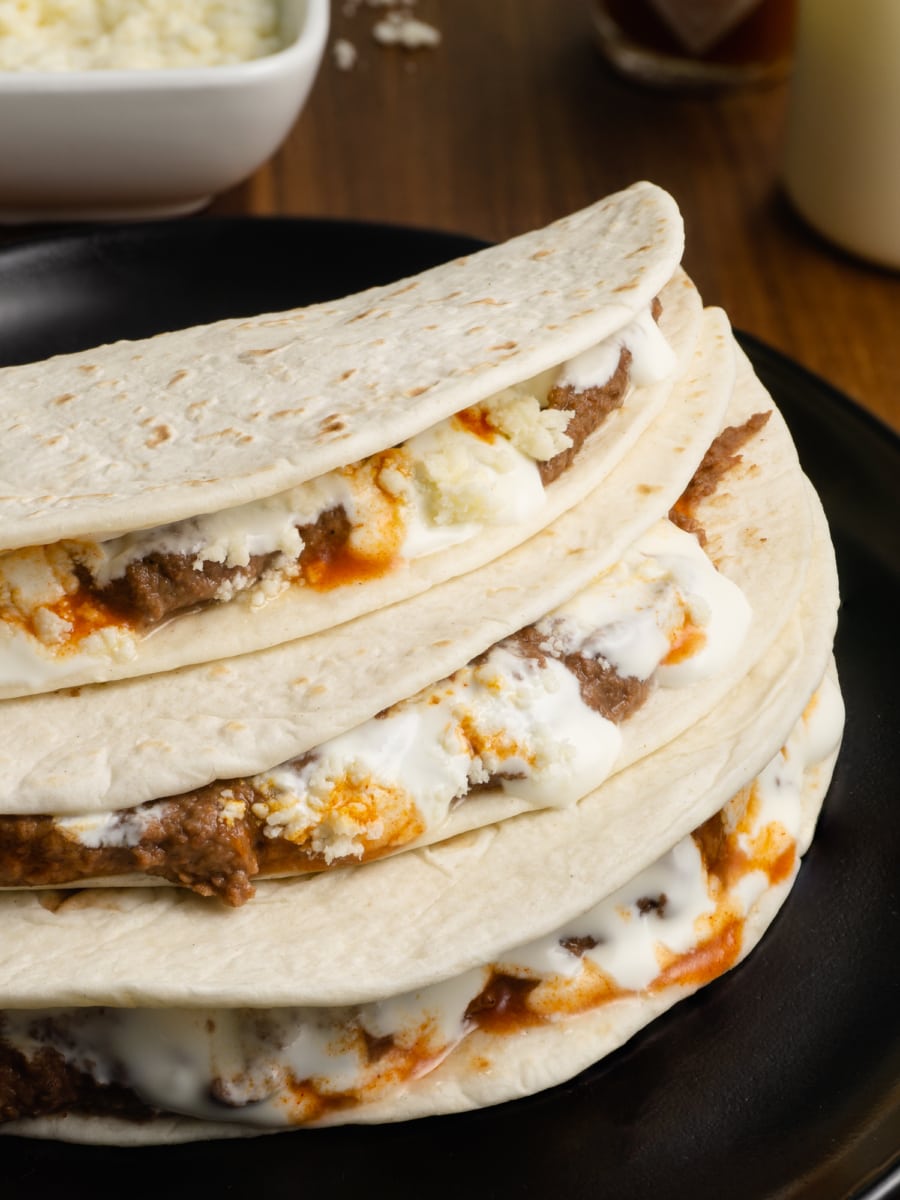 After you've cooked your refried beans, it's time to build the baleadas! You'll want the fluffiest flour tortillas you can find. I'm still working on a recipe for those, but for now, I use the fluffiest store-bought tortillas that I can find. Spread a good amount of refried beans on the flour tortillas, and then add some crumbled cheese and Honduran Crema or Mantequilla Rala. We like to add a couple of drops of hot sauce to ours as well!
That's it! I know you'll love this little taste of my home country, Honduras! Please let me know in the comments when you try Honduran Baleadas. If you're one of my Honduran readers, how do you eat your baleadas?
Honduran Baleadas
CREAMY REFRIED BEANS SPREAD OVER A WARM FLOUR TORTILLA AND TOPPED WITH HONDURAN CREMA AND CRUMBLED CHEESE
Enjoy this popular Honduran street food in the comfort of your own home. A warm flour tortilla is slathered with refried beans and topped with Honduran crema, crumbled cheese, and hot sauce. This super simple recipe is full of flavor, ready in minutes, and can be enjoyed for any meal.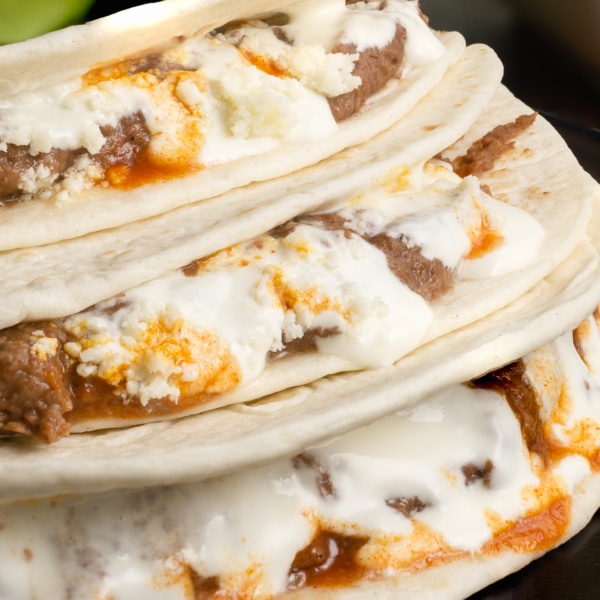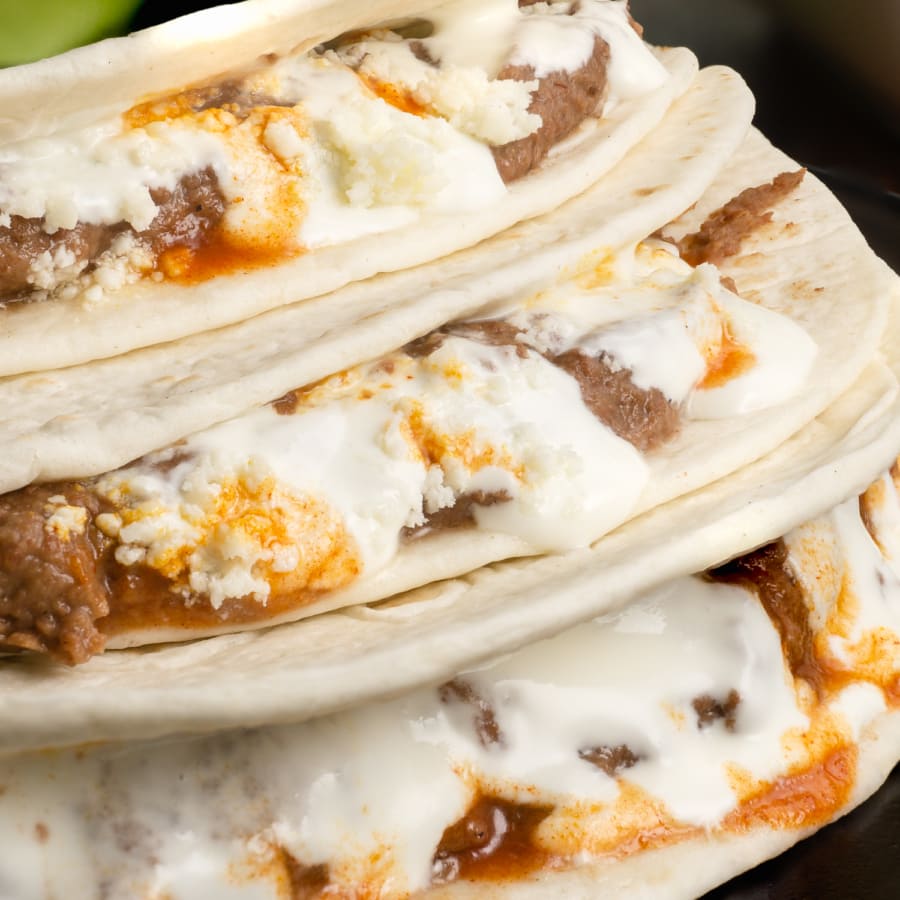 Ingredients
10

flour tortillas

warmed, I use Mission Soft Taco Homestyle Flour Tortillas

refried red beans

warmed

Honduran crema

may substitute Mexican crema or sour cream

cotija cheese

crumbled, may substitute with queso fresco

Tabasco sauce
Instructions
Warm the tortillas in the microwave.

Spread a couple of spoonfuls of refried beans on one side of each tortilla. Top the beans with crema, cotija cheese, and a few drops of Tabasco sauce. Fold each tortilla over to close.
Nutrition Facts
Serving:
2
baleadas
|
Calories:
199
kcal
|
Carbohydrates:
32
g
|
Protein:
6
g
|
Fat:
5
g
|
Saturated Fat:
1
g
|
Cholesterol:
3
mg
|
Sodium:
515
mg
|
Potassium:
92
mg
|
Fiber:
2
g
|
Sugar:
3
g
|
Vitamin A:
14
IU
|
Calcium:
82
mg
|
Iron:
2
mg