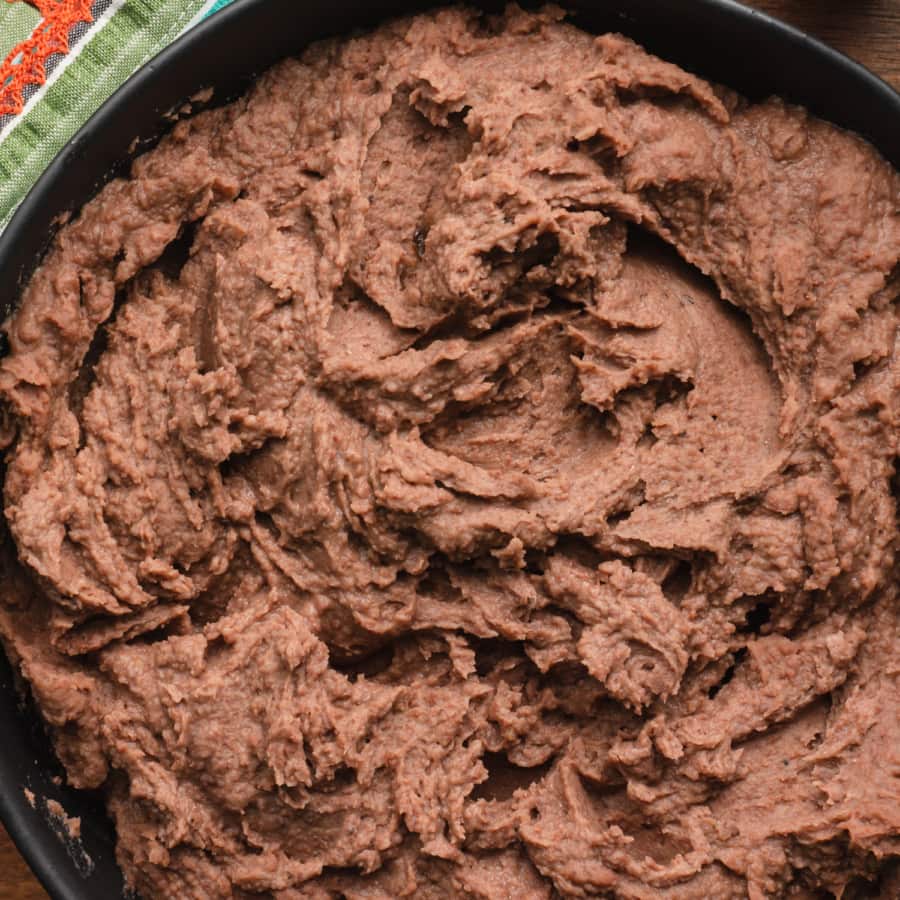 SAVE THIS RECIPE
These authentic refried beans are smooth, delicious, and packed full of Honduran flavor. They are easy to make, and when you use your Instant Pot to cook the beans, they are much faster and even easier.
This post contains affiliate links. For more information, see my disclosure.
Growing up in Honduras, there were always refried beans available in my home. They would be served at the table for breakfast, sometimes lunch, and always dinner. Other foods would complement them but refried beans were a staple and always present.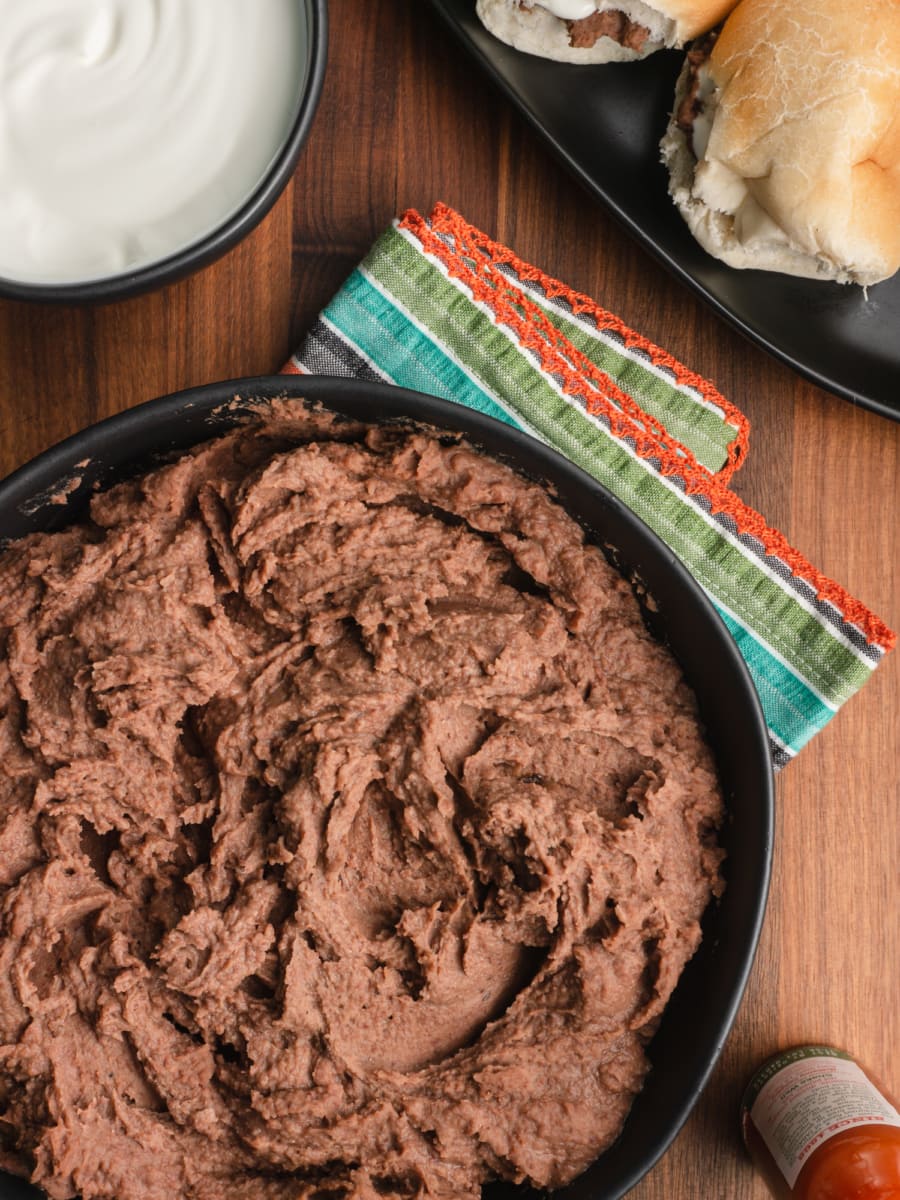 What Can I Serve With Refried Beans?
Honduran refried beans can be used as a side dish to any Hispanic meal. They're perfect with Chicken Tacos, inside burritos, with enchiladas, and more! Our favorite way to eat refried beans is in Baleadas! These are a Honduran tradition and my kids love them. They're a simple Honduran street food and they are so delicious!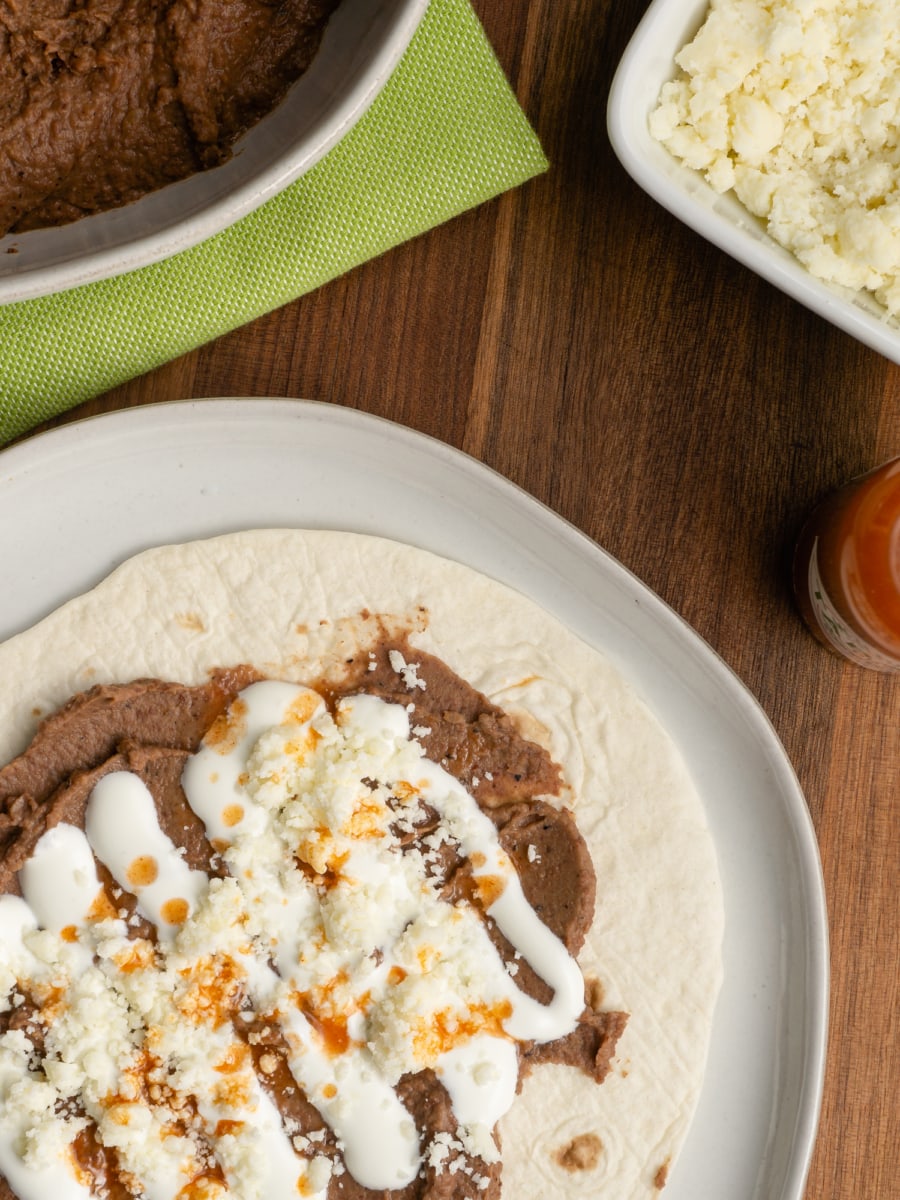 You can also make Pan con Frijoles (Bread with Beans) with refried beans. These are a small piece of Honduran heaven. When we lived in Honduras, my brother would buy these from a local vendor, and bring us all bags of bread to the office. There were 10 in each paper bag, and I would literally eat one bag all by myself!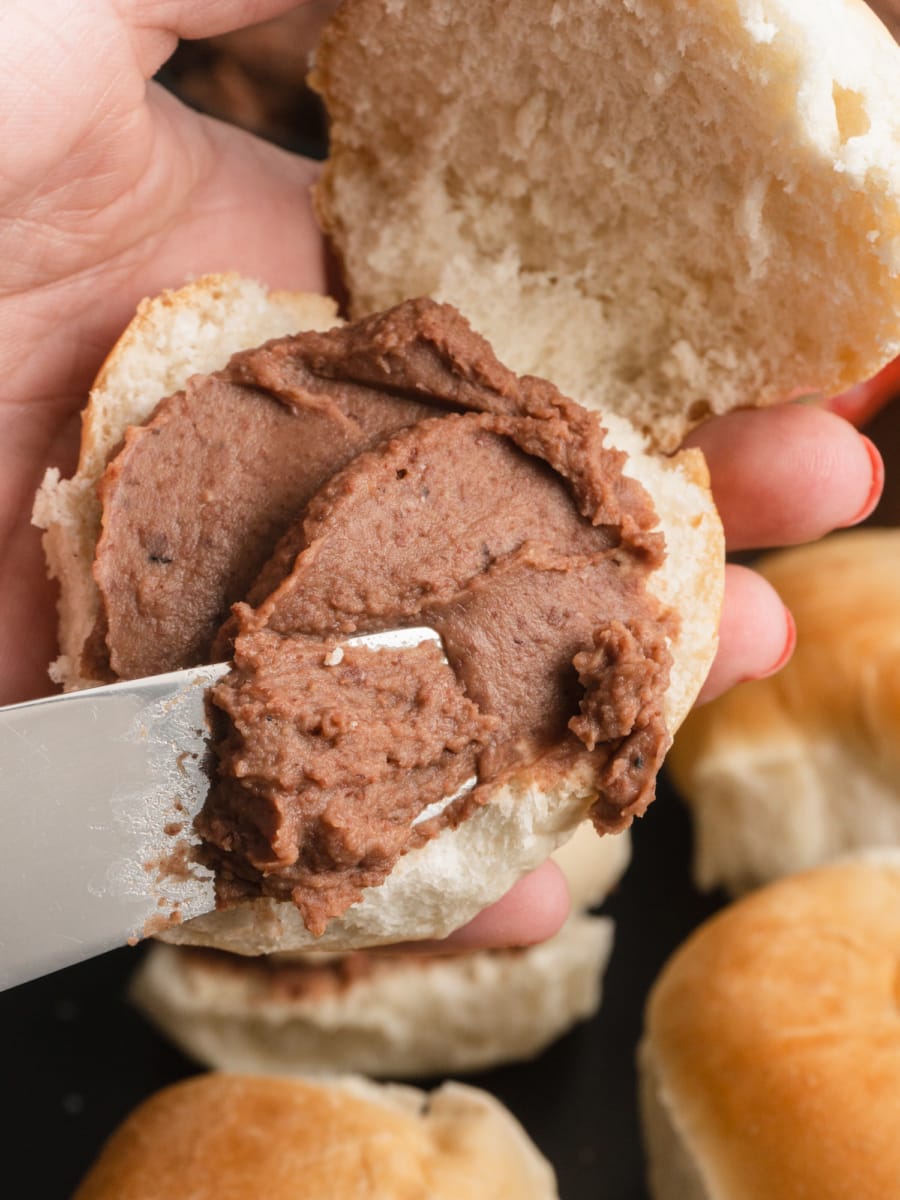 Another way we use refried beans in Honduras is in Catrachas, or Honduran Tostadas. These are fried tortillas with refried beans, crema, and cheese on them. They are delicious!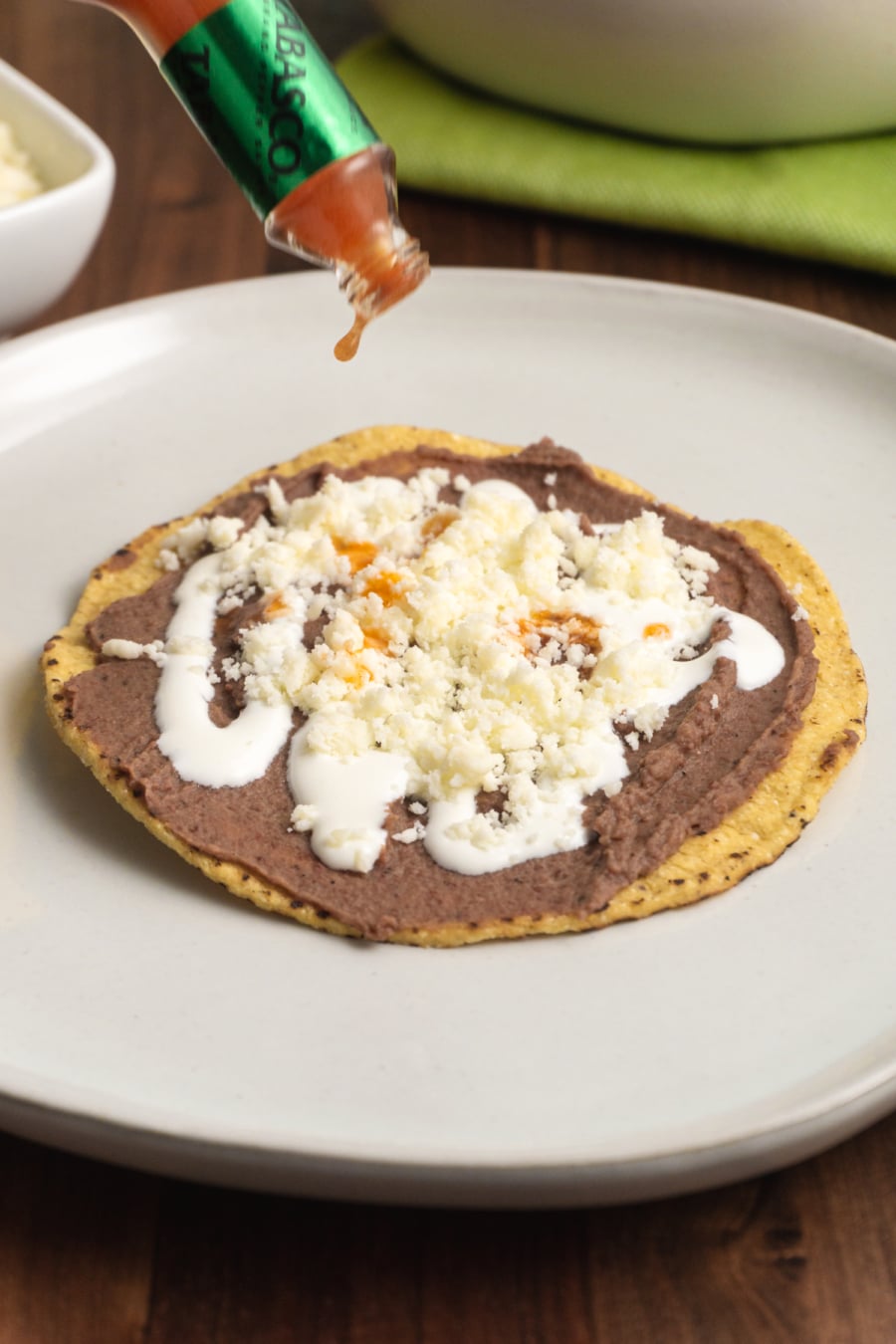 These authentic refried beans are also perfect as a part of a typical Honduran breakfast. This includes eggs, beans, sweet plantains, soft cheese, and tortillas. Yummy!
For all these recipes you will need a very important thing! My Homemade Honduran Crema! You will use it for everything!
Can You Freeze Refried Beans?
Yes! You can definitely freeze refried beans. This is a big batch of beans, and if you don't have a large family as we do, you can certainly freeze them. We have frozen refried beans in the past and they were perfect.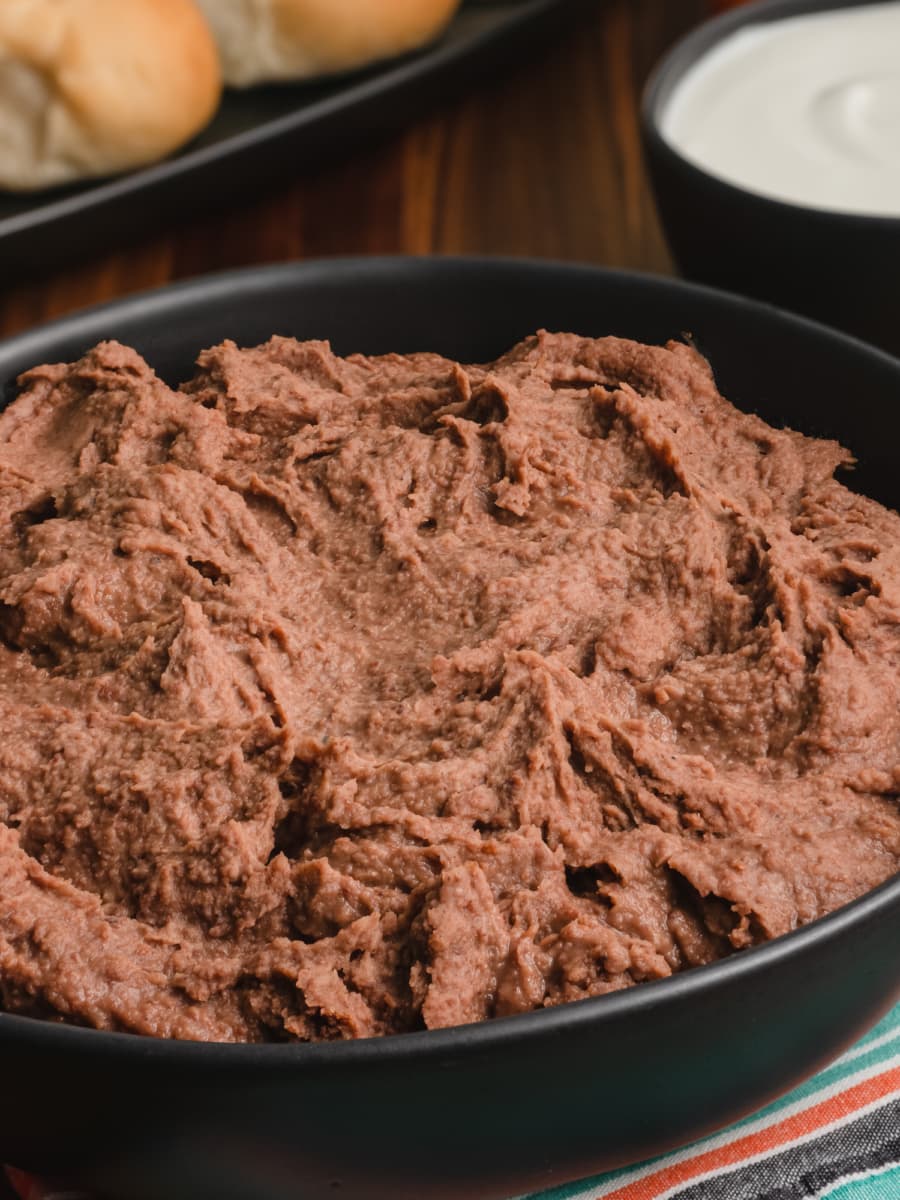 You can use large Ziploc freezer bags or smaller ones if you want to divide them into smaller portions.
Essential Items
Here are some essential prep tools, utensils, and appliances I used to make this recipe.
Featured Items
Here is a list of the products featured in this post or products similar to those featured in this post:
How to Make Refried Beans
For this recipe, you'll need to start with cooked beans. I suggest you use my Instant Pot Red Beans recipe. Honduran authentic refried beans are made with small red beans. I always buy Central American Beans, sometimes labeled Salvadorean Beans. You can find them in the Hispanic section of your local supermarket. If you can't get them, then you can use small red beans.
Step 1: Add the Red Beans and Bean Broth to a Blender
Once you've cooked your red beans, you will let them cool and put them in a blender with some of their broth.
Step 2: Sauté the Onion
Before blending the beans, you will rough cut and sauté an onion in oil on the stove. You will allow the onions to almost burn but not quite. The smaller pieces will be charred while the larger pieces should be toasted a golden brown in the center and charred around the edges.
Step 3: Blend the Beans
Once the onions are perfect, you will add them to the blender along with salt and cumin. You can now blend the beans until smooth.
Step 4: Fry the Beans
You can now take the blended beans and add them to the same skillet where you sautéed the onions. You'll need a little extra oil in there as well. You will sauté the beans by letting them sit for a few minutes and then mixing them. You can repeat this process of letting them sit and then mixing until the beans have reached your desired consistency. I usually just let them sit once or twice and they're ready.
Enjoy Your Refried Beans!
Once the beans are creamy and smooth, and they have thickened a bit, they're ready to be used with all your favorite meals! I hope you enjoy my Honduran recipe for refried beans! Let me know when you try them in the comments below! And when you make them and love them, don't forget to give the recipe a 5-star rating!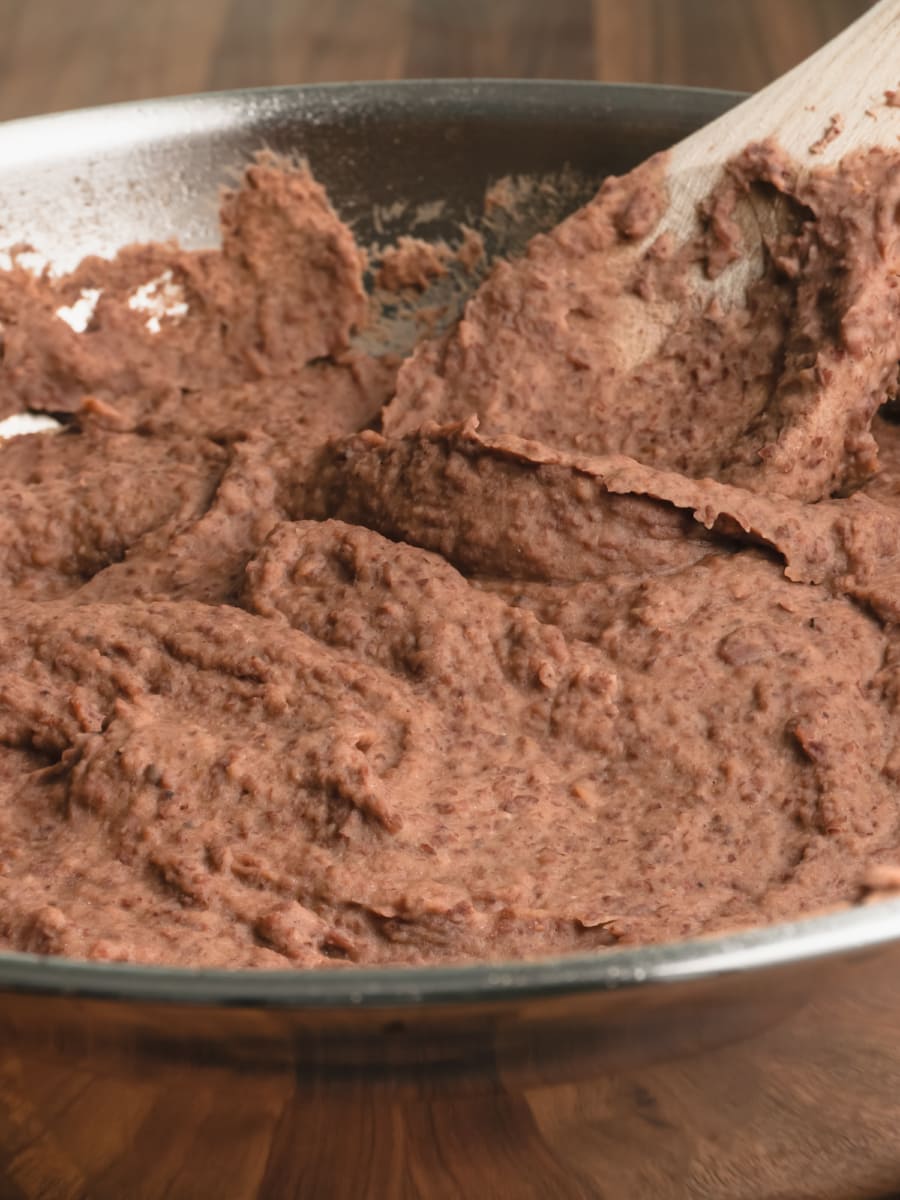 Honduran Refried Beans
A BLEND OF RED BEANS AND TOASTED ONION LIGHTLY FRIED IN VEGETABLE OIL
These truly authentic Honduran refried beans are nothing short of amazing. They're how all refried beans should be made. You'll be very picky about refried beans after trying these. Easy to make and full of Latin flavor, they're perfect as a side for your next Mexican inspired meal, spread on tacos, stuffed in burritos, and so much more.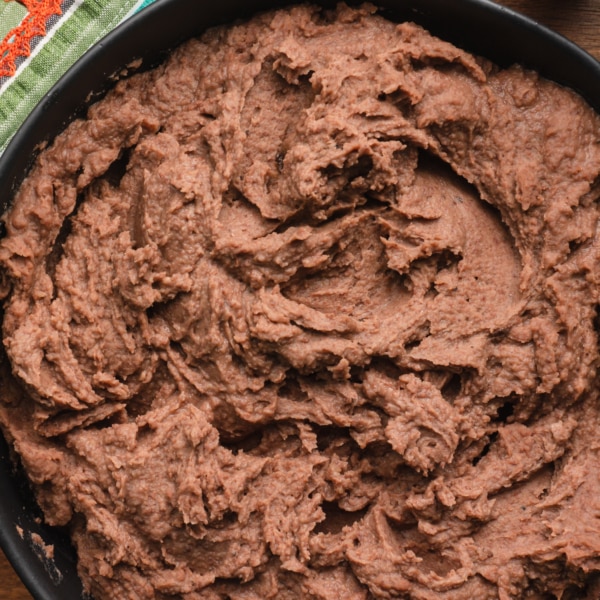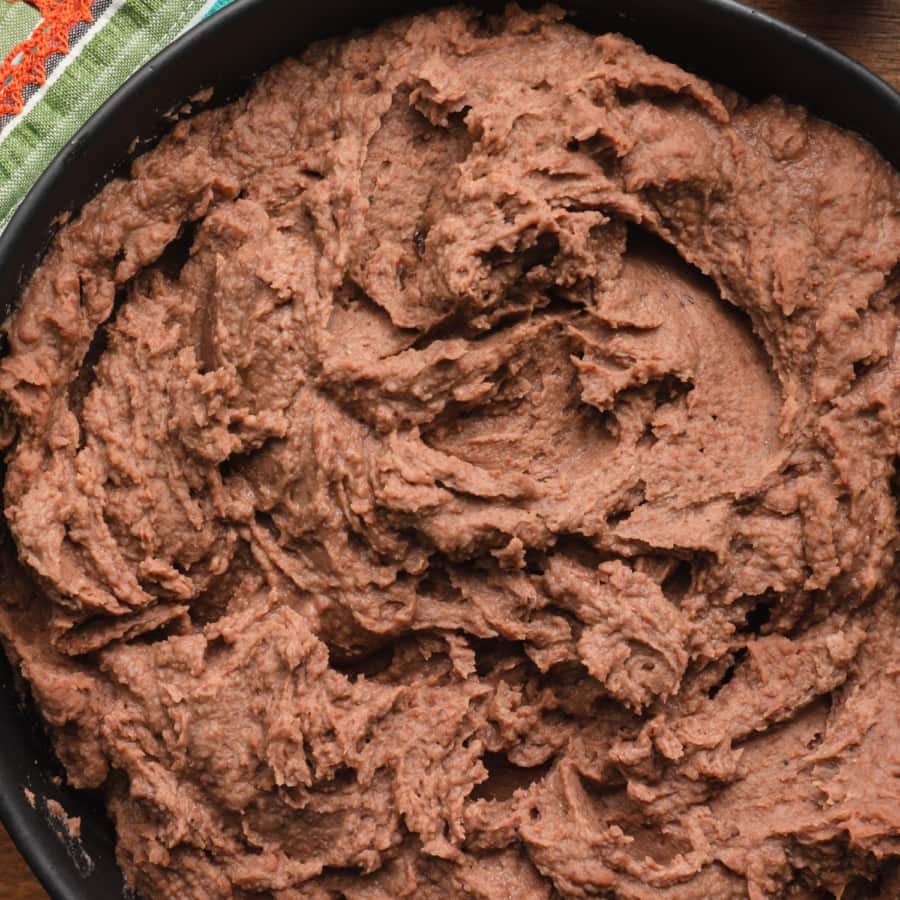 Ingredients
4 tbsps vegetable oil divided, I use avocado oil
1 medium yellow onion rough cut, and toasted
4 cups red beans cooked and cooled
⅔ cup bean broth cooled
1 tsp ground cumin
¾ tsp fine sea salt or to taste
Instructions
Make your red beans using my recipe for Instant Pot Red Beans. The recipe will yield enough beans and broth for this refried beans recipe.

Toast Onions: In a large heavy skillet or frying pan over medium-high heat, heat 2 tablespoons of the oil and then add the onion and cook until the smaller pieces are charred and most of the larger pieces are toasted a dark golden brown and charred around the edges, about 12 to 14 minutes. This adds a wonderful and distinctive flavor to the beans.

Remove Onions: Remove the onions from the skillet and set aside.

Add Remaining Oil: Add the remaining 2 tablespoons of oil to the skillet and allow it to heat up.

Blend Beans: While the oil is heating, add the beans, bean broth, toasted onions, cumin, and salt to a blender and blend until smooth. You may need to scrape down the sides to ensure that all the onion is blended.

Fry the Beans: Slowly and carefully add the blended beans to the hot skillet, scraping them from the blender. Allow the beans to sit in the skillet frying for a minute or two before stirring to allow the bottom to toast. Then, stir them thoroughly to mix the toasted bottom into the beans. Allow them to sit for another minute or two to toast and thicken again. Stir once more. Remove from the heat and mix.

Serve and enjoy!
Nutrition Facts
Calories: 179kcal | Carbohydrates: 22g | Protein: 8g | Fat: 8g | Saturated Fat: 6g | Sodium: 222mg | Potassium: 381mg | Fiber: 7g | Sugar: 1g | Vitamin C: 2mg | Calcium: 30mg | Iron: 3mg
Tips & Tricks
Make the beans extra creamy. You can take these refried beans up a notch and make them even more creamy by adding 2 tablespoons of butter once they have finished cooking. Allow the butter to melt and then mix it into the beans. Yum!