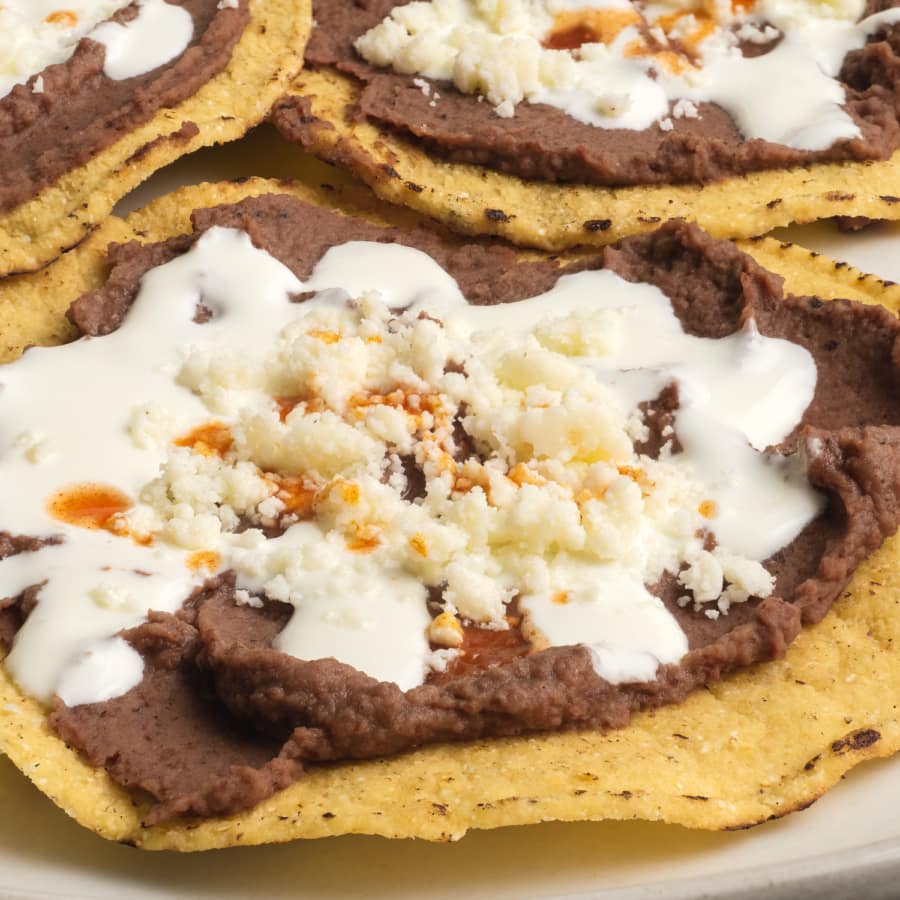 SAVE THIS RECIPE
As far as Honduran cuisine goes, it doesn't get any easier than Honduran Bean Tostadas, or Catrachas as we call them. These fried corn tortillas with savory refried beans and crumbled cheese are a typical Honduran snack or meal enjoyed by children and adults alike.
This post contains affiliate links. For more information, see my disclosure.
What Is a Tostada or Catracha?
You've probably heard of a tostada at Mexican restaurants. Honduran Bean Tostadas are similar. We call them Catrachas, which is the same word we use to refer to Hondurans. A Catracho is a nickname for a Honduran.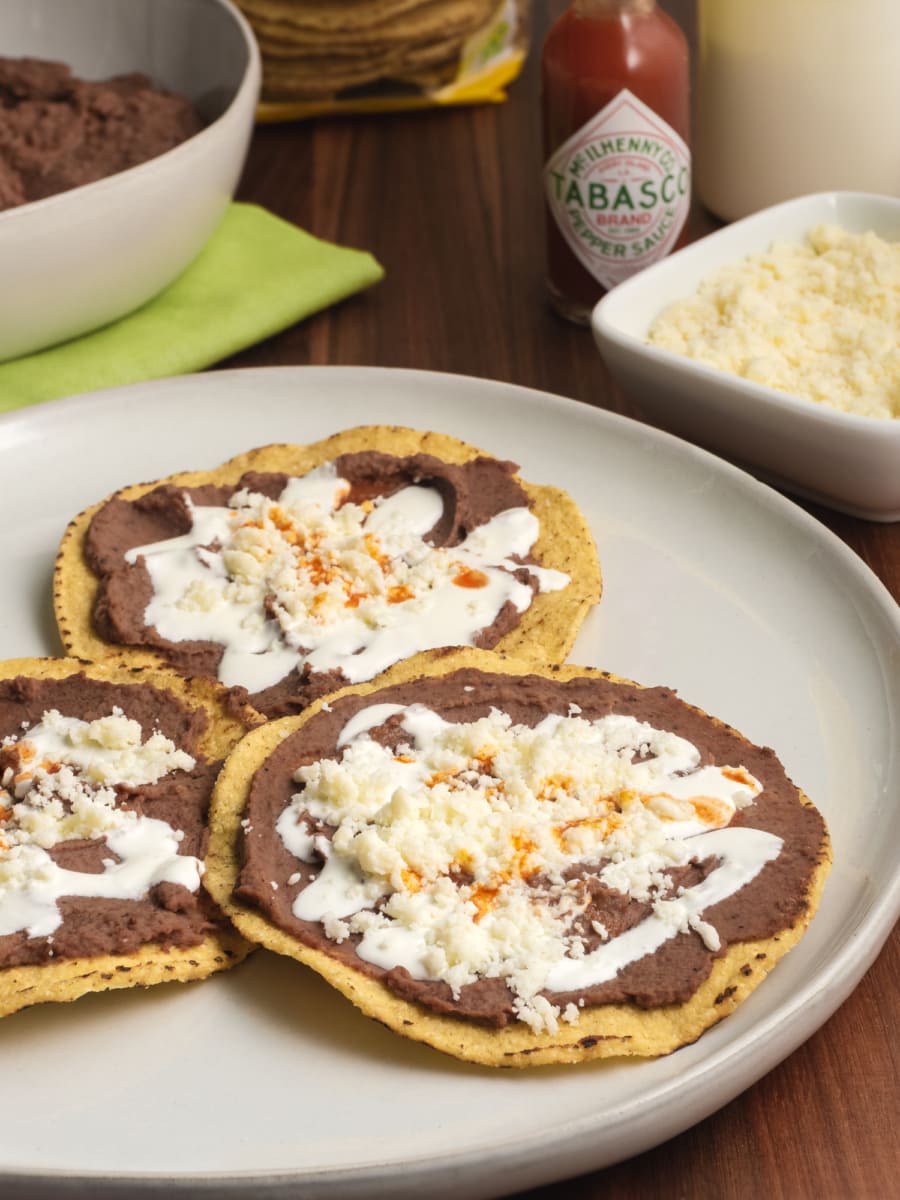 A Catracha is a fried corn tortilla with refried beans spread on it. It's topped with shredded or crumbled fresh cheese. That's it! It's super easy to make. When I was little, we used to eat mini Catrachitas all the time. Fried tiny corn tortillas with beans and cheese. I sometimes do the same for my kids, using round, corn tortilla chips.
How Do You Eat a Catracha?
This may sound like a funny question, but it gets asked. There's no need for a fork and knife over here, you just take that delicious Catracha in your hands and eat away! The beans usually keep it from crumbling when you bite into it.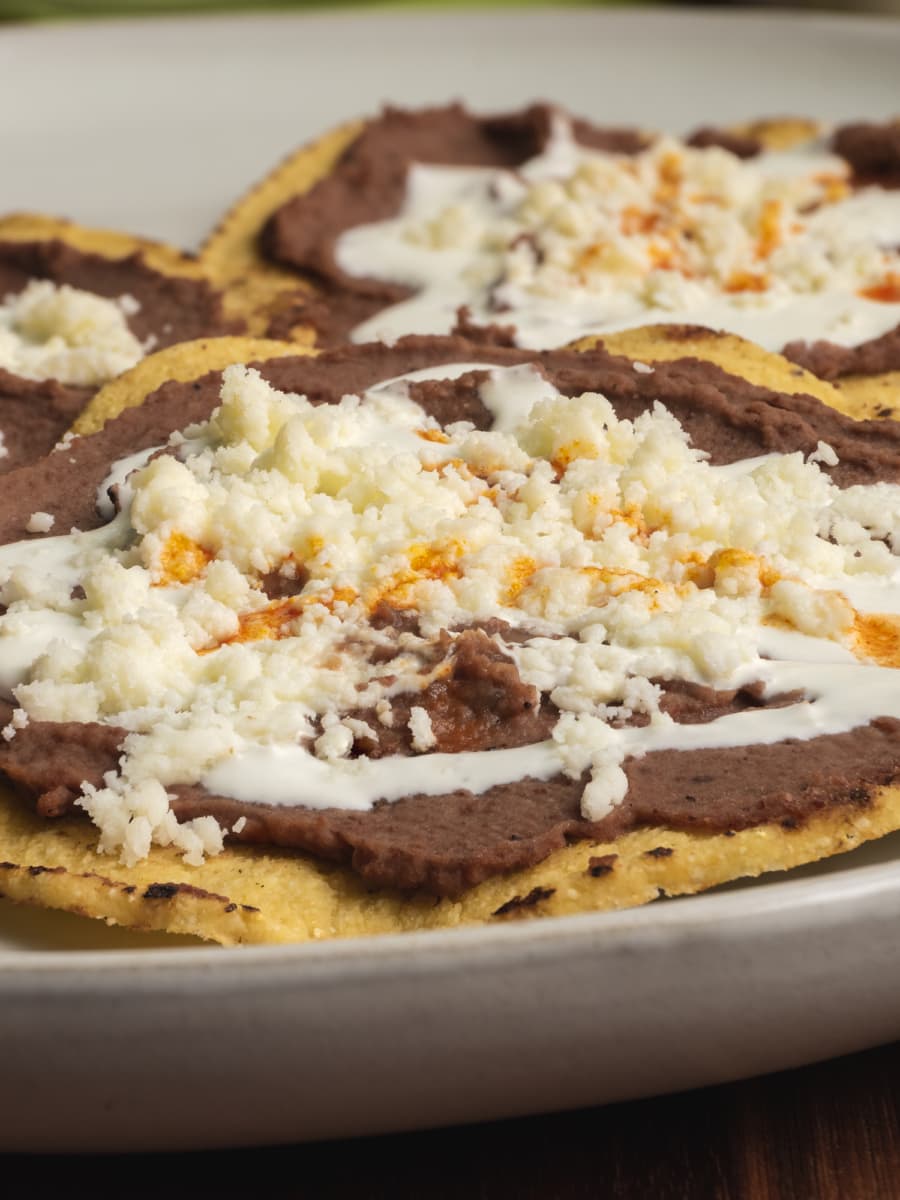 Traditionally, Honduran Tostadas or Catrachas are served with refried beans and shredded or crumbled cheese. Of course, you can top it with whatever else you'd like. Hot sauce, avocado, Honduran Crema, or whatever else you feel would take it up a notch. I like it with beans, cheese, a few drops of hot sauce and some cream on top.
How Do You Make Bean Tostadas?
Making Bean Tostadas couldn't be easier! In my home, we like to use homemade beans. We start by making a batch of red beans in the Instant Pot and then take a portion of those beans and make authentic Honduran Refried Beans. In Honduras, we use a different red bean than here. It is smaller, darker, and has a silkier texture. These Central American beans are usually found in the Hispanic section of your grocery store.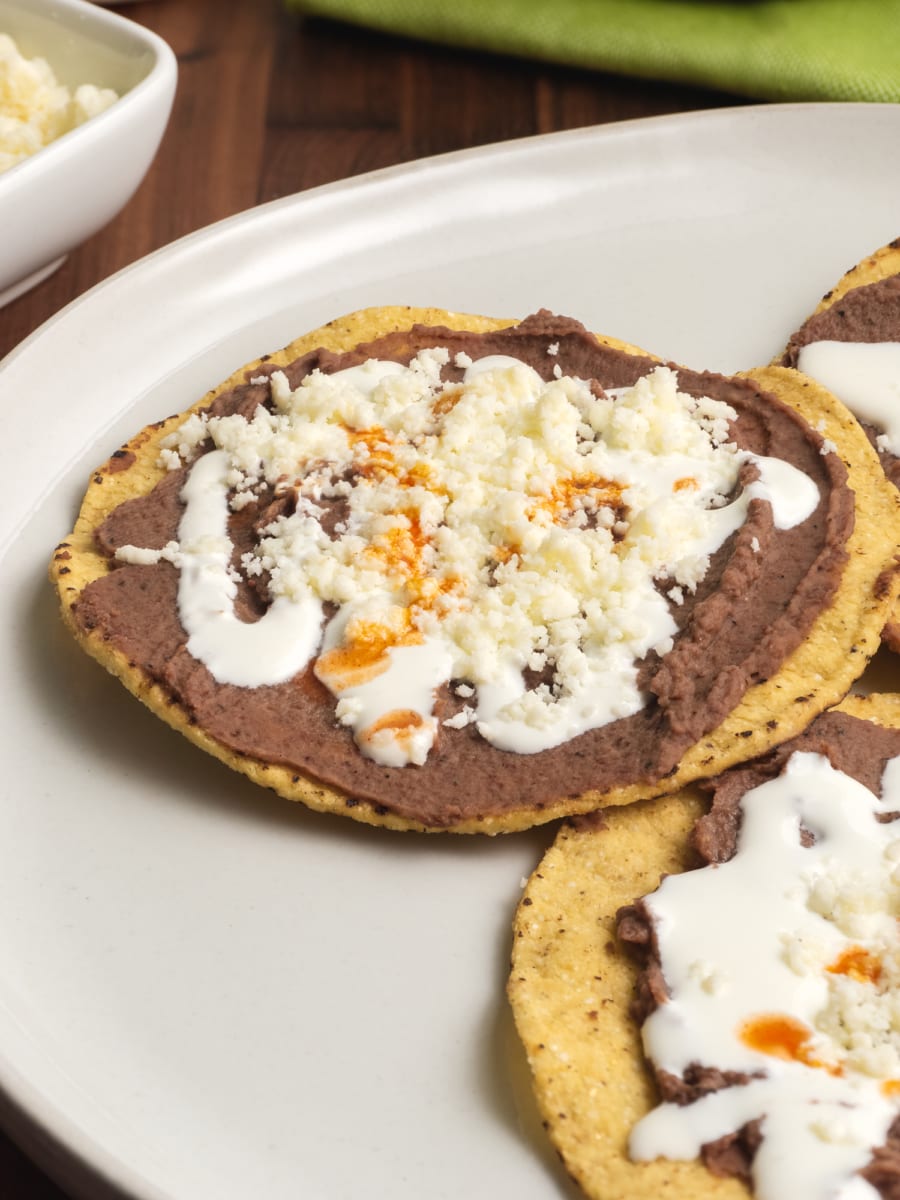 We typically fry the corn tortillas to make Catrachas but to make things easier, I love using the pre-made Tostadas they sell at any supermarket. My go-to ones are either the Mission or Guerrero ones. You can find them at any supermarket, usually in the tortilla section. Make sure to get the yellow corn tostadas.
Essential Items
Here are some essential prep tools, utensils, and appliances I used to make this recipe.
Featured Items
Here is a list of the products featured in this post or products similar to those featured in this post:
If you don't have time to make your own beans, you can always buy some pre-made ones. I recommend you buy Ducal Refried Red Beans since they are made from the same red beans we use in Honduras. That being said, it's so worth it to make your own Honduran Refried Beans! They are tasty and you'll know exactly what's in them.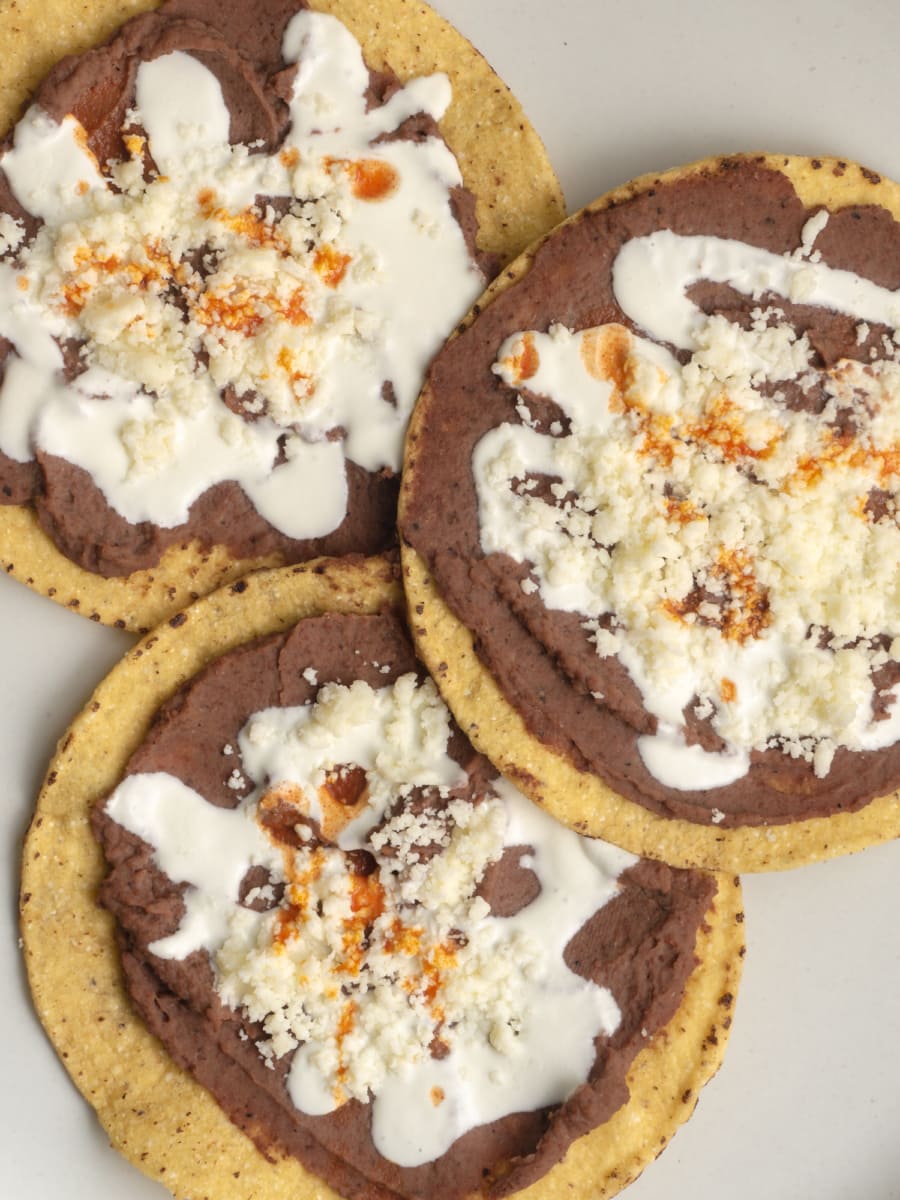 As for the cheese, we love using either crumbled Queso Fresco or Cotija Cheese. Sometimes when we don't have either, my little one will throw some shredded or grated parmesan cheese on his. Once you have your 3 ingredients, all you do is spread the refried beans on the tostada and top it with cheese. You can also add Honduran Crema, avocado, hot sauce, Pico de Gallo, or any other topping you'd like.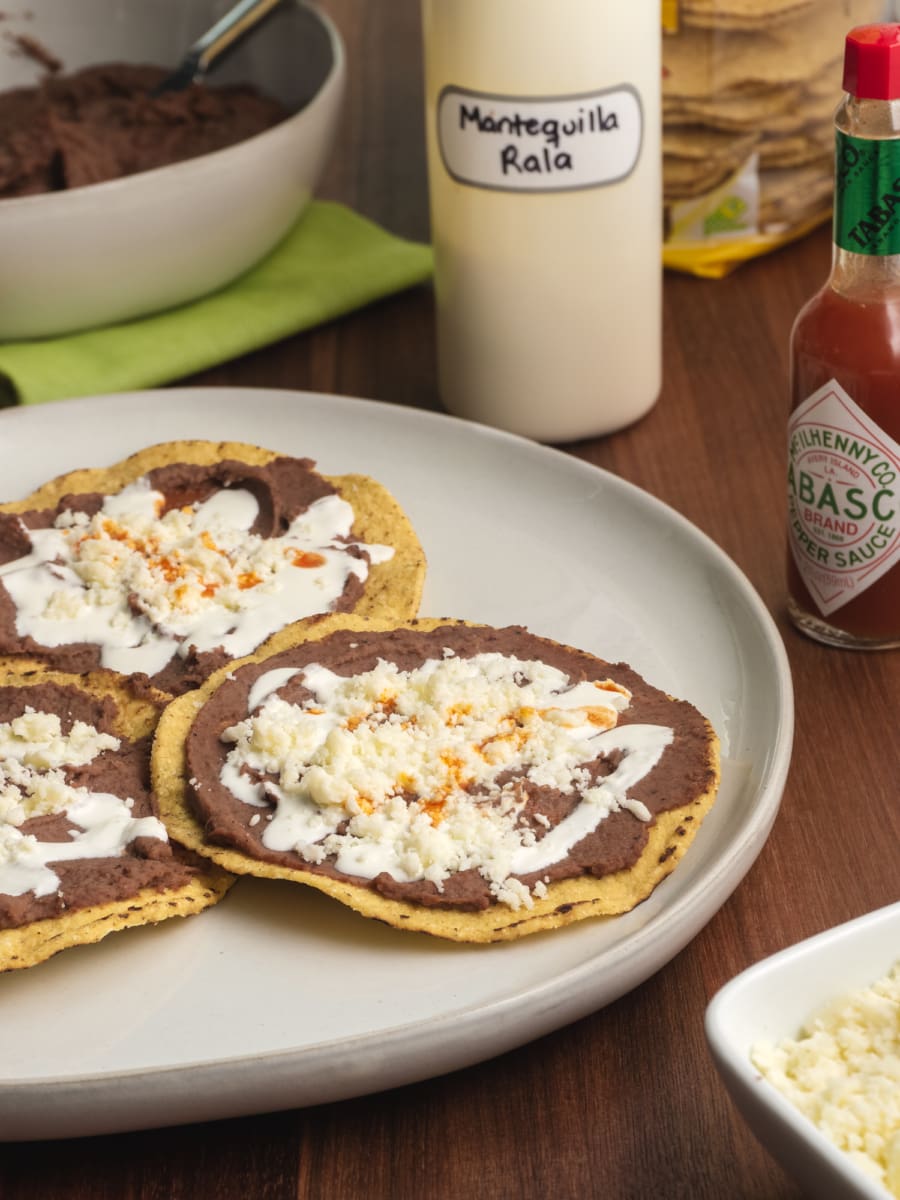 I hope you enjoy this simple Honduran treat. Let me know in the comments when you try some Catrachas!
Honduran Bean Tostadas (Catrachas)
REFRIED BEANS SPREAD OVER A CRISPY TOSTADA SHELL AND TOPPED WITH HONDURAN CREMA AND CRUMBLED CHEESE
This popular and simple Honduran food makes the perfect easy meal for busy weeknights. Refried beans are spread over a crispy tostada and topped with Honduran crema, crumbled cheese, and hot sauce. These tostadas are ready in minutes and kids love them.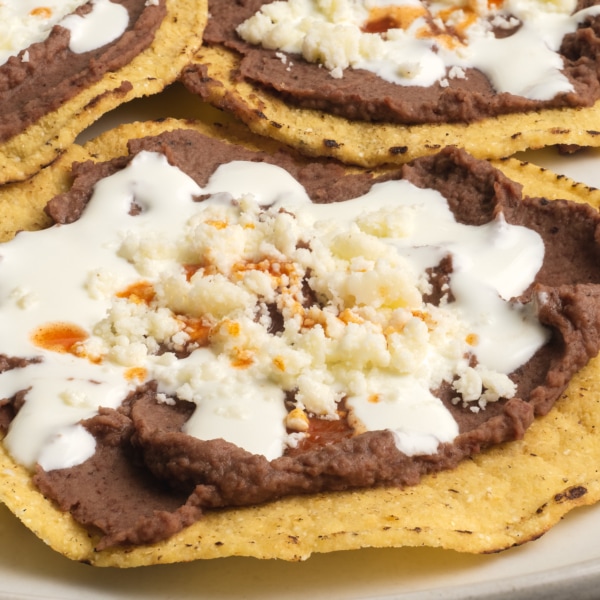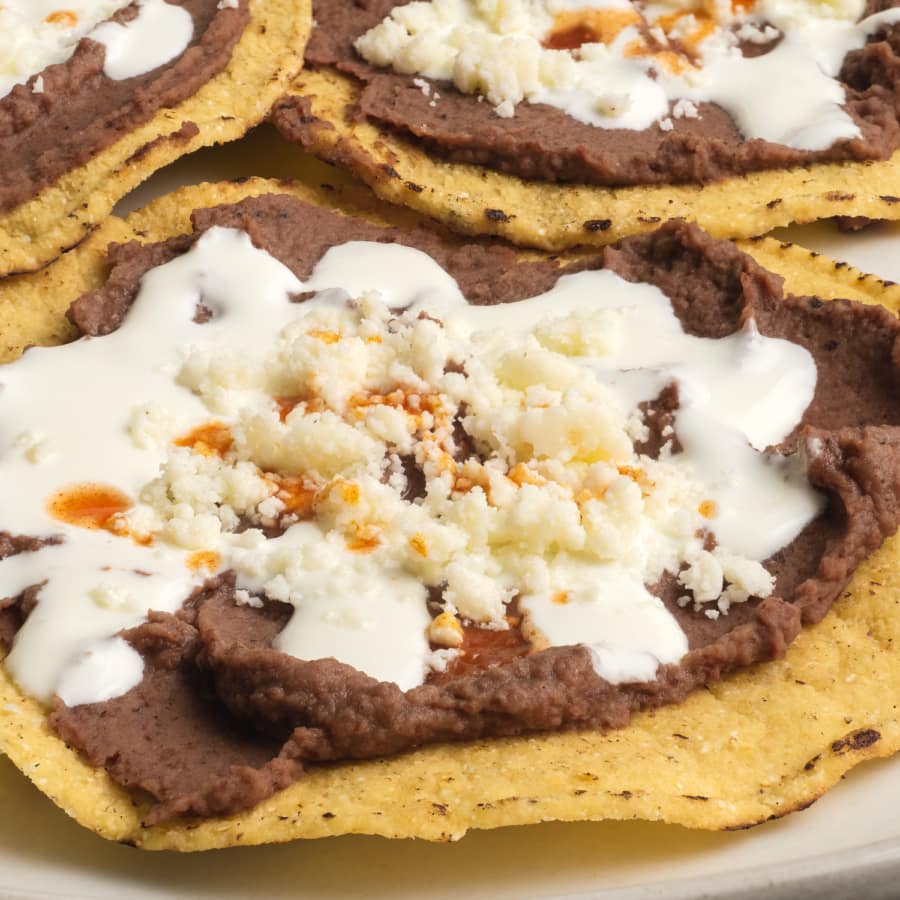 Ingredients
12 tostada shells warmed, I use Mission Yellow Tostadas or Guerrero Yellow Tostadas
refried red beans warmed
Honduran crema may substitute Mexican crema or sour cream
cotija cheese crumbled, may substitute with queso fresco
Tabasco sauce
Instructions
Place tostada shells on a baking sheet and warm in a 350° F oven for about 5 minutes, or until crispy.

Spread a couple of spoonfuls of refried beans on one side of each tostada shell. Top the beans with the crema, cotija cheese, and a few drops of Tabasco sauce.

Serve and enjoy!
Nutrition Facts
Serving: 2tostadas | Calories: 169kcal | Carbohydrates: 22g | Protein: 3g | Fat: 8g | Saturated Fat: 3g | Cholesterol: 3mg | Sodium: 274mg | Potassium: 78mg | Fiber: 2g | Sugar: 1g | Vitamin A: 11IU | Calcium: 37mg | Iron: 1mg