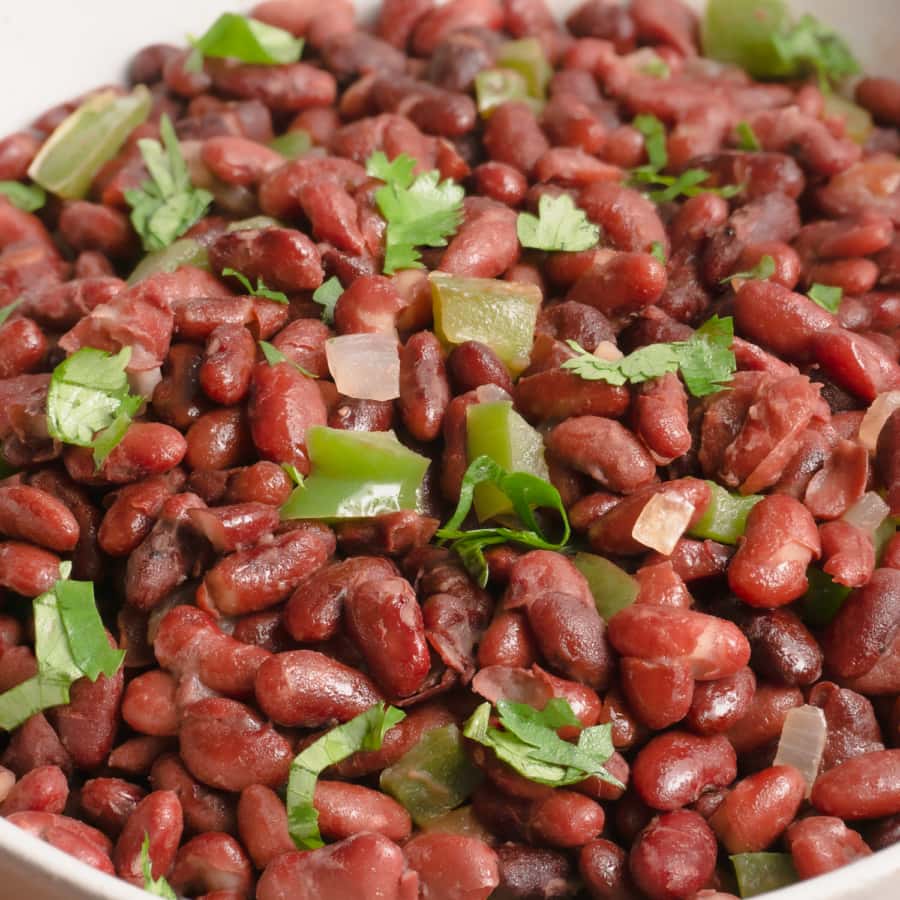 Nothing like a delicious bowl of Frijoles Parados, or Red Bean Stew. This dish is a staple in all Honduran homes and is enjoyed daily by many. Honduran beans are so flavorful and hearty and I'm very excited to share this recipe with you so you can also enjoy a little taste of Honduras in your home!
This post contains affiliate links. For more information, see my disclosure.
What is Honduran Red Bean Stew?
Red Bean Stew or Frijoles Parados as we call them in Honduras, are just cooked whole beans but full of Honduran flavor. Frijoles Parados literally means "Standing Up Beans". Funny name, right? Honduran Red Bean Stew is kind of like the charro beans you would eat at a Mexican restaurant but the flavor is completely different.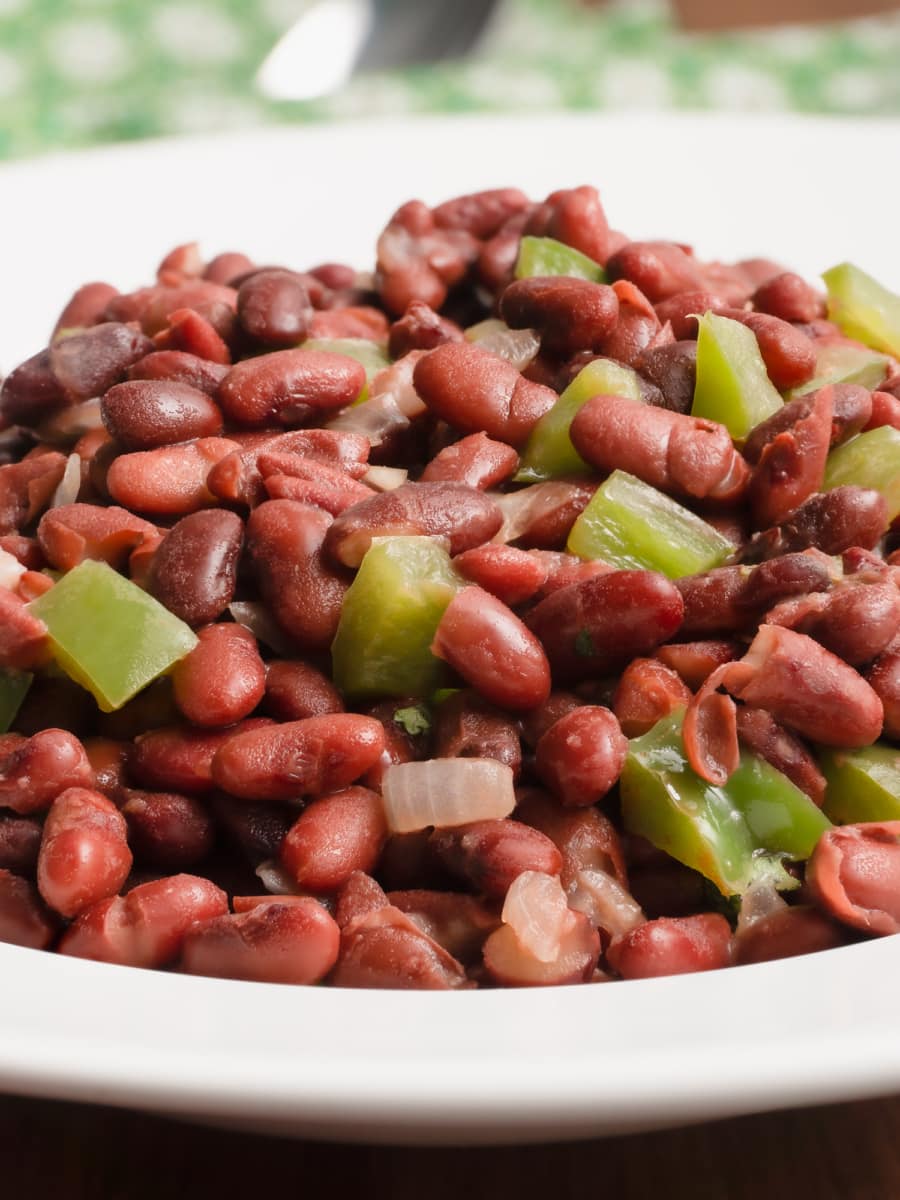 In Honduras, we use a very dark, small red bean. You can find these Central American red beans in the Hispanic section of most supermarkets. They are sometimes labeled Salvadorean beans. If you can't find them in your local store, you can use regular red beans.
How to Make Honduran Red Beans
For this recipe, you'll need to start out with my Instant Pot Red Beans. If you don't have an Instant Pot, you can cook your red beans on the stove in the same way I cook them in my pressure cooker, but it will take a lot longer. Once you have your cooked red beans, you will be ready for making the stewed beans, or frijoles parados.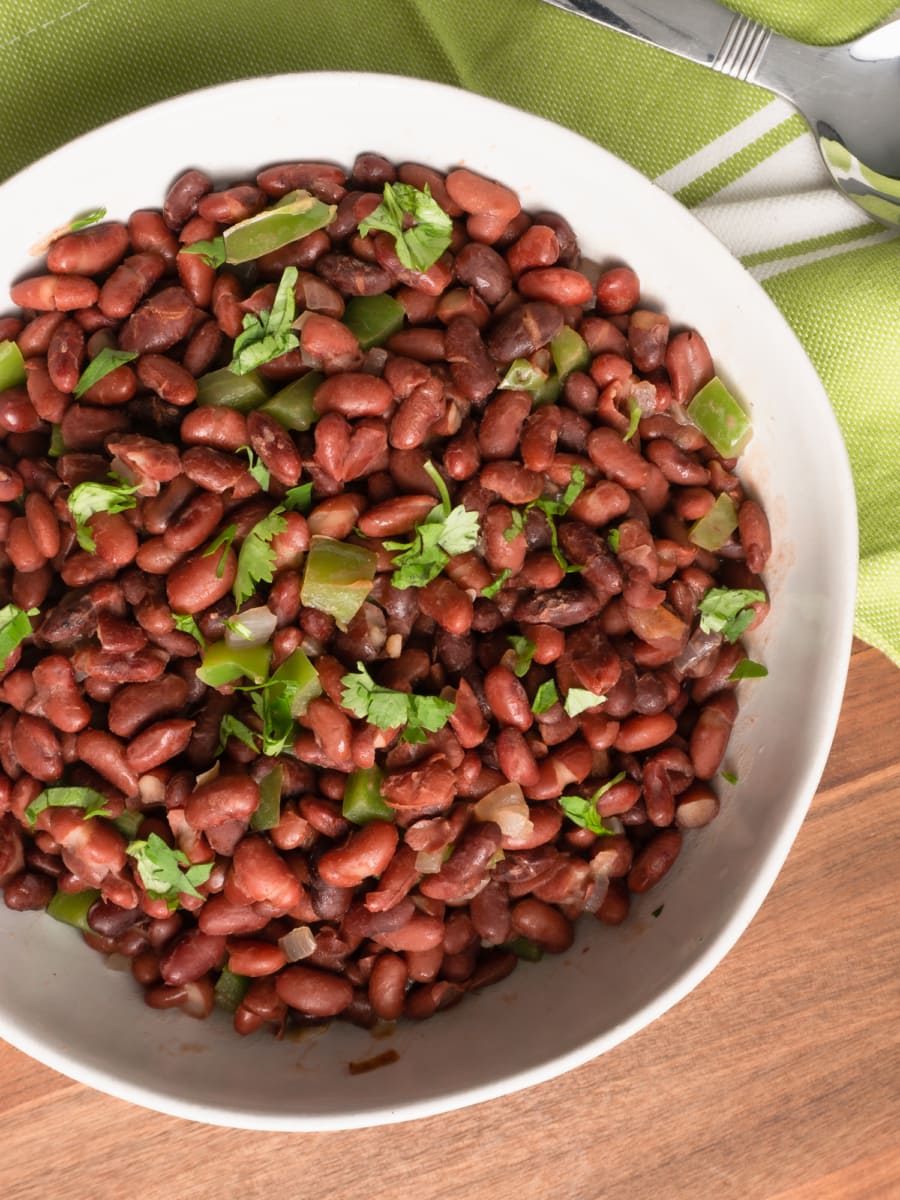 You'll need green peppers, onions, oil and a tiny bit of salt. You will also use some of the broth from when you cooked the beans.
First, you will sauté the vegetables in the oil until the onions are softened and the edges start to get golden. Next, you'll slowly add the broth to the skillet and mix in the salt. Then add the cooked beans into the broth and gently mix them in. Don't be too rough so the beans don't fall apart. Once everything is mixed in, lower the heat and let them sit for approximately 5 minutes or until the broth has reduced to your desired amount of liquid.
Essential Items
Here are some essential prep tools, utensils, and appliances I used to make this recipe.
Featured Items
Here is a list of the products featured in this post or products similar to those featured in this post:
What Can I Eat With Red Bean Stew
This Red Bean Stew can certainly be enjoyed on its own. You can serve it in a bowl and eat away! Most commonly though, you can use it as a side dish for your favorite Mexican or Hispanic meals.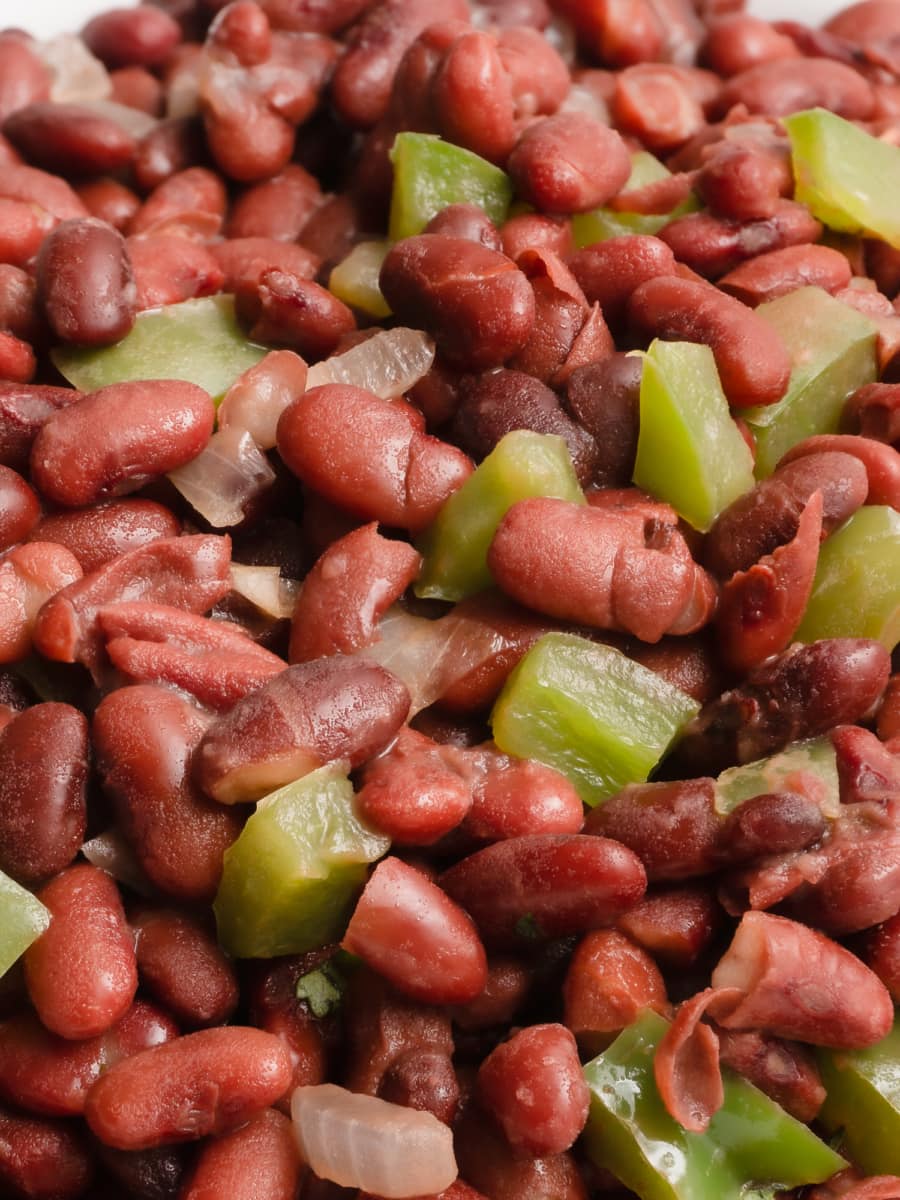 Another way to eat Red Bean Stew is to take it a step further and make Casamiento with the beans. Casamiento means "Marriage" and it's our version of Rice & Beans. It was one of my favorite dishes growing up!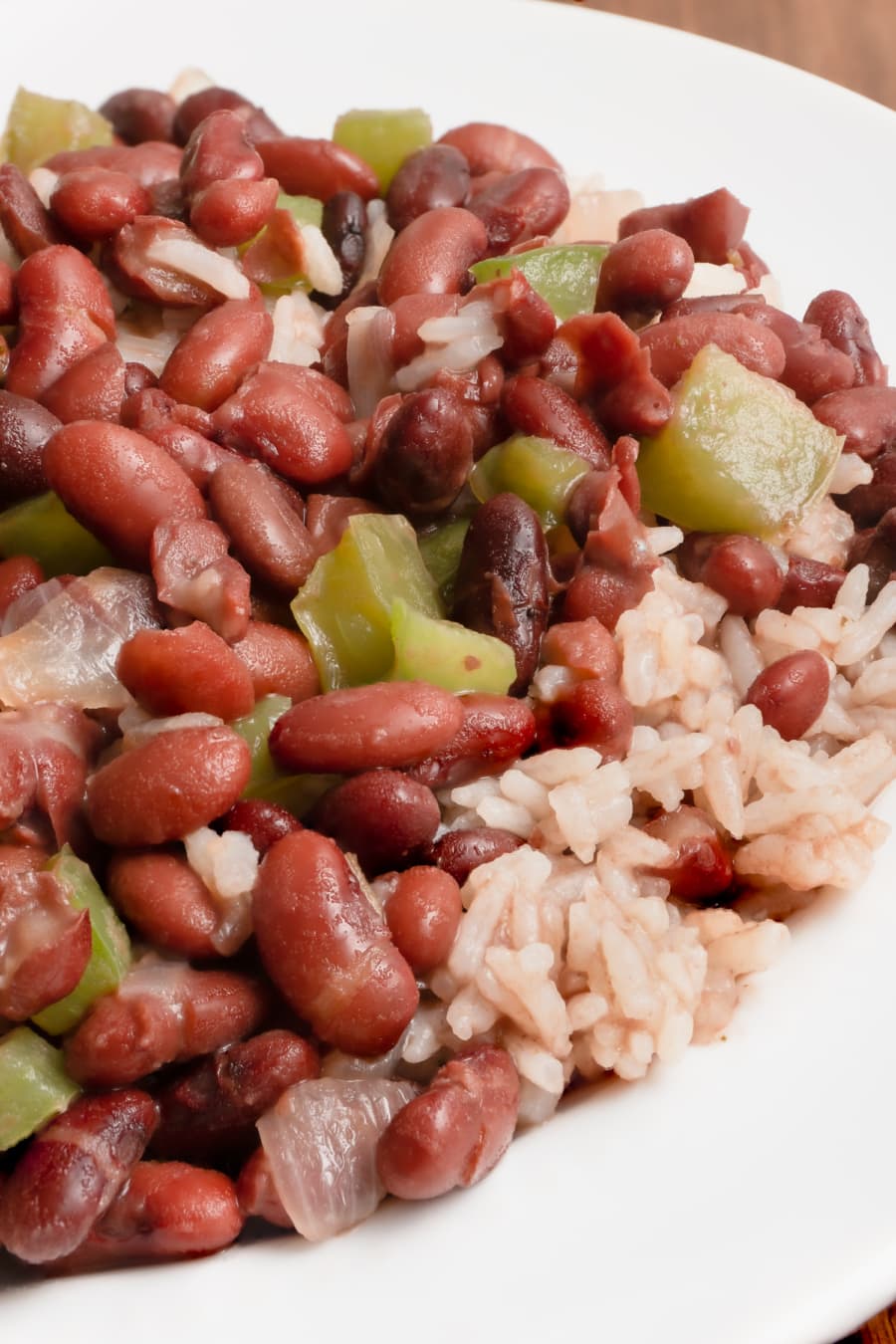 You can also put these frijoles parados inside burritos, on tacos, and any other way you may use whole beans. They're also great in a burrito bowl mixed with rice, beef and other goodies.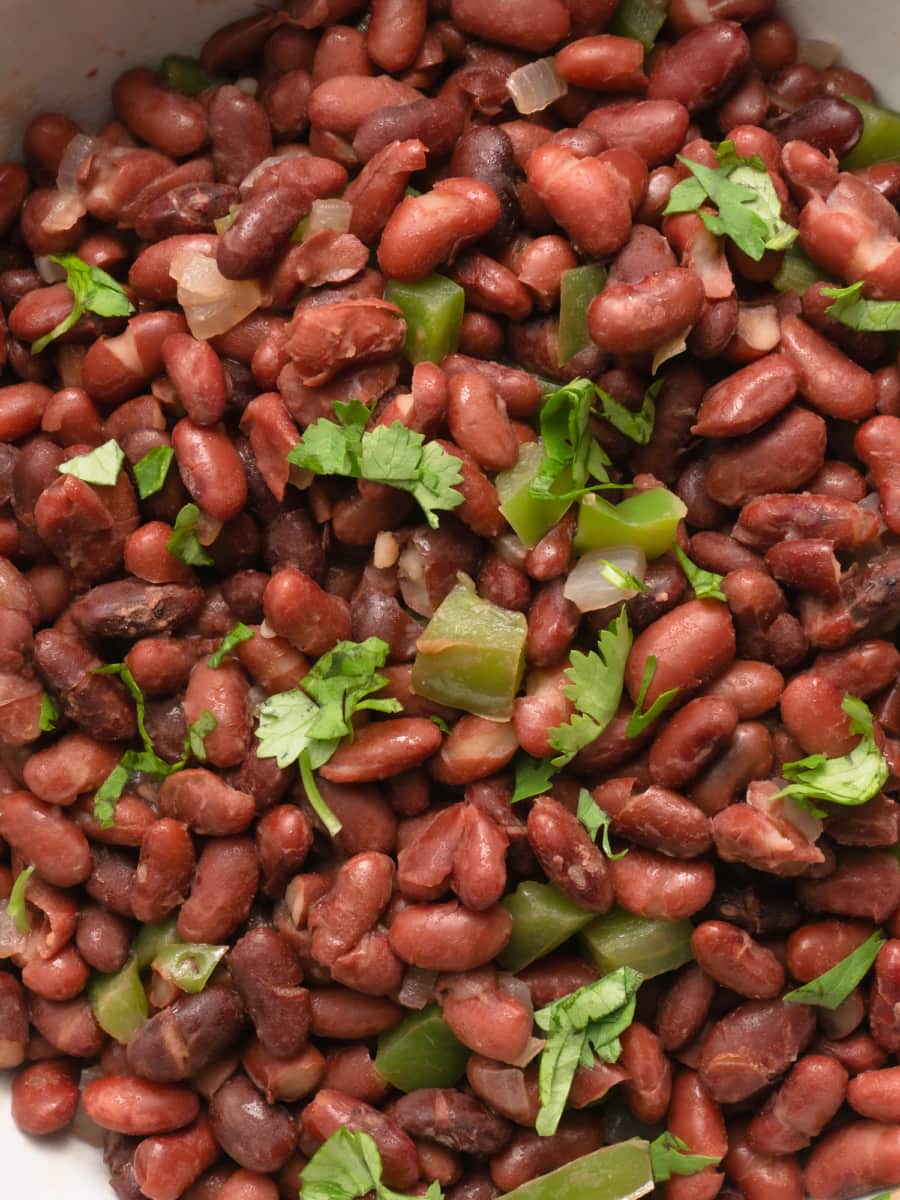 In my home, we use them as a side to a traditional Honduran breakfast, which includes red beans, sometimes stewed and sometimes refried, eggs, plantain, and soft cheese. We also love eating them with tortillas. And pretty much every time we eat them, we top them with my homemade Honduran Crema or Mantequilla Rala.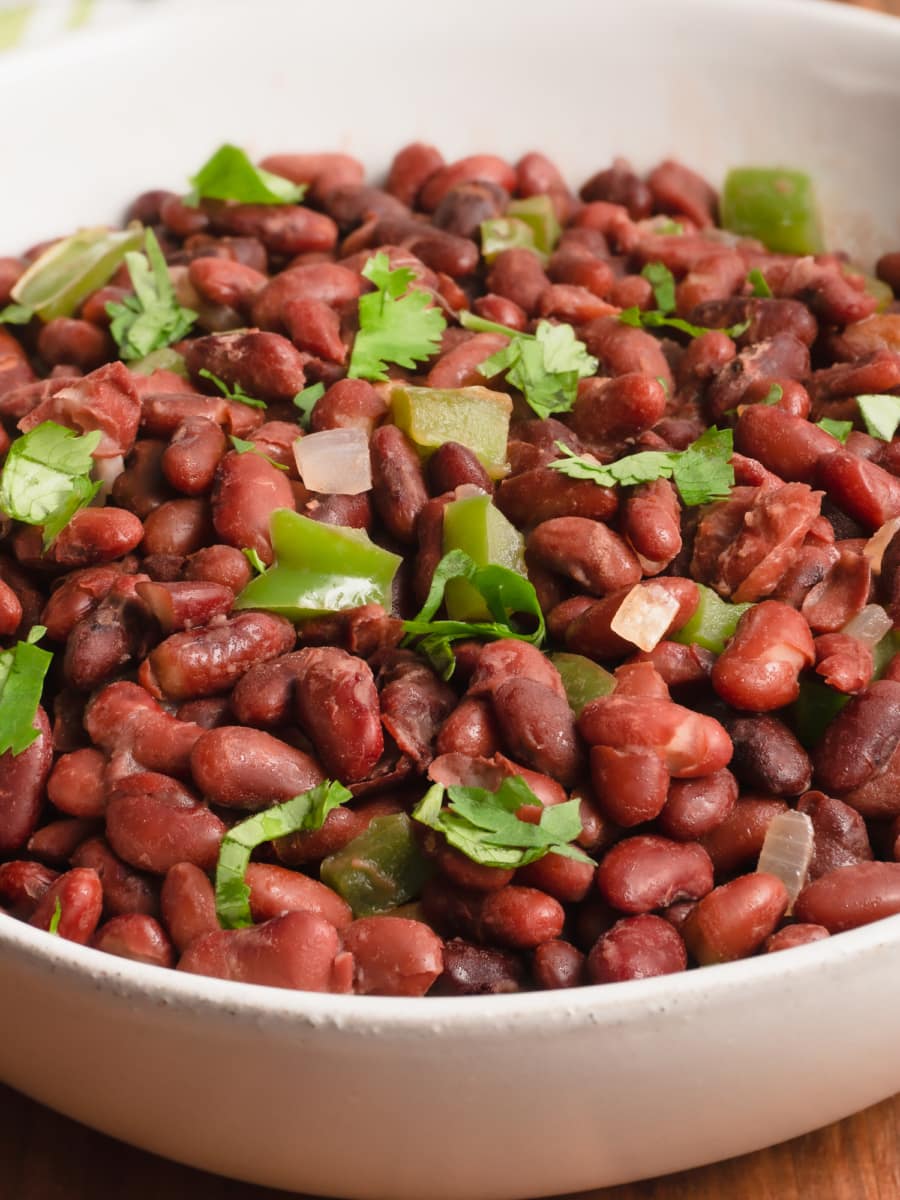 Let me know in the comments when you make this Honduran Red Bean Stew! I know you and your family will love it!
Honduran Red Bean Stew
RED BEANS, BELL PEPPERS, AND ONIONS STEWED IN BEAN BROTH
This hearty and healthy side dish is a staple at family dinner tables across Central America. Enjoy the wonderful Hispanic flavor of this simple side at your own table for your next meal.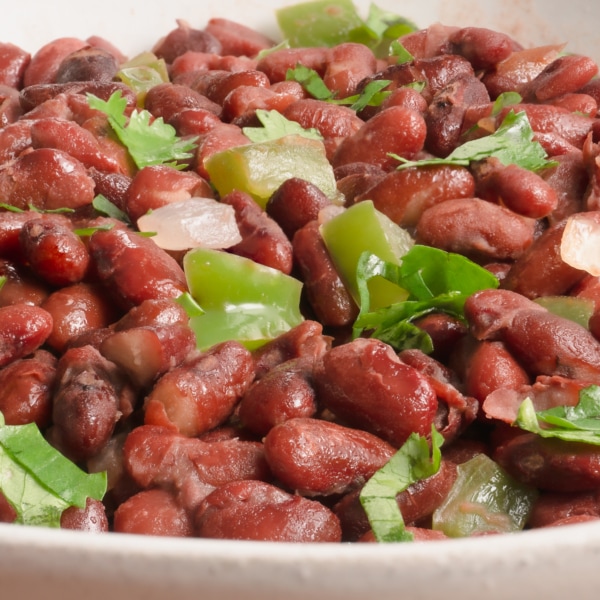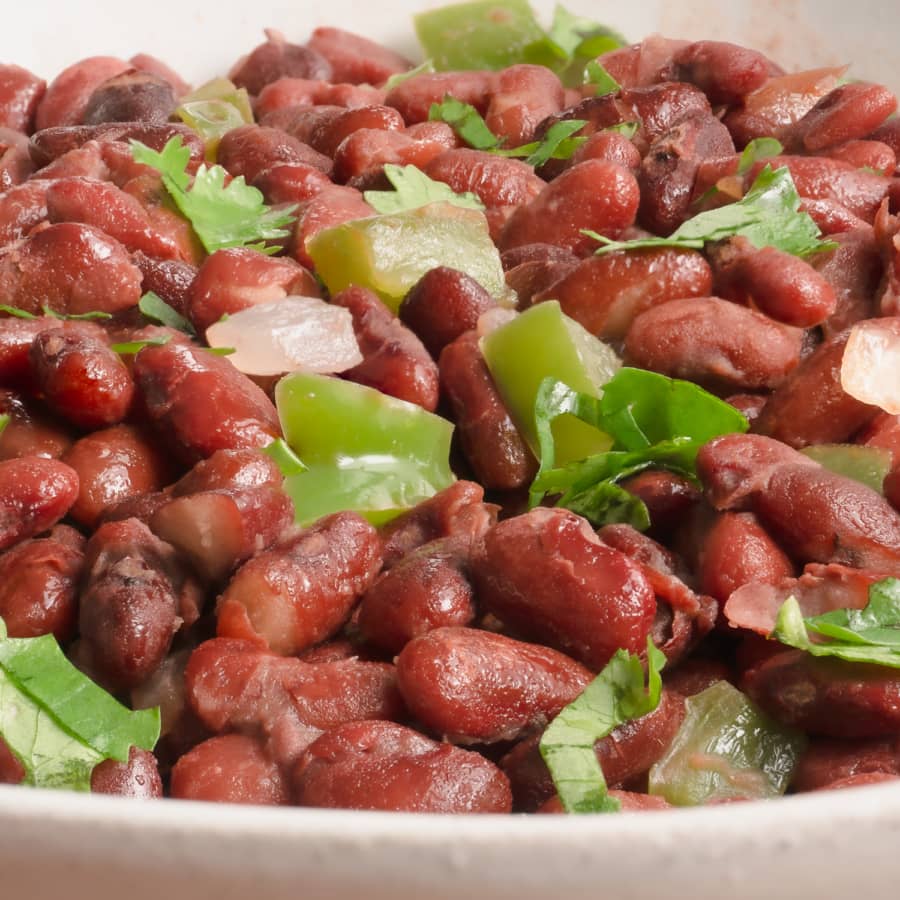 Ingredients
1 tbsp vegetable oil I use avocado oil
⅓ cup yellow onion diced
⅓ cup green bell pepper(s) diced
½ cup bean broth strained with a fine mesh strainer
¼ tsp kosher salt or to taste
3 cups red beans cooked
Instructions
Make your red beans using my recipe for Instant Pot Red Beans. The recipe will yield enough beans and broth for this bean stew recipe.

Sauté Vegetables: In a large heavy frying pan or skillet over medium-high heat, heat the oil and cook the onion and green pepper, tossing occasionally, until the onion is lightly golden around the edges. About 4 to 5 minutes.

Cook Beans: Slowly add the broth and salt to the skillet and mix into the onion and pepper. Add the beans to the skillet and gently stir into the bean broth. Bring to a rolling boil, then reduce heat to medium and cook uncovered and undisturbed for 5 minutes.

Transfer to a serving bowl and enjoy!
Nutrition Facts
Calories: 137kcal | Carbohydrates: 21g | Protein: 8g | Fat: 3g | Saturated Fat: 2g | Sodium: 100mg | Potassium: 384mg | Fiber: 7g | Sugar: 1g | Vitamin A: 31IU | Vitamin C: 8mg | Calcium: 27mg | Iron: 3mg
Notes
For a more stewy bean stew. I don't like a lot of liquid in my beans because I usually serve them as a side dish on the same plate as my main dish and don't like the broth making everything else on the plate soggy. That's why my bean stew is drier than the typical stew. However, if you like to serve your beans over rice and want some extra liquid to serve them with, or would just like to serve them in a small bowl on the side like charro beans, then feel free to add as much bean broth as you like.