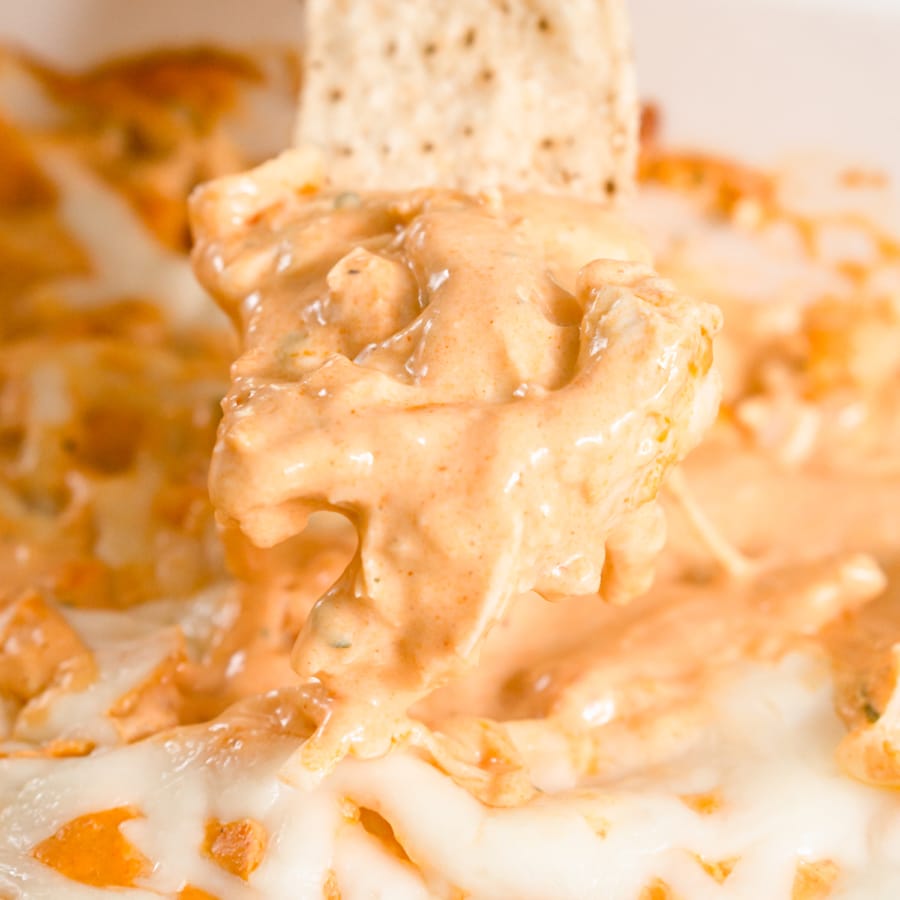 SAVE THIS RECIPE
This Buffalo Ranch Chicken Dip will be an instant hit with everyone! I can't tell you how much my friends and family love it when I make it. It's creamy, cheesy, and has the perfect amount of kick to it. Just imagine the flavor of buffalo wings dipped in ranch, coming through in a creamy dip. It is addictive!
This post contains affiliate links. For more information, see my disclosure.
This dip is perfect for gatherings and parties, but you can also enjoy it quietly at home by yourself! But be warned, you may want to eat the whole thing.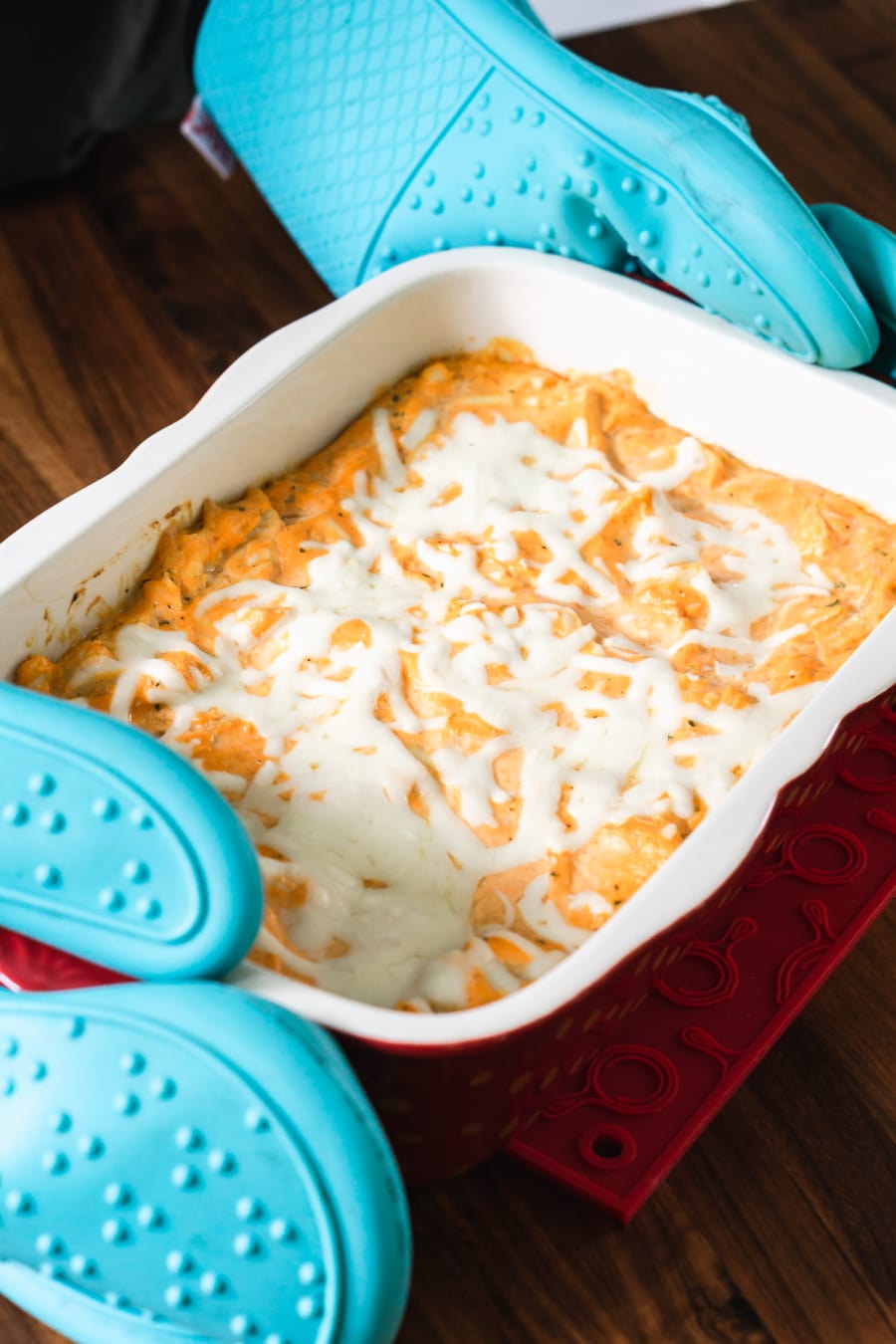 What Ingredients Do I Need for Buffalo Ranch Chicken Dip?
This Buffalo Chicken Dip recipe requires only a few ingredients. Below you will find the full list of ingredients used and a small description for each.
Shredded Chicken Breast: You'll need 1 pound of shredded chicken. I usually buy the tub of shredded chicken at my grocery store to make it easier.
Buffalo Wing Hot Sauce: You will use 1 cup of Buffalo Wing Hot Sauce. My favorite is Frank's Red Hot Wing Sauce, but there are other brands that are great as well. Just make sure you are getting wing sauce.
Ranch Seasoning Mix: You will need 1 packet of ranch seasoning mix. The packets are 1 ounce each. I usually buy Hidden Valley Ranch Seasoning Mix, but any brand will do.
Cream Cheese: This recipe uses an 8-ounce block of cream cheese. Nope, I never said it was healthy, but it's so good!!
Sour Cream: You will also need a ½ cup of sour cream to make this delicious buffalo chicken dip.
Mozzarella Cheese: Finally, you will need 1 cup of shredded mozzarella cheese. You can shred your own cheese, or you can buy pre-shredded. You will divide the cheese. Half a cup will go in the dip mixture and you'll use the other half cup to top it.
That's it! All easy ingredients to get a hold of. And not too many of them either.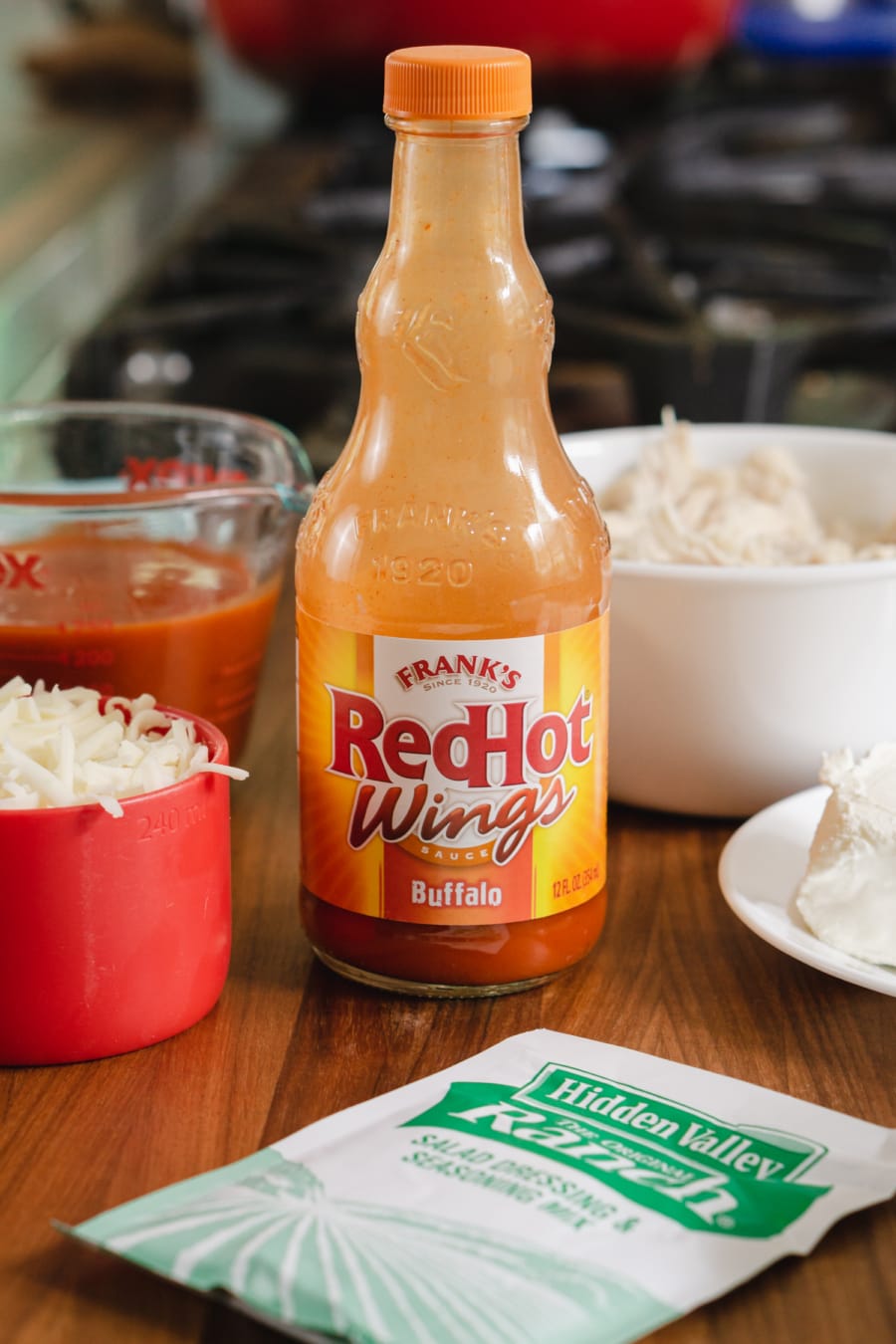 Substitutions for This Buffalo Ranch Chicken Dip Recipe
I always get lots of questions about substituting items in some of my recipes. Below are some questions that you may have, so I've gone ahead and answered them for you. If you have any other questions, please leave them in the comments.
Can I Use Canned Chicken?
You can definitely use canned chicken for this dip recipe. Make sure to drain the chicken and pull it apart with a fork. If you want to make your own chicken, you can easily make it in the Instant Pot by following my Instant Pot Shredded Chicken recipe. You can also boil it on the stove. Finally, you can buy the tubs of shredded chicken breast at your local supermarket.
Can You Make Buffalo Chicken Dip Without Ranch?
Personally, I think the ranch tones down the buffalo sauce and is a must for this dip. But, if you absolutely can't stand ranch or don't have it on hand, you can leave it out.
Can I Use a Different Kind of Cheese?
My personal favorite for this dip is mozzarella because it's mild flavored, melts beautifully and doesn't overpower any of the other flavors. That being said, you can definitely use a different cheese. I would recommend cheddar cheese or Monterrey Jack as substitutes.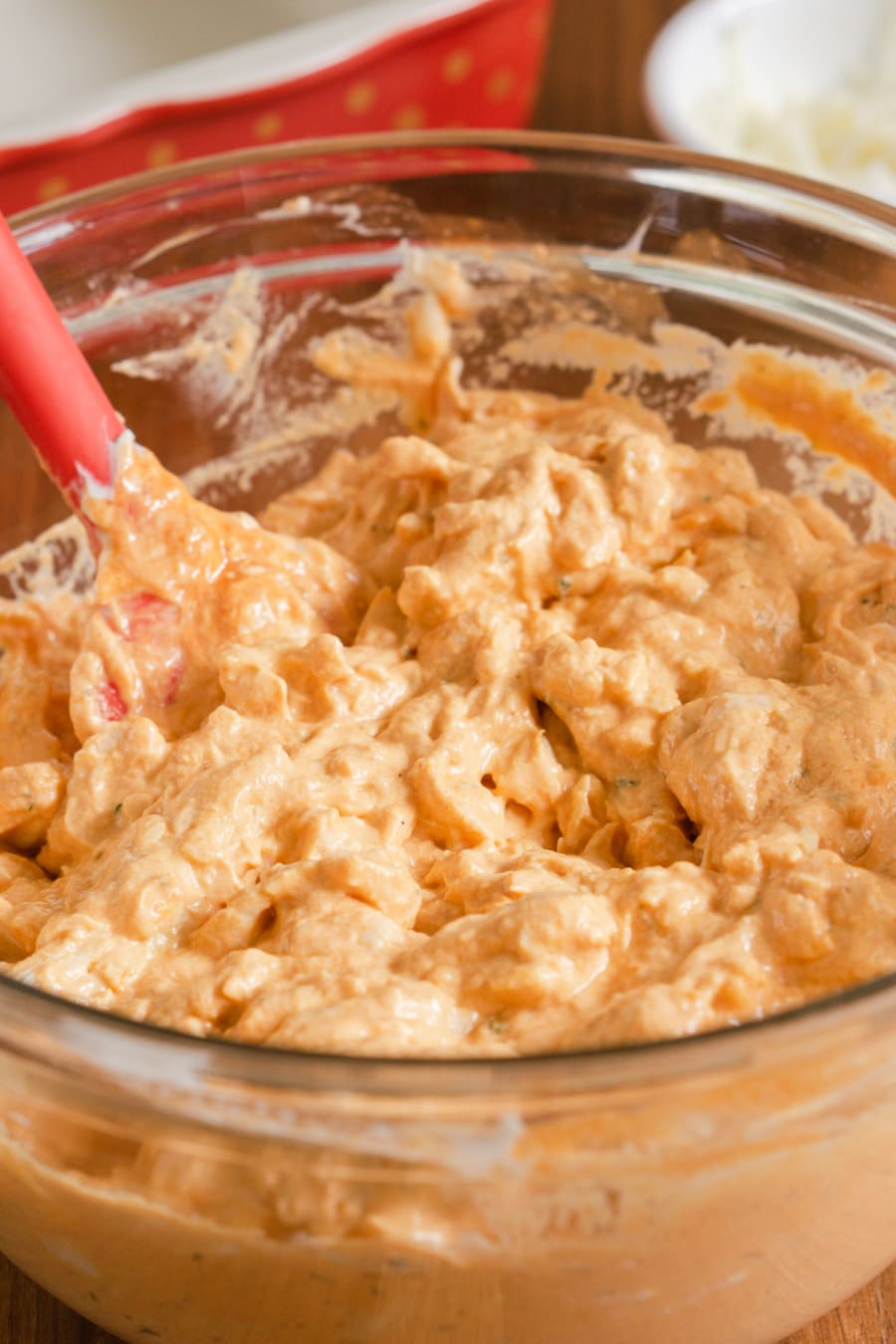 What's the Best Way to Keep the Dip Warm at a Party?
The best way to keep this dip warm is by using a warming tray. These trays are super cool and very affordable. If you will be taking the dip to someone else's house, you can carry it inside an insulated casserole carrier. Trust me though, whether the dip is piping hot or lukewarm, everyone will devour it!
Can I Make This Dip in Advance?
Yes, you can make this Buffalo Ranch Chicken Dip in advance, but don't put it in the oven until you're ready to serve it. You can prepare everything up until the point of baking it. This way, it'll be warm and melty when you serve it. If you have leftovers by chance, you'll need to refrigerate them. You can always heat up individual portions in the microwave, or sprinkle some fresh cheese over it again and pop it back in the oven.
What Can I Serve With This Dip?
There are so many great options for serving this dip. I think it's best served with tortilla chips, crackers, or celery. But you can also serve it with any crisp vegetable like carrots, cauliflower, and broccoli. Also, any type of cracker would work well including saltine crackers, Ritz crackers, pretzels, and wheat thins. You could also serve this dip on a warmed or toasted slice of baguette. Yum!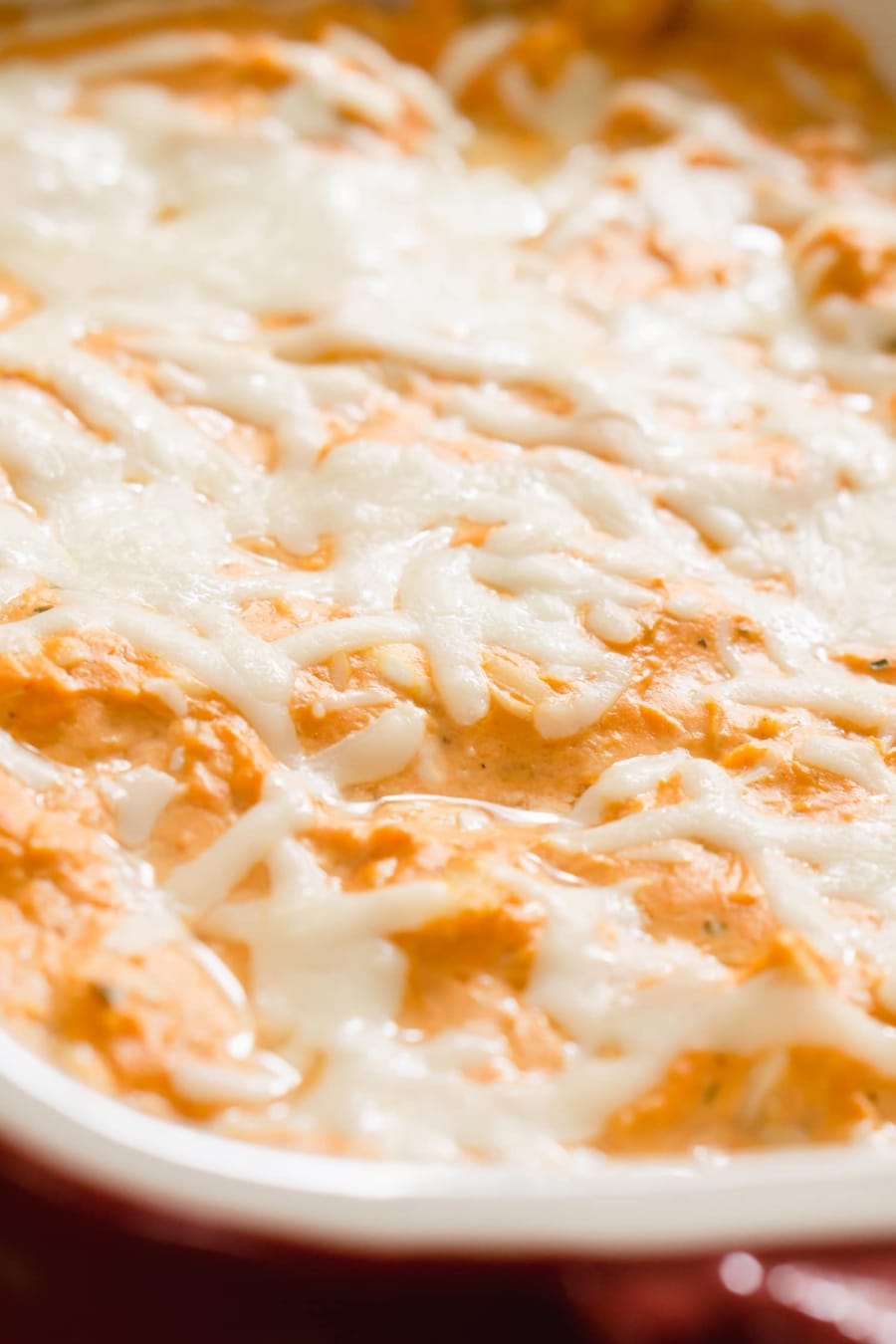 Essential Items
Here are some essential prep tools, utensils, and appliances I used to make this recipe.
Featured Items
Here is a list of the products featured in this post or products similar to those featured in this post:
How to Make Buffalo Ranch Chicken Dip
Making this delicious dip is easy peasy! But don't let your friends and family know that. They'll think you spent a lot of time putting this unforgettably warm and flavorful appetizer together. Just let them keep on thinking that 🙂 Now, let me walk you through the few simple steps.
First, gather all the ingredients, measure them out, and set your oven to preheat to 350 degrees.
Step 1: Prepare the Ingredients
You'll want to soften your cream cheese before starting. Either set it on the counter early enough or pop it in the microwave unwrapped for approximately 15-20 seconds or until softened, not melted! The other thing you'll want to do is make sure the chicken is shredded in edible pieces. Remember you'll be scooping the dip out with a chip or crackers so they shouldn't be too big.
Step 2: Mix all the Ingredients
Mix all the ingredients in a large mixing bowl. First, thoroughly mix the chicken with the cream cheese, sour cream, half the shredded mozzarella cheese, and the ranch powder packet to incorporate them together well.
Finally, add the buffalo hot sauce and mix it in well until fully incorporated.
Step 3: Transfer to a Baking Dish
Transfer the dip mixture into a baking dish and top it with the other half of the cheese.
Step 4: Bake the Dip
Bake the dip at 350 degrees for 20 minutes or until the cheese on top melts and bubbles.
Enjoy Your Buffalo Ranch Chicken Dip With Tortilla Chips!
You're now ready to dig in! Grab some tortilla chips, crackers, or veggies and start dipping away!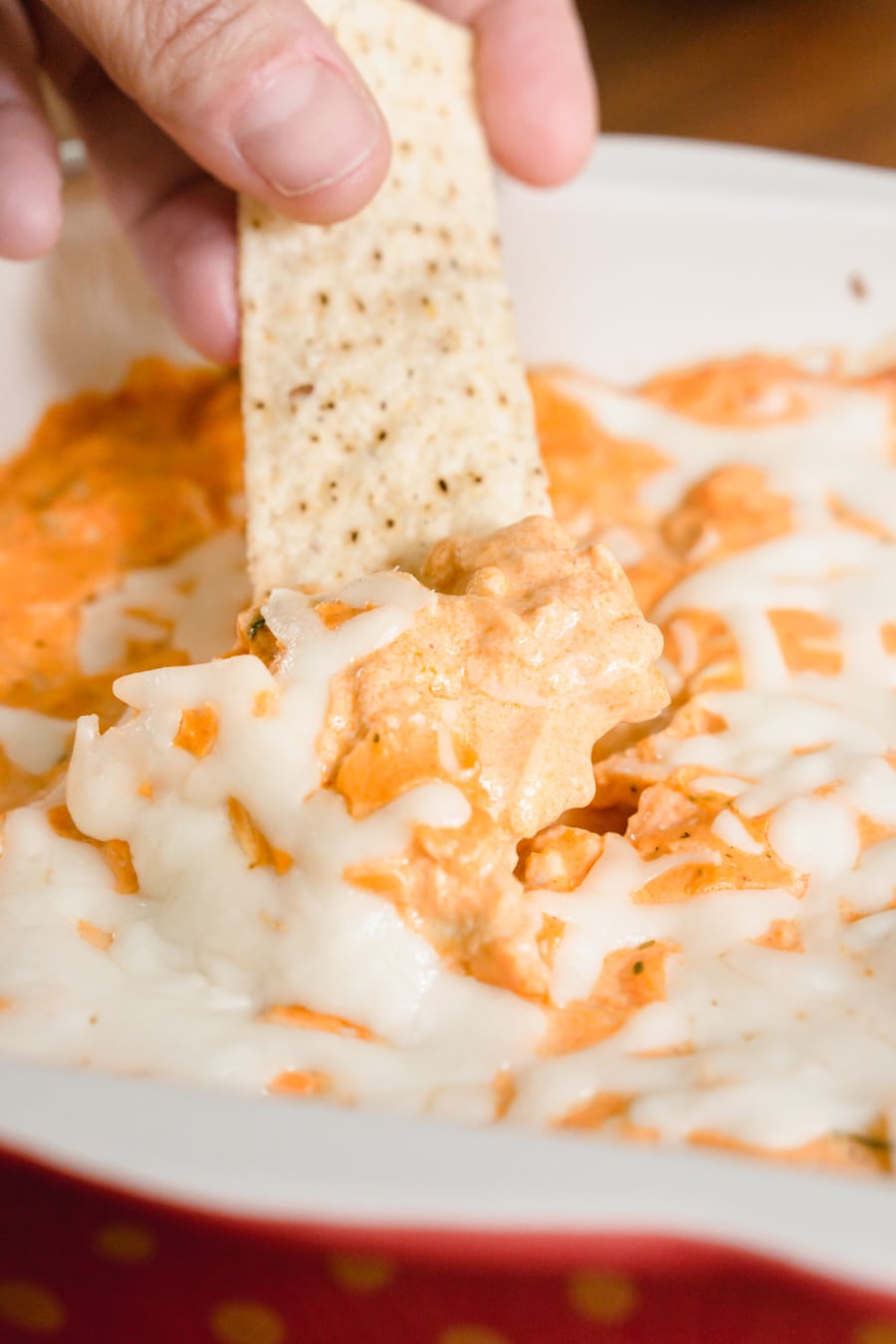 Did you make this Buffalo Ranch Chicken Dip? I know you will absolutely love this Buffalo Chicken Dip recipe as much as we do! Please, let me know in the comments when you try it.
More appetizer recipes that you may enjoy:
Buffalo Ranch Chicken Dip
A CREAMY CHEESE DIP WITH SHREDDED CHICKEN, BUFFALO SAUCE, AND RANCH SEASONING
This amazing party dip explodes with flavor! The combination of warm melty cheeses, tender shredded chicken, buffalo sauce, and ranch dressing is absolutely perfect! Impress your guests with this unforgettable dip.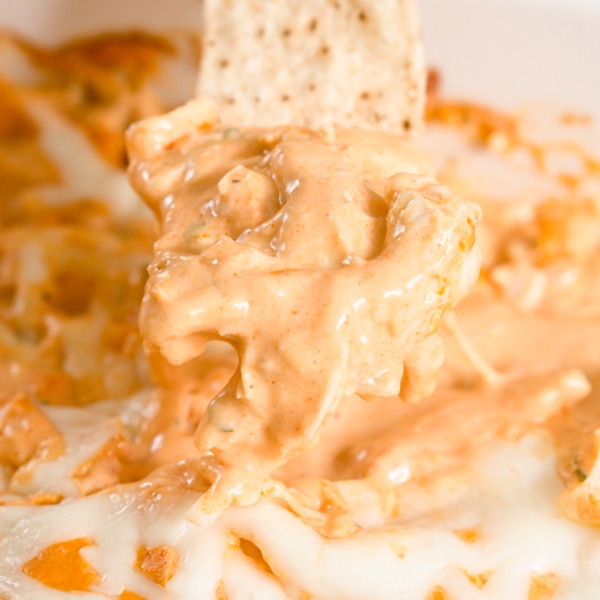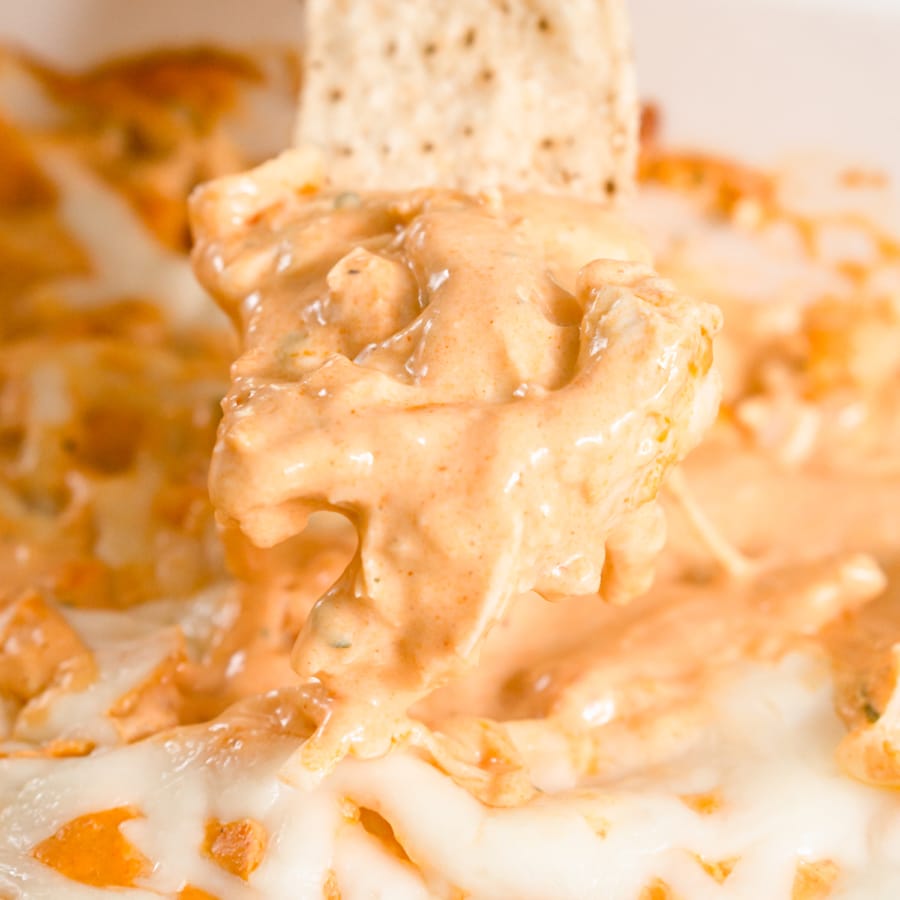 Instructions
Preheat oven to 350°.

Add all the ingredients to a large mixing bowl (shredded chicken, cream cheese, sour cream, half of the shredded mozzarella cheese, the ranch seasoning packet, and buffalo sauce) and mix everything well.

Transfer the dip to a small 9″ x 9″ baking dish and top it with the remaining shredded cheese.

Bake on the middle rack of your oven for 20 minutes or until the cheese on top melts and bubbles.

Serve and enjoy!
Nutrition Facts
Calories: 177kcal | Carbohydrates: 2g | Protein: 13g | Fat: 13g | Saturated Fat: 7g | Cholesterol: 62mg | Sodium: 685mg | Potassium: 162mg | Fiber: 1g | Sugar: 1g | Vitamin A: 425IU | Vitamin C: 15mg | Calcium: 82mg | Iron: 1mg