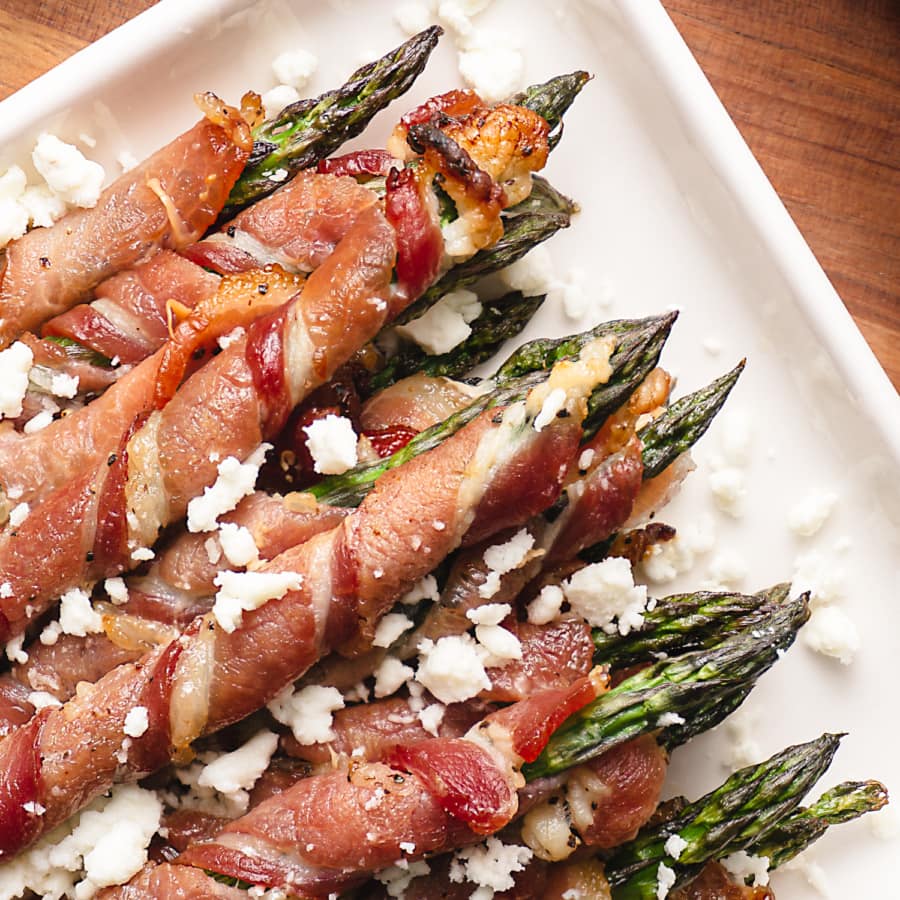 SAVE THIS RECIPE
Would you believe me if I told you this is my first time eating asparagus? It's one of those things I had never been inclined to try. So when my husband and I set out to create this recipe, I wasn't sure I'd like it. Well, let me tell you, this Maple Bacon Wrapped Asparagus topped with Feta made it love at first bite!
This post contains affiliate links. For more information, see my disclosure.
Best Bacon Wrapped Asparagus
I am going to insist that you try this bacon-wrapped asparagus even if you think you don't like asparagus. The flavor is phenomenal and you get just the right touch of sweet and savory. The bacon is tender, crisp, and juicy and has a hint of maple, the asparagus is cooked just right and the feta gives it the perfect finishing touch!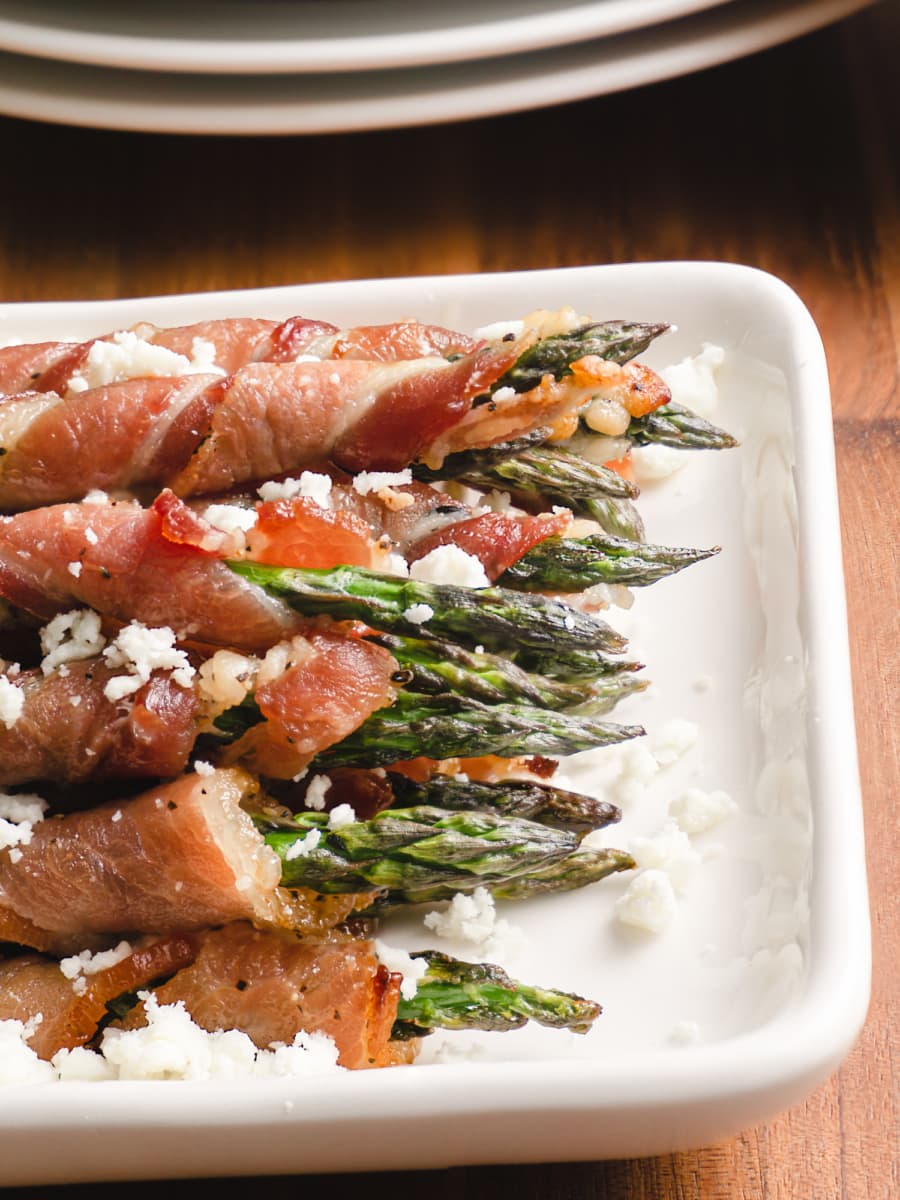 Do you see the photo with the plate of finished asparagus wrapped in bacon? Yeah, I pretty much ate the whole thing myself. I was literally stuffing them in my mouth like an uncivilized person. I'm so glad I gave asparagus a chance!
Essential Items
Here are some essential prep tools, utensils, and appliances I used to make this recipe.
Featured Items
Here is a list of the products featured in this post or products similar to those featured in this post:
What Goes With Bacon Wrapped Asparagus?
Though this is an easy recipe for bacon-wrapped asparagus, I consider it a special treat that would be a perfect side dish for a nice meal. I feel that pairing it with chicken is a perfect option. I've made it with my Simple Oven Roasted Chicken Thighs and the pair was a hit!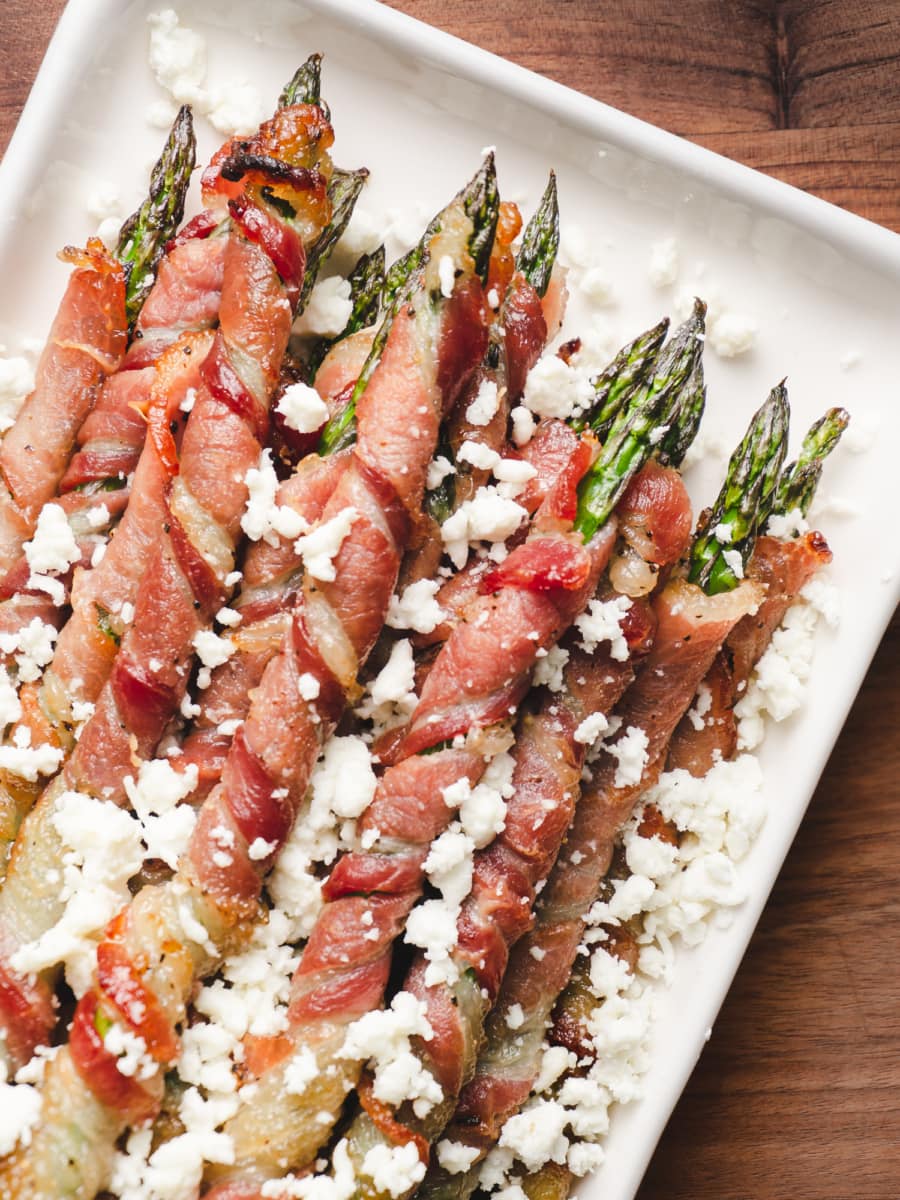 Other great chicken options are my Salsa Verde Chicken or my Mexican Chicken Breast. This bacon-wrapped asparagus would be a perfect pair for seafood recipes as well. You could serve it with some Instant Pot Lobster Tails and it'll be absolutely delicious! Finally, it would be a perfect side for a great steak!
How to Cook Bacon Wrapped Asparagus?
These spears of asparagus wrapped in delicious maple soaked bacon are so amazing. There are a few steps to involved to get great results and I walk you through them step-by-step here. Let's get started!
Step 1: Prepare The Bacon
There's a little bit of prep to get these delicious Bacon Wrapped Asparagus to come out perfect. You will start with thin-sliced raw bacon and you'll need to cut each strip in half lengthwise. You will then soak the bacon strips in a peppered maple syrup. Yum right?
Make sure to toss the bacon in the maple syrup until it is fully coated. Leave the bacon soaking in the maple syrup for now.
Step 2: Prepare the Asparagus
While the bacon soaks, you will need to prepare the asparagus. First, rinse the spears under cool water. Then trim the asparagus by cutting off the hard ends with a knife. After rinsing and trimming, you'll need to pat the spears dry with a paper towel.
Step 3: Wrap Each Asparagus Spear With a Strip of Bacon
Next, you will wrap the asparagus with the bacon. Try to avoid overlapping the edges of the bacon as you wrap. Also, wrap the bacon so that it extends the full length of each asparagus spear.
Step 4: Prep a Baking Sheet
Prepare your baking sheet by putting foil on the bottom of it. Trust me, it will avoid a difficult clean-up! Then place a wire baking rack on the pan you covered in foil. Spray non-stick cooking oil on the rack as well to prevent the bacon from sticking. When you place the bacon-wrapped asparagus on the rack, make sure the loose bacon ends are facing down. This is how they'll look when all is said and done.
Step 5: Roast the Bacon Wrapped Asparagus
You will roast them on the middle rack at 425 degrees for 14 minutes or until the bacon is nice and tender-crisp. Once you take them out of the oven, you will put the finishing touch on them and sprinkle them with feta cheese. Maple Bacon Wrapped Asparagus perfection!!
Time To Enjoy These Tasty Bacon Wrapped Asparagus Spears!!!
I know you will fall in love with this Maple Bacon Wrapped Asparagus! Let me know in the comments when you try it and what you paired it with!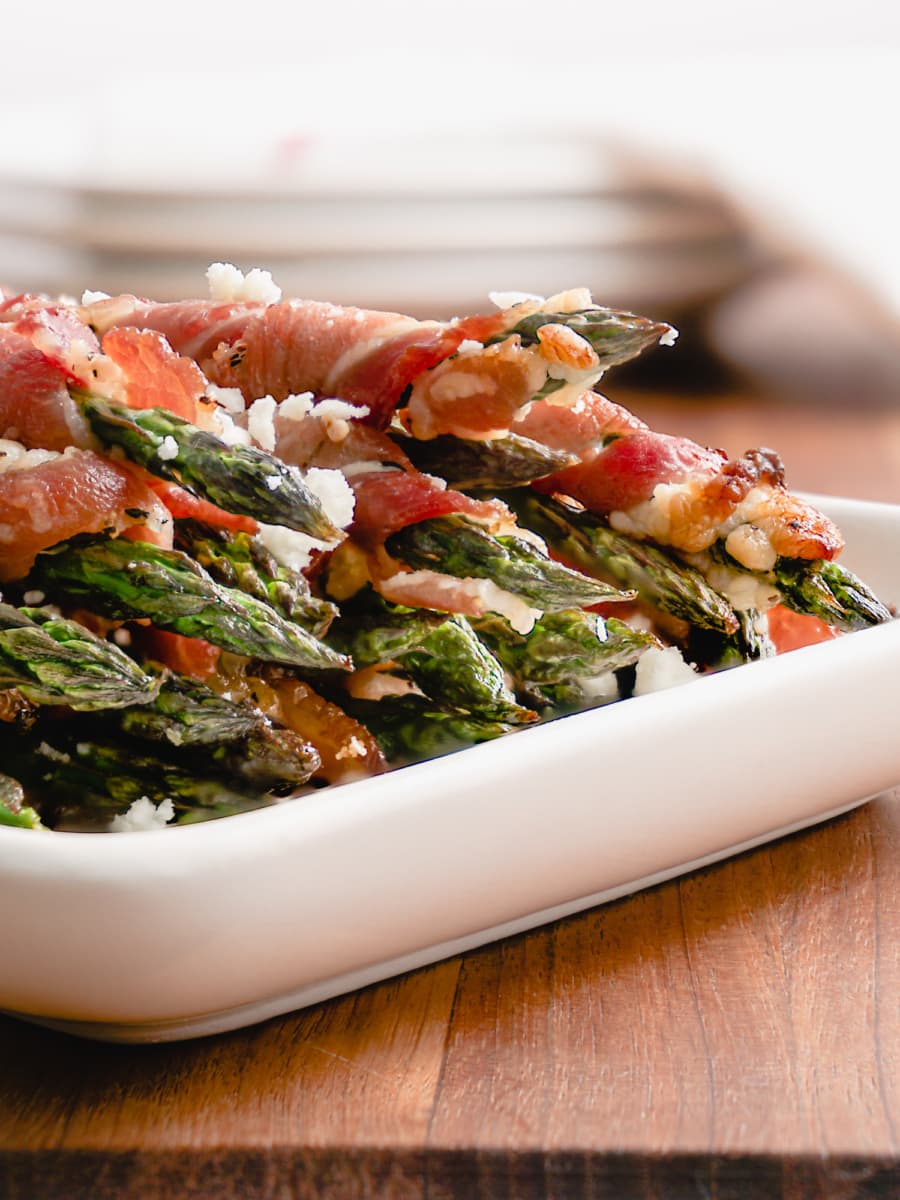 Bacon Wrapped Asparagus
ASPARAGUS SPEARS WRAPPED WITH MAPLE SOAKED BACON AND TOPPED WITH CRUMBLED FETA CHEESE
This wonderfully tasty side dish offers the perfect balance of sweet and savory with individual spears of asparagus that are wrapped in tender-crisp maple soaked bacon, roasted to perfection and then topped with crumbled feta cheese.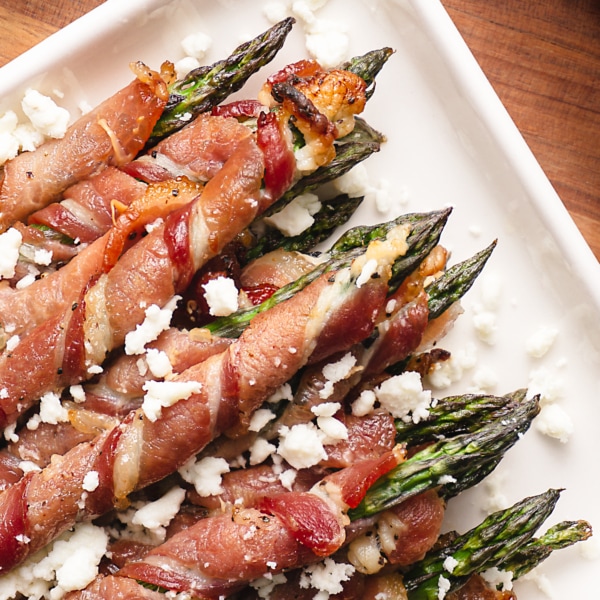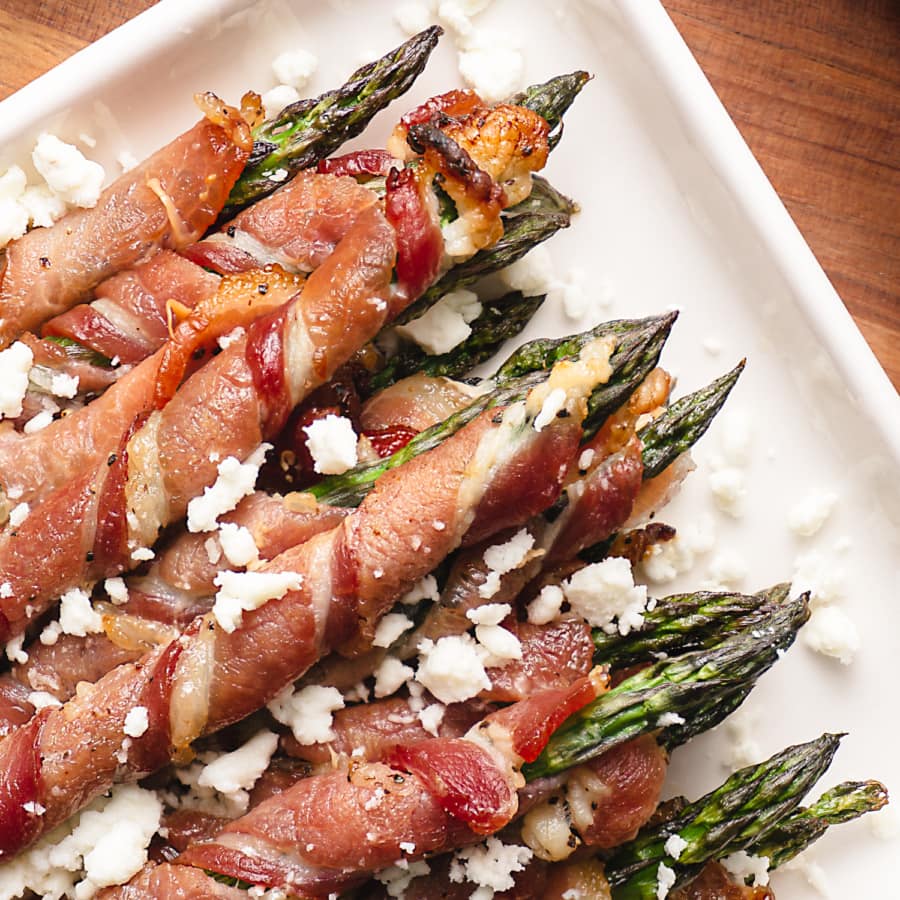 Instructions
Preheat oven to 425° F.

Add the maple syrup, and pepper to a small bowl and mix. Cut the bacon slices lengthwise into two narrow strips. Place the bacon in the bowl with the maple syrup and toss until evenly coated. Set aside.

Rinse the asparagus spears in cold water then remove the tough bottom ends with a knife or kitchen shears. Pat the spears dry with a paper towel.

Line the bottom of a rimmed baking sheet with foil and then place an oven-safe wire baking rack on the baking sheet. Spray the baking rack with non-stick cooking oil.

Tightly wrap each asparagus spear with a slice of bacon. Avoid overlapping the edges of the bacon and wrap the asparagus so that the bacon extends the entire length of the spear.

Lay the wrapped spears out on top of the baking rack with the loose ends of bacon facing down. Roast the asparagus on the middle rack of the oven for 14 to 16 minutes or until the bacon is tender-crisp.

Remove the baking sheet from the oven and, using a pair of tongs, stack the asparagus on a plate and sprinkle the crumbled feta cheese over the bacon-wrapped spears.

Serve and enjoy.
Nutrition Facts
Calories: 237kcal | Carbohydrates: 10g | Protein: 6g | Fat: 19g | Saturated Fat: 7g | Cholesterol: 35mg | Sodium: 362mg | Potassium: 117mg | Fiber: 1g | Sugar: 8g | Vitamin A: 43IU | Calcium: 48mg | Iron: 1mg