Oh no, the lazy days of summer are slipping away! And it's back-to-school time again. Can you believe how fast the last couple of months flew by? How did this happen? Well, at least we can look forward to enjoying all the delicious recipes the August Instant Pot Meal Plans offer.
August is always busy, with all the clothes and school supply shopping, getting class schedules in order, and preparing for all the extracurricular activities. And even though we homeschool all our kids, I still find myself running around like crazy this time of year trying to complete our curriculum and getting all the other school stuff in order. So, with that in mind, I hope my August Instant Pot Meal Plans will at least help you solve one daily issue – what to have for dinner?!
I like to include lots of easy recipes for August since it can get so hectic. Here's what you can expect: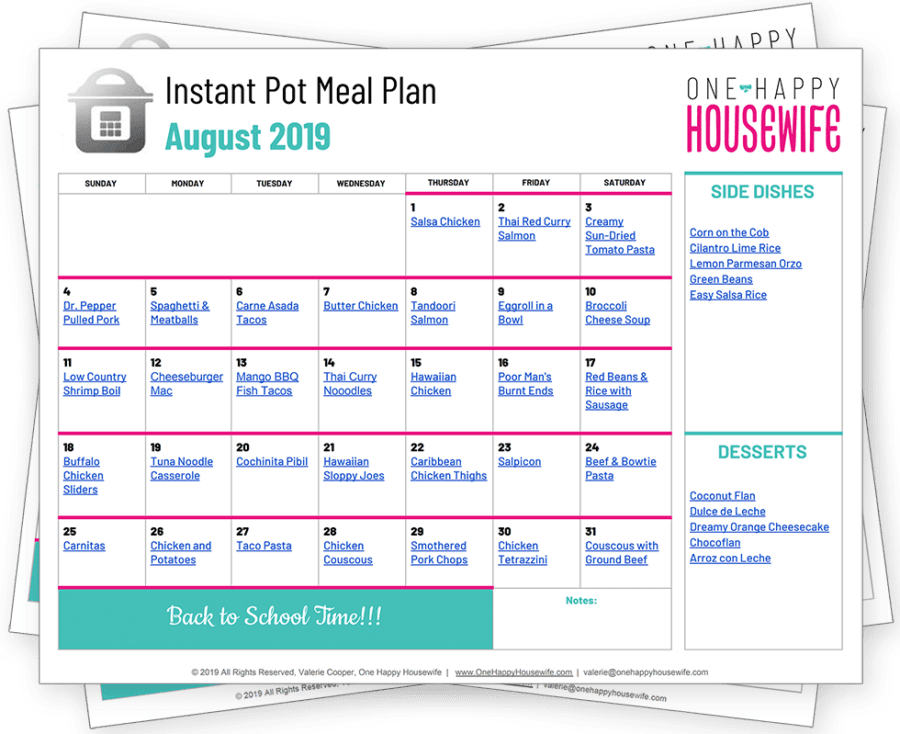 Easy One-Pot Pasta Recipes for the Instant Pot
I love making pasta recipes in the Instant Pot because they are not only super delicious, but they are usually extraordinarily easy to make. That, plus cleanup is a breeze since I only have to dirty one pot. There is usually nothing quicker or easier than a good pasta recipe. And the kids are always up for a great pasta dish. They're filling, tasty, and just perfect for busy nights. You'll find lots of wonderful pasta dishes like Creamy Sun-Dried Tomato Pasta, Spaghetti & Meatballs, and Chicken Tetrazzini in my meal plans.
Simple Weeknight Meals for the Instant Pot
When weeknights get hectic, you'll want some simple meals. I've got you covered! In my meal plans, you'll find easy ground beef recipes like my Cheeseburger Mac, and Hawaiian Sloppy Joes. You'll also find some quick and simple rice recipes. Just like pasta, rice dishes make for an easy, filling, and delightful meal. I'm always up for that!
Classic Recipes Made Easier in the Instant Pot
In my August meal plans, you'll find classics like Meatloaf, Pork Chops, and my delicious take on Mac and Cheese. You'll easily make these classic recipes in the Instant Pot. You'll also find my family's favorite, French Dip Sandwiches!
Instant Pot Seafood and Vegetables
Summer means seafood! You'll find some great options for seafood lovers in these meal plans. There are wonderful dishes with shrimp, like Low Country Shrimp Boil. There are also some great fish recipes like Fish Tacos, and Thai Red Curry Salmon. Summer's also a great time for some lighter vegetarian recipes, and I have some great ones in these meal plans.
Authentically Ethnic Recipes for the Instant Pot
Feeling adventurous? I've included some tasty options from around the world in my meal plans. There are lots of deliciously authentic Asian, Indian, and Hispanic recipes. You'll find flavors from Thailand, India, the Caribbean, Mexico, and Central America. Yummy! The Cochinita Pibil is a must-try, I've gotten so many positive comments about it.
Instant Pot Desserts
I love how versatile the Instant Pot is. Not only can you make a great soup or pasta dish, but you can also bake a cake in it. Amazing! You'll find so many wonderful desserts for the pressure cooker in my meal plan that you may have trouble deciding which to make first. From Flan and Arroz con Leche to Lava Cakes. But don't worry, I've set up the meal plan so you're not overwhelmed. You definitely want to check these sweet treats out!
Enjoy what's left of summer!
Make sure you also check out my latest Instant Pot Meal Plan.
Instant Pot Recipes for August
Here are some recipes you'll find on my August meal plans:
August Instant Pot Meal Plans
I've got some fantastic meal plans for August with so many wonderful recipes. Check them out here: