August is here which means two things: the hot summer days are upon us and school is about to start back up! With that in mind, I've put together a quick and easy Instant Pot Meal Plan for the month. This plan is perfect for busy parents who want to make sure their family has healthy and delicious meals, but don't have a lot of time to cook or plan.
The recipes in this meal plan are all quick and simple, and most importantly, they are all Instant Pot recipes! So what are you waiting for? Get started with your August Instant Pot Meal Plan today!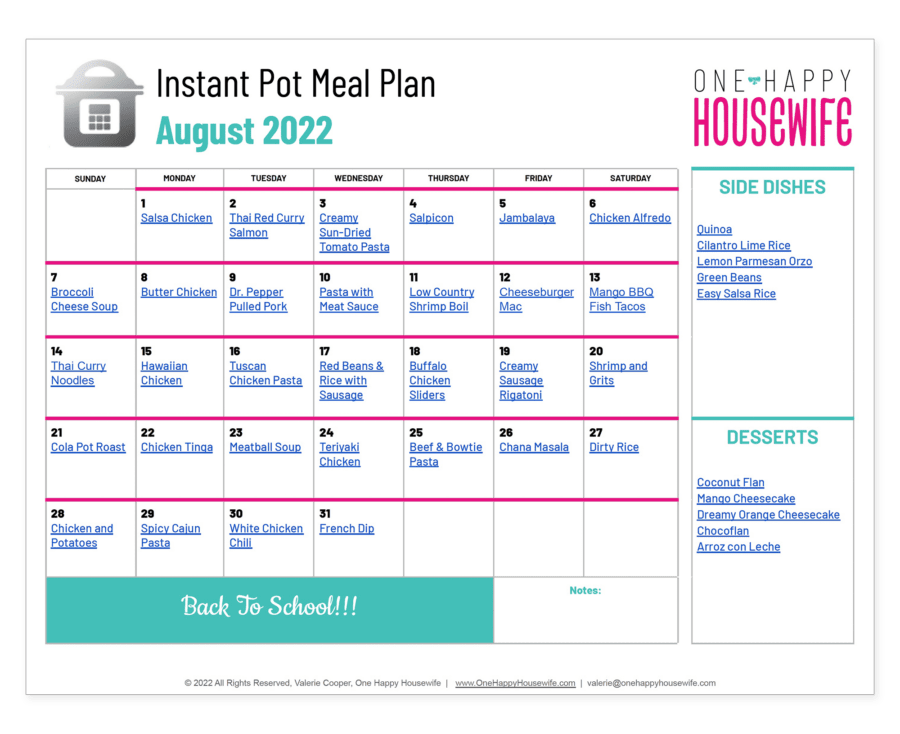 Make sure you also check out my latest Instant Pot Meal Plan.
August 2022 Instant Pot Meal Plan
Below the list of recipes, you will find a link to the downloadable calendar and links to all my monthly Instant Pot meal plans.
Download the August 2022 Meal Plan Calendar.
For more Instant Pot Meal Plan ideas for the month of August, check out my archive of August Instant Pot Meal Plans.
Past Instant Pot Meal Plans
Each month I publish a new, updated Instant Pot Meal Plan. So don't miss out on seeing what wonderful dishes I've included in my latest one.
LOOKING FOR A PAST MEAL PLAN?
You can also access all of my previously published Instant Pot Meal Plans through the links below. I handpick the recipes that appear each month, so you will find that each month is unique with its own set of recipes geared specifically toward that month. Plus, on each meal plan page, you can download the printable calendar for that month.