Welcome back, February! The air is still chilly and your stomach's growling for some good food. This month you'll find plenty of recipes that will make the perfect meal to keep warm on those cold nights. And with February here, that means it's time to create something special for that someone special! So, make sure not to miss my extra special recipe for February 14th!! Here's what you can expect in this month's Meal Plan.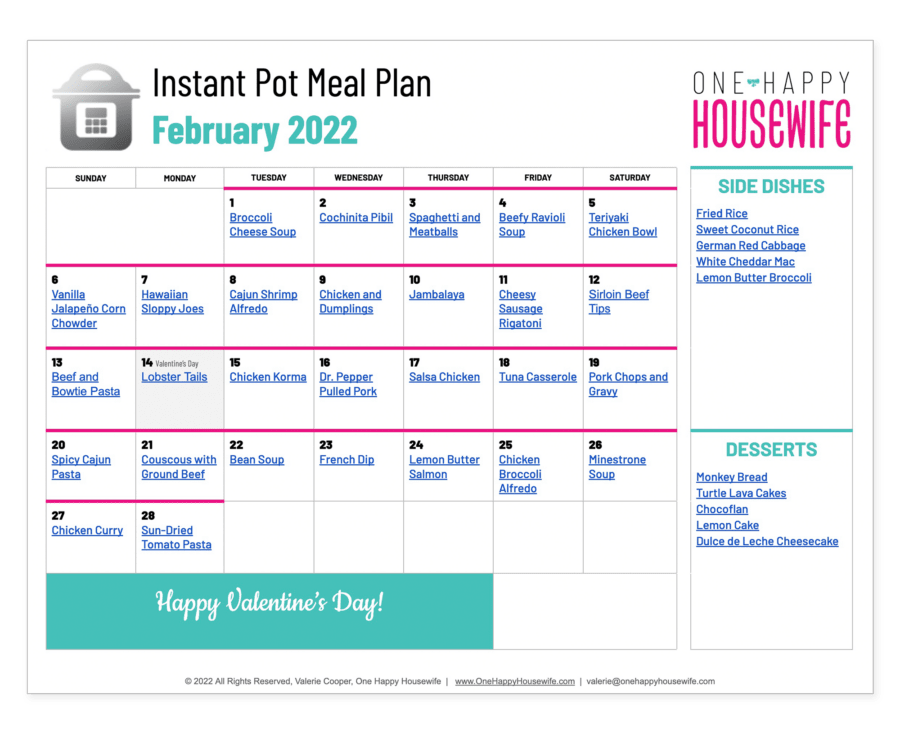 Instant Pot Soups
Looking for a way to keep your family warm and cozy during these cold winter months? Look no further than my February Instant Pot Meal Plan! There are lots of delicious soups that you can prepare using only ingredients from the pantry.
Instant Pot Pastas
If you need a meal that's easy, filling, and soothing for your soul when the weather is unpleasant outside then this Meal Plan has got just what you're looking for! There are plenty of Instant Pot Pasta Dishes included because… What's more comforting on a cold and dreary day than a hearty plate of warm pasta? So no matter which way (or how often) you like cooking up some noodles, you'll find plenty of options that are sure to be gobbled up before ya know it.
Instant Pot Valentines Day Recipes
With February 14th just around the corner, it's time to start thinking about what kind of special dinner to make. Well, I have a great dish for you – Lobster Tails!!!
This seafood dish will make for an amazing date night. And since it's cooked in your pressure cooker, it is easy to prepare, cooks fast, and cooks perfectly! The pressure cooker brings out the tender sweetness of the lobster tails while retaining their flavor. It's lobster perfection! This simple recipe will let you focus on enjoying a delicious meal with your loved one without worrying about messing something up.
Instant Pot Side Dishes
This February, you'll find lots of side dishes that are perfect for serving with your meals! The meal plan has a variety of Instant Pot Side Dishes to choose from.
Instant Pot Desserts
This February Instant Pot Meal Plan is a dessert lover's dream. All of the dessert recipes in this month's meal plan are sweet and easy to make. They're the perfect way to follow up any meal!
Have a happy Valentine's Day and enjoy this February 2022 Instant Pot Meal Plan!
Make sure you also check out my latest Instant Pot Meal Plan.
February 2022 Instant Pot Meal Plan
Below the list of recipes, you will find a link to the downloadable calendar and links to all my monthly Instant Pot meal plans.
Download the February 2022 Meal Plan Calendar.
For more Instant Pot Meal Plan ideas for the month of February, check out my archive of February Instant Pot Meal Plans.
Past Instant Pot Meal Plans
Each month I publish a new, updated Instant Pot Meal Plan. So don't miss out on seeing what wonderful dishes I've included in my latest one.
Looking for a past meal plan?
You can also access all of my previously published Instant Pot Meal Plans through the links below. I handpick the recipes that appear each month, so you will find that each month is unique with its own set of recipes geared specifically toward that month. Plus, on each meal plan page, you can download the printable calendar for that month.