Summer is here! School is almost out for everyone and that means kids will be home all day! With this in mind, I've put together a June 2019 Instant Pot Meal Plan full of easy and delicious recipes your family will love. I included lots of recipes perfect for summer. Here's what you can expect: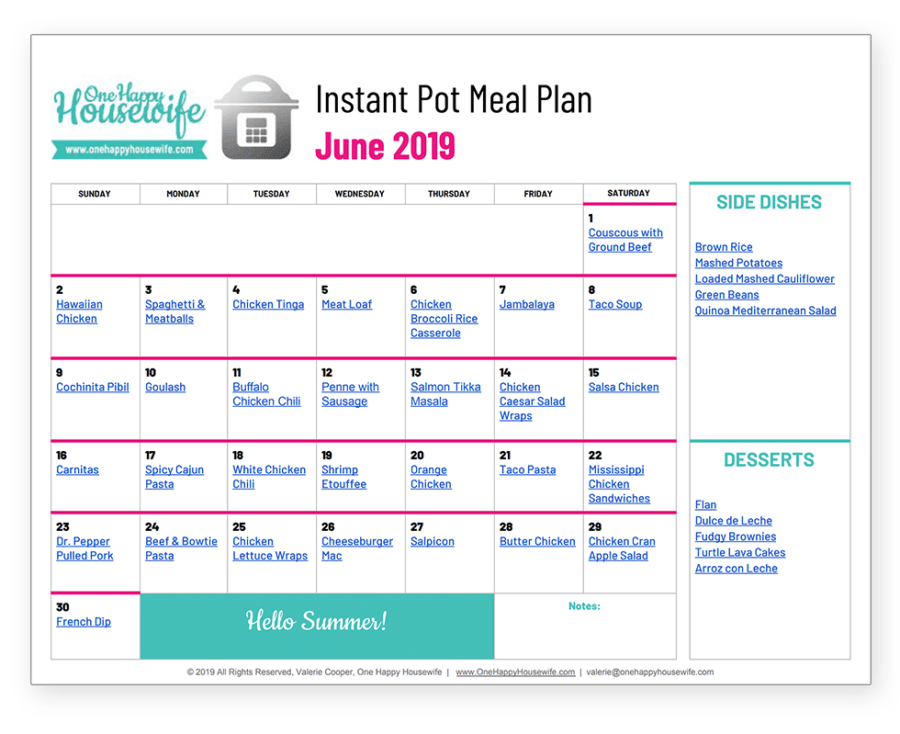 Healthy Instant Pot Recipes
The hot days of summer can weigh you down. So, I've included some light and fresh options in this month's meal plan. You'll find my Salpicon recipe which is an authentic Honduran minced meat that has a very light citrusy flavor. It's perfect on corn tortillas or served over rice.
There are also several easy chicken wrap recipes on the calendar. Two tasty options are the Chicken Caesar Salad Wraps, and the Chicken Lettuce Wraps.
Check out all the healthy and delicious recipes from other bloggers as well. The Salmon Tikka Masala and the Chicken Tinga tacos are especially delicious.
Instant Pot Sandwiches
I've included some awesome sandwich options. You and your family can enjoy my Dr. Pepper Pulled Pork Sandwiches and – my family's favorite – French Dip Sandwiches. Both sandwiches are so mouthwatering good that you won't be able to have just one. And if you're looking for a perfect side dish for either of these sandwiches, then check out my Instant Pot Potato Salad. It's so creamy with just the right amount of tang.
Instant Pot Pasta Recipes
I also included some fast and easy pasta recipes because I know how some of those long summer days go. There are those days when we all just want to get dinner on the table as quickly as possible so we can get the day wrapped up. You'll find my that Cheeseburger Mac is like enjoying a juicy burger but in a pasta dish. Also, my super simple Beef & Bowtie Pasta is on the list. This one is one of my family's favorites. And, finally, my Creole-inspired Spicy Cajun Pasta, and traditional Spaghetti & Meatballs are on this June Instant Pot meal plan.
Instant Pot Party Recipes
If you're planning any family gatherings or other get-togethers, then you'll want to check out my Carnitas. It makes meat for enough tacos to feed a small army. Plus, I've already mentioned them, but both the Pulled Pork Sandwiches and French Dip are also great options for large get-togethers.
Instant Pot Side Dishes
I always provide plenty of options for Instant Pot side dish recipes in every calendar. This month you'll find Loaded Mashed Cauliflower, which is a creamy, cheesy cauliflower casserole topped with bacon. The flavor is just… Wow! You'll also find a light and delicious Quinoa Mediterranean Salad. A fresh and healthy side for any healthier meal that you make.
Instant Pot Desserts
As you know, I always have to include some wonderful dessert recipes for the Instant Pot. You'll find my Arroz con Leche and Flan recipes on the calendar. These two are some of my most raved about desserts. So, if you haven't tried them yet, then you must! And for the chocolate lovers, you'll find recipes for Fudgy Brownies and Turtle Lava Cakes. Yummy!
Enjoy your kids and your summer!
Make sure you also check out my latest Instant Pot Meal Plan.
June 2019 Instant Pot Meal Plan
Below the list of recipes, you will find a link to the downloadable calendar and links to all my monthly Instant Pot meal plans.
Main Dishes
These are the dishes for June.
Download the June 2019 Meal Plan Calendar.
For more Instant Pot Meal Plan ideas for the month of June, check out my archive of June Instant Pot Meal Plans.
Past Instant Pot Meal Plans
Each month I publish a new, updated Instant Pot Meal Plan. So don't miss out on seeing what wonderful dishes I've included in my latest one.
LOOKING FOR A PAST MEAL PLAN?
You can also access all of my previously published Instant Pot Meal Plans through the links below. I handpick the recipes that appear each month, so you will find that each month is unique with its own set of recipes geared specifically toward that month. Plus, on each meal plan page, you can download the printable calendar for that month.