The weather is still wonky these days, and we go from hot to cold to rainy and dreary. In this February 2020 Instant Pot Meal Plan, I've included some easy and delicious soups, and some pasta dishes to bring plenty of warmth and sunshine to those cold dreary days. Also, Valentine's Day is coming up, so I added a special treat for that day. And don't forget to look at the sides and desserts to complement your meals. Here's what you can expect: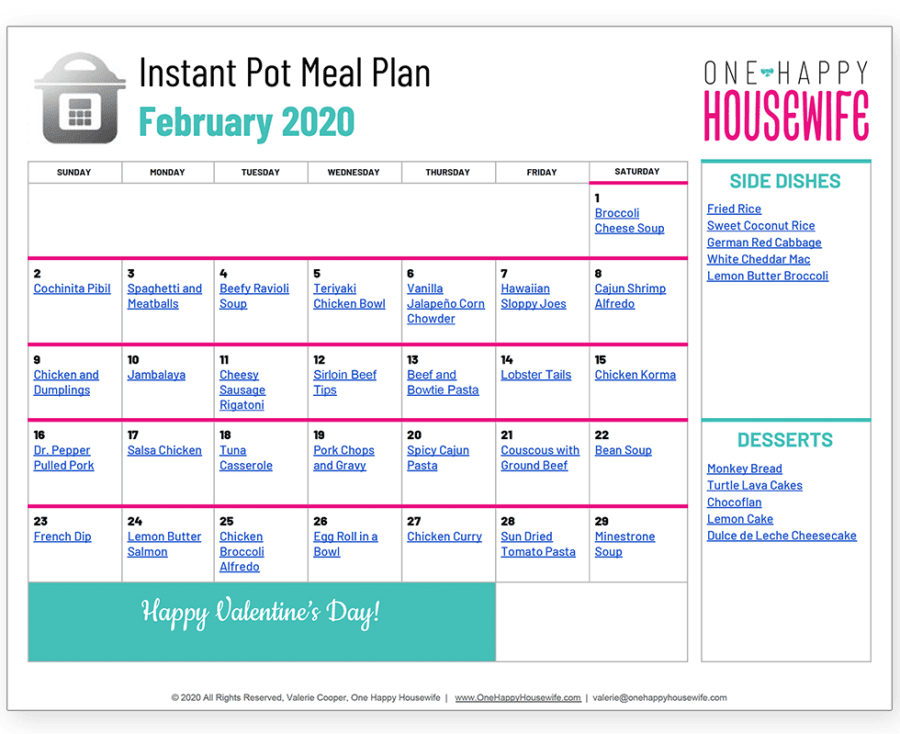 Instant Pot Soups
Since we still have plenty of cold days ahead of us, I have included some warm and delicious Instant Pot Soups in this February Instant Pot Meal Plan. We start the month with Broccoli Cheese Soup, end the month with Minestrone, and have plenty of soups sprinkled throughout the month.
Some of the other wonderful soups that you'll find on the meal plan this month are Chicken and Dumplings, Vanilla Jalapeño Corn Chowder, and Bean Soup.
Broccoli Cheese Soup
If you're looking for a creamy and cheesy comfort soup then you must try my Instant Pot Broccoli Cheese Soup. This soup is easy to make, uses fresh and wholesome ingredients like broccoli and carrots, and is ready in less than 30 minutes!! The tender broccoli and creamy cheddar flavor are fantastic. This soothing soup will warm your hungry tummy and comfort your soul.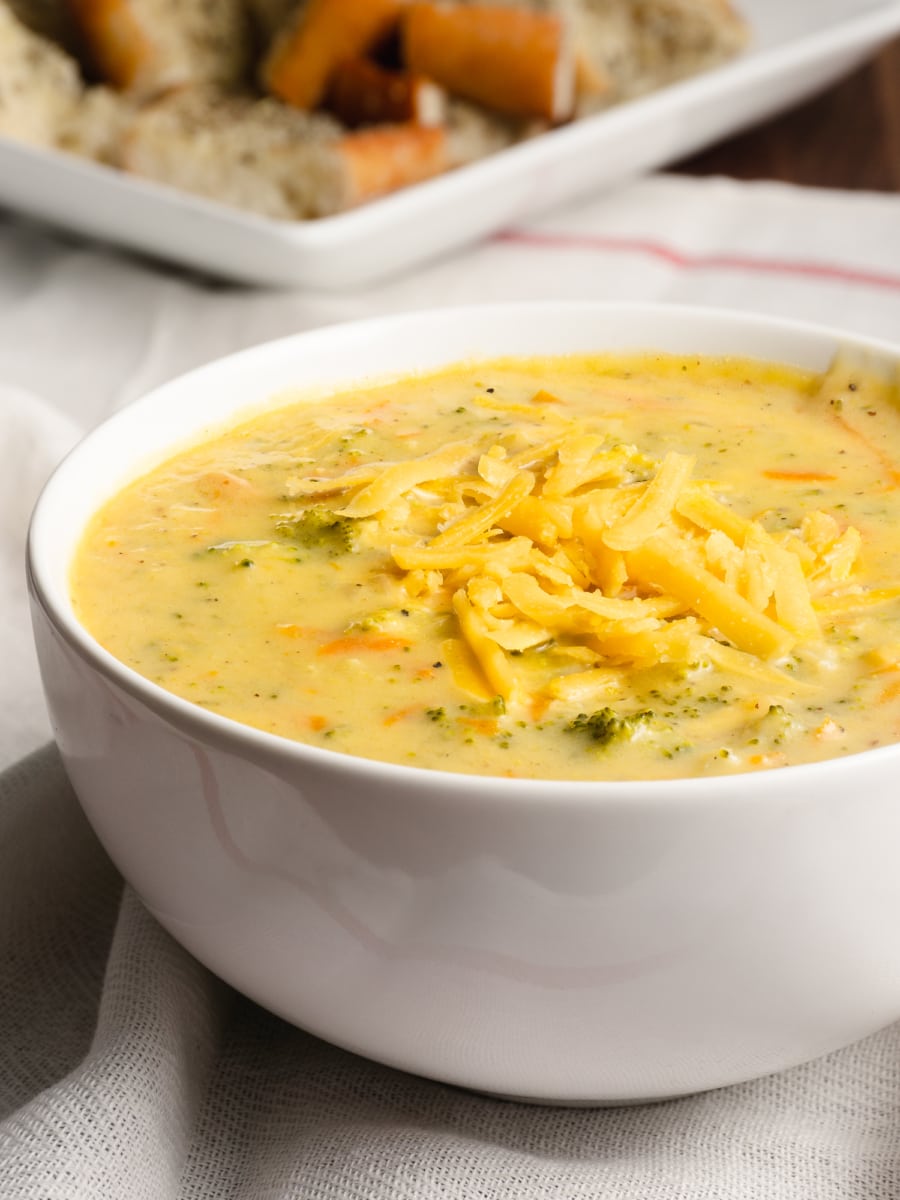 Chicken and Dumplings
If you need some quintessential comfort food, then my Instant Pot Chicken and Dumplings is the meal for you. Enjoy big, plump, fluffy dumplings, bite-sized tender chicken, and wholesome veggies in a flavorful broth-based stew. This is the perfect pick-me-up dish for those days when the wintry weather has you down.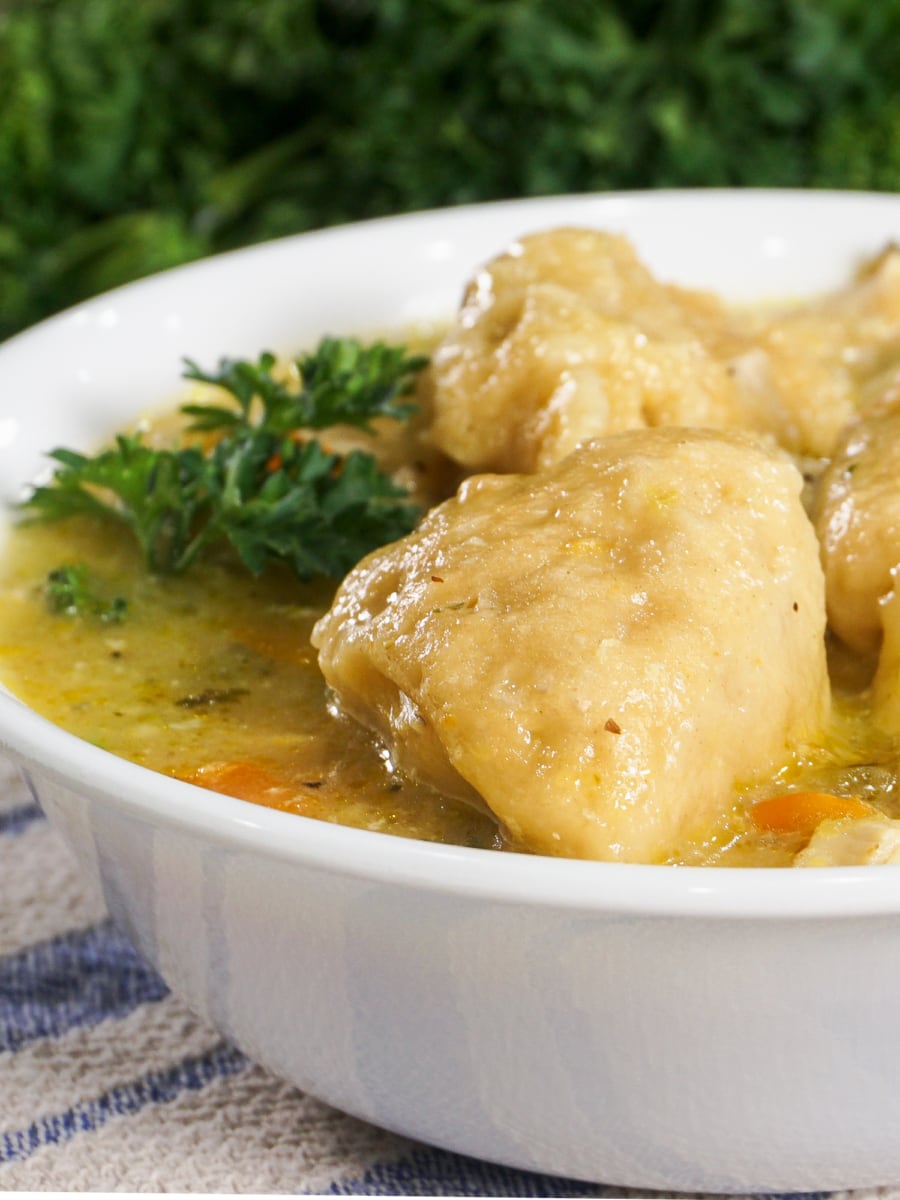 Vanilla Jalapeño Corn Chowder
The soothing sweet warmth of my Instant Pot Vanilla Jalapeño Corn Chowder will comfort you on those cold February days. Made with a blend of sweet corn, spices, cream, jalapeño, and vanilla, this thick, creamy, and flavorful soup is so irresistible that one bowl just isn't enough.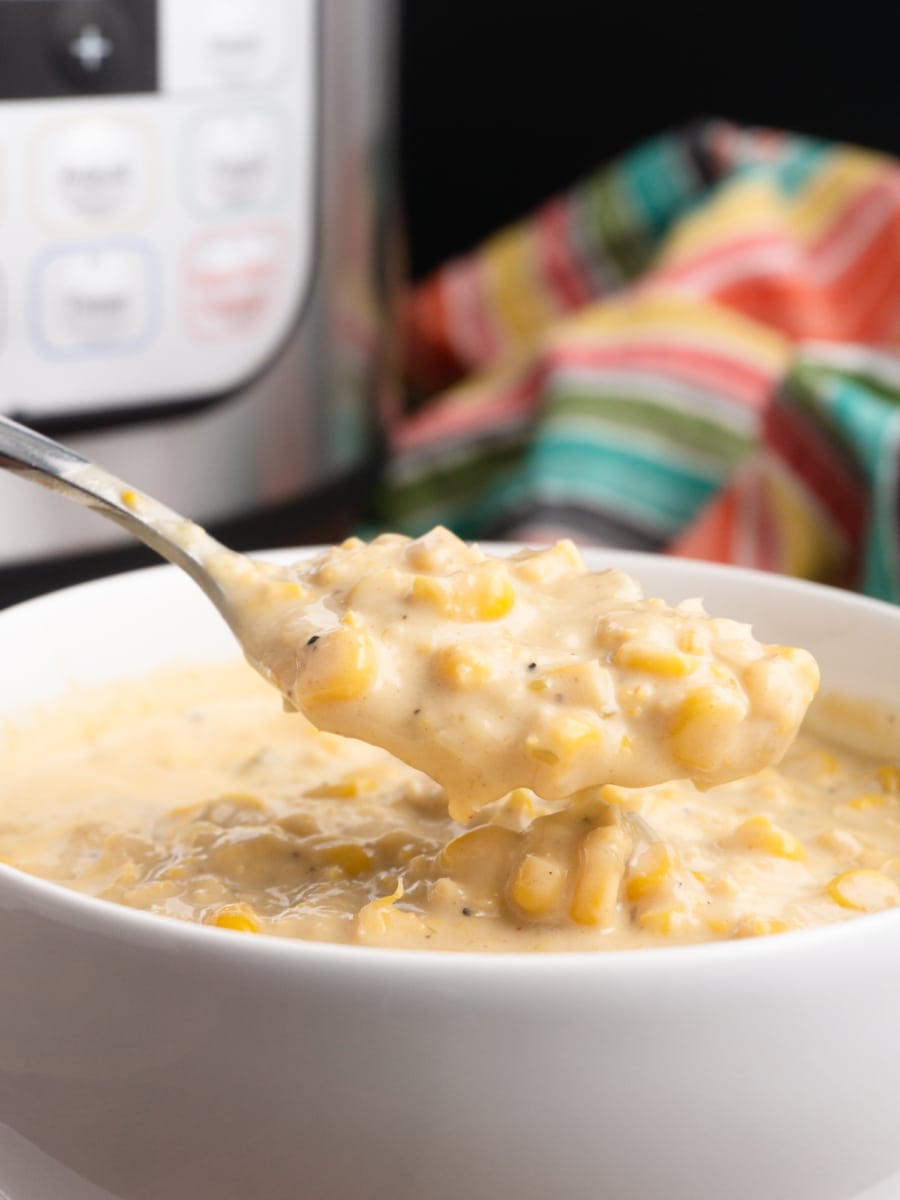 Bean Soup
Introduce the flavors of Central America to your dinner table. My Instant Pot Bean Soup is a Honduran classic. Known as Sopa de Frijoles, not only is this soup thick, hearty, and filling, but it is loaded with the authentic flavors of Central America. Certain to warm your soul, this soup is a must-try that your family will love.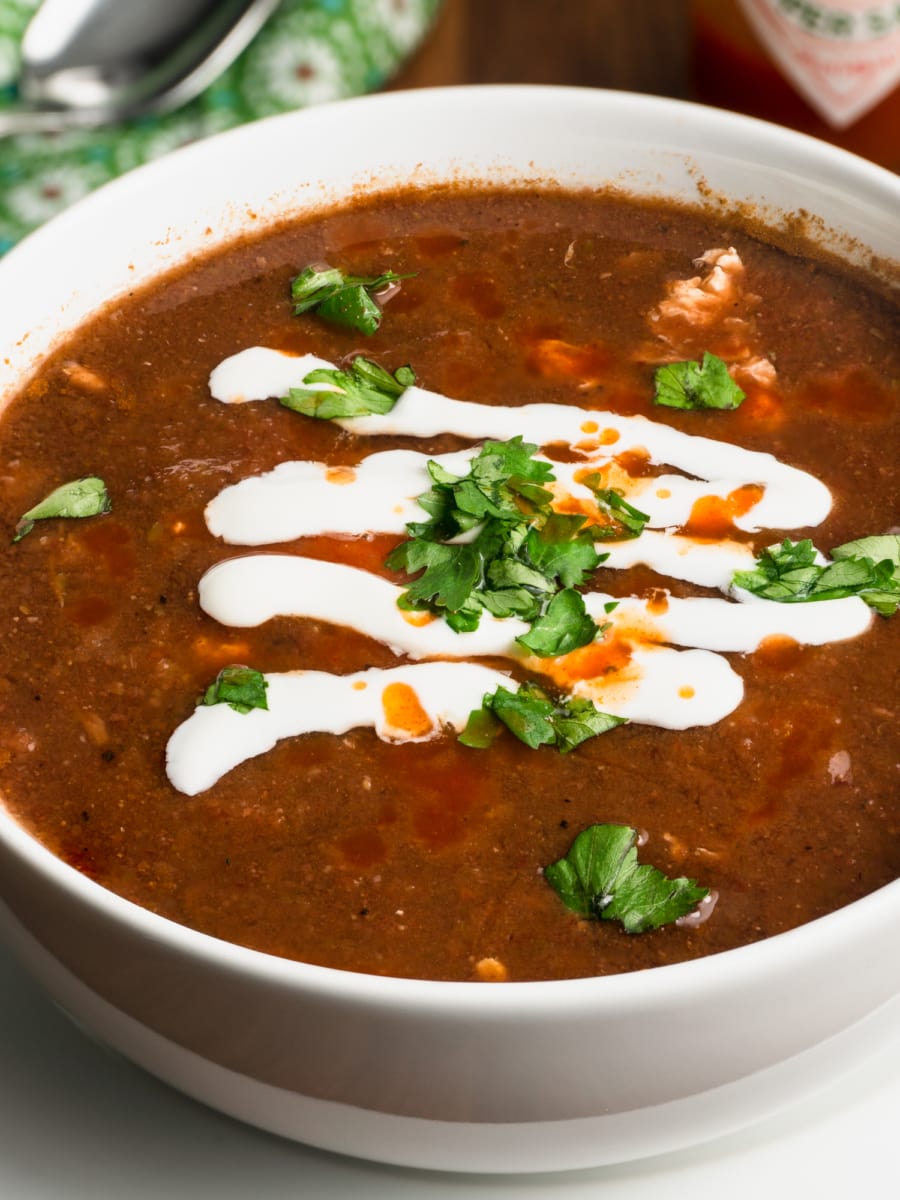 Instant Pot Pastas
Just like soups, pasta dishes can be incredibly warming and soothing when the weather is nasty outside. Plus, they're so easy to make, hearty and filling, and everyone loves them. That's why I always include a variety of Instant Pot Pasta Recipes in my meal plans, and this February Instant Pot Meal Plan is no exception.
This month, you'll find comfort in my recipes for Spaghetti and Meatballs, Cajun Shrimp Alfredo, Tuna Casserole, and Creamy Sun-Dried Tomato Pasta.
Spaghetti and Meatballs
This dump and start meal is the perfect weeknight family dinner. My Instant Pot Spaghetti and Meatballs recipe lets you make this hearty Italian classic in minutes using your pressure cooker. Serve this pasta dish with a side of garlic bread for a complete comfort meal.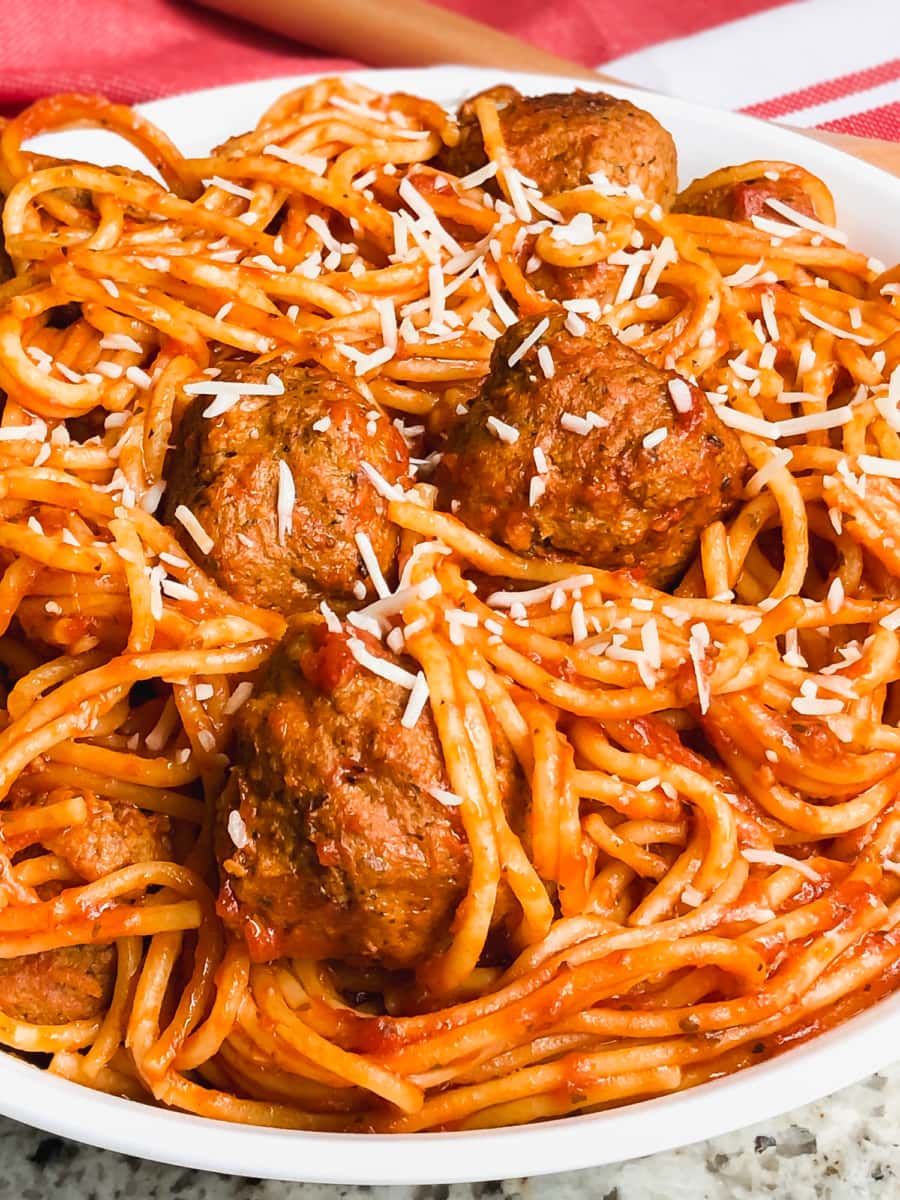 Cajun Shrimp Alfredo
There is no better pair than seafood and pasta. I load up my Instant Pot Cajun Shrimp Alfredo with plump, tender shrimp, tasty andouille sausage, and plenty of Cajun attitude. What's even better is that this fantastic seafood pasta dish comes together in about 20 minutes. This recipe is perfect for those weeknights when you need something quick and delicious.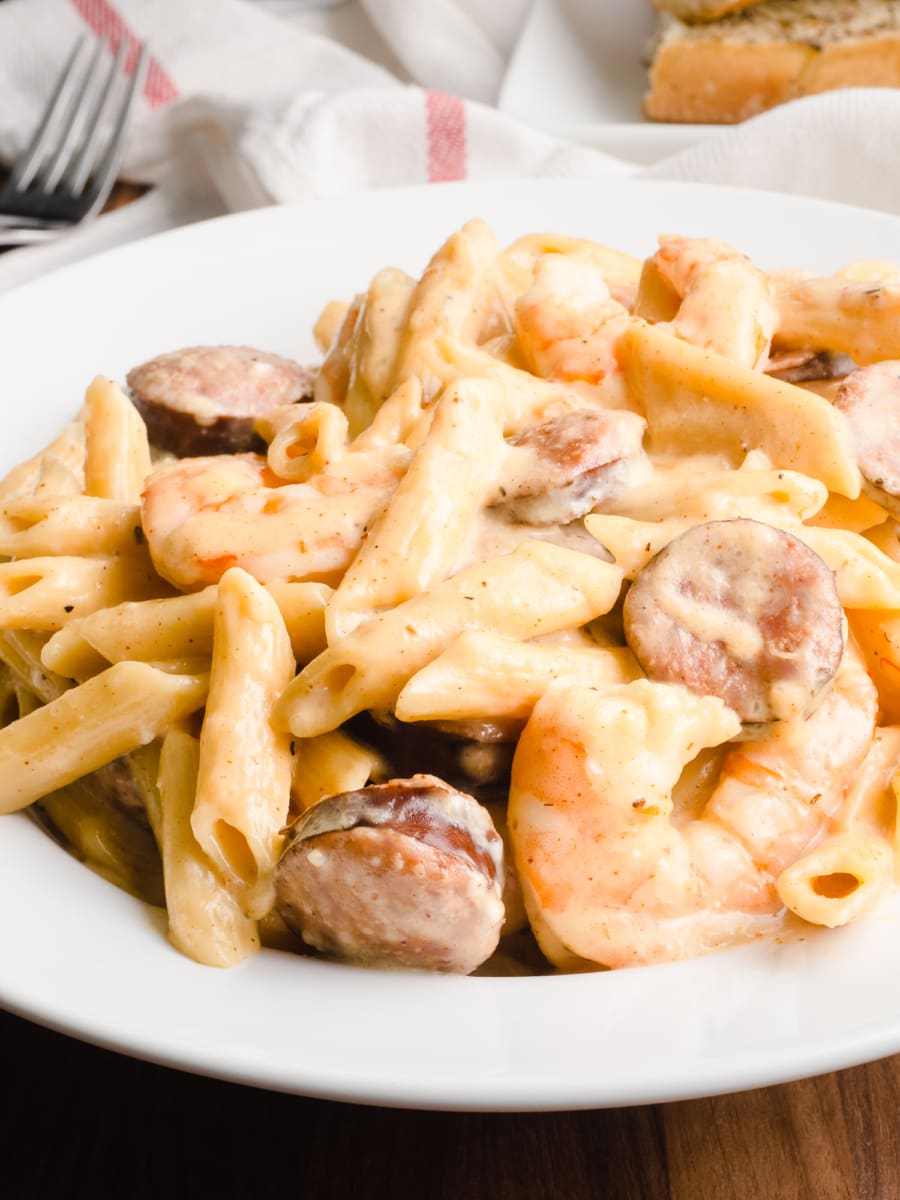 Tuna Casserole
This a classic comfort meal. I make this wonderful Instant Pot Tuna Casserole with simple ingredients like egg noodles, flaky tuna, and green peas. And the best part… this super creamy casserole uses no canned soups. This is a family favorite! Top it with cheese and potato chips and crisp for some added crunchy goodness.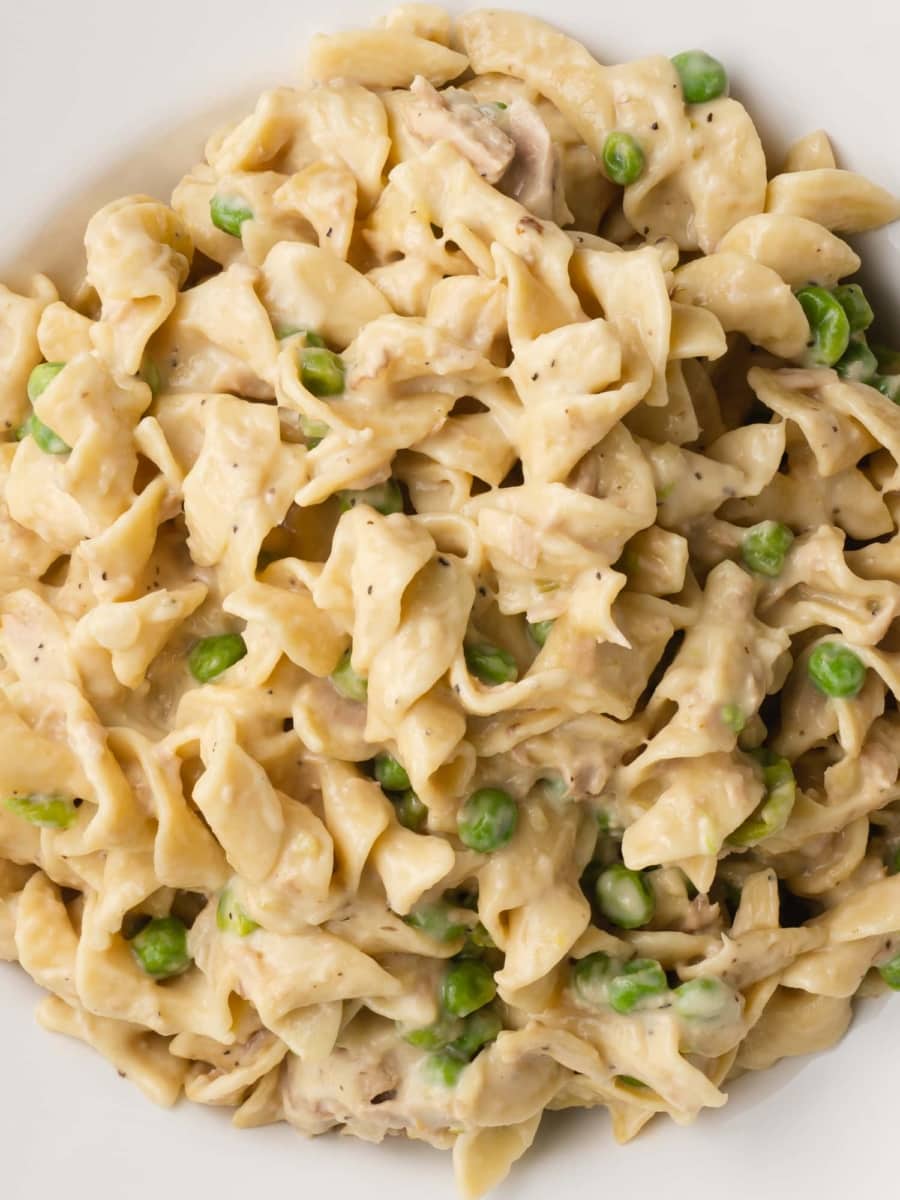 Creamy Sun-Dried Tomato Pasta
I love the color and flavor that sun-dried tomatoes add to pasta dishes. My Instant Pot Creamy Sun-Dried Tomato Pasta is the perfect meal for busy weeknights. It's a simple meal that's ready in 20 minutes and my family loves it. I cover penne pasta in a creamy sun-dried tomato sauce that's infused with basil and it's absolutely delicious.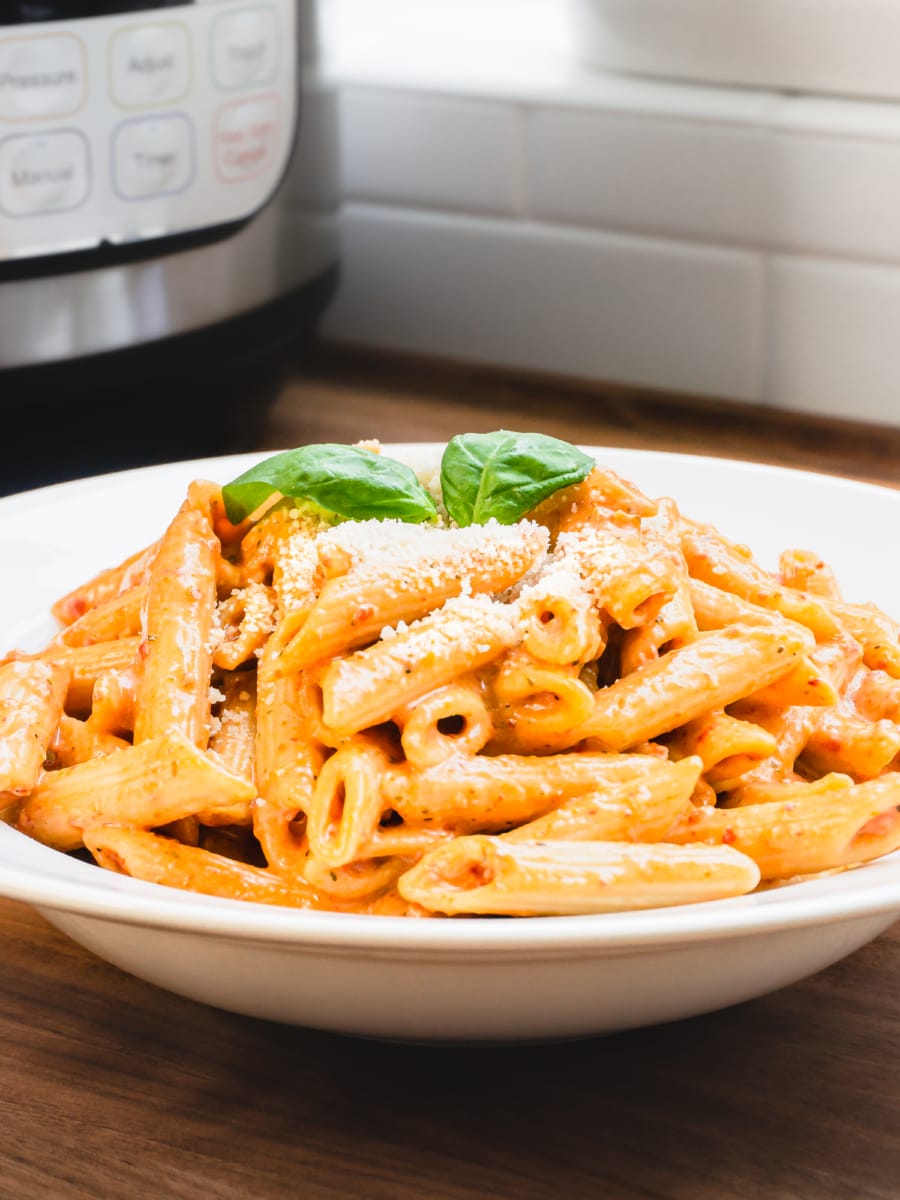 Instant Pot Valentines Day Recipes
I have you covered for Valentine's Day in this February Meal Plan. You'll find a recipe for one of the most delicious seafood dishes there is. And it's all made in your pressure cooker. So get ready to have the most enjoyable meal with your special loved one.
Lobster Tails
My Instant Pot Lobster Tails are the perfect indulgent dinner to make to impress your significant other on this special day. These lobster tails are tender, sweet, and cooked to perfection. Serve with garlic butter for a heavenly Valentine's meal.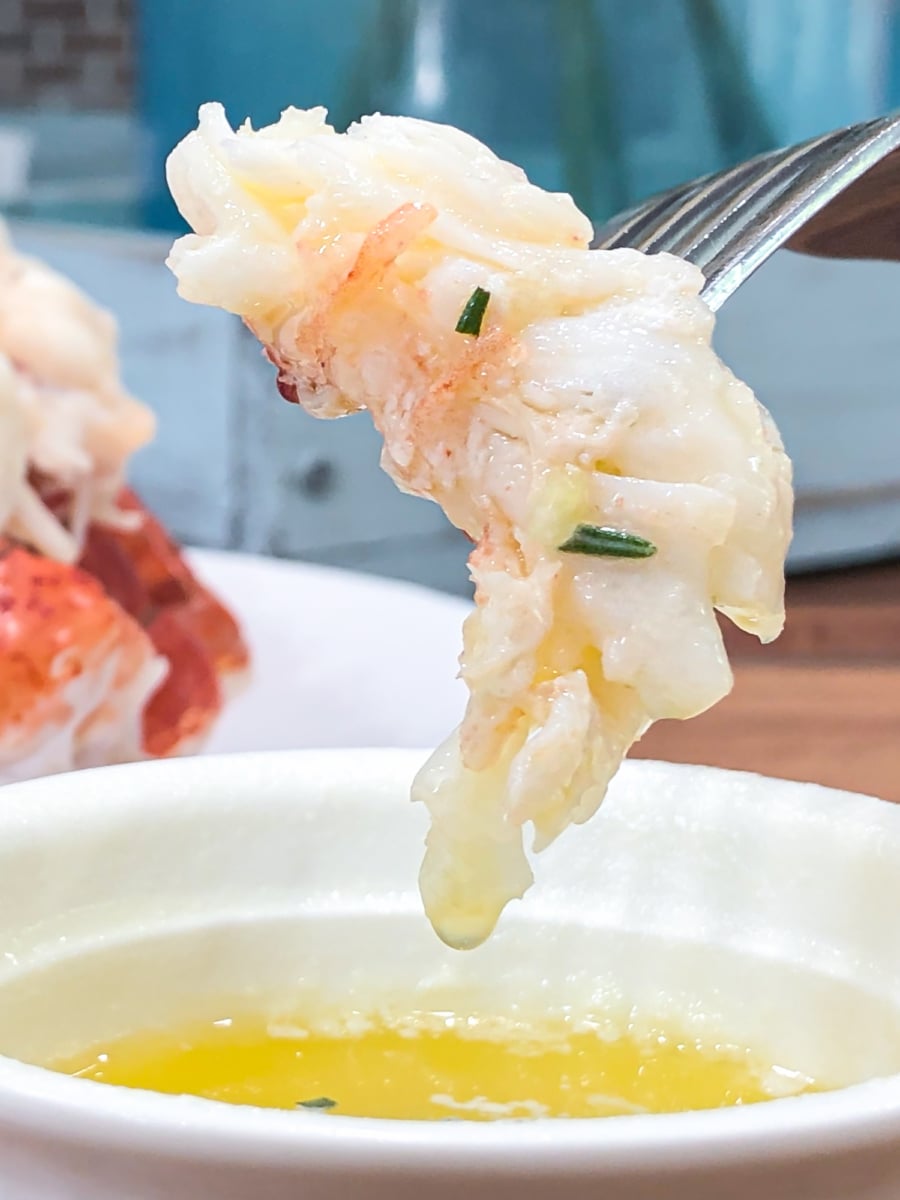 Instant Pot Side Dishes
I always provide you with plenty of Instant Pot Side Dishes to choose from to serve with your meal. In this February meal plan, you'll find side dishes like Fried Rice, German Red Cabbage, White Cheddar Mac, and Lemon Butter Broccoli.
White Cheddar Mac
This recipe for Instant Pot White Cheddar Mac and Cheese makes a phenomenal side dish. It's so good that it may steal the spotlight from the main dish. This Mac & Cheese uses a combination of white cheeses that makes this pasta incredibly flavorful and creamy.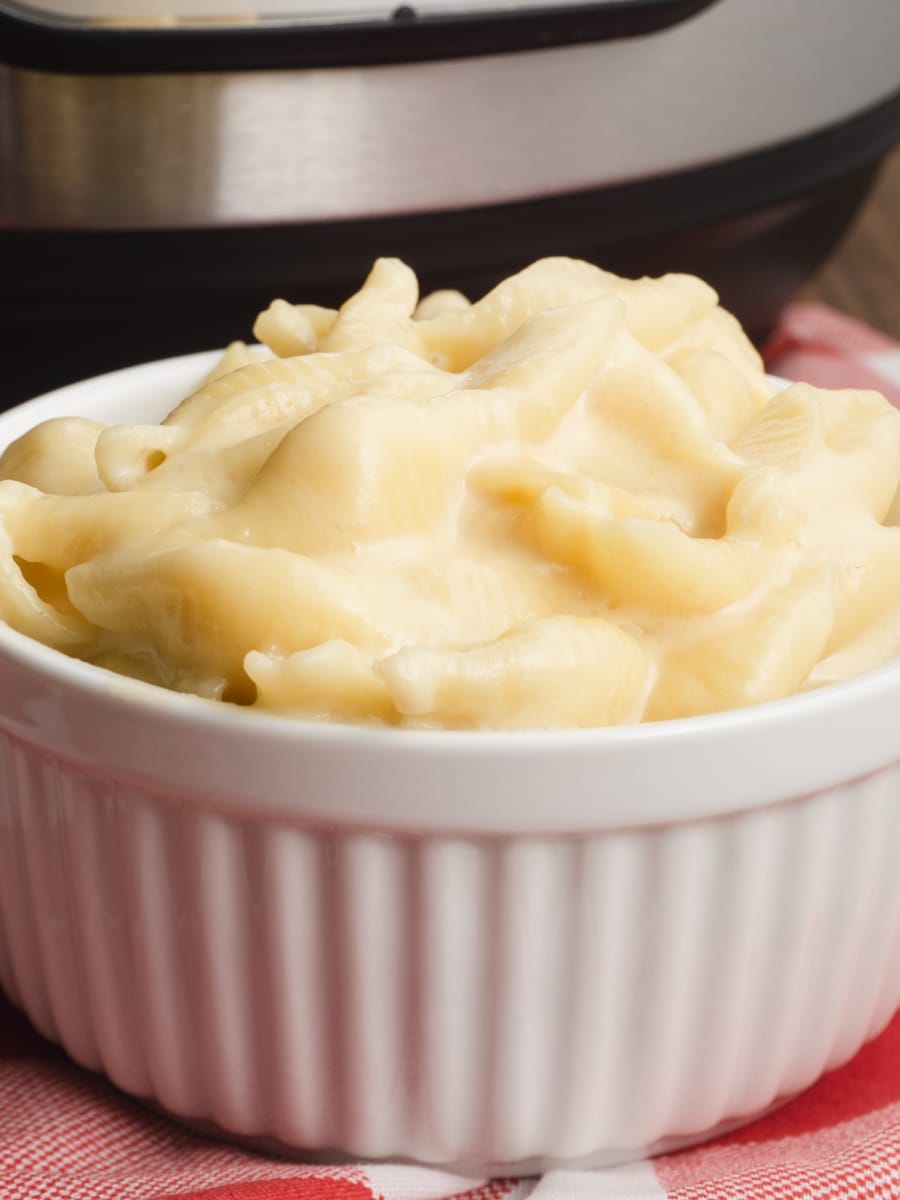 Lemon Butter Broccoli
My Instant Pot Lemon Butter Broccoli is a fresh and delicious way to serve broccoli. I just steam the broccoli in the pressure cooker and then toss it in a wonderful homemade lemon butter dressing. This one is super tasty and so quick and easy to make.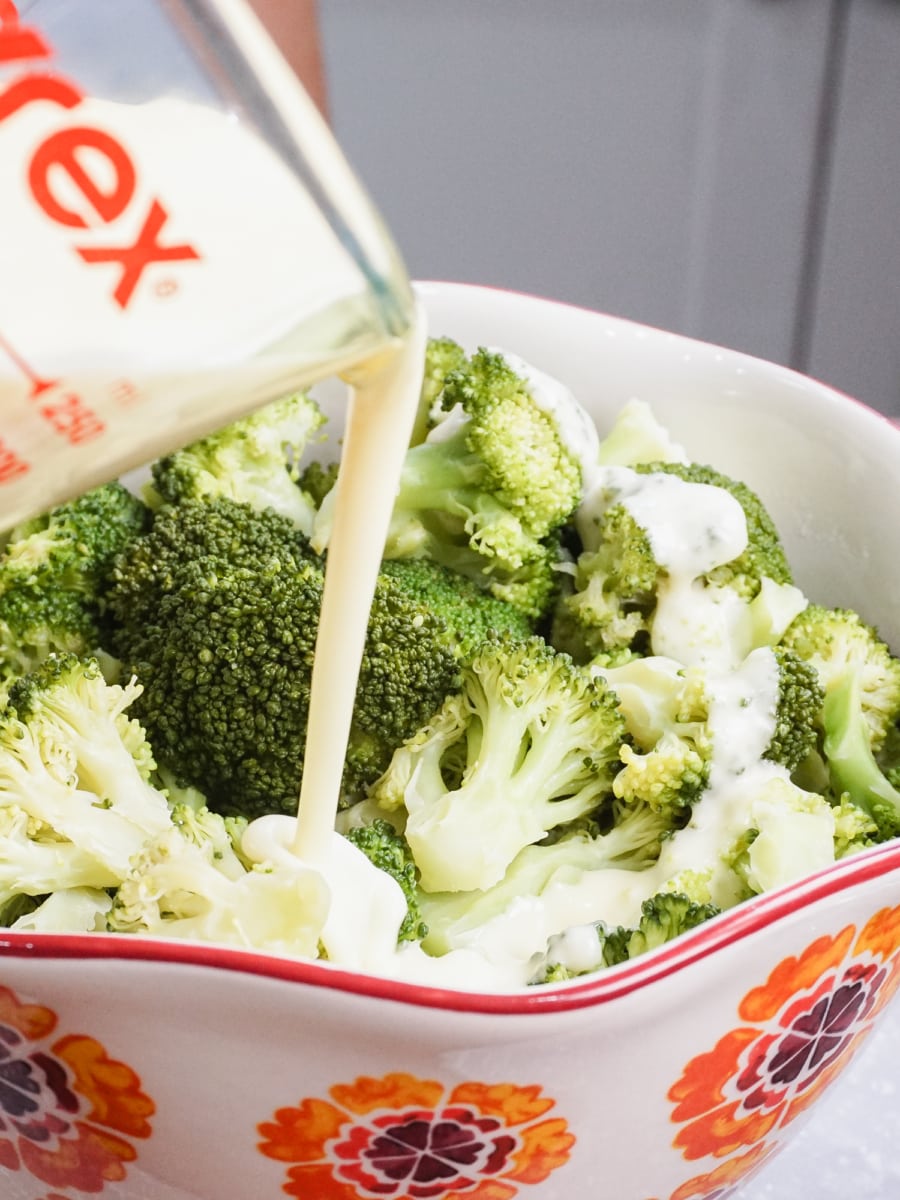 Instant Pot Desserts
You'll find some wonderful sweet treats in my February Instant Pot Meal Plan. All the Instant Pot Dessert Recipes in this month's meal plan are easy to make and fantastically delicious. You'll find recipes for Monkey Bread, Lemon Cake, Chocoflan, and Turtle Lava Cakes.
Cochoflan
Cochoflan, also known as Impossible Cake, is a wonderful Hispanic dessert that I grew up enjoying in Honduras that features a layer of chocolate cake topped with a layer of flan. My Instant Pot Chocoflan is made with the moistest chocolate cake layered with a smooth, creamy flan, and topped with a delicious caramel sauce.
Turtle Lava Cakes
I recommend my Instant Pot Turtle Lava Cakes for a special Valentine's Day dessert! These little cakes are so easy to make and so indulgent. The gooey molten chocolate center is absolutely heavenly. They'll be the perfect ending to your special meal!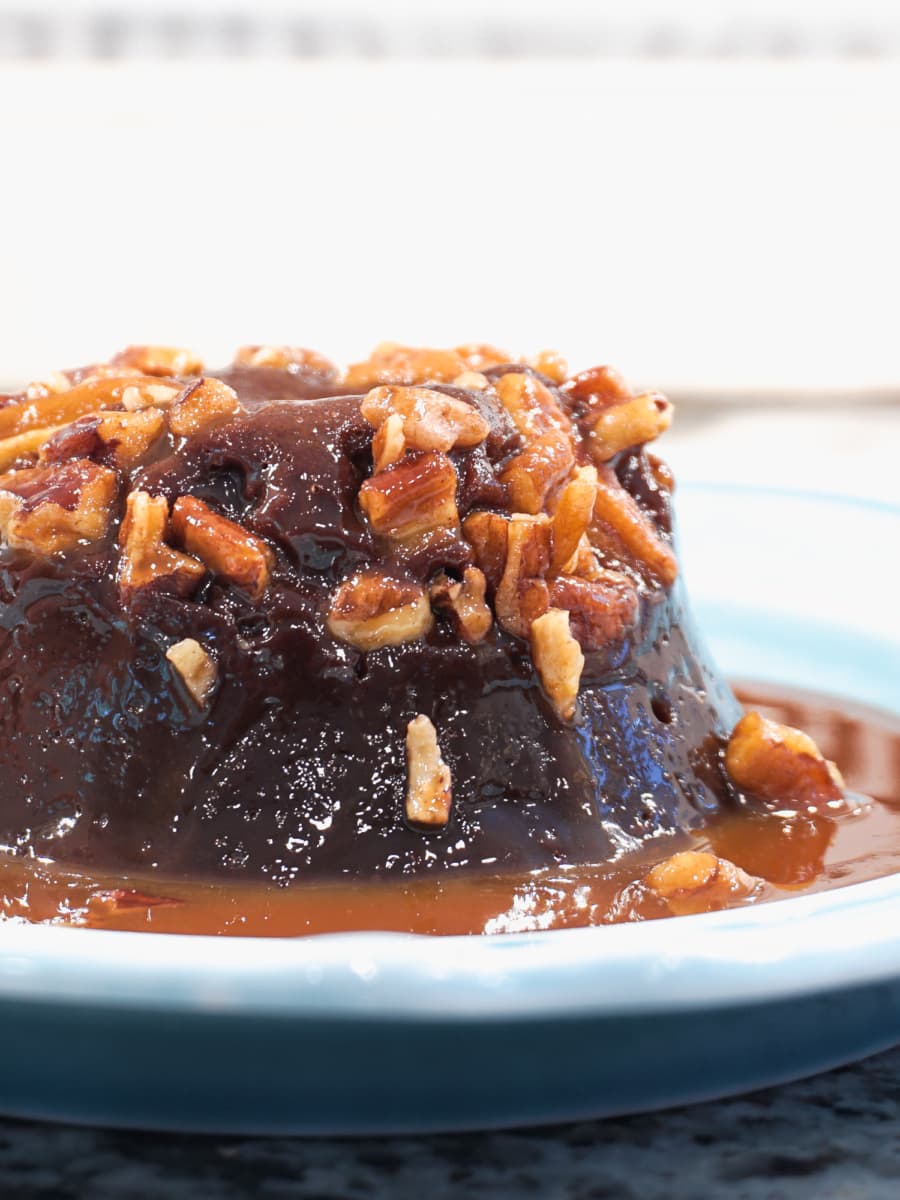 Enjoy my February 2020 Instant Pot Meal Plan and have a wonderful Valentine's Day!
Make sure you also check out my latest Instant Pot Meal Plan.
February 2020 Instant Pot Meal Plan
Below the list of recipes, you will find a link to the downloadable calendar and links to all my monthly Instant Pot meal plans.
Download the February 2020 Meal Plan Calendar.
For more Instant Pot Meal Plan ideas for the month of February, check out my archive of February Instant Pot Meal Plans.
Past Instant Pot Meal Plans
Each month I publish a new, updated Instant Pot Meal Plan. So don't miss out on seeing what wonderful dishes I've included in my latest one.
LOOKING FOR A PAST MEAL PLAN?
You can also access all of my previously published Instant Pot Meal Plans through the links below. I handpick the recipes that appear each month, so you will find that each month is unique with its own set of recipes geared specifically toward that month. Plus, on each meal plan page, you can download the printable calendar for that month.