Soon, it will be time to welcome Spring. I'm certainly ready for the weather to start warming up, for the trees to start bursting with green foliage, and for the flowers to start blooming. In the spirit of Spring, this March 2018 Instant Pot Meal Plan has lots of fresh new meals. I know you will love all of the recipes in this month's meal plan. Here's what you can expect: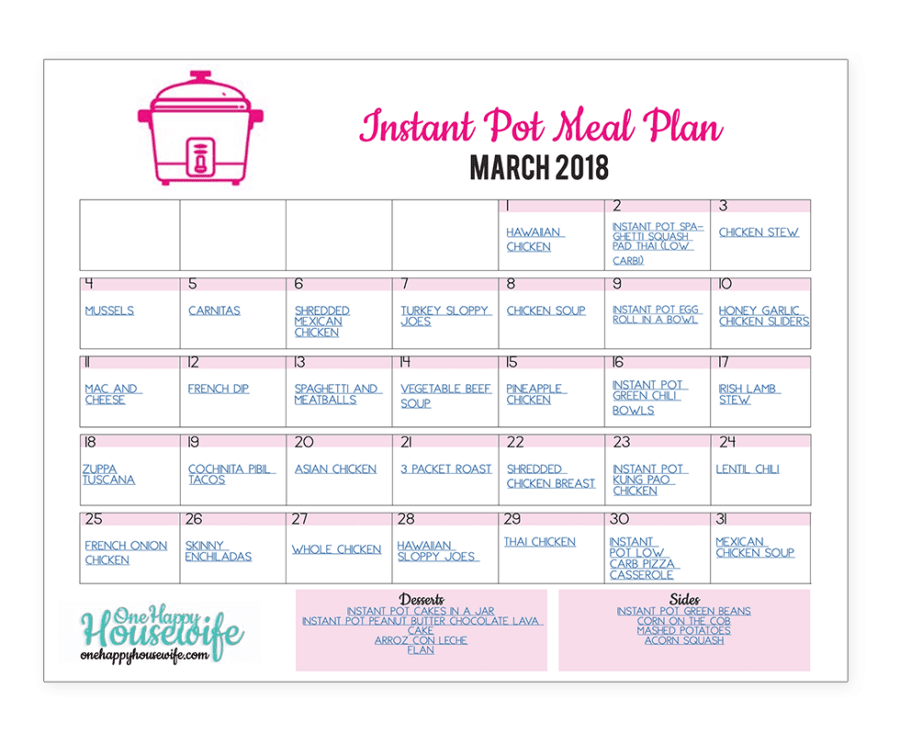 Instant Pot Recipes
I have so many wonderful Instant Pot Recipes in this March Meal Plan. You'll find that most are kid-friendly, and all are simple to make and super flavorful. I can't wait for you to try them all.
Hawaiian Chicken
For instance, this month you'll find my recipe for Instant Pot Hawaiian Chicken. The taste of this chicken is outstanding and while most of my recipes are super quick, this one is a bit more involved. But only a bit. And I promise the extra effort is worth it.
My mom would make a version of this recipe when I was a child and I have so many splendid memories tied to the flavors of this dish. So, I hope I can pass that on to you, and you will now make your own memories at the dinner table over a plate of this wonderful chicken.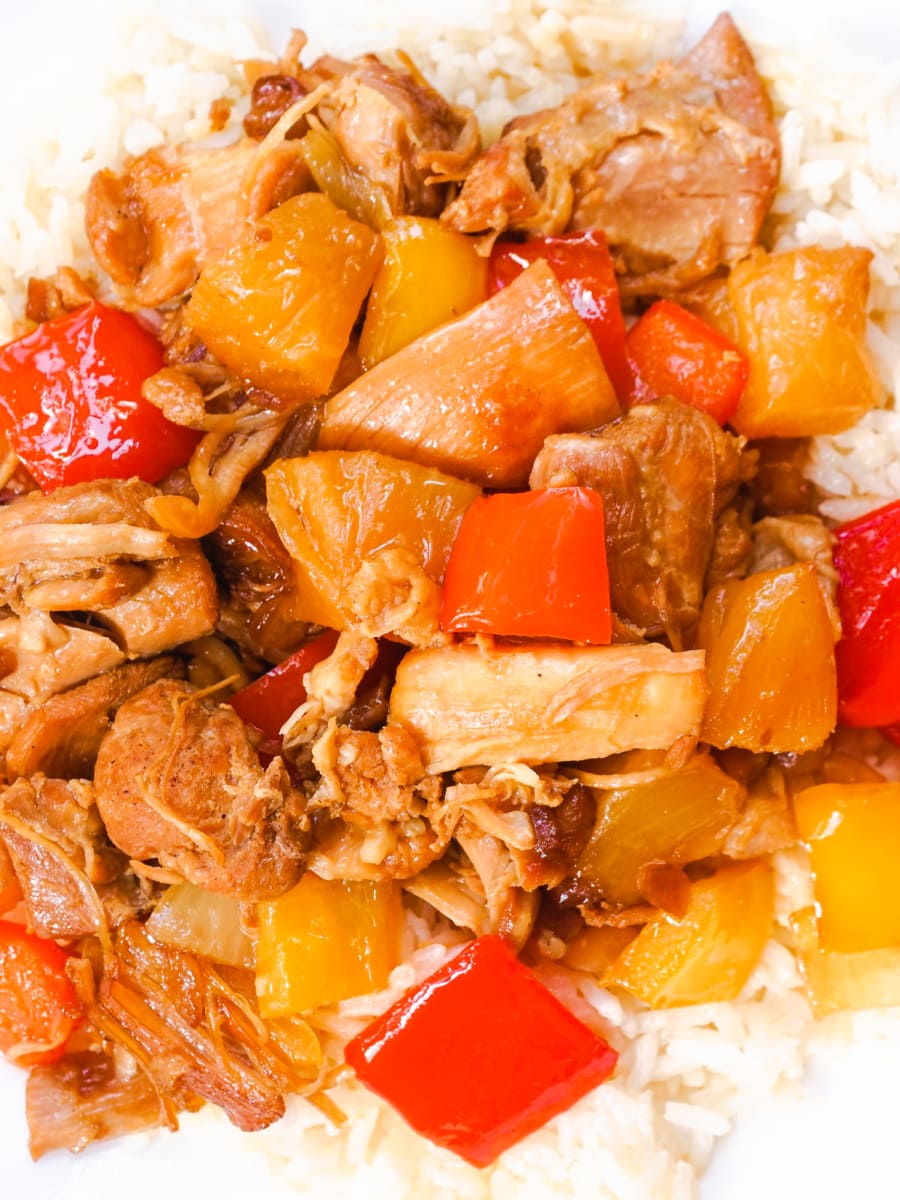 Carnitas
Another wonderful recipe in this month's meal plan is the Instant Pot Carnitas. This pork roast is cooked to perfection. Once it comes out of the pot, it just starts to fall apart. It's so tender that the shredding is simple work.
This pork is perfect on sandwiches, in tacos, on nachos, and more. For making pulled pork sandwiches, just mix the shredded pork with the desired amount of your favorite BBQ sauce. And for tacos, I like to crisp the shredded pork on a hot skillet on the stove for a few minutes. I love to make versatile recipes that can be used for several meals, and these Carnitas are perfect for that.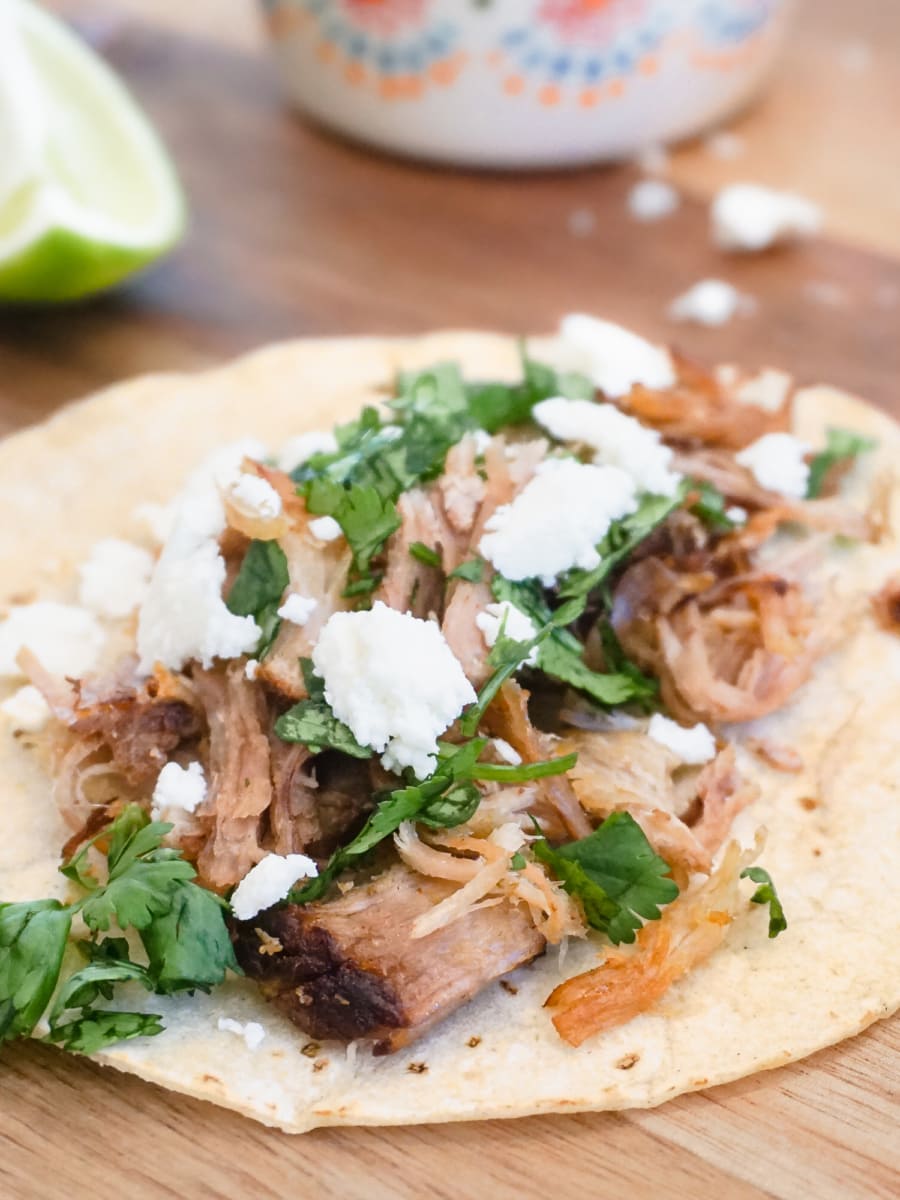 French Dip
Finally, the Instant Pot French Dip is a showstopper. Every time that I put the chuck roast in the pot and start cooking this recipe, the house fills with an amazing beefy aroma and the entire family gets excited. They know that when that mouthwatering smell permeates through the house, they'll soon be enjoying some of the most extraordinary sandwiches. The shredded beef that this recipe makes is so amazingly tender and juicy.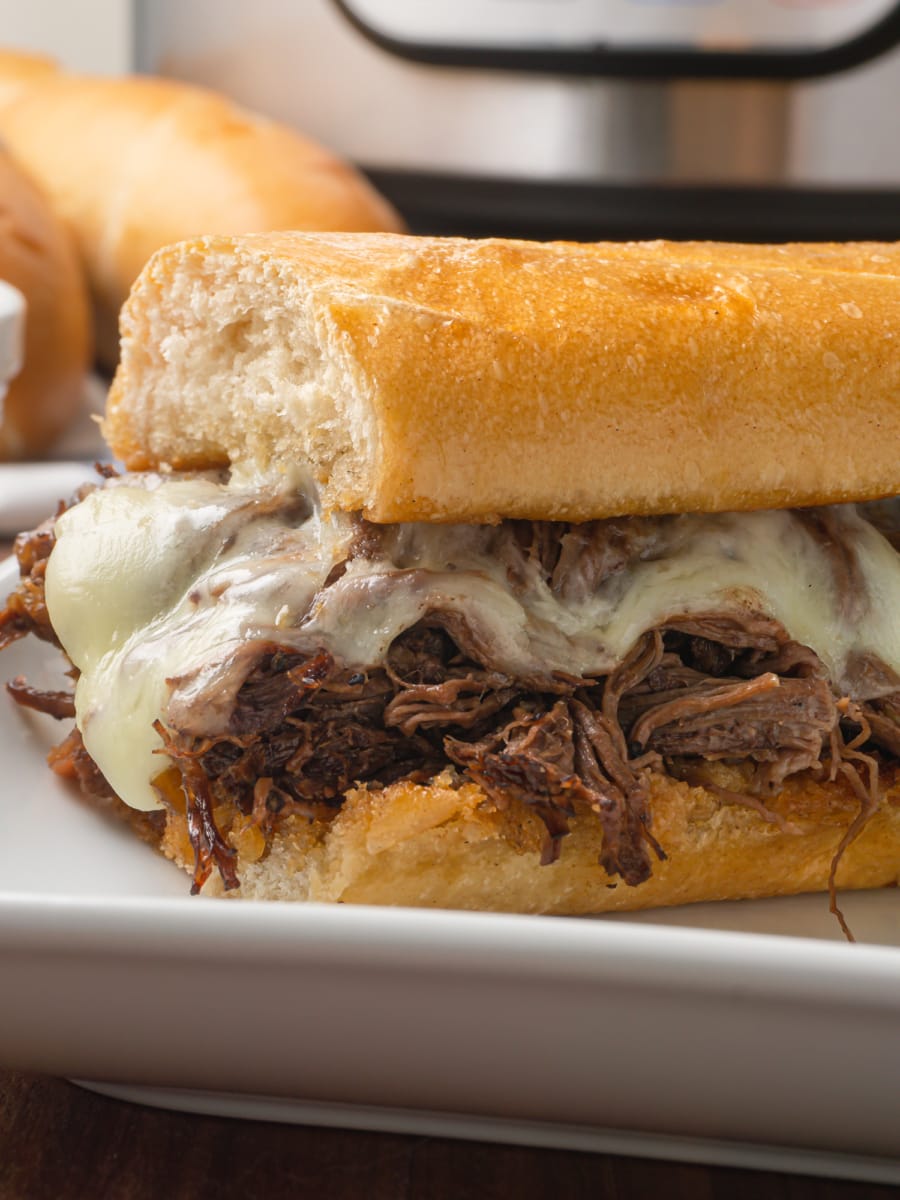 Instant Pot Side Dishes
A great side dish can take a good meal to great. To accompany the many wonderful main dishes in this March meal plan, I've added a handful of Instant Pot Side Dishes that you're sure to enjoy. All of these side dishes are quick and simple to make. Plus, they're super tasty!
Green Beans
For instance, the Instant Pot Green Beans are so fast, easy, delicious, and nutritious. They're the perfect side dish for those busy weeknights. Just throw them in the pot, add some butter, garlic, broth, salt, and pepper, then cook. You'll have delicious green beans in minutes.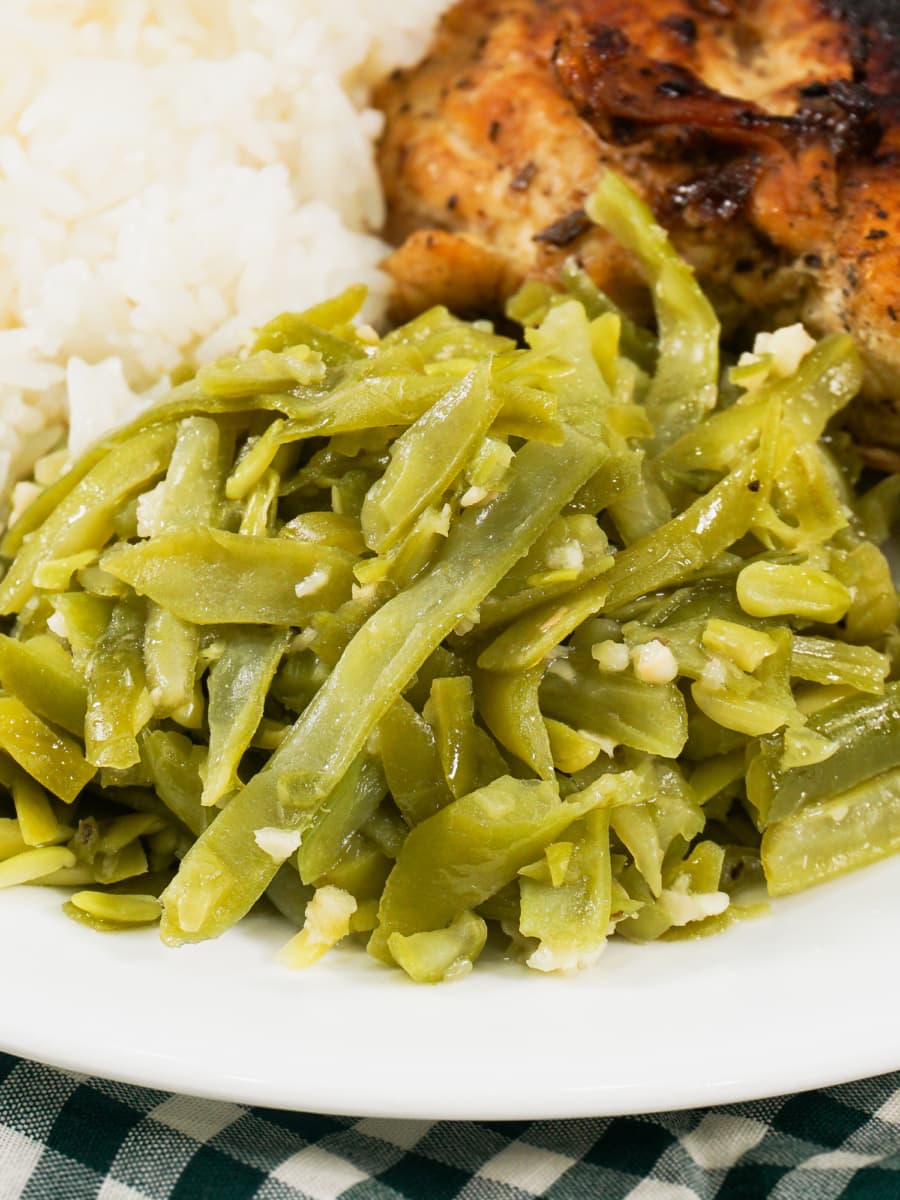 There are plenty of other quick and delicious side dish recipes for the Instant Pot in this meal plan, so check them out.
Instant Pot Desserts
Looking for a spectacular dessert to follow dinner? Well, my Arroz con Leche and Flan are to die for. You definitely do not want to pass up the chance to make these two wonderful Instant Pot Desserts. There is a reason that they are two of the most popular recipes on the blog.
Flan
My Instant Pot Flan recipe is rich, creamy, and topped with a wonderful caramel sauce. I grew up enjoying this dessert in Honduras. It's very thick, with a consistency that's closer to cheesecake than a traditional Mexican flan. And, let me tell you, it's amazing! It's the perfect dessert to follow up any delicious meal.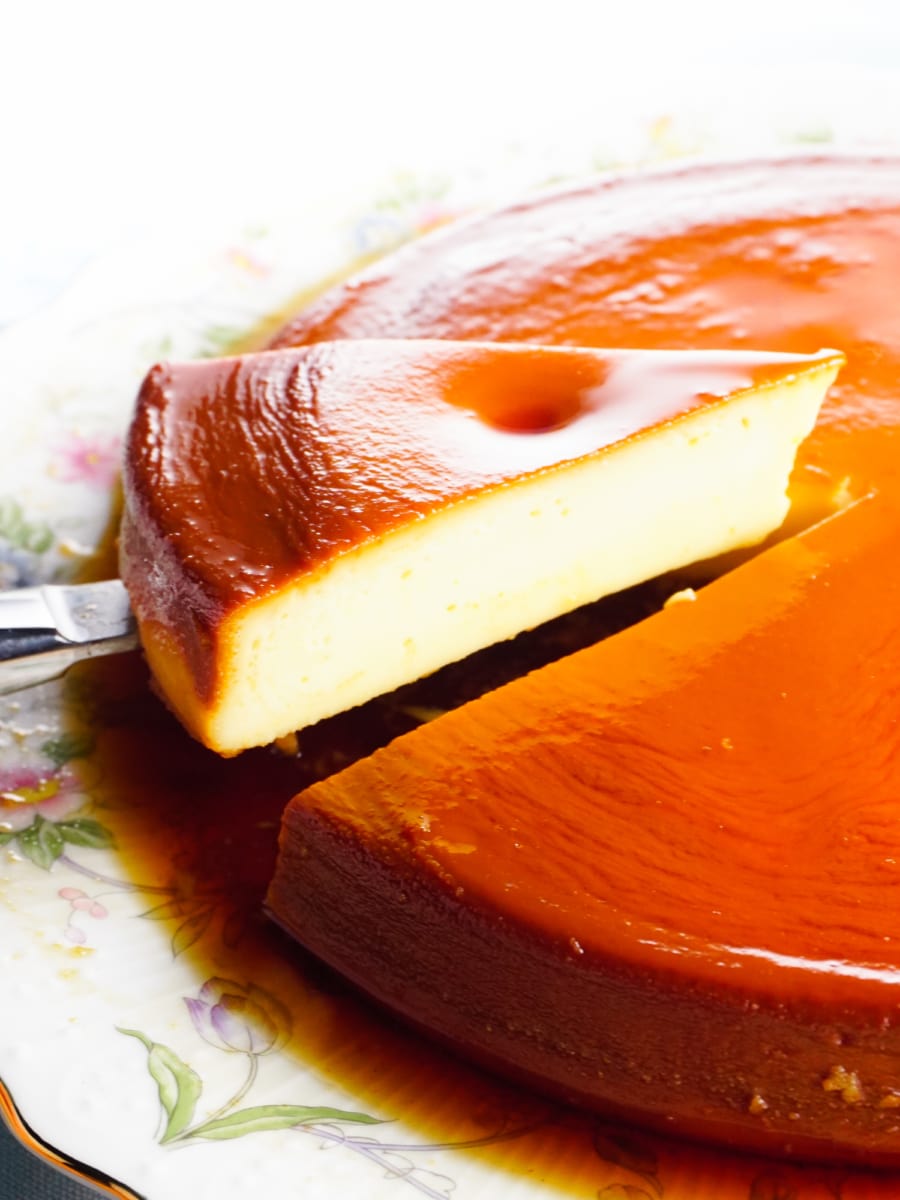 Arroz con Leche
The Instant Pot Arroz con Leche is a super comforting dessert. It is the Hispanic version of rice pudding. While usually served cold, we love to eat it warm. It's just so much better that way. Try it, you'll be thanking me afterward.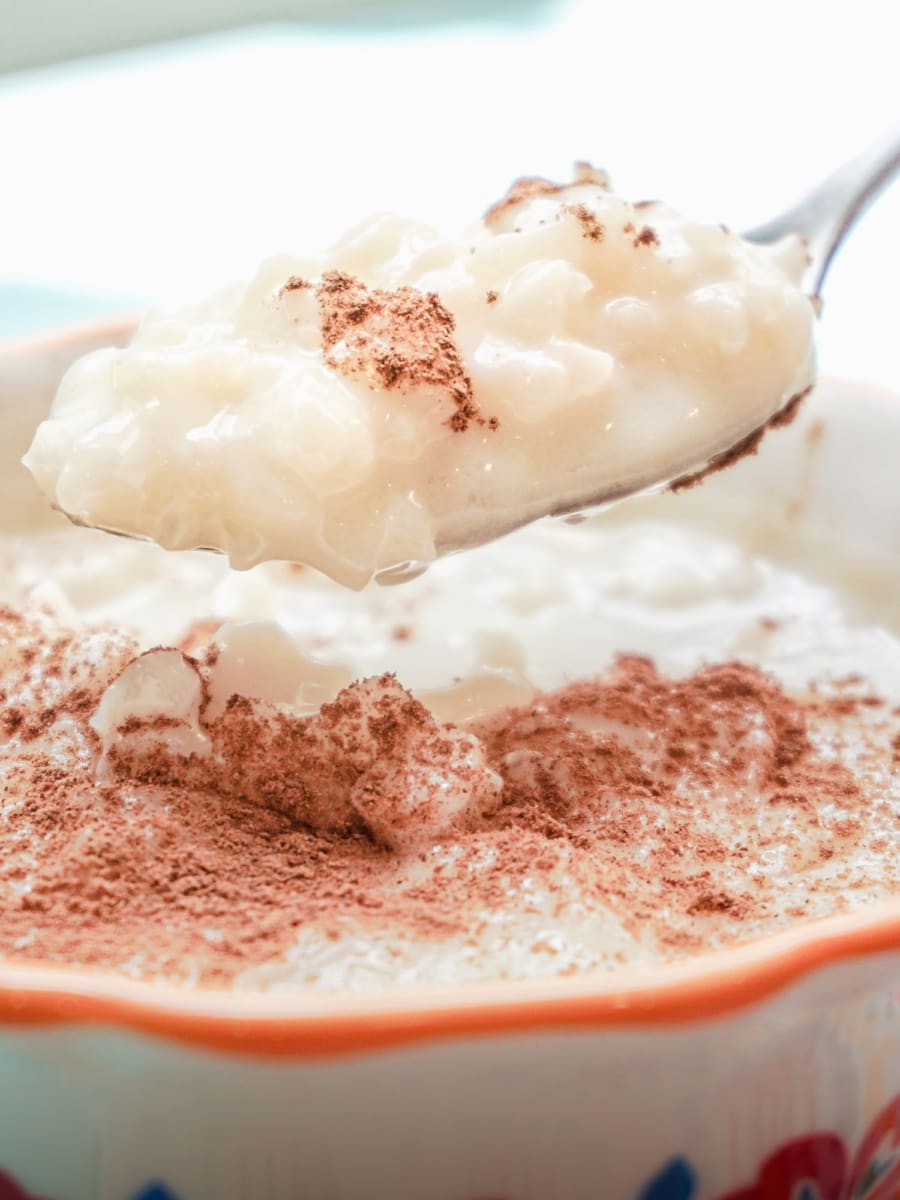 Don't miss all the other great desserts in this month's meal plan. The Cakes in a Jar and the Peanut Butter Lava Cakes are incredible! They are all sure to satisfy your sweet tooth.
Here's to cooking delicious meals and having a great month ahead!
Make sure you also check out my latest Instant Pot Meal Plan.
March 2018 Instant Pot Meal Plan
Below the list of recipes, you will find a link to the downloadable calendar and links to all my monthly Instant Pot meal plans.
Download the March 2018 Meal Plan Calendar.
For more Instant Pot Meal Plan ideas for the month of March, check out my archive of March Instant Pot Meal Plans.
Past Instant Pot Meal Plans
Each month I publish a new, updated Instant Pot Meal Plan. So don't miss out on seeing what wonderful dishes I've included in my latest one.
LOOKING FOR A PAST MEAL PLAN?
You can also access all of my previously published Instant Pot Meal Plans through the links below. I handpick the recipes that appear each month, so you will find that each month is unique with its own set of recipes geared specifically toward that month. Plus, on each meal plan page, you can download the printable calendar for that month.