It's March, and that means that Spring is just around the corner. But, unfortunately, we still have some days of chilly weather ahead of us. It's usually a very busy month with Spring Break and Easter sometimes falling within March. We also have St. Patrick's Day to celebrate, and we're also in the season of Lent. With all that in mind, I've created my March Instant Pot Meal Plans.
You'll still find plenty of warm and comforting meals to help you get through what's left of the cold weather. You'll also find meatless meals on Fridays. There are special recipes for St. Patrick's Day, and, if Easter falls in March, you can expect to find some great recipes to help you celebrate that day as well. Here's what you can expect: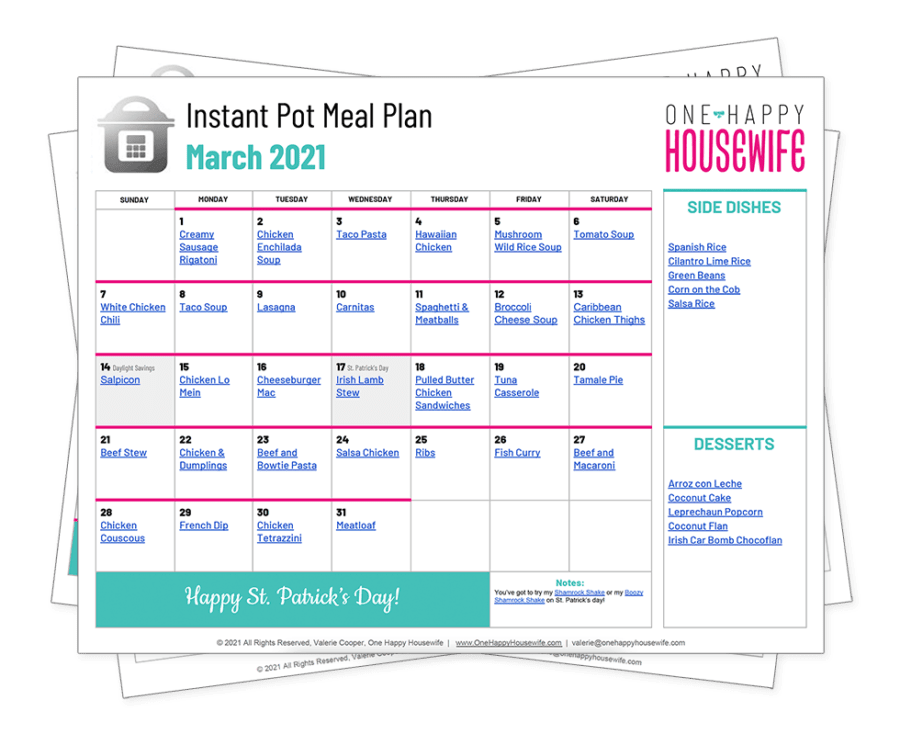 Easy Instant Pot Recipes
I love quick and easy! So, as always, you'll find plenty of quick and simple Instant Pot recipes in my meal plans. And my March Meal Plans don't disappoint when it comes to delivering quick, easy, and delicious meals. Some of my favorite easy recipes are the Beef and Bowtie Pasta, and the Beef and Macaroni Casserole.
Beef and Bowtie Pasta
The Instant Pot Beef and Bowtie Pasta is one of my family's favorite pasta dishes. It's also one of my favorites to make because it is so quick and simple. The kids always devour this pasta dish and immediately ask for another serving. Beef and Bowtie Pasta is made using flavorfully seasoned ground beef and Farfalle pasta covered in a creamy red sauce. The taste is fantastic!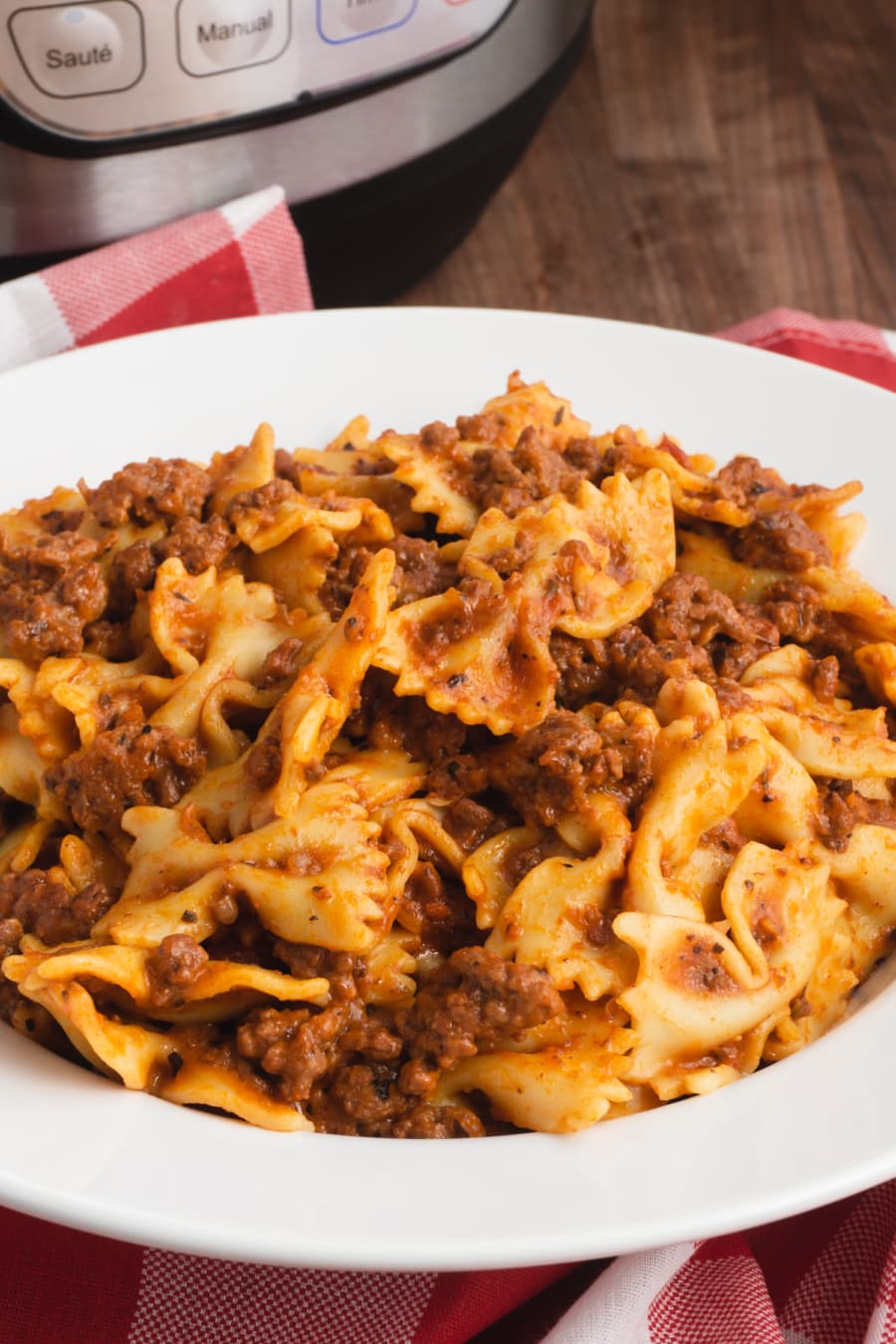 Beef and Macaroni Casserole
My Instant Pot Beef and Macaroni Casserole is another super easy pasta dish that I love making and my family loves eating. This casserole is a recipe that I've been making for many, many years and I converted to the Instant Pot. This dish is so hearty, creamy, and comforting. Beef and Macaroni Casserole is a perfect meal for any busy day when the weather is still chilly because it's so fast to make and it is so enjoyably comforting to eat.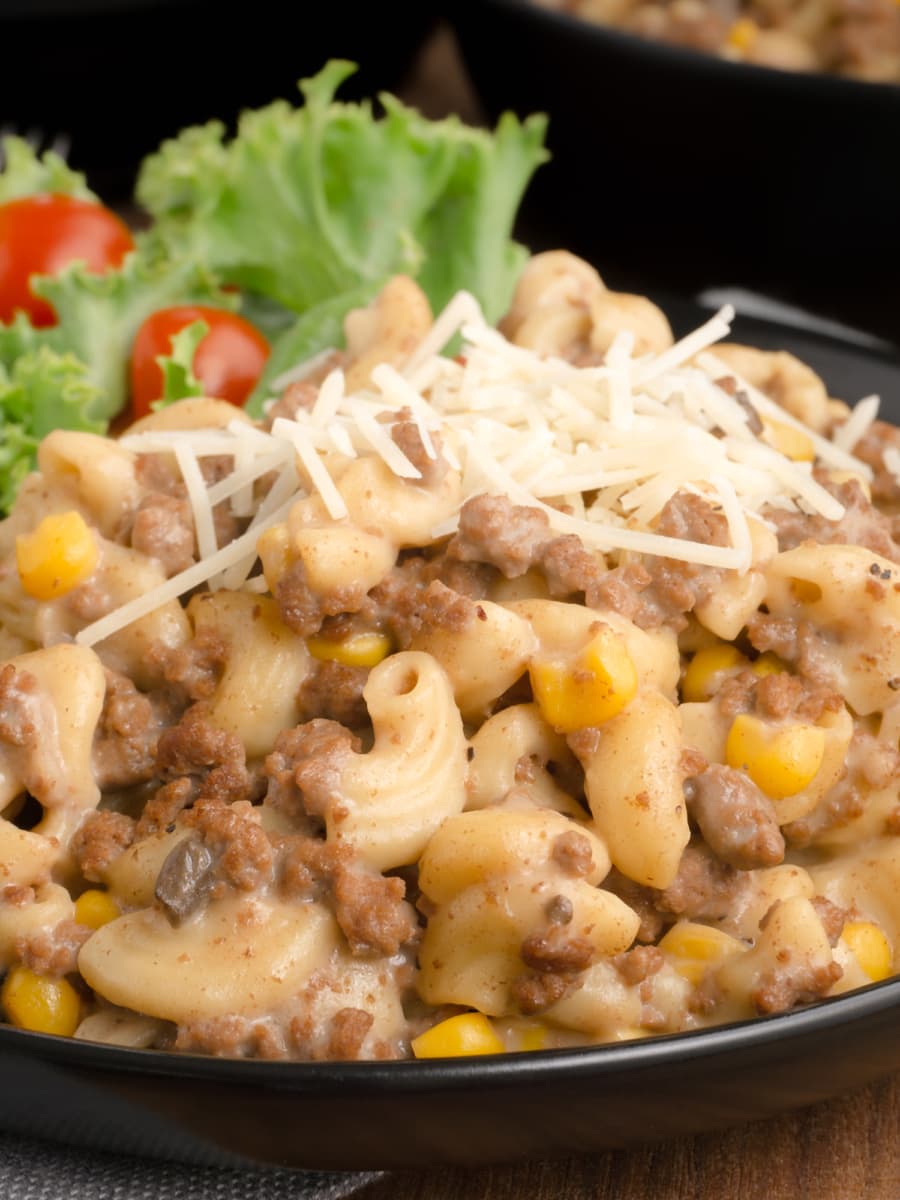 Instant Pot Soup Recipes
With a few weeks of chilly weather still ahead of us, I've made sure to include some warm and delicious Instant Pot Soup Recipes in my March Meal Plans. All of the soups in these meal plans are simple to make and are sure to warm up those chilly bones. Some of my favorites are my Tomato Soup, Chicken Soup, and Chicken Enchilada Soup.
Tomato Soup
The recipe for Instant Pot Tomato Soup in these meal plans is just fabulous. I used to run to Panera every time I got the craving for a warm bowl of Tomato Soup, but no longer. This recipe blows the Panera recipe out of the water. I have to admit that this Tomato Soup is just perfect. It has a touch of basil and honey that pushes the flavor over the top. If you're in the mood for the most comforting soup possible, then I recommend making this soup.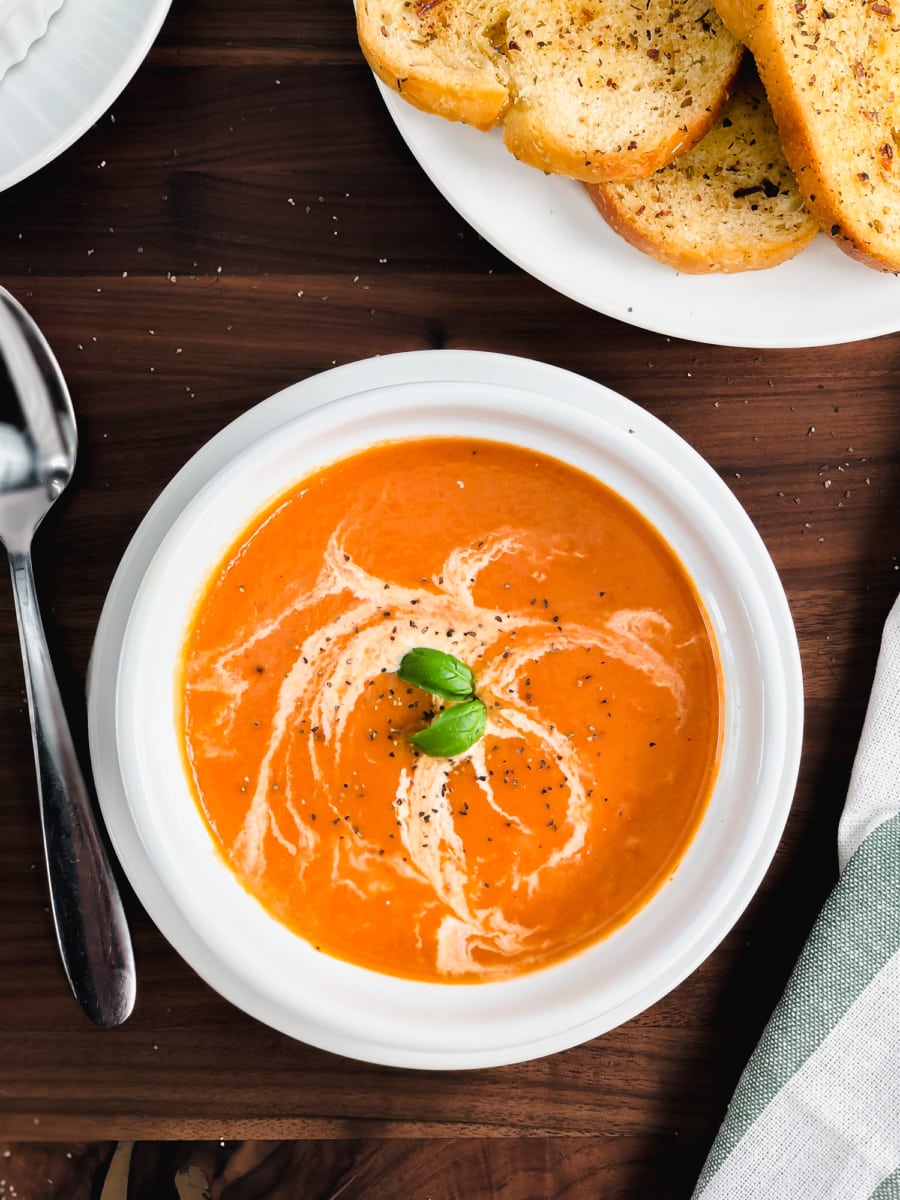 Chicken Soup
If you happen to be struggling with a cold or flu and need a nutritious soup that will knock that bug out, then try my Instant Pot Chicken Soup. Once you smell the aromas emanating from the Instant Pot, your excitement for enjoying a bowl of this comforting soup will be hard to contain. I packed this Chicken Soup with wholesome, hearty, and flavorful vegetables, herbs, and spices. It's the perfect way to lift your spirits when a cold or flu has got you down.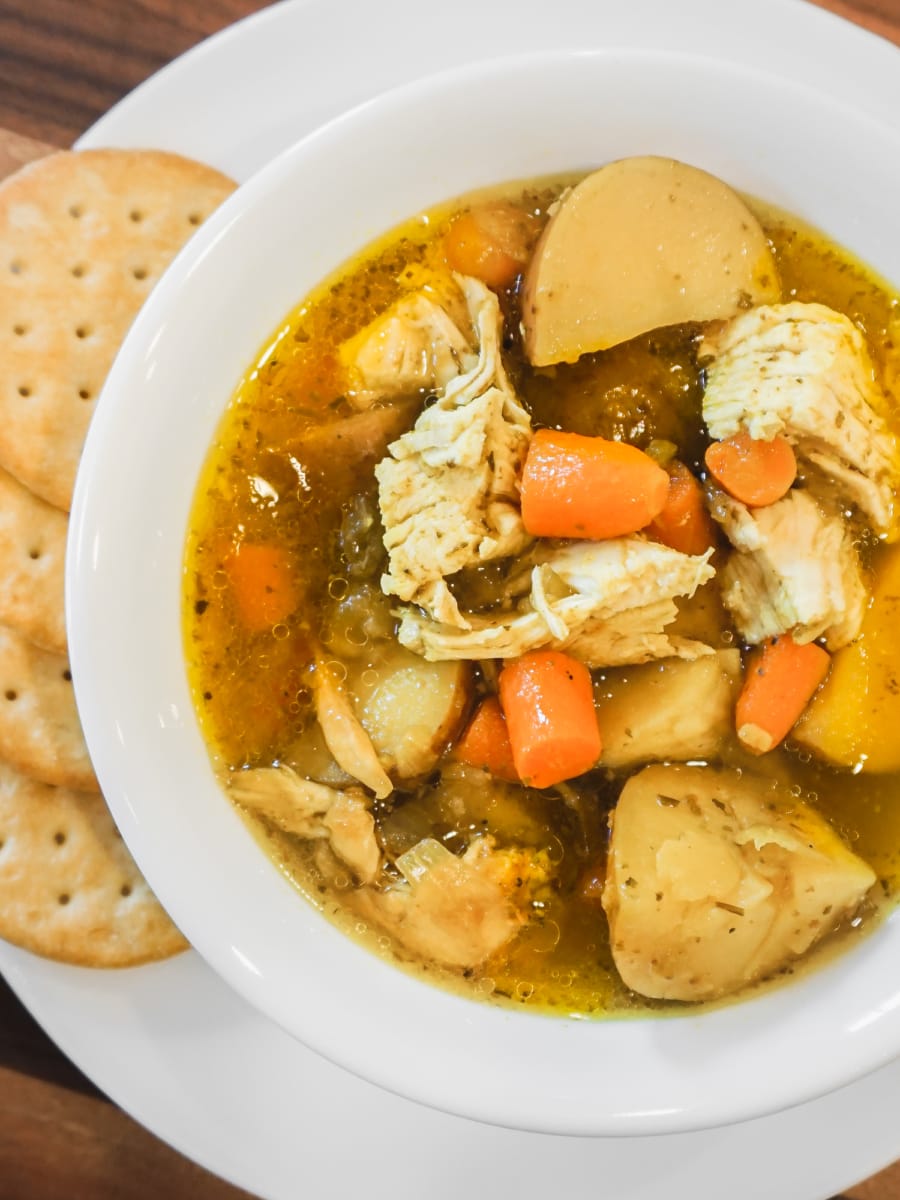 Chicken Enchilada Soup
Finally, my Instant Pot Chicken Enchilada Soup delivers lots of Tex-Mex flavor in a deliciously creamy soup. If you love chicken enchiladas – who doesn't – then you'll love this soup too. This simple soup has all the flavor of chicken enchiladas and puts it in a comforting bowl of soup. Also, I recommend adding crispy tortilla strips and your favorite enchilada toppings for unbeatable flavor.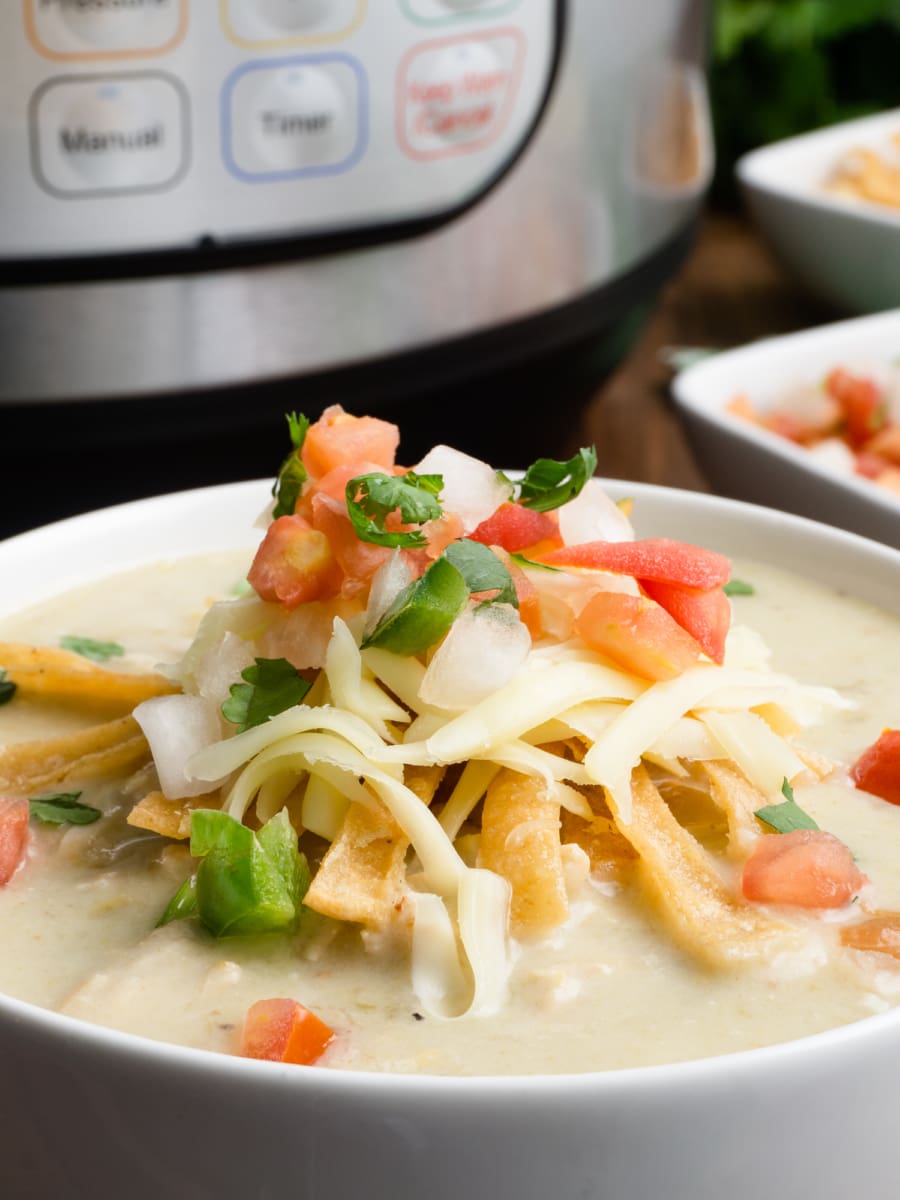 Instant Pot Pasta Recipes
My Instant Pot Pasta Recipes are some of the easiest, most delicious dishes on this blog. You'll find a good number of quick and simple pasta dishes in my March Meal Plans. Plus, as you'd expect, most of them are super kid-friendly. Additionally, I have a few extra-special pasta recipes for those date nights.
Spaghetti & Meatballs
If you're having a super busy day and need a big, filling meal that can be ready in minutes, then my Instant Pot Spaghetti and Meatballs recipe is a winner. There is absolutely no prep for this recipe, it is a true dump and start meal and that means you'll get it started quickly and have it served within minutes. Plus, this traditional pasta dish uses simple ingredients that you'll likely have on hand. And, what's even better, this pasta dish has a homemade taste that'll make your family think you've been cooking all day.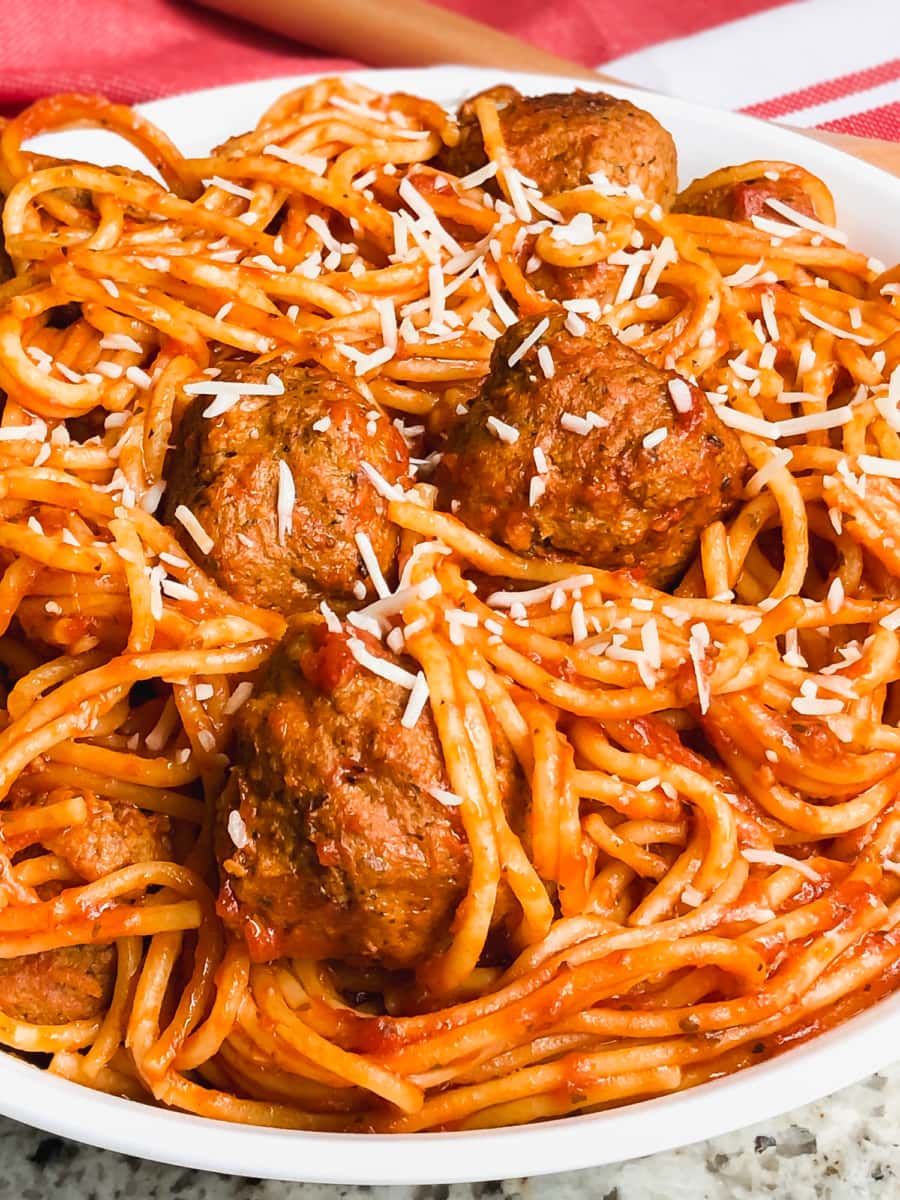 Taco Pasta
Another super quick pasta dish that you'll find in my March Meal Plans is my Instant Pot Taco Pasta. This is one of my favorite pasta dishes because it's fast and so flavorful. The bold Tex-Mex flavor of this pasta dish is out-of-this-world delicious. We always top this pasta with our favorite taco toppings like sour cream, shredded cheese, diced avocado, cilantro, and hot sauce.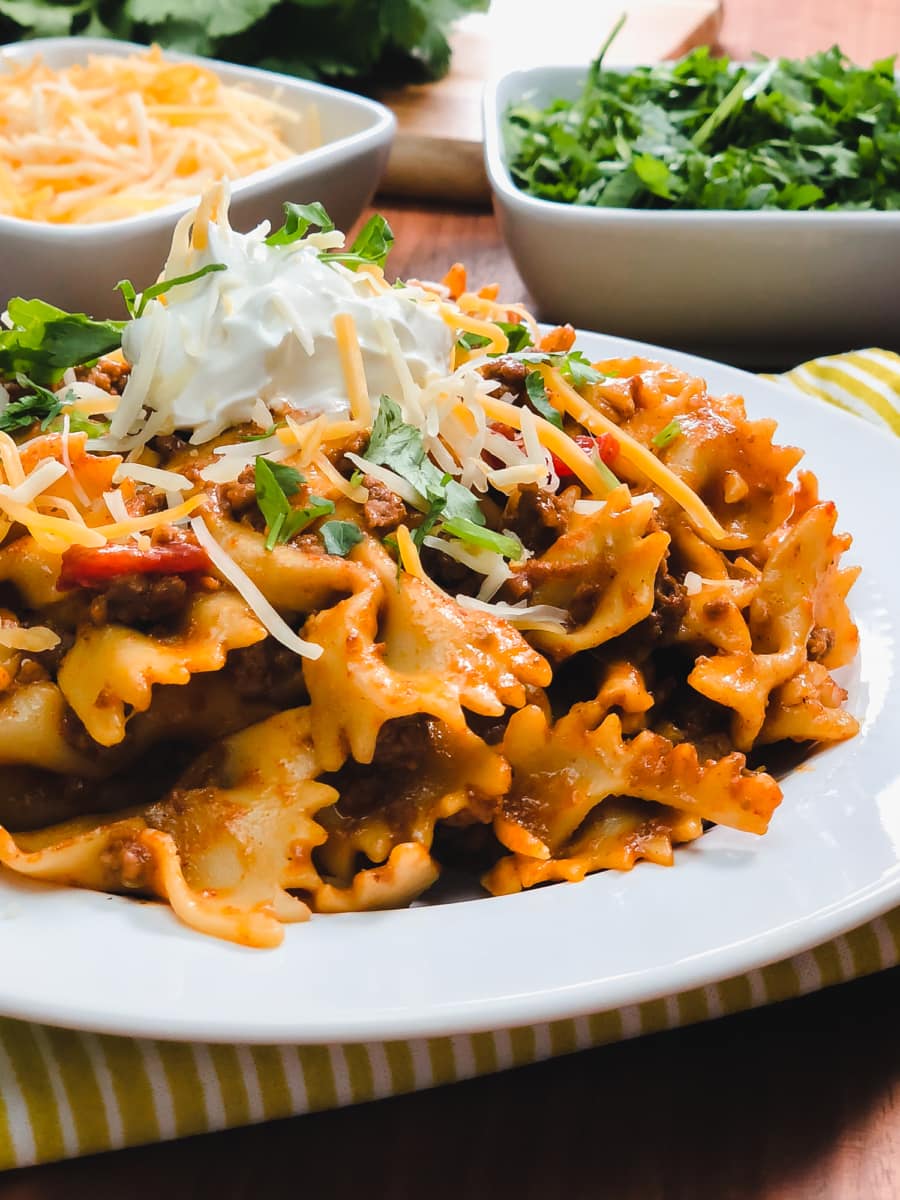 Chicken Tetrazzini
Looking for a pasta recipe that's date night approved? Then you must try my Instant Pot Chicken Tetrazzini. Loaded with tender bite-sized pieces of chicken and plump spaghetti pasta covered in a creamy white sauce, this pasta dish is spectacular. But you don't have to only reserve it for date night, the entire family will love this pasta dish.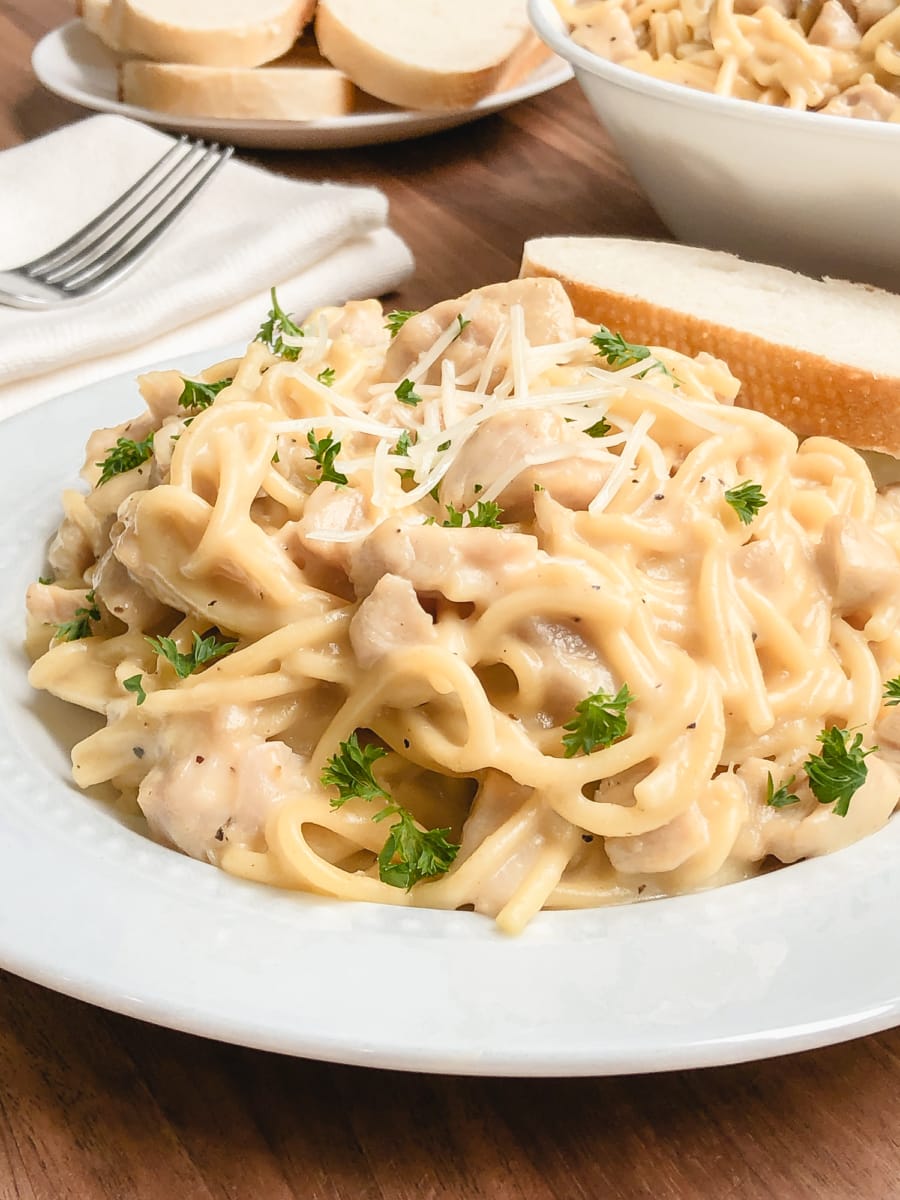 Instant Pot Comfort Food
The weather is still chilly, so I added some warm and comforting meals to the first couple of weeks of March. Hopefully, the temperatures will warm soon but, in the meantime, there are plenty of Instant Pot comfort food recipes on my March Instant Pot Meal Plans for you to enjoy. And you know that these recipes are going to be quick, easy, and delicious.
Chicken Couscous
For something different, I'm including a comforting dish that I grew up enjoying as a child in Honduras. My Instant Pot Chicken Couscous is a warm and comforting dish of Arab origin. It's popular in Honduras because there is a very large Arab population there.
I created this comforting dish with pearl couscous, shredded chicken, peas, and carrots and then seasoned everything to perfection. Not only is it loaded with wholesome ingredients, but this recipe is a dump and start meal full of flavor and hearty comfort. This is a must-try recipe if you've never made it.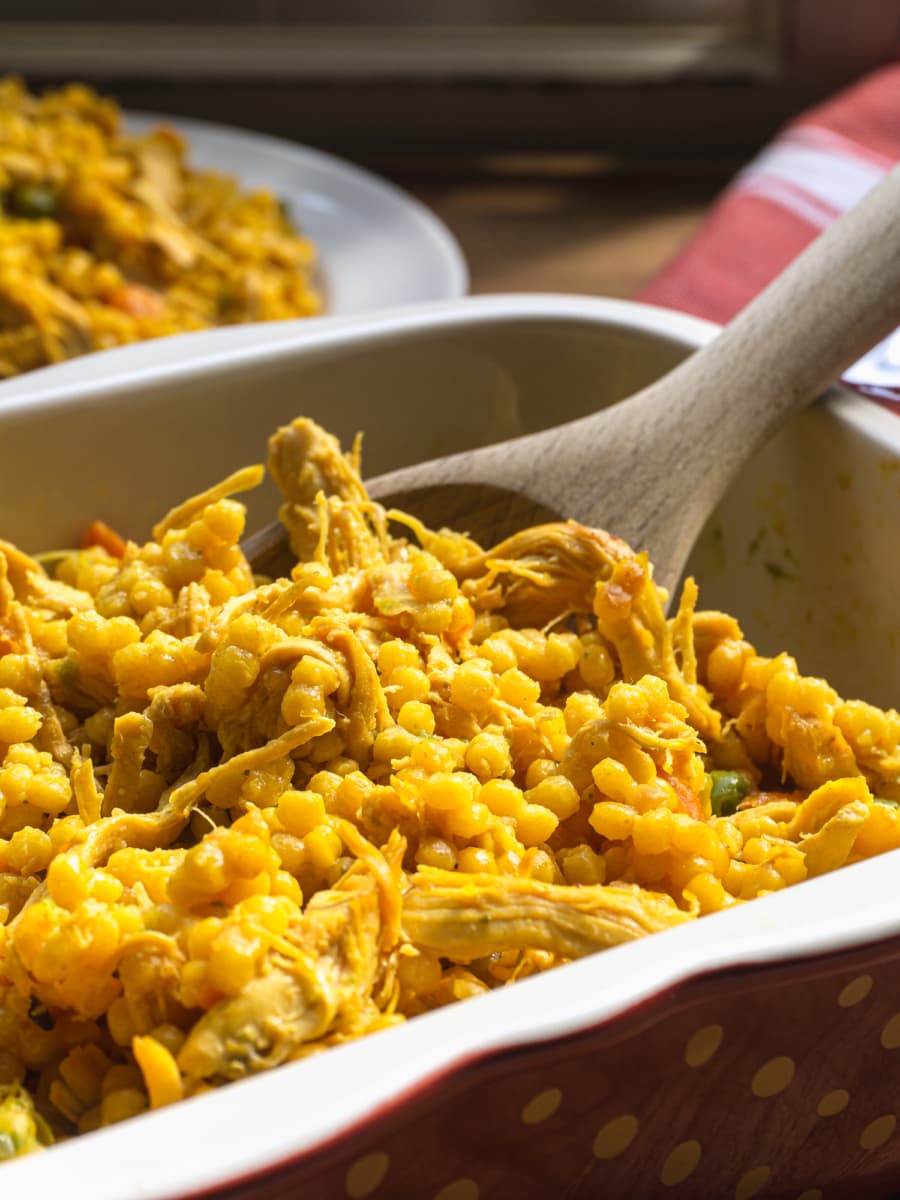 Tuna Casserole
I've also included a classic comfort dish that you're likely familiar with. My Instant Pot Tuna Casserole is the epitome of comfort food. This wonderful pasta dish is made with egg noodles, tuna, and peas covered in a creamy homemade sauce.
To make this dish even more special, sprinkle some crunchy potato chips and cheddar cheese over the top after it has finished cooking and then crisp it with a CrispLid. If you don't have a CrispLid, then you could transfer the casserole to a baking dish, top it with the potato chips and cheese, and then crisp it in the oven.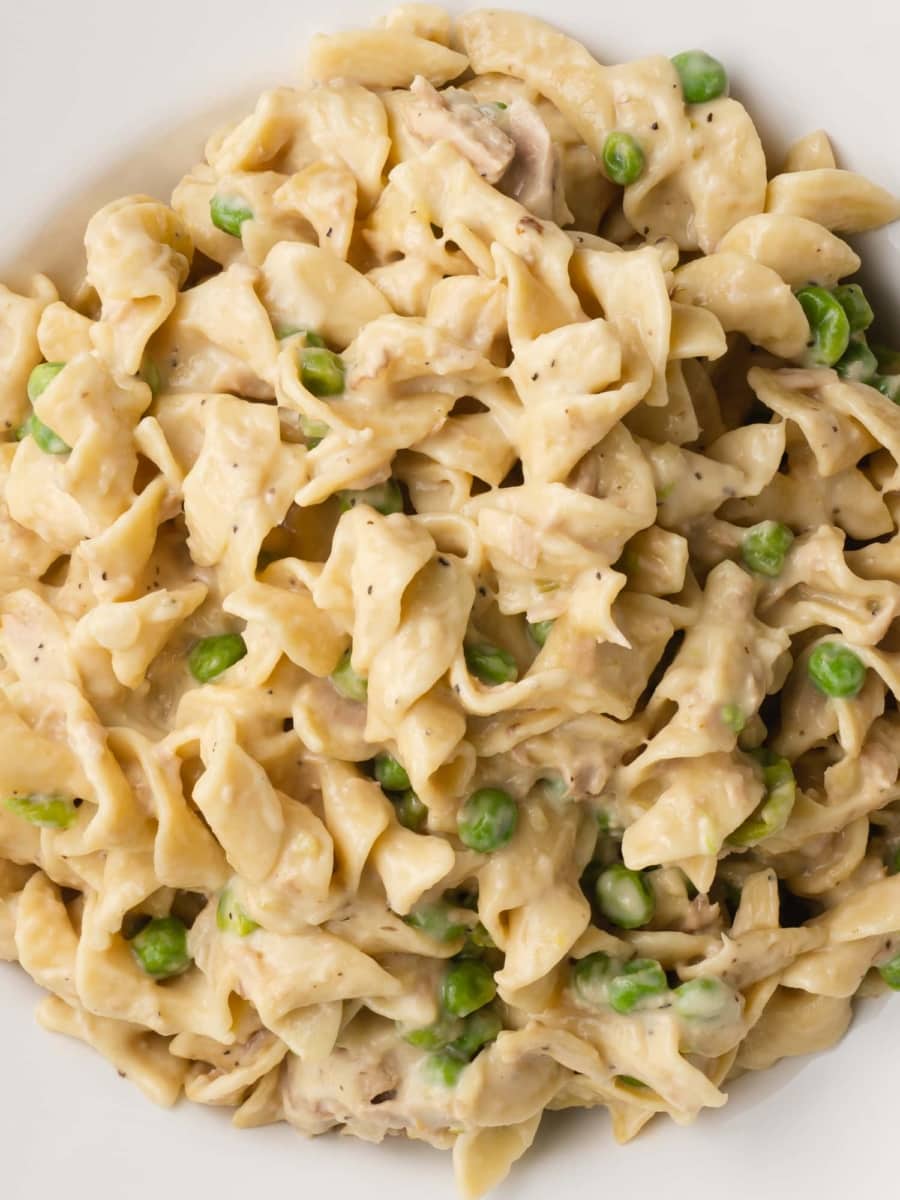 Instant Pot Side Dishes
My March Meal Plans will provide you with plenty of options for Instant Pot Side Dishes. So, no matter what you're serving as a main dish, you're sure to find the perfect side dish to accompany it in these meal plans. All of these side dish recipes are delicious and simple to make.
Salsa Rice
For instance, my Instant Pot Salsa Rice is a dump and start side dish that is great to have with lots of different Mexican-inspired meals. All you need for this simple dish is some rice, chicken stock, a jar of salsa, and a bit of salt. That's it!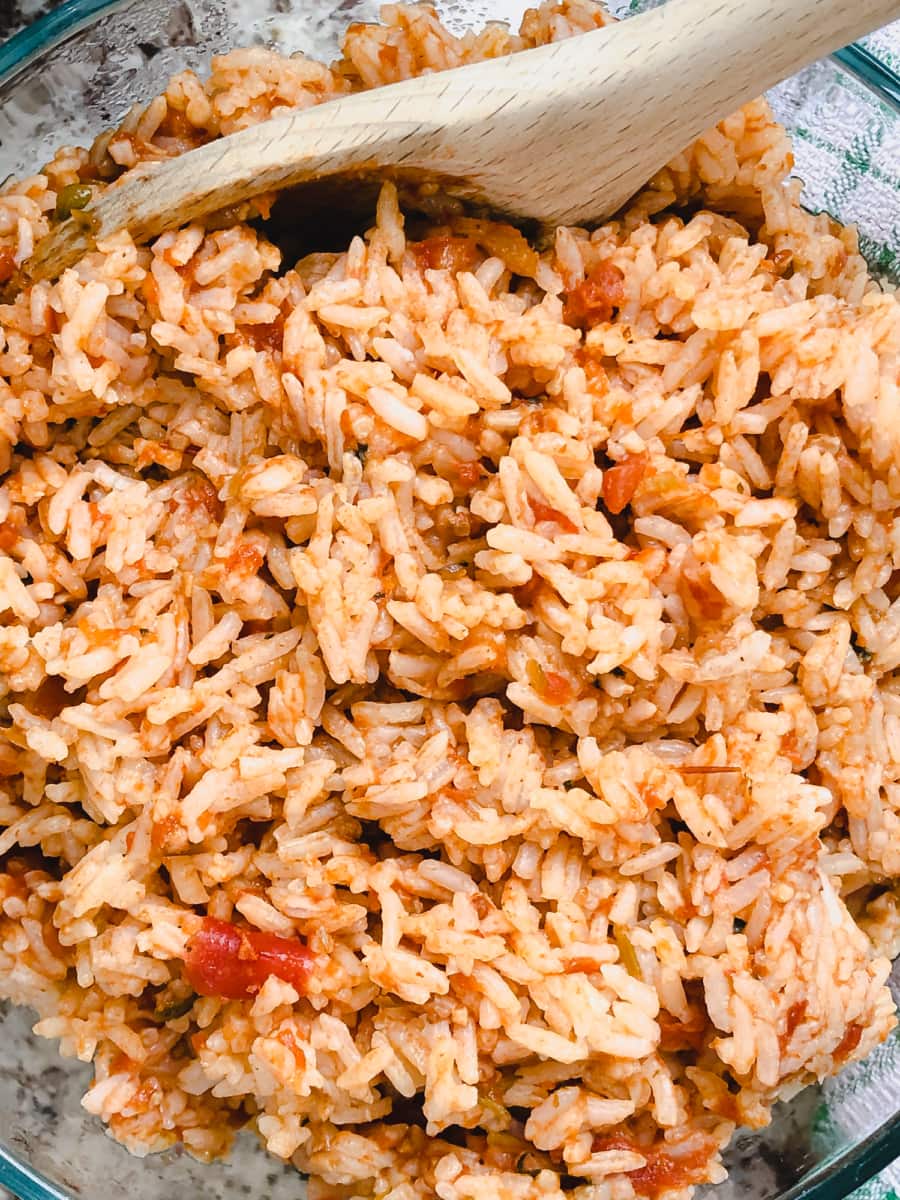 Instant Pot Desserts
Since we're in March, you can expect my Meal Plans to have some great desserts. You're sure to find some of my most popular desserts including my Turtle Lava Cakes, my Flan recipe, and the Arroz con Leche. But, you'll also find a very special dessert on my March Meal Plans.
Irish Chocoflan
With St. Patrick's Day around the corner, I have an amazing dessert with a lot of Irish spirit. To help you celebrate this special holiday, you will find my Instant Pot Irish Chocoflan. It's a rich chocolate Guinness cake that's topped with a creamy smooth Bailey's infused flan and drenched in a Jameson Whiskey salted caramel. This dessert is unreal!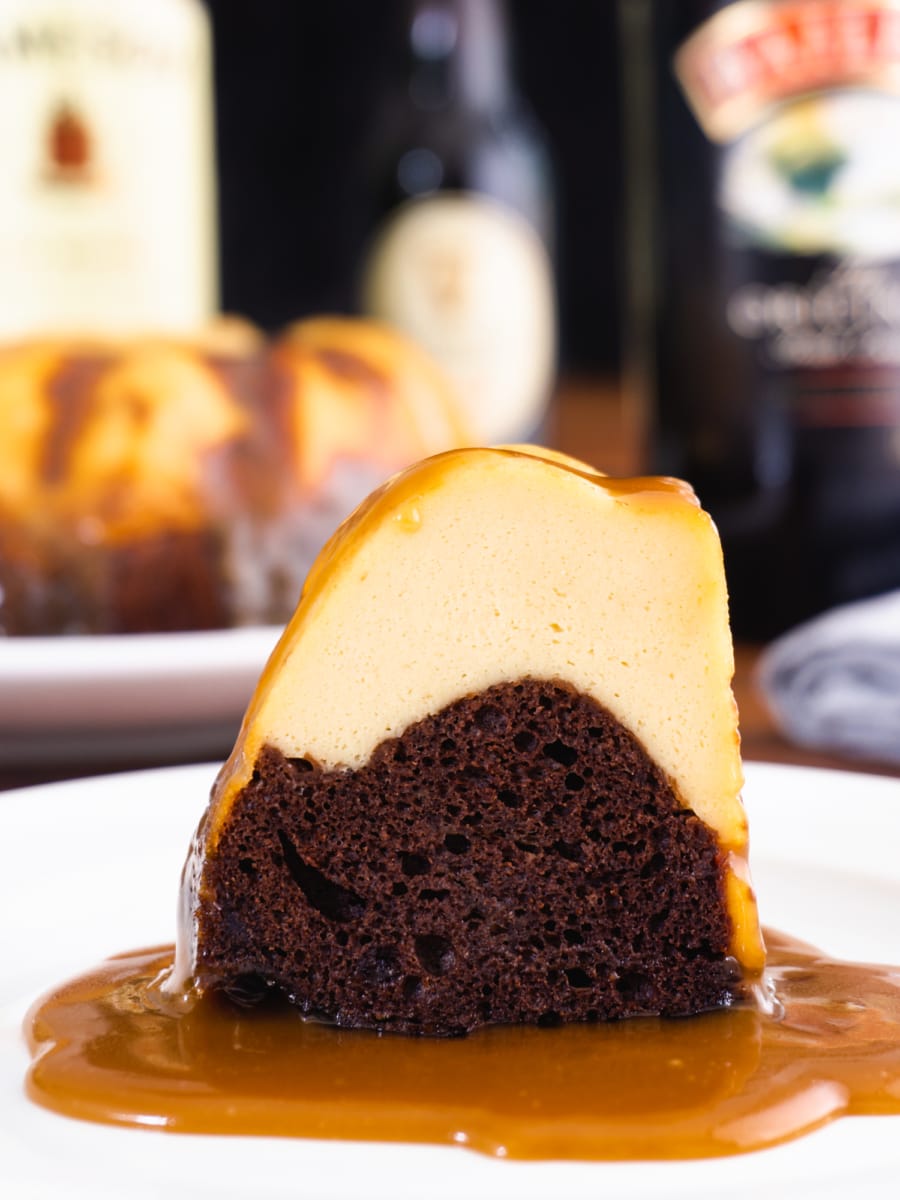 Enjoy the wonderful month ahead with all the marvelous recipes in my March Meal Plans.
Make sure you also check out my latest Instant Pot Meal Plan.
March Instant Pot Meal Plans
Here are some recipes you'll find on my March meal plans:
March Instant Pot Meal Plans
I've got some great meal plans for March on my website. Check them out here: