I recently received a Mealthy Crisp Lid so I could test it out and share my opinion on it with all my readers. Mealthy is an established brand, claiming the number 2 spot in pressure cooker sales on Amazon.
This post contains affiliate links. For more information, see my disclosure.
Their new product, the Mealthy CrispLid converts your electric pressure cooker into an air fryer, crisper, and broiler. It, of course, works perfectly with the Mealthy Multipot pressure cooker but will work with other brands of 6 and 8-quart pressure cookers as well. Sounds amazing so I was definitely excited to give this product a go!
Get $10 off your CrispLid with my coupon ONEHAPPYHOUSEWIFE
CrispLid Uses
I absolutely love using my electric pressure cooker. I make so many things in it. If there's a fault to it though, it's that it lacks the ability to give foods a crispy finish. For example, if you make wings in the pressure cooker, you would have to finish them off in the oven. Or when I make my favorite cheesy pasta, if I wanted to brown the cheese, I'd have to transfer to a pyrex and put them in the oven for a bit.
The Mealthy CrispLid solves this issue like a charm! It can be used immediately after cooking your food in the pressure cooker. You simply turn your pressure cooker off, unplug it, and then set the CrispLid on top, set it, and let it do its crisping magic!
So basically, you can use the CrispLid as an air fryer and you can also use it to finish dishes off that you have already cooked in your pressure cooker. So without further ado, here's my unbiased review of the Mealthy CrispLid.
What Comes in the Box?
I was pleasantly surprised to see the CrispLid came with a nice variety of accessories in the box. Here's what you will get in the box when you order yours:
Tall 3-inch Trivet
Crisping Basket
Silicone Trivet
Pair of Tongs
User Guide
Recipe Booklet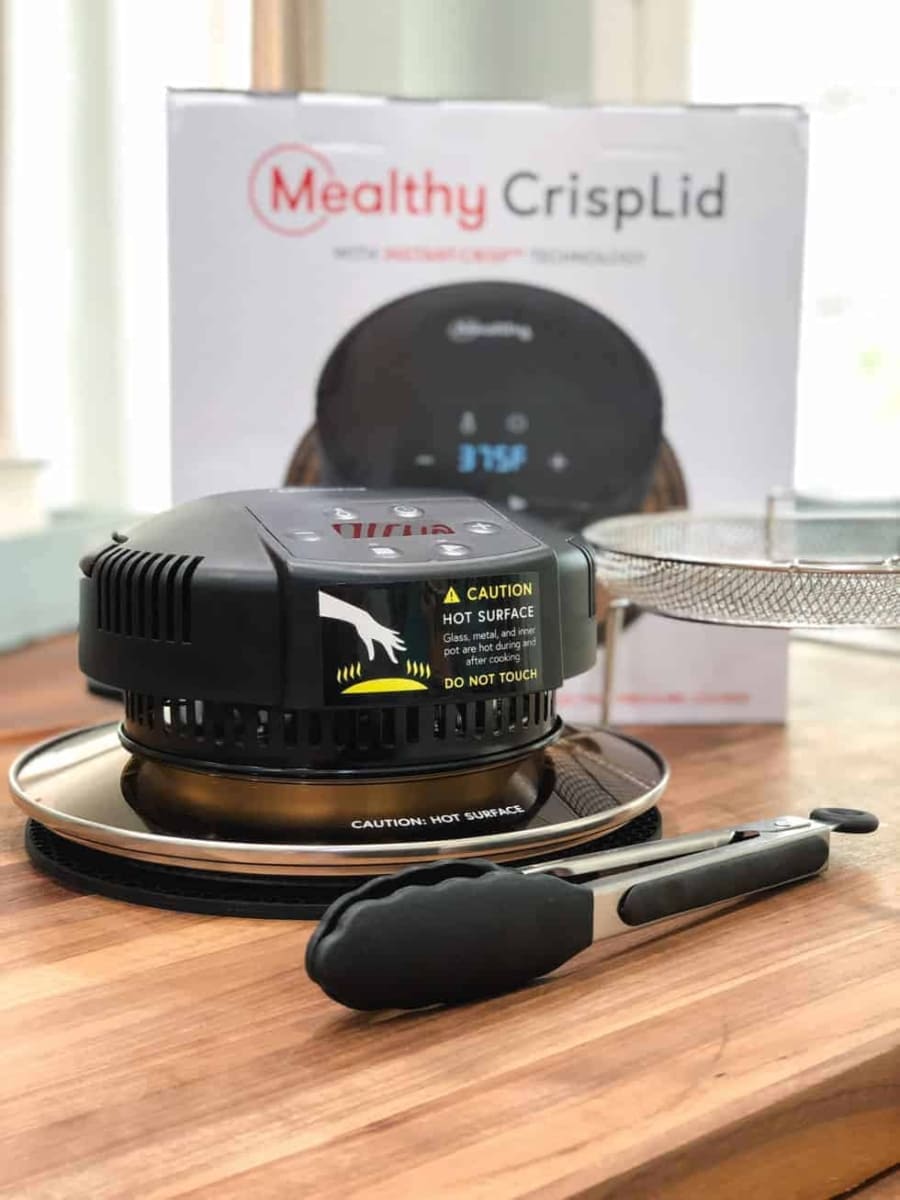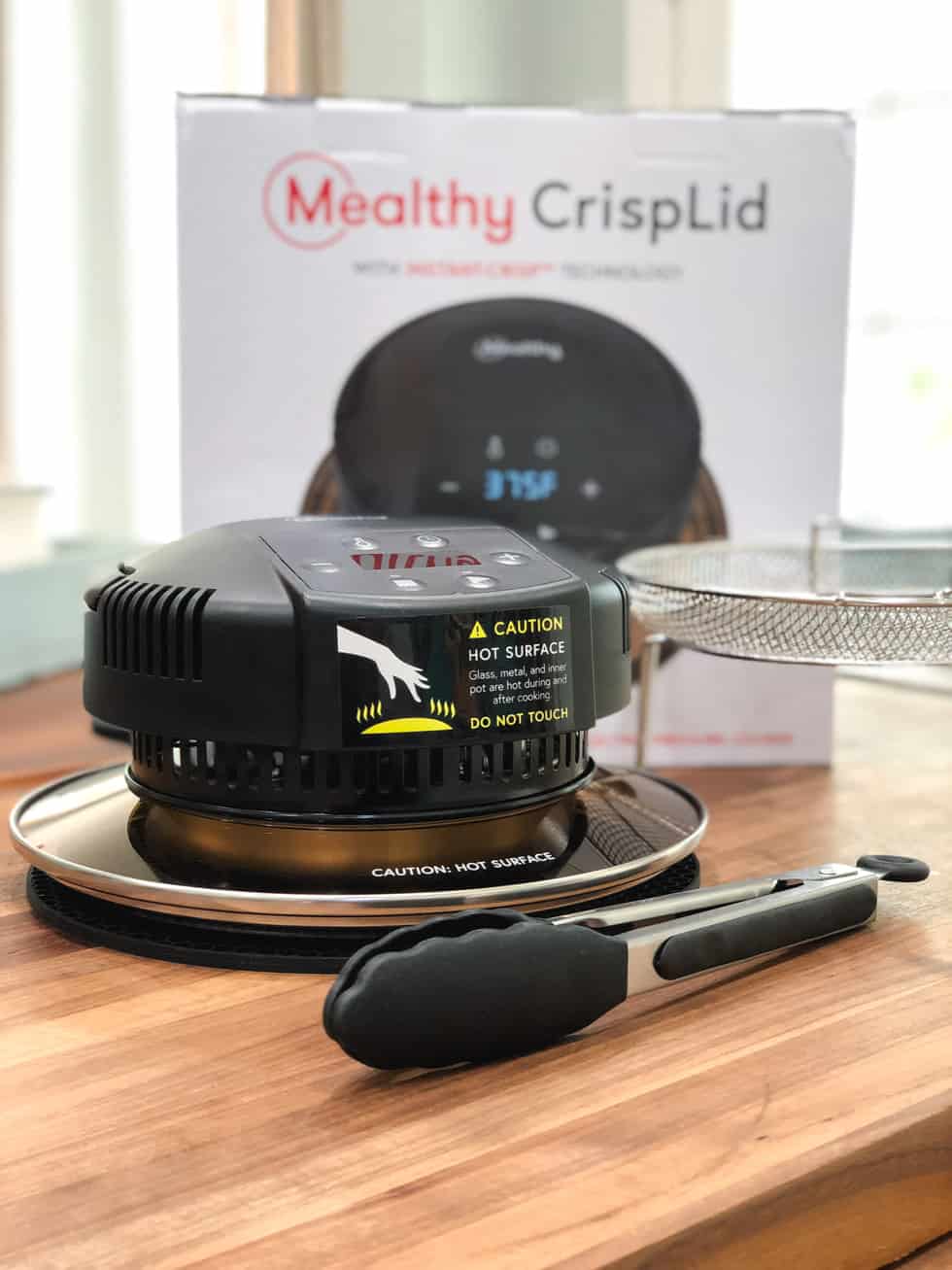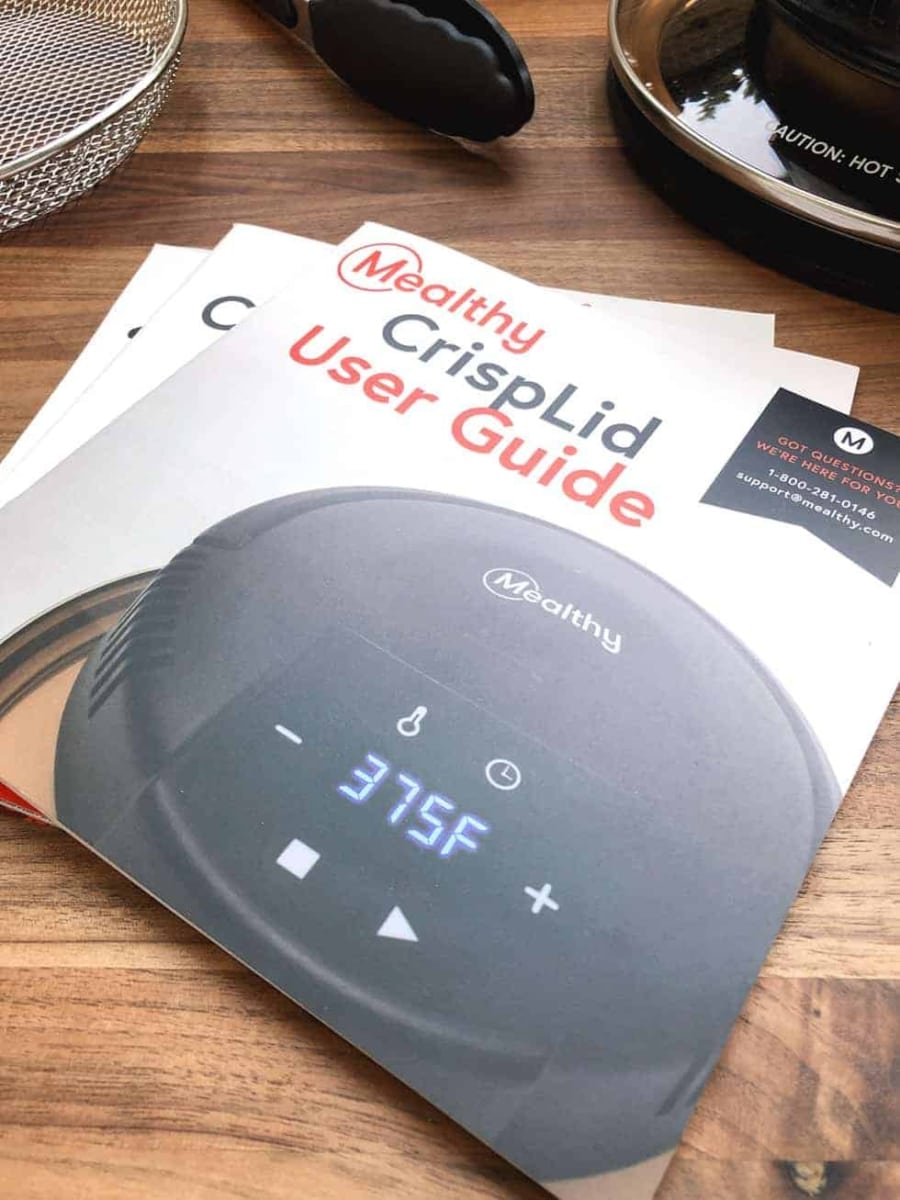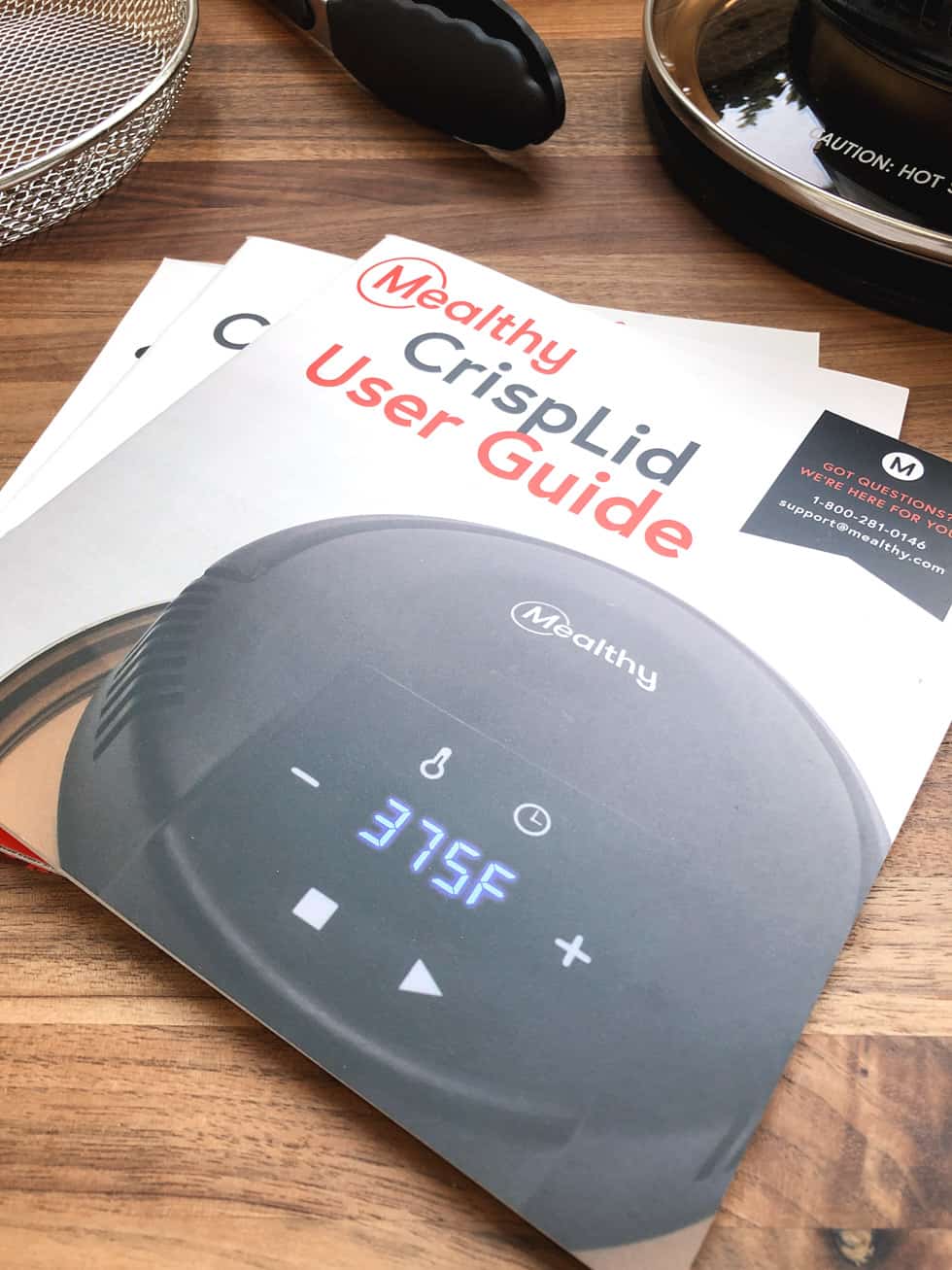 It's a pretty complete package. Everything you need to get started using the CrispLid. Now, let's move on to how to use it.
Click here to order your own Mealthy CrispLid and Save $10 with code ONEHAPPYHOUSEWIFE
How Do You Use the CrispLid?
After quickly reading through the user manual, I was ready to get started. The CrispLid has very few buttons on it, which makes it simple to use. It has a temperature and time button, a plus and minus sign for adjusting temperature and time, and a stop and start button. That's it!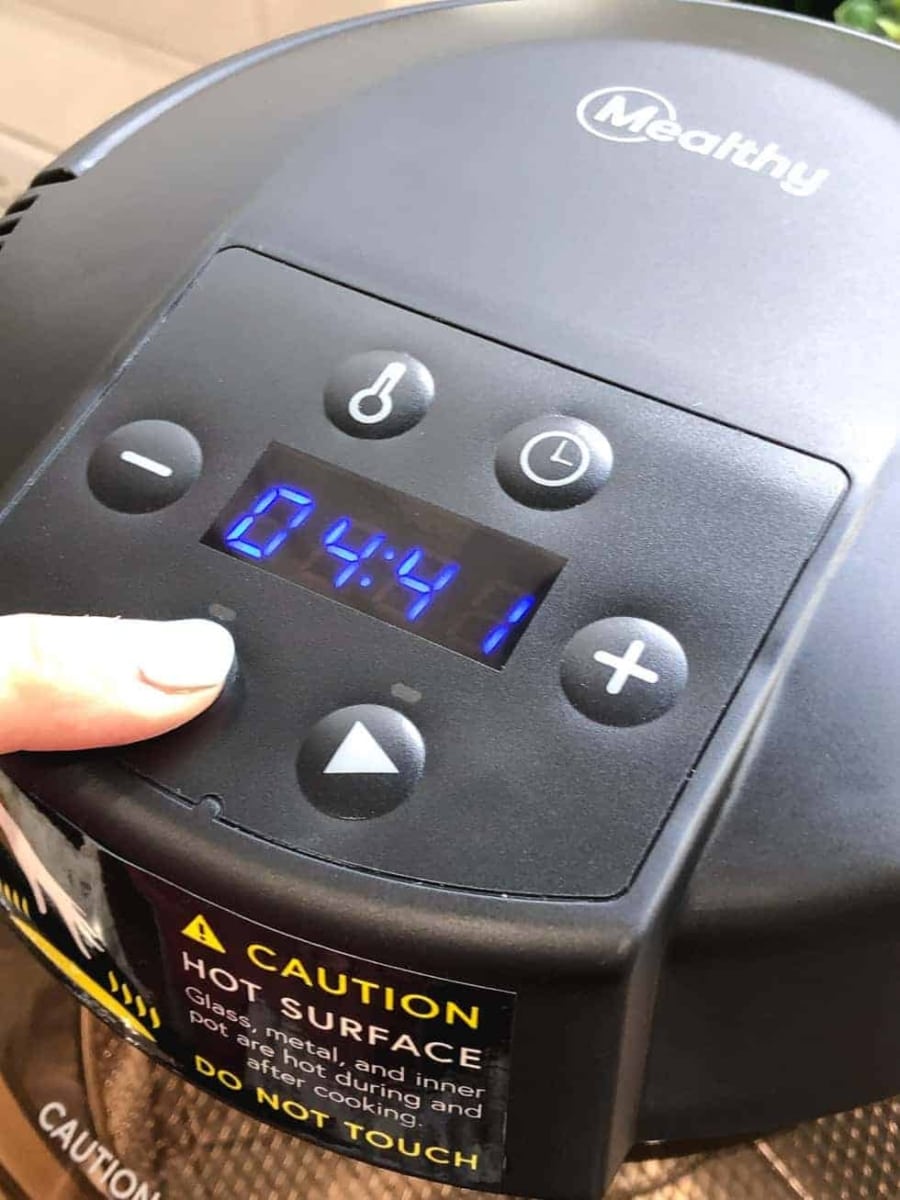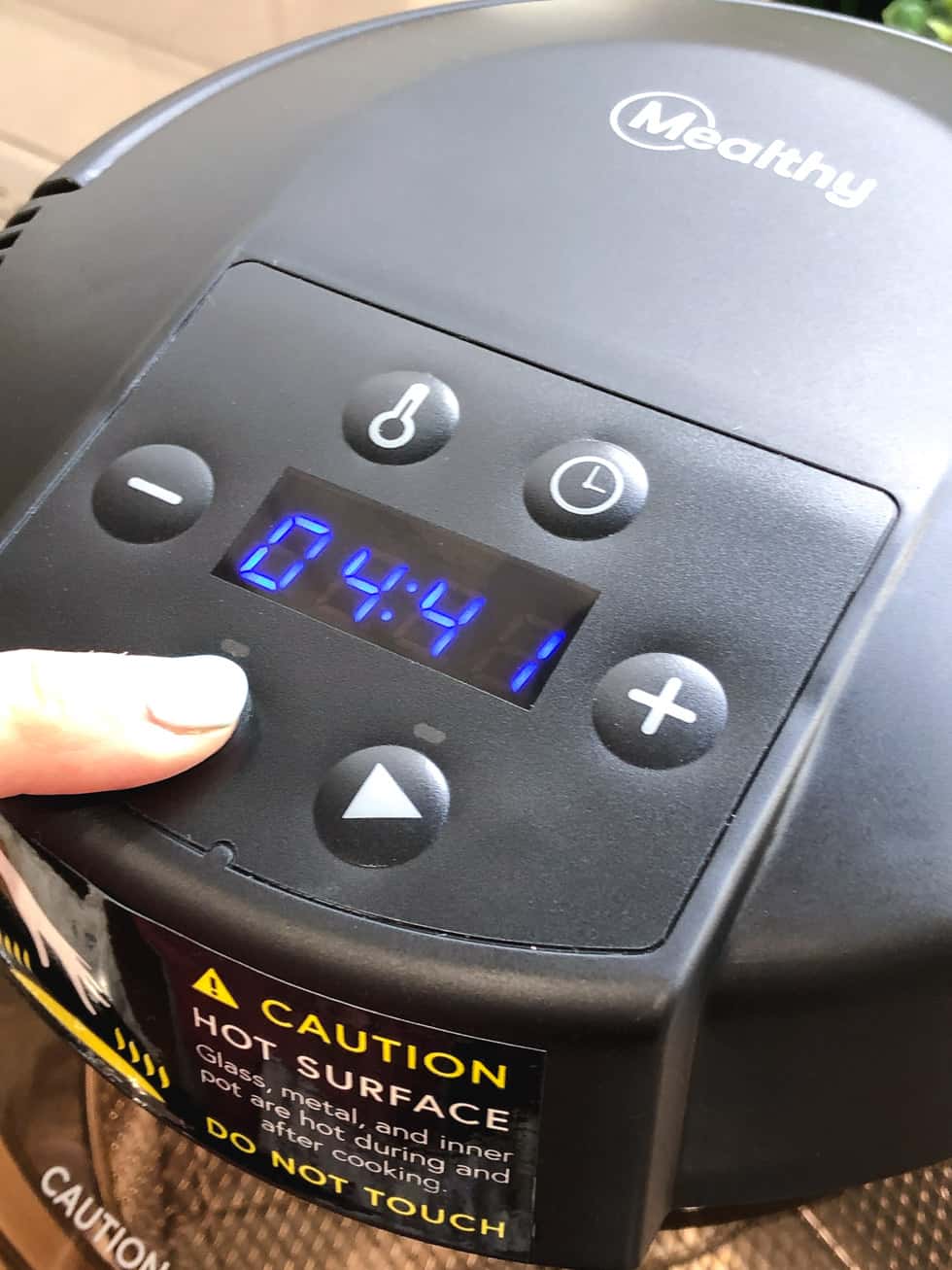 To use the CrispLid you must be sure your pressure cooker is turned off and unplugged. Your stainless steel liner must also be inside your pressure cooker. If you are using the basket, you can set the basket on the 3-inch trivet. You plug the CrispLid in and simply place it on top of your pressure cooker.
The CrispLid has a handle that must be lowered in order for it to turn on. Once the handle is lowered and the CrispLid is on, you can set your time and temperature and press start. You should note that the CrispLid has temperatures ranging between 300 and 500 degrees. They move up and down in 25-degree increments.
The CrispLid has a very cool light that comes on which allows you to see the food through the glass lid as it's cooking.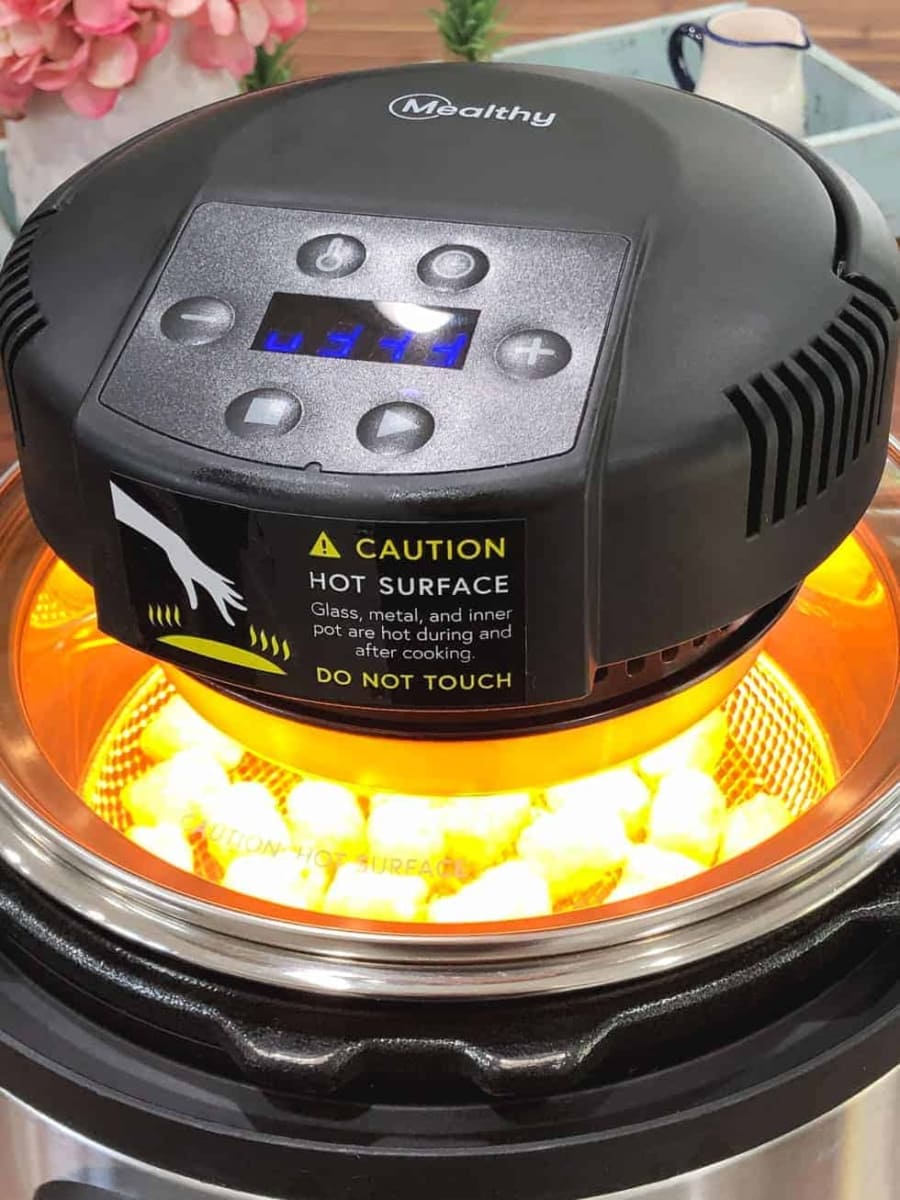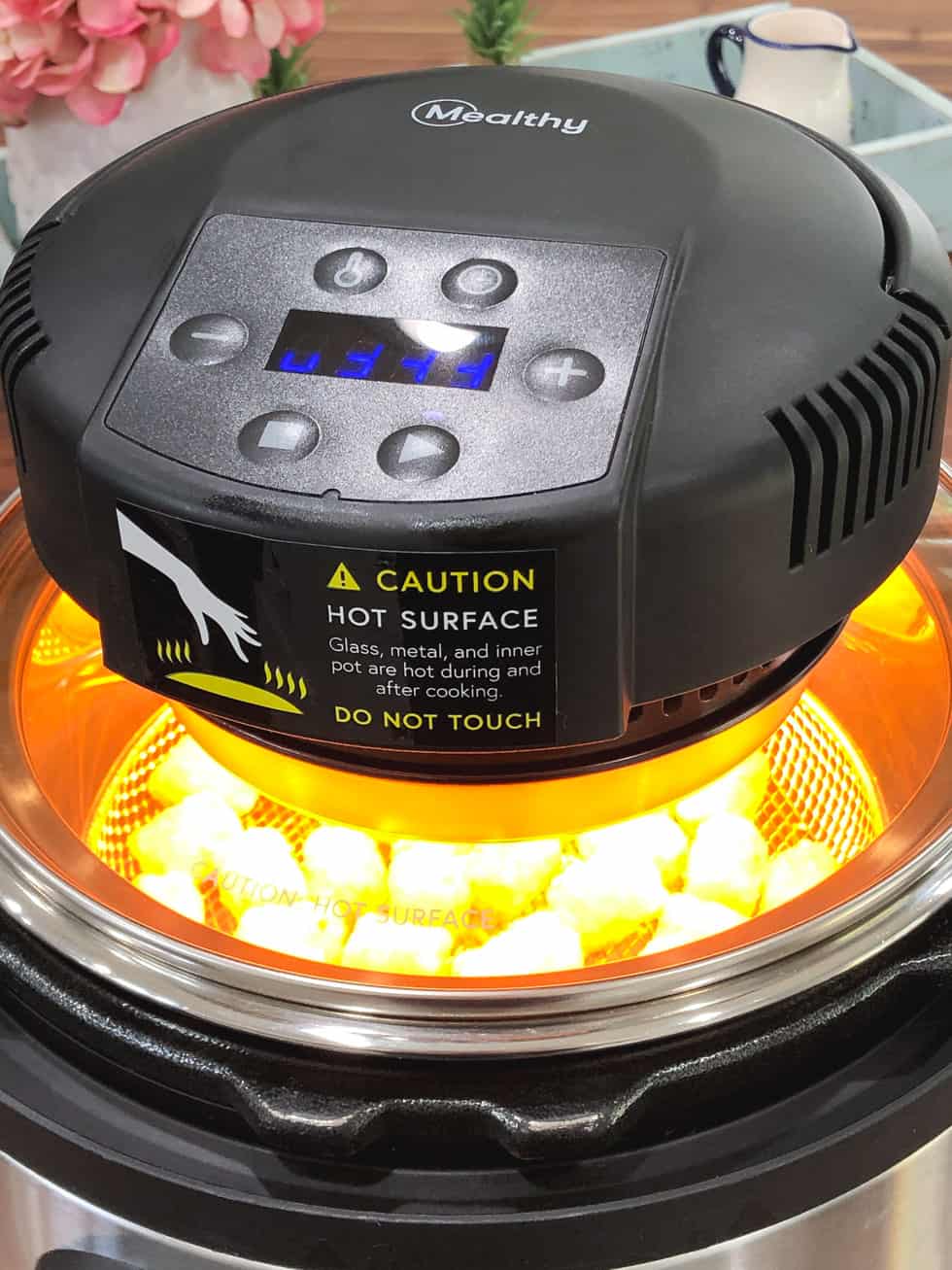 After using your CrispLid, you MUST place it on the silicone trivet and not directly on your counters. It is extremely hot.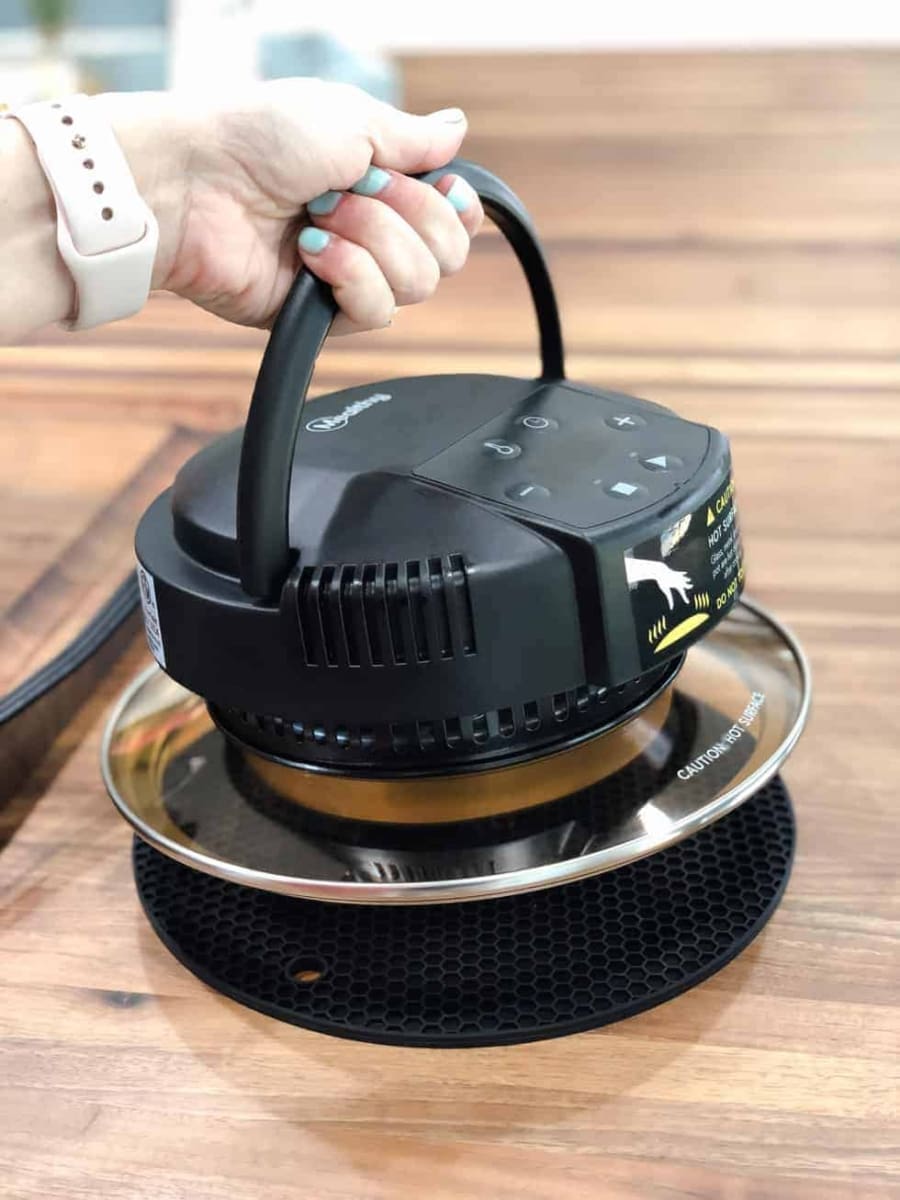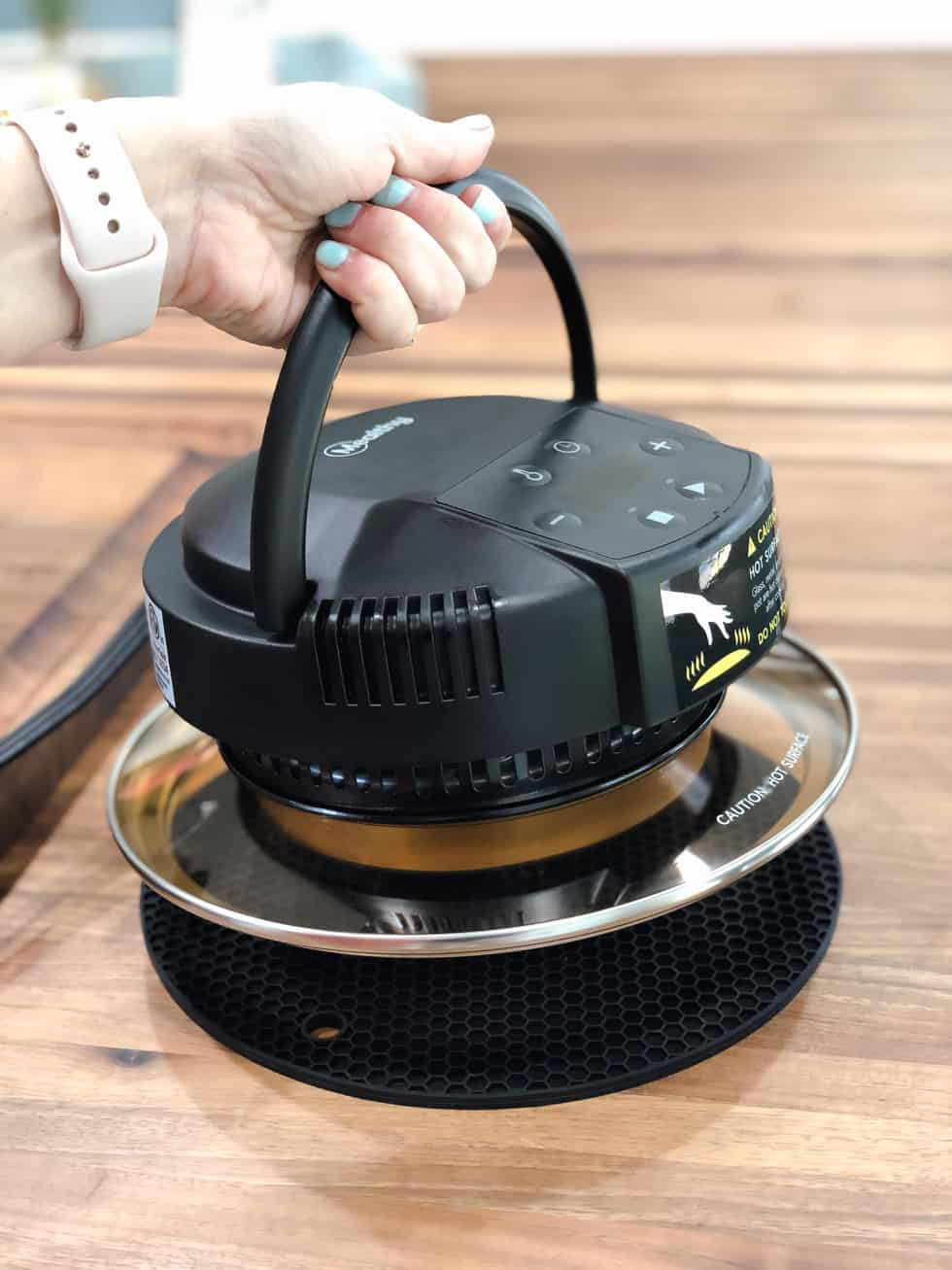 Click here to order your own Mealthy CrispLid and save $10 with code ONEHAPPYHOUSEWIFE
Putting the CrispLid to the Test
I wanted to make something easy for my first time to get an idea of timing and temperature. I decided to try out a few frozen breaded chicken tenders I had on hand. I set up the trivet and the basket with the tenders in it. I made sure my pressure cooker was off and set up the CrispLid on top.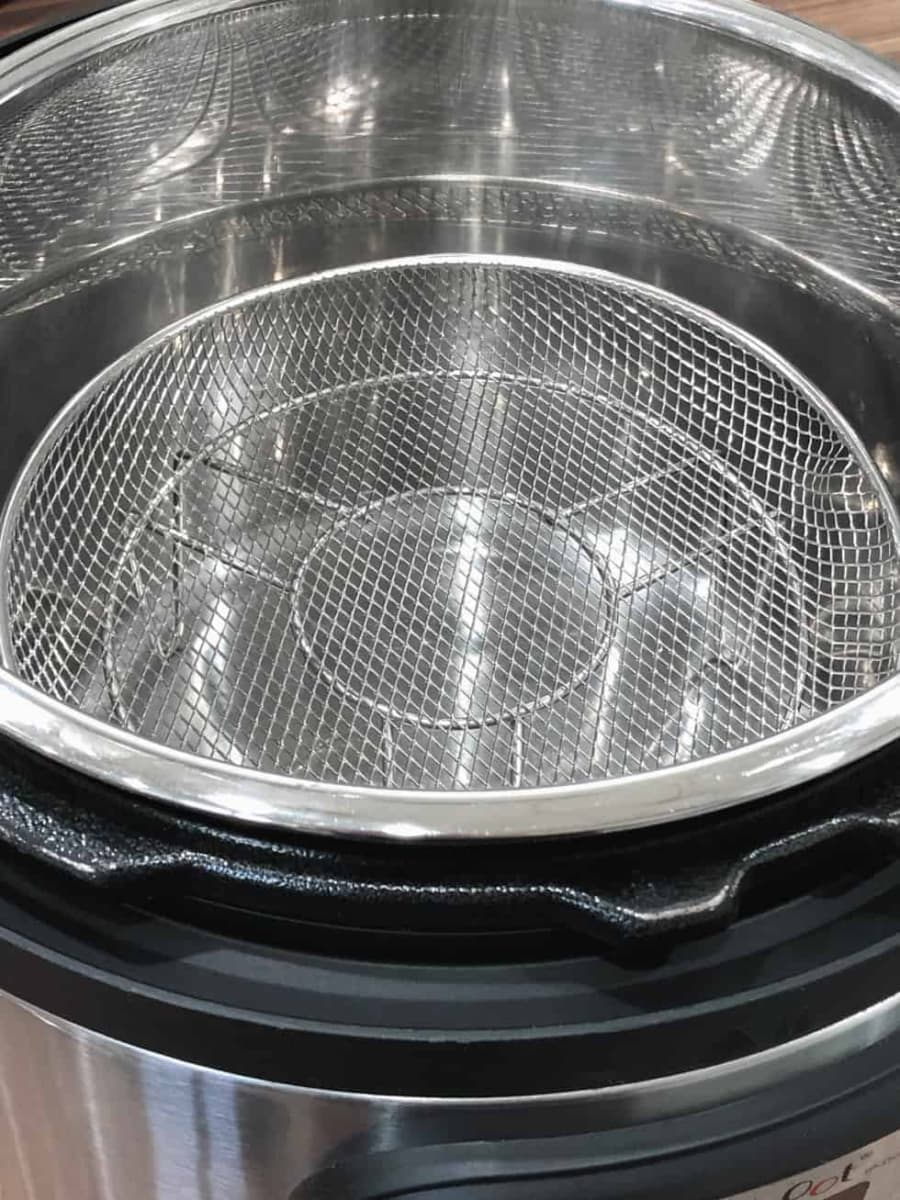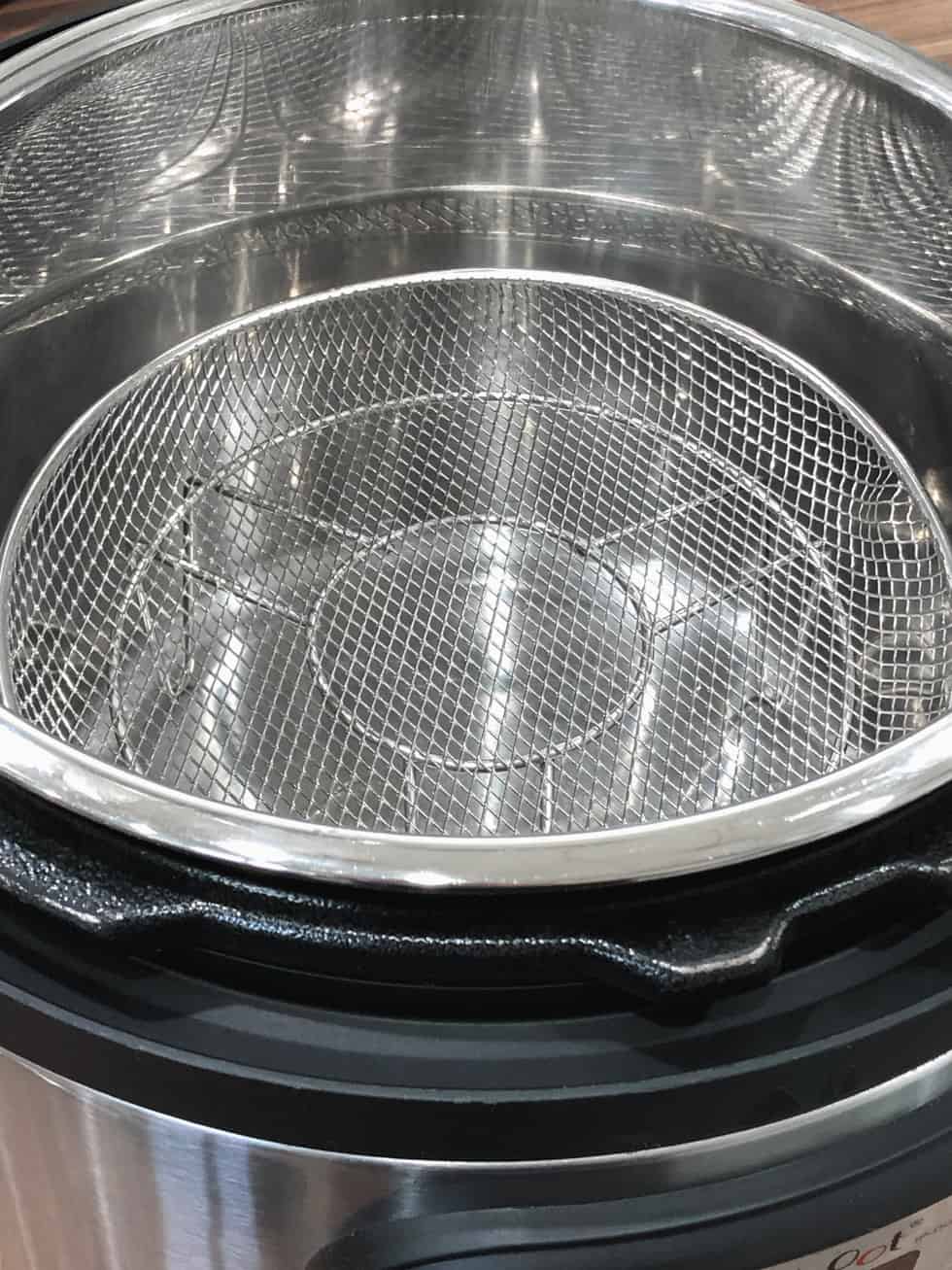 I set the temperature for 425 and the time for 8 minutes. I made sure and keep an eye on them to make sure they weren't going to burn. I ended up putting them on for several more minutes until they looked perfect.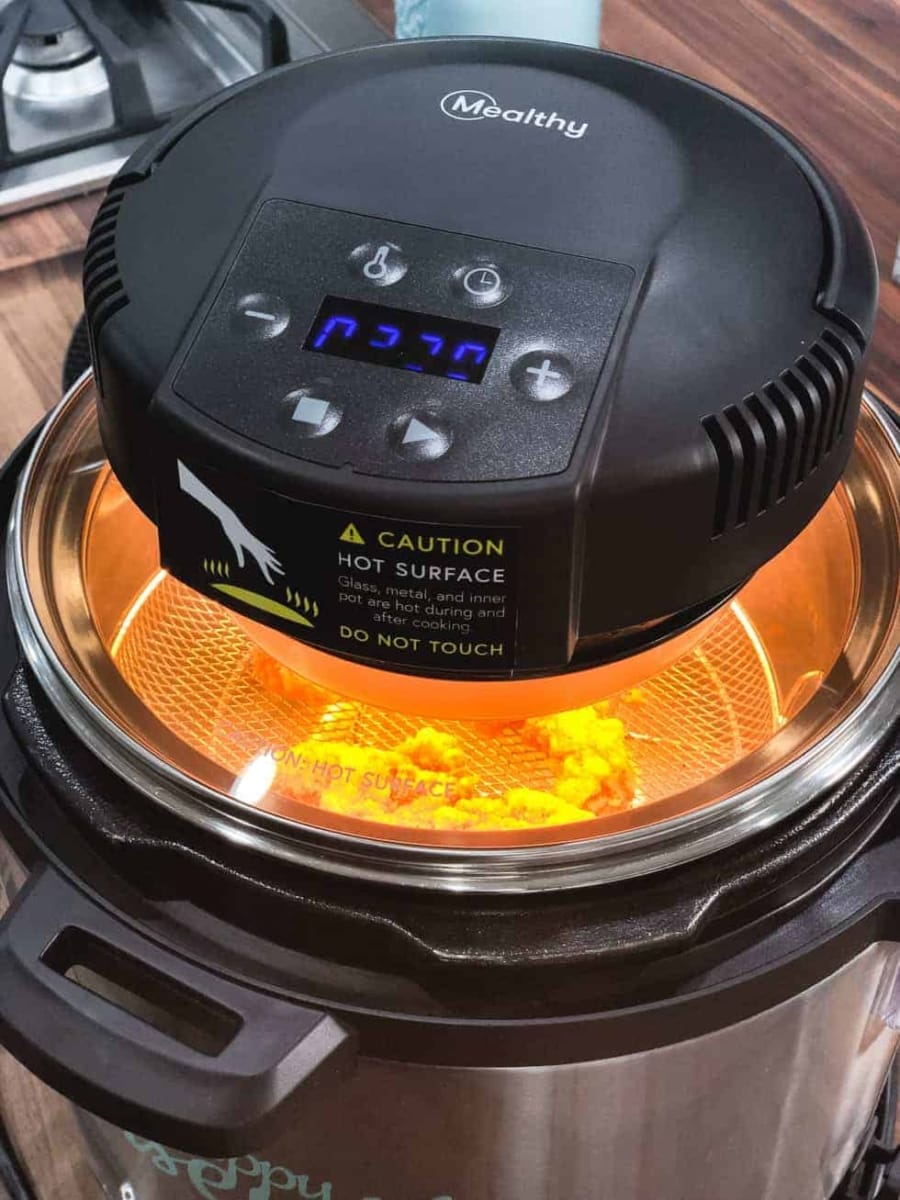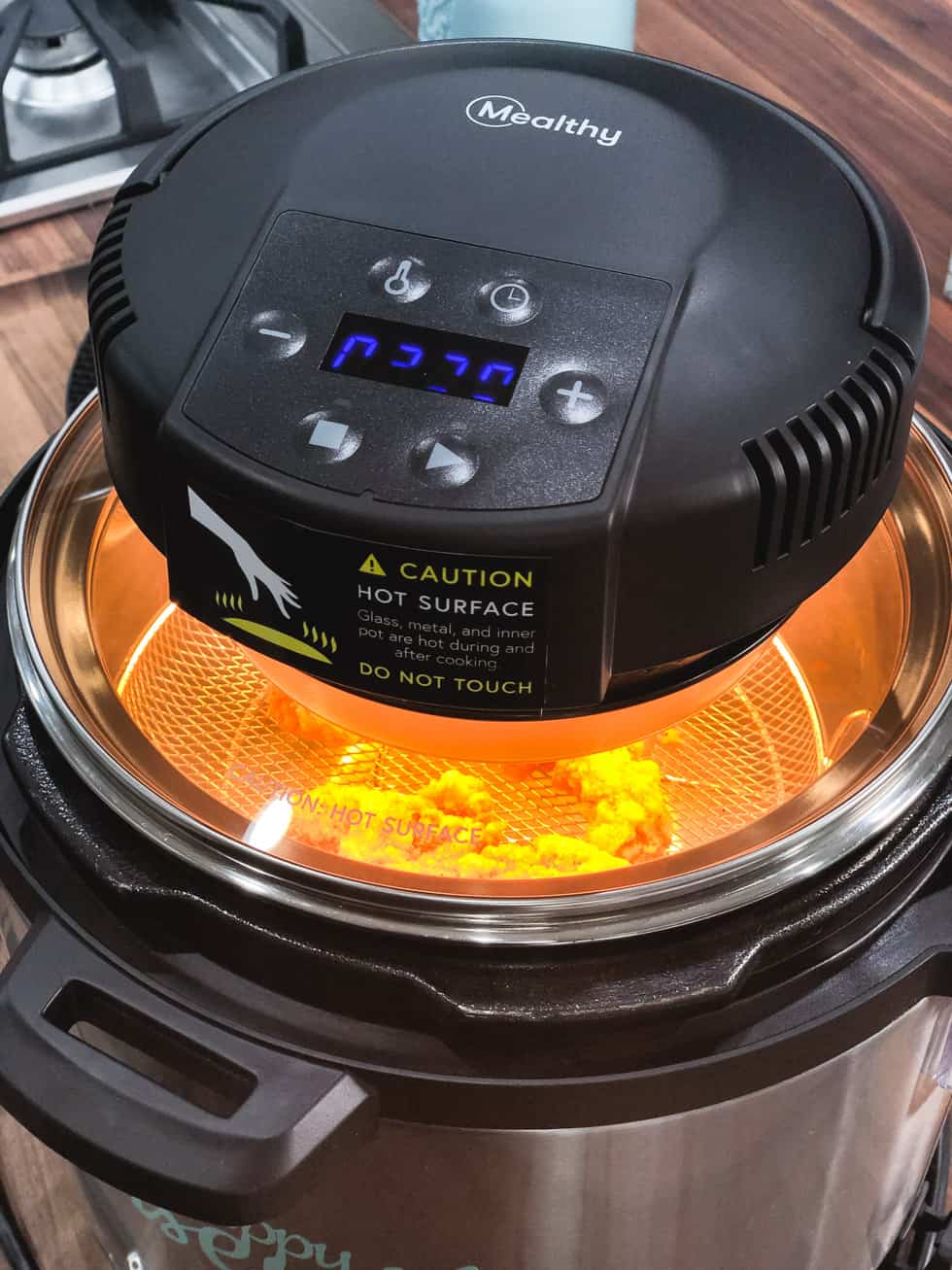 I had my official taste testers on hand, AKA my kids, and they loved the tenders. They said they were crisped just right and they were better than when I made them in the oven.
I then moved on to tater tots. The tater tots came out absolutely perfect. I did have to make two batches, as is usually the case with my air fryer. I was very happy with the way they came out.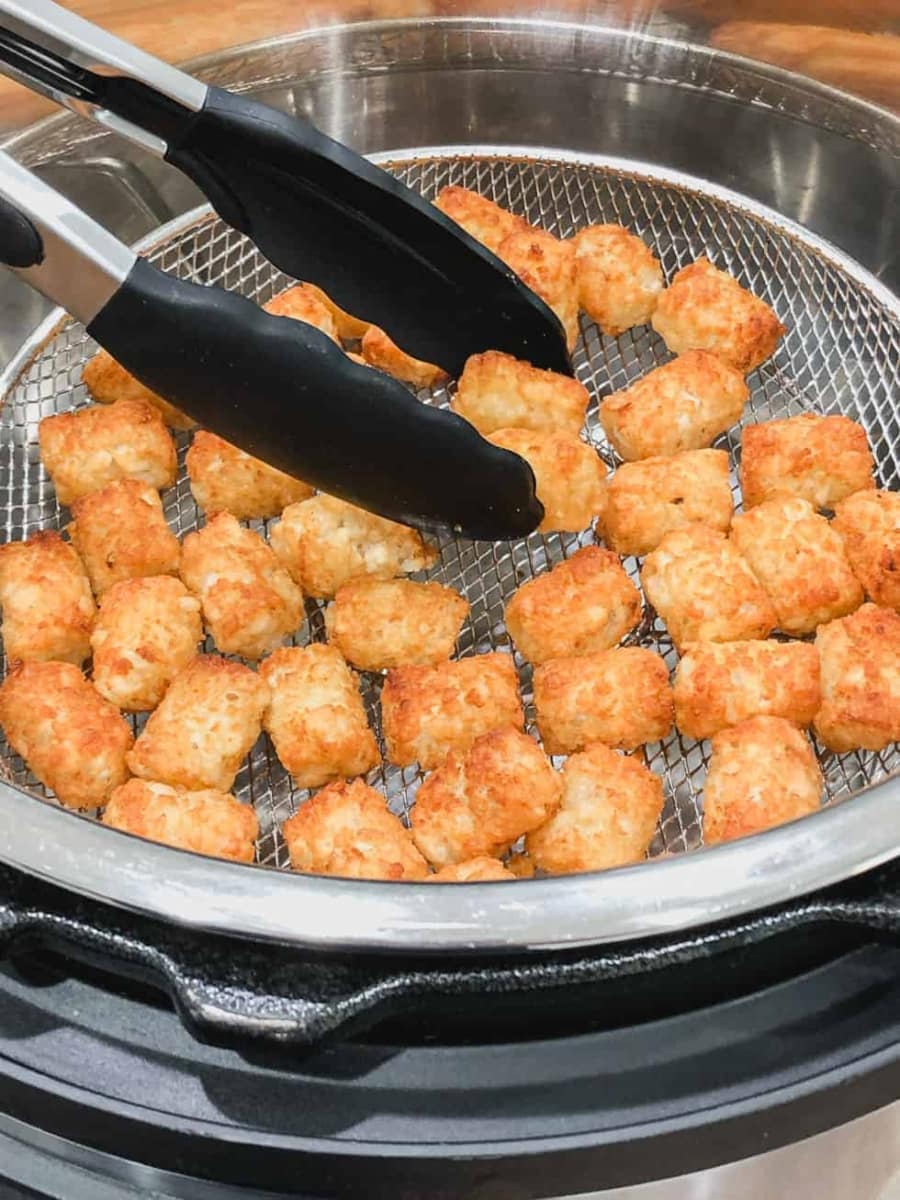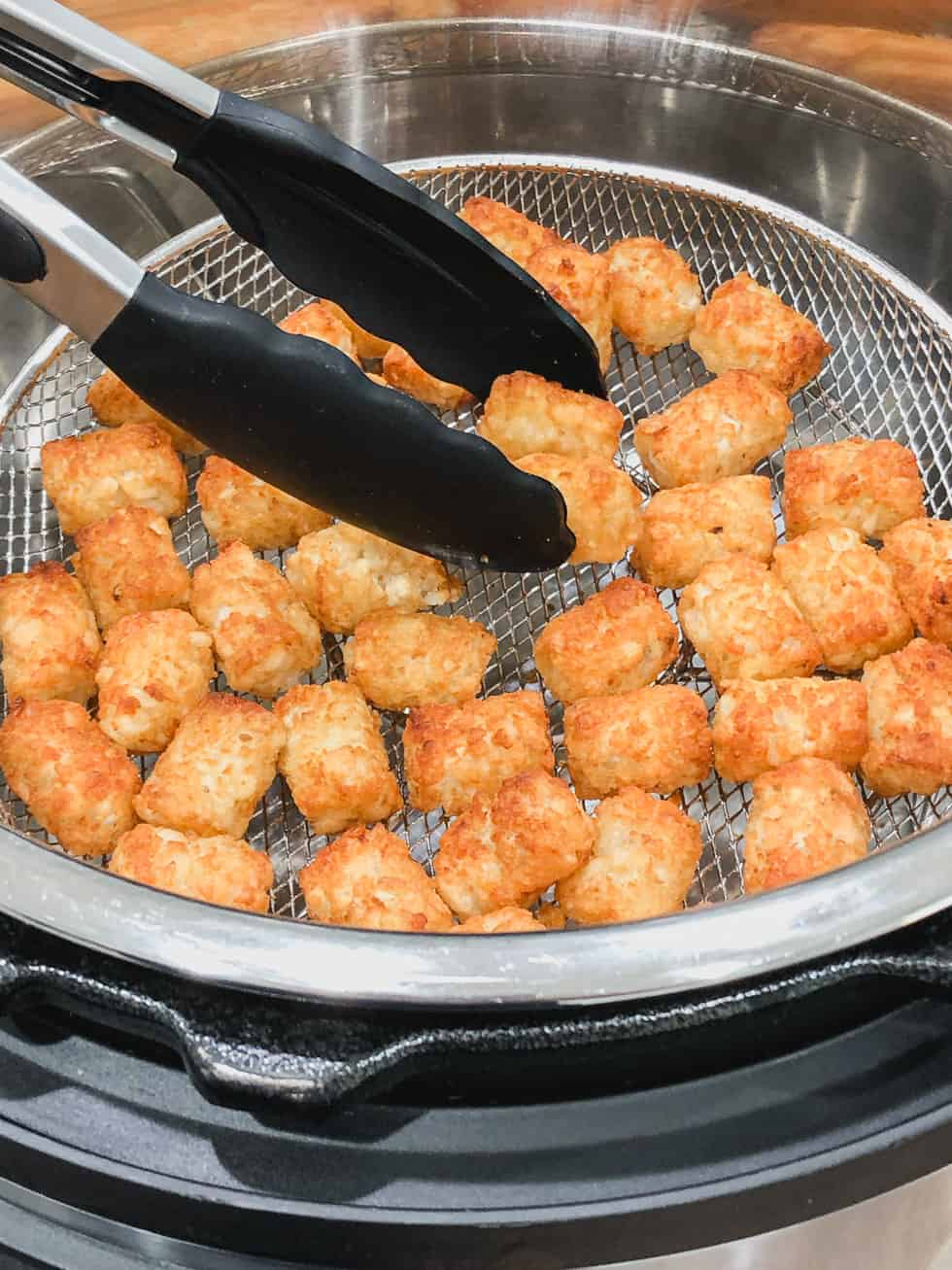 Finally, in my rounds of testing, I made one of my favorite pasta dishes in my pressure cooker. I made my Easy Cheesy Beef & Bowtie Pasta. When I finished, I unplugged the pot, added a nice layer of shredded cheese on top of the pasta, set up my CrispLid at 350 degrees, and pressed start. I watched it to make sure and stop it at the right time.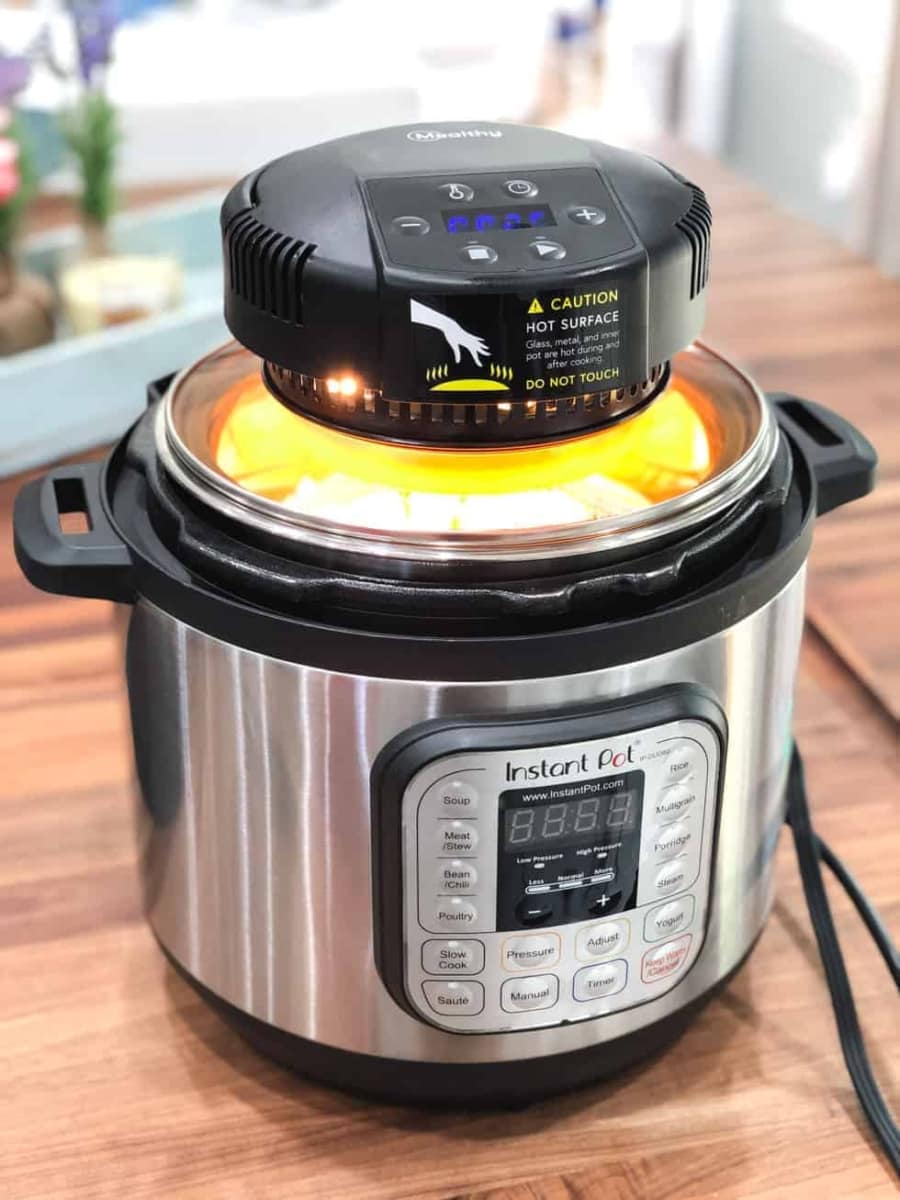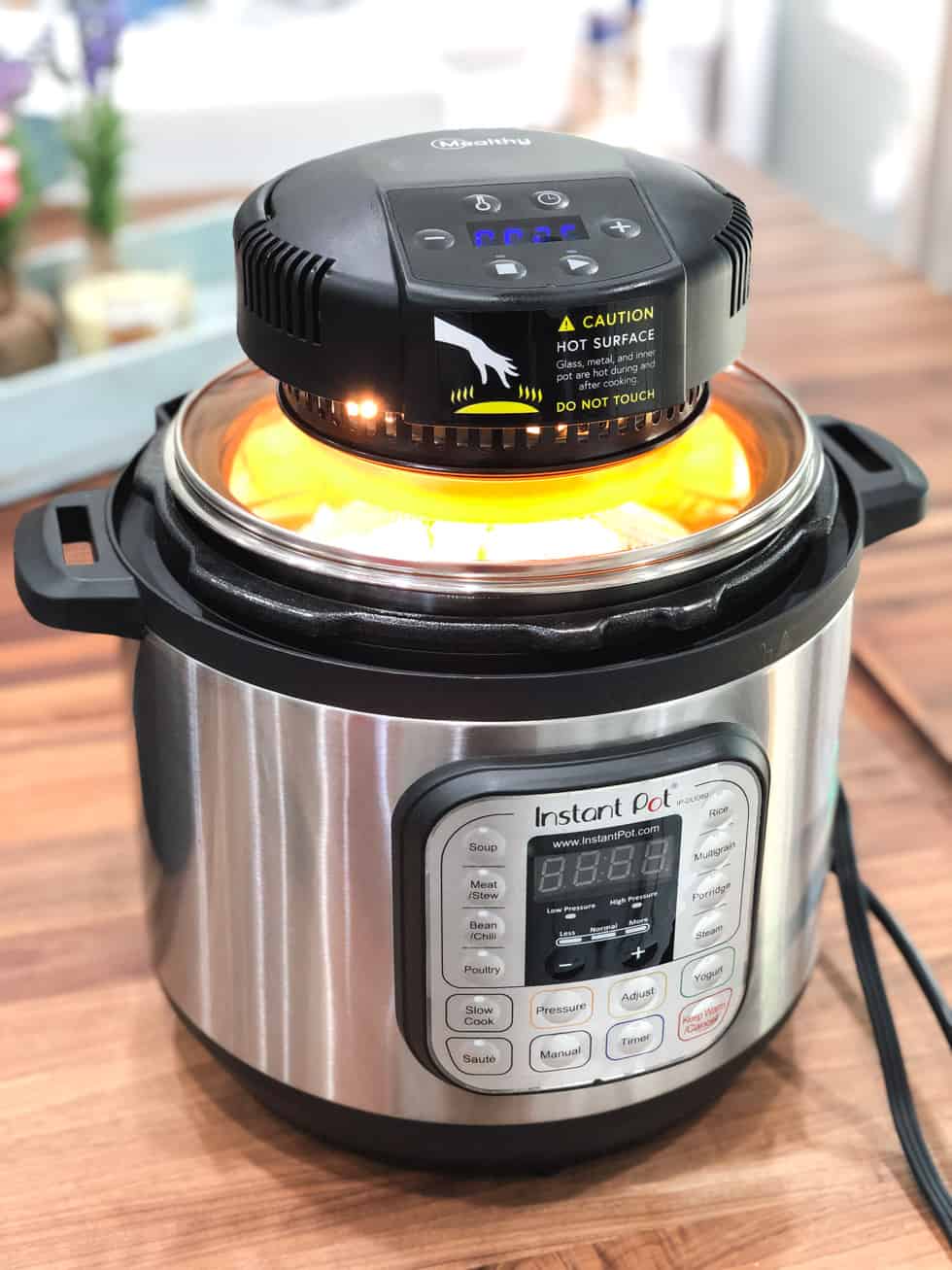 This was a huge success! We all loved the crispy, browned cheese on top. I loved the fact that I didn't have to dirty another dish in order to brown the cheese in the oven.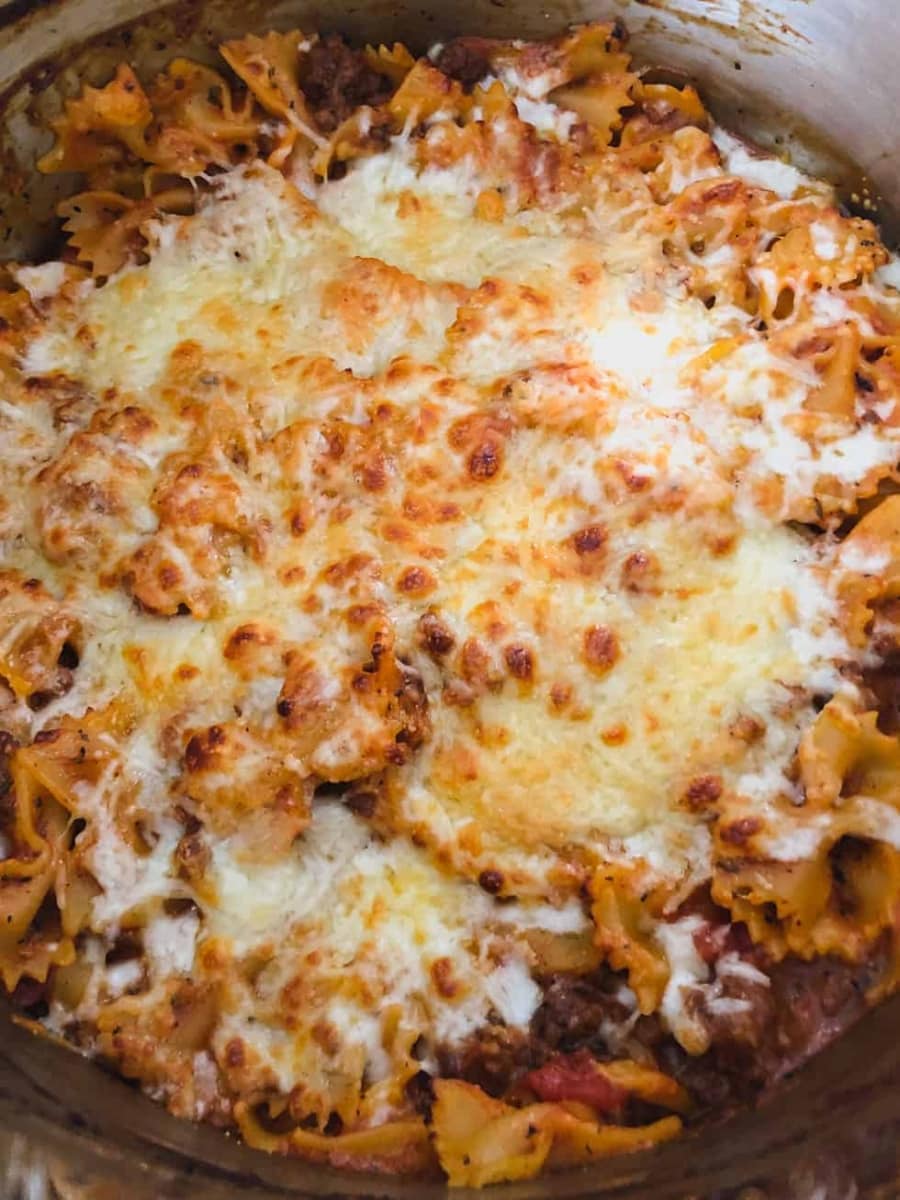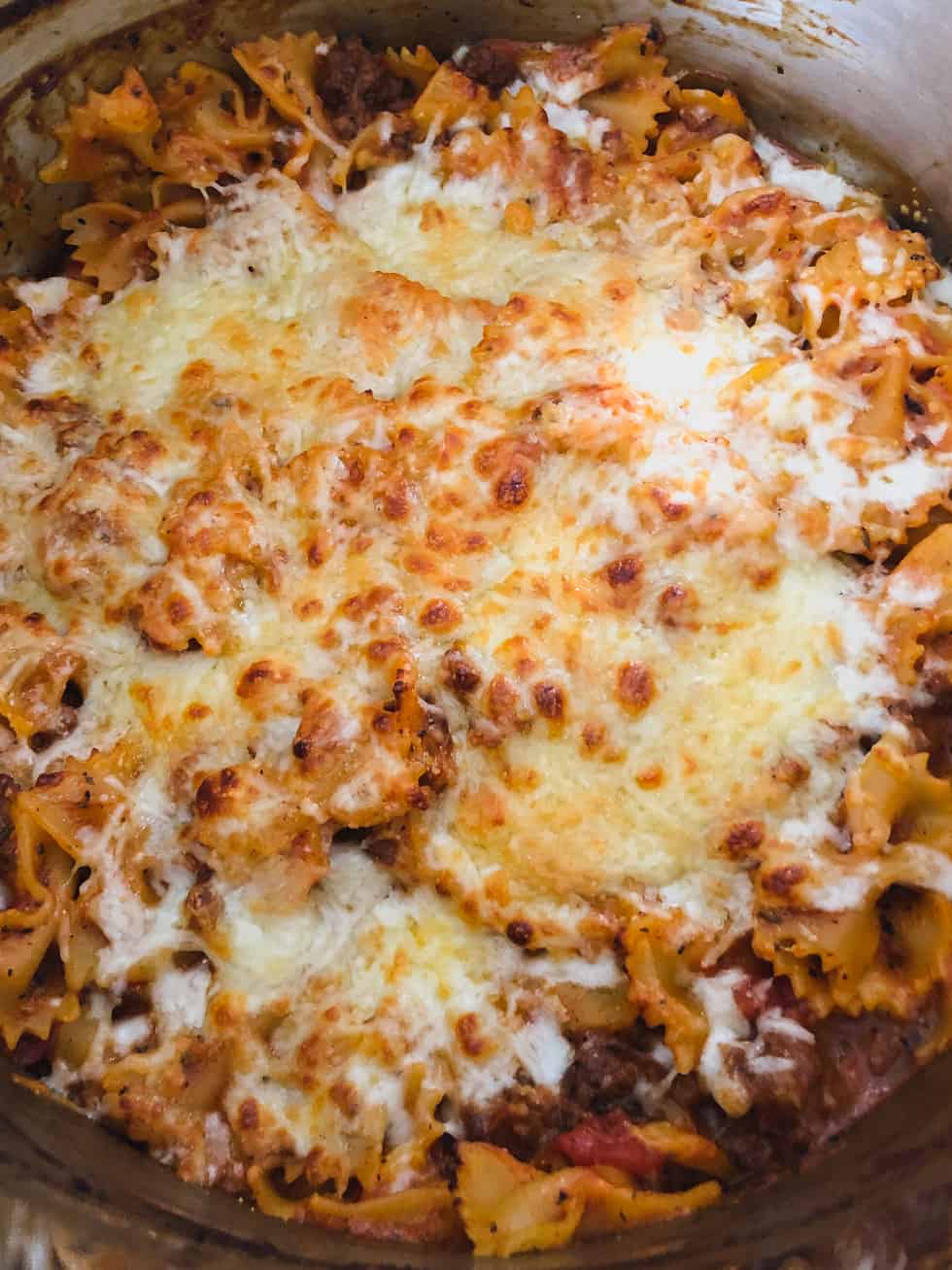 Pros and Cons of the CrispLid
After using the CrispLid for a few weeks, I can say without a doubt that I love it. I do however have a few things I feel could be improved upon. Below is my list of pros and cons for the Mealthy CrispLid:
Pros
It turns your existing pressure cooker into an air fryer and takes up less space.
You can cook your food in your pressure cooker and crisp it by simply adding the lid, no need to finish in the oven.
You can see your food as it cooks through the glass lid!
Super easy to use with only a few buttons on display.
Easy to clean, just wipe it with a damp cloth.
Less expensive than a stand-alone air fryer.
Cons
The lid gets extremely hot and must be handled with much caution. (Note: It comes with the silicone trivet for this. You MUST place the lid on the trivet after using it or you can burn your counters)
The basket is not very large when using it as an air fryer. (Note: this is the case with most air fryer baskets, as food must be layered in order to crisp properly)
The timer resets when you remove the lid to shift your food. (This was probably my biggest issue with the lid)
So that's it, my honest review of the Mealthy CrispLid. I really do love this product and I'm excited to use it on a daily basis. It definitely took my pressure cooker up to the next level.
Watch Me Unbox The Mealthy CrispLid
Here's my unboxing video of the Mealthy CrispLid. Make sure to hover over my picture with the spatula at the end of the video and hit subscribe!
CrispLid Giveaway (CLOSED)
Thanks to Mealthy for partnering with me to give one lucky winner their very own Mealthy CrispLid!
This giveaway is open to continental US residents only, 18 years of age or older. The giveaway will run from July 5, 2019, to July 13, 2019. One random winner will be selected. Please enter below. Thanks for stopping by and good luck!
a Rafflecopter giveaway