I recently received the new Mealthy MultiPot 2.0 so I could try it out and review it for my readers. Mealthy is quickly becoming a favorite when it comes to the pressure cooking world. Not only that, but they also make some pretty awesome cookware I've fallen in love with!
This post is sponsored by Mealthy but all opinions are always my own and completely honest. This post may also contain affiliate links. For more information, see my disclosure.
I was excited to review the Mealthy MultiPot 2.0 6-quart as it has some pretty neat features that make it, in my opinion, a top-notch electric pressure cooker. Mealthy describes their new pot as "game-changing" and I must say I agree!
I also did a Mealthy CrispLid Review. The CrispLid makes a perfect addition to your 6 or 8 qt pressure cooker. You can use it on your Instant Pot as well, not only the MultiPot. For now, though, let's get to my thoughts on the MultiPot 2.0!
What comes in the MultiPot 2.0 Box?
As usual, Mealthy has made sure you have everything you need to get started in the box. It comes packed with extra high-quality accessories you'll definitely use. This will save you some money, on top of the already great price for the pot itself. Here's what you'll get inside the box: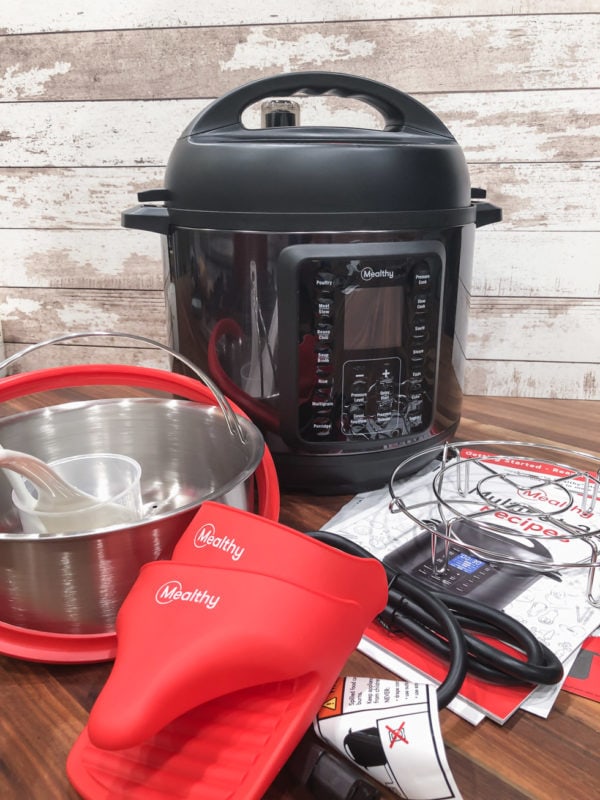 MutliPot 2.0 6 qt
Pair of silicone mini mitts
2 silicone gaskets (one red, one clear: this is perfect for savory and sweet meals so the smells don't transfer over)
Stainless steel steamer basket
Stainless steel trivet
8 oz measuring cup, rice paddle, and soup ladle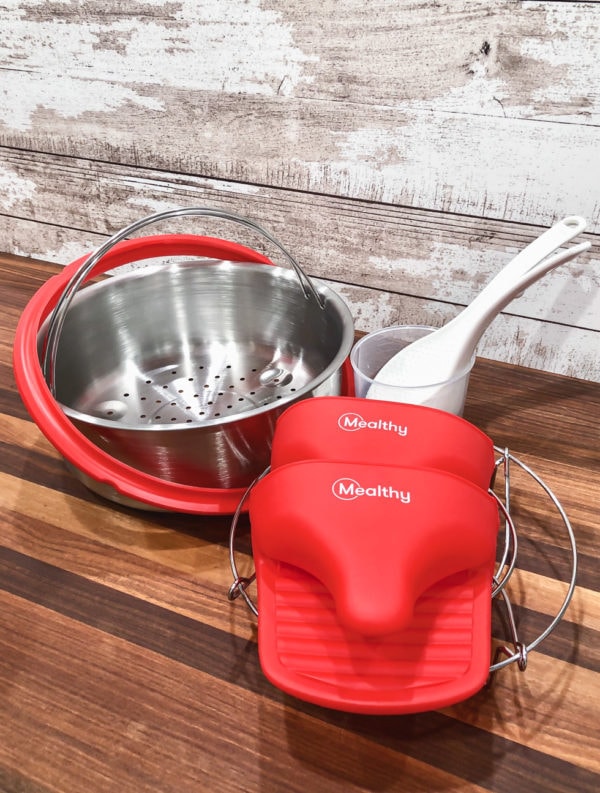 You will also find an instruction booklet, a cheat sheet, and a recipe booklet inside. I felt the instructions were clear and easy to follow. They provide a bit of humor in their charts, which I thought was neat.
MultiPot 2.0 Cool Features
The new MultiPot 2.0 has some awesome features. Some of these features address people's biggest fear when using electric pressure cookers – the pressure release! Here's the feature I consider the most exciting:
Self-sealing lid: Yes, that's right! You don't have to remember to set your pot to Sealing, it automatically sets itself. I know it's definitely happened to me that I forget to set it to Sealing and as I hear steam coming out I run over to set it.
Hands-free and automatic pressure release: What?!? Did you say hands-free? Yes! This is for sure a game-changer. So many people are scared to use their hands for the pressure release. Well, with the Mealthy MultiPot 2.0, you can keep your hands to yourself! You can set it to quick release or natural release when you start cooking. You can also do a manual release with the press of a button on the front panel. It's as easy as that.
True slow cook high/low functionality: We've all heard that this is a problem with the older pressure cookers. The slow cooker simply doesn't work well. Mealthy has fixed that with the 2.0. It has true high/low functionality. *I have not cooked a slow-cooked meal in it yet, but will update the post when I do*
Performing the Water Test
The first thing I did after unboxing my new MultiPot 2.0, besides cleaning it, was to perform the water test so I could get used to the buttons and the settings. The pot comes with a getting started instruction sheet and I felt the instructions were clear.
I added 3 cups of water to the MultiPot, made sure my sealing ring was on properly and closed the lid. There was no need to set it to sealing since it does it by itself. After the pot had been plugged in for a bit, the screen went from saying OFF to being off. This is normal as the pot goes into "sleep mode". Just press a button on the front panel and the screen comes back to life.
Then, I selected Pressure Cook, and I hit Pressure Level and adjusted to High, and finally, I selected Pressure Release, quick. I then adjusted the time to 2 minutes by using the + and – buttons. You can see all this in the video below.
The pot came to pressure just fine, I love the way the display shows you what stage it's in. My only complaint about the display is when standing up the very top part of the display is not visible, I had to crouch just a bit to see the very top part. This isn't a big deal and is quite honestly the only con I found with the pot.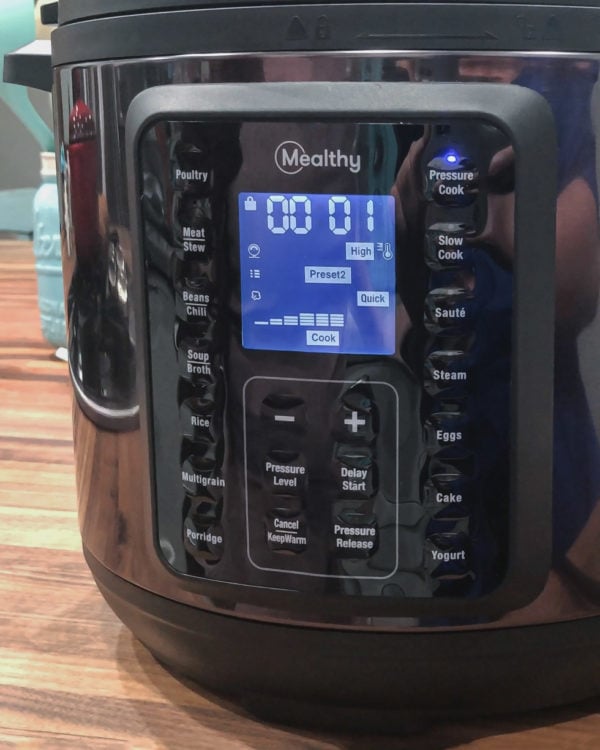 The best part of performing the initial water test was waiting for the hands-free pressure release. The pot beeped when it was done and then the pressure started releasing by itself. Very cool! I'm not scared of releasing the pressure but I see this useful when making anything that requires a quick release. I wouldn't have to be so attentive to the pot since it would already be set to do the quick release.
Overall, the water test went smoothly and I was impressed with the pressure release. Now, onto some food!
Testing the Multipot 2.0
After the water test, I decided to try a favorite recipe that has been giving some new Instant Pot owners the burn message. The new pots seem to be very sensitive and are giving tried and true recipes the burn message. I was told the Mealthy MutliPot 2.0 is a lot less sensitive and wouldn't give the burn message easily. So I put it to the test.
I made my Instant Pot Taco Pasta recipe. It has tomatoes in it, which are usually ones to cause the burn message in the newer Instant Pot models. I mixed the tomatoes in, which is what my original recipe calls for. I'm happy to report the recipe came to pressure without an issue, and no burn message was displayed.
I was very happy with these results because the burn message has been giving us recipe developers issues in the last few months. Our popular recipes that have been made thousands of times successfully are all of a sudden giving people the burn message. Well, it seems the new MultiPot 2.0 does not have that problem!
I also made my Instant Pot Couscous with Ground Beef and it came out perfect! It was great to set the pot to Quick Release from the get-go so I could just close it up and go do other stuff while it cooked. Can't beat that!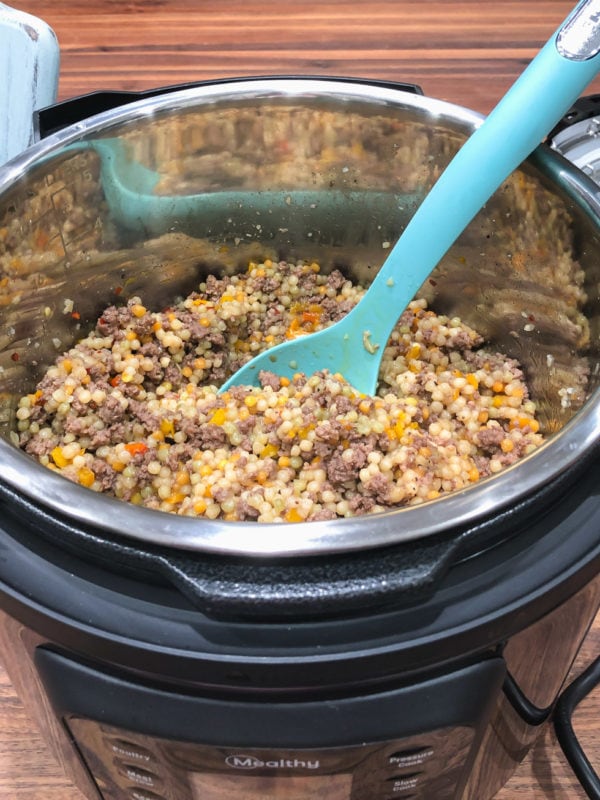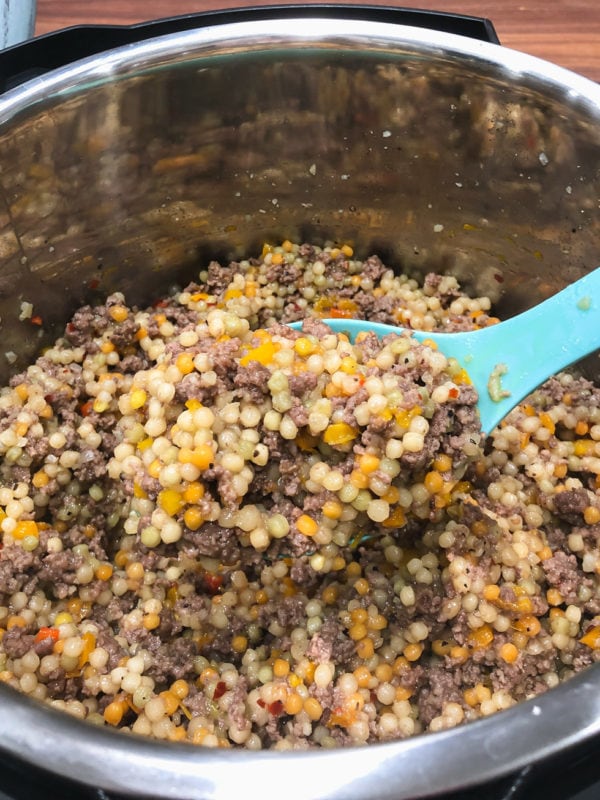 Pros and Cons of the MultiPot 2.0
Pros
Hands-free pressure release: this worked like a charm and I find it so beneficial!
Self-sealing lid: no more forgetting to set the pot to Sealing!
Doesn't get the burn message easily: so happy this pot is not as sensitive to the burn message.
Beautiful design: the pot itself is beautiful and I love the display!
Comes with accessories: money saver for sure!
Cons
Display visibility: The top part of the display is not visible when standing by the pot. You have to move back or lean down to see it.
Detachable cord: only adding this as a con because I'm not a fan of detachable cords. Some people may be.
This is not a con, but more of a suggestion to Mealthy for future models: There should be a setting that allows you to set a specific time for Natural Pressure Release. If a recipe calls for a 10 minute NPR, it would be amazing to set it for 10 min NPR and then Quick Release on its own. I may be asking too much, but hey, I might as well try!
Well, I hope you enjoyed my Mealthy MultiPot 2.0 review. I definitely give this pot two thumbs up and highly recommend it. Don't forget to check out my CrispLid review as well. Right now, you can save $10 when you buy the MultiPot 2.0, the CrispLid, or my favorite non-stick pan, by using code ONEHAPPYHOUSEWIFE. Happy cooking!