Happy November! The holidays are around the corner and the November Instant Pot Meal Plan covers everything you need for a great Thanksgiving! You'll find everything from comforting soup and pasta recipes to unbelievably delicious desserts. It's all in this month's meal plan. Here's what you can expect: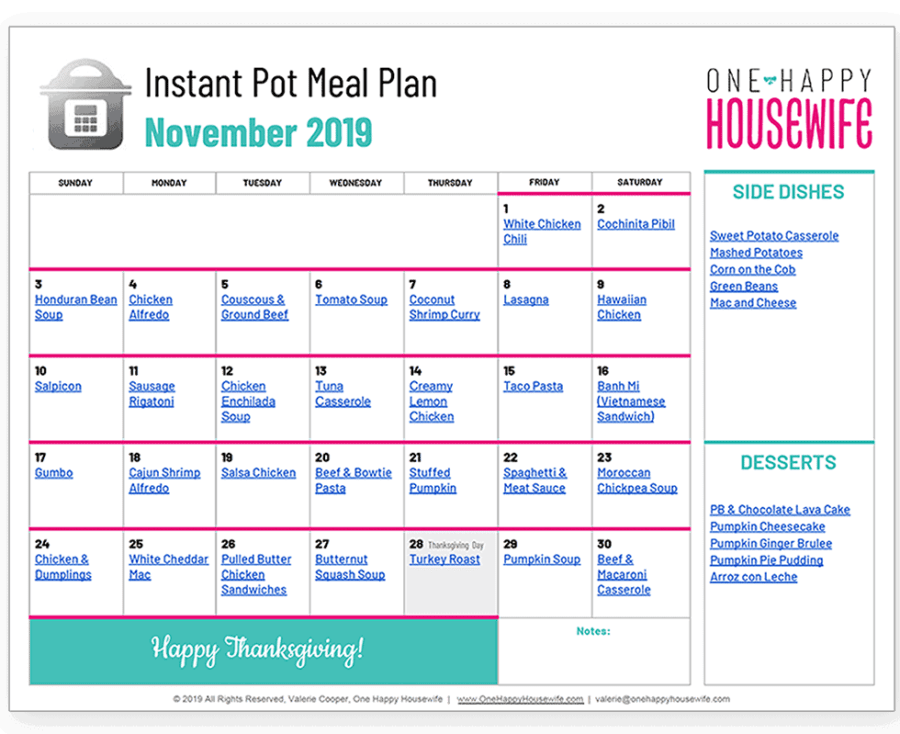 Instant Pot Soup Recipes
You'll find tons of comforting soup recipes in this month's meal plan. There are lots of warm and comforting soups like White Chicken Chili, Bean Soup, Tomato Soup, Enchilada Soup, and Chicken and Dumplings. These soups are perfect for warming you up on chilly days.
Instant Pot Pasta Recipes
If you're in the mood for pasta, you'll find lots of hearty pasta dishes to choose from. I've included recipes for Chicken Alfredo, Lasagna, Sausage Rigatoni, Taco Pasta, Shrimp Alfredo, and Spaghetti and Meatballs. There is nothing like a warm plate of pasta to delight a hungry tummy.
Instant Pot Thanksgiving Recipes
I even have a juicy and delicious Turkey Roast with Gravy for you on Thanksgiving day! And if you're looking for some Thanksgiving side dishes to serve with your turkey, I'd suggest serving it with a side of my Skillet Cornbread or my Cornbread Stuffing. And for a sweet treat on the side, do not miss my mother-in-law's Ambrosia Salad. Yum! I can't wait for Thanksgiving dinner.
Instant Pot Side Dishes
I've given you lots of delicious Instant Pot side dishes to choose from this month. They're all perfect recipes for fall weather. You'll find recipes like Mashed Potatoes, Corn on the Cob, Green Beans, Mac & Cheese, and Sweet Potato Casserole. Perfect sides for any fall-inspired meal that you'll be having this month.
Instant Pot Desserts
You'll also see lots of yummy dessert recipes to pick from for your celebration. You can't miss my Arroz con Leche. It's one of the most popular recipes on my blog, and it's just phenomenal. There are also plenty of fall-inspired desserts for this month. Pumpkin appears in a lot of the recipes. There's Pumpkin Pie Pudding, Pumpkin Cheesecake, and Pumpkin Brulee. I'm looking forward to trying all of these.
Turkey Leftovers
If you have some turkey leftovers, check out my delicious Leftover Turkey Sandwich recipe. It has an amazing cranberry aioli on it that is crazy good!
Make sure you also check out my latest Instant Pot Meal Plan.
November 2019 Instant Pot Meal Plan
Below the list of recipes, you will find a link to the downloadable calendar and links to all my monthly Instant Pot meal plans.
Main Dishes
Enjoy these wonderful Instant Pot dishes for the month of November.
Download the November 2019 Meal Plan Calendar.
For more Instant Pot Meal Plan ideas for the month of November, check out my archive of November Instant Pot Meal Plans.
Past Instant Pot Meal Plans
Each month I publish a new, updated Instant Pot Meal Plan. So don't miss out on seeing what wonderful dishes I've included in my latest one.
LOOKING FOR A PAST MEAL PLAN?
You can also access all of my previously published Instant Pot Meal Plans through the links below. I handpick the recipes that appear each month, so you will find that each month is unique with its own set of recipes geared specifically toward that month. Plus, on each meal plan page, you can download the printable calendar for that month.