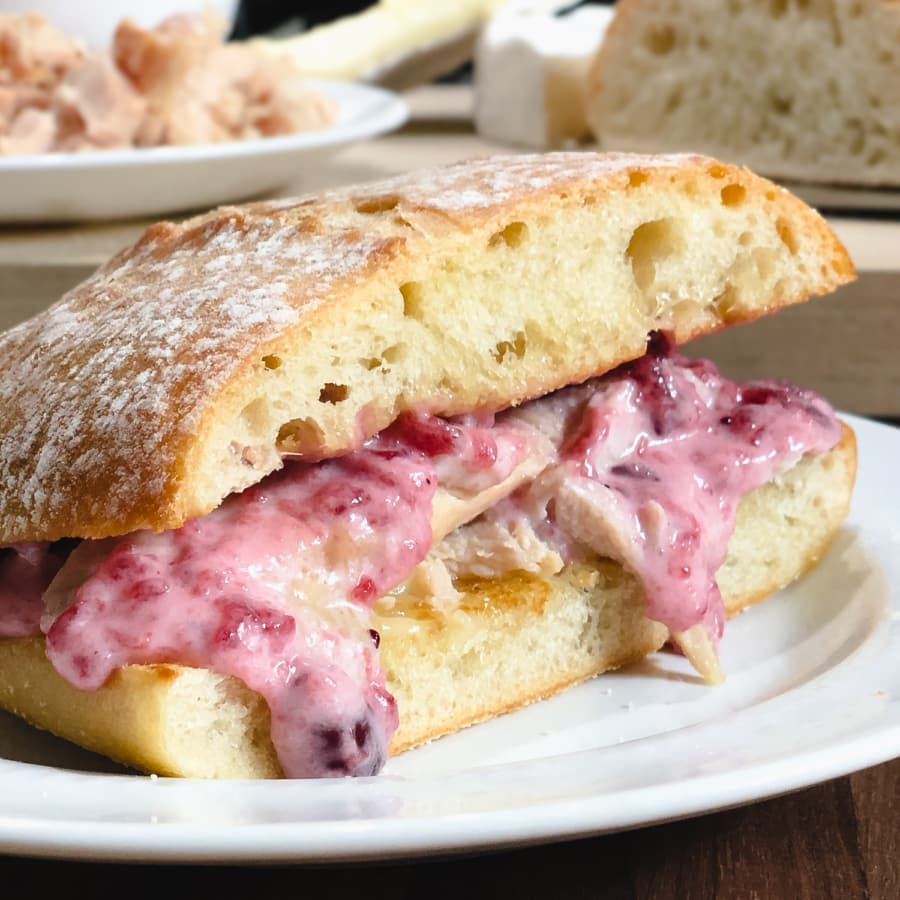 Now that your holiday celebration is over, I bet you're looking for something to make with your leftover turkey. Look no further, this leftover turkey sandwich with brie and cranberry aioli is it!
This post contains affiliate links. For more information, see my disclosure.
I'll be honest, I look forward to the day after Thanksgiving and Christmas a little more than I look forward to the actual day. Why? Because I dream of this sandwich all year! For several years now, we've been enjoying delicious leftover turkey sandwiches the day after our big meal.
Do I Have to Use Brie or Can I Use a Different Cheese?
The combination of melted brie with cranberry aioli is perfection! It's the right balance between savory and sweet. You can use other cheeses as well, but I like brie the best. I would say other good choices would be Gouda, Muenster, Manchego, or even goat cheese for a little extra twang!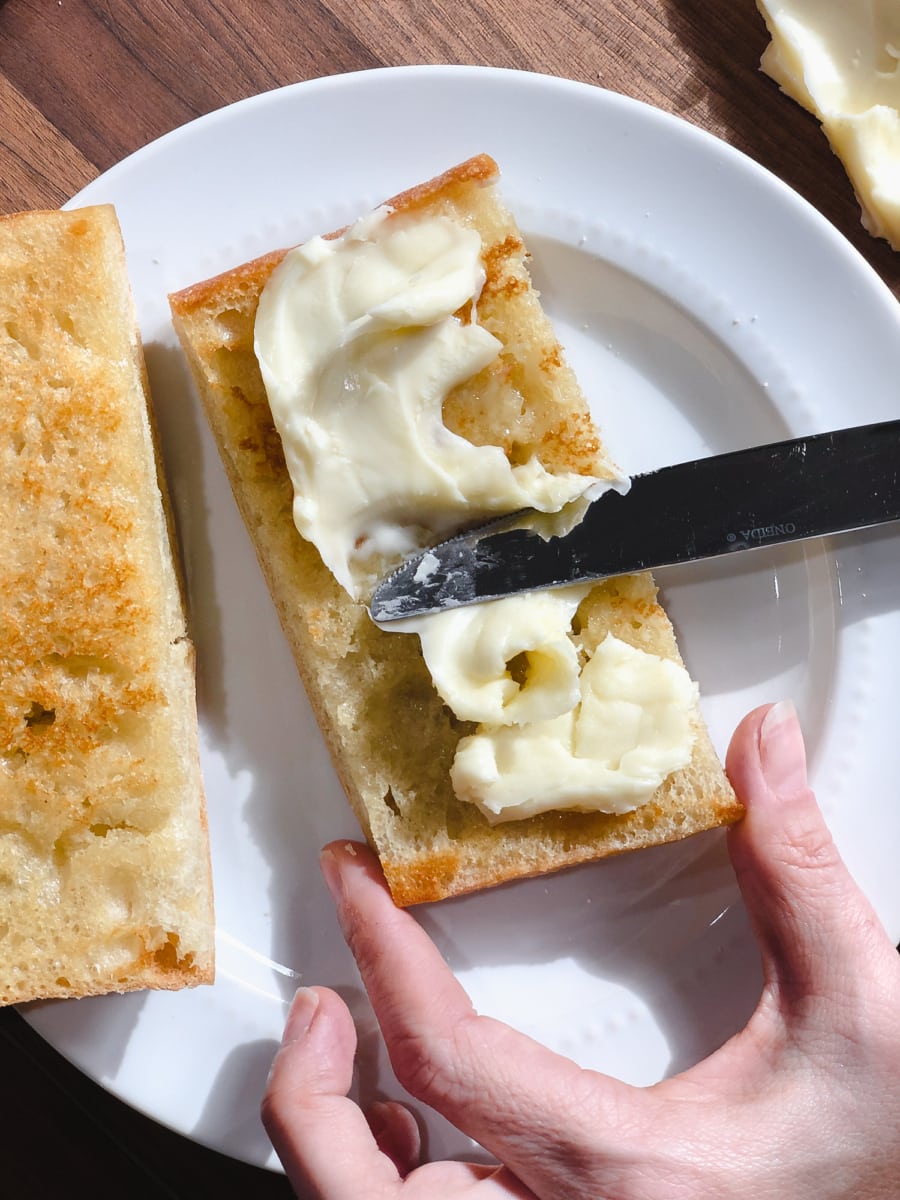 As far as the cranberry aioli, you can get the super easy recipe below. Make sure you're using whole cranberry sauce and not jellied cranberry sauce.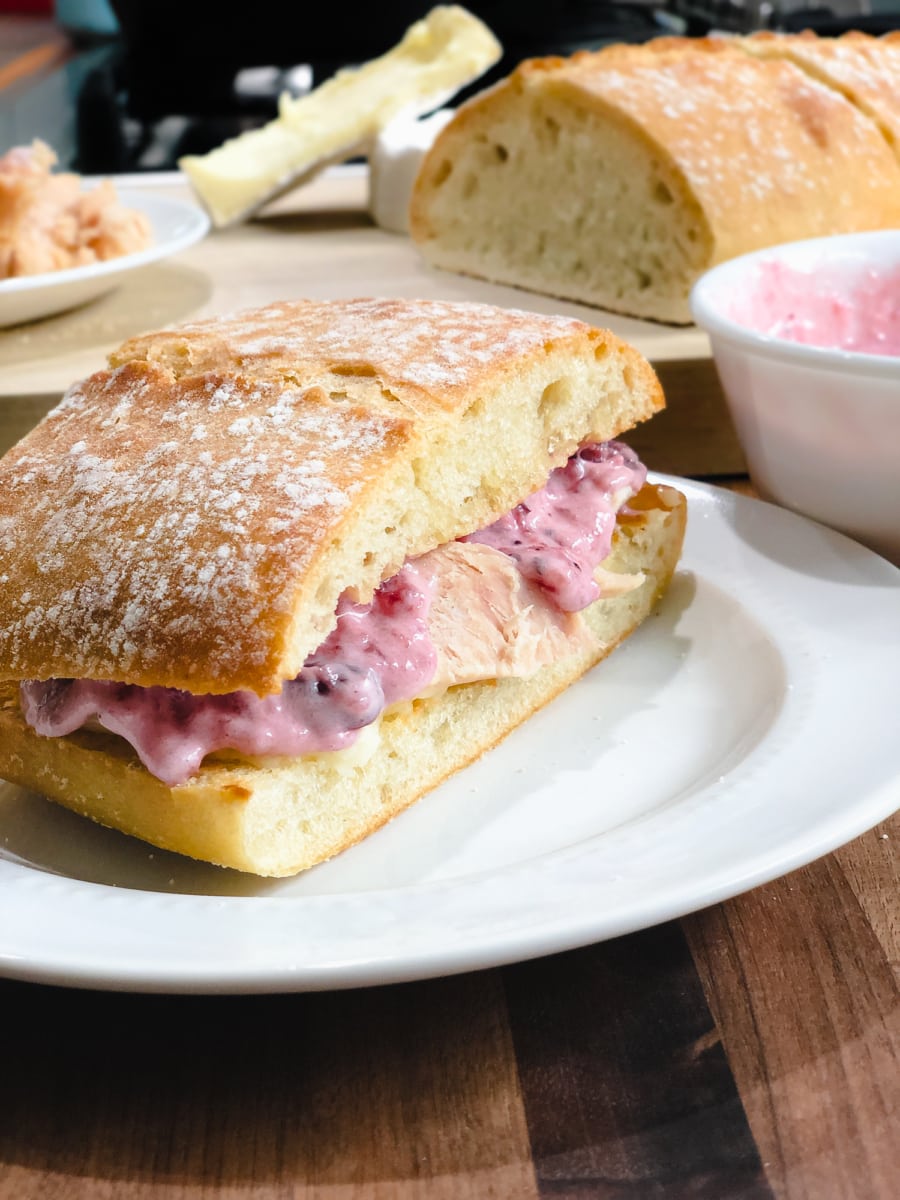 What Kind of Bread Is Best for A Leftover Turkey Sandwich?
My family loves crusty bread. Our favorites are ciabatta and sourdough. Any artisan bread will work for this sandwich. So pick what your family loves. I usually buy the bread and the cheese on the same day I buy everything for our Thanksgiving or Christmas dinner, that way I don't have to go to the store the day after.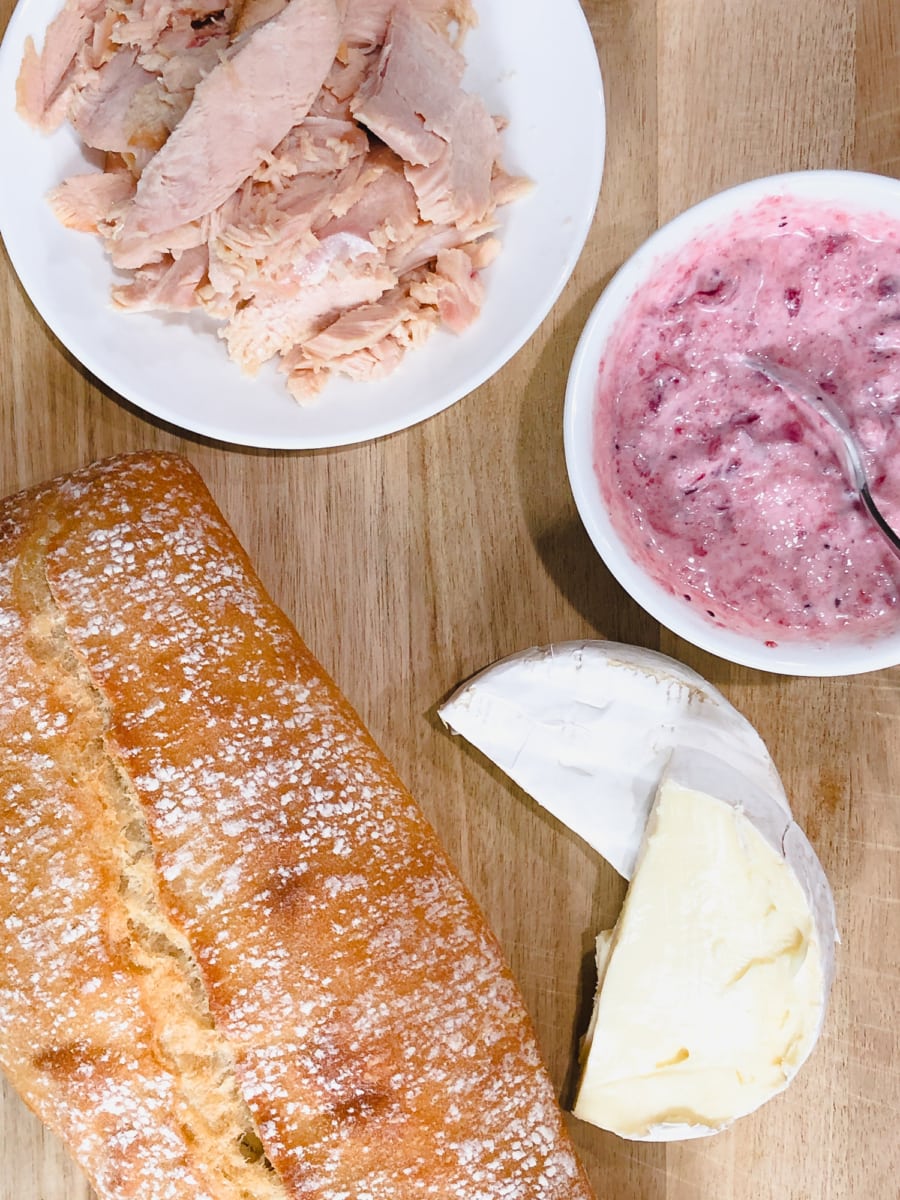 I love the ciabatta rolls from Trader Joe's since they already come in perfect little squares. If I can't make it to Trader Joe's, then I buy whatever crusty bread looks good at my local supermarket and we slice it ourselves.
How Can I Make the Leftover Turkey Juicier?
My only issue with leftover turkey is that it can get a bit dry. To fix this, I slice the turkey I'm going to use for our sandwiches and I heat it up on a skillet with a combination of butter and chicken stock. It's so delicious! The turkey comes out juicy and ready to be enjoyed in your sandwich.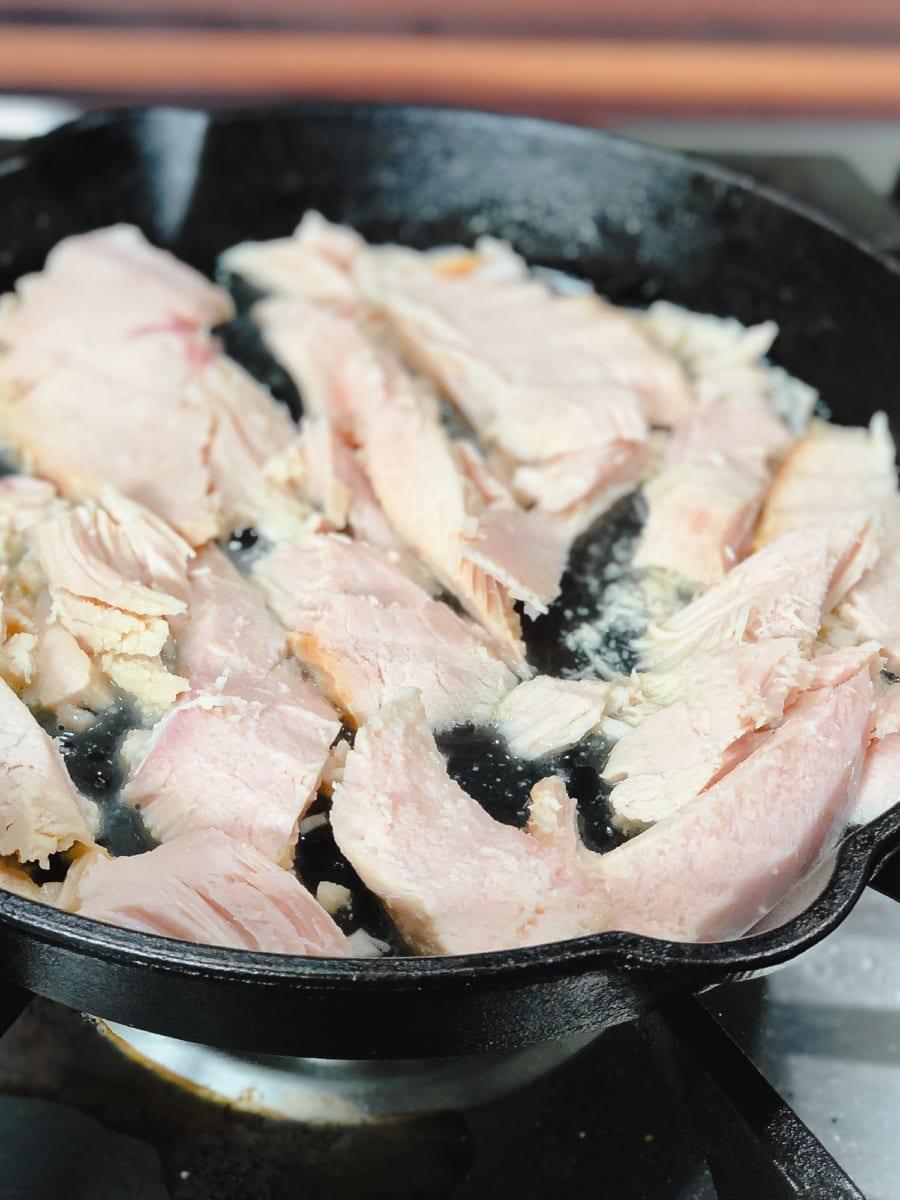 I know you will enjoy this delicious leftover Turkey Sandwich with Cranberry Aioli and Brie. It has now become a family tradition to eat it after Thanksgiving and Christmas dinner and after you taste it, I bet you'll be dreaming of it all year like I do!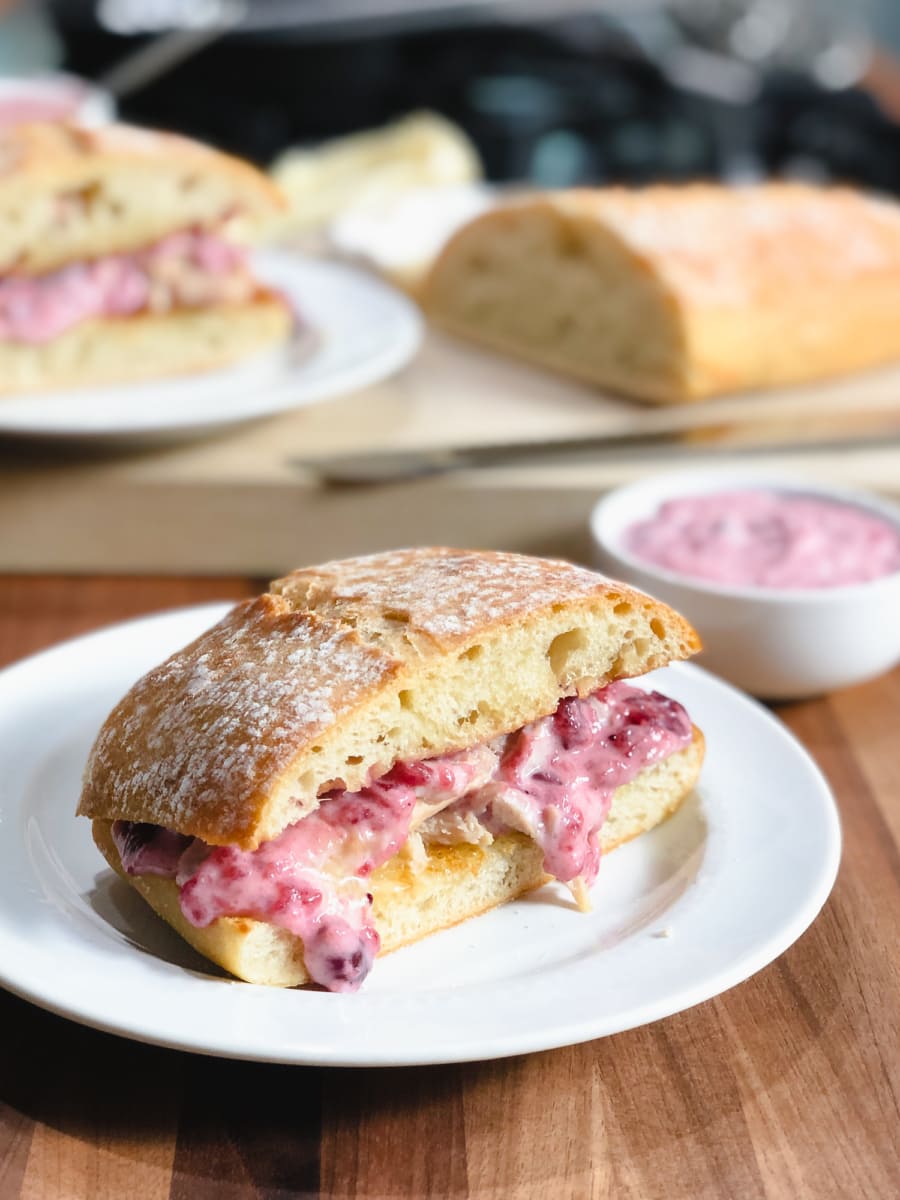 Leftover Turkey Sandwich
JUICY SLICES OF TURKEY SERVED ON A SLICE OF CIABATTA WITH BRIE AND TOPPED WITH CRANBERRY AIOLI
The most perfectly delicious way to serve up that leftover turkey after the holidays. The juicy turkey, with melty brie, and copious amounts of cranberry aioli offers an explosion of holiday flavors.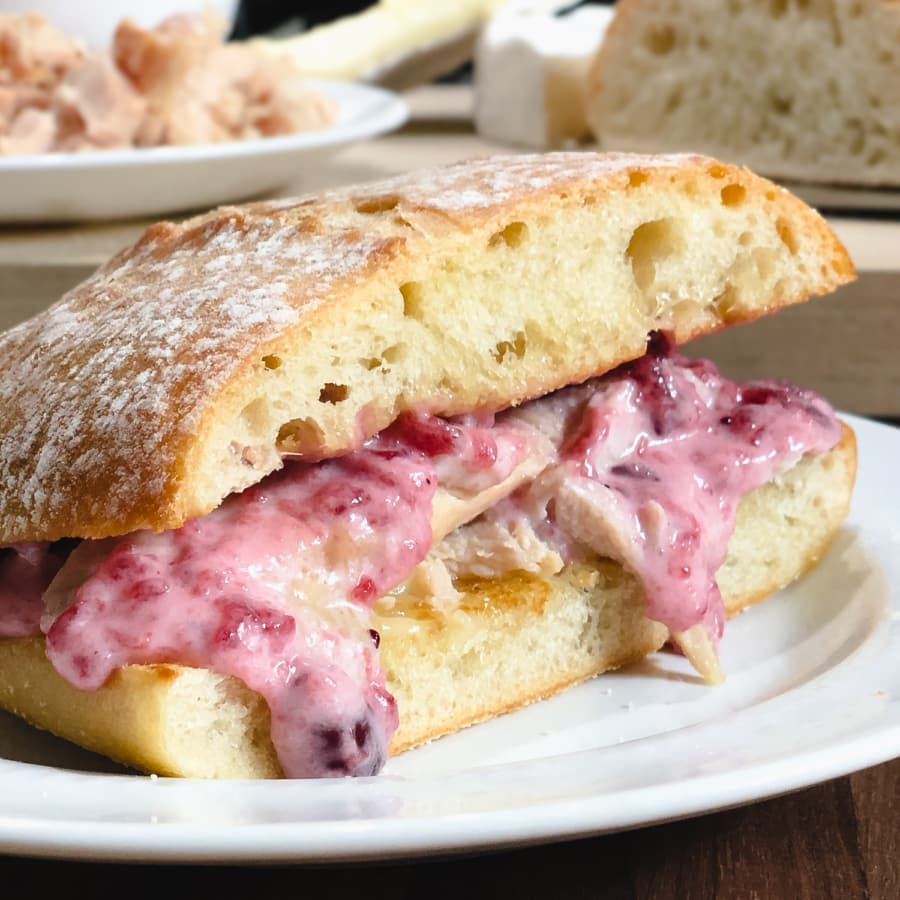 Instructions
Warm a skillet over medium-high heat, add the butter to the warm skillet, allow it to melt and then add the turkey to the skillet and sauté in the butter for 30 seconds.

Lower the heat on the stove and then add the chicken stock to the skillet and spread the turkey out evenly across the bottom of the skillet and allow it to cook in the stock until the liquid is absorbed.

Brush the insides of two slices of ciabatta bread with melted butter and then grill it on a hot skillet until lightly browned.

Spread the brie on the bottom slice of bread until it is fully covered, place the hot slices of turkey on top of the brie, and slather the bottom side of the top slice of bread with a generous amount of cranberry aioli.

Close the sandwich and then place back on the skillet to lightly grill the bottom of the sandwich until the brie begins to melt.

Serve and enjoy.
Nutrition Facts
Calories:
389
kcal
|
Carbohydrates:
53
g
|
Protein:
21
g
|
Fat:
9
g
|
Saturated Fat:
5
g
|
Cholesterol:
50
mg
|
Sodium:
715
mg
|
Potassium:
124
mg
|
Fiber:
1
g
|
Vitamin A:
195
IU
|
Calcium:
30
mg
|
Iron:
0.4
mg