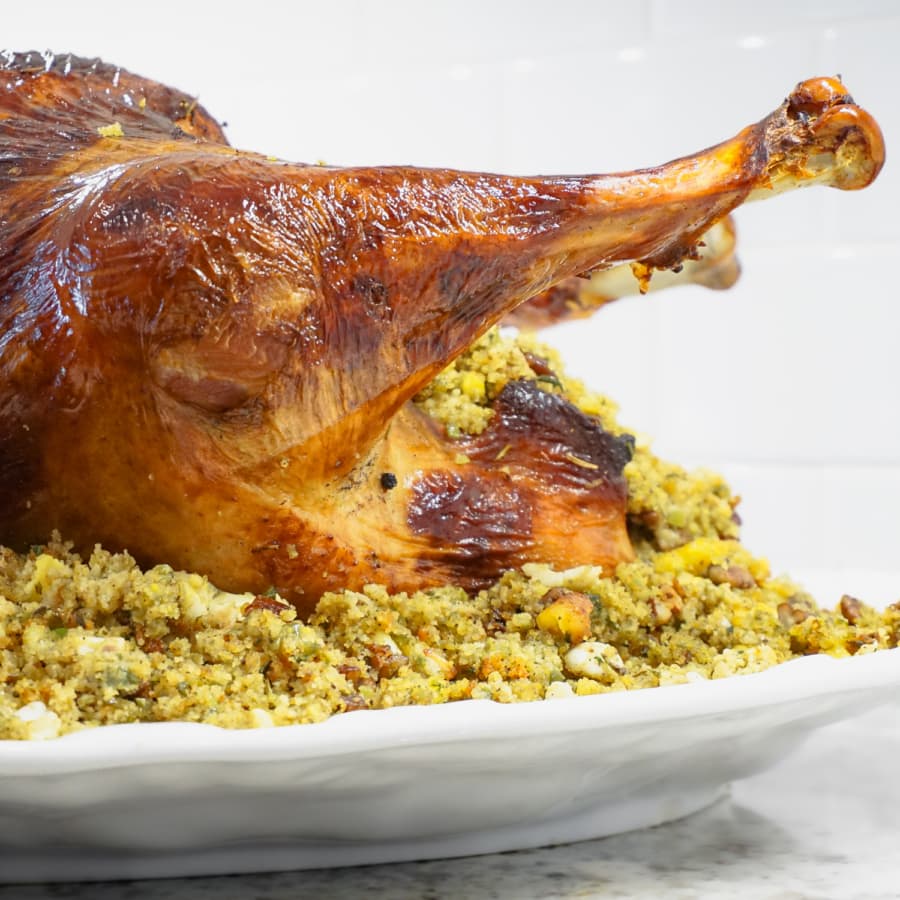 Cornbread stuffing is a staple in most homes during Thanksgiving celebrations. It makes a perfect companion for turkey and when topped with gravy it is perfection.
This post contains affiliate links. For more information, see my disclosure.
This from-scratch cornbread stuffing was created by Ryan and was inspired by the one his mom used to make for Thanksgiving. Our family and friends have enjoyed it for years at our own Thanksgiving dinners. While it's not hard, it's not a quick and super easy cornbread stuffing, but let me tell you it is so worth the extra effort.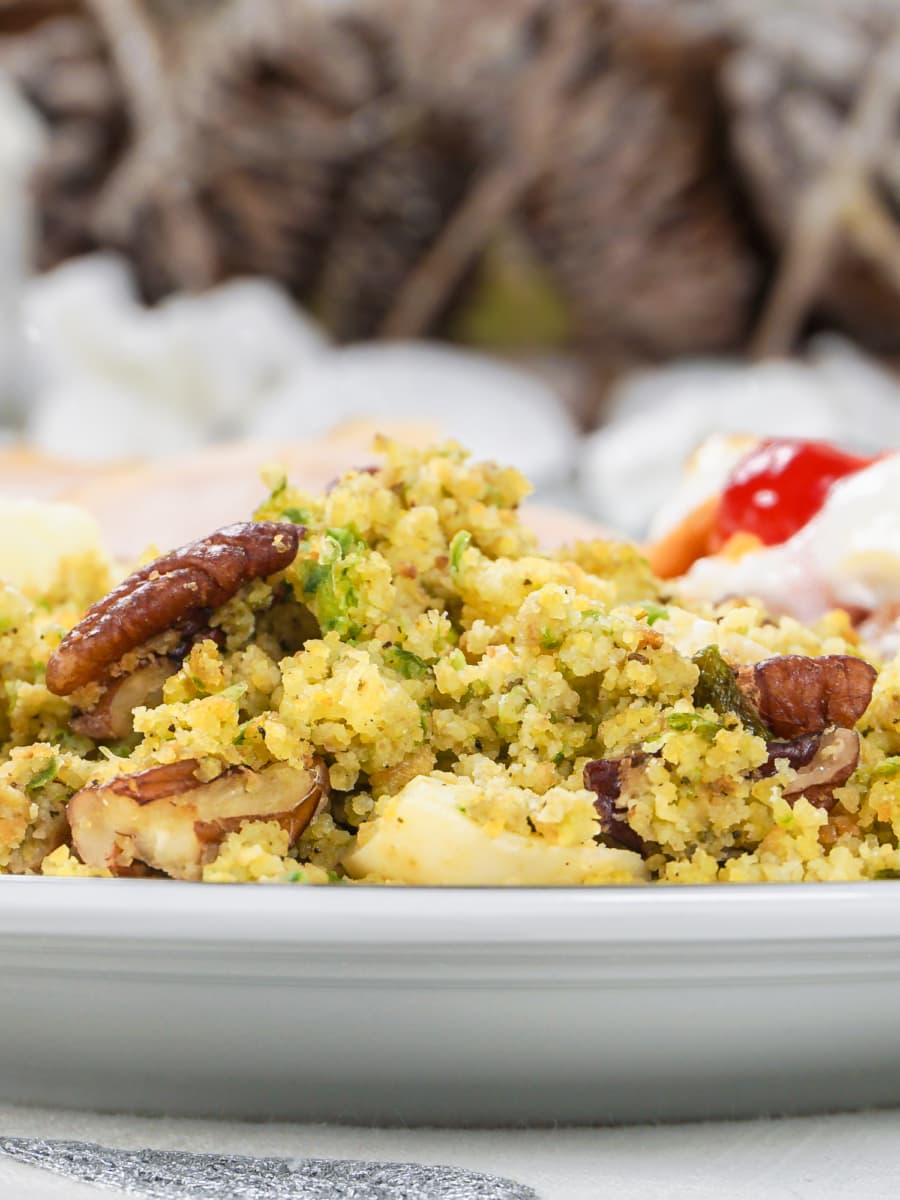 The Perfect Cornbread Stuffing
This cornbread stuffing is loaded with flavor. Delicious, crumbled cornbread, bell peppers, green onions, celery, pecans, and eggs all come together to form the perfect cornbread stuffing. Add sage and you get the traditional cornbread stuffing flavor.
Only Fresh Ingredients
Everything in this cornbread stuffing is fresh and from scratch. Even the actual cornbread is made following Ryan's Skillet Cornbread recipe. I have to admit, I cry inside every time Ryan makes the cornbread and then crumbles it up for the stuffing. What can I say, I love cornbread!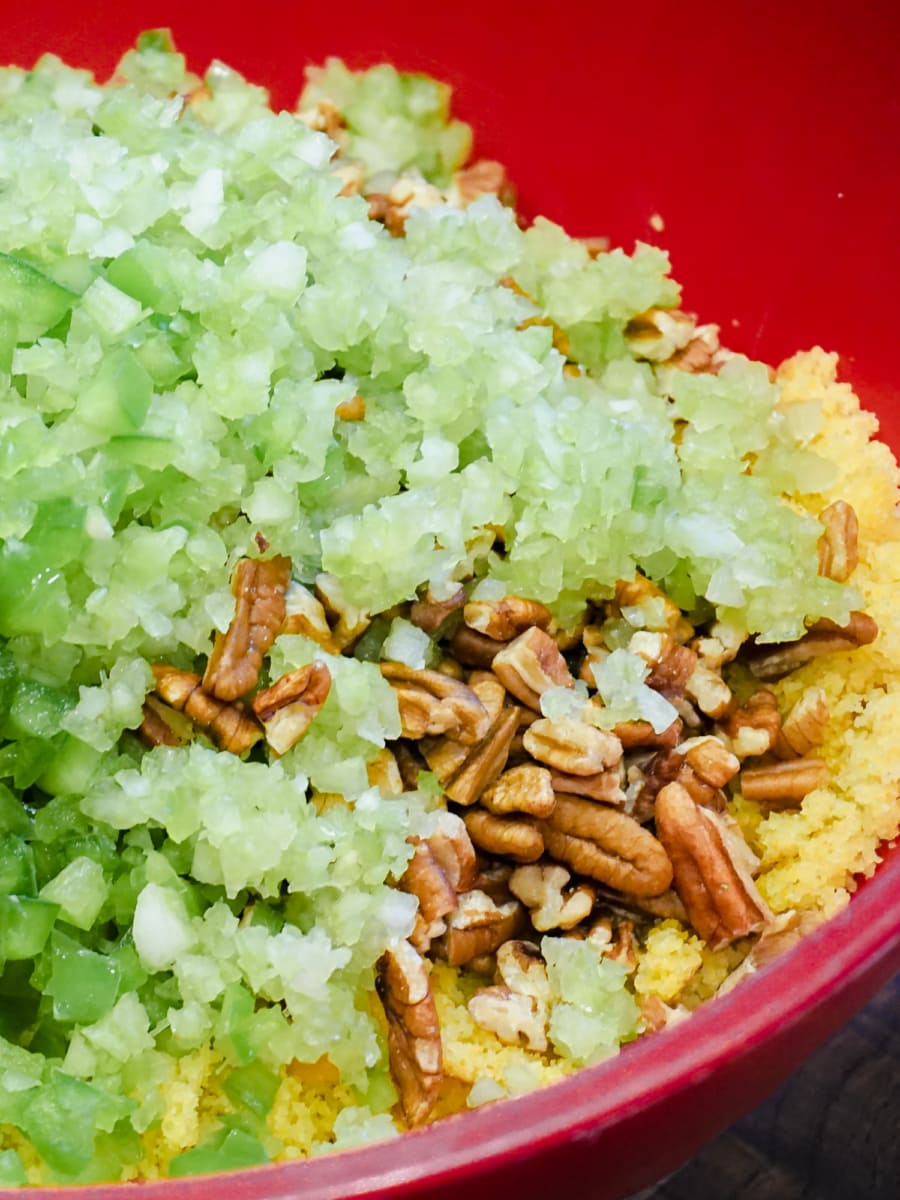 You will also need hard-boiled eggs for this recipe. If you have an Instant Pot you can save some time and get easy to peel eggs by following the 5-5-5 Hard Boiled Egg method. It's easy and you probably won't ever boil eggs on the stove again!
One of the final ingredients you will add to the cornbread stuffing before it goes in the oven is the turkey broth. Ryan usually takes the turkey neck and giblets with water and cooks them on the stove with celery and aromatics such as peppercorn, garlic, and rosemary. If you don't want to make your own turkey broth, you can always use chicken broth.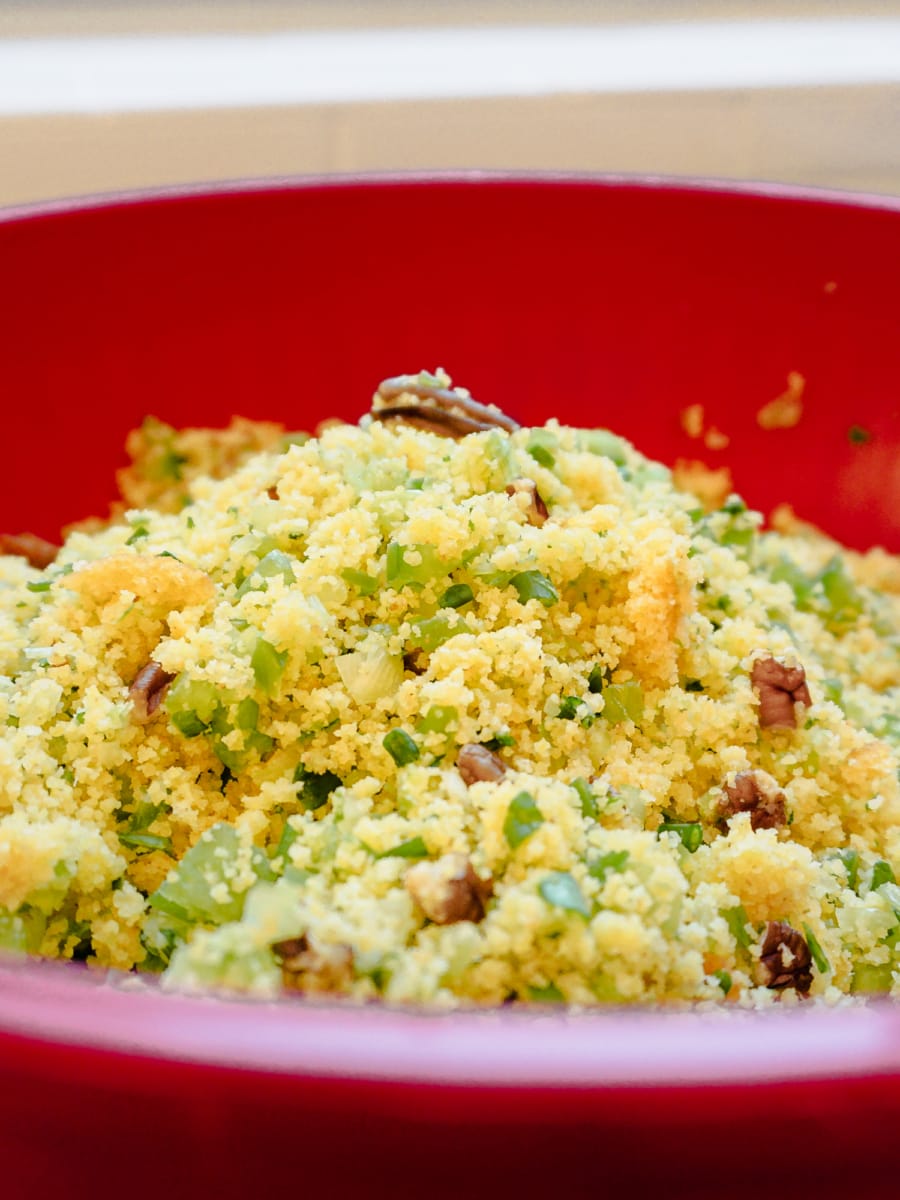 Prep Ahead and Save Some Time
You will definitely want to prep your ingredients a day before your celebration. Things like the hard-boiled eggs and the Skillet Cornbread can be made ahead of time to save time on the big day. You can also chop all your veggies and nuts and keep them in separate containers.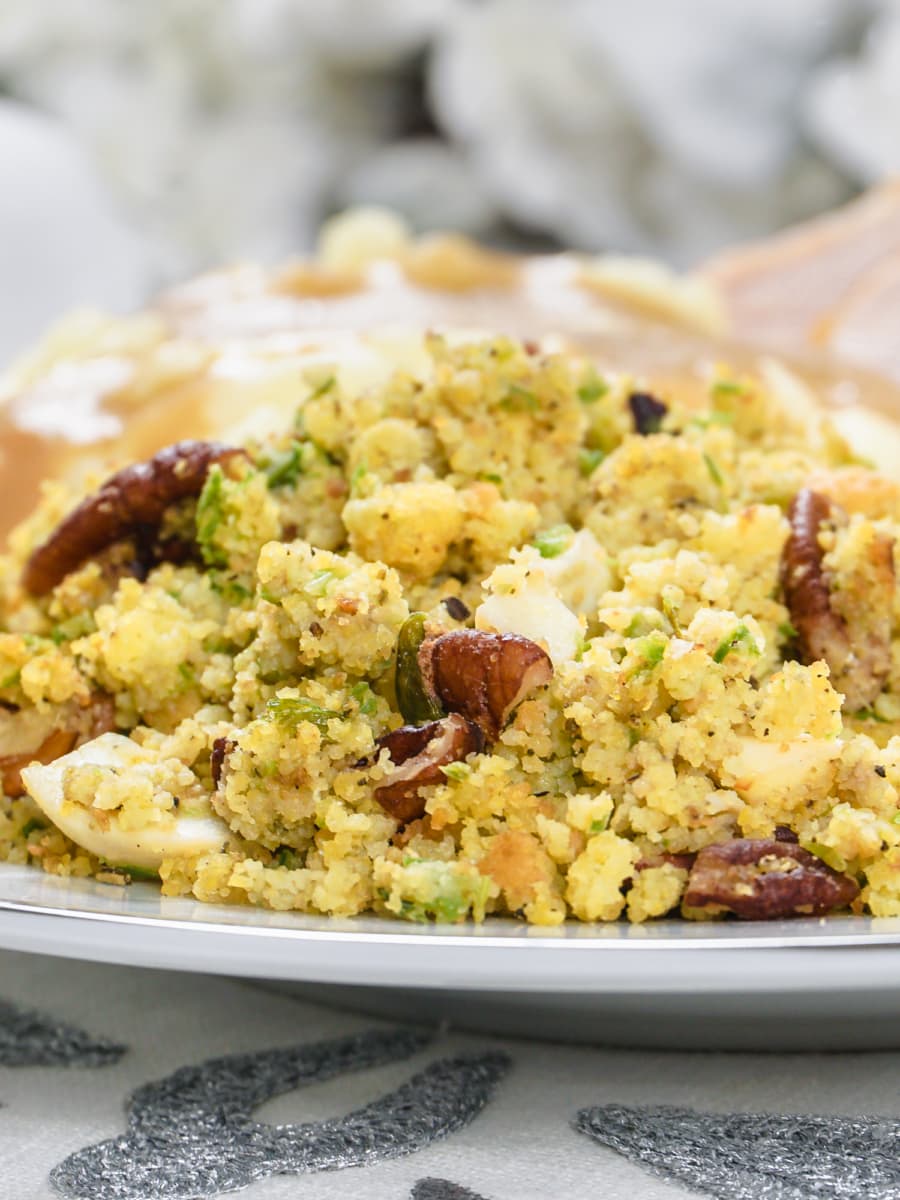 On the day of your dinner, you can mix it all together and add the final ingredients before putting it in the oven. It doesn't take too long in the oven before it's ready. It will be perfect when it's time to eat.
I'm certain that when you make this cornbread stuffing, your family and guests will appreciate the effort you put into making it. It is a truly delicious addition to your holiday dinner.
Cornbread Stuffing
CRUMBLED CORNBREAD, FRESH VEGETABLES, PECANS, AND CHOPPED HARD-BOILED EGGS
The only cornbread stuffing that should be served during the holidays. Homemade with fresh vegetables, pecans, hard-boiled eggs and seasoned with sage, this traditional stuffing is perfect to serve alongside a juicy turkey for Thanksgiving or Christmas dinner.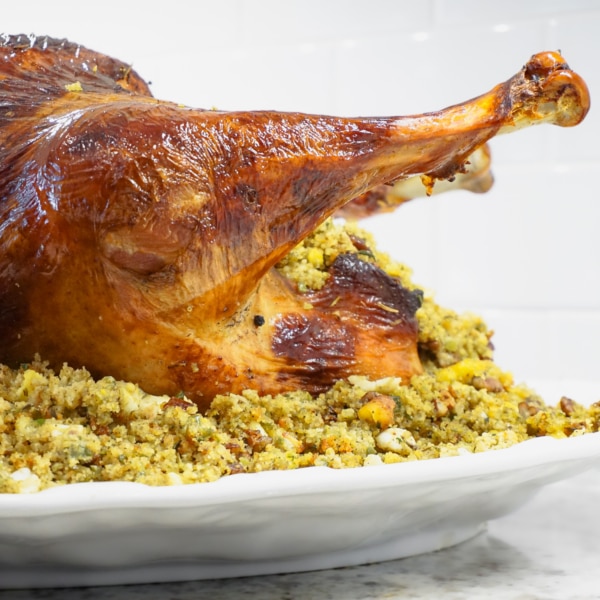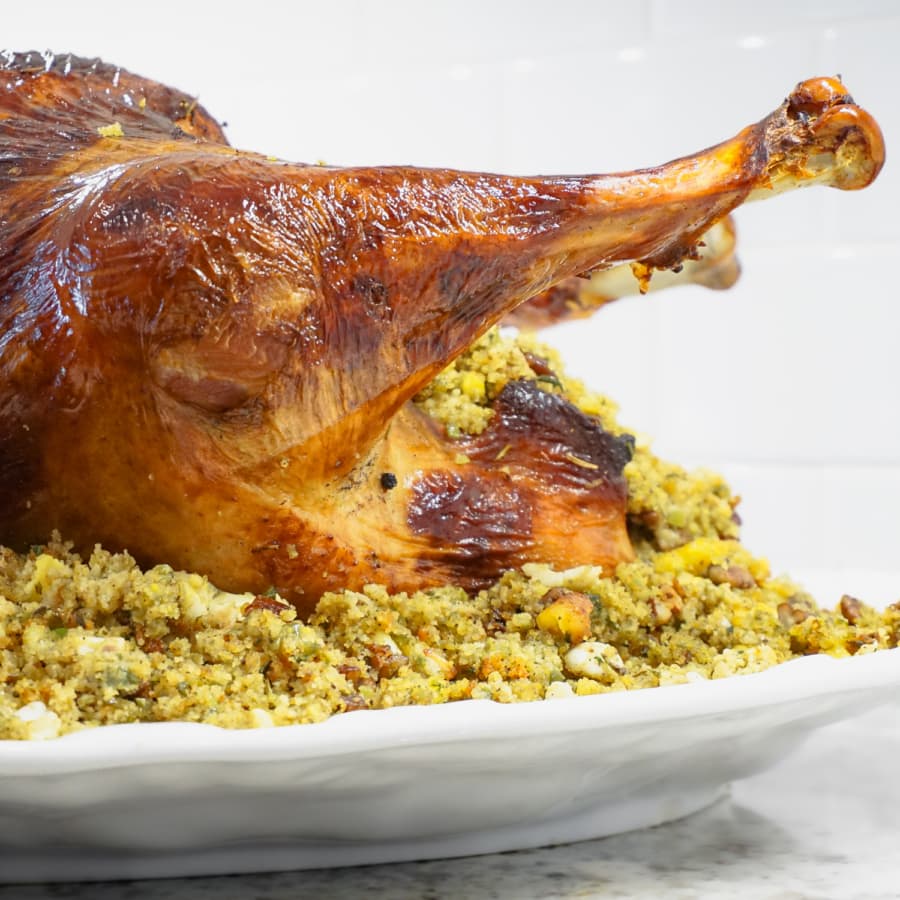 Instructions
Preheat an oven to 375°.

Add 10 cups of crumbled homemade cornbread to a large prep bowl. My

skillet cornbread recipe

yields just the right amount of cornbread for this recipe.

Add the chopped green pepper, green onion, celery, pecans and eggs to the bowl and fold into the crumbled cornbread.

Add the sage and salt to the cornbread stuffing mix and fold in. Taste and add more sage and salt as necessary.

Add the melted butter and stock, tossing the stuffing mixture as the liquids are being added to ensure even coverage.

Transfer to a 9 x 13 baking dish and bake on the middle rack for 25 minutes or until the top layer of the stuffing begins to get brown and crusty. For a dryer more crusty stuffing, see the notes below.
Nutrition Facts
Calories:
337
kcal
|
Carbohydrates:
31
g
|
Protein:
7
g
|
Fat:
20
g
|
Saturated Fat:
7
g
|
Cholesterol:
118
mg
|
Sodium:
388
mg
|
Potassium:
226
mg
|
Fiber:
2
g
|
Sugar:
9
g
|
Vitamin A:
570
IU
|
Vitamin C:
11.9
mg
|
Calcium:
102
mg
|
Iron:
1.8
mg
Notes
Making the cornbread. My skillet cornbread recipe yields just the right amount of crumbled cornbread for this cornbread stuffing.
Boiling the eggs. Instant Pot owners can use my 5-5-5 method for hard-boiled eggs.
For a dryer more crusty stuffing. Depending on how dry you like your stuffing, you may wish to pull the baking dish out of the oven after the top layer has browned and toasted. Toss the stuffing and place it back in the oven until the top layer browns again. Repeat this until the stuffing has reached your desired dryness.