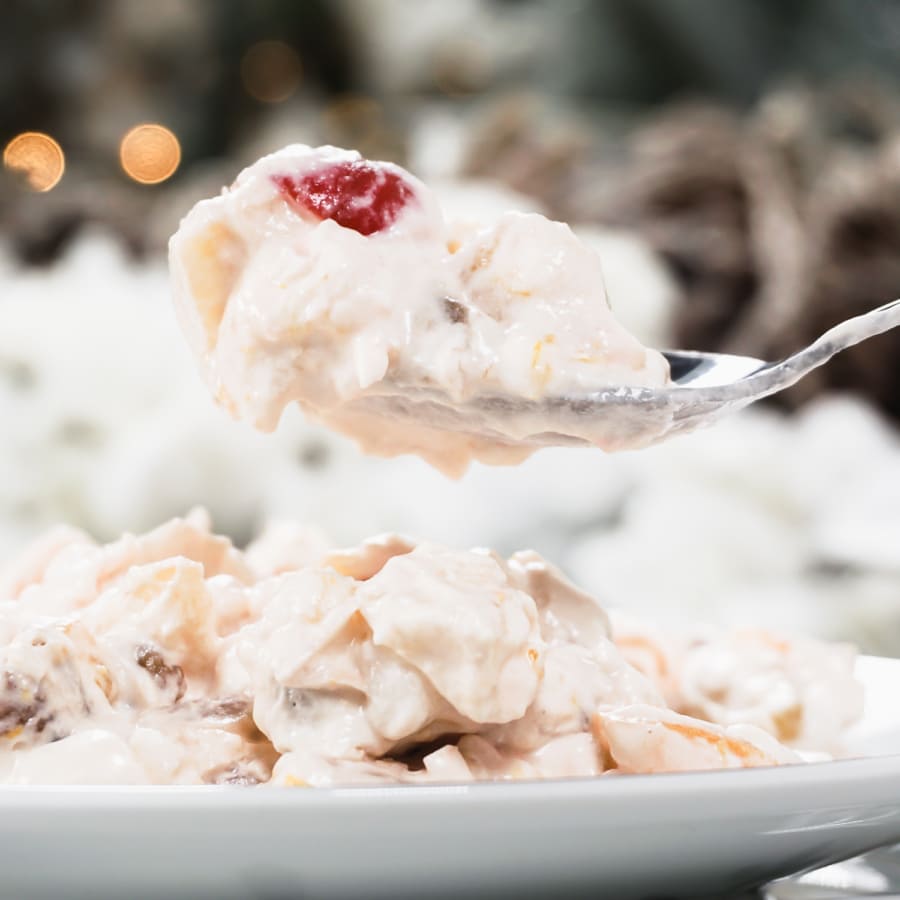 This creamy, fluffy and sweetly delicious Ambrosia Fruit Salad has been in my life for the last 24 years. The first time I had it was during Thanksgiving at Ryan's home. We were in college and it was my first Thanksgiving celebration ever.
This post contains affiliate links. For more information, see my disclosure.
Ryan's mom, Susan, and his grandmother spent the whole day prior to Thanksgiving preparing food and cooking lots of delicious dishes. There was turkey, ham, cranberry sauce, mashed potatoes, sweet potatoes, all sorts of pies, and many other fantastic sides. This fruit salad, as she called it, was one of the things she carefully put together.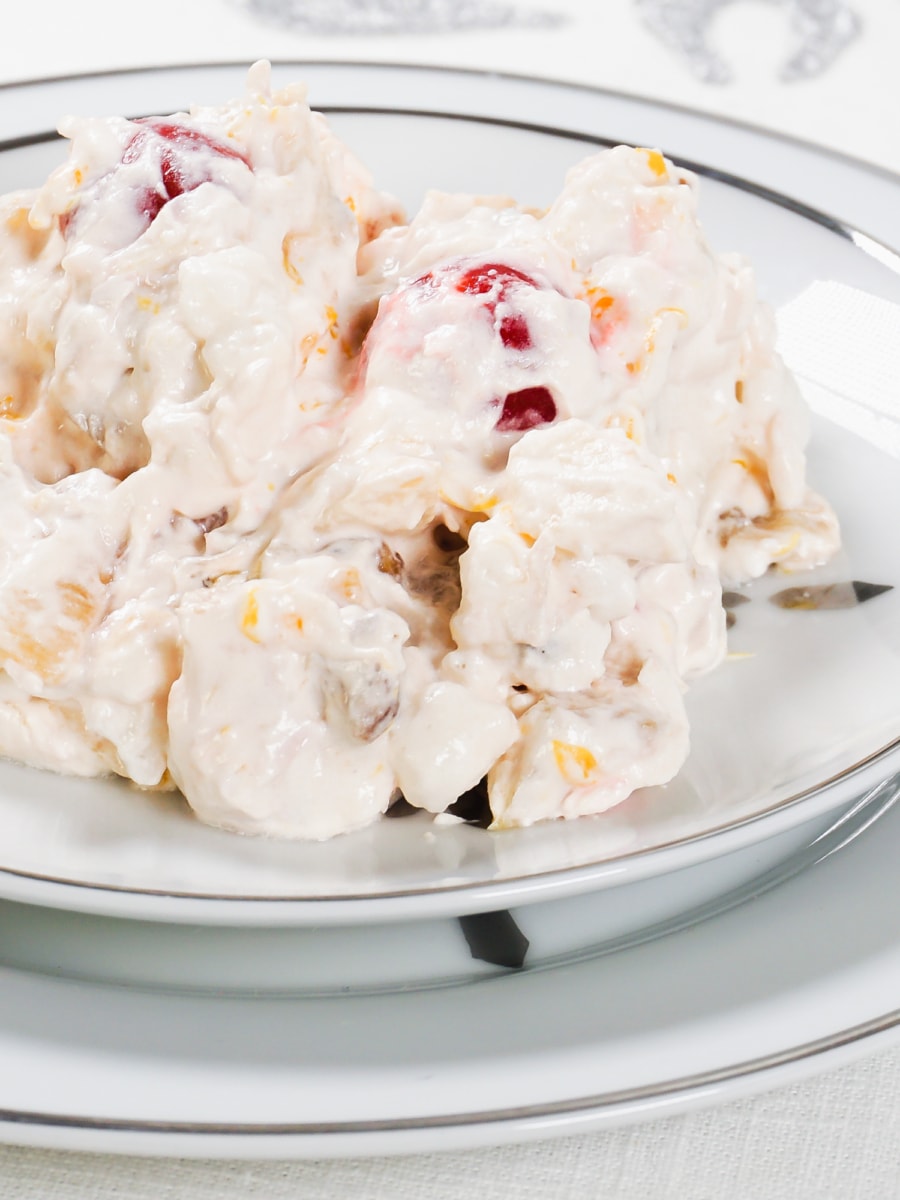 An Easy Side Perfect for Any Experience Level
I helped Ryan's mom and grandma fix the different Thanksgiving foods, but of course, at 18, I had very little experience in the kitchen. So it was mostly me helping clean up and helping with some simple things here and there.
When Ryan's mom started fixing this salad, though, I thought, "I can certainly do that!" So I wrote down her ingredients and instructions and watched very carefully.
The Perfect Sweetness and Fluffiness in Every Bite
It was incredibly easy to make and when I took my first bite, oh my goodness I was in love! That was the best thing I'd ever had. It was sweet, but not too sweet, it was fluffy, creamy and absolutely perfect. The combination of whipped cream and sour cream surprised me and though I was skeptical at first, I realized it was perfect!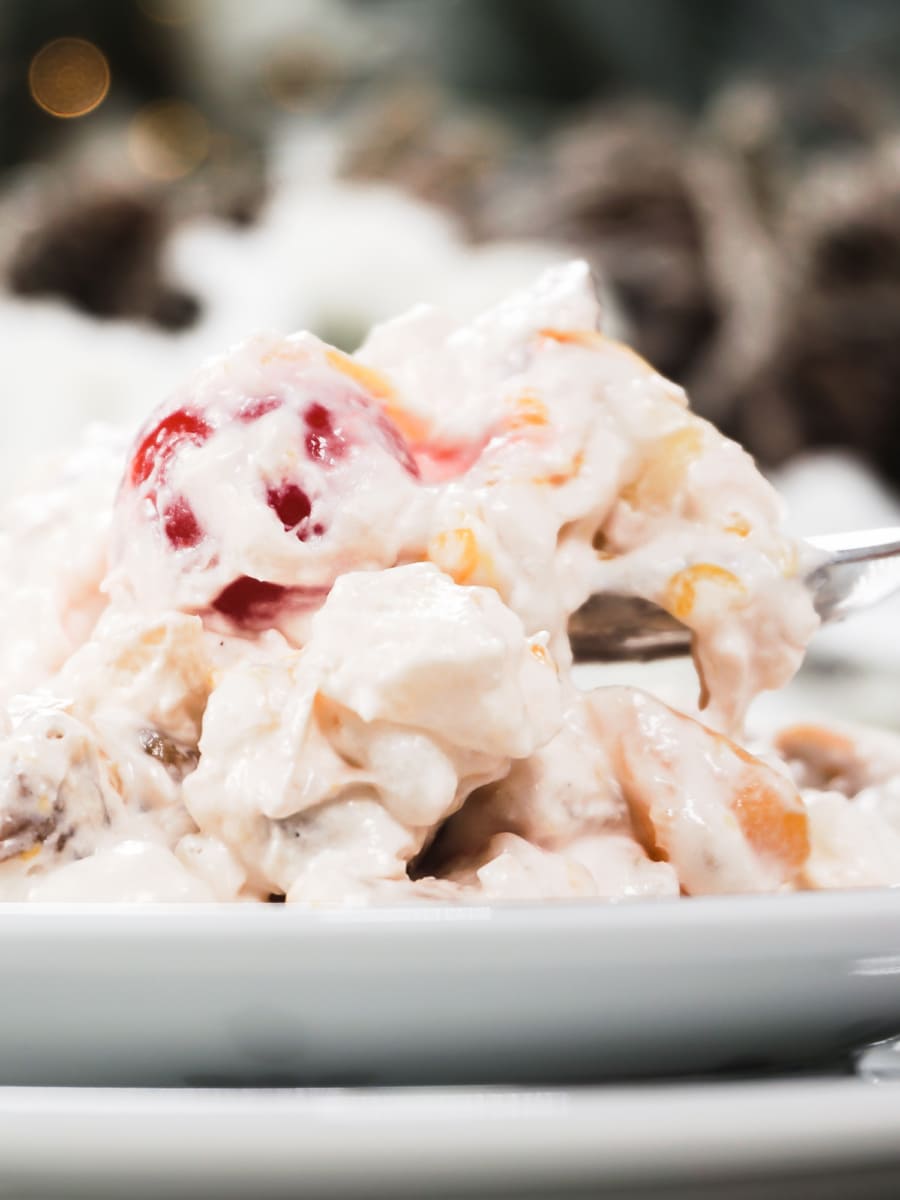 Susan's Memory Lives On
Every single year after that, for the past 24 years, I have made Susan's fruit salad for our Thanksgiving celebrations. My entire family loves it. My sister and her boys are huge fans and she has even made it several times herself. My mom is probably the biggest fan of the salad and asks every year if I'm making it again.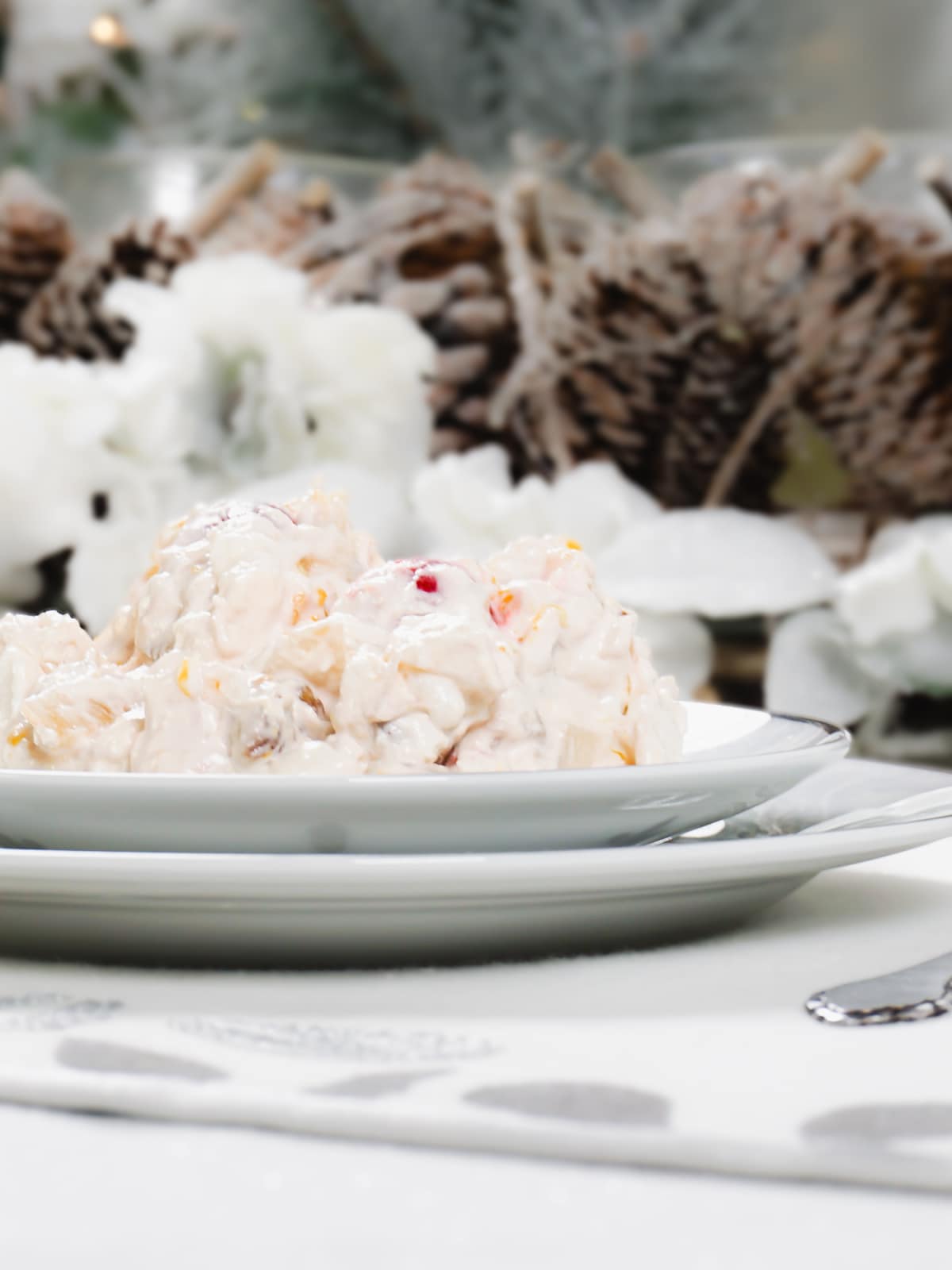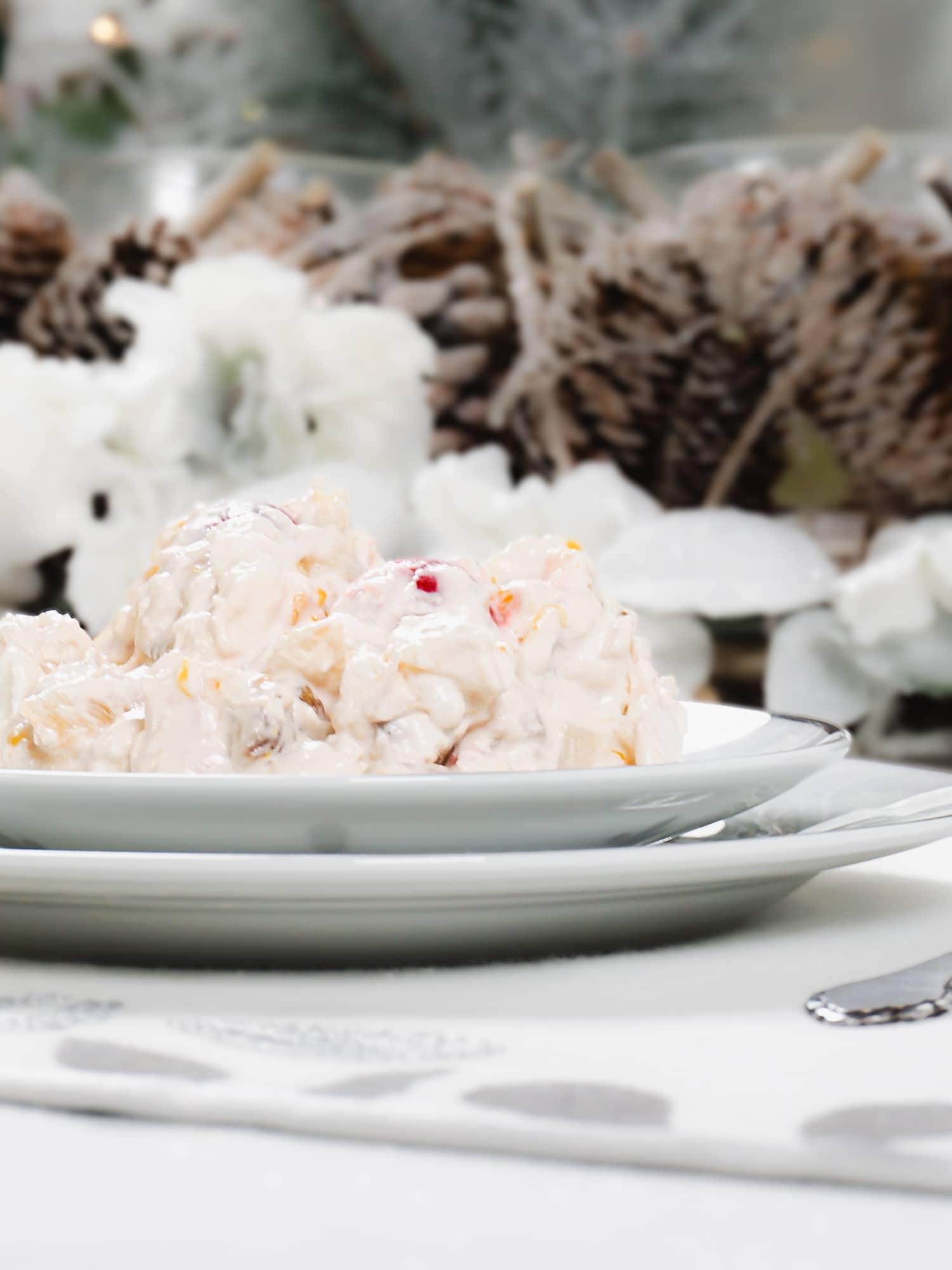 Susan is no longer with us, but her memory lives on and every time I make the salad I remember that very first time we were in the kitchen together and it makes my heart smile.
Though we always called it just "fruit salad" after a little research, I found the appropriate name was Ambrosia Salad. There are many variations of it, but this one right here is Susan's and it's awesome! I'm certain that you and your family will love this Ambrosia Fruit Salad just as much as mine has.
Susan's Ambrosia Fruit Salad
A MEDLEY OF FRUITS, COCONUT FLAKES, MARSHMALLOWS, AND PECANS FOLDED INTO A FLUFFY WHIPPED TOPPING
This heavenly Ambrosia Fruit Salad is so creamy sweet and loaded with fruit cocktail, mandarin oranges, cherries, apple, banana, coconut, pecans, and mini marshmallows. Perfect for your next holiday gathering.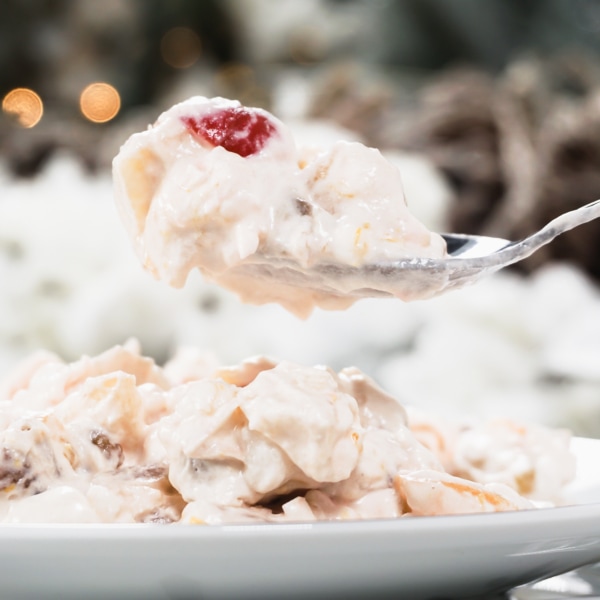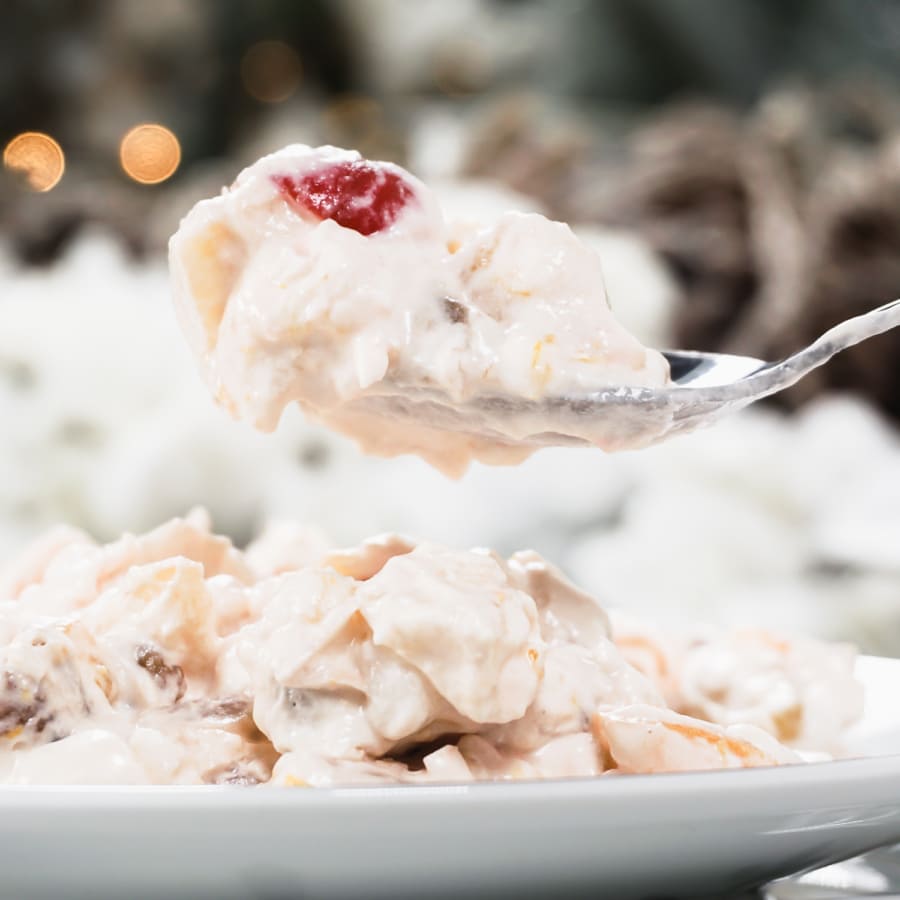 Instructions
In a large bowl add the sour cream and whipped topping and stir together.

Fold the fruit cocktail, mandarin oranges, maraschino cherries, coconut, marshmallows, and pecans into the creamy whipped topping. Cover and chill in the refrigerator.

30 minutes before serving, peel and chop the apples and bananas. Add them to a covered bowl with the lemon juice and gently toss them until they are evenly covered with the lemon juice. Fold the apple and banana into the fruit salad and place back into the refrigerator until ready to serve.

When ready to serve, transfer to a serving bowl and serve.
Nutrition Facts
Calories:
203
kcal
|
Carbohydrates:
25
g
|
Protein:
2
g
|
Fat:
11
g
|
Saturated Fat:
4
g
|
Cholesterol:
9
mg
|
Sodium:
37
mg
|
Potassium:
257
mg
|
Fiber:
3
g
|
Sugar:
18
g
|
Vitamin A:
440
IU
|
Vitamin C:
14.9
mg
|
Calcium:
52
mg
|
Iron:
0.6
mg
Tips & Tricks
Ensure that the apple and banana are fresh when serving. Both the apple and banana can start to brown and the banana can get mushy and gross once they have sat in the salad too long. Tossing them both in the freshly squeezed lemon juice helps ensure that they look and taste fresh when served. Also, if you can hold off on preparing both the apple and banana until 10 or 20 minutes before serving the salad, you will get the best results.
Serving Suggestions
Great for the holidays. This salad is great served after a Thanksgiving or Christmas dinner. We serve it every year with Thanksgiving dinner.