It's turkey time! With the holidays around the corner, you'll want to have an excellent meal plan in order. My November Instant Pot Meal Plans are a great resource to help you plan your meals for this month. In the meal plans, you'll find plenty of warm and delicious fall meals, side dishes, and desserts. There are also some great recipes for Thanksgiving Day. Here's what you can expect: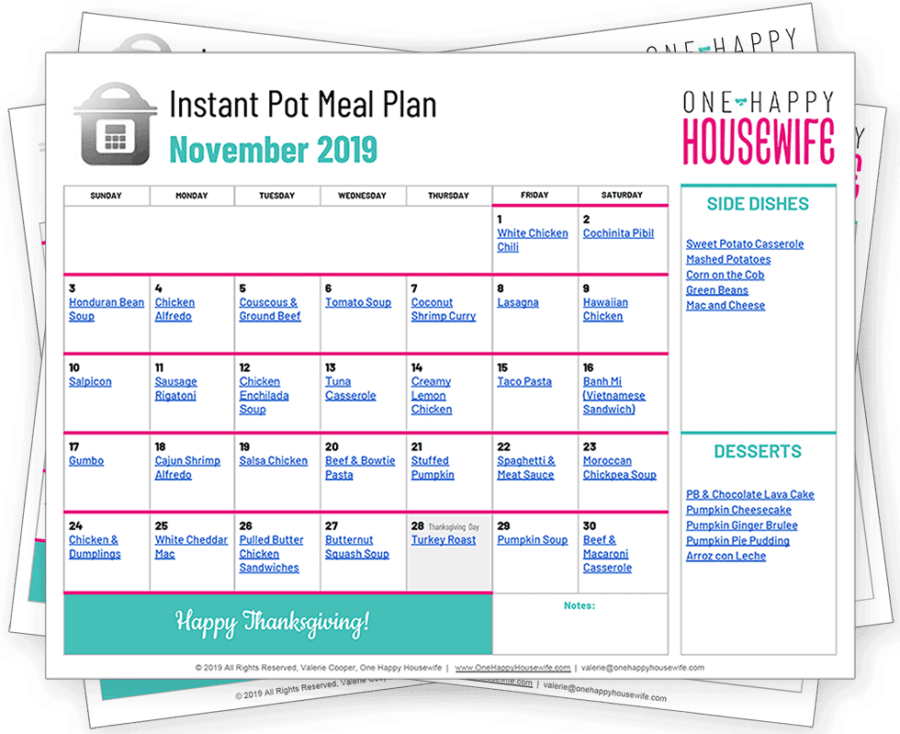 Instant Pot Soups
You'll find lots of fantastic soup recipes in my November Meal Plans. There is no shortage of soul-soothing soups like Tomato Soup, Pumpkin Soup, and Chicken and Dumplings. The chilly weather sets the perfect stage for a warm bowl of soup. So, check out each meal plan to see all the wonderful options.
You'll want excellent crusty bread to serve with your soup, so check out my Homemade Garlic Bread. It's perfect for dipping in all these wonderful soups.
Instant Pot Fall Recipes
Well, it's the month of turkeys and cornucopias and that means plenty of fall-themed meals. You'll find that these meal plans are chock full of fall recipes. You'll find recipes for Chili, Butternut Mac & Cheese, Sweet Potato Casserole, and so much more.
Instant Pot Thanksgiving Recipes
You'll find a tender and juicy Turkey Roast with Gravy that's perfect for Thanksgiving Day! I'd suggest you serve it with some Thanksgiving side dishes that are sure to complement it. Either my Skillet Cornbread or my Cornbread Stuffing are both excellent to serve alongside the turkey roast.
More Instant Pot Main Dishes
Not all the recipes are Thanksgivingy [The Urban Dictionary says that's a word, so I'm going with it.]. For a change of pace from all the fall-inspired recipes, you'll also find plenty of chicken recipes, beef recipes, and even some great seafood dishes.
My delicious Hawaiian Chicken, Salsa Chicken, and Chicken Tacos are in the meal plans. You'll also find Cheeseburger Mac, and Hawaiian Sloppy Joes to satisfy your craving for something beefy.
Oh, and I didn't forget about the pasta dishes. You'll find plenty of delicious pasta recipes to choose from. There are recipes for Lasagna, Cajun Shrimp Alfredo, and Taco Pasta to name a few. A warm plate of pasta is perfect for the cooler weather.
Instant Pot Side Dishes
There are lots of delicious Instant Pot side dishes in these meal plans and they're all perfect recipes for fall-inspired meals. You'll find recipes like Mashed Potatoes, Corn on the Cob, Green Beans, and more.
Instant Pot Dessert Recipes
With fall comes an abundance of wonderful fall-inspired desserts. In these meal plans, there's Pumpkin Pie Pudding, Pumpkin Cheesecake, Flan, and more. You'll love these outstandingly delectable desserts.
Turkey Leftovers
Do you have a lot of turkey leftover and don't know what to do with it? My delicious Leftover Turkey Sandwich recipe is the perfect way to use all that turkey.
Happy November! Happy Thanksgiving!
Make sure you also check out my latest Instant Pot Meal Plan.
Instant Pot Recipes for November
Here are some recipes you'll find on my November meal plans:
November Instant Pot Meal Plans
I've got some great meal plans for November on my website. Check them out here: