Boy, oh boy! Does this summer seem like it's been an extra hot one? Well, I've created my July meal plan to make things easier on you and help you cool off.
This month, you'll find my delicious Dr. Pepper Pulled Pork for the 4th of July. My Instant Pot Potato Salad pairs perfectly with the pulled pork! You'll also find lots of easy main dishes, desserts, and side dish ideas. Here's what you can expect: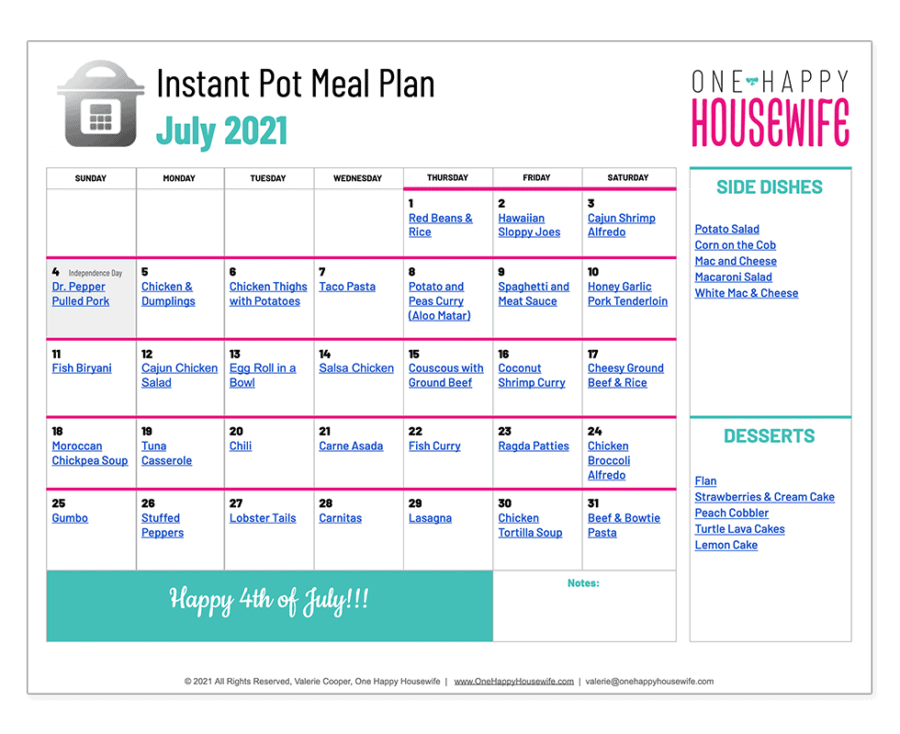 July 2021 Instant Pot Meal Plan
Below the list of recipes, you will find a link to the downloadable calendar and links to all my monthly Instant Pot meal plans.
Download the July 2021 Meal Plan Calendar.
For more Instant Pot Meal Plan ideas for the month of July, check out my archive of July Instant Pot Meal Plans.
Past Instant Pot Meal Plans
Each month I publish a new, updated Instant Pot Meal Plan. So don't miss out on seeing what wonderful dishes I've included in my latest one.
LOOKING FOR A PAST MEAL PLAN?
You can also access all of my previously published Instant Pot Meal Plans through the links below. I handpick the recipes that appear each month, so you will find that each month is unique with its own set of recipes geared specifically toward that month. Plus, on each meal plan page, you can download the printable calendar for that month.