Fall is here, and I'm ready to welcome cooler weather. Cooler weather means warm and hearty food like soups and chilis. I have so many great fall recipes and you'll find lots of them on my October Instant Pot meal plans. Plus, there are also plenty of wholesome and flavorful pasta dishes, chicken recipes, and ground beef recipes in these meal plans. Here's what you can expect: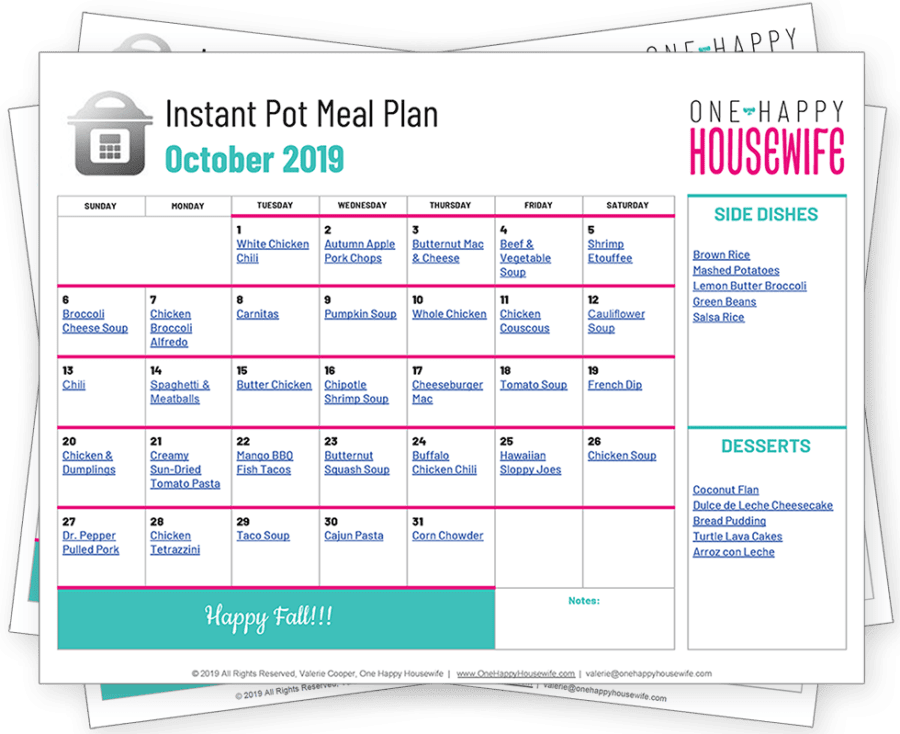 Instant Pot Fall Recipes
If you're looking for some great fall recipes for the Instant Pot, I've got them. You'll find oodles of recipes that will warm your belly as the heat of summer melts into the cool of winter. Some of the best recipes for fall are soups, stews, chilis, and pasta. And I have plenty of those in my October meal plans.
Instant Pot Soups
You'll find lots of easy and delicious soups like my all-time favorite Tomato Soup and lots of delicious versions of Chili! You'll find creamy soups like Pumpkin Soup and broth-based soups like Chicken Soup. Soups with loads of veggies like White Chicken Chilli and soups that are wonderfully cheesy like Broccoli Cheddar Soup. Soups with a Tex-Mex flair like Taco Soup and others that have a comforting southern taste like Chicken & Dumplings. So many soups!
Creamy Pasta Recipes for the Instant Pot
Creamy pasta recipes offer a lot of soul-soothing comfort for this time of year. The comforting options in my meal plans are many, and I'm sure you and your family will enjoy each of them! A few popular choices are my Creamy Sun-Dried Tomato Pasta, Chicken Broccoli Alfredo, and Butternut Mac and Cheese. These pasta dishes are so warm and delicious! Perfect for fall weather!
Instant Pot Sandwiches
Sandwiches are great any time of year and I have some great sandwich recipes for you in my October Meal Plans. You'll find recipes for Dr. Pepper Pulled Pork, Hawaiian Sloppy Joes, and French Dip. So toast some buns and add some warm pork or beef and prepare for some tasty, hunger busting comfort in each bite.
Instant Pot Side Dishes
No fall meal is complete without a tasty side dish and these meal plans offer up some remarkably flavorful side dishes made in the Instant Pot. For instance, my Salsa Rice recipe is so quick and easy to make and it's packed full of flavor. Plus, it pairs well with so many dishes.
Instant Pot Desserts
A fall meal is not complete without a sweet treat to follow it. I've included some mouthwatering desserts in these meal plans, and I urge you to try them all. The Lava Cakes are especially decadent.
Happy Fall! And enjoy the food!
Make sure you also check out my latest Instant Pot Meal Plan.
Instant Pot Recipes for October
Here are some recipes you'll find on my October meal plans:
October Instant Pot Meal Plans
I've got some terrific meal plans for October on my website. Check them out here: