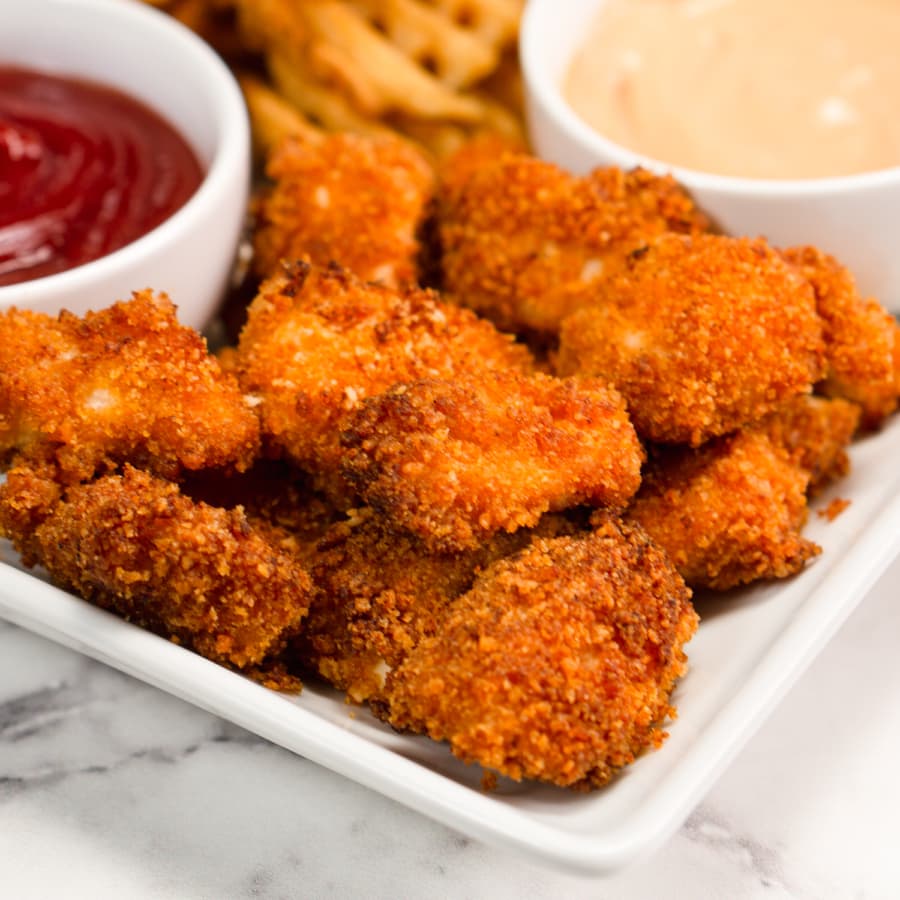 These Air Fryer Chicken Nuggets are a family favorite! They're quick and easy to make, and they're so delicious, one batch never lasts long around here. The chicken is tender and juicy, and the breading is crispy and golden brown. They are so good, my children refer to them as "next level chicken nuggets"!
This post contains affiliate links. For more information, see my disclosure.
In this post, I'll tell you the ingredients you need as well as walk you through the easy steps for making perfect air fryer chicken nuggets. I promise you will end up with juicy and crispy chicken nuggets everyone will rave about. So get your favorite dipping sauce ready and let's get cooking!
Table of Contents
Tips for Perfect Air Fried Chicken Nuggets
Use Mayonnaise to Coat the Chicken: Mayo is a key ingredient for making these air fryer chicken nuggets because it helps the chicken stay moist and juicy while it's cooking. Without it, the chicken may become dry and overcooked.
Use the Extra Crispy Shake N' Bake: Make sure to buy the "Extra Crispy" version of the bread crumbs. This will give you the perfect crunch for your nuggets.
Don't Stack the Chicken in the Air Fryer: To get the best results you'll want to cook these nuggets in a single layer. You can cook two batches as I did.
Spray Your Air Fryer With a Bit of Avocado Oil: I like to spray just a bit of avocado oil in the air fryer basket before adding the chicken. My favorite one is Chosen Foods Avocado Oil Spray. It has one ingredient: avocado oil!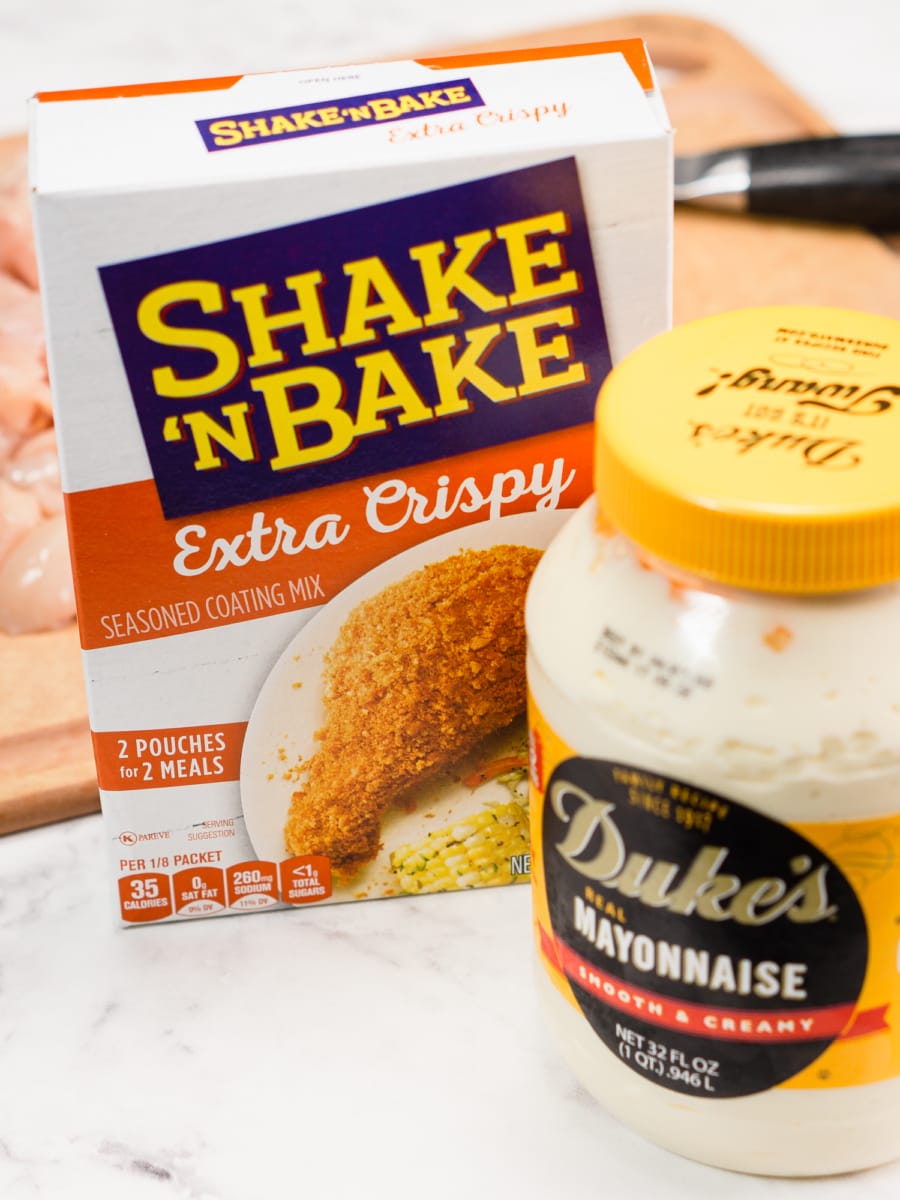 Ingredients Needed
This chicken nuggets recipe is super simple and only requires 3 ingredients. That's it! Here's a list of everything you'll need.
Boneless Chicken Breasts:

You

will need approximately 1.5-2 lbs of boneless chicken breasts. I always prefer to buy the chicken that has no added hormones. You'll need to cube the chicken into bite-size pieces.
Extra Crispy Shake N' Bake:

You will need one box of extra Crispy Shake N' Bake seasoned coating mix. You will be using both packets that come inside the box.
Mayonnaise: We love Duke's mayo in our house and we use it anytime mayo is required. But feel free to use your favorite mayo for this recipe. You will need approximately ½ cup of mayo, or enough to coat all your chicken nuggets. You can start with half a cup in a bowl and add more if needed.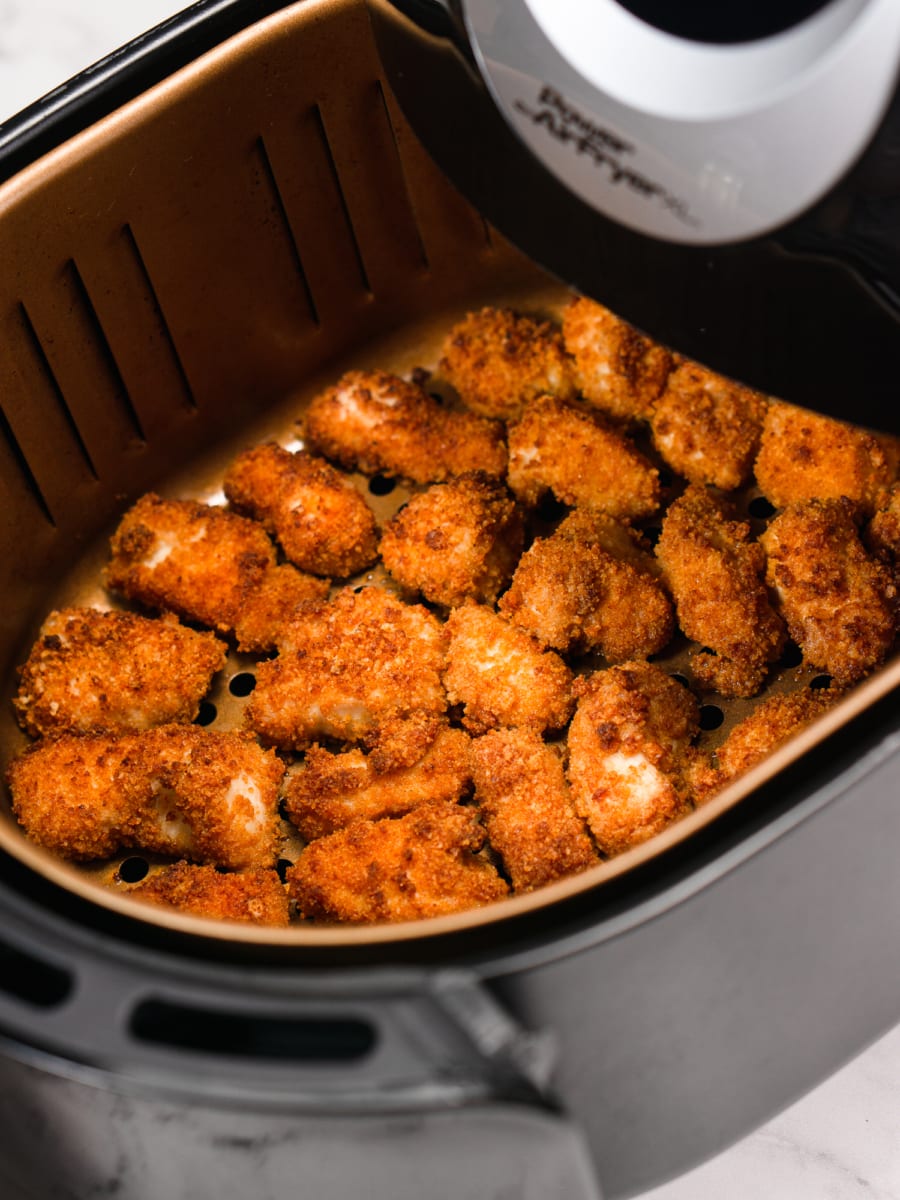 How To Make Air Fryer Chicken Nuggets
So you want to make Air Fryer Chicken Nuggets for your family, but you're not sure how. Don't worry, I'll guide you through the entire process from start to finish. With just a few simple ingredients and minimal preparation, you'll be enjoying these tasty nuggets in no time. So get your Air Fryer ready and let's make the best and easiest chicken nuggets ever.
Step 1:

Gather The Ingredients

Start gathering and prepping the ingredients. Here's exactly what you'll need:
Boneless Skinless Chicken Breasts: 1 ½ pounds, fully thawed
Mayonnaise: ½ cup
Shake 'N Bake Extra Crispy: one box
Step 2:

Prepare The Chicken Breasts

Cut the fully thawed chicken breasts into small, bite-sized pieces.
Step 3:

Coat The Chicken With Mayonnaise

Add the mayonnaise and chicken pieces to a medium-sized mixing bowl and toss the chicken in the mayonnaise until it's fully coated.
Step 4:

Bread The Chicken

Place the mayo-coated chicken in the small plastic shaker bag with the Shake 'N Bake seasoned coating mix. Hold the open end of the bag closed with one hand and then shake and toss until the nuggets are evenly coated with the breading.
Step 5:

Place The Nuggets In The Air Fryer

Spray the Air Fryer basket with a vegetable oil like avocado oil – avoid non-stick cooking sprays. Then place the first batch of nuggets in a single layer in the bottom of the Air Fryer basket.
Step 7:

Repeat For The Remaining Nuggets

Once the nuggets have completed cooking, transfer them from the Air Fryer basket to a serving dish. Repeat cooking the remaining chicken nuggets.
Step 8:

Enjoy Your Nuggets With Your Favorite Dipping Sauce

That was such an easy and delicious recipe! These nuggets are sure to be a hit with your family. Serve them up with your favorite dipping sauce and enjoy!
Recipe Substitutions
I always get questions about substituting ingredients in my recipes. Below are some questions you may be thinking of asking me, so I've answered them for you in advance. If you have any questions I haven't touched on below, please leave them in the comments section at the bottom of this post.
can i use tenders instead of breasts?
Yes! You can use chicken tenders instead of breasts, but you will still have to cut them into bite-size pieces.
can I leave out the mayo?
I would definitely not leave out the mayonnaise. As I stated in my tips above, it's essential to make these nuggets juicy and tender. You could try something like sour cream instead, but I haven't tried it myself so I can't guarantee the results.
What can I use instead of shake n' bake?
I really like the results for these air fryer chicken nuggets using the Extra Crispy Shake N' Bake, but you can easily substitute it with bread crumbs. Keep in mind, that the Shake N' Bake is already seasoned, so you will either have to buy seasoned bread crumbs or season the chicken to your liking.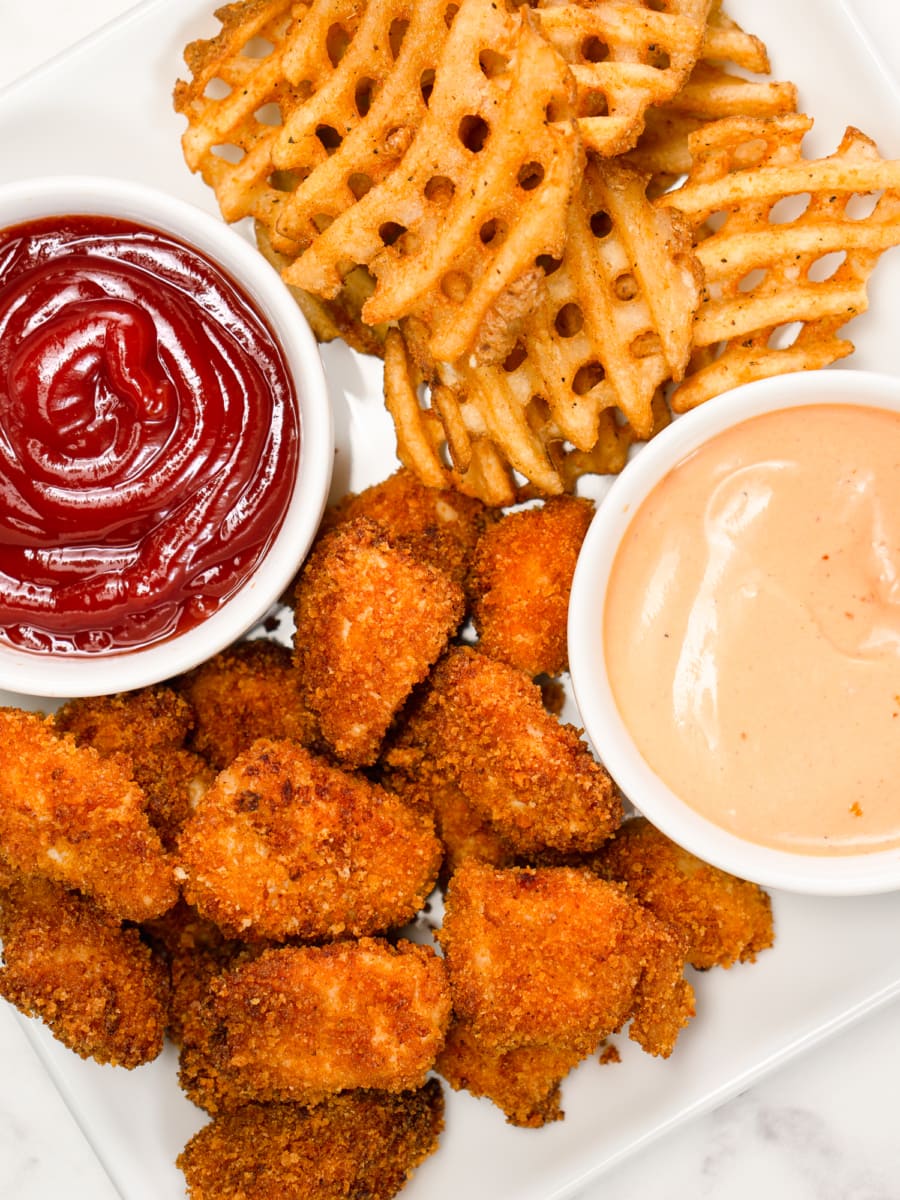 Essential Items
Here are some essential prep tools, utensils, and appliances I used to make this recipe.
Prep Tools & Utensils
Here are the prep tools and utensils that you'll need:
Featured Items
Here is a list of the products featured in this post or products similar to those featured in this post:
Common Questions About Making Air Fryer Chicken Nuggets
can I make these nuggets in the oven?
You can certainly make these chicken nuggets in the oven. Ideally, you should cook them on a sheet pan that has a wire rack, but if you don't have one, you can place them on a greased baking sheet and cook them at 400 degrees for about 15-20 minutes or until the internal temperature of the chicken is 165 degrees.
What dipping sauces go well with these chicken nuggets?
You can eat these air fryer nuggets plain, or you can take them up a notch by dipping them into a sauce. Some of my family's favorite sauces for these nuggets are:
BBQ Sauce
Whataburger Honey Butter
Chick Fil A Sauce
Ranch
Honey Mustard
Whataburger Jalapeño Ranch
Yumm!
how do I store and reheat the nuggets?
You can store these chicken nuggets in an air-tight container in the fridge. You can reheat them in the oven or the microwave. My kids usually just pop them in the microwave for about 45 seconds and they're good to go. If I'm reheating a large amount, then I place them in my toaster oven at 350 degrees for 10-15 minutes, keeping an eye on them to make sure they don't burn!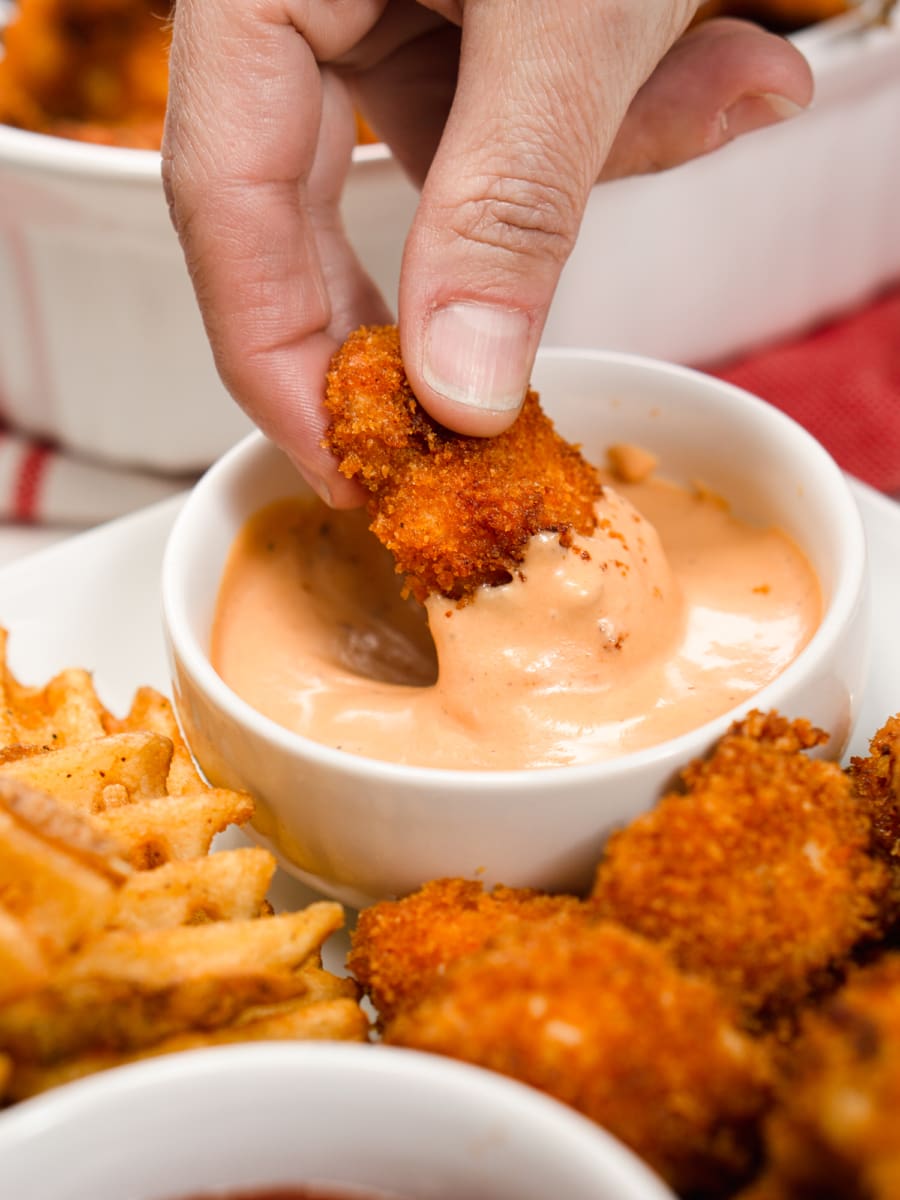 IT'S YOUR TURN TO MAKE THese chicken nuggets!
Did you make this Air Fryer Chicken Nuggets recipe yet? I truly believe these nuggets are the best there are, and I know you will absolutely love them! Let me know in the comments section below when you make this recipe and how much you enjoyed it.
5-Star Rating: If you loved this recipe, I'd appreciate it if you could give this recipe a 5-star rating to show how much you loved it.
MORE chicken RECIPES
Looking for more chicken? Here are some that I know you'll love:
Need a side for your nuggets? If you're looking for a perfect complement for this recipe, then try one of the following recipes:
Air Fryer Chicken Nuggets
Bite-sized Chicken Pieces Coated in Mayo, Breaded With Shake-n-Bake, and Air Fried
Air Fryer Chicken Nuggets are the perfect quick and easy meal for busy families. With just a few simple ingredients and a little bit of prep, you can have delicious chicken nuggets that are crispy on the outside and juicy on the inside. So what are you waiting for? Give this recipe a try tonight!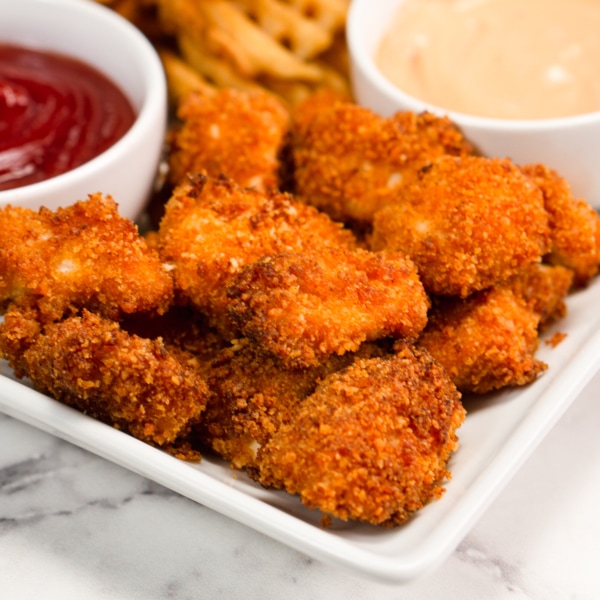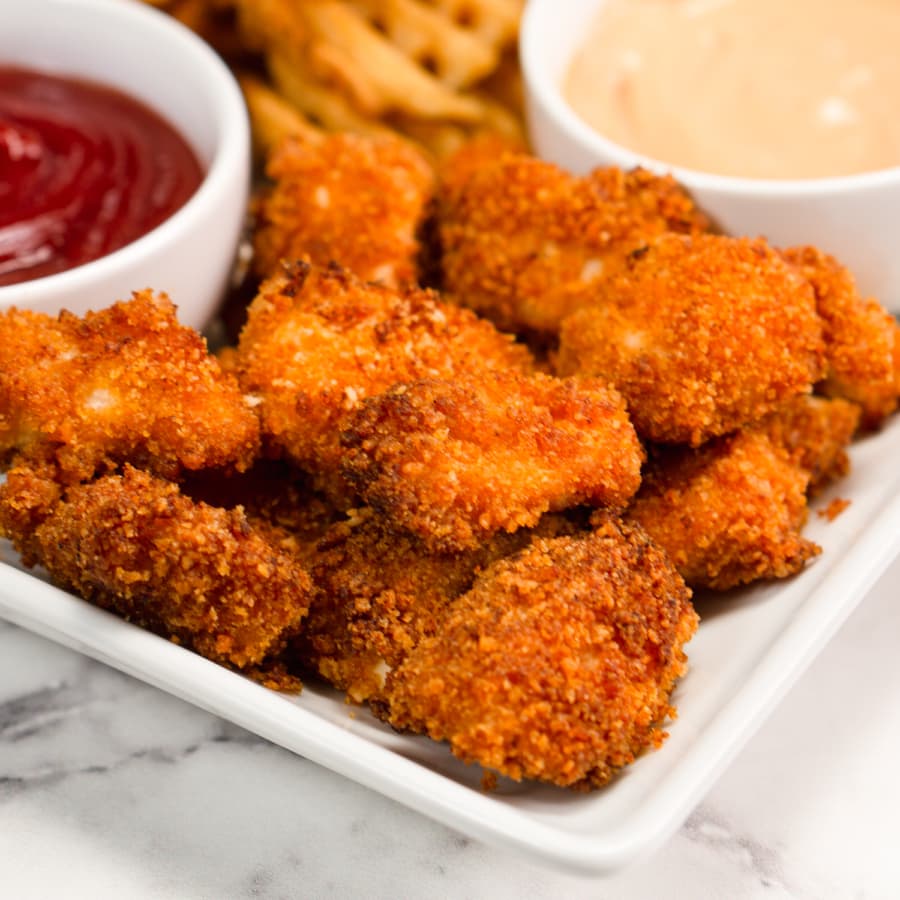 Instructions
Cube Chicken: Cut chicken breasts into bite-sized pieces.

Coat Chicken With Mayo: In a medium-sized mixing bowl, toss chicken in mayo until all pieces are coated.

Coat Chicken With Breading: Place mayo-coated chicken in plastic shaker bag with Shake 'N Bake and toss until coated.

Add Nuggets To Air Fryer Basket: Spray bottom of air fryer basket with vegetable oil and place a single layer of nuggets in the basket.

Cook Nuggets: Cook at 350° for 15 minutes. Repeat until all nuggets are cooked.

Serve with your favorite dipping sauce and enjoy!
Nutrition Facts
Calories: 257kcal | Carbohydrates: 1g | Protein: 24g | Fat: 17g | Saturated Fat: 3g | Polyunsaturated Fat: 9g | Monounsaturated Fat: 4g | Trans Fat: 1g | Cholesterol: 80mg | Sodium: 251mg | Potassium: 424mg | Fiber: 1g | Sugar: 1g | Vitamin A: 46IU | Vitamin C: 1mg | Calcium: 7mg | Iron: 1mg