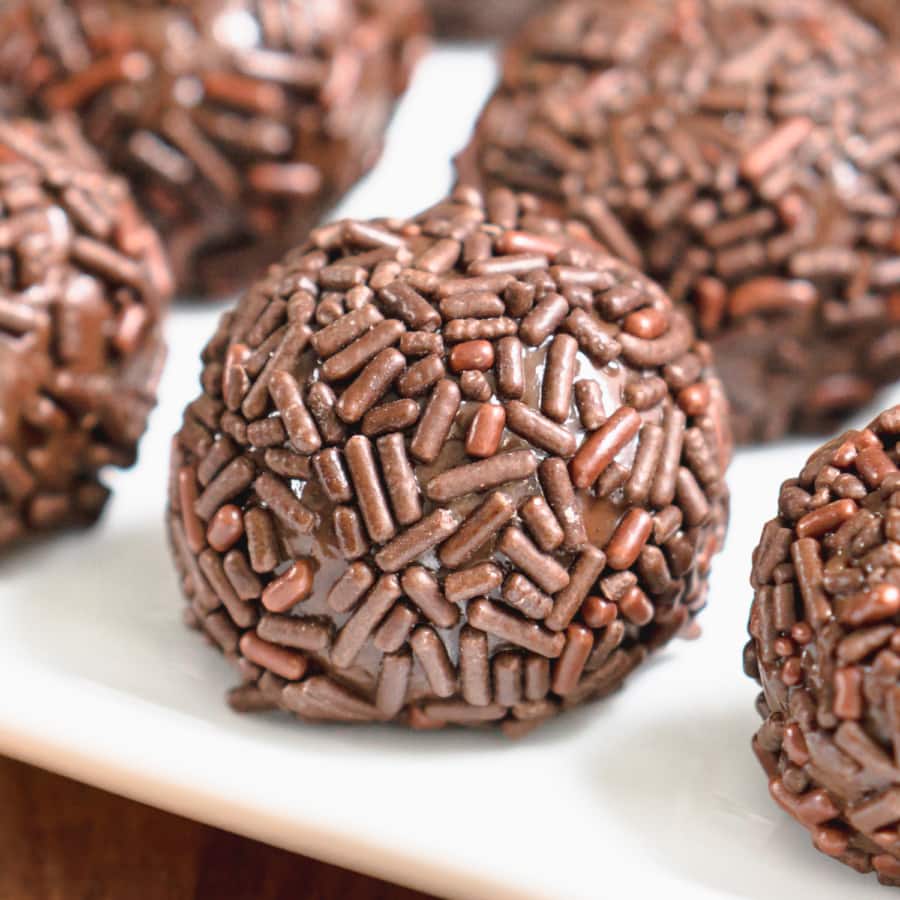 SAVE THIS RECIPE
I'm excited to show you just how easy it is to make Chocolate Brigadeiros! I'm a big chocoholic and this is one of my favorite chocolate treats. I fell in love with these Brazilian chocolate fudge balls the first time I tasted them and I have no doubt you will love them too!
This post contains affiliate links. For more information, see my disclosure.
It doesn't take long to make these, but it does require a little patience while mixing on the stove, and some more patience while the mixture is cooling in the fridge. But trust me, it's worth it! These Brigadeiros are amazing!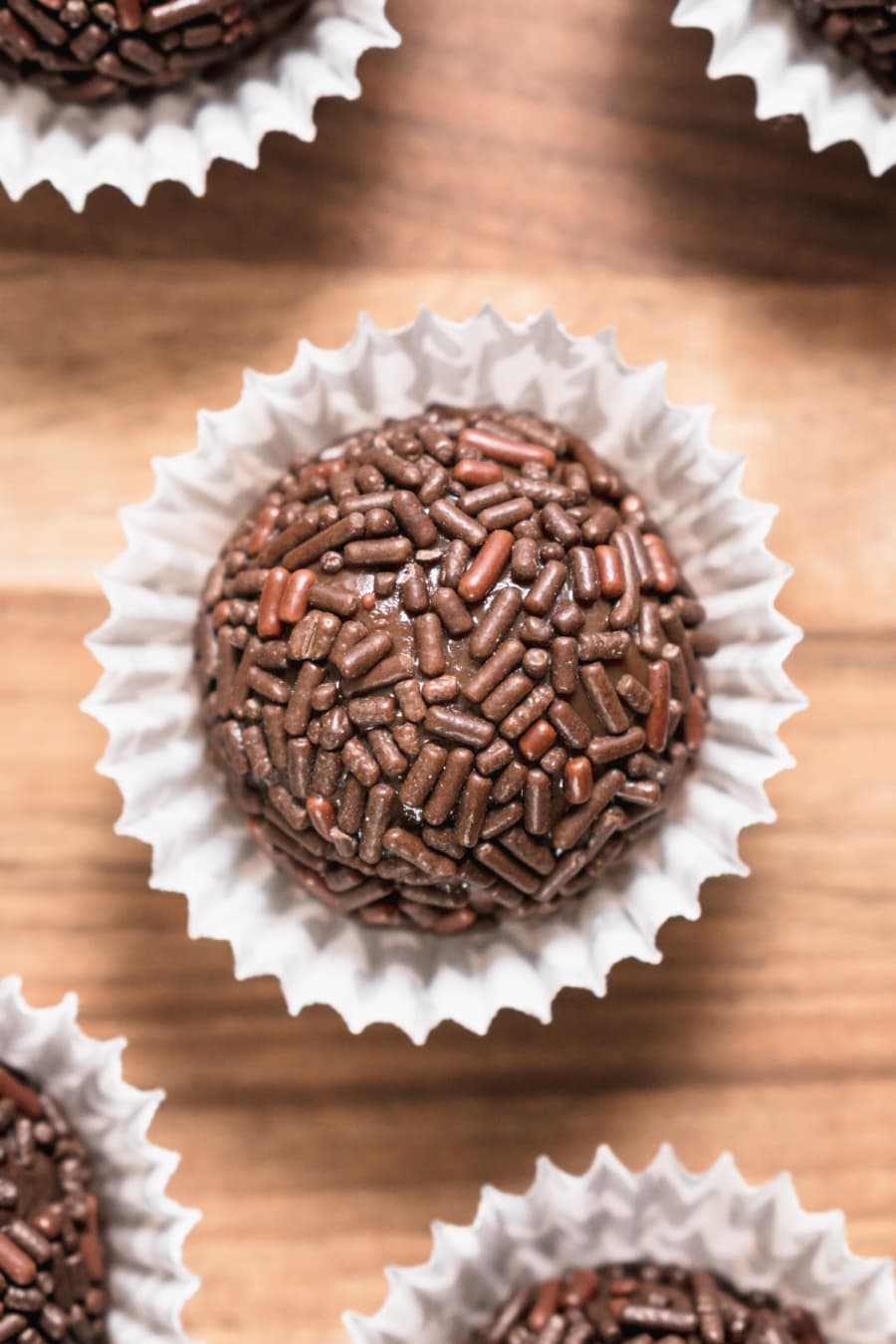 What Are Brigadeiros?
Brigadeiros are a traditional Brazilian dessert. They are essentially chocolate fudge balls covered in either cocoa powder or sprinkles. I think of them as chocolate truffles, but they're just so much better than the chocolate truffles I've tasted. In Brazil, they are usually served during celebrations like birthdays. I make them when I need a chocolate fix!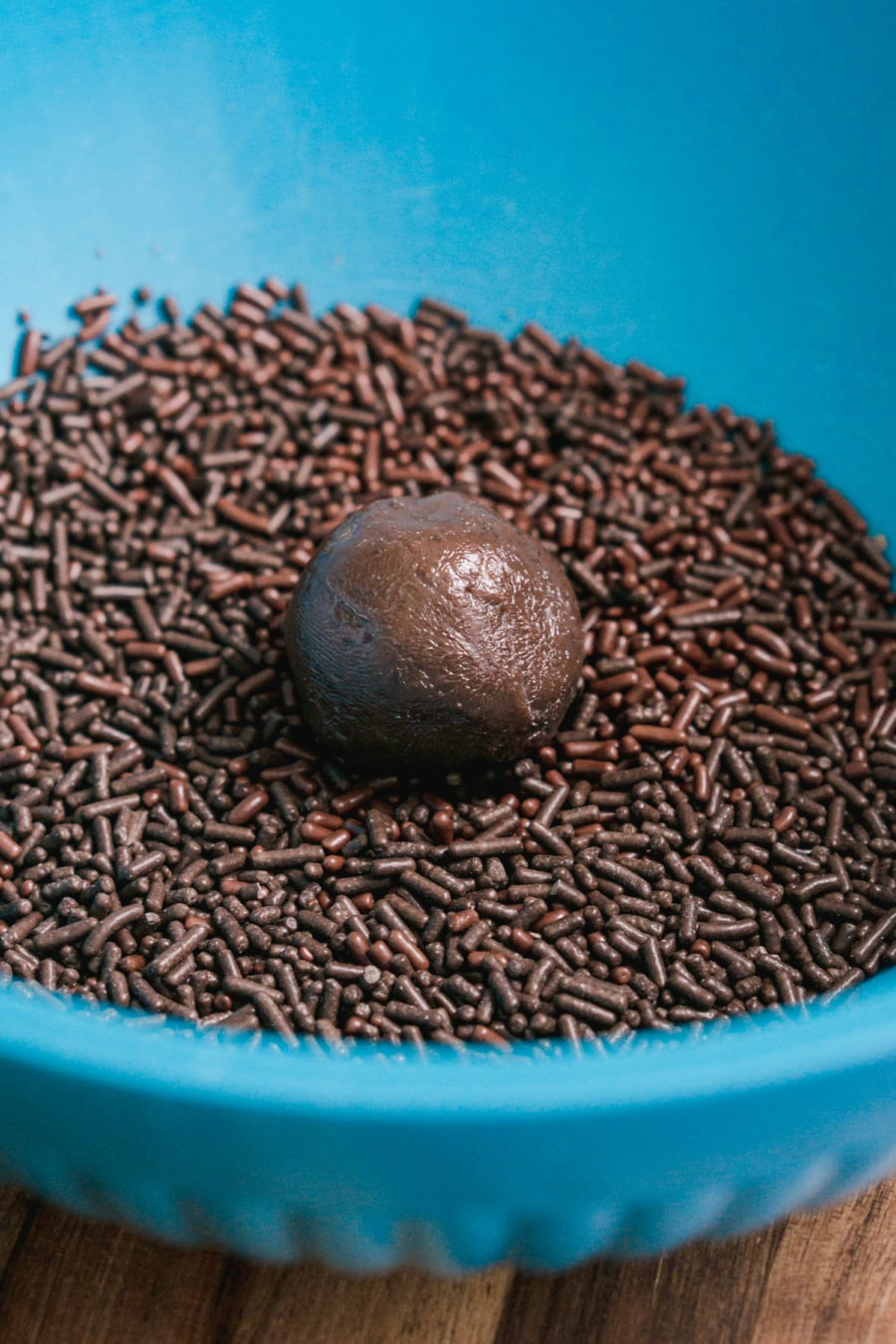 Ingredients for Chocolate Brigadeiros?
This Chocolate Brigadeiros recipe only uses 3 ingredients! (Four if you want to get picky and count the sprinkles!) Below you will find the ingredients and a short description for each.
Sweetened Condensed Milk: You will need one 14 oz can of sweetened condensed milk. Any brand will do, I've used most of them and they all work perfectly.
Hershey's Unsweetened Cocoa Powder: You need 4 tablespoons of unsweetened cocoa powder. I always buy the Hershey's brand, it's my favorite, but other brands will also work.
Butter: You'll also need 2 tablespoons of butter. Any brand will do!
Sprinkles: You can use any sprinkles you'd like. You can choose the color depending on the occasion. My favorite kinds to use are Jimmies or Nonpareils.
That's it! Just a few items and you'll be enjoying some amazingly delicious chocolate Brigadeiros!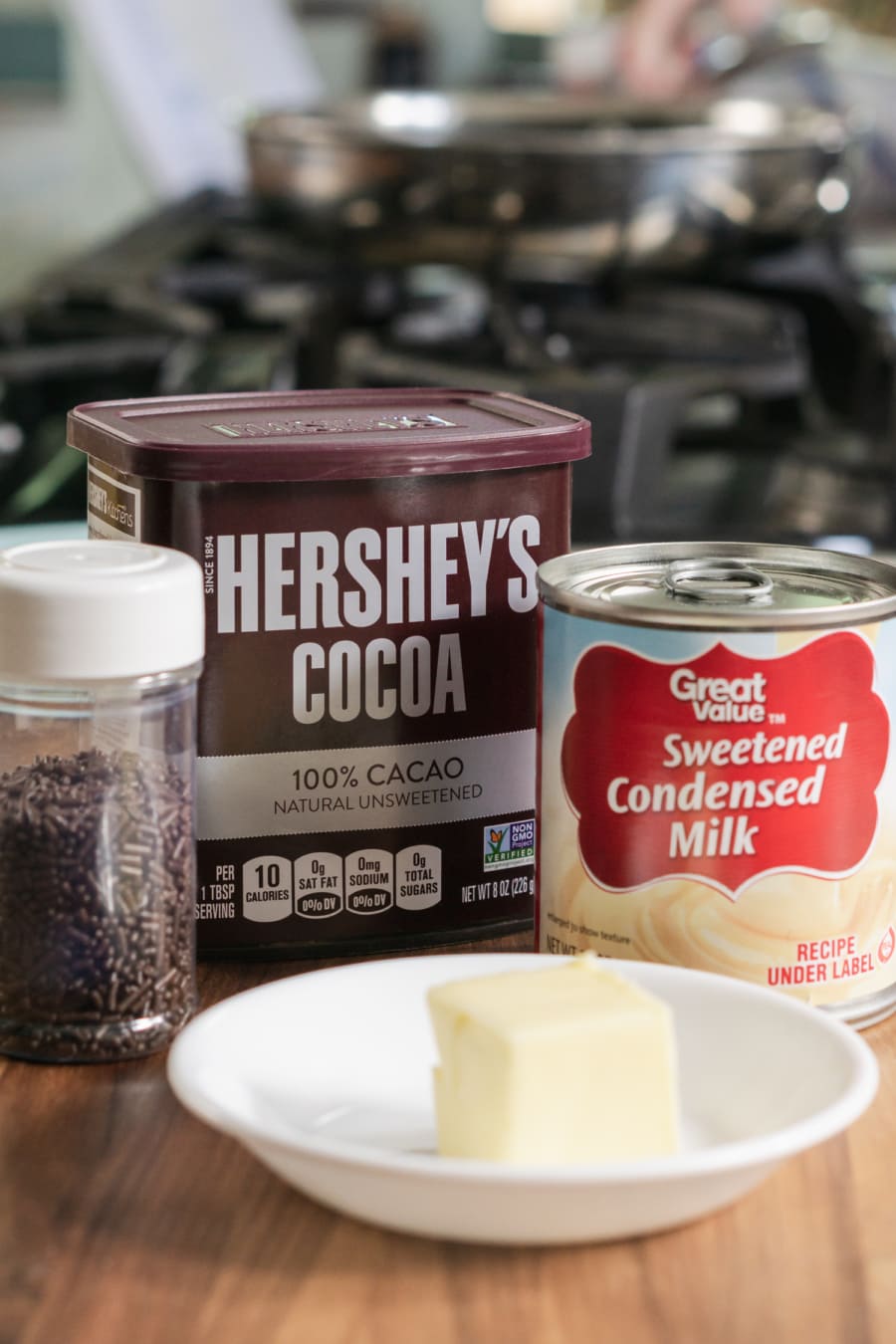 How to Store Brigadeiros
You can store Brigadeiros at room temperature for a couple of days, but I personally store them in the refrigerator. Not that they ever last too long, but I always hide a couple of them in the back of the fridge so I can enjoy them for several days. If you store them at room temperature, the Brigadeiros will be slightly softer and fudgier, whereas if you store them in the fridge they will be firmer. They can definitely sit on the counter during a celebration.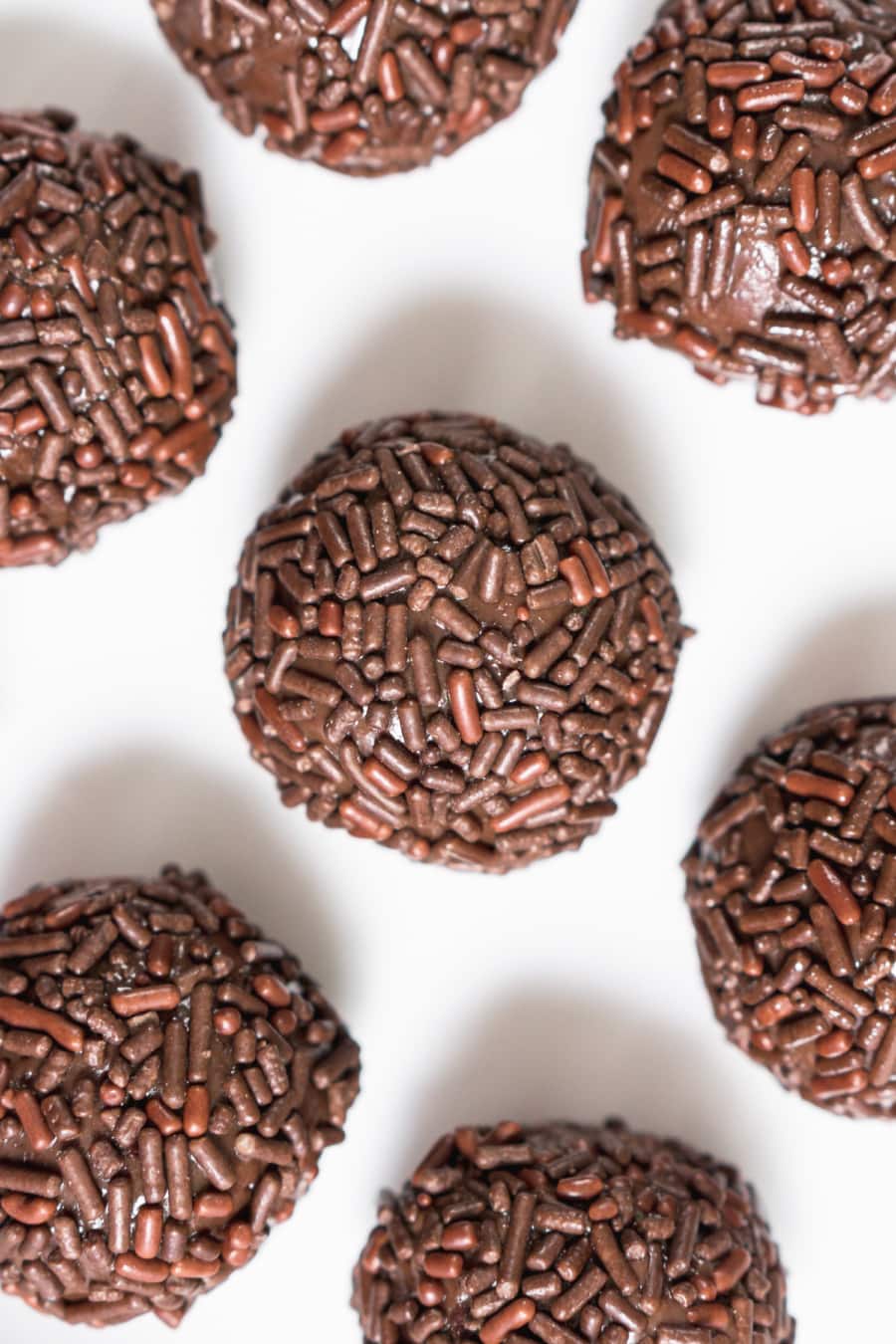 Essential Items
Here are some essential prep tools, utensils, and appliances I used to make this recipe.
Prep Tools & Utensils
Here are the prep tools and utensils that you'll need:
Featured Items
Here is a list of the products featured in this post or products similar to those featured in this post:
How To Make Chocolate Brigadeiros
Now, I'll show you just how easy it is to make the delicious Brazilian dessert, Chocolate Brigadeiros. First, gather your ingredients and then butter a dinner plate and set it aside. Now, let's get started!
Step 1: Melt The Butter
Set your stove to medium heat. I use a non-stick pan for this recipe. Once the pan is warm, add the butter and allow it to melt.
Step 2: Add The Cocoa Powder and Sweetened Condensed Milk
Next, add the cocoa powder and sweetened condensed milk, and mix everything together with a spatula.
Step 3: Cook and Mix until Fudgy
You will be gently mixing over the heat until the ingredients have a fudgy consistency. This will take several minutes of consistent mixing. For me, it takes about 10 minutes. You will know it's ready by running the spatula through the center of the pan and seeing if the thick mixture takes a few seconds to get back to the center of the pan.
Step 4: Cool The Mixture On A Plate
Once it's ready, pour the Chocolate Brigadeiros mixture onto the buttered plate and spread it flat. Place the plate in the refrigerator for 2 hours. I know, it'll be hard to wait! You can decide to not wait and just eat the whole thing with a spoon. No judging here!
Step 5: Form Into Balls And Coat With Sprinkles
After two hours are up, you are ready to form the Brigadeiros into balls. You'll need to butter your hands generously and have the sprinkles ready in a separate bowl or plate. Now you can roll small scoops of the batter into balls and coat them with the sprinkles.
The Brigadeiros Are Ready To Serve!
The Brigadeiros are now ready to be devoured! I love this recipe because it is so, so simple and these little fudge balls are so indulgent and absolutely heavenly on the tastebuds. They will satisfy the most ferocious sweet tooth! And, if your family is like mine, then you have a few people with a fierce sweet tooth in the house that will gobble up these delicious little treats in a flash.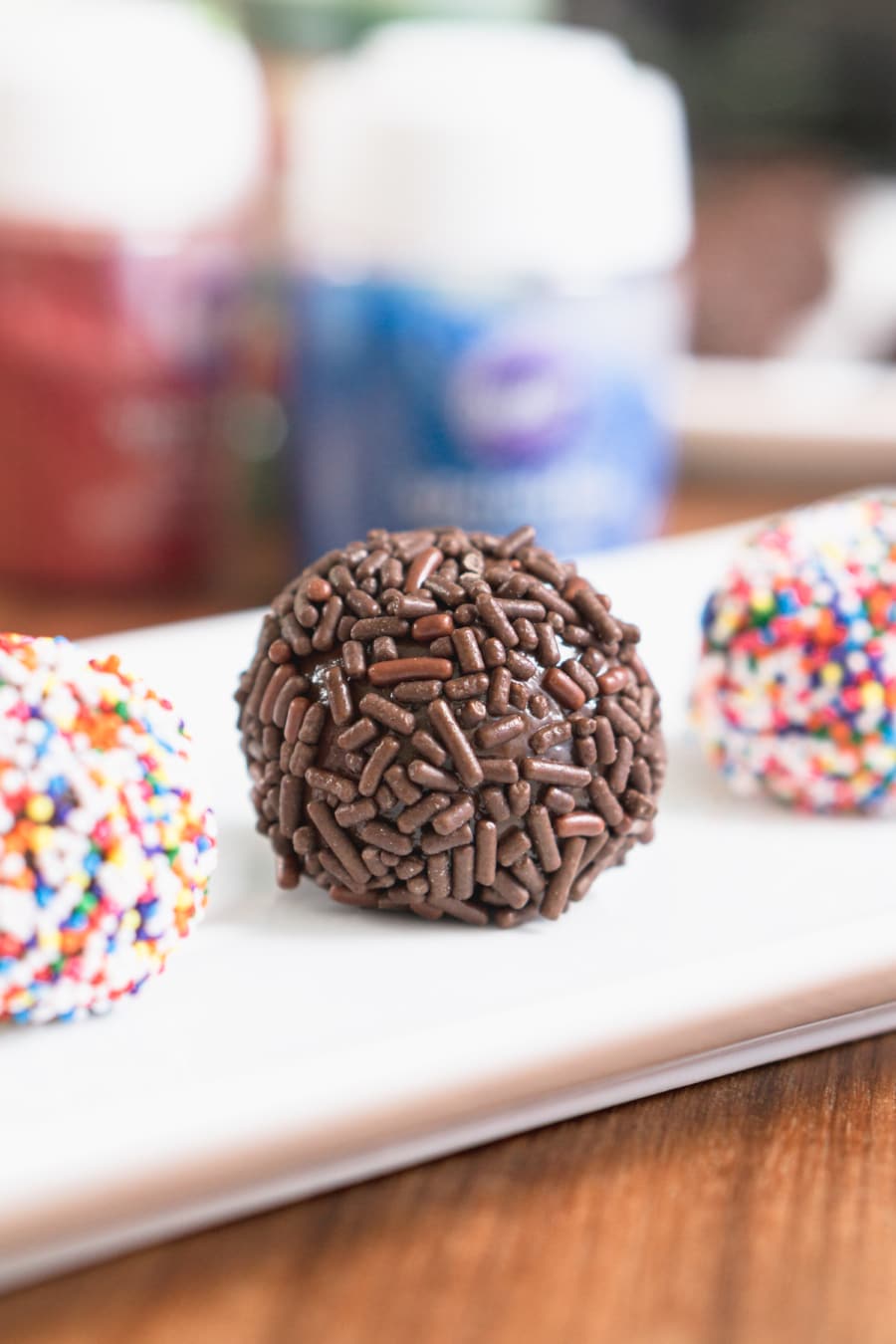 Did you make this Chocolate Brigadeiros recipe? I know you will absolutely love this Brigadeiros recipe as much as we do so please let me know in the comments when you try it.
More easy dessert recipes that you may enjoy:
Chocolate Brigadeiros
FUDGY BALLS OF CHOCOLATE WRAPPED IN CHOCOLATE SPRINKLES
Total Time
2hours:15minutes
If you have a sweet tooth and a love for chocolate, then you're in for a real treat with these delightful little balls of fudge wrapped in sprinkles. Indulge in these chocolate Brigadeiros, a traditional Brazilian dessert that is quick and easy to make.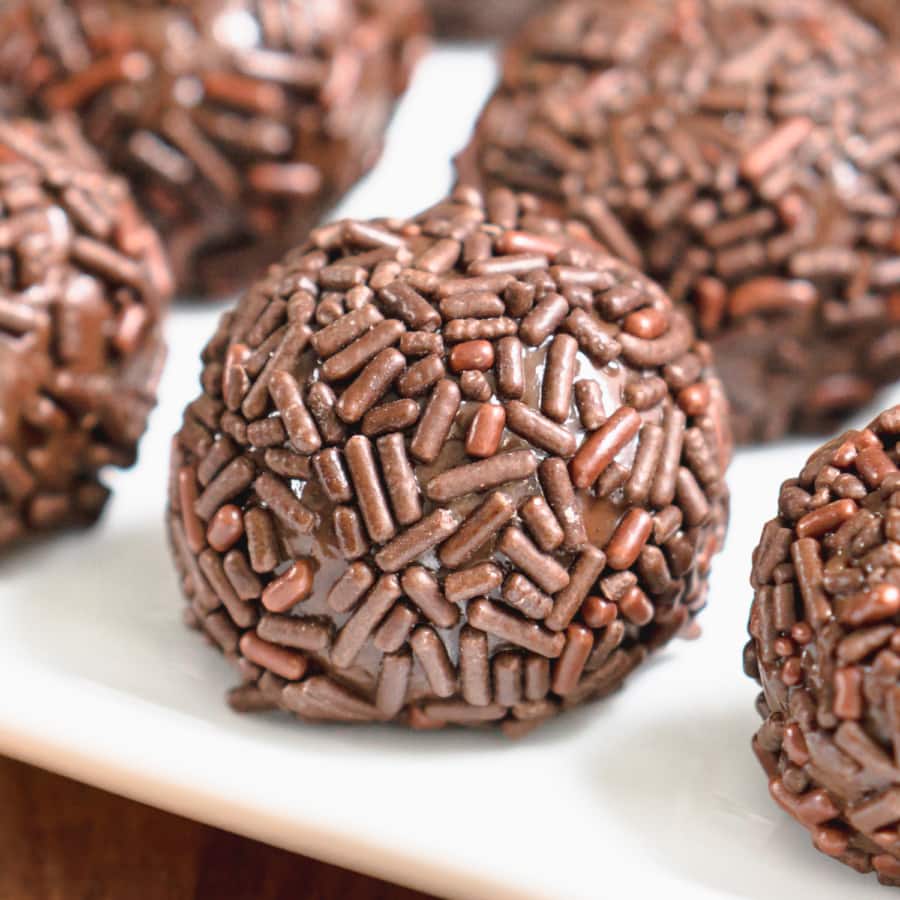 Instructions
Grease a plate with butter. Set aside.

Melt the butter in a nonstick skillet over medium heat. Once melted, add the cocoa powder and sweetened condensed milk to the butter and mix. Cook over medium heat, continually mixing, until the ingredients thicken to a slightly fudgy consistency.

Transfer the fudgy chocolate base to the greased plate and spread flat. Place in the refrigerator for 2 hours.

Remove the hardened fudge from the refrigerator, grease palms of hands with butter, and roll small scoops of the chocolate into balls. Roll in a bowl of sprinkles until fully covered.

Serve and enjoy!
Nutrition Facts
Calories: 126kcal | Carbohydrates: 19g | Protein: 3g | Fat: 5g | Saturated Fat: 3g | Cholesterol: 16mg | Sodium: 59mg | Potassium: 148mg | Fiber: 1g | Sugar: 18g | Vitamin A: 146IU | Vitamin C: 1mg | Calcium: 96mg | Iron: 1mg