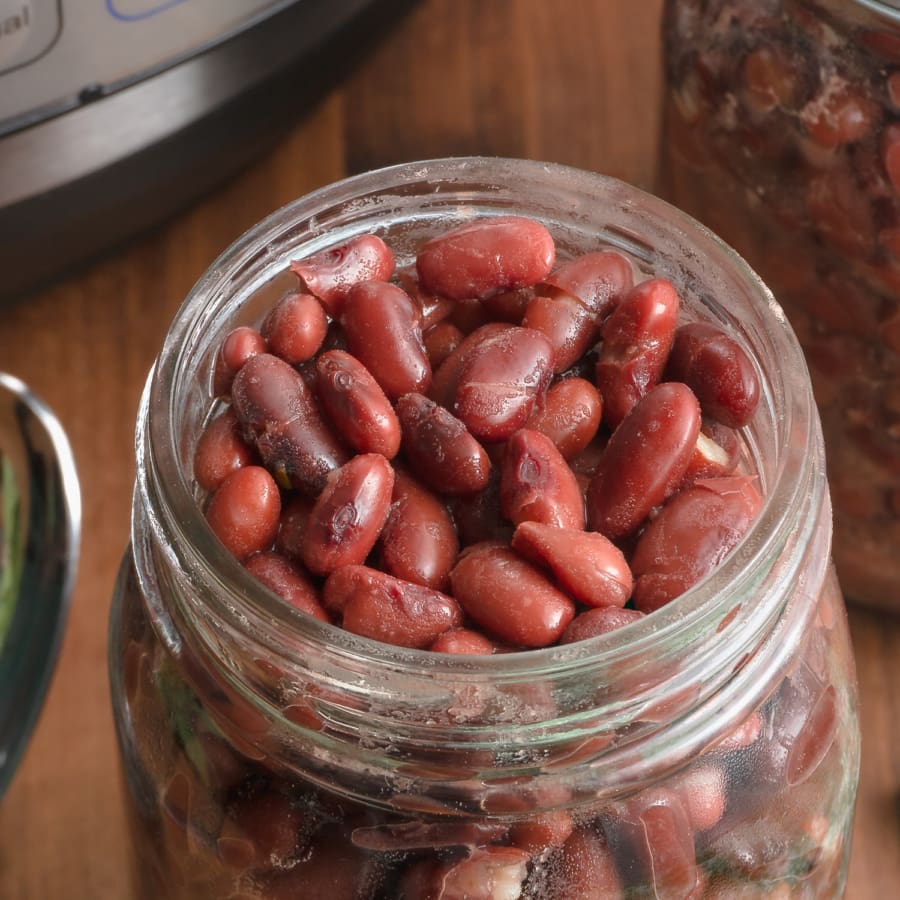 SAVE THIS RECIPE
I'm excited to share with you my recipe for authentic Honduran red beans made in the Instant Pot. They are easy to make and take so much less time in your electric pressure cooker. No-soak and dump and start, doesn't get better than that!
This post contains affiliate links. For more information, see my disclosure.
What Beans Should I Buy?
My recipe is for red beans so you can purchase any small red beans you prefer. If you want to make authentic Honduran red beans then I recommend getting Salvadorean or Central American Red Beans. You can find these beans in the international section of most supermarkets.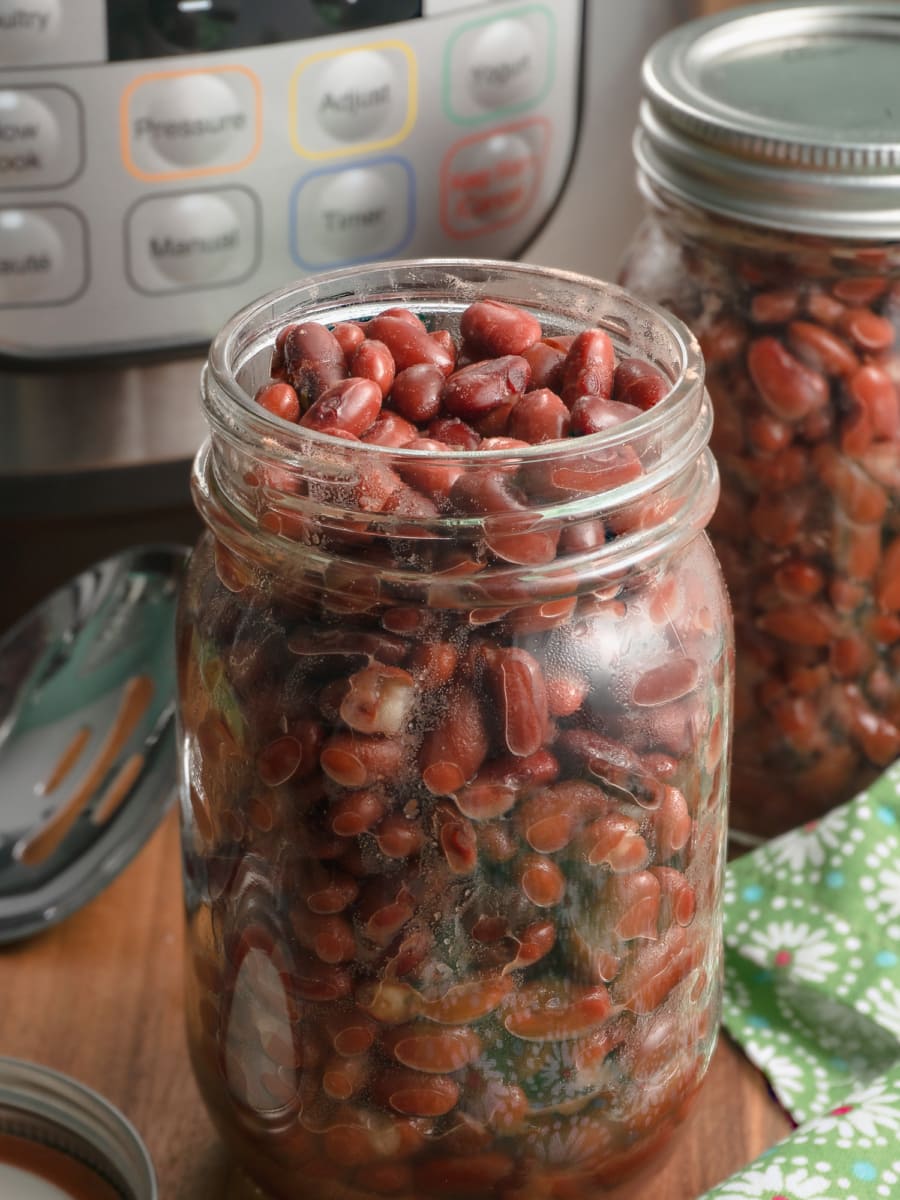 Salvadorean Red Beans are slightly smaller and darker than regular red kidney beans. They are inexpensive as well and will allow you to make true Honduran dishes! I hope you'll find them and give them a try.
How to Cook Red Beans in the Instant Pot
Making red beans in the Instant Pot couldn't be easier! You will not have to soak the beans for this recipe, but you will spend a few minutes rinsing them and taking out the few bad ones that come in the bag plus any small rocks or debris. After doing that, it's a dump-and-start recipe.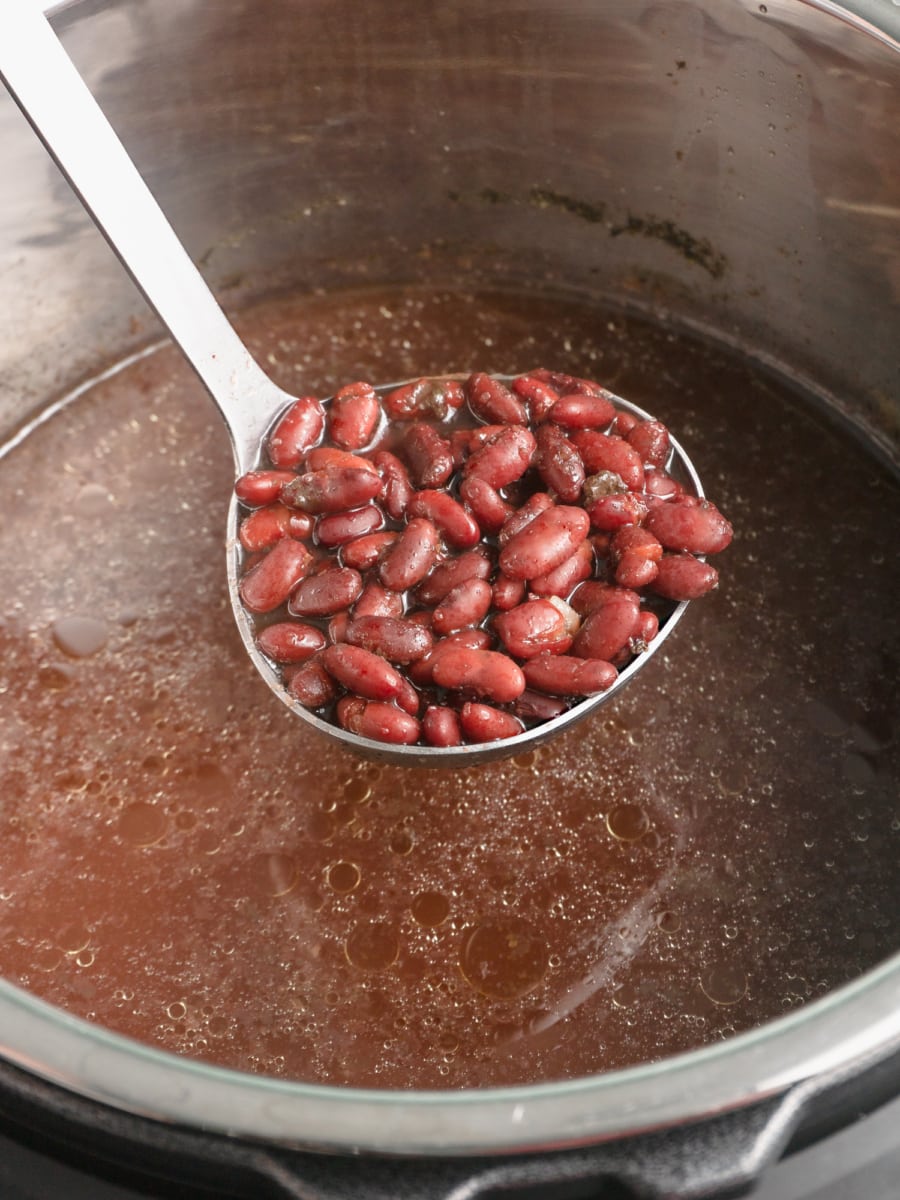 You'll need water, a yellow onion, a green bell pepper, garlic cloves, cilantro, salt, and olive oil. You can rough cut the onion and the bell pepper, so no dicing is required. You will add everything to the pot and cook the beans for 35 minutes on High Pressure. Once they're finished cooking, you will allow for a full natural pressure release. If you're short on time, you can do a 30-minute natural pressure release instead.
Essential Items
Here are some essential prep tools, utensils, and appliances I used to make this recipe.
Featured Items
Here is a list of the products featured in this post or products similar to those featured in this post:
12 Must-Have Instant Pot Cookbooks
If you're looking for a cookbook with easy and reliable Instant Pot recipes, then check out my list of approved Instant Pot Cookbooks.
Next, you'll want to remove the vegetables from the pot using a slotted spoon and put them in a blender with 1 cup of the bean broth. Let it cool before you blend it. You can also remove the beans from the pot using a slotted spoon and save them in containers, Ziploc bags, or mason jars. You can refrigerate them for up to 5 days or freeze them for up to 3 months.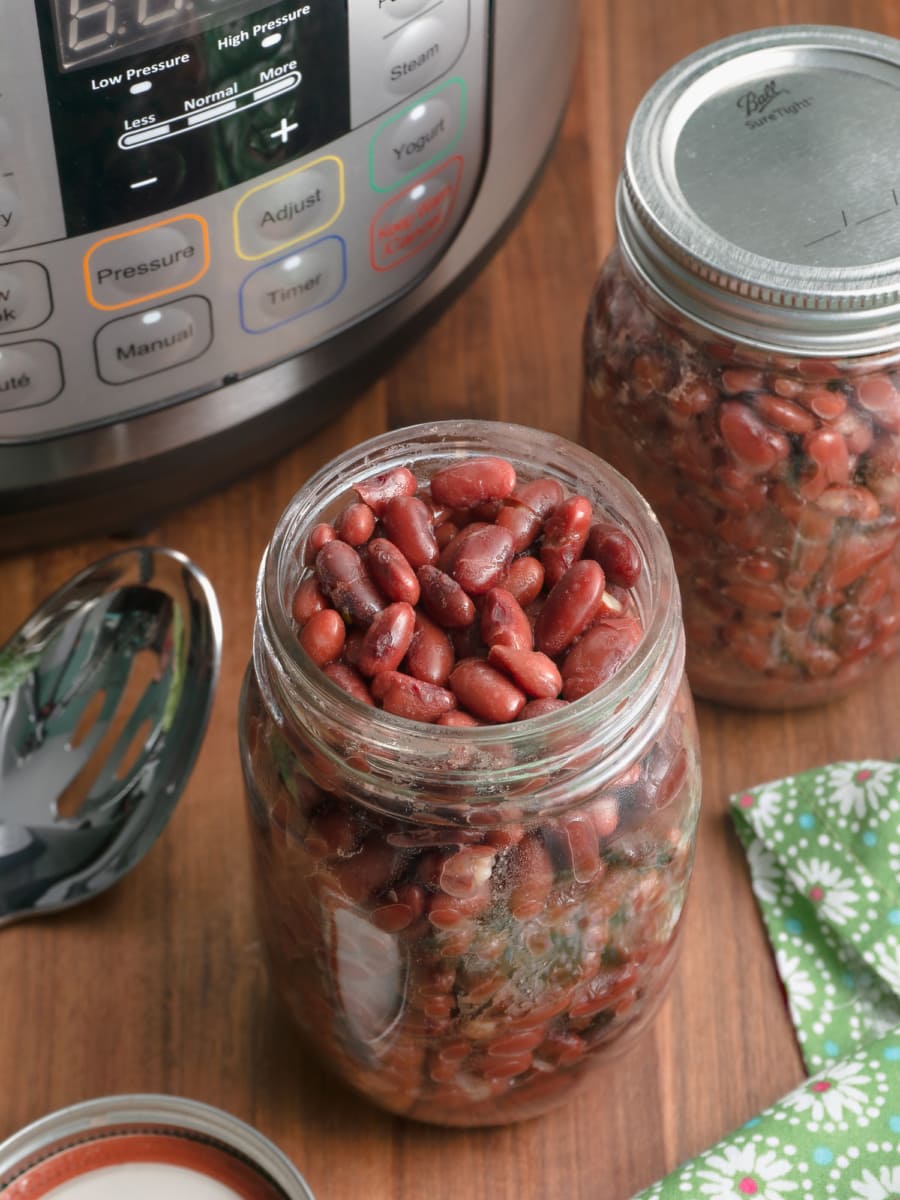 Now blend the veggies with a cup of broth. Once blended add it back to the pot of broth. This bean broth is delicious and can be used for Bean Soup, Stewed Beans, Refried Beans, Red Beans and Rice, and more.
The bean broth also freezes well. I just pour it into freezer bags for freezing. I'll use gallon, quart, or pint-sized bags depending on what I have planned for the broth. I will lay the bags on their sides until they freeze and then stack them vertically to save space in the freezer.
What Can I Make With Red Beans?
Ok, this is where things get fun and really delicious! Sure, you can eat your Pressure Cooker Red Beans as they came out, but you can also use them for so many delicious Honduran recipes. So many possibilities!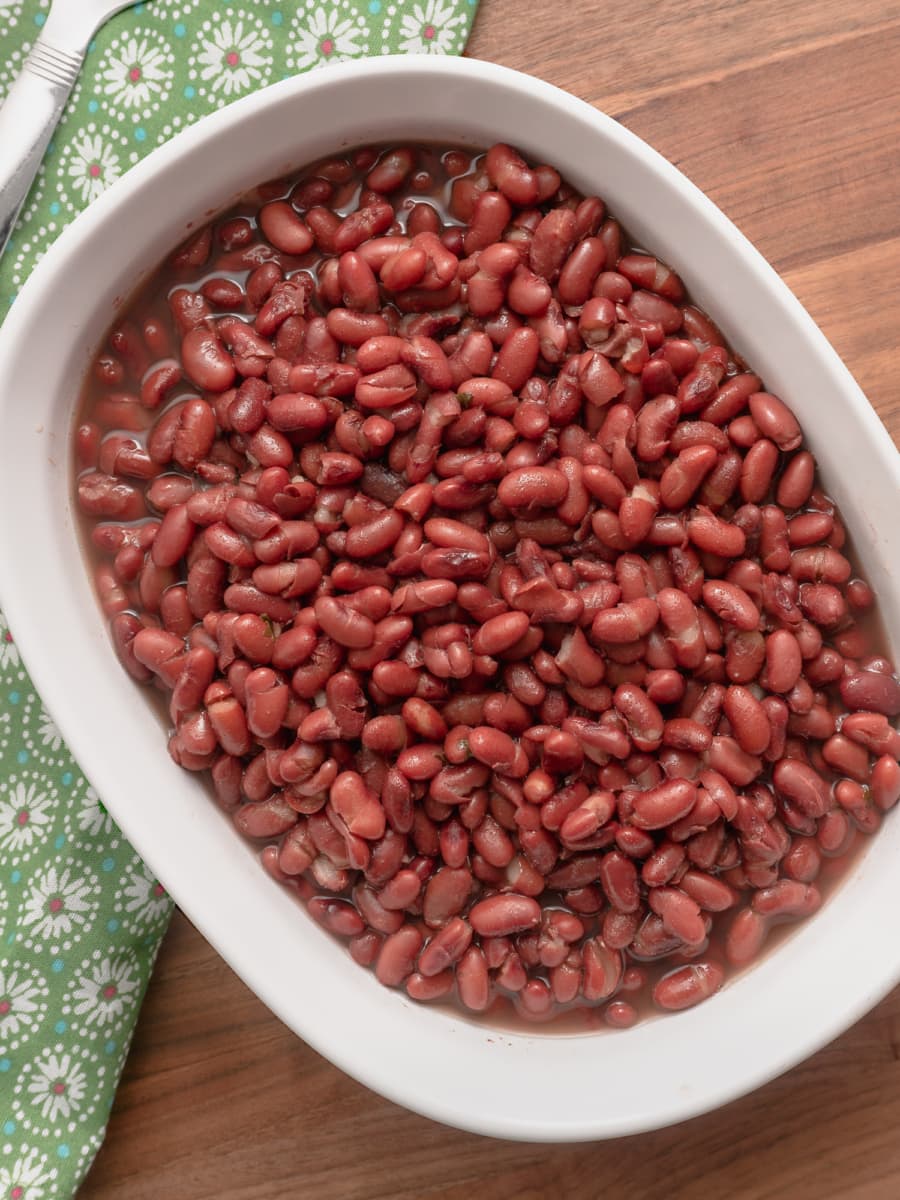 One of my favorite things about making beans is eating bean soup! You can use the broth left from cooking the beans and make a savory Honduran Bean Soup. It is amazing!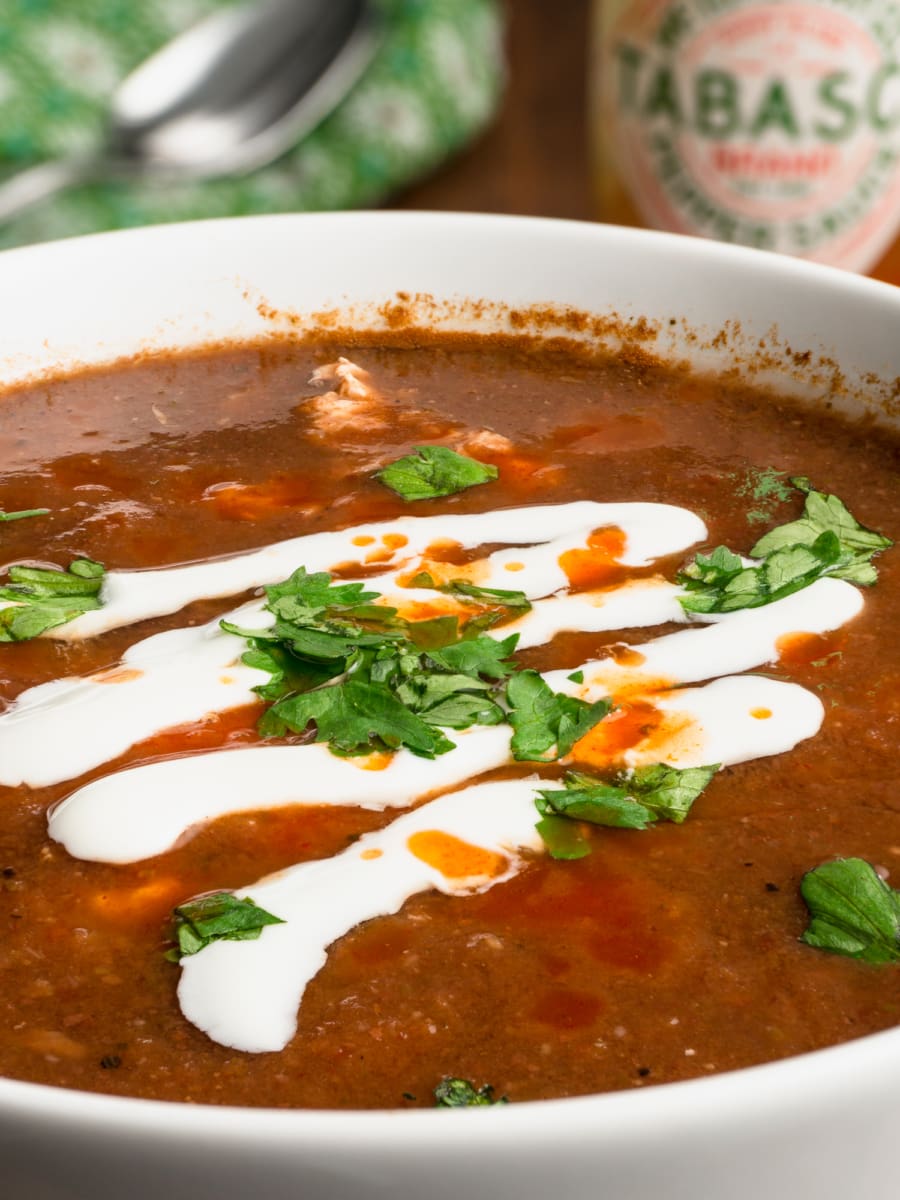 You can also use the whole beans you just cooked, and make Honduran Red Beans and Rice. We call this Casamiento, or "Marriage" and it is delicious!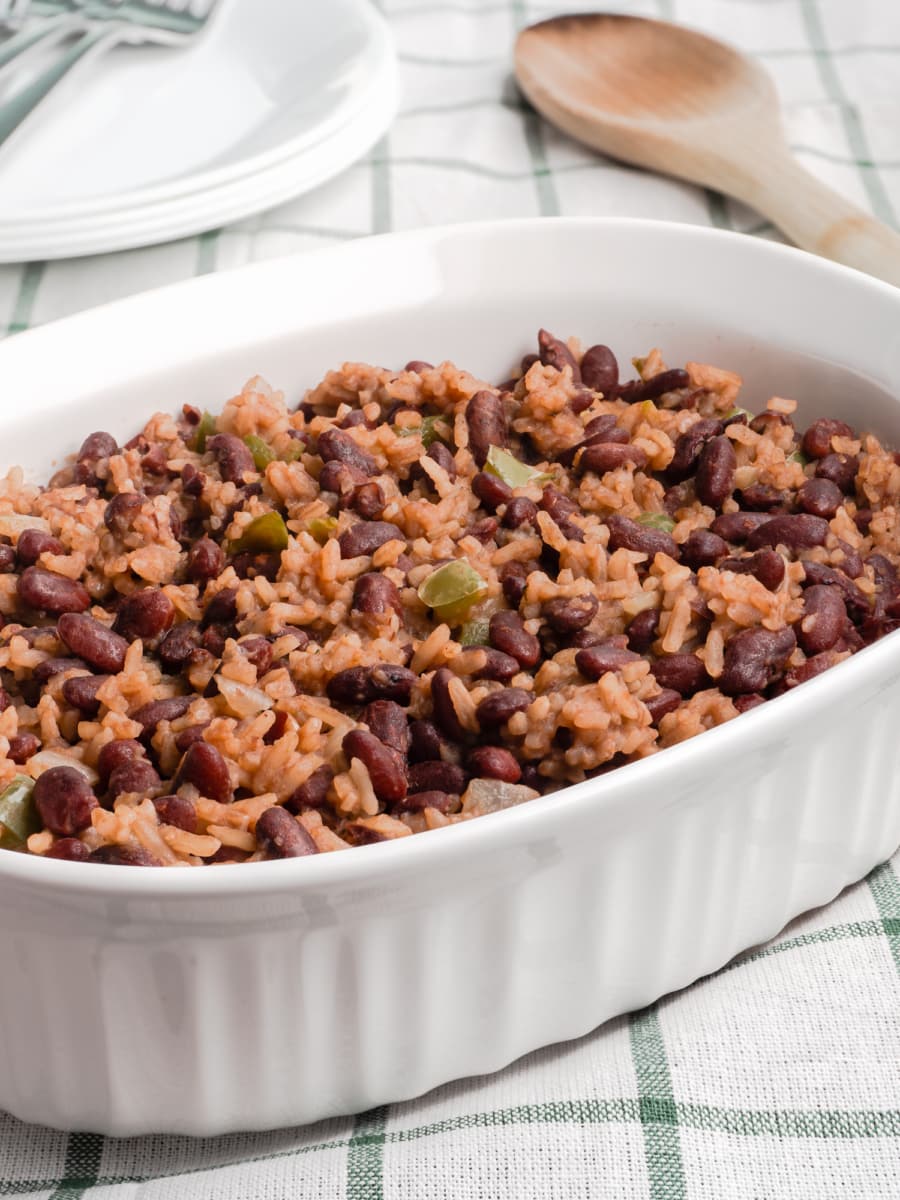 One thing we always make when we cook red beans in the Instant Pot is refried beans. Refried beans can be used for so much! As a side, in a burrito, on tacos, Honduran Bean Tostadas, and so much more! Refried beans were a staple in my home growing up.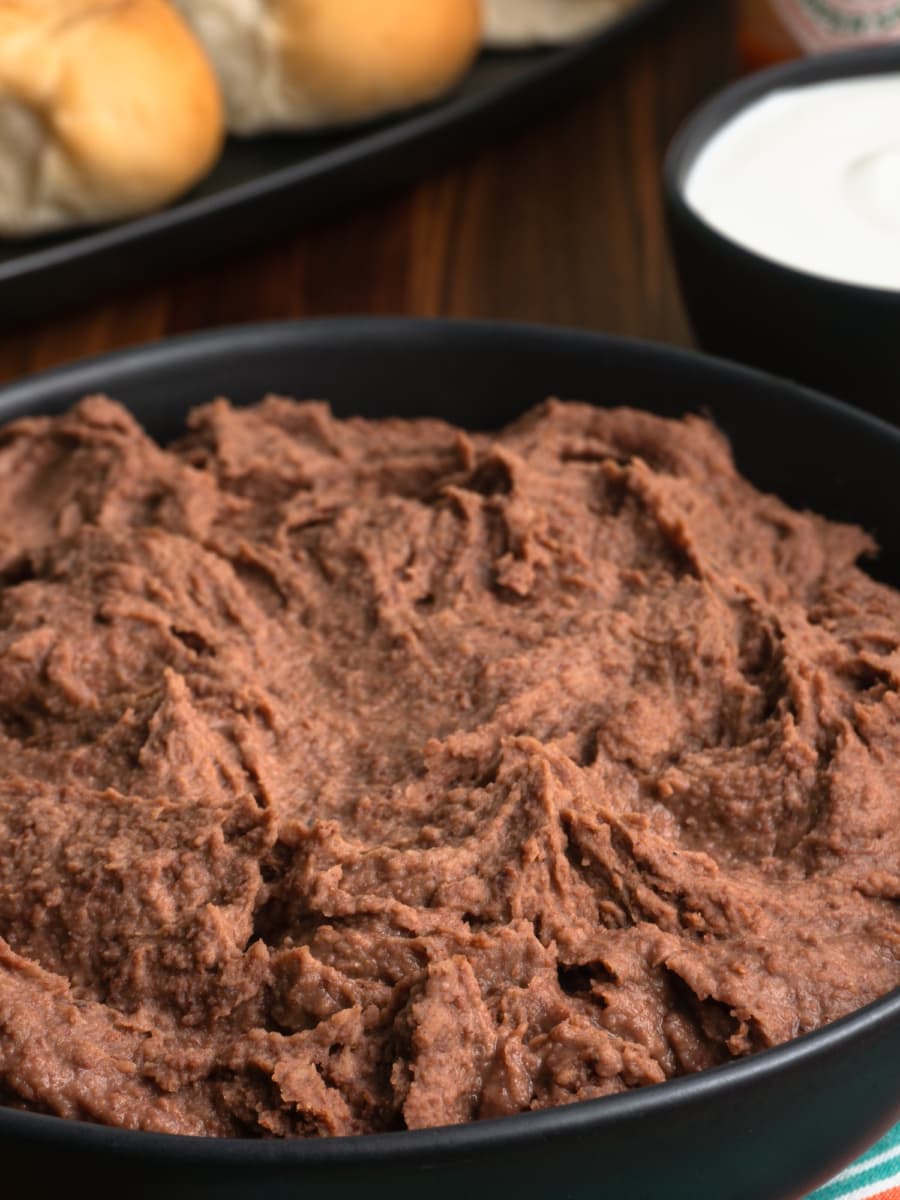 Another Honduran favorite is "Baleadas". These are flour tortillas with refried beans and Honduran cream. These are easy to make and are perfect for busy weeknight dinners.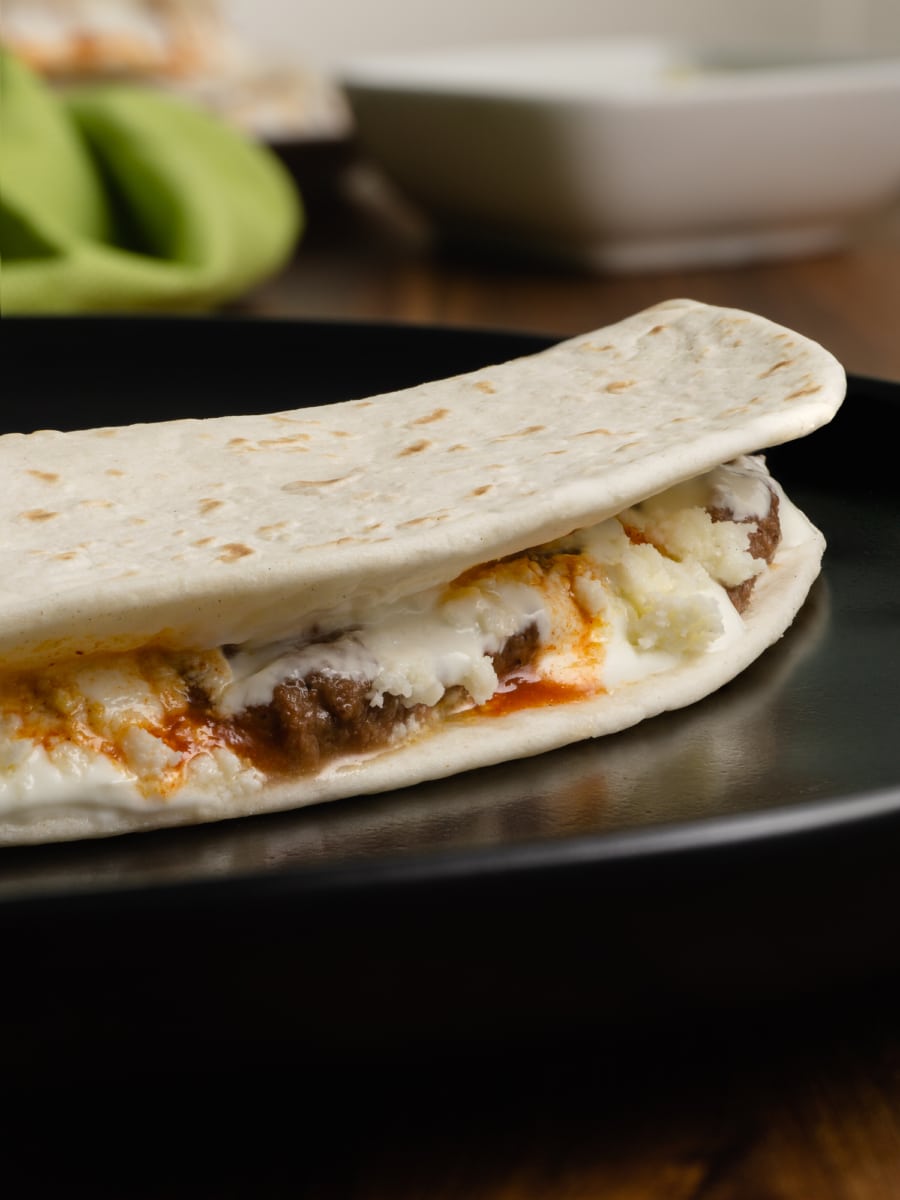 We also love using refried beans on bread. In Honduras, we eat "pan con frijoles". It's similar to a baleada but with bread. Oh so yummy! As you can see, the possibilities are endless!
I know you'll love how easy it is to make red beans in the Pressure Cooker. Let me know in the comments what delicious creation you make with your red beans!
Instant Pot Red Beans
SALVADORAN RED BEANS AND VEGETABLES
Total Time
1hour:10minutes
These authentic Honduran red beans are a delicious and nutritious side dish and serve as a base for many other wonderful Hispanic recipes.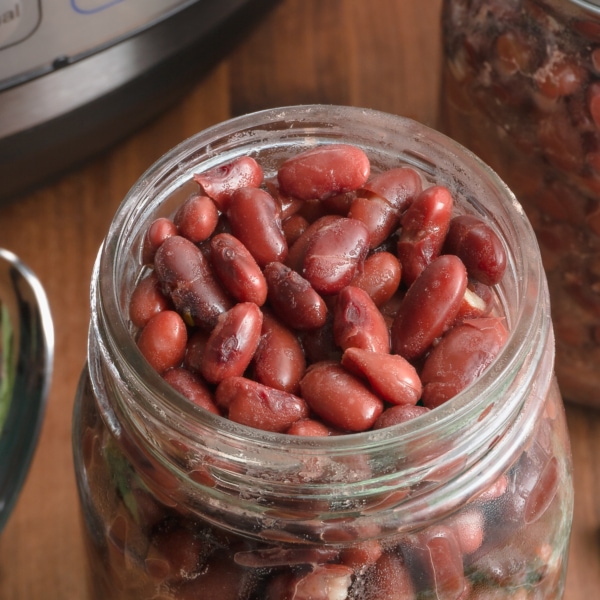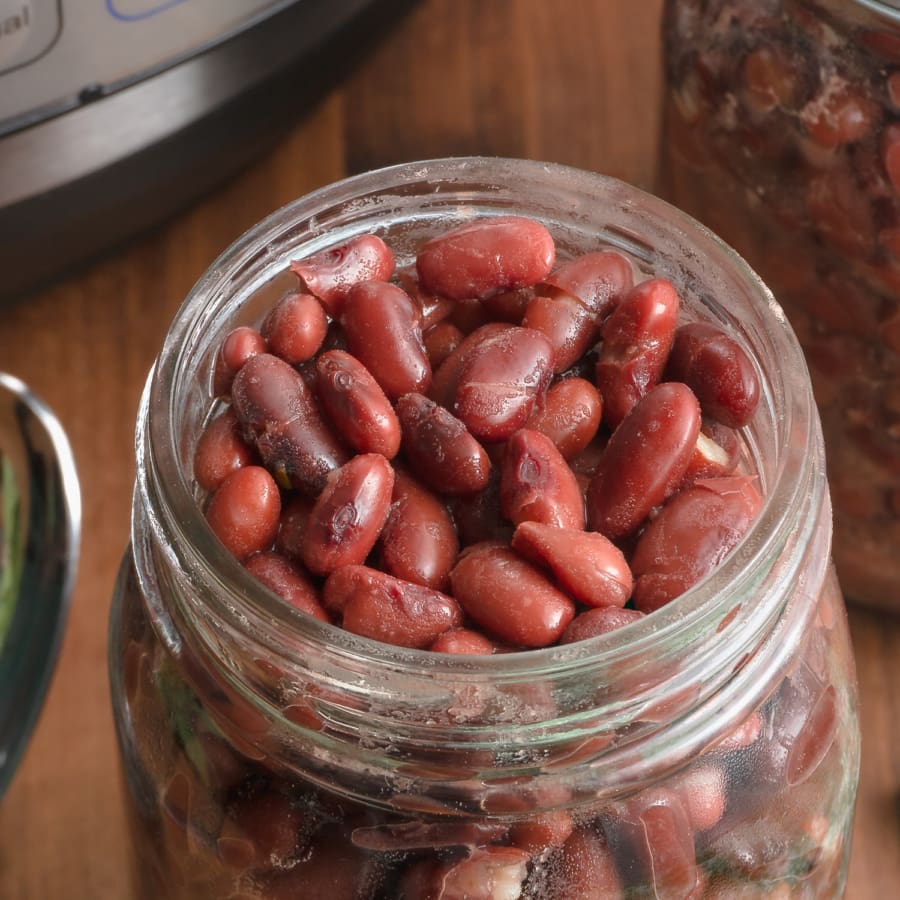 Instructions
prepare theRed Beans
Sort Beans: First, sort through the beans to remove any visible debris like loose dirt, small rocks, and beans that look shriveled, have holes in them, or are broken.

Rinse Beans: Now place the beans in a colander and give them a thorough rinse to remove any stuck-on dirt or debris.

Add Everything to Pot: Add the beans, water, onion, green pepper, garlic, cilantro, salt, and olive oil to the pot.
set the Cook Time
35-Minute Cook Time: Close the Instant Pot, set the pressure release valve to 'Sealing' and cook on 'Manual' or 'Pressure Cook', 'High Pressure' for 35 minutes.

FULL NPR: Once the cooking time has completed, allow for a Full Natural Pressure Release, which can range from 30 to 50 minutes. If you are in a hurry, you can release any remaining pressure at 30 minutes if you wish. After the NPR has finished and the pin has fallen, open the pot.
store the Beans & Broth
Remove Vegetables: Remove the cooked vegetables from the pot (onion, green pepper, garlic, and cilantro) using a slotted spoon and place in a blender with 1 cup of the bean broth to blend. Allow the broth to cool before blending.

Remove & Store Beans: Remove the beans from the pot using a slotted spoon and store in a sealable food container, gallon-sized freezer bag, or mason jars for use with other recipes. The beans freeze well and will last 3 to 5 days in the refrigerator.

Blend Vegetables: Once the broth in the blender has cooled for at least 5 minutes, blend everything until smooth. Add the blended vegetables back to the bean broth in the pot and give a stir.

Remove & Store Bean Broth: Reserve the bean broth for bean soup and other recipes by storing in a sealable food container, freezer bags, or mason jars. The broth freezes well and will last 3 to 5 days in the refrigerator.
Nutrition Facts
Calories: 85kcal | Carbohydrates: 14g | Protein: 5g | Fat: 1g | Saturated Fat: 1g | Sodium: 533mg | Potassium: 317mg | Fiber: 4g | Sugar: 1g | Vitamin A: 25IU | Vitamin C: 4mg | Calcium: 24mg | Iron: 2mg