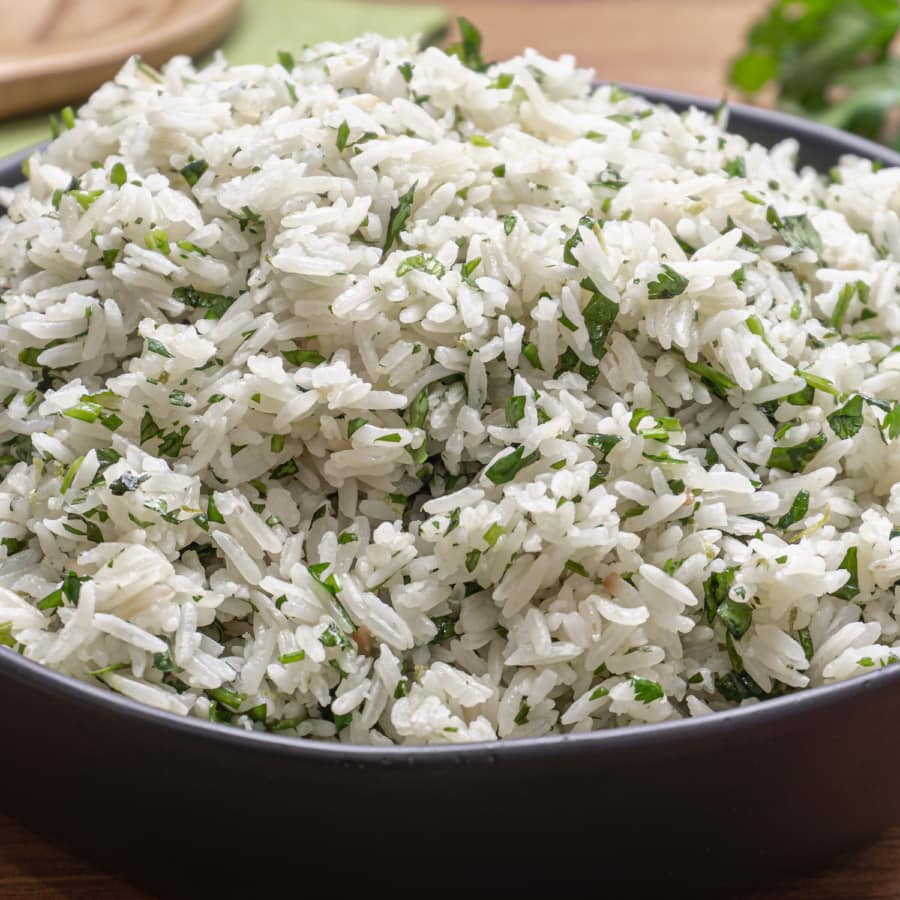 SAVE THIS RECIPE
If you're looking for an easy and tasty Instant Pot side, then look no further. This Instant Pot Cilantro Lime Rice is ready in no time and makes the perfect pair to just about any dish.
This post contains affiliate links. For more information, see my disclosure.
Easy Cilantro Lime Rice
You know I love easy and this Instant Pot Cilantro Lime Rice recipe takes the cake when it comes to easy! The electric pressure cooker has allowed most people to easily make perfectly cooked rice. I suck at making rice on the stove so, for me, it's been a game-changer!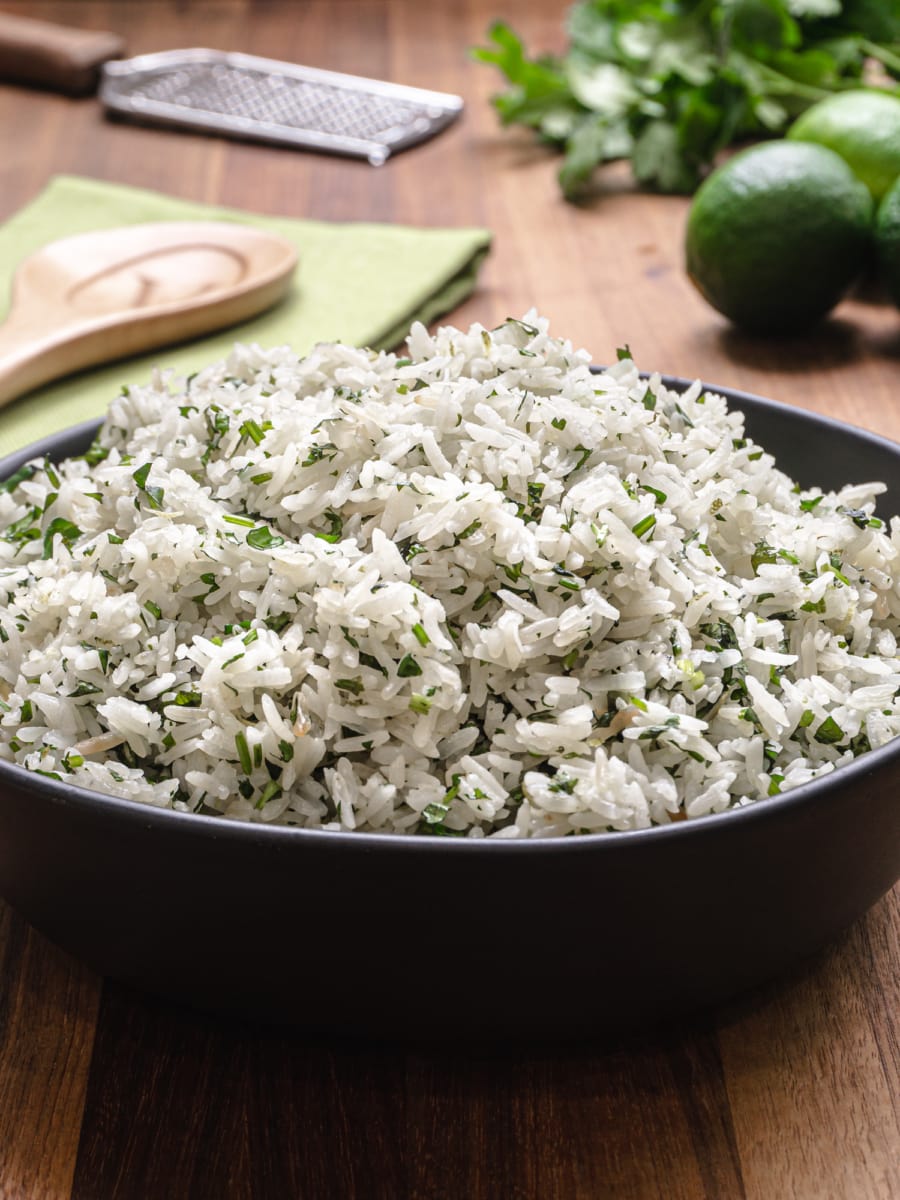 It's super easy to make cilantro lime rice in an electric pressure cooker. You just need a few simple ingredients and a little bit of time. You'll make a delicious side dish that everyone will love! Plus, you can skip the trip to Chipotle since now you'll be making your own delicious Cilantro Lime Rice!
How Do You Make Cilantro Lime Rice?
It takes very little prep to make this delicious and easy side dish. All you have to do is chop a little cilantro, zest and squeeze a few limes, mince some garlic and you're ready to go. You'll also need some oil, water, salt, and rice. I like to make my Cilantro Lime Rice with Jasmine rice, but you can use your favorite long grain rice.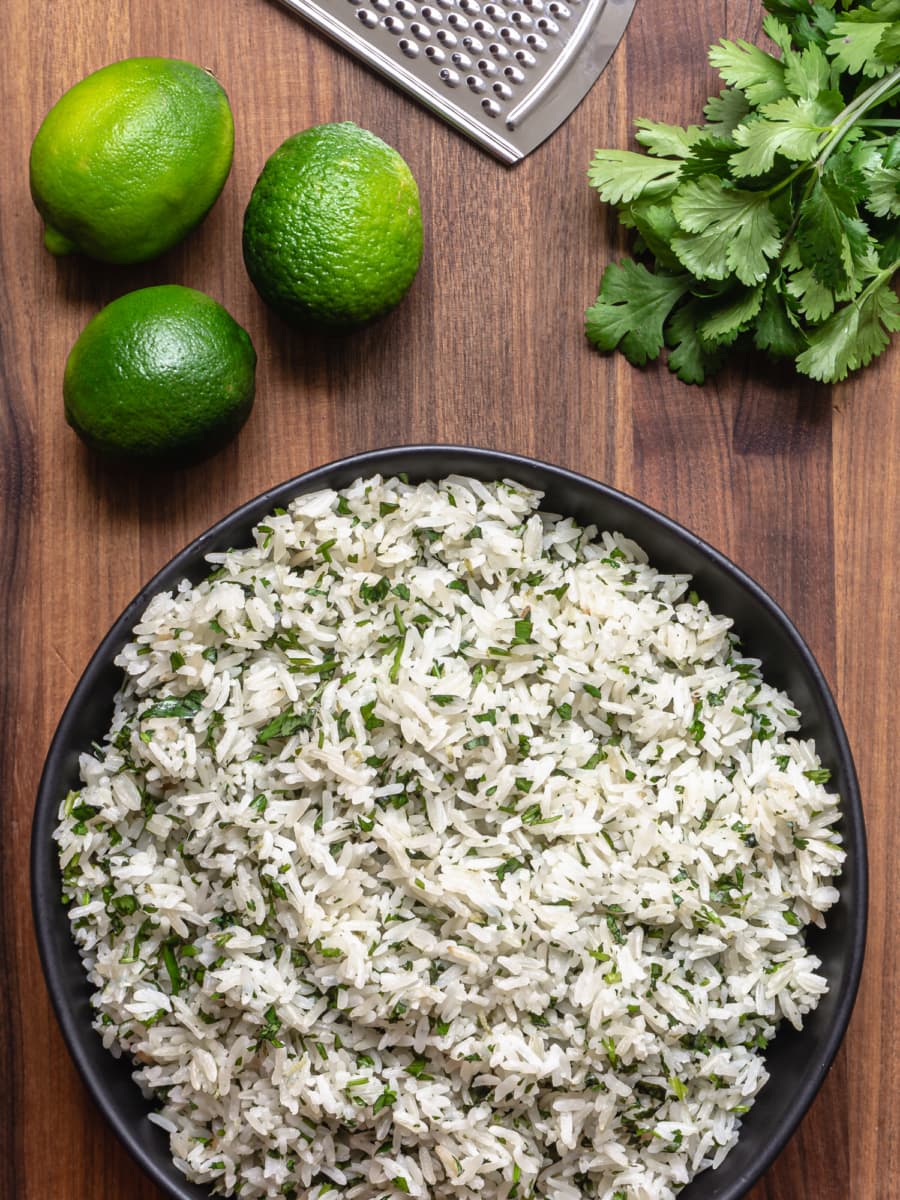 You will first sauté the rice in the oil for a few minutes using the sauté feature. You will also add some minced garlic while sautéing. After sautéing, you will add the water and salt and cook the rice under pressure.
Essential Items
Here are some essential prep tools, utensils, and appliances I used to make this recipe.
Featured Items
Here is a list of the products featured in this post or products similar to those featured in this post:
23 Must-Have Electric Pressure Cooker Accessories
Make sure to check out my Ultimate List of Electric Pressure Cooker Accessories! I've included everything you could ever need to help make your pressure cooking quicker, easier, and even more convenient.
Once the short cooking time is done and the pot has done a 10 minute NPR (Natural Pressure Release), you will release the remaining pressure manually. When the pin drops, you can open the pot and you will then add the cilantro and lime. That's it!
Make sure to fluff the rice with a fork when it's first done so you don't end up with mushy rice. Nobody likes mushy rice.
What Goes Well With Cilantro Lime Rice?
I think an easier question would be what doesn't go well with Cilantro Lime Rice?! But seriously, it does have a Hispanic flair because of the lime and cilantro so it would be perfect with any Mexican or Hispanic food. Think tacos, burritos, burrito bowls, enchiladas, carnitas, and so much more!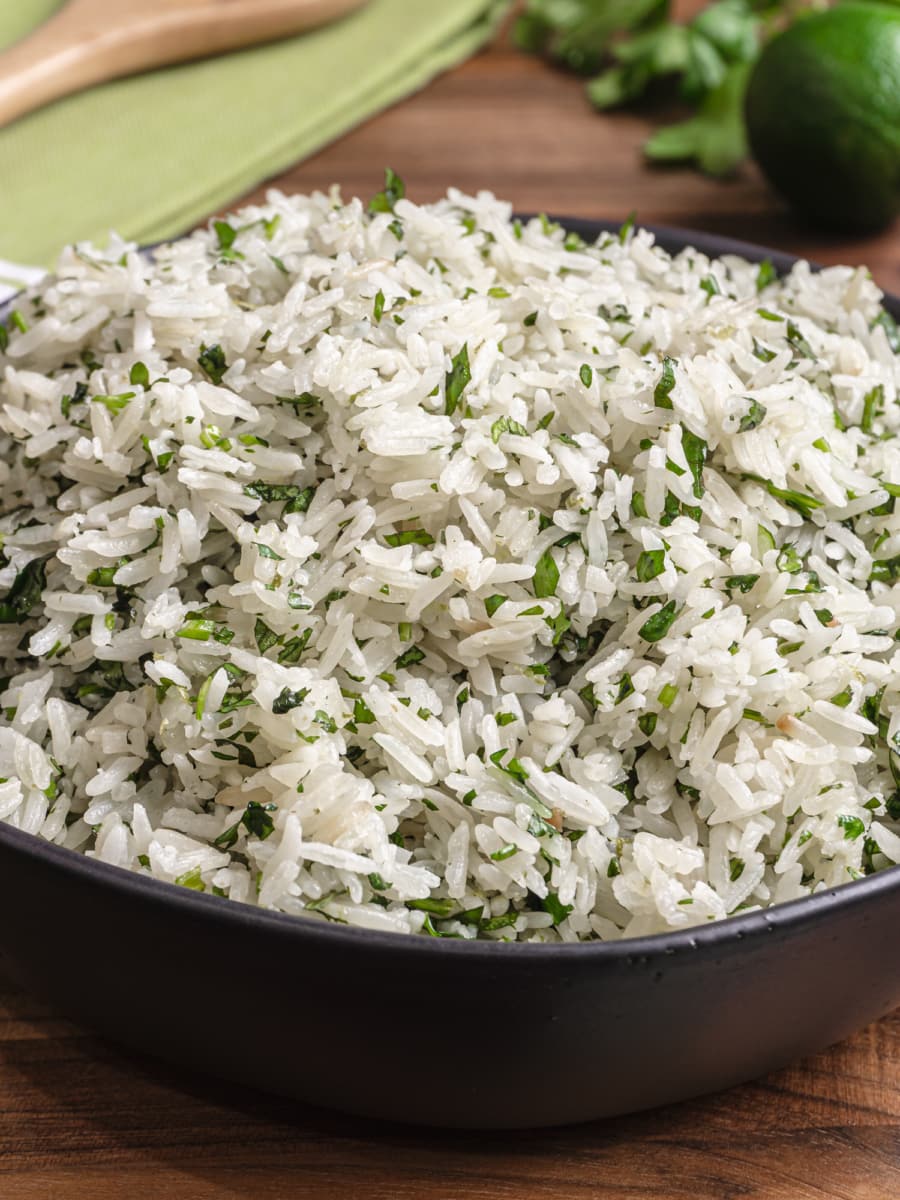 But you don't have to limit yourself to Hispanic recipes. Cilantro Lime Rice goes great with steak, chicken, fish, pork chops, and really just about anything else you can think of.
So treat yourself to something better than plain rice! Make Cilantro Lime Rice and add a special side to any meal.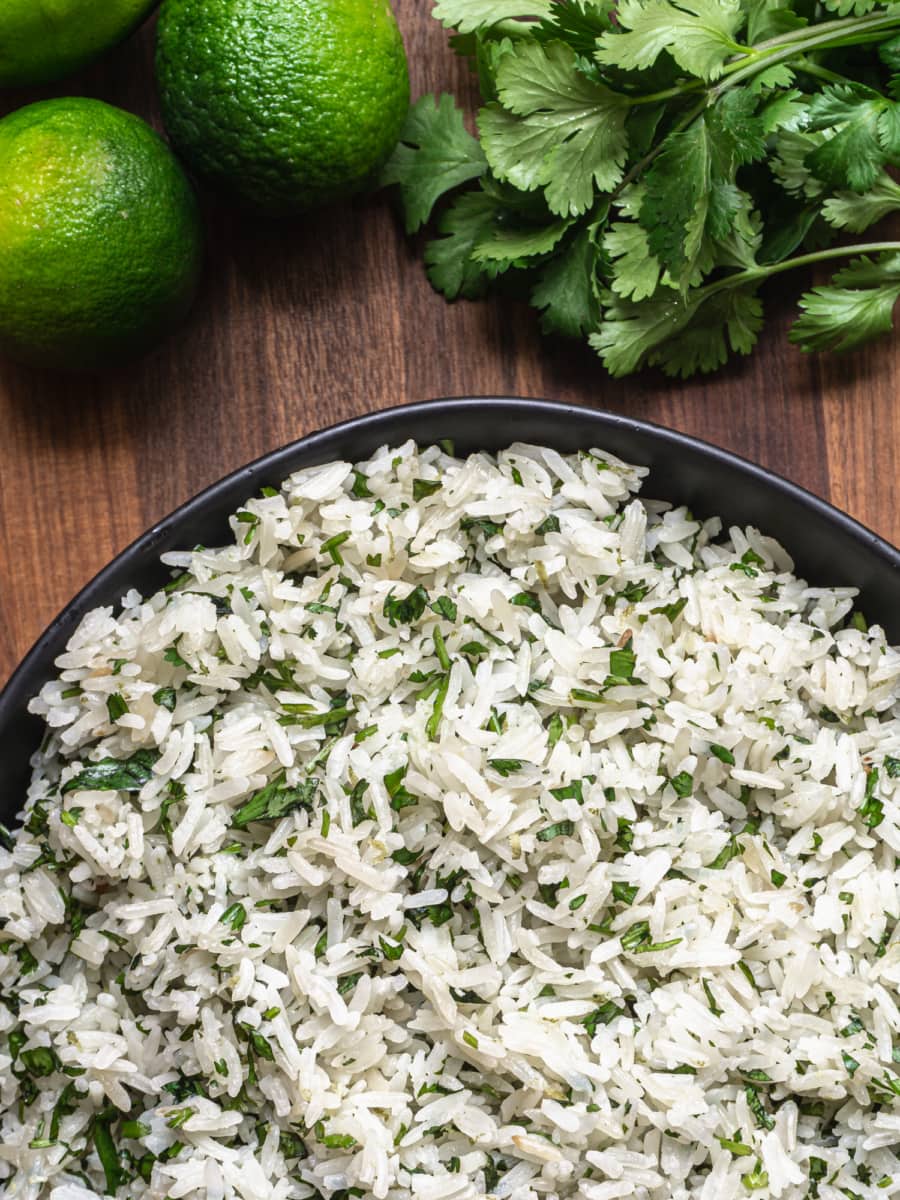 I know you'll love this easy and refreshing Cilantro Lime Rice recipe! Making it in the pressure cooker is so simple and convenient. When you try it, I'd love to hear about it in the comments when you do. And for another delicious and refreshing rice recipe, try my Instant Pot Salsa Rice.
Here are some more recipes that you may enjoy:
For a list of all the pressure cooker rice recipes on this blog, make sure to check out my Instant Pot Rice Recipes post. And, if you're just looking to make plain white rice or brown rice in your pressure cooker, make sure to go to my Instant Pot Jasmine Rice and Instant Pot Brown Rice recipes.
Instant Pot Cilantro Lime Rice
LONG-GRAIN RICE, FRESHLY SQUEEZED LIME JUICE, LIME ZEST, AND CHOPPED CILANTRO
Liven up your meal with this fresh and festive side dish. Cilantro lime rice complements any Mexican inspired dish and is perfect served on burritos, tacos, and with bowls, and salads.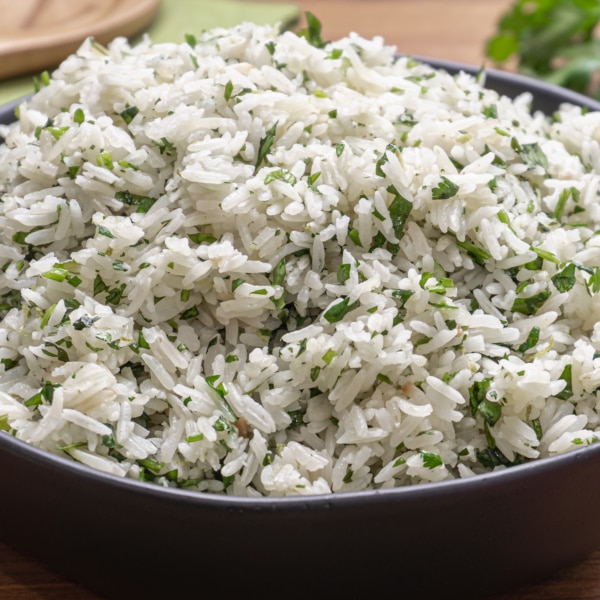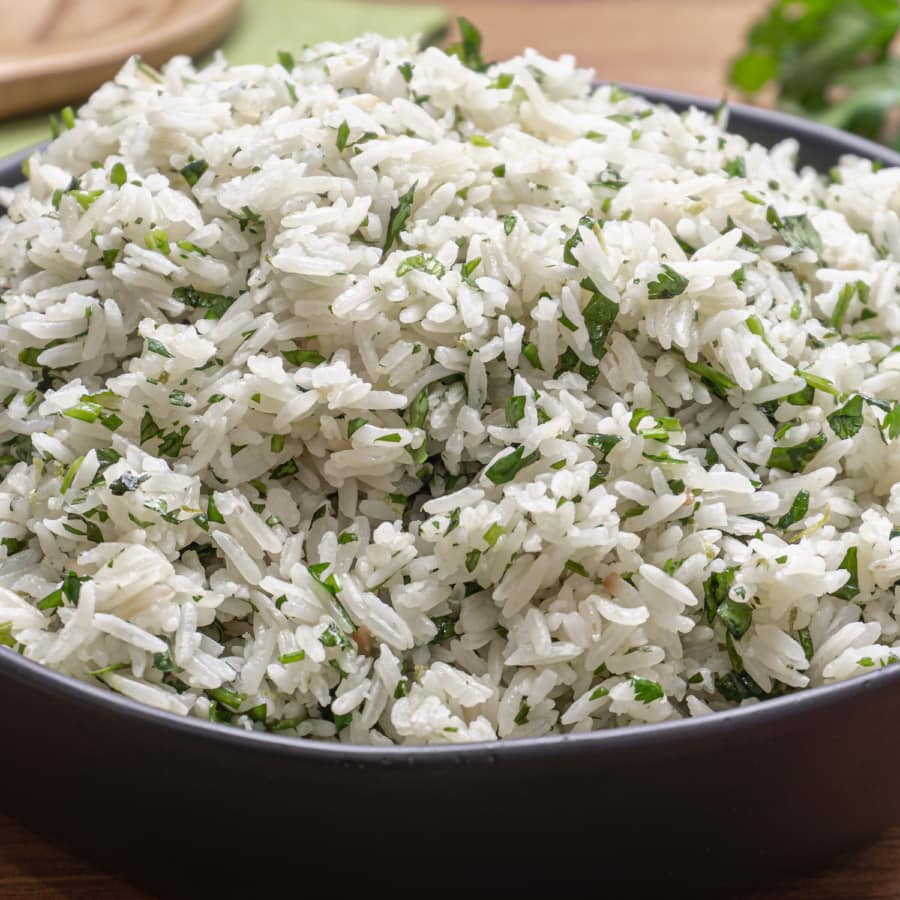 Instructions
cookingThe Rice
Rinse the rice under cool water until the water runs clear. Set aside to air dry.

Sauté Rice: Set the Instant Pot to 'Sauté' and, using the 'Adjust' button, adjust the heat level to 'More'. Once the display reads 'Hot', add the oil to the pot and allow it to heat up. Add the rice to the pot and toss until it is fully coated in the oil. Cook, stirring occasionally, until some of the grains begin to brown, about 5 to 6 minutes.

Add Garlic: Add the minced garlic to the rice and cook for another minute to allow the garlic's flavor and aroma to be released.

Cancel Sauté: Cancel out of the Sauté function.

Add Water and Salt: Now add the water to the pot and sprinkle the salt over the rice. Give everything a quick stir.

3-Minute Cook Time: Close the Instant Pot, set the pressure release valve to 'Sealing', and set the pot to cook on 'Manual' or 'Pressure Cook', 'High Pressure' for 3 minutes.

10-Minute NPR: Once the 3-minute cooking time has completed, allow for a 10-minute natural pressure release. Release any remaining pressure once the 10-minute NPR has completed.

Fluff Rice: Once the remaining pressure has been released and the pin has dropped, open the Instant Pot and, using a fork, fluff the rice.
to addAfter Cooking
Prep Remaining Ingredients: Rinse, dry, and chop the cilantro. Squeeze 3 tablespoons of juice from the limes. Zest one lime until you have ⅛ teaspoon of lime zest.

Add Zest, Lime Juice, and Cilantro: Add the lime juice, lime zest, and cilantro to the pot and toss into the rice.

Serve and enjoy!
Nutrition Facts
Calories: 202kcal | Carbohydrates: 38g | Protein: 3g | Fat: 4g | Saturated Fat: 1g | Sodium: 442mg | Potassium: 65mg | Fiber: 1g | Sugar: 1g | Vitamin A: 70IU | Vitamin C: 2.1mg | Calcium: 15mg | Iron: 0.4mg