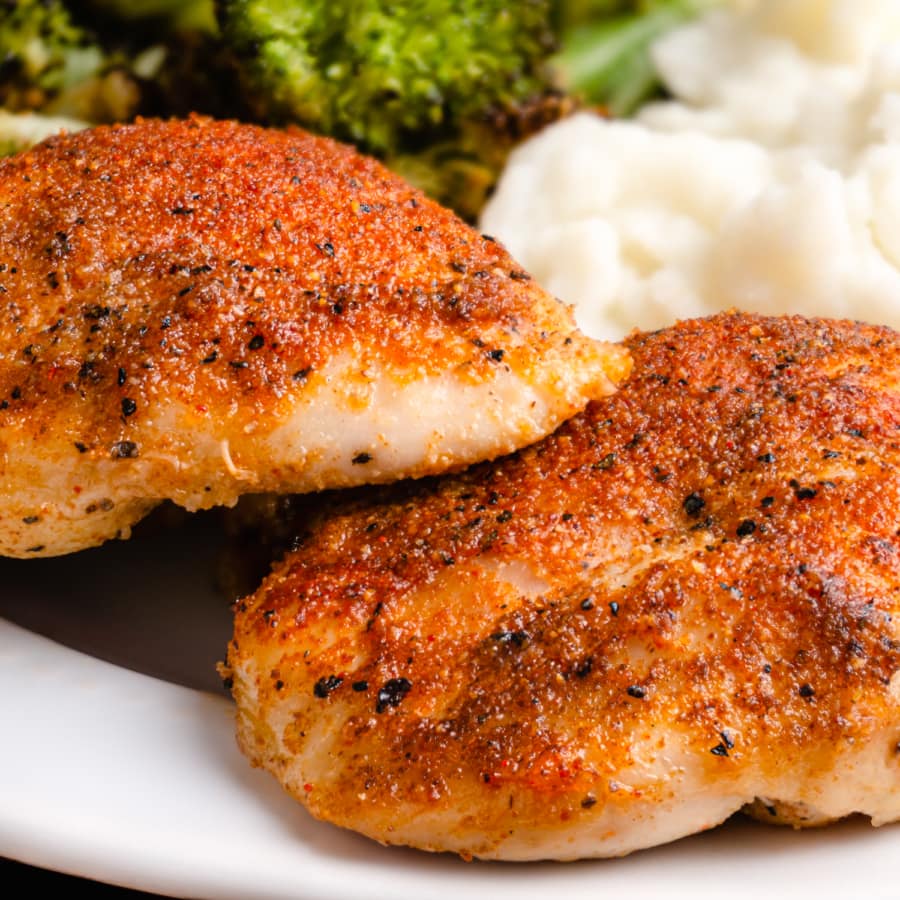 SAVE THIS RECIPE
These Oven Roasted Chicken Thighs are so easy to make and they take no time at all. They come out juicy and so incredibly flavorful. Kid-friendly and family-approved, these are certain to be a hit in your home!
This post contains affiliate links. For more information, see my disclosure.
The Perfect Busy Weeknight Dinner
In my ongoing search for easy weeknight dinners, I came up with these oven-roasted chicken thighs. This recipe is for boneless, skinless chicken thighs, making it very kid-friendly and quick to prepare and cook.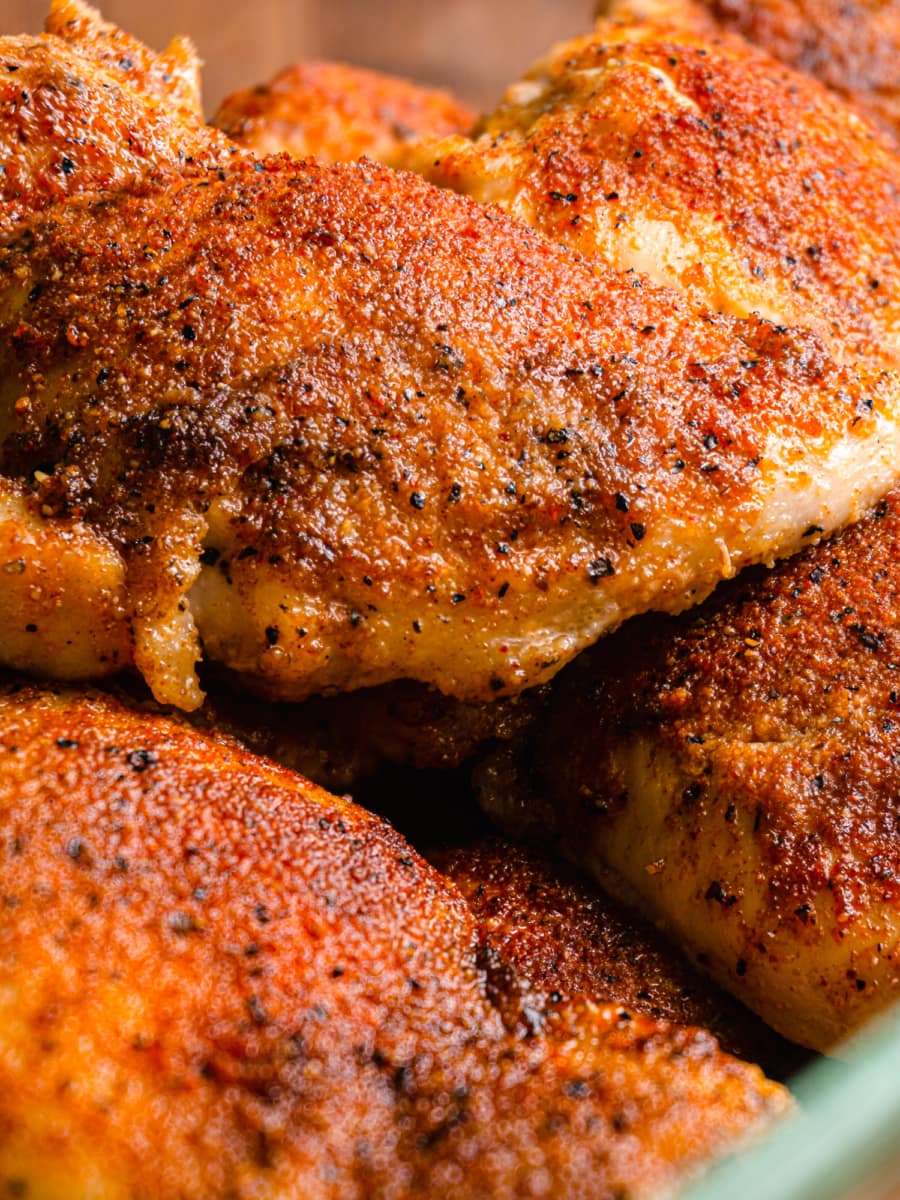 You will simply coat the chicken thighs with a little olive oil and then sprinkle the delicious seasoning combination on both sides. Roasting the chicken in the oven takes no time at all and you'll have a delicious, juicy meal your family will love.
How Long Do I Roast Boneless Chicken Thighs?
Since we are using boneless, skinless chicken thighs you only need to bake them for about 12-14 minutes. You will bake the chicken thighs at 425° F.
Before removing them from the oven, always make sure to check the internal temperature of the thickest part of the thickest thigh. Once it reaches 165° F, the thighs are ready to be taken out of the oven. I always use my meat thermometer to make sure the thighs have reached a safe temperature.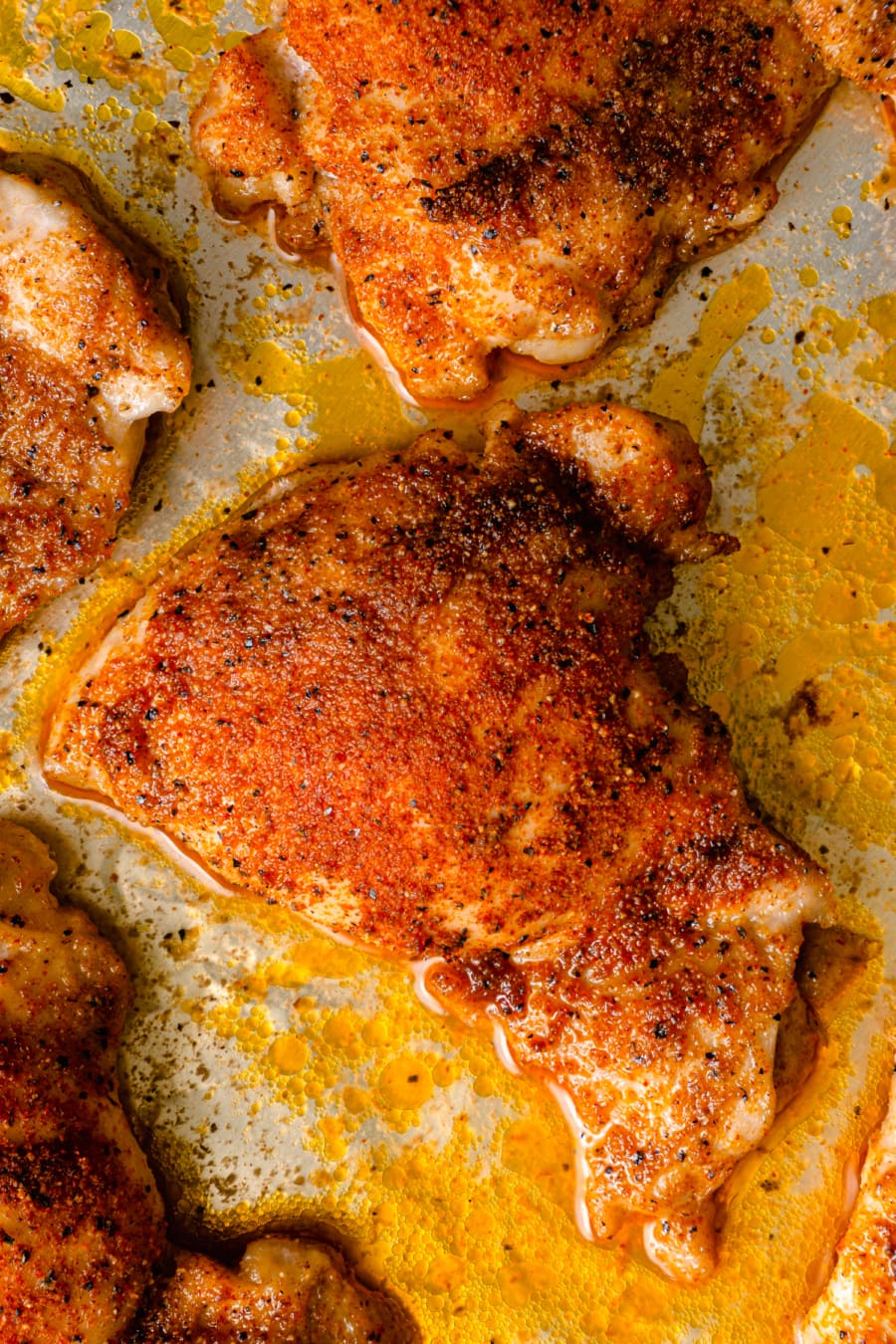 I like to line my sheet pan with aluminum foil and spray the foil with some non-stick cooking spray. This makes clean-up a breeze. Anything to make things easier!
What Can I Eat With Roasted Chicken Thighs?
These delicious Oven Roasted Chicken Thighs can pair well with so many easy sides! We recently ate them with some mashed potatoes and the kids devoured their plates. If you're eating low-carb, then you may enjoy the chicken thighs with this delicious Loaded Mashed Cauliflower Casserole.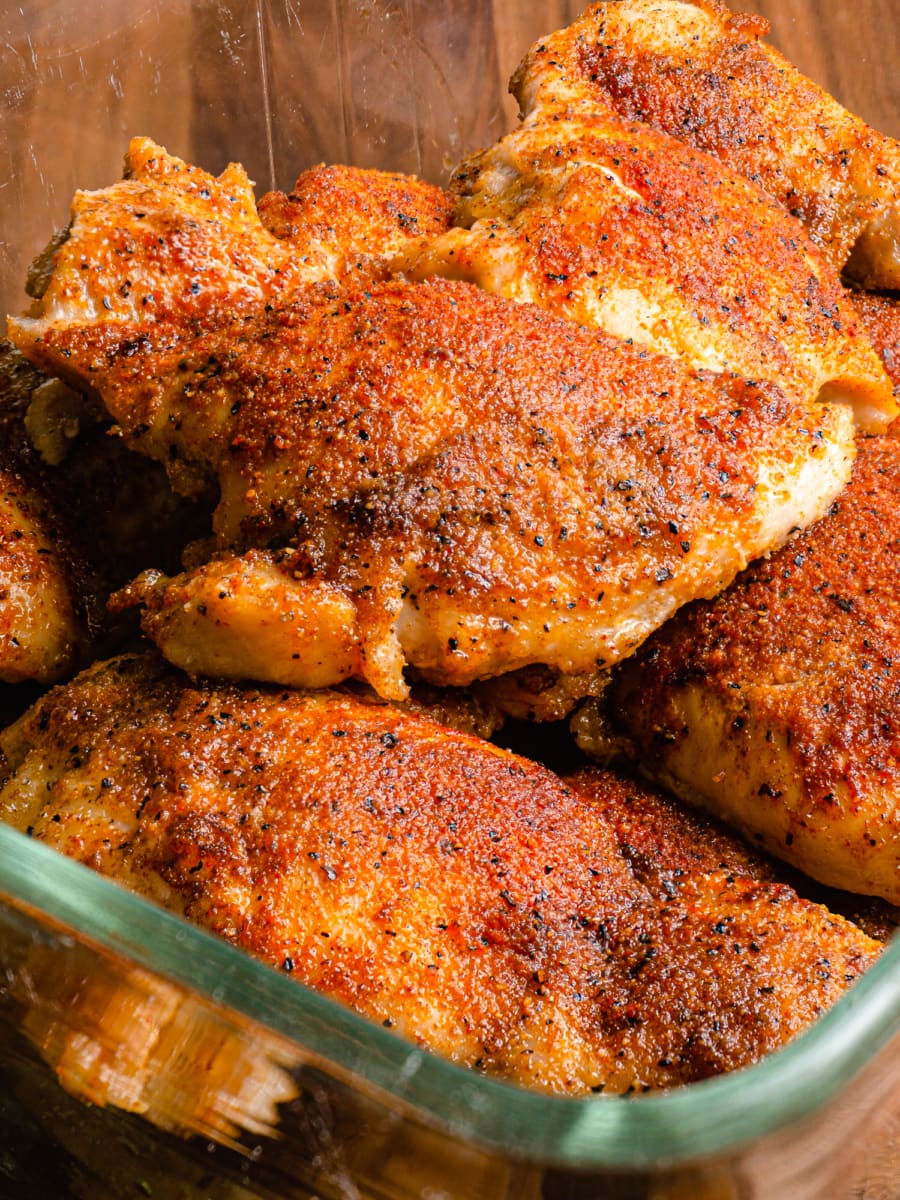 I usually have rice on hand so that's always a great side dish for these chicken thighs. You can have white jasmine rice or even brown rice with them. Both delicious choices!
Essential Items
Here are some essential prep tools, utensils, and appliances I used to make this recipe.
Featured Items
Here is a list of the products featured in this post or products similar to those featured in this post:
23 Best Bakeware for the Well-Equipped Kitchen
Love baking? Make sure you check out this list of the Best Bakeware every serious baker should have in their kitchen.
If you have an Instant Pot and you need more ideas for some delicious sides, check out my posts for Easy and Delicious Instant Pot Side Dishes. There are lots of choices to pick from and they would all work perfectly with these chicken thighs.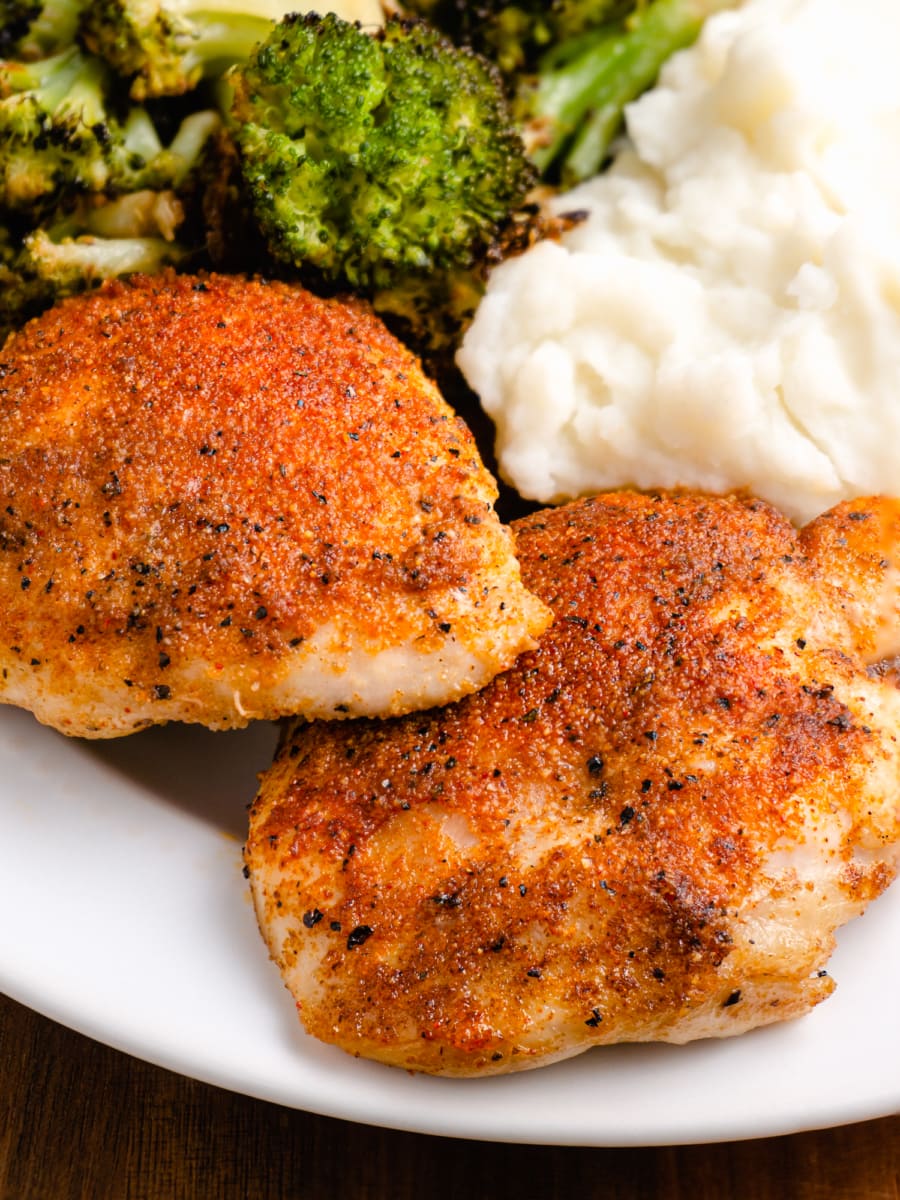 Whatever you decide to pair this juicy chicken with, I know you will have a quick and delicious meal that will be ready in no time!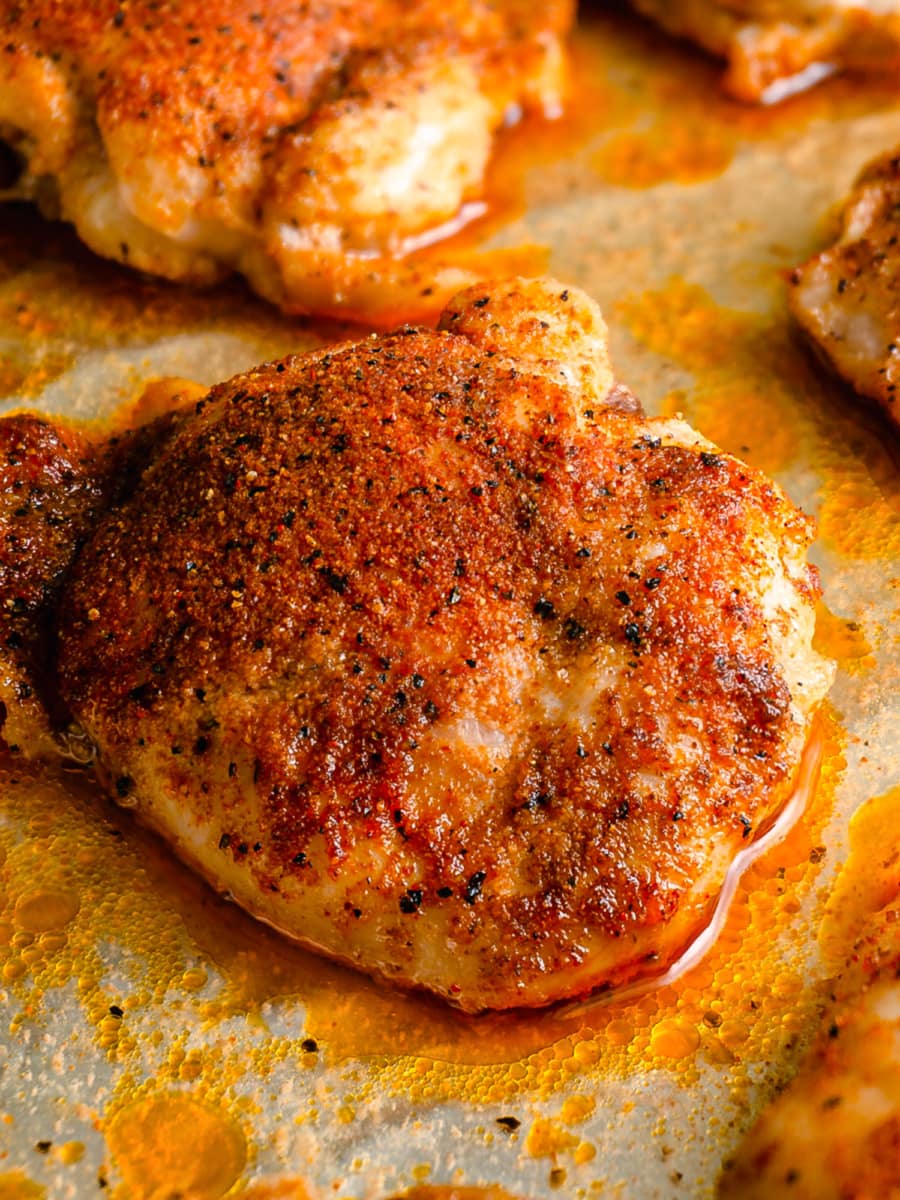 Let me know in the comments when you try these delicious and simple Oven Roasted Chicken Thighs. I know you will love them!
Oven Roasted Chicken Thighs
SPICE RUBBED AND ROASTED BONELESS, SKINLESS CHICKEN THIGHS
These are the most amazing oven-roasted chicken thighs! This quick and simple roasted chicken thigh recipe will give you chicken that's perfectly seasoned and so tasty, tender and juicy. The whole family will love this easy main dish.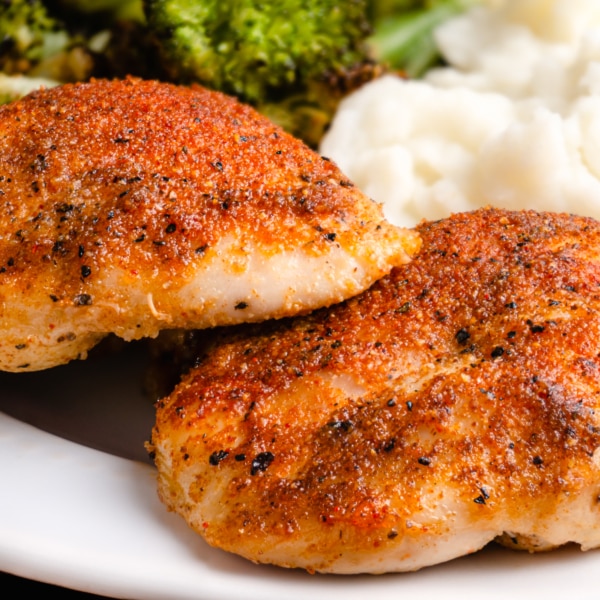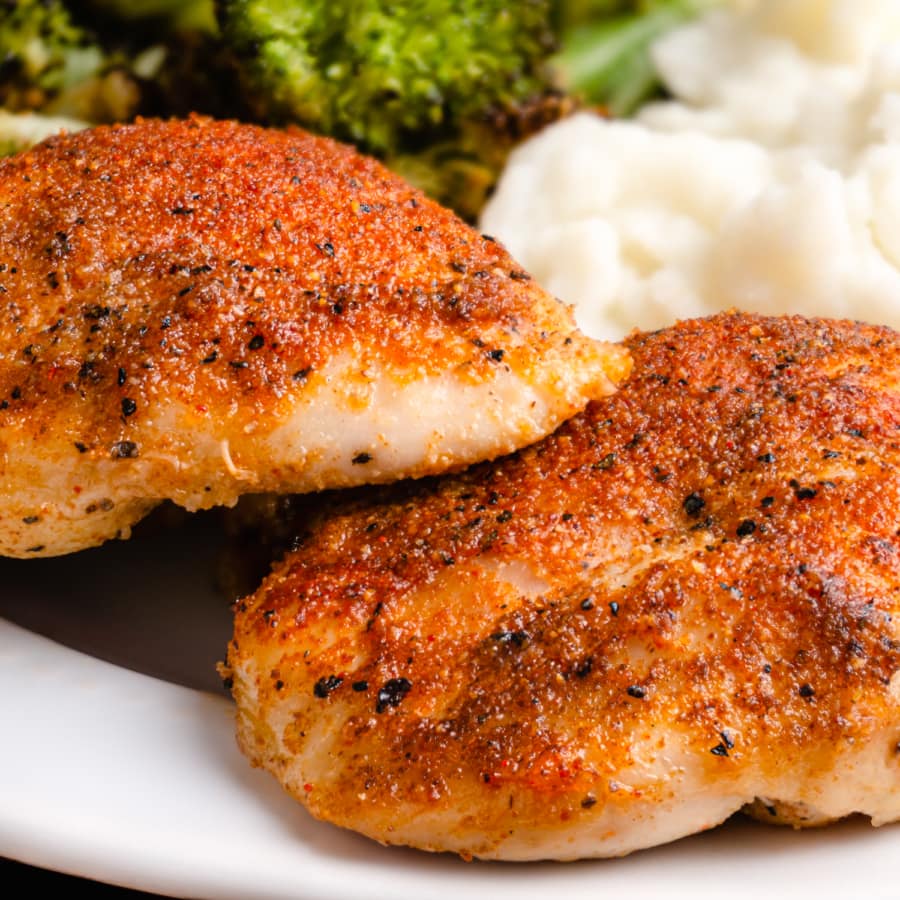 Instructions
Preheat oven to 425° F

Line the bottom of a rimmed baking sheet with aluminum foil and spray with non-stick cooking spray.

In a small bowl, mix the paprika, garlic powder, onion powder, salt, and pepper. Set aside.

Add the olive oil to a medium-sized mixing bowl, pat the chicken thighs dry and then add them to the bowl and toss in the oil until they are fully coated.

Lay the thighs out evenly on the baking sheet, bottom side up, and sprinkle about a third of the seasoning mix evenly over the bottoms of the thighs. Flip the thighs over and sprinkle the remaining seasoning over the tops of the thighs. Gently rub the seasoning into the thighs.

Roast on the bottom third rack of the oven for 12 to 14 minutes or until the thickest part of the thighs have reached an internal temperature of 165°.

Remove the baking sheet from the oven and allow the chicken to rest for 8 to 10 minutes before serving.

Enjoy!
Nutrition Facts
Calories: 358kcal | Carbohydrates: 2g | Protein: 44g | Fat: 18g | Saturated Fat: 4g | Cholesterol: 215mg | Sodium: 785mg | Potassium: 589mg | Fiber: 1g | Sugar: 1g | Vitamin A: 383IU | Vitamin C: 1mg | Calcium: 23mg | Iron: 2mg