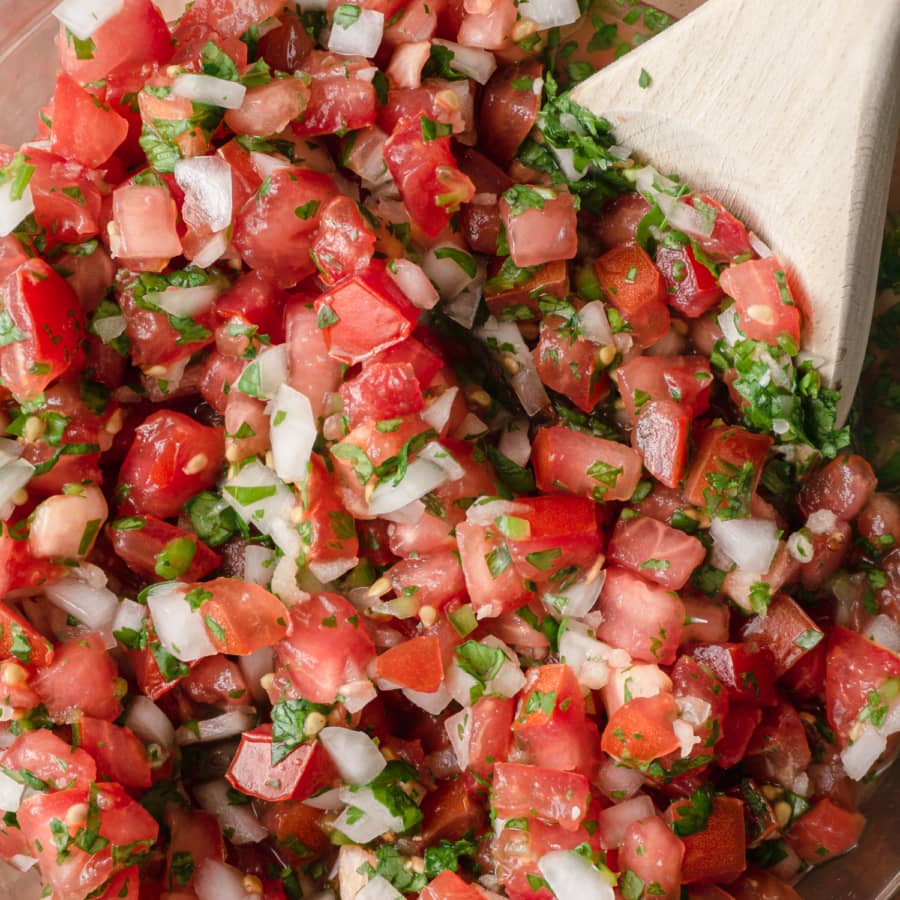 SAVE THIS RECIPE
If you love authentic Pico de Gallo, you will really love how easy and inexpensive it is to make your own homemade pico. Just a few chopped-up delicious summer veggies and you'll have the perfect topping for tacos, nachos, fajitas, and more!
This post contains affiliate links. For more information, see my disclosure.
What is Pico de Gallo?
Pico de Gallo literally means "Rooster's Beak". Funny name right? There are several theories as to why that name stuck so we won't get into that here! Pico de Gallo is an uncooked mixture of chopped tomatoes, onions, peppers, cilantro, lime juice, and salt.
Pico de Gallo is traditionally used to top tacos, fajitas, and nachos. In Honduras, we have our own version called "chismol". Unlike the typical salsa, Pico de Gallo salsa is a chunkier mixture of its uncooked ingredients, containing much less liquid. Each ingredient in Pico is clearly visible because it's not finely chopped.
What Can I Eat Pico de Gallo With?
Ok, this could take forever so I'll choose our favorite ways to use fresh Pico de Gallo. Traditionally, you can use it to top your tacos. It goes perfectly with my Instant Pot Salsa Chicken Tacos! Pico can also top my super easy Sheet Pan Chicken Fajitas!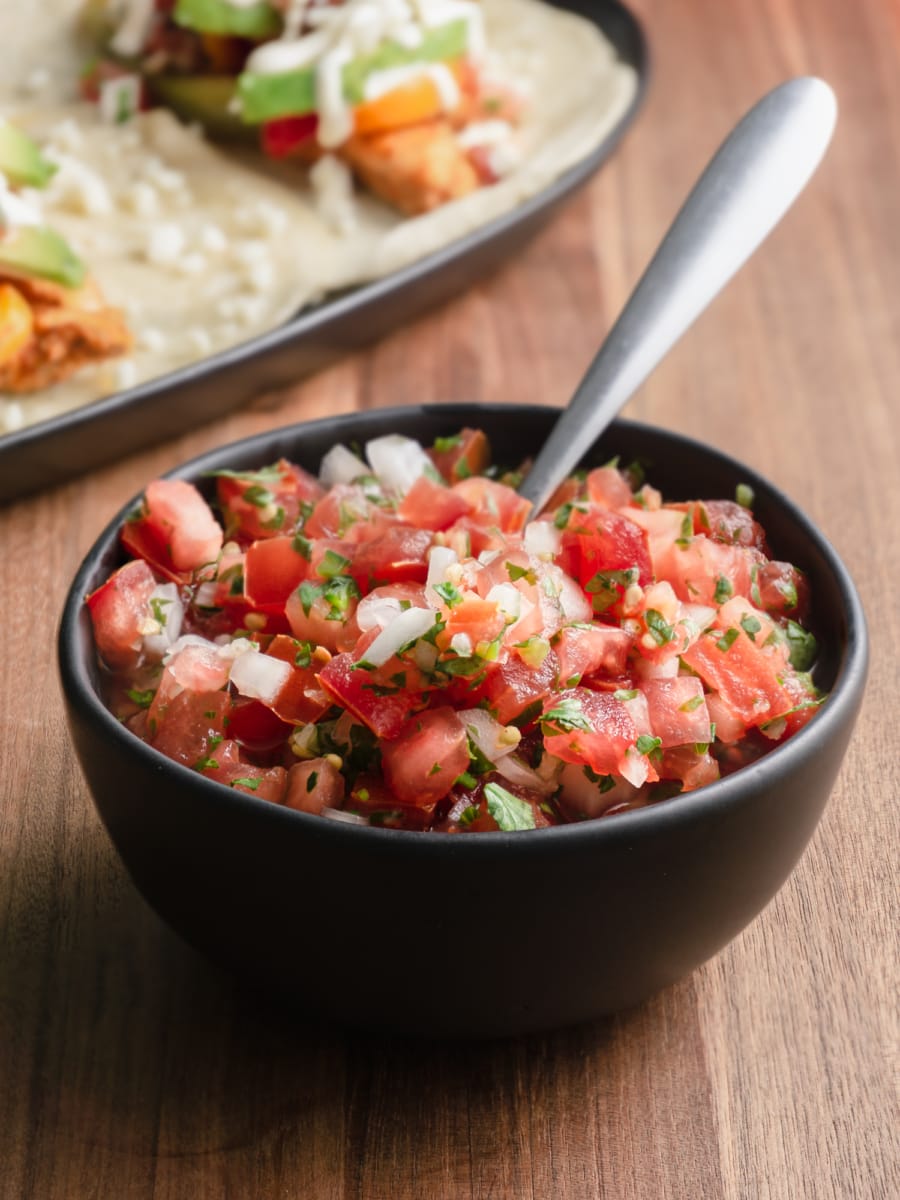 This easy Pico de Gallo is perfect on nachos, scrambled or sunny side up eggs, hamburgers, chicken breasts, burrito bowls, avocado toast, quesadillas, and so much more! You can also add Pico de Gallo to some plain white jasmine rice to take it up a notch! The possibilities are endless!
How Do You Make Pico de Gallo?
Making this homemade Pico de Gallo recipe is easy and so much cheaper than buying the tub at the store. Sure, if you're in a pinch, those tubs come in super handy, but most times, I like making a big batch at home for a fraction of the price. This way I have it available in the fridge for any meal during the week.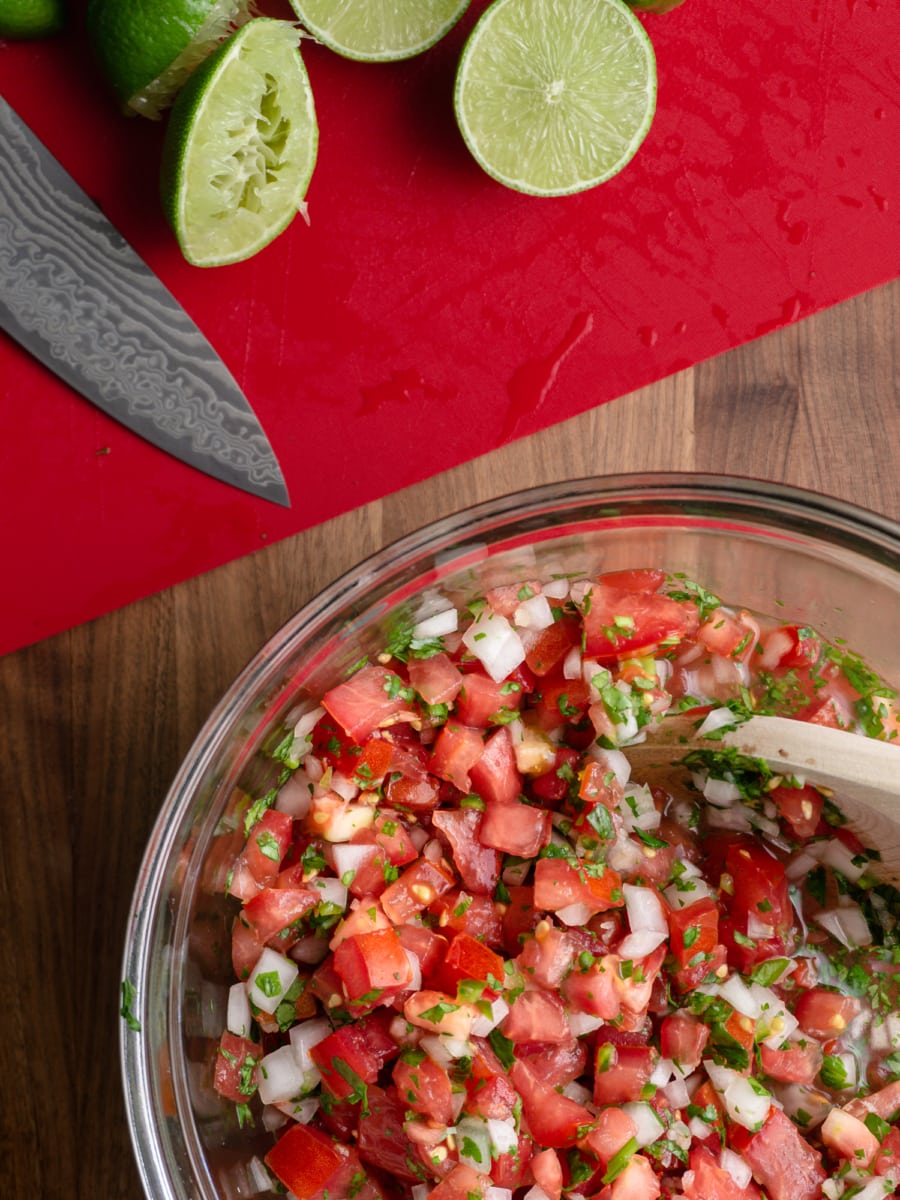 You will need tomatoes, onions, cilantro, garlic, jalapeno peppers, limes, and salt. The veggies will need to be diced. I personally dislike chopping and dicing, so either my hubby chops or I use my handy vegetable chopper. It's awesome! As you can see in my pictures, the pieces are diced to where they are clearly visible, so there's no need to finely chop.
Essential Items
Here are some essential prep tools, utensils, and appliances I used to make this recipe.
Featured Items
Here is a list of the products featured in this post or products similar to those featured in this post:
You will also need to mince the garlic. I prefer using fresh garlic and mincing it with my garlic press, but you can certainly use the minced garlic that comes in jars. You simply need to mix the diced veggies with the lime juice, garlic, and salt and that's it!
After mixing everything well, you should let it sit for at least 15 minutes so all the flavors soak in and blend together. And there you have it, easy homemade Pico de Gallo!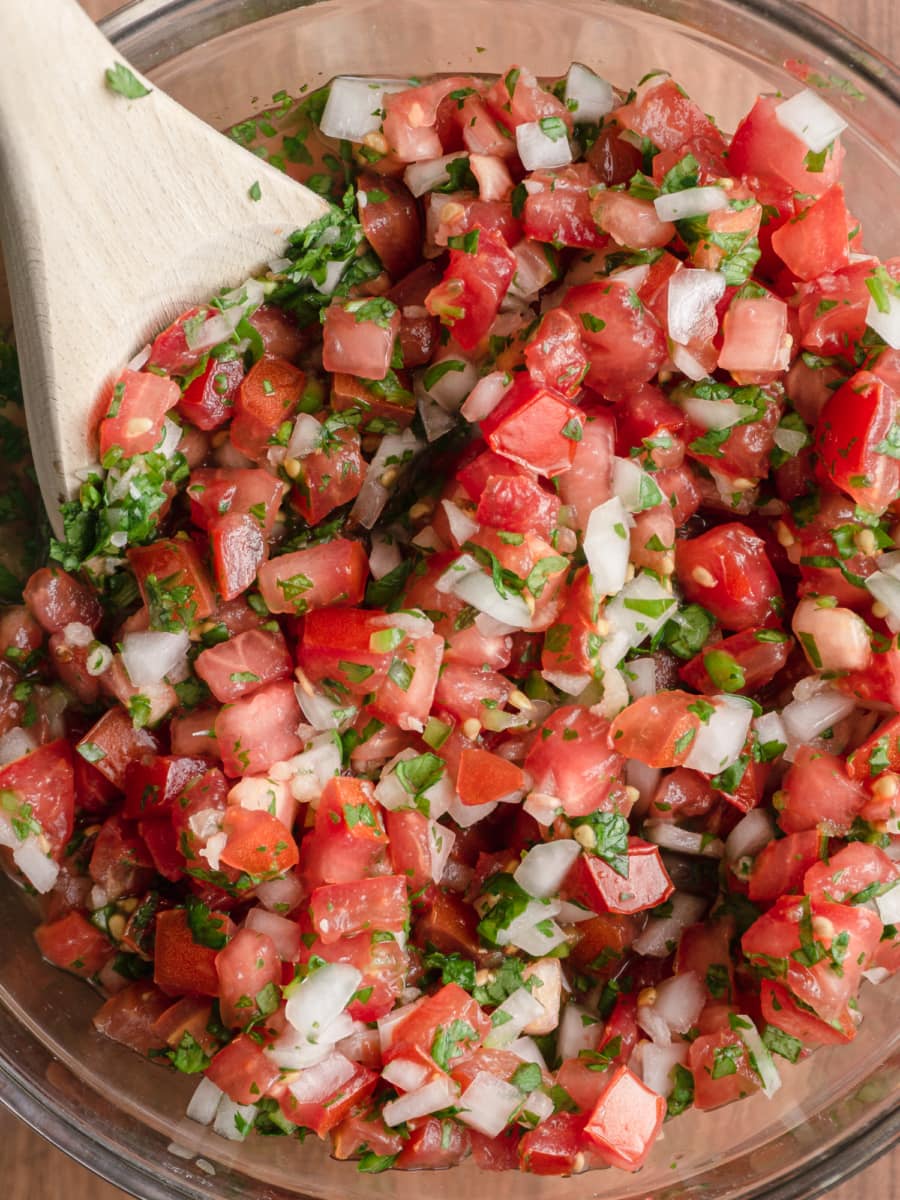 I hope you love this authentic homemade Pico de Gallo! Let me know in the comments when you make it. I'd love to know what you top with it!
Pico de Gallo
A FRESH BLEND OF DICED TOMATOES, ONIONS, PEPPERS, AND CILANTRO
Make Pico de Gallo a staple on your family table with this quick and simple recipe. This fresh homemade pico is a great addition to a variety of foods and Mexican themed meals.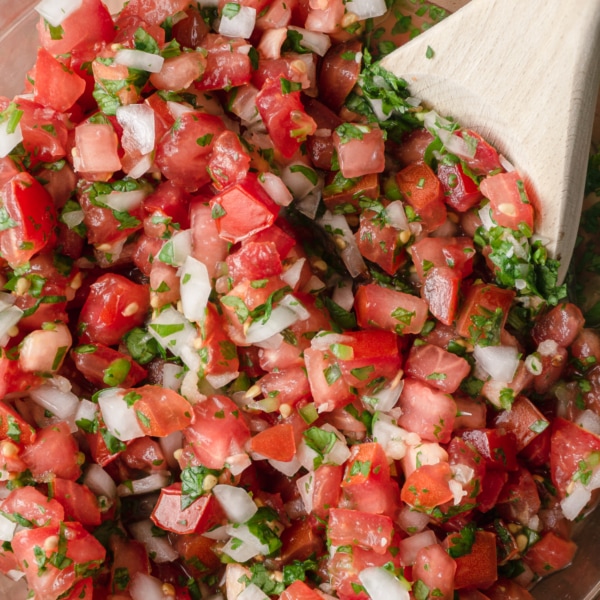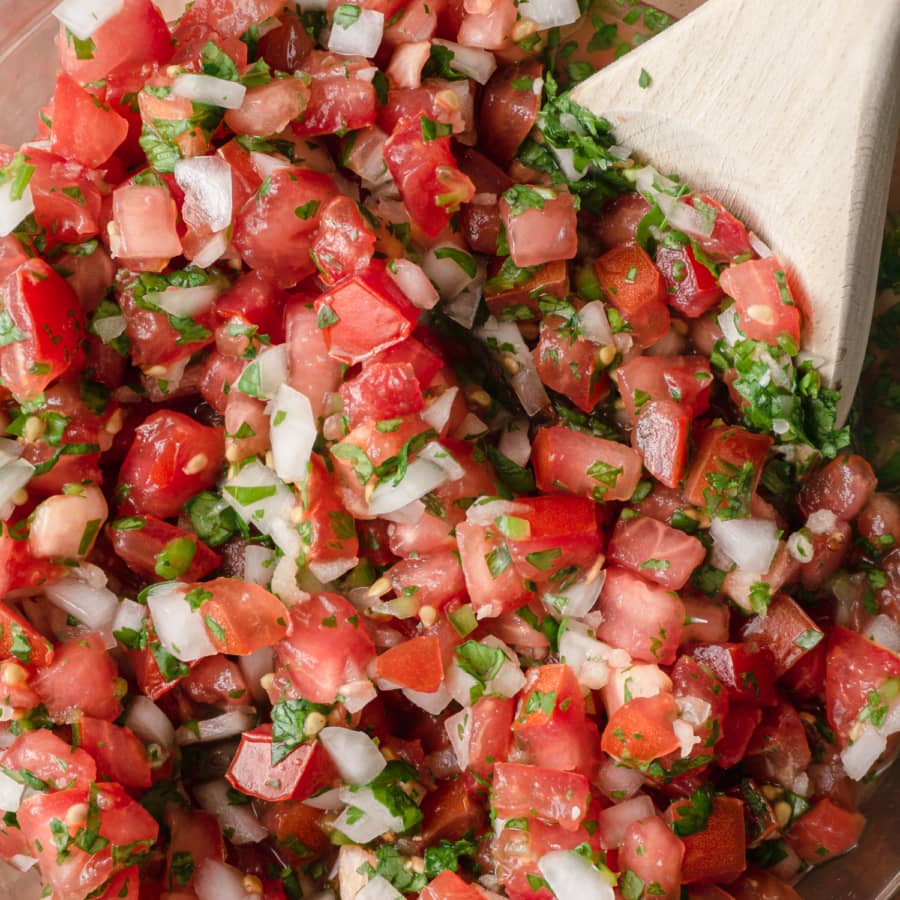 Instructions
Add all the ingredients to a medium serving bowl and toss to thoroughly mix together.

Allow to sit for 15 to 20 minutes before serving to let all the flavors set in.

Enjoy!
Nutrition Facts
Serving: 1cup | Calories: 51kcal | Carbohydrates: 12g | Protein: 2g | Fat: 1g | Saturated Fat: 1g | Sodium: 477mg | Potassium: 499mg | Fiber: 3g | Sugar: 6g | Vitamin A: 1634IU | Vitamin C: 33mg | Calcium: 28mg | Iron: 1mg
Common Questions & Answers
What are the best tomatoes for Pico de Gallo? Traditionally, Pico de Gallo is made with tomatoes that have fewer seeds and low moisture content – like Roma tomatoes. However, any tomato other than canned tomatoes will work. Just make sure that your tomatoes are fully ripened. If you have the option, fresh garden tomatoes are always the best for pico.
Why is it called Pico de Gallo? Pico de Gallo or "Rooster's Beak" is a funny name for this fresh and delicious medley of vegetables. So, how did it get its name? Well, there are a number of theories ranging from the way pico was originally prepared (by pinching the ingredients between the thumb and forefinger), that the texture of pico is similar to bird feed, and that the serrano pepper resembles a rooster beak. No matter what the origin of its name, Pico de Gallo is a fresh and versatile condiment that can be enjoyed with any number of dishes.
How long does Pico de Gallo last? Depending on the freshness of the ingredients, Pico de Gallo will last up to a week in the refrigerator if kept in a sealed container. You'll notice that the tomatoes will get mushy the longer the pico sits in the refrigerator. If the pico looks very watery, the cilantro is wilted, and the tomatoes are mushy and gross, it's time to toss it.