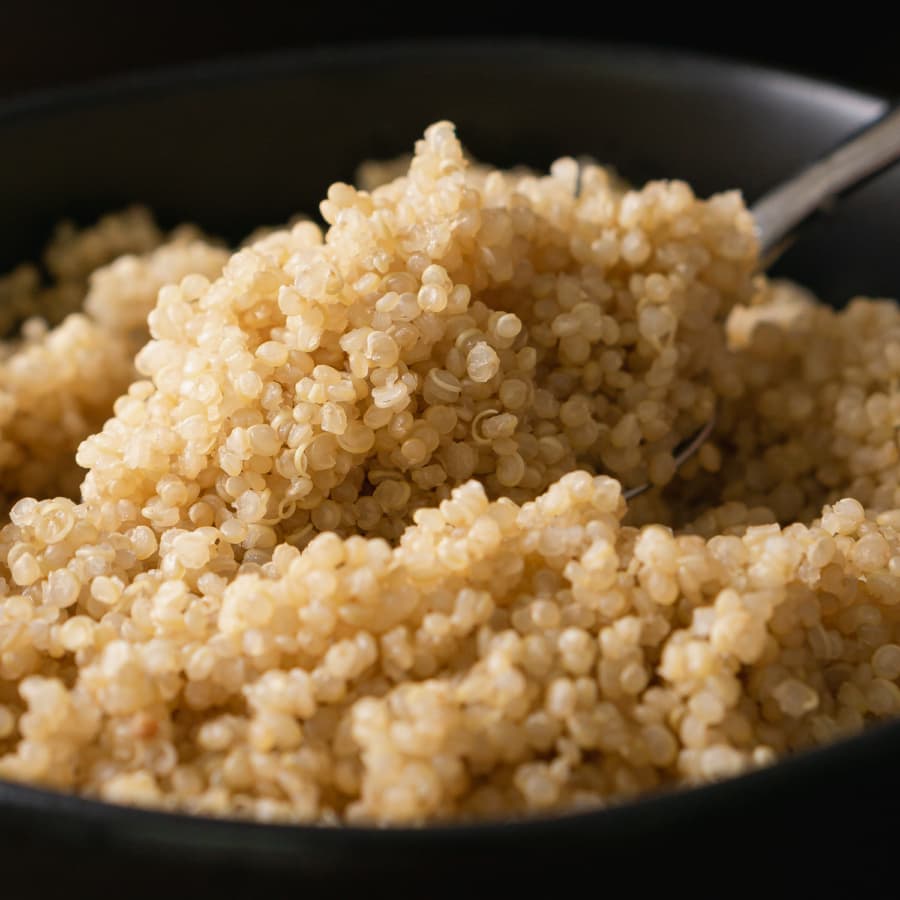 SAVE THIS RECIPE
You are going to love how easy this Pressure Cooker Quinoa recipe is! You'll have perfectly fluffy and delicious quinoa in a matter of minutes. We enjoy quinoa as a side dish, and occasionally I'll even have a bowl as a snack.
This post contains affiliate links. For more information, see my disclosure.
My older son, who eats the healthiest out of all of us, makes himself quinoa daily and has become an expert at using the pressure cooker. I personally love how quick and easy it is to make it in my Instant Pot or Mealthy MultiPot 2.0 pressure cookers. It's a perfect healthy side dish for just about any meal!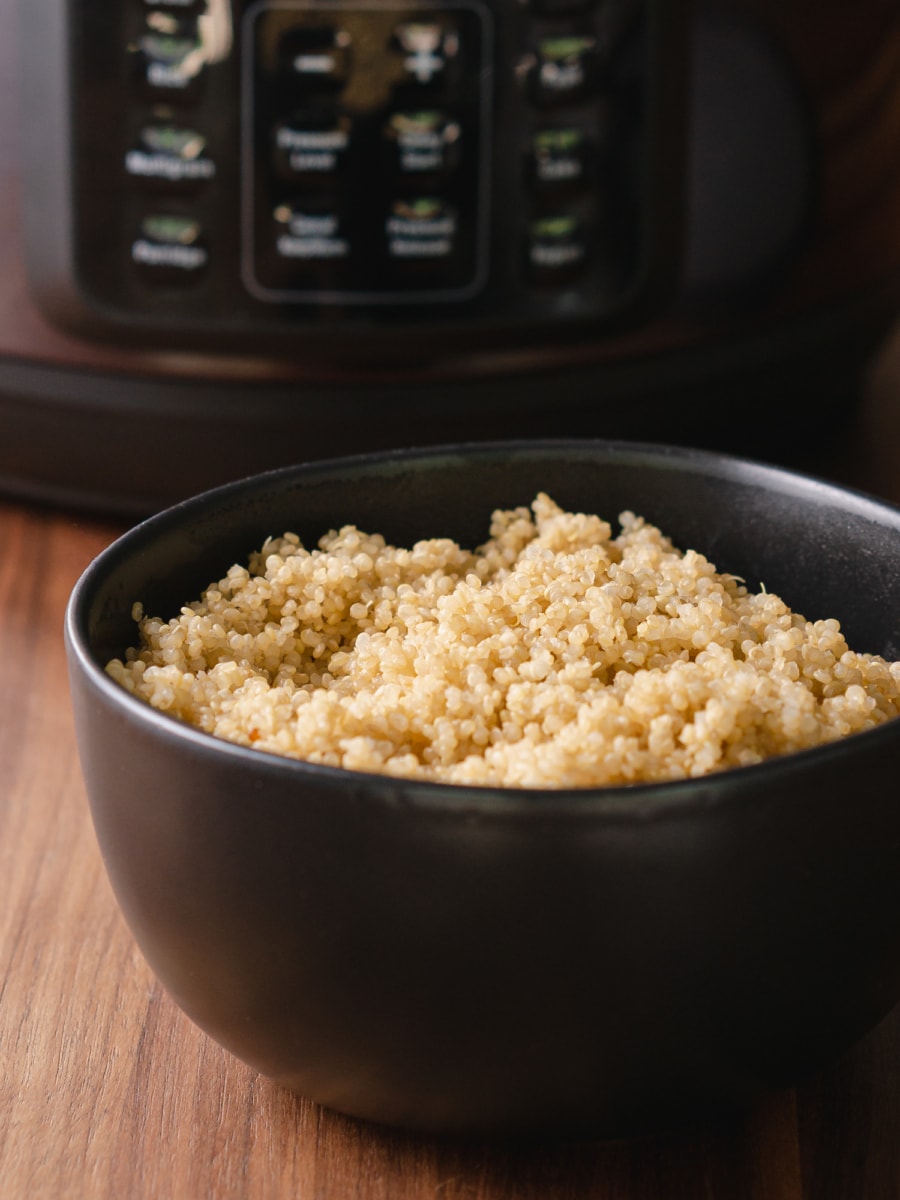 What is Quinoa?
Quinoa is generally known as a grain, but it's actually a seed. It's low-carb and gluten-free so it makes a great substitute for rice. We don't follow a low-carb or gluten-free diet in our home, but we love quinoa! It's very mild tasting and complements so many foods very well.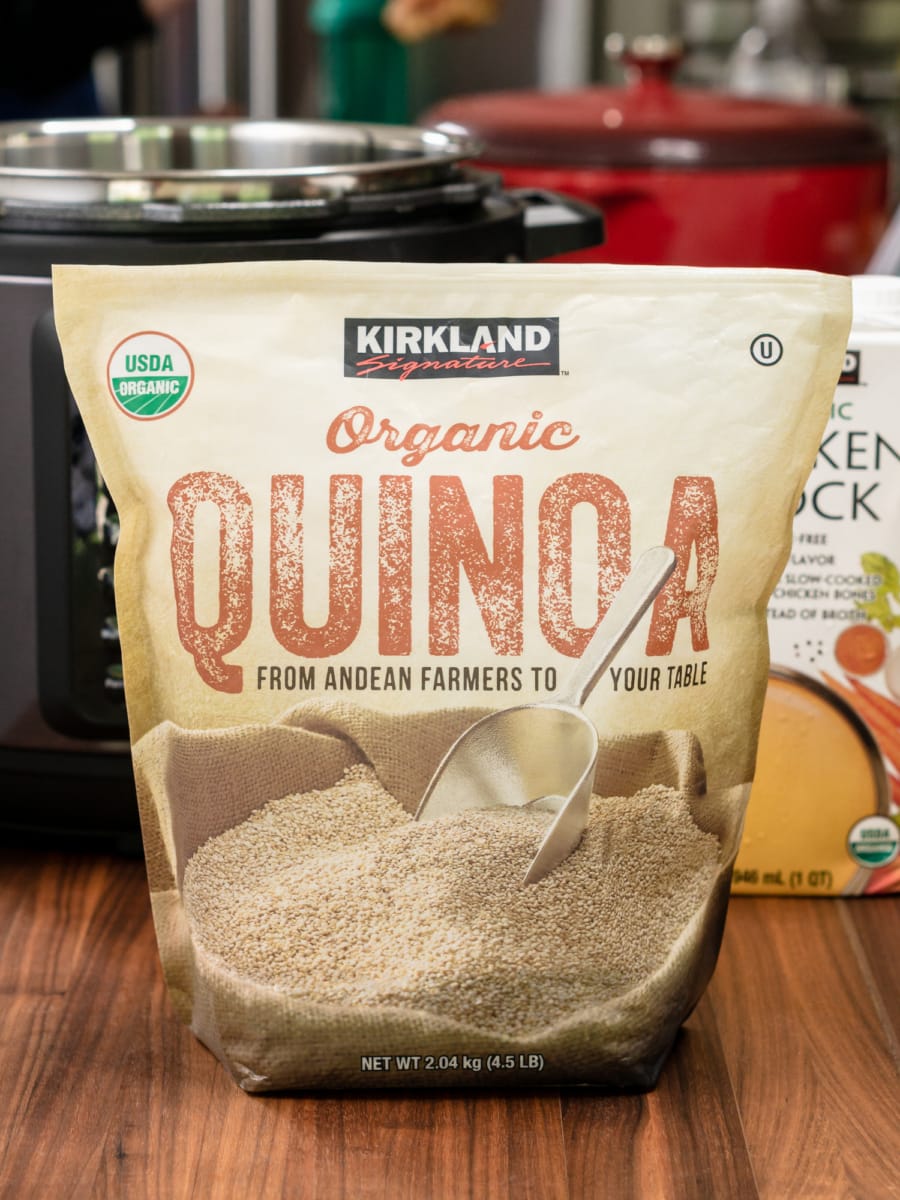 Quinoa is also considered a superfood, so I love adding it when possible. If you want to read all about quinoa and its benefits, check out this article from Everyday Health.
What Ingredients Do I Need for Pressure Cooker Quinoa?
This Pressure Cooker Quinoa or Instant Pot Quinoa recipe is crazy easy. It requires zero effort and just a couple of ingredients. I have listed them below for you.
Quinoa: I always buy my Quinoa at Costco. It tastes great and the bag lasts a long time. Plus, it's organic – can't beat that!
Chicken Stock: You can use any chicken stock you prefer. I tend to buy Kitchen Basics chicken stock or the one from Costco seen in this picture.
That's it! Only two ingredients!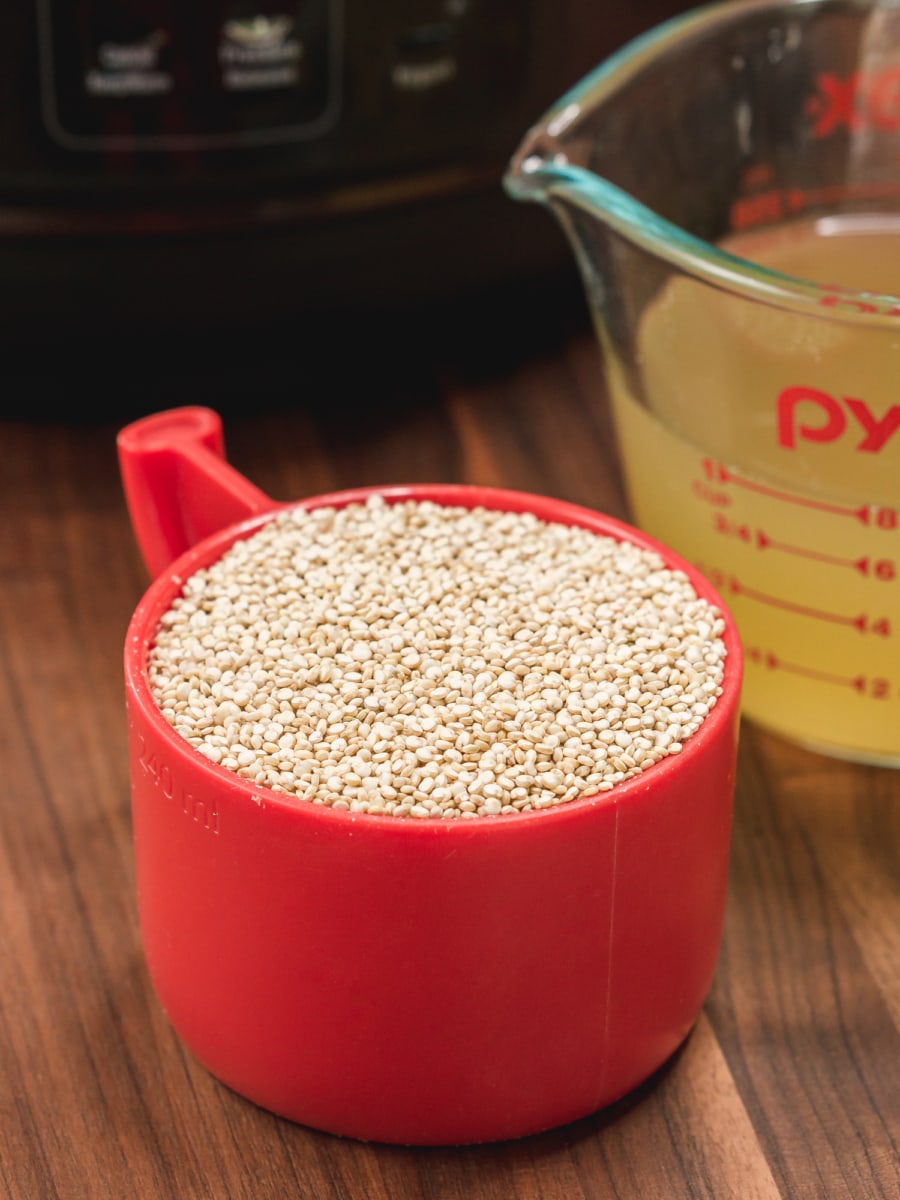 Do I Need to Rinse the Quinoa?
You will notice a lot of recipes call for rinsing your quinoa before cooking it. This will remove any bitterness. That being said, most packaged quinoa comes pre-washed. Check your quinoa package to see if you need to rinse it or not.
The one from Costco is one of those that come pre-washed, so there's no need to rinse it. I have never had any bitter-tasting quinoa when using it, so I definitely recommend it.
Can I Use Unsalted Broth or Water to Make Quinoa?
You can definitely use unsalted broth or water to make this recipe. I've made it with unsalted broth or stock before, and I simply add in half a teaspoon of salt when making one cup of quinoa. I have not used water before, but I would also add salt if I did. I feel the broth gives the quinoa the perfect little bit of flavor so my family will enjoy it.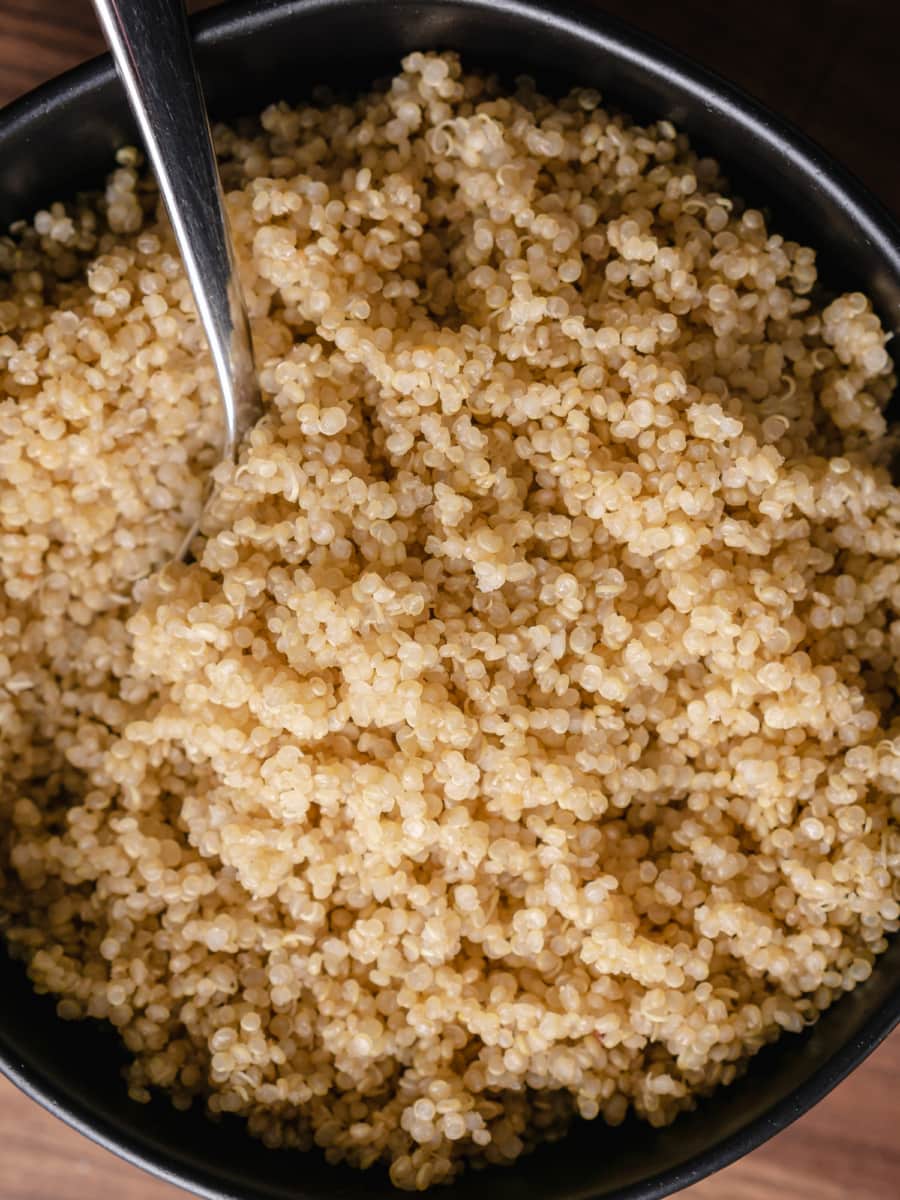 Essential Items
Here are some essential prep tools, utensils, and appliances I used to make this recipe.
Featured Items
Here is a list of the products featured in this post or products similar to those featured in this post:
How To Make Quinoa in the Pressure Cooker
You can easily make quinoa in your Instant Pot or pressure cooker. This recipe uses one cup of quinoa and one cup of chicken stock which makes approximately three cups of cooked quinoa. If you want to double it, simply keep the one-to-one ratio of liquid to quinoa. No need to adjust the time. Let me show you how easy it is to make quinoa in your pressure cooker!
Step 1: Add the Quinoa & Chicken Stock
Pour the quinoa and chicken stock into your pressure cooker. I used my Mealthy MultiPot 2.0 but you can use an Instant Pot or any other brand electric pressure cooker.
Step 2: Cook the Quinoa
Close your pot and set it to 'Sealing'. If using the Mealthy Multipot, there's no need to set it, as it seals itself! You will cook the quinoa for only one minute on 'High Pressure'. Do this by pressing your 'Manual' or 'Pressure Cook' button and adjusting the time to one minute. If using the MultiPot, you will also set it to natural release.
The pot will read ON for a while and when it comes to full pressure, it will start counting down the minute. When the cooking time is finished, you will allow for a 10 minute NPR (Natural Pressure Release). After the 10 minutes are up, you can manually release the rest of the pressure.
Serve and Enjoy
That took no time at all. Now you have perfectly fluffy and delicious quinoa! Enjoy!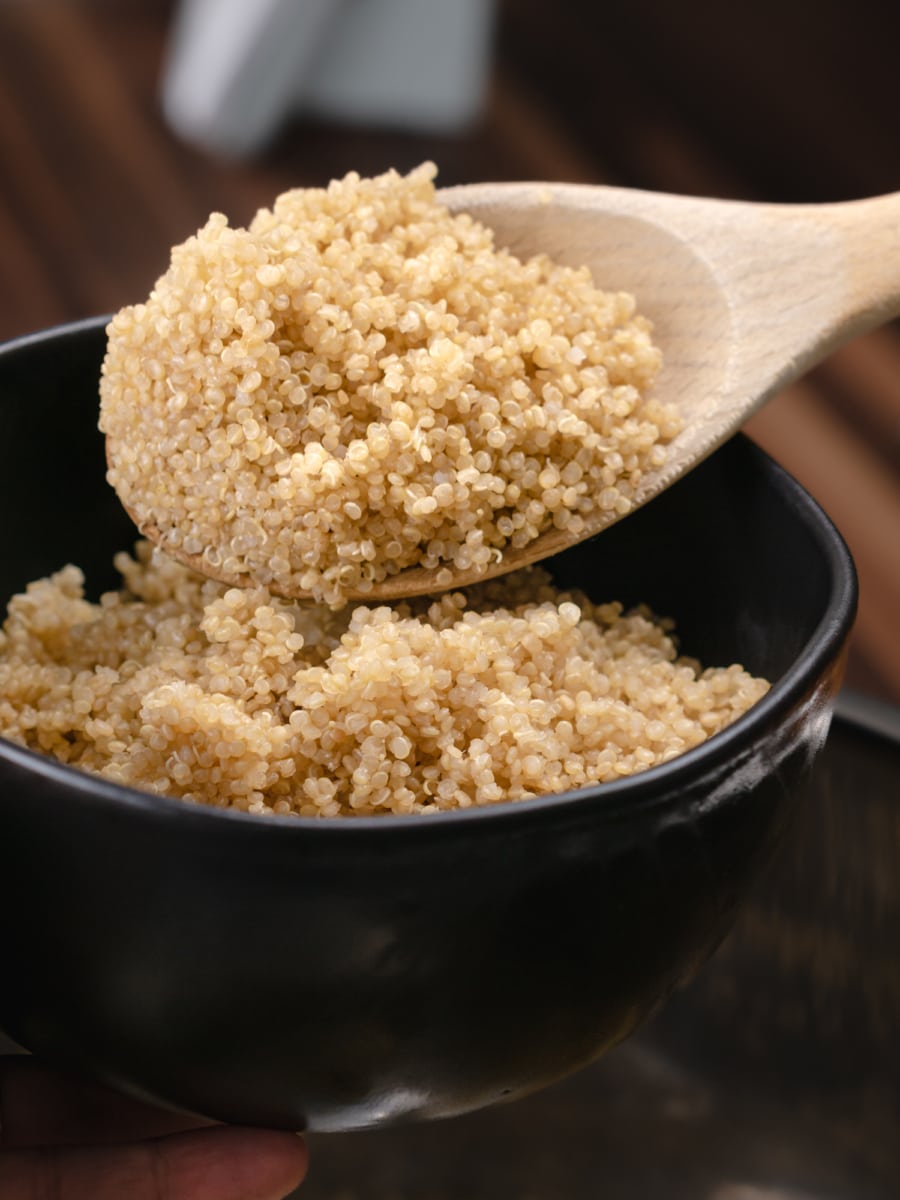 Did you make this Pressure Cooker Quinoa? I know you will absolutely love this quinoa recipe as much as we do! Please, let me know in the comments when you try it.
More Quick and Healthy Pressure Cooker Side Dish recipes that you may enjoy:
For a full list of all the pressure cooker side dish recipes on this blog, make sure to check out my Easy Instant Pot Side Dishes post.
Need a main meal to go with this Pressure Cooker Quinoa? I love eating quinoa with ground beef. I also like serving it as a side for my Simple Oven Roasted Chicken Thighs. It's also a perfect side for my Creamy Salsa Verde Baked Chicken.
Pressure Cooker Quinoa
FLUFFY QUINOA PRESSURE COOKED IN CHICKEN STOCK
This is the quickest and easiest way to make perfectly fluffy and delicious quinoa.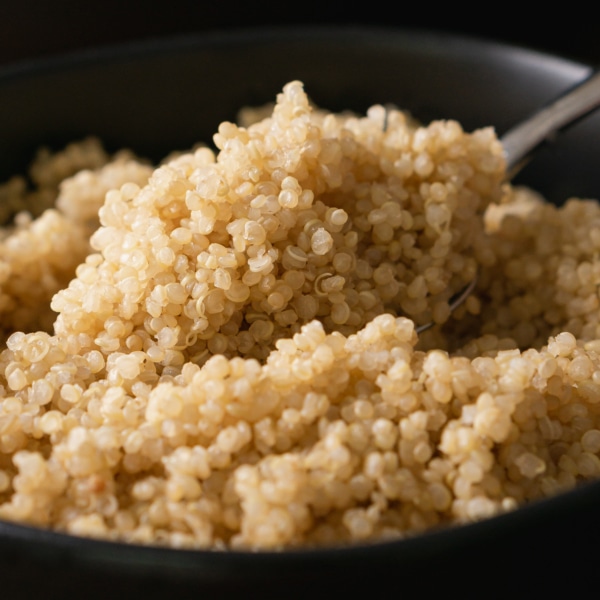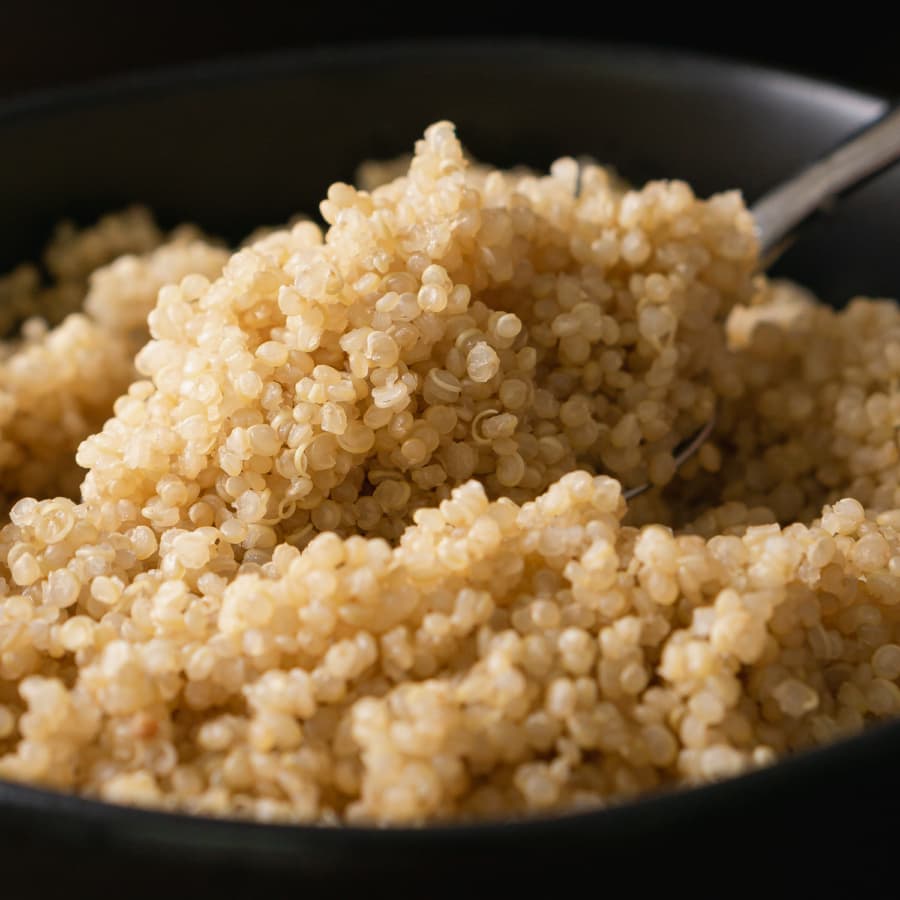 Instructions
Rinse: Rinse the quinoa in a fine-mesh strainer if not already pre-washed.

Add Quinoa & Chicken Stock: Add the quinoa and chicken stock to the pressure cooker.

1-Minute Cook Time: Close the pressure cooker and set the pressure release valve to 'Sealing' and then set the pot to cook on 'Manual' / 'Pressure Cook', 'High Pressure' for 1 minute.

10-Minute NPR: Once the cooking time has completed, allow for a 10 minute NPR (natural pressure release). Release any remaining pressure after the ten minute NPR has completed.

Fluff: When the pin has dropped, open the lid and fluff the quinoa.
Nutrition Facts
Calories: 119kcal | Carbohydrates: 20g | Protein: 5g | Fat: 2g | Saturated Fat: 1g | Cholesterol: 1mg | Sodium: 59mg | Potassium: 202mg | Fiber: 2g | Sugar: 1g | Calcium: 13mg | Iron: 1mg