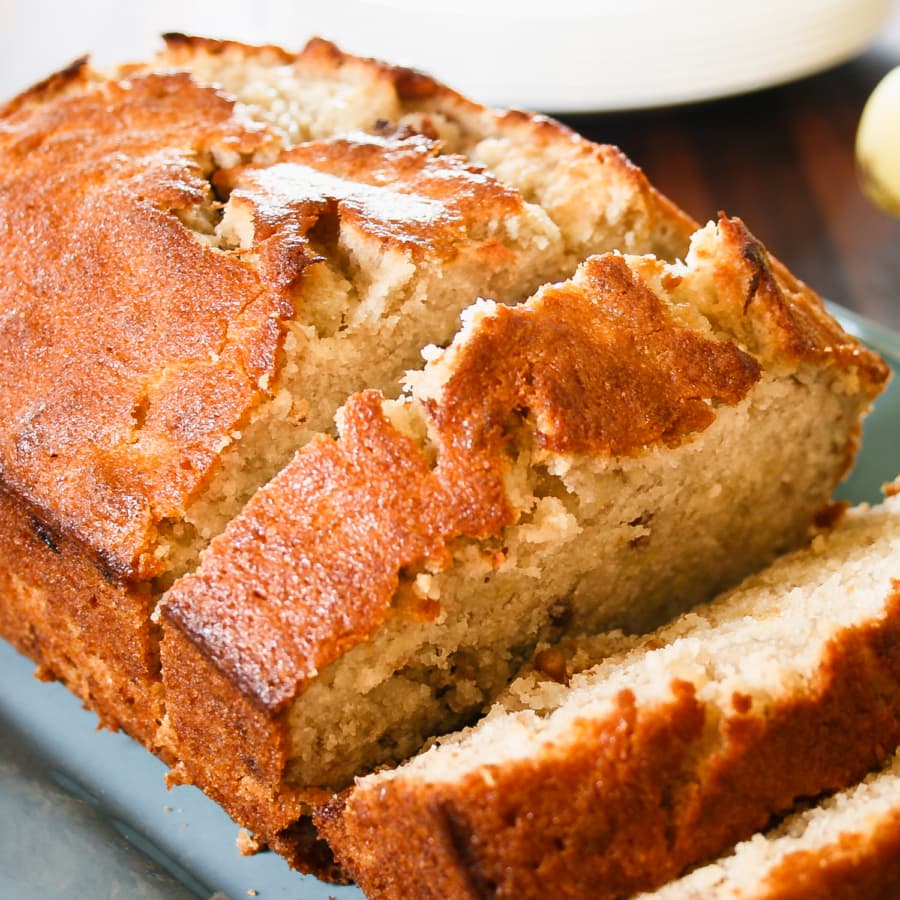 When I was little, my mom used to make the best banana bread. She made it often, and it was always perfect. Her church friend back in Honduras had given her the recipe.
This post contains affiliate links. For more information, see my disclosure.
Her friend cooked all day in her dark home, for her kids and her Italian husband! I'll never forget the huge wooden table where she made bread, pizza, desserts, it was amazing! I remember numerous times going over to her house with my mom and she was always willing to share her delicious recipes.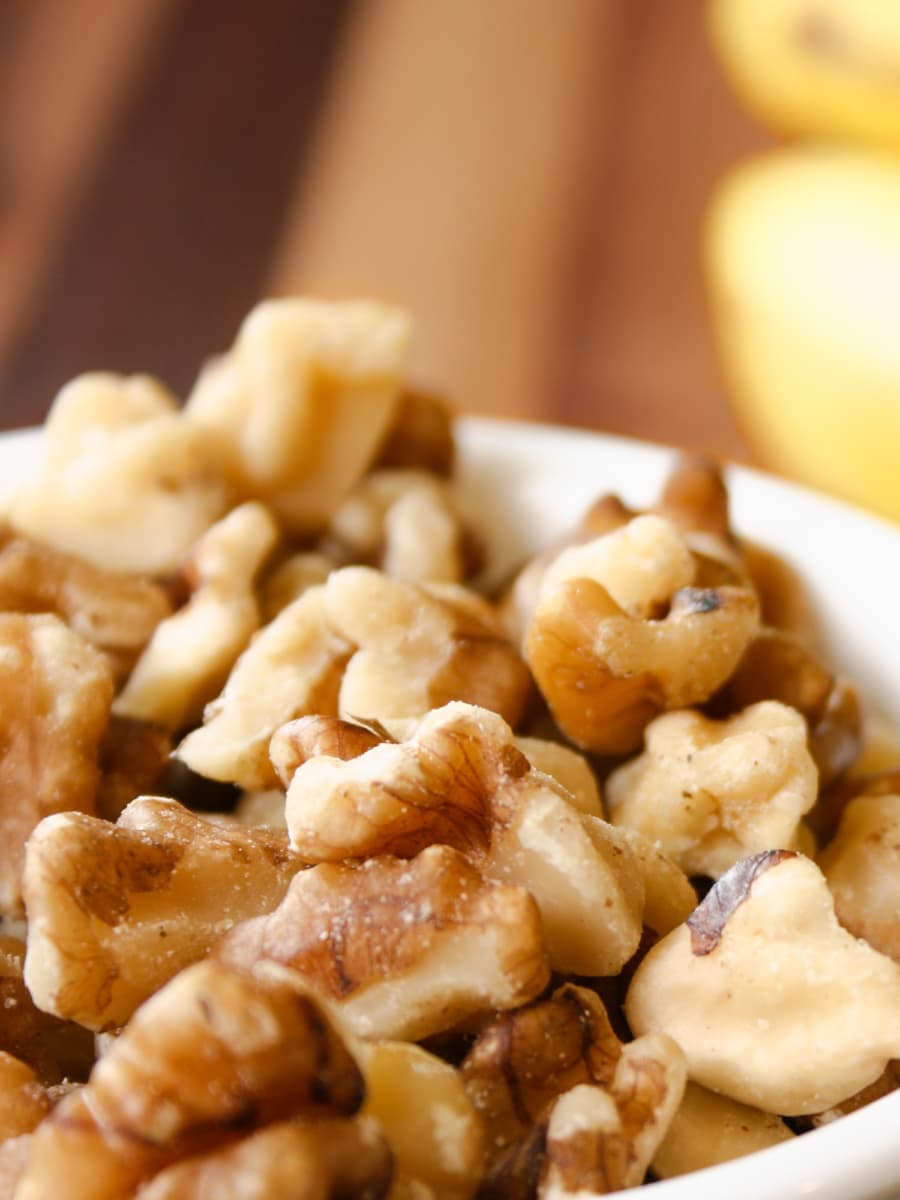 She was one of my mom's best friends and of course, my family always benefitted from her cooking knowledge. Over the years my mom perfected making the banana bread and it became a staple at our house.
Essential Items
Here are some essential prep tools, utensils, and appliances I used to make this recipe.
Featured Items
Here is a list of the products featured in this post or products similar to those featured in this post:
My best friend in grade school loved my mom's banana bread. Every time my mom would make it, it was a given that I'd pack up an extra piece and take it to school for her. My mom was always sure to make it when we knew she'd be coming over to play.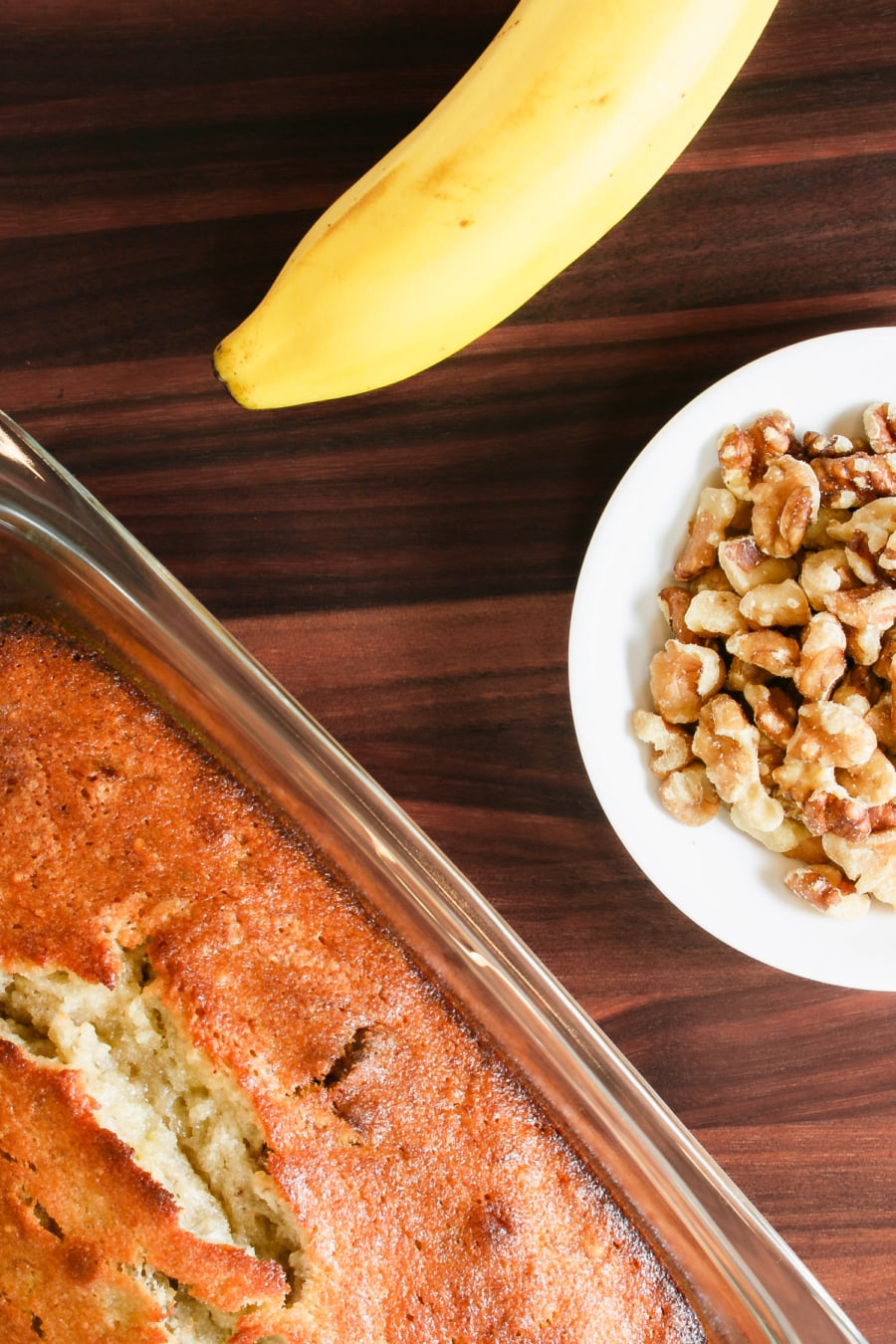 I don't know why I remember little things like that and can't remember some bigger parts of my childhood. Every time I make my mom's banana bread I remember my friend and all the wonderful memories that I associate with her, like the Barbies, the Cabbage Patch dolls, and the endless sleepovers at each other's houses.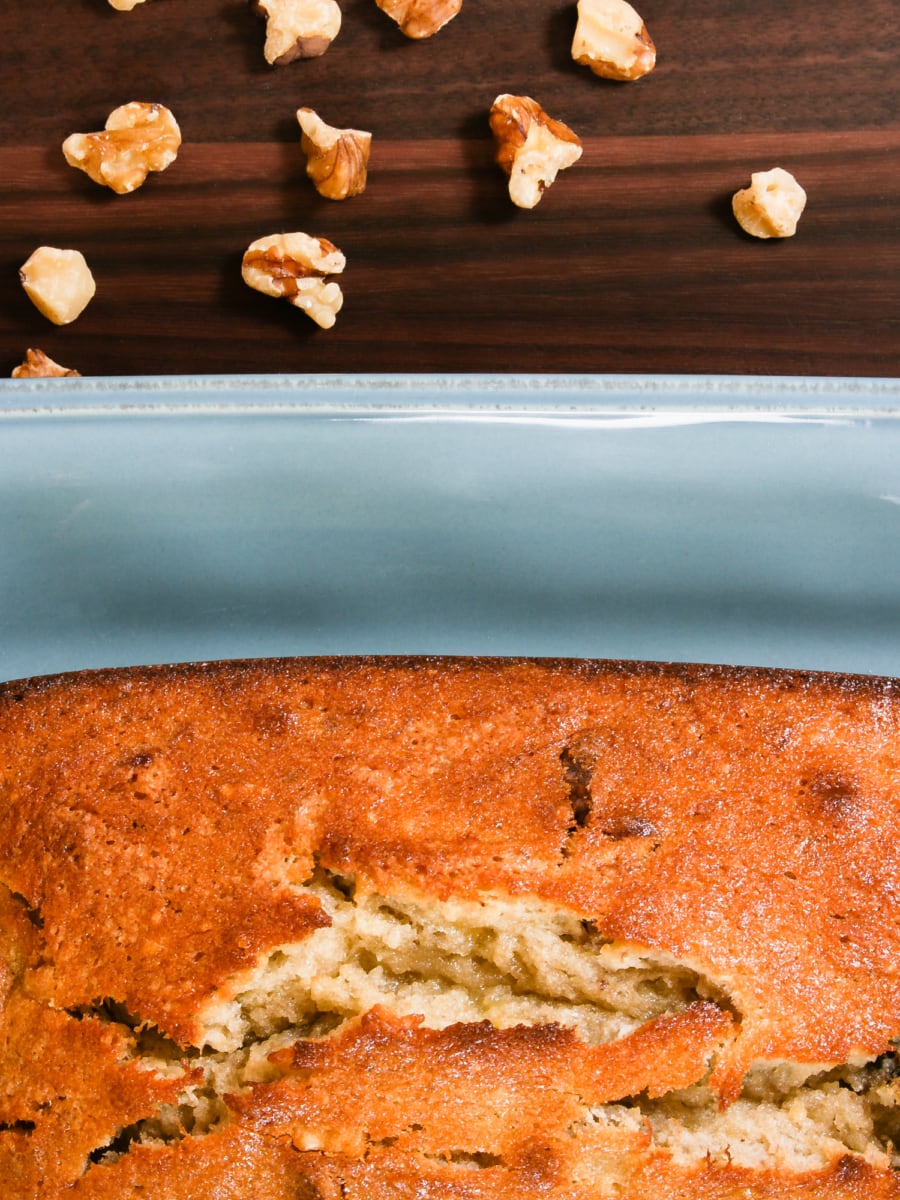 It's amazing how food can evoke such great feelings and memories. Even though I have the exact recipe, my banana bread will never be the same as when my mom made it, but now it's my banana bread and my kids and my husband love it. I hope that someday my children will look back and remember my banana bread, and nothing but happy memories will come back.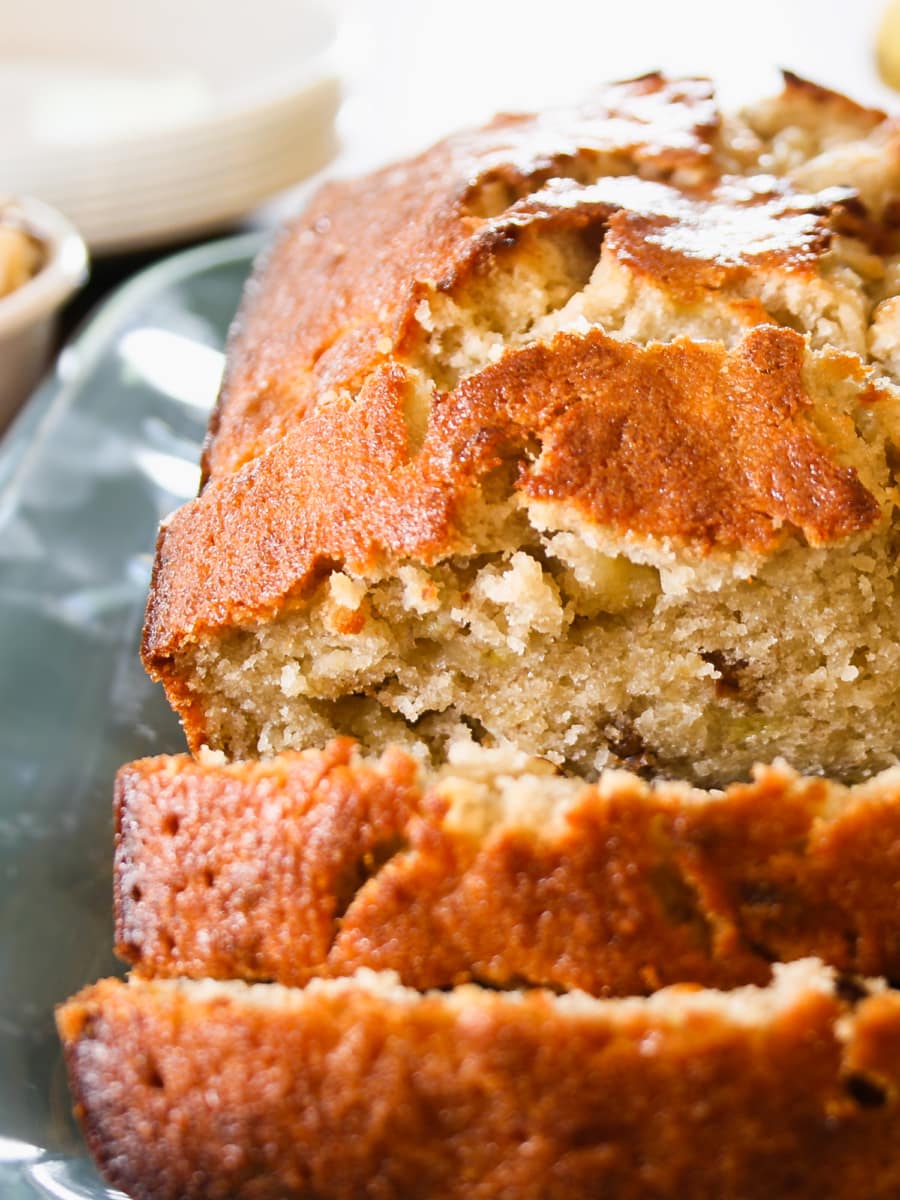 My mom used to make it just as the recipe says, but in my house, we like to add walnuts. I have also added chocolate chips and it comes out great. My latest venture is this delicious Blueberry Banana Bread!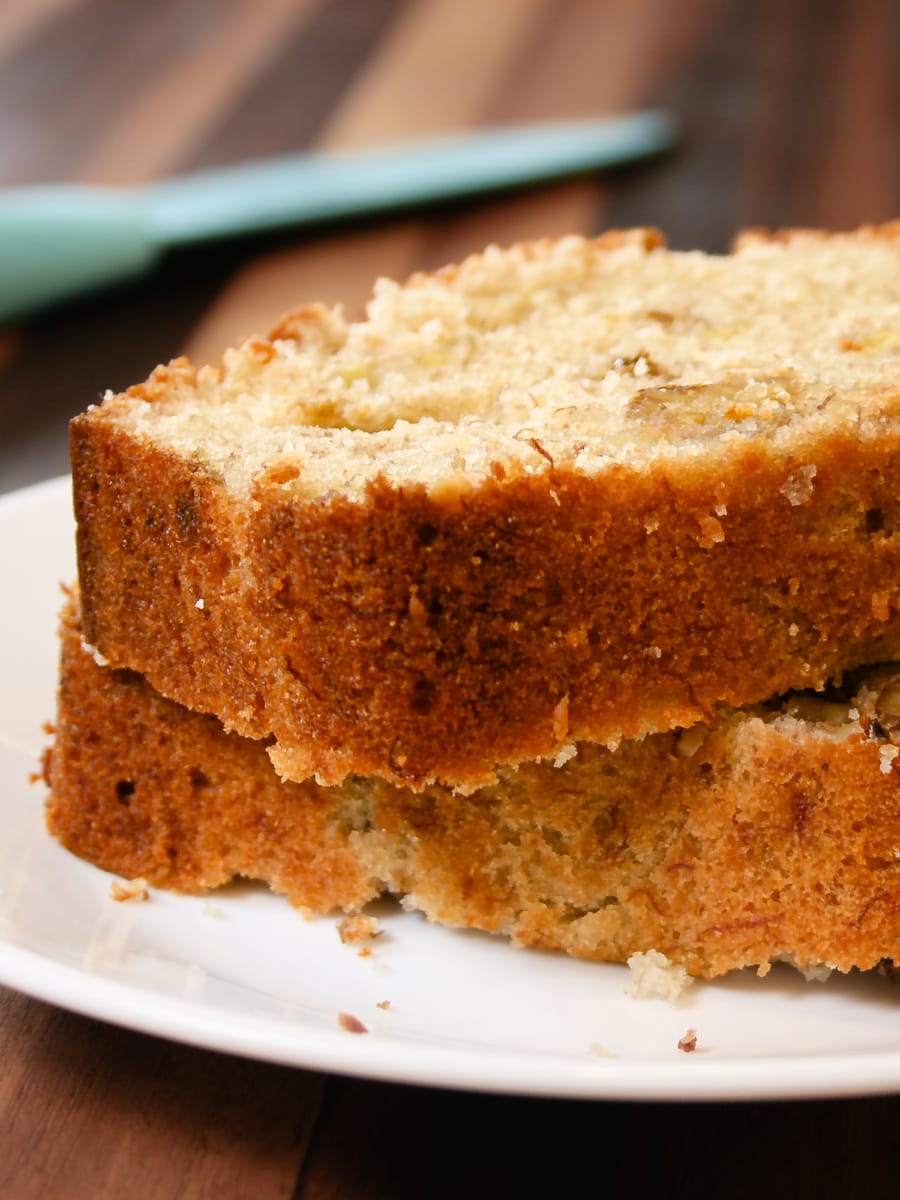 Maybe you have another idea for something to add to it. Whether you add a little something extra or not, you won't be disappointed when you make my mom's banana bread!
I'd love to hear how your banana bread turns out!
My Mom's Banana Bread
FROM SCRATCH BANANA BREAD MADE WITH RIPENED BANANAS AND WALNUTS
This is my mom's fabulous banana bread recipe that I have loved since I was a little girl. It's perfect to enjoy for breakfast, as a snack or as dessert.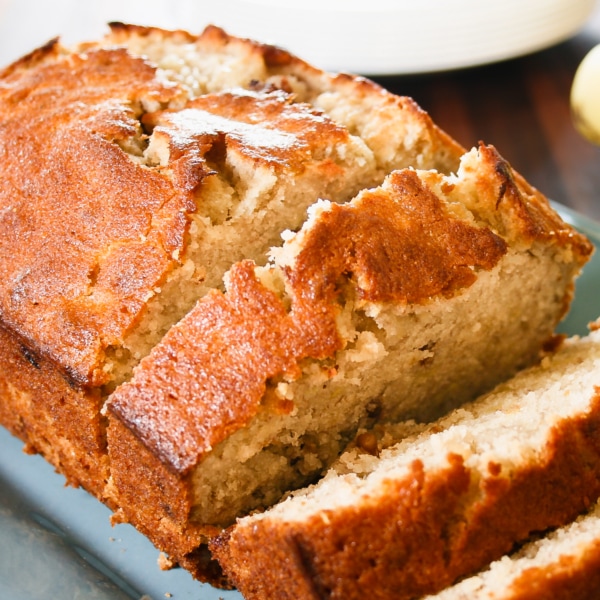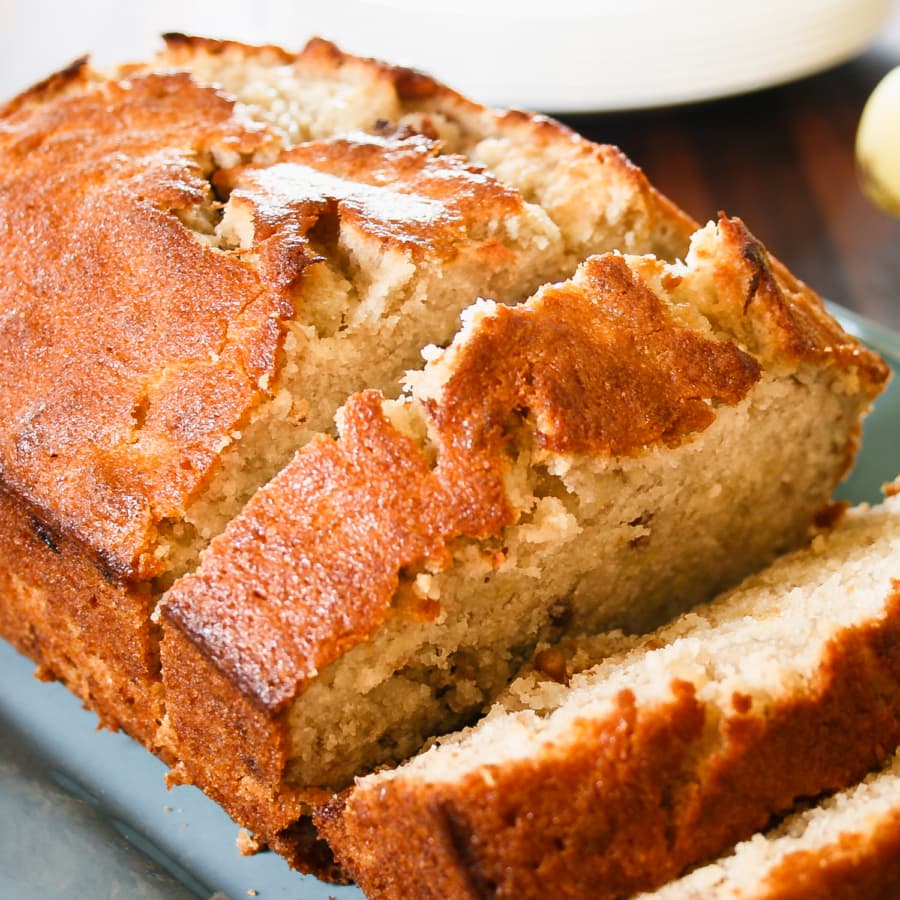 Instructions
Preheat oven to 375° F.

Mash the bananas in a bowl.

Whisk the eggs in a separate bowl.

Mix in the butter, sugar, and eggs with the mashed bananas.

Gradually mix in the flour and baking powder.

Spoon the mixture into two greased loaf pans or one 9 x 13 pan.

Bake on the middle rack for approximately 45-55 min.
Nutrition Facts
Serving: 1slice | Calories: 273kcal | Carbohydrates: 39g | Protein: 3g | Fat: 12g | Saturated Fat: 6g | Cholesterol: 57mg | Sodium: 94mg | Potassium: 190mg | Fiber: 1g | Sugar: 23g | Vitamin A: 350IU | Vitamin C: 2.6mg | Calcium: 32mg | Iron: 1.1mg
Notes
Mix by hand. I like to mix everything by hand. It gives the bread the consistency that I expect.
A fluffier banana bread. When measuring the flour, spoon the flour into the measuring cup so it's not compacted. It will make your bread fluffier.
Save time with the microwave. I usually forget (or don't have time) to set the butter out beforehand, so, I melt the butter in the microwave to save time.